From caviar to pork pie: 7 unique mooncakes to try in Hong Kong
September 14, 2020
Looking for something a little different this Mid-Autumn? If you're bored of the usual mooncakes – we're talking egg custard, lotus seed and salted egg yolk – there are plenty of creative new flavours out there to tempt your tastebuds.
From caviar to chocolate and even minced pork, we've rounded up some of the most innovative (read: different) mooncakes to try in Hong Kong this year:
Caviar and black truffle mooncake by Royal Caviar Club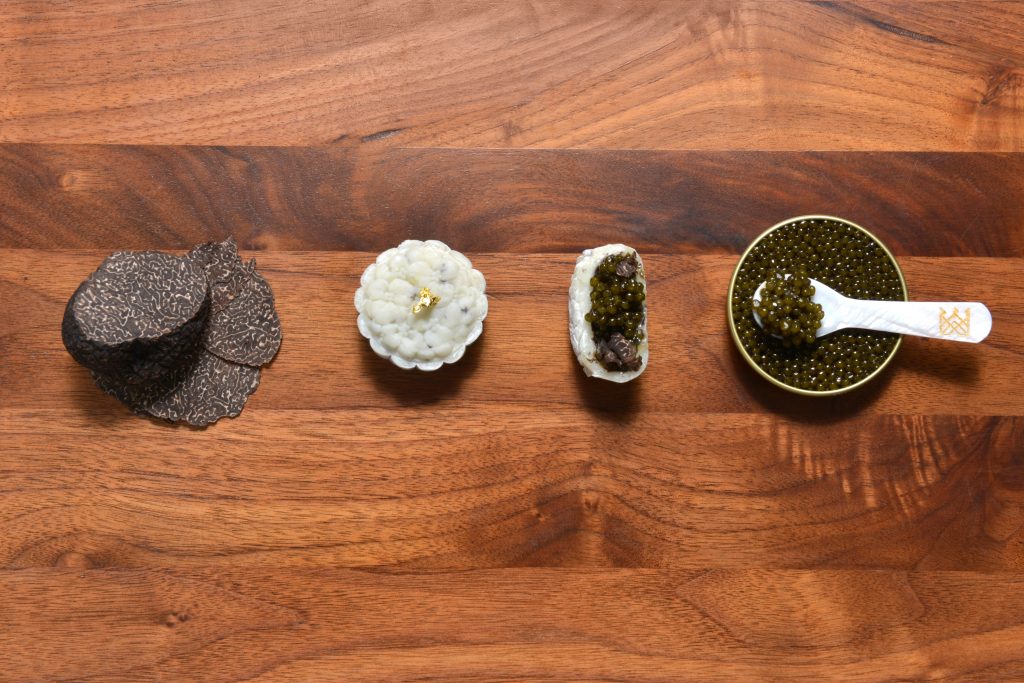 If you thought traditional salted egg yolk mooncakes were a tad indulgent, you ain't seen nothing yet. Billing itself as the world's first caviar and black truffle mooncake – possibly because no-one else in the world would ever imagine inventing something this extra – Royal Caviar Club's creation takes Mid-Autumn decadence to the next level.
A collaboration with chef Nicolas Chew (formerly of Bibo and Serge et Le Phoque) that took two years to fine tune, their mooncake features an ultra-extravagant ten grams of Royal Cristal Caviar, plus Australian winter black truffle and truffled potato, inside a chewy snow skin coating. After all, caviar and blinis are so last season, darlings.
Price: HK$1,800 for a box of four mooncakes
Order online at royalcaviarclub.com
Matcha, pork floss and Chiu Chow mooncakes by Shang Palace, Kowloon Shangri-La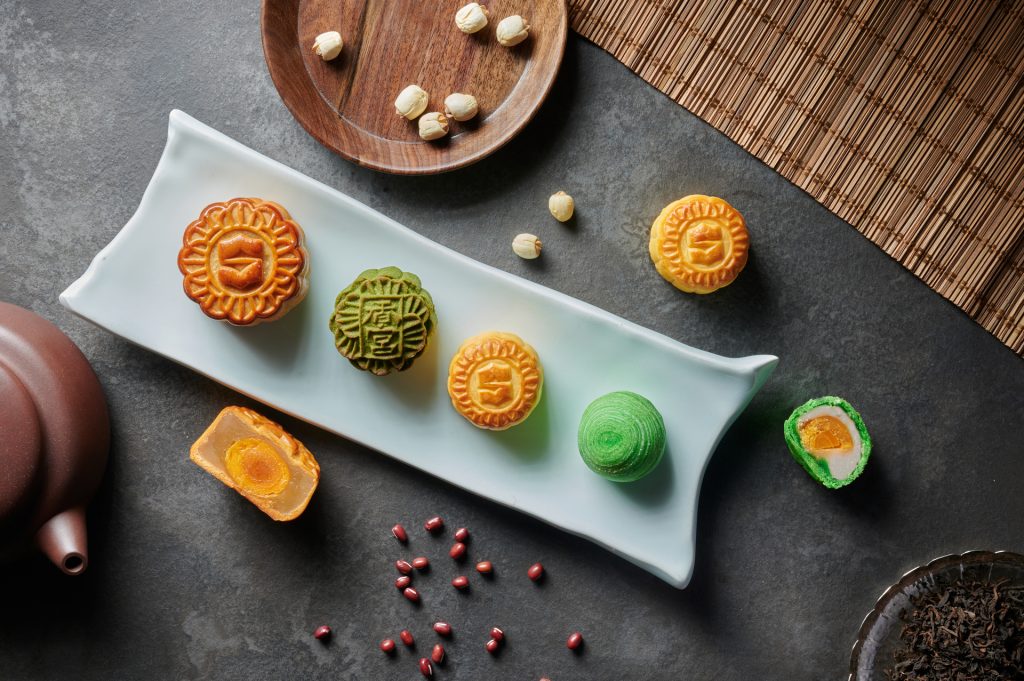 Shang Palace's Executive Chinese Chef Cheung Long-Yin certainly got his creative juices flowing this mid-autumn, with dozens of different flavour combinations available to tickle your mooncake fancy.
New creations this year include mini matcha mooncakes, with yuzu-flavoured mochi wrapped in red bean paste and an aromatic green tea crust; and bakkwa (pork jerky) and pork floss mooncakes, designed to effortlessly nail that salty-sweet flavour combo. Another variety that caught our eye – literally, because they're bright green – are their Chiu Chow mooncakes, with a flaky pastry exterior encasing a yam paste, salted egg yolk and pandan leaf filling.
Price: HK$378 and up; boxes vary in size
Order online at ksleshop.com
Tea-infused mooncakes by Fortnum & Mason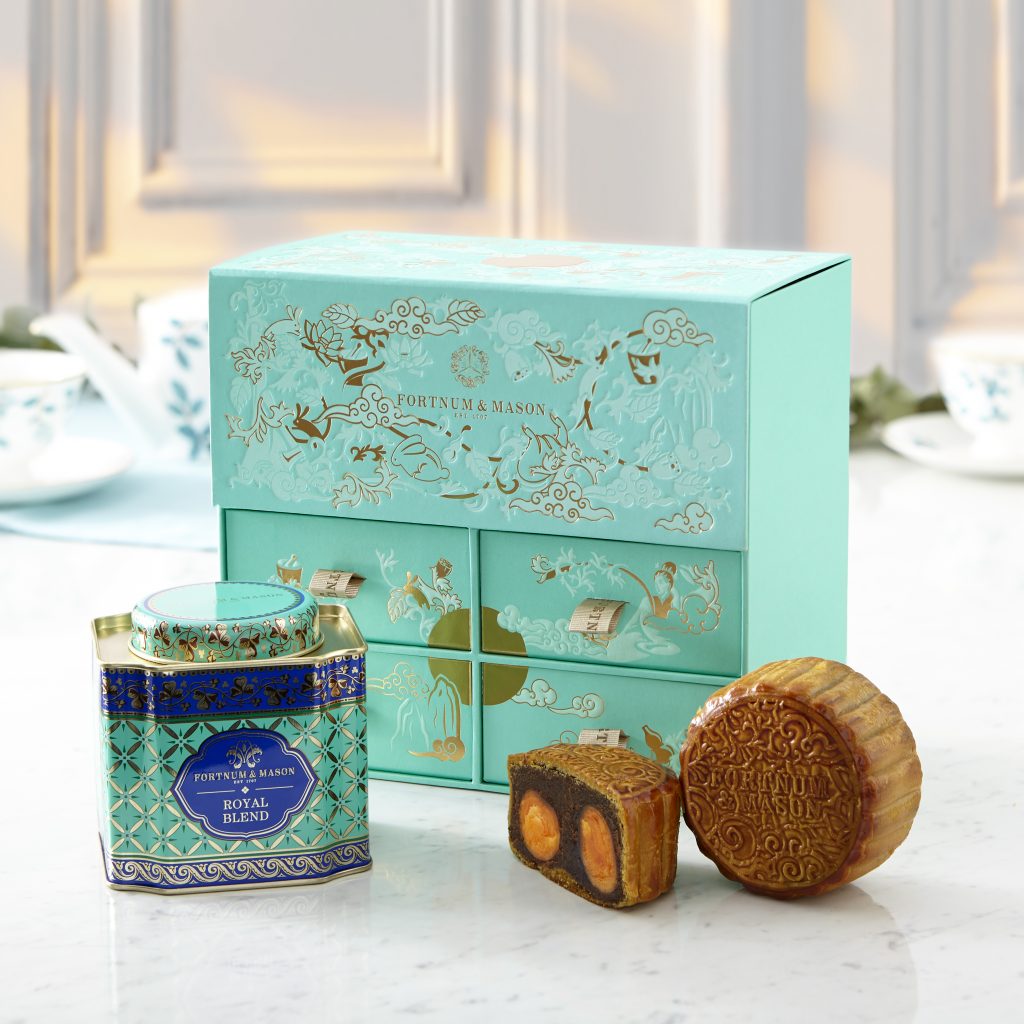 For an afternoon tea with a twist, try Fortnum & Mason's Royal Blend mooncakes, which come infused with the British heritage brand's famed Royal Blend tea.
Originally created for King Edward in 1902, Royal Blend combines Assam and Flowery Pekoe tea leaves, resulting in a smooth, honey-like taste that pairs perfectly with the mooncake's lotus seed and double salted egg yolk filling. Fortnum's beautiful gift box also includes a caddy of loose leaf Royal Blend tea – meaning you can double down on the teatime fun by enjoying a freshly-brewed cuppa alongside those tea-riffic mooncakes.
Price: HK$688 for a box of four mooncakes and tea caddy
Available in-store at Fortnum & Mason, Shop 022, G/F, K11 Atelier, Victoria Dockside, 18 Salisbury Road, Tsim Sha Tsui, Hong Kong, +852 3916 8100
Chocolate mooncakes by Godiva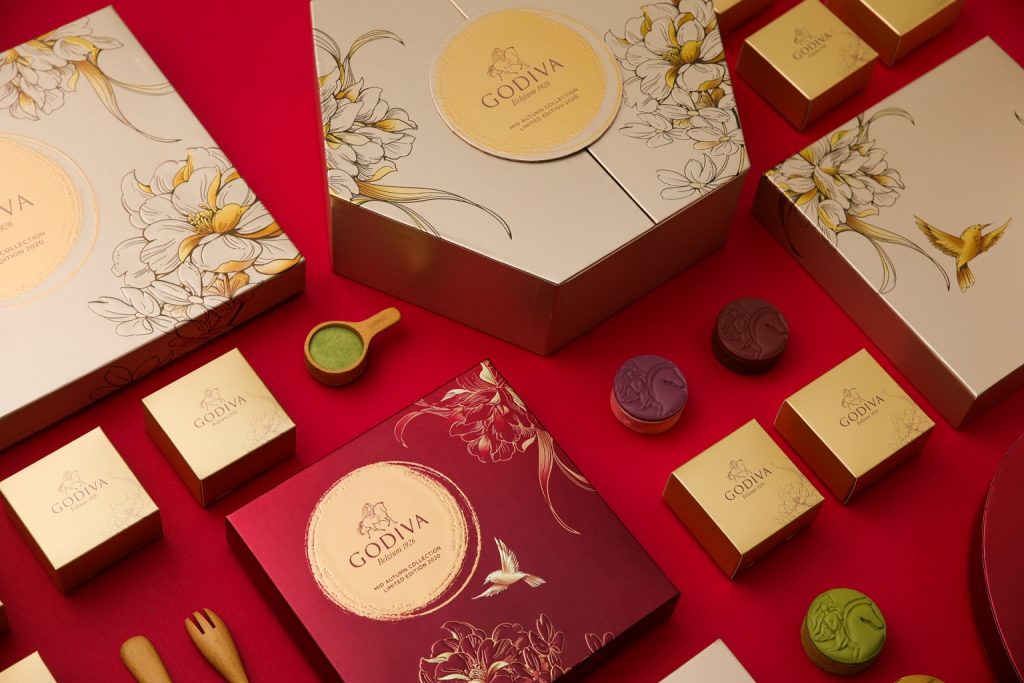 Chocoholics, this way; Godiva have pulled out all the stops for their luxurious chocolate mooncakes, which represent a delicious fusion of French dessert with Chinese culture.
Each mooncake features a precise balance of thin chocolate shell and luscious chocolate ganache, enrobing a flavour-packed pâte de fruit centre and crunchy nut base. The four-piece box includes two white chocolate options of matcha kumquat (which also features pine nuts and sesame) and raspberry, rose and toasted almond, alongside two milk chocolate offerings of passionfruit hazelnut and osmanthus red bean.
Price: HK$328 for a box of four mooncakes
Order online at godiva.com.hk
Nutty, preserved egg and black truffle mooncakes by Lung King Heen, Four Seasons Hong Kong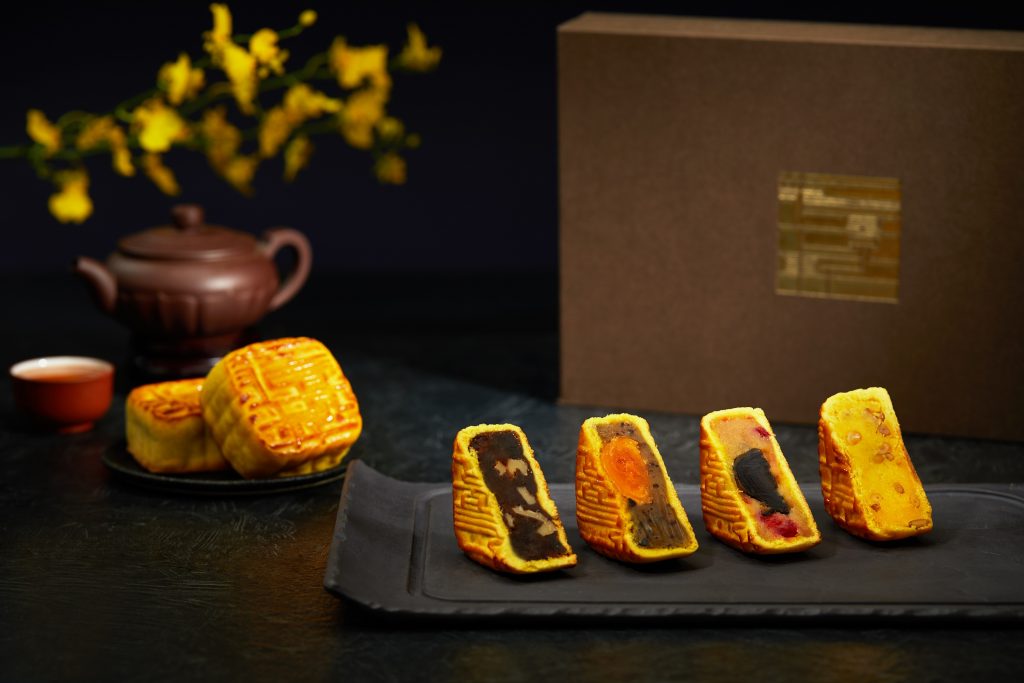 Chef Chan Yan Tak, renowned Chinese Executive Chef of Four Seasons Hong Kong, has expertly given traditional flavours a modern makeover with his innovative trio of assorted signature mooncakes.
His latest creation debuting this year features a filling of chewy Chinese dates and crunchy walnuts, allowing for a fantastic contrast of textures and salty, sweet, sour and bitter flavours. The other varieties in their six-piece box are equally enticing – preserved eggs with pickled ginger, and lotus seed paste with salted egg and a luxurious hit of black truffle.
Price: HK$560 for a box of six mooncakes
Order online at shopfourseasonshk.com
CookieMoon cookies by Baked Indulgence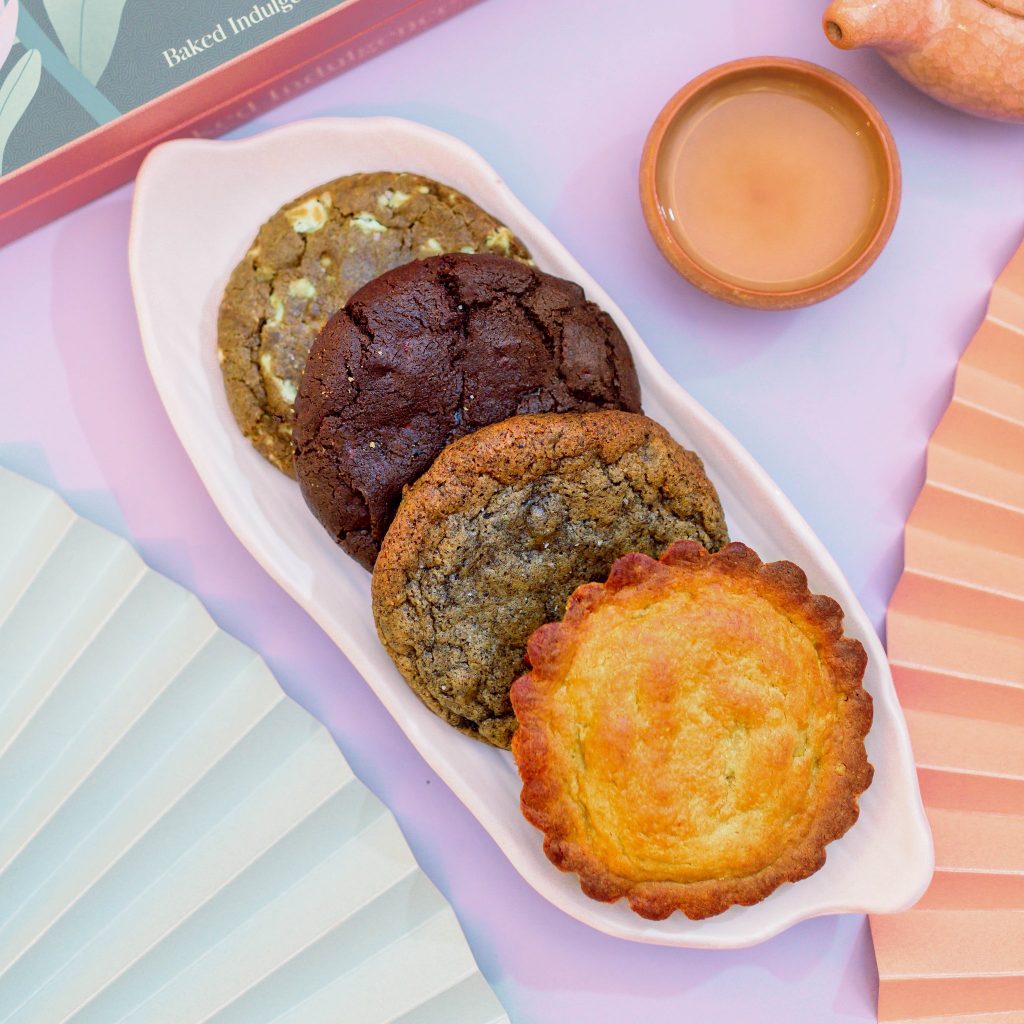 For fans of soft-baked cookies, Baked Indulgence has created a limited-edition gift set for Mid-Autumn Festival that includes six sizeable cookies, including four deluxe (custard, dahongpao, longjing yuzu and sesame ginger) and two classic (chocolate chip and walnut).
Housed in a beautiful box designed by artist Shannon Yeung, these CookieMoons even come with re-heating instructions, depending on how crisp and/or chewy you'd like them.
Price: HK$298 for a box of six
Order online at Baked Indulgence
Meat-lovers' mooncake by Feather & Bone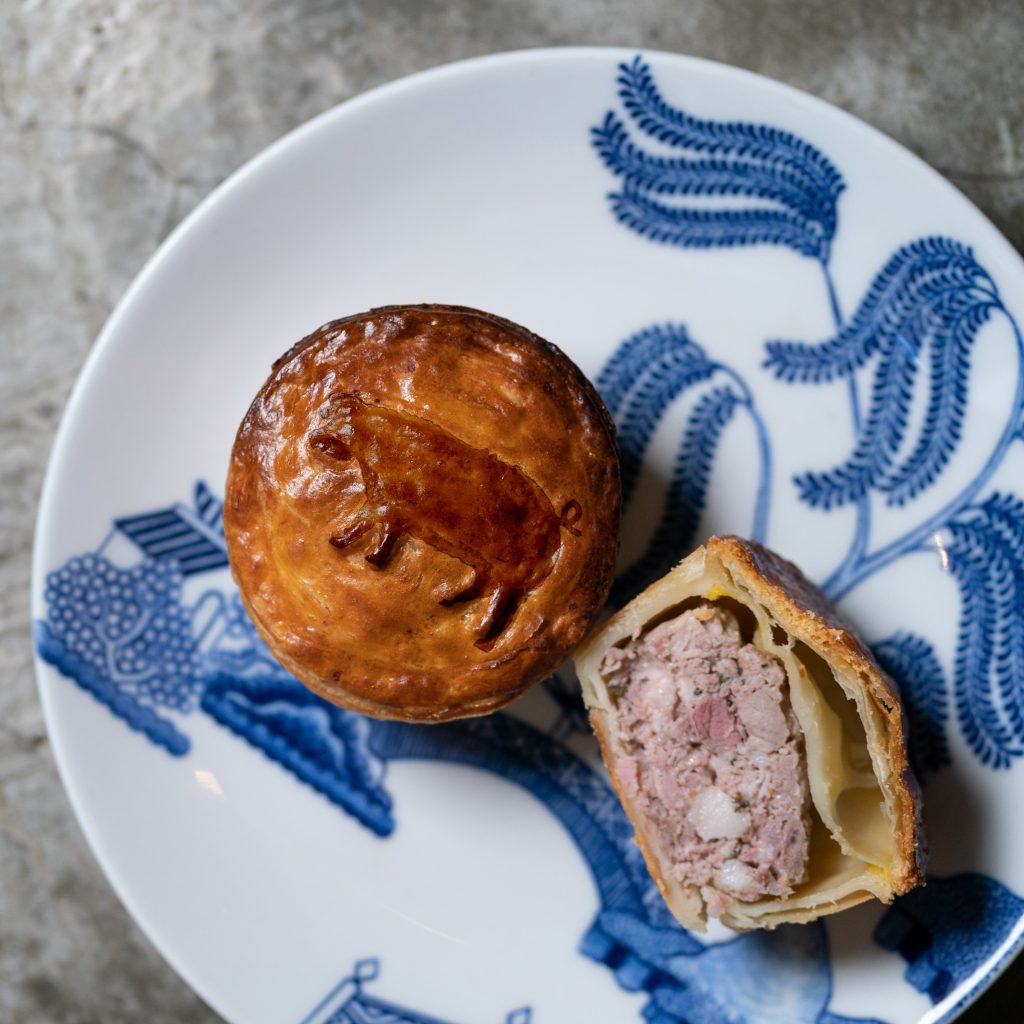 Love pork pies? Love mooncakes? Well, this is the foodie crossover you've been waiting for.
Look away now, vegans; gourmet Hong Kong butcher Feather & Bone have created a true meat-lovers' mooncake – think buttery flaky pastry filled with a bacon-studded blend of Valenca free-range pork and Tuscan Lardo di Colonnata, all spiced with nutmeg, sage and garlic for good measure.
Price: HK$178 for a box of two mooncakes
Order online at featherandbone.com.hk
See also: Mid-Autumn Festival 2020: Where to get the best mooncakes in Hong Kong