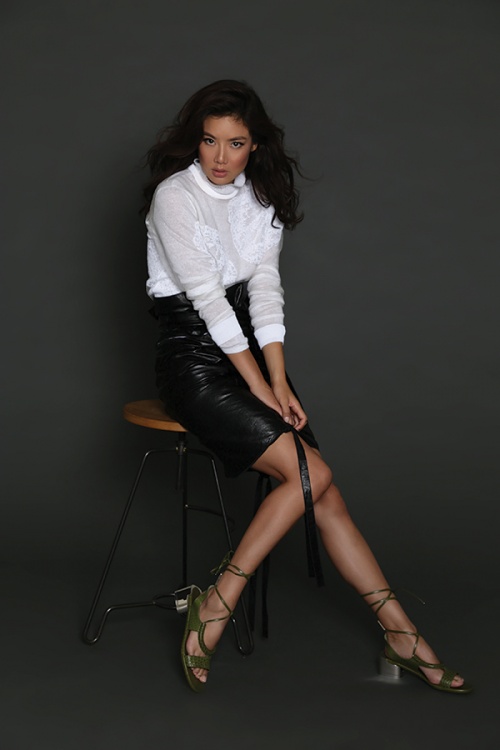 ​Gaile Lok has always turned heads. She made her name in modelling assignments for Shiseido, Elle and Marie Claire, and was the former face of Folli Follie. More recently she has ventured into an entirely new enterprise, taking her career into new heights with her own jewellery line and newest collaboration with Roxy.
How did you get into modelling?
I started modelling at 14 when I was scouted by an Italian photographer called Amedeo Volpe. He was in town shooting for an Italian magazine and asked me to be in it. He then introduced me to a modelling agency in San Francisco and that's how my adventure in modelling began.
Did you ever dream about being a model?
Modelling is not and was never a job that I thought I would do. Growing up in the United States, everyone looked like Cindy Crawford and Christy Turlington. I never dreamt of becoming a model. Everything has happened for a reason and I guess fate has brought me here.
What is it like to be a model, jet-setting to fun and glamorous places?
I never feel like I'm a model but there are definitely perks to travelling and meeting interesting people and understanding different cultures while you're on the road. I'm grateful for all that has happened and I feel there's always something new to learn or find in this industry that's constantly changing.
What was your most challenging shoot?
I'm never fond of underwater shoots even though I'm a great swimmer. Modelling for winter clothes in the heat is not my favourite either.
Describe a day in your life.
When I'm not working, I do yoga, walk the dogs, attend to some daily errands, enjoy a nice dinner and hot bath to end the night. If I'm working, I will get up early and do some yoga to better myself, feel fresh and energised.
You seem to be into fitness. How has yoga and surfing helped you keep your shape?
I don't pay attention to my weight anymore. I found the sports that I love and I just keep going back to them. I'm happy doing the exercise I enjoy and that's all that matters.
We've heard that you're getting into designing lately, with quite a few pieces for your jewellery line, Smoky Roses by Gia, and the latest swimsuit collection with Roxy. How has that been?
Regardless of whether it is my forte, I love designing as it's always fun and allows me to express my creativity. I've learned to appreciate the amount of passion, time and teamwork put into its making, and understand that there's so much more than just designing. I've always modelled the products, but designing is a completely different experience.
Tell us a beauty secret.
Cold pressed juice, yoga, a good quality face mask and white wine.
What is one piece of advice you can share with our readers?
My mum taught me well, and I've always been good at saving and managing my spending. I hope younger girls can live by this piece of advice as well. You can't have all the clothes and no home to put them in.
Who is your legend?
Mum is, and will always be, my legend.