Actress and visual artist Lauren Tsai started her career on Japanese reality TV series Terrace House: Aloha State as a teenager while pursuing other passions. Now 21, the multi-talented model and artist is set to star in her first major acting role on Legion. marta colombo talks to Tsai about her new character and her multifaceted career.
Most tv enthusiasts probably discovered Lauren Tsai on Terrace House: Aloha State, the third incarnation of the widely popular Japanese reality TV shows by Fuji TV and Netflix that took the entertainment industry – and Reddit – by storm. On the show, Tsai shares a mansion in Hawaii with five other roommates while being filmed, similar to the premise of The Real World and Big Brother.
Originally from the US, Tsai, whose mother is European-American and father Chinese-American, moved to Tokyo soon after high school and embarked on a career as a model while pursuing her long-time passion for art. Now successful in a variety of fields and an Instagram darling with more than 600,000 followers, Tsai is about to star in FX's acclaimed sci-fi show Legion, marking her first major role on mainstream TV. We chatted with the rising star about Terrace House, her acting career and social media.
We're big Terrace House fans. How was it to be on the show? Tell us some juicy details!
Juicy things? Oh my goodness! I don't want to spill too much, but it was really an incredible experience, because I feel like I got close to the people who were living there. We actually lived there and slept there every day for about half a year, and we still hang out. We have some crazy parties now, if that counts as juicy? When we get back together, it's definitely crazy.
Do you think American and Western audiences get the show, because it's so Japanese at its core?
I think that people definitely have a fascination with the show because it's so different from the reality TV that we're used to, at least in the States. And I think that it's probably different than the fascination that Japanese fans have with it, because fans of the show abroad find the cultural aspects to be the most intriguing, I've come to realise, or so I've heard from a lot of people. So I think that yeah, they're into it, definitely.
Tell us a bit about your background.
I'm from Massachusetts – that's where I was born – and I grew up in Hawaii. I moved to Japan when I was 18 and I had been working there. I've been doing art my entire life, but I started modelling in Japan when I was 15. As I got older and moved there, then my career just started to mix and melt together, and I started to be able to do more illustration… I only started acting recently. So, I guess that's where I am now. I moved to LA about two months ago, so I'm based here now, back in the States.
Your art looks amazing. How did you get into it? How do you manage to incorporate it into your busy schedule?
Oh, well first of all, thank you so much – I really appreciate that. Art has been the one constant in my life, so I find that anything that I'm working on, art-related, never really feels like work. I'm trying to do as much of it as I can, and I think that it's just the thing that I could do forever and never get bored. So I don't really feel like I have to make time for it – I think it makes time for itself.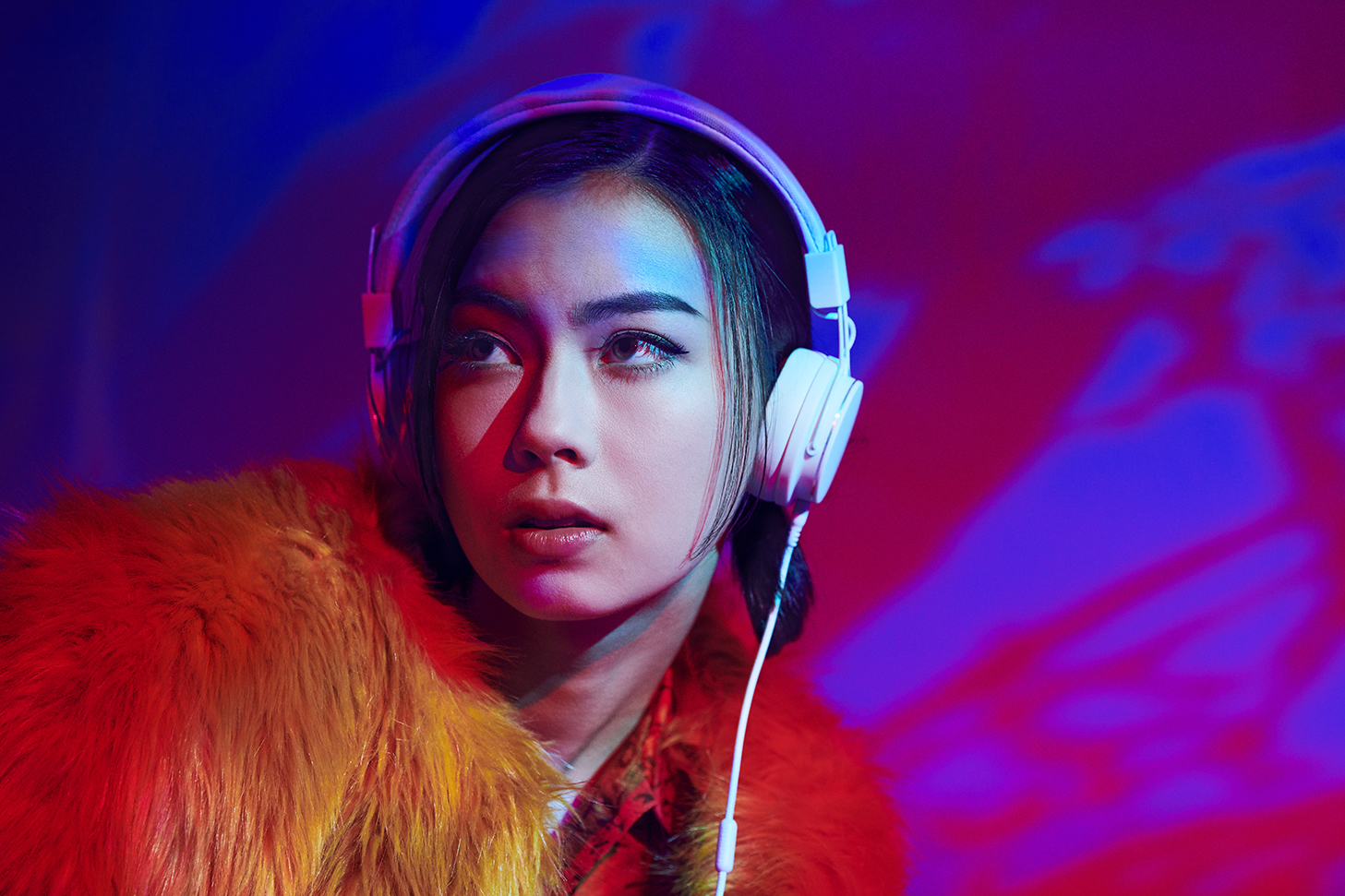 What are your biggest influences and inspirations?
Within art, I'm super-lucky to say that I have become friends with a couple of the people that are huge inspirations to me. A couple of the artists would be James Jean and Katya Turata, but growing up I've always been influenced by Studio Ghibli, of course, and then a lot of animated films like Coraline. That's one of my favourite movies. I loved to take photos growing up, too, and I'm very influenced by music. A lot of my influence comes from the emo bands that I loved listening to, and just a bunch of my friends that I can hang out with.
What's your relationship with social media?
Well, in middle school, I started an art social media page on DeviantArt. That was a place where I felt the most safe and comfortable, because I could totally be myself without anyone knowing who I was. I was sharing all my art online anonymously and making friends who had similar interests with me… especially when I felt that everyone around me at school didn't like the things that I was doing. They didn't think it was cool, so the internet helped me love the art that I was doing, and really pursue that and know that there was a place in the world for me. As I started with Instagram and Twitter and put myself out there, that was kind of when I started modelling, actually. I had a bad relationship with social media for a time, because it was taking over my life, making me feel self-conscious and comparing myself to other people. But now, I feel like I'm coming to terms with social media. It's now returning to just being a place for me to connect with people and be inspired by others. And I really think that's what it should be.
Do you have a persona on social media?
I think that for a little while, I was trying to be a serious, cool art-model person. But that, for me, was definitely coming from a place of fear of just being myself, because I didn't want people to think I wasn't cool and I didn't want people to think that I was awkward or whatever. I've become more comfortable, after the reality show, of being myself and putting myself out there. I think social media is becoming a place that is very real to me.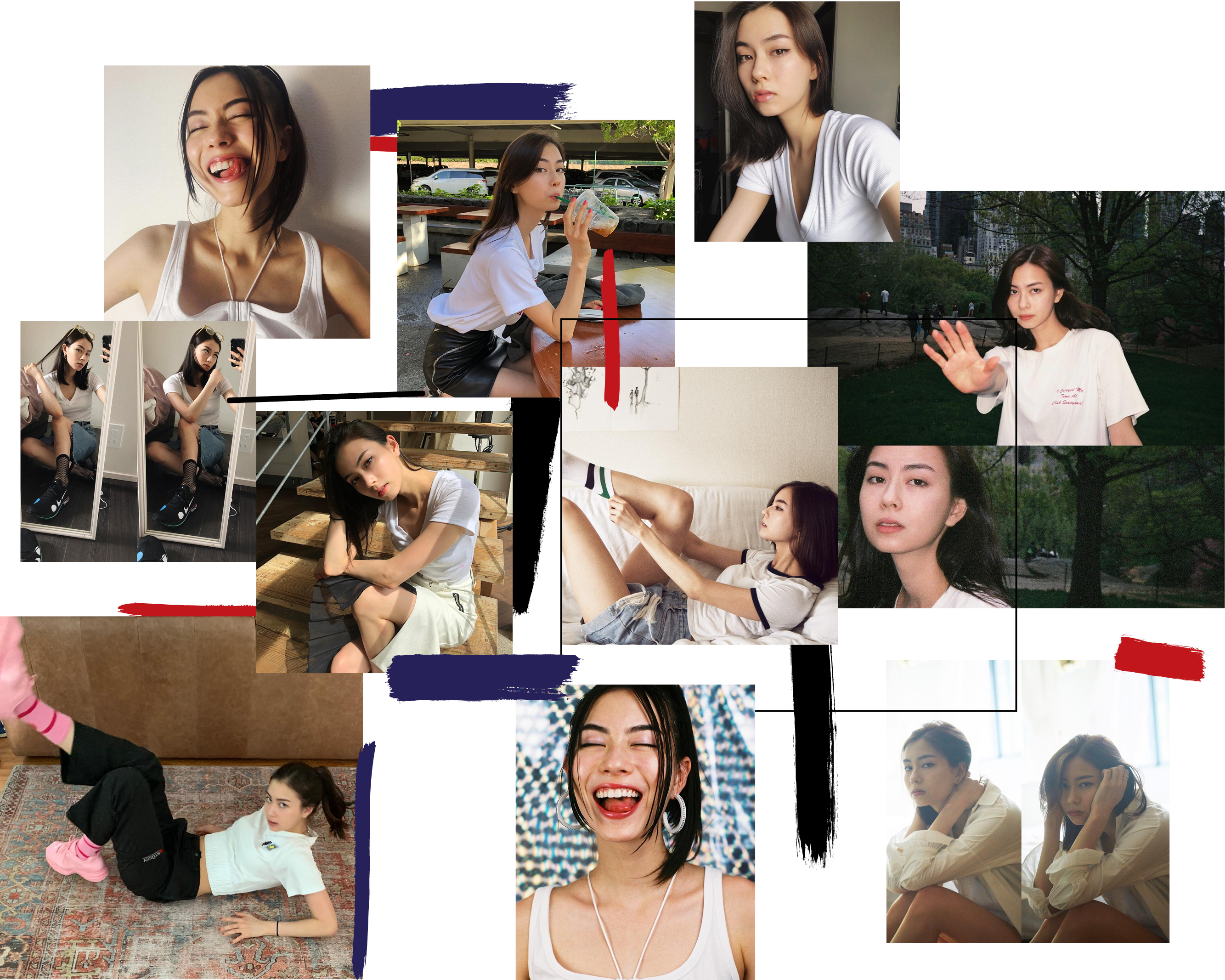 Have you always wanted to pursue different passions?
Yes, I think so. Growing up, I always loved drawing, but I have always been passionate about a lot of other creative outlets. And I think what I've also come to realise recently is that what I'm truly passionate about is expressing the things that I feel in life, because I am a very emotional person. I hated myself for it for such a long time, and kept telling myself that I needed to be stronger and not feel things and not show things. But I feel extremely lucky now that I have the opportunity to express these things through a multitude of platforms – and it's something that I want to keep pursuing.
Why did you move to Tokyo?
When I was in my senior year in high school, I promised myself that, because I wasn't going to go to college, I was going to go to Japan. Yeah, I really wanted to find an adventure for myself! I wanted to find this feeling that I had been chasing through my art. I really wanted to push myself in the real world, and I felt that moving to another country and having to figure everything out from the start was exactly the challenge that I had been craving.
Obviously, living in Tokyo is completely different to living in the US. How was it to integrate in a very homogenous society?
I think that it was hard at first, but I definitely entered Japan with so much excitement and so much passion to learn more about the culture. So I never felt that any of the struggles I went through were a negative thing. I always thought that I could learn more, and that there were more things that I could explore and learn more about myself, and how I would be in a different environment. And I think that when you put yourself into a different culture like that, you get to learn a lot about the things you like and don't like. I think that it taught me so much about myself and made me grow an incredible appreciation for different places.

Congratulations about your new role in Legion! How did it happen?
My agent sent me this audition and I was in Tokyo at the time. I was living there, so I shot the audition on my iPhone. And it was crazy, because I really didn't think that I would get the role… I had no experience in acting. But I was, you know, kicking myself around for no reason, so I said that I was going to do my best and send it in. They really liked it and asked me to do another scene, which I recorded again on my iPhone and I sent it in – and that was it. And once I got the part, a couple of weeks later, I dropped everything in Japan and moved to LA, which was an easy decision because I knew that I was going to do it. But it was a hard transition, because it felt like things in Japan with work were finally moving in the direction that I hoped they would go. So it was another adventure to change course at that point.
How does it feel to be in such a popular and critically acclaimed show?
I feel like it's a dream. I really can't believe that it happened. I mean, I can believe it, because it did happen, but life is being very great recently. And I have been able to explore so many different areas of myself: as a creator, as a person, in connecting with the people on the show, and as a performer and through acting. You know, from the writers to the other cast members, to the people doing the effects and the hair and make-up, and to the costuming and set design and everything, it is a really inspiring community.
Tell us about your character.
Her name is Switch and she's a young mutant with the ability of time travel. She's just figuring out how to use her abilities, though, so she's always listening to tapes on her Walkman that teach her how to time travel and things to look out for. She's someone who feels very disconnected from the world around her, and I think that she's someone who has a lot of difficulty in connecting with people and opening up. So, there are a lot of things about Switch that I can relate to. She's a strong and very smart girl, and I can't wait to meet her.
Let's talk fashion. How would you describe your style?
I'm not sure! [laughs]Now that I'm thinking about it, let me see… I like athletic stuff, definitely, because I do like to work out often. I like wearing a lot of streetwear, my friend's brand in particular, because I think that's the beauty of streetwear – that you get to tell stories through what you're wearing. I'm a big fan of Marc Jacobs, of course, but I also love Ambush a lot recently too. I love a lot of Japanese designers, but I don't really know what to say on my style, per se. It's like a mix of casual with high-end pieces here and there.
Do you see yourself designing collections and getting into the industry in the future?
I would absolutely love to. I think that, for me, fashion is something that has really been empowering – in discovering what kinds of clothes make me feel good about myself, and what kinds of styles make me feel alive and empowered.
Where do you see yourself in five years, and do you think you'll continue to pursue different careers and passions?
I have no idea right now and I think that's what I love – that I've come to a place where I'm comfortable in trying new things and pushing myself. So I hope that in five years, I can say that I've stayed true to what I believe and what I think is really interesting for myself.
Tune in to Legion's third and final season on Tuesdays, at 9.50 PM (Hong Kong) and 8.50 PM (Jakarta/Vietnam), on FOX and video-streaming service FOX+
Story by Marta Colombo