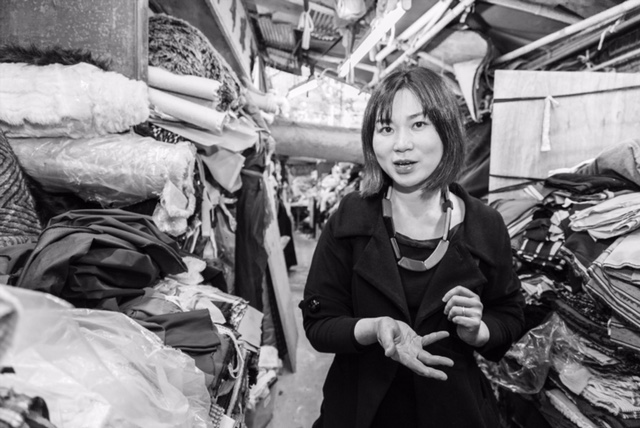 Lovers of layering, rejoice! It's finally that time of the year again, when you can wantonly pile on layer after layer of clothing without passing out from a heatstroke. Layering is great because you are no longer confined to the limitations of one piece of clothing, and instead you can kind of "design" your own look with the curation of mixing multiple pieces together. It's also great because, amongst the excitement and festivities of the season, we have undoubtedly eaten a few too many servings of baked potatoes and indulged ourselves to more than a reasonable amount of bubbly… But no fear; layering hides all sins! That is, if you know how to do it correctly. To avoid looking like a wannabe fashion-onion (because layers), look to the fashion pack from all around the world for inspo on how to stay warm and covered.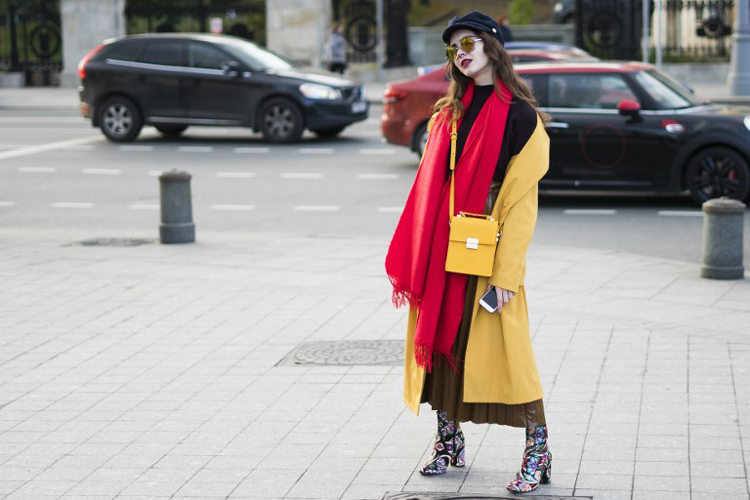 Who said winter needs to be all doom and gloom? Bang those primary colours together in a single outfit and shine like a warm ray of sunlight in the cold weather.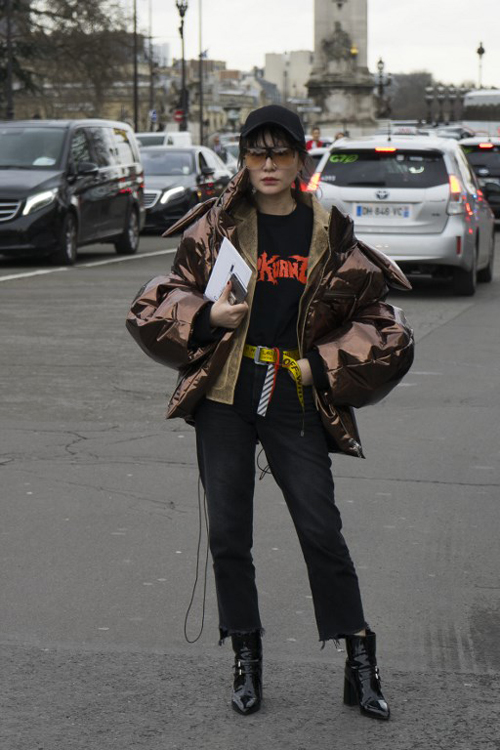 Puffer jackets are super-hot (pun intended) this season, as seen in runway collections from Balenciaga, Chanel, Sacai, Versace and Vetements. To stray from looking like a bulky overcooked potato, the jackets can be worn unzipped and off one shoulder to create a more streamlined silhouette, reminding people that you still have a body under those layers of padding.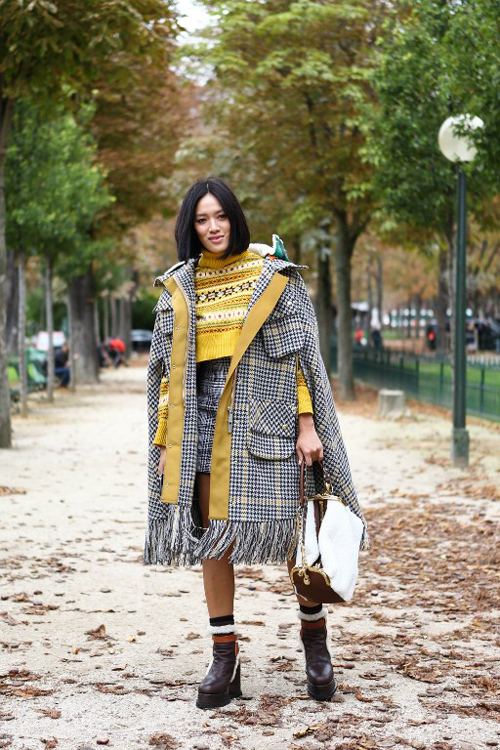 Nordic knits and checks are no longer dated and old looking when they are accented in bright colours such as yellow. Worn in the right staggered layers and proportions, the silhouettes are actually youthful and fun.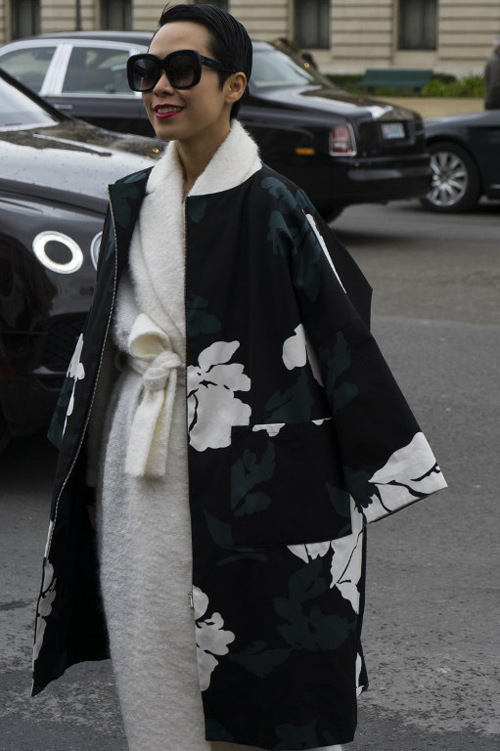 If the thought of patterns and prints causes you much anxiety, start with a simple, solid-coloured inner layer and then top it off with an overcoat with a monochromatic or subtle print for a look which says "I'm not a clown, but I'm still fun, I swear."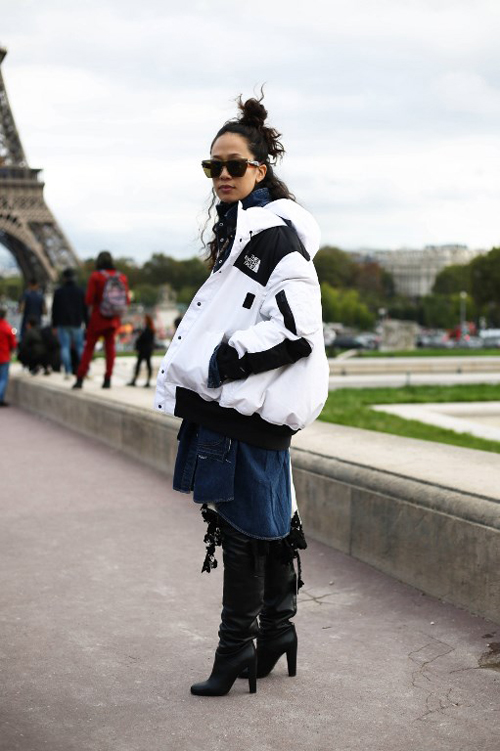 Utilitarian outerwear, when styled with a 2017 chic-girl essential such as a thigh-high boot shows the world that you have a high level of taste for fashion, but you're smart enough to stay warm.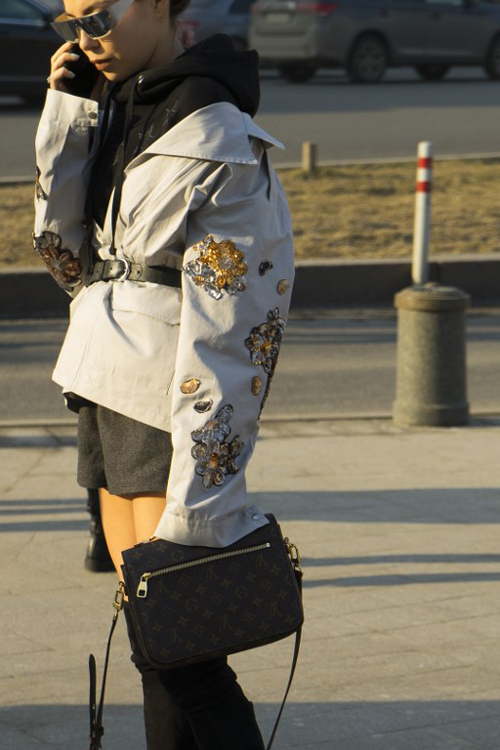 If you are piling up on top but the temperatures are far from sub-zero, you might want to leave some breathing room at the bottom to regulate the temperature. Winter on top, and summer on the bottom.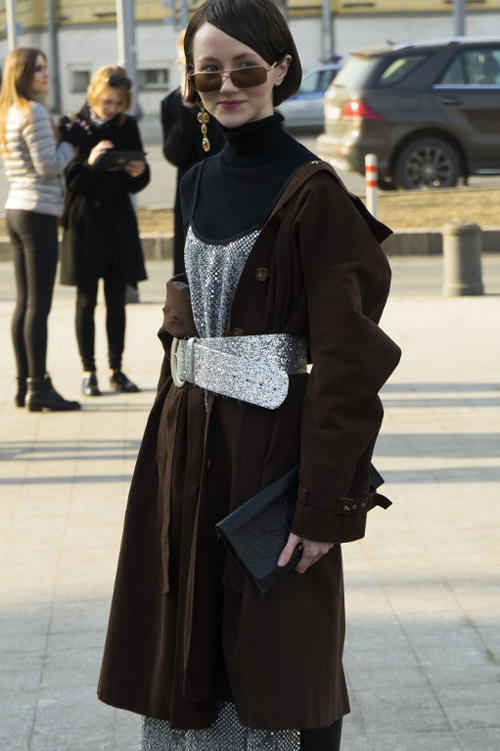 Textured and heavy materials such as knits and wool with a dull, or no sheen can be livened up with a zap of metallic layering and accessories, strategically worn on the upper of the body to add more details and pull attention towards the face.
A voluminous fuzzy coat worn over the shoulders might be difficult to pull off, especially if you have a smaller frame. It can feel like the coat is wearing you. But when worn off the shoulders – and effectively – as arm warmers, the effect is more flattering because outline of the neck and shoulders are still visible.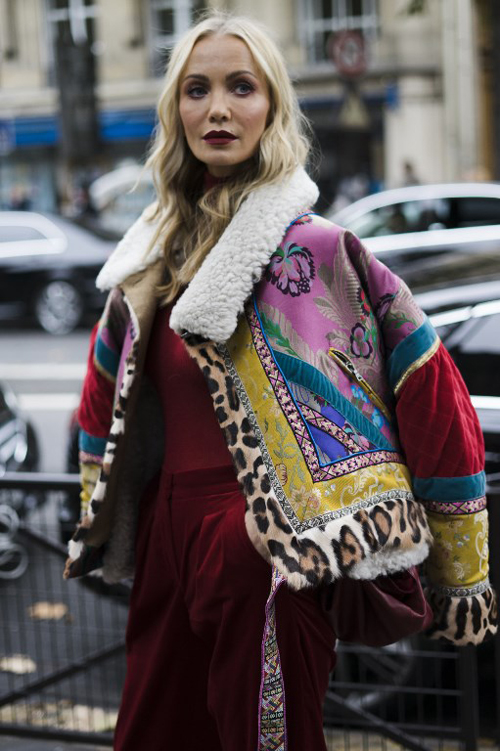 When wearing a statement piece, such as this gorgeous patchwork shearling coat from Etro, you might want to keep the rest of the outfit simple so the focus of the piece really stands out. Take one accent colour and texture, in this instance the red velvet of the coat sleeve, and build the rest of your look around it, so it feels cohesive with the whole outfit.
Looking for more fashion inspiration? Check out how the world's style-royalty dressed at Paris Fashion Week here.