7:30am
Dior is the first show today, which isn't until 2:30 pm. Jet lag means I am up early. I take advantage of my extra time by sorting out my skincare for the week. The girls at SacreBleu Paris- bless them!- booked an appointment for me with the Biologique Recherche (BR) global trainer, Stephanie. Their flagship and headquarters is right on the Champs-Élysées, and they get all the newest products first. I bump into everyone from the business here (two editors, a creative designer, and a stylist. Not naming who, though).

10:30am
Back to the hotel to get ready for the day. I am still not totally warmed up to Paris Fashion Week yet, so my outfit choice is something that makes me feel prepared for anything: a three-piece Brioni suit in tropical wool mohair. It's more on the classic side - but I feel put together and ready. When in doubt, go for chic. Plus, suits are a thing this season.
2:00pm
Off to Dior! They transformed the Musée Rodin into a glittering cave. Emily Ratajkowski was looking angelic in a cream coloured dress. Maria Grazia has really struck a cord with women, almost everyone was dressed in Dior. There were bags and black leather berets everywhere. I lost count after 15. Tina Leung was wearing this metallic red lip colour which was so good. Mental note to make a quick trip to Dior Beauty this week. Christina Paik and Virgil Abloh were joined by the hip at the show - coming and leaving together.
3:30pm
We rushed across the river to catch the HKFG show at the Fashion Farm Foundation— supporting new and homegrown talent is so important. The show was held in a gritty courtyard and featured Cynthia & Xiao, ID, and Kenax Leung. There was so much heart in the show. The director of Tranoi was there, which could be very promising for the designers. The knitwear from Cynthia & Xiao was very notable. Go Hong Kong designers!
4:30pm
Stole a quick 15 minute French lunch, consisting of a few slices of ham, a baguette with butter, and a glass of champagne. When in France.....
4:45pm
Note to self: slingback stilettos and cobblestones don't mix. I run through the streets to catch the The Koche show, but of course get lost. Thankfully, some photographers direct me, but no luck. When I get to the doors, the attendant just shakes his head. I should have skipped lunch. One of the biggest convo topics with all of the editors and buyers were the instructions to arrive on time and the printed promise that the show would start punctually. I guess they kept their promises.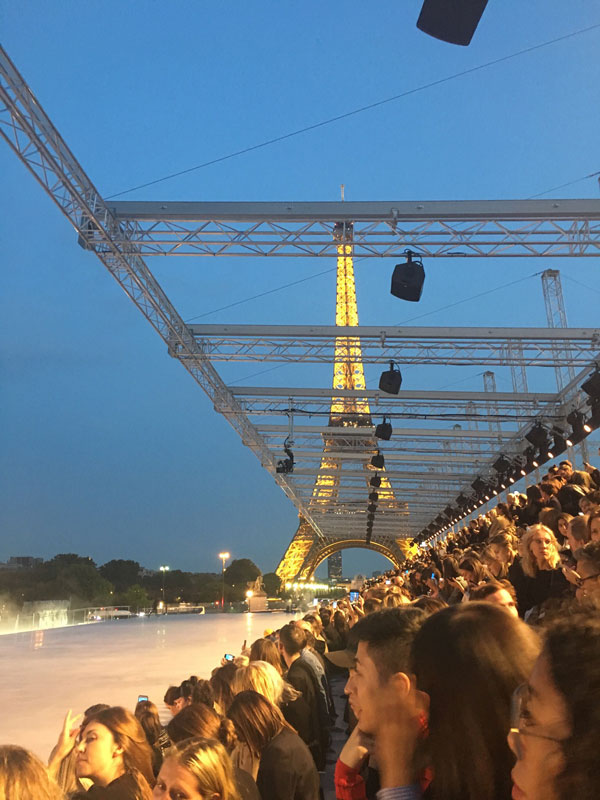 7:45pm
Saint Laurent was very clear about punctuality, and amazingly the show was filled early, except for one straggler (looking at you John Legend!). It was definitely a star-studded event, with the likes of Kate Moss, Courtney Love, Asia Argento, Charlotte Gainsbourg, Lou Douliion, Catherine Deneuve, Chloe Sevigny, Jeurgen Teller, Lenny Kravitz and Naomi Campbell dotting the front row. Some of these familiar faces actually wore the brand when Yves was designing the clothes himself. Interestingly enough, Courtney Love and Frances Bean were not sitting next to one another. Also Victoria Song and Jong Sun Lee were sitting next to one another front row, but when the photographers were taking her picture, he quickly jumped up to make sure he wasn't included. Hmmmm…
8:00pm
The show started just as the Eiffel Tower lit up with its beautiful, twinkling lights and the crowd fell into a stunned silence. I guess that's why we had to be so on time! The show was amazing. Anthony Vacarello really brought it. He was able to beautifully be himself while honouring the codes that Yves Saint Laurent had formed for the house. It was super sexy, it was super cool and it was glamorous. Off to the parties now, let's hope jet lag doesn't catch up with me!