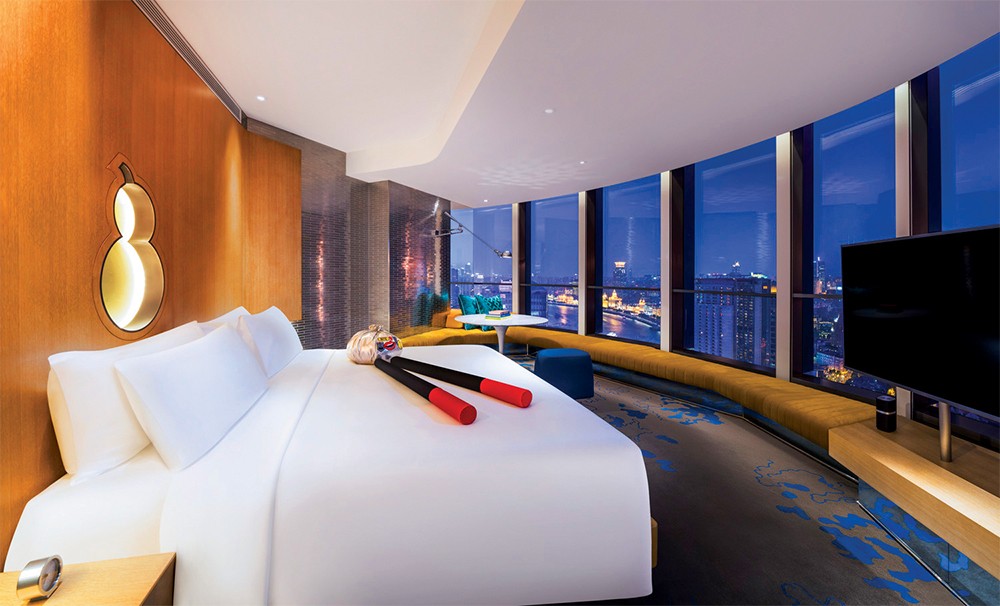 To travel is to see the world and immerse oneself in other cultures. It's the thrill of making the unknown known and discovering the secrets of a land that's not your own. But if you happen to be staying in the new W Shanghai The Bund, you've got another option – there are myriad reasons to stay inside and luxuriate.
Equal parts modern and retro-glam, the new behemoth soars above the city's most famed landmarks, with unprecedented views over the Oriental Pearl TV Tower, the Shanghai Tower and all of Pudong. Inside, W Shanghai The Bund is reimagined art deco decadence, punctuated with modern touches such as the towering, multilevel Electric Laneway installation – a tongue-in-cheek neon work that captures the perfect blend of old and new, which in turn characterises the city.
It's a wonderful, whimsical, decadent maze of the best of all that W Hotels have to offer: amazing cocktails, decadent spa treatments, world-class gym amenities, incredibly friendly staff and two stunning swimming pools. One pool is inside for laps – which you will probably never use – and the other is outside for the stunning views, which is a no-brainer.
But, of course, in any bustling city, true luxury is privacy – and you'll only get that in your room. Room 4018 is the one to book; it's one of the 58 "Cool Corner" rooms in the hotel. Each boasts 560sqft of pure views, with Puxi expanding to one side and Pudong bustling to the other. The interior is modern and sleek, with bold colour accents, such as the plush golden demi-banquette that stretches along the windowed walls.
Carved above the bed is an illuminated hulu – an ancient, auspicious gourd that's a symbol for protection, happiness and good luck. It's a feature unique to the Cool Corner rooms, and is meant as a not-so-subtle reminder of the hotel's endless contrasts of old and new at every corner.
There's a smart-toilet, a rainfall shower and a superbly stocked minibar, but the true allure of Room 4018 is the freestanding bathtub. Generously sized enough for two – but far too enticing to share – it looks directly out over the city. The 24-hour room service also means a bottle of champagne is never far away – and it sets the scene for the perfect addition to any late-night soak, when the city twinkles at its finest.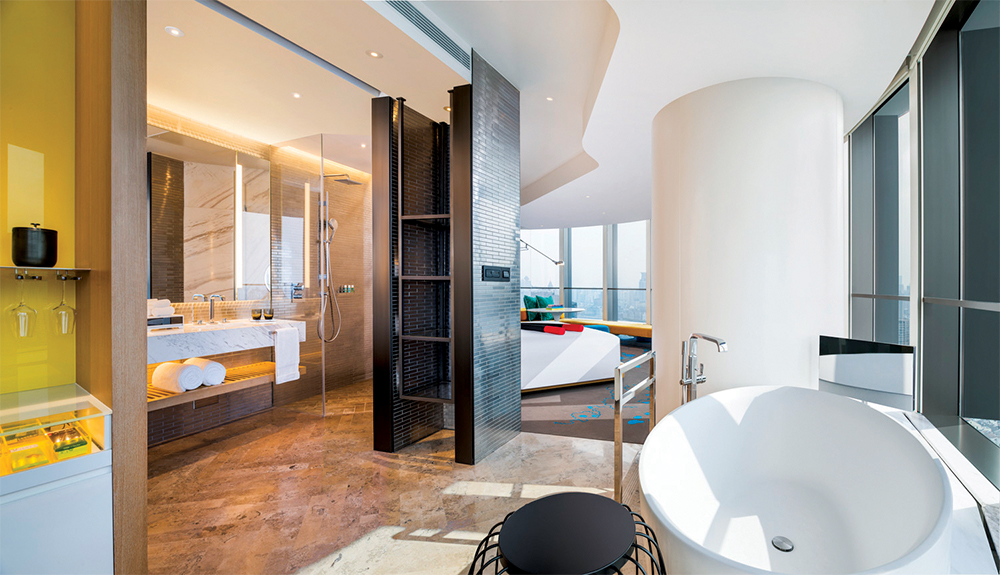 This feature originally appeared in the November 2017 print issue of #legend