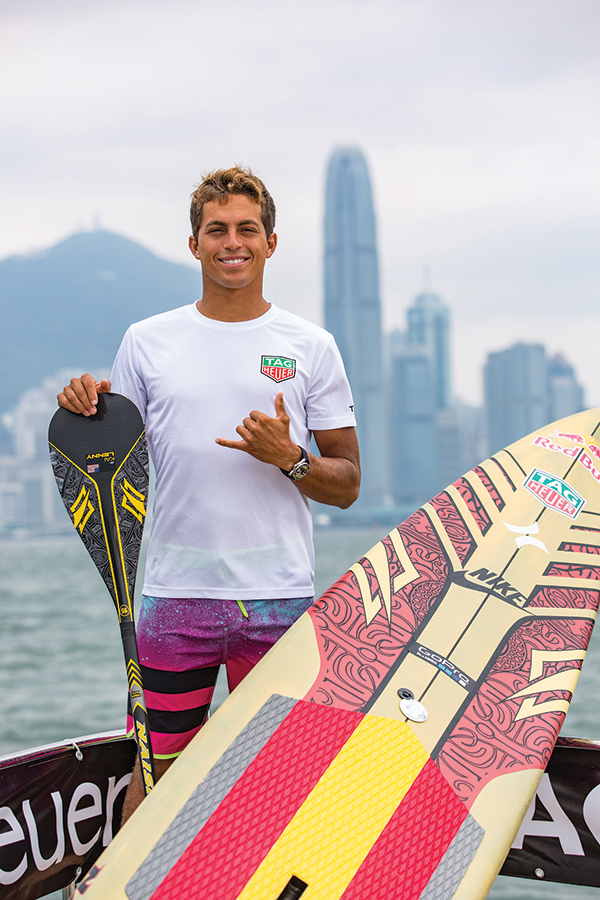 ​Where did you grow up, and when did you fall in love with water sports?

I was born and raised in Maui, Hawaii, and water sports have been a part of who I am since the day I was born. My parents were always going to the beach. I had a defining moment where I was either going to just play in the sand and get sandblasted or I was going to go into the water. I always took to the water because it felt so good. It was peaceful. I had a lot of energy as a kid, and the ocean made me feel calm. Ever since then I've been chasing that feeling of just being tranquil and feeling content.
For people who don't know what stand-up paddle boarding is, can you explain what you have to do in a competition?
It depends on the type of competition. I came to Hong Kong to do a long-distance flat-water race. We paddle 22 kilometres and go around a series of buoys, and the first one who completes that wins. There's another type of racing: when the wind is really strong, you go from point A to point B riding these big open ocean swells. Another is short-distance sprinting, as hard as you can, for 200 metres. You can also sprint short distance but through waves, so you go in and out of the surf, almost like a terrain park. Then there's performance stand-up paddling, so you do manoeuvres and tricks on smaller boards. Riding waves and doing tricks is my favourite because you can do so much and it's such an art form.
You've been surfing Hawaii's huge Jaws break for several years now. Do you remember the first time you attempted it?
The first time I went to Jaws, I was 16, but the first time I saw Jaws, I was still a little kid. It was probably one of my earliest memories. My whole life I've been watching it. By the time I finally got out, I got a call from Laird Hamilton and he's like, "Hey Kai, you're ready". We went hydrofoiling when I was 16. Nobody was around. It was just us and I caught some pretty big waves at the time. It was really scary but super-exciting. It was a new frontier for me.
Behind every athlete is, obviously, years of hard training. What is your training schedule like? 
It's a lot of work. Stand-up racing takes a lot of time. I paddle two to three, even four hours a day, and in between I eat a lot, and in between that I train by surfing, windsurfing, kite surfing, hydrofoil surfing. My whole day is always filled and I'm so tired at night I just go home and crash out. I use a lot of cross-training sports to help me improve. Three times a week I'll go to the gym, mostly for injury prevention, but my hard training is on the water.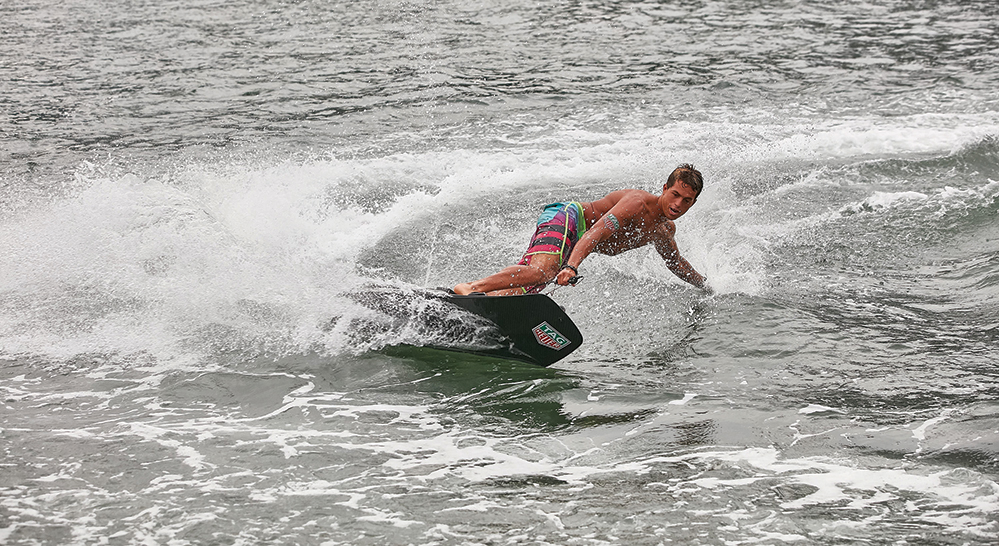 What goes through your head before a competition?
Well, before I go into a competition, I want to feel content with myself and not be worried about losing or be worried about not being strong enough to be the best. I train as hard as I can so that when I go into a competition, I can trust that I'm going to paddle my best. If I trust that I'm going to paddle my best, if I don't win, I know I did everything I can. That's good because I can learn how to get better. All the hard work has been done during training, so on the day of the race you just have fun. I always win events when I have fun. If I'm truly having fun and in-the-moment stoked, then that's when I win.
What gives you the most pressure?
I think the most pressure I get is from myself because I have a high standard. I want to be able to do everything perfectly. I want to win and I want to win the best I can – not just a little bit but win by a lot. So I keep pushing myself. But pressure is good, though. I like pressure. It makes me focus more.
You have a strong social media following. How do you hope to inspire other people?
In my Instagram posts, I try to be really honest. I do everything myself. I try to share my experiences: what I'm doing right now, and past experiences that get me excited. For me, it's a window for other people to see what I'm up to. It's kind of like a journal. Hopefully, I can inspire people to do other sports. Hopefully, I show them that this is good fun. If I can inspire them to visit Hong Kong or to visit different places in the world, that would be cool too.
What is your favourite way to connect with your fans?
My favourite is Instagram because you post an image or a video and there's content underneath. It's concise. It's really easy. Facebook next because you can get into a little more detail and put bigger videos on. Twitter I don't use that much because I like sharing visuals. Then Snapchat. I used to do more Snapchat, but now I use Instagram Stories.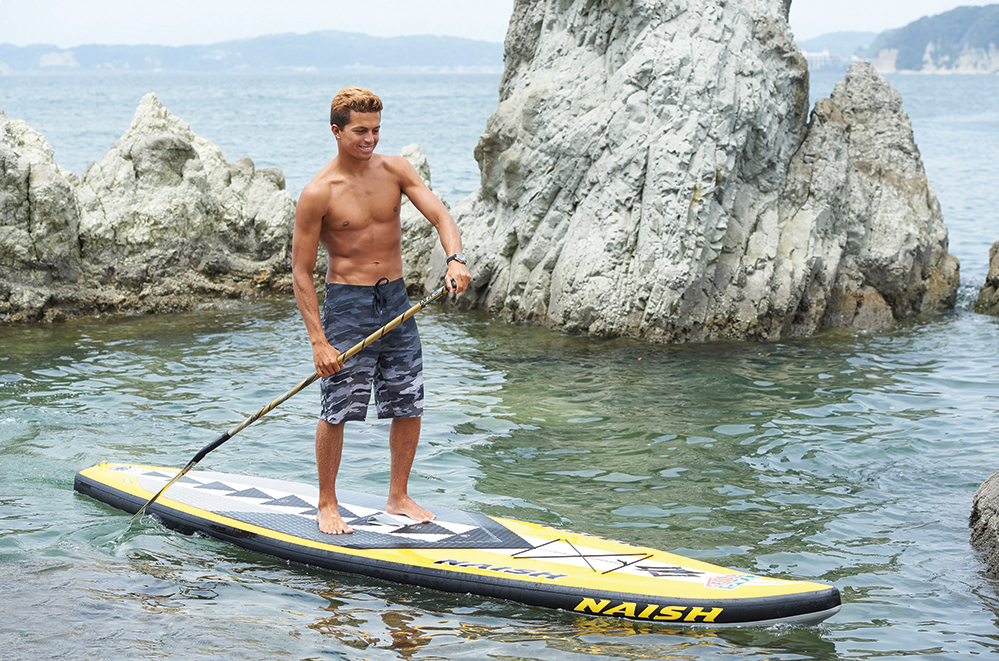 You're 24 and already a TAG Heuer ambassador. How did that come about?
I'm very lucky. I've always stuck to my own thing and marched to the beat of my own drum. It's been a year and a half now that I've been with TAG Heuer. I was contacted by them. They liked what I did and where I was going. I'm doing races in Hong Kong. Most surfers never come here, so that's really cool. My relationship with TAG has grown more and more. I love to do things with the brand and meet new people because if I can inspire people and get them excited about what I do it's good for me but it's also good to open people's minds.
Most people think the ocean is this grand place, but they would never go out there. Society has taught us to be so reserved, safe, when, in reality, we are meant to be challenged. What's cool is that every time you go into the ocean, you're challenging yourself; your natural instincts are keeping you on your toes. It keeps you sharp. You also have more respect for it.
So would you say you're also pretty active in ocean conservation?
It goes hand in hand naturally when you're using the ocean. The ocean becomes your friend, your teacher, your mentor. The ocean is teaching you about life, I believe. That's what I've taken from it. And so, in that sense, it teaches you about conservation and caring. By doing all these different sports, it has opened my mind to more, to be more respectful.
When you're an ocean athlete of any kind, you naturally become an environmentalist, a conservationist. Those are the words society tells you that you are, but all you are is human. Everywhere I go in the world, I try to connect and create an impact. When I was in New York City I did a charity race for SEA Paddle NYC. All the money goes to autism research as well as ocean conservation. I also have this organisation I run that's called Positively Kai and I try to donate money through my own organisation to other charities that I come across around the world.
You're an inspiration to many, but who inspires you?
I've so many people that I look up to. When I was little, Laird Hamilton and [world- renowned windsurfer, kiteboarder and stand- up paddler] Robby Naish were on the top of my list because they were relatable. Michael Phelps: he's the greatest of all time. He's so focused and smart about his training. Also, motocross legend Travis Pastrana has pushed the boundaries in that sport. I'm just inspired by people who do incredible things and do it for the right reasons.