From Gigi Hadid's pregnancy to Brad Pitt's SNL skit – here are the hottest news out of Hollywood
April 29, 2020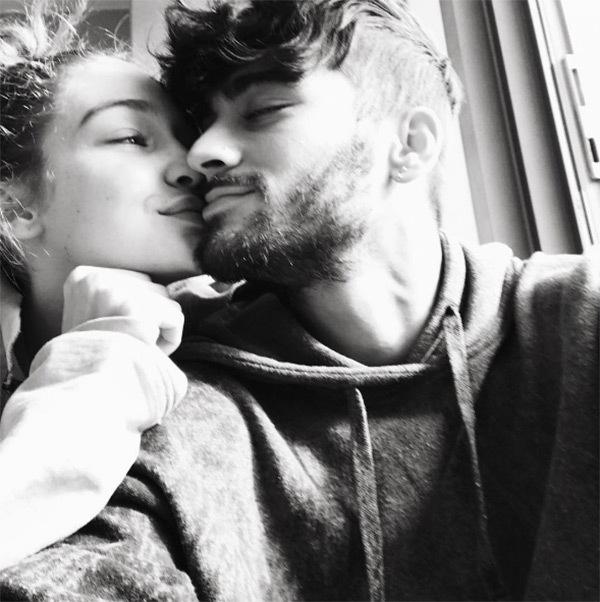 For a time of social distancing and quarantine there sure are a lot of things going on still in the entertainment world! And of course, we are delighted. So without further ado, here are the hottest, most talked about news that have come out of Hollywood this week.
Gigi Hadid and Zayn Malik are having a baby!
Gigi Hadid has just confirmed reports that she is 20 weeks pregnant with on-again, off-again boyfriend Zayn Malik's baby and as expected, the Internet just exploded. There's actually a theory circulating that Hadid's 25th birthday celebration was in fact also a gender reveal party, where she was spotted posing with a "2" and "5" balloon, one with a blue string, the other, pink. And as the couple has just announced, they're having a girl! While the news sent shockwaves, we're not entirely surprised as Gigi has spoken about wanting to start a family, and possibly be more involved in the "creative side" of fashion rather than just modelling, and maybe even taking up cooking! She will be one stunning domestic goddess, that's for sure!
Brad Pitt's SNL skit as Dr Fauci
When Dr. Anthony Fauci , a member of the White House Coronavirus task force, was asked by CNN anchor Alisyn Camerota who he would like to play him, he said, "Oh, Brad Pitt of course!" And true to form, a few weeks later, Pitt portrays Fauci in a Saturday Night Live sketch. Pitt as Fauci delivers a somber message, saying that "there has been a lot of misinformation out there about the virus" and decides to clarify "what the president was trying to say." Pitt's performance was gold, and touching. Towards the end of the skit, he takes out the wig and sends a heartfelt thank you to the real Fauci for his "calm and clarity during this unnerving time." He also expressed gratitude to the medical workers, first responders and their families. Fauci has seen his performance and gives Pitt a thumbs up!
Michelle Obama stars in Netflix documentary
Former first lady Michelle Obama announced on her Instagram account that Netflix is releasing a short film called "Becoming", which documents her life and experiences while touring after the release of her memoir of the same title. Directed by Nadia Hallgren, the documentary is set to be released on May 6. "Those months I spent traveling – meeting and connecting with people in cities across the globe – drove home the idea that what we share in common is deep and real and can't be messed with," said Obama in a statement. "In groups large and small, young and old, unique and united, we came together and shared stories, filling those spaces with our joys, worries, and dreams. We processed the past and imagined a better future. In talking about the idea of 'becoming,' many of us dared to say our hopes out loud." We're so ready to be inspired by this truly incredible woman.
Meryl Streep, Christine Baranski and Audra McDonald's Sondheim tribute
Meryl Streep, Christine Baranski and Audra McDonald performed Stephen Sondheim's "The Ladies Who Lunch" from "Company", as part of a livestream celebrating the composer's 90th birthday. Whilst they performed in their homes, Streep is seen going for a straight scotch from a martini, Baranski downing an entire glass of wine after another, and McDonald belting out between vodka shots. It was just precious, and surely made us want to grab a drink, never mind it was the middle of the day!
Kylie Jenner's new $36.5M mansion
Self-made billionaire Kylie Jenner has just purchased a brand new property in Holmby Hills for a cool US$36.5 million, expanding her real estate portfolio outside of Calabasas, where she already owns other properties. The 15,350-square-foot mansion has two separate guest apartments, all built with concrete exteriors and an open-plan with light-filled interiors. There are seven bedrooms and 14 bathrooms, a central courtyard with a rectangular pool, a spa, a dining area, a firepit, an outdoor theatre, and a sports court – phew. We see bits of the mansion in her Instagram posts, and it certainly is not a shabby place to be quarantined.
Kanye West officially a billionaire – and he wants everyone to know
Kanye West can now tick "be a billionaire" off his to-do list because finally, he is one, according to Forbes. The magazine says the rapper and fashion mogul, who famously hasn't been shy about wanting this title – badly – has a net worth of US$1.3 billion. His assets include a stake in the Yeezy trainer line, which alone is worth US$1.26 billion. West and his wife, Kim Kardashian West, also own several properties in Los Angeles and Wyoming. Despite being officially acknowledged as part of the billionaires club, West was still unhappy with Forbes, claiming they had undervalued him and in fact is valued at US$3.3 billion. "It's not a billion," West reportedly said in a text to the magazine. "It's 3.3 billion since no one at Forbes knows how to count." Oookkay.
Read more