Louis Vuitton x Yayoi Kusama: The art of infinity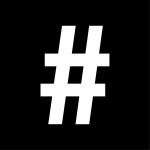 By: #legend
January 11, 2023
More than a decade after their conversation first started, Louis Vuitton and Yayoi Kusama reunite to create magical objects that transcend space and time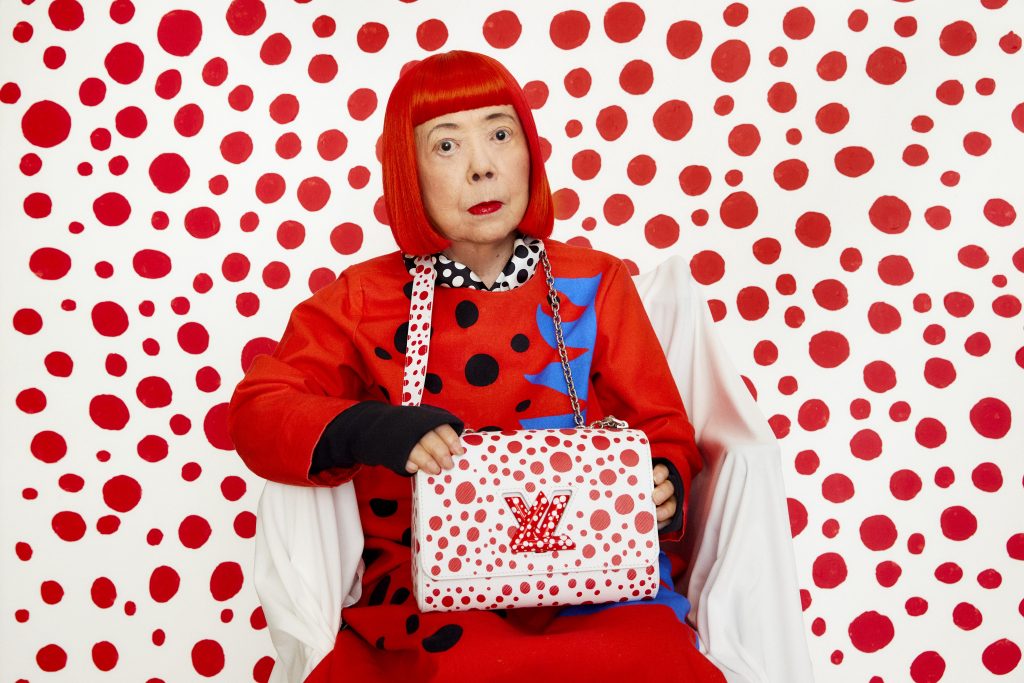 Louis Vuitton has always been more than a purveyor of elegant, practical luxury goods. Tracing back almost a century ago – to when the eponymous founder's grandson and family aesthete, Gaston-Louis Vuitton, began commissioning artists to create store windows and works for the stores themselves – the Maison has collaborated with some of the world's most innovative and influential creative minds to fashion a world beyond our wildest dreams.
It was in 2012, after collaborations with Sol LeWitt, Richard Prince and Takashi Murakami among other huge names in contemporary art, that Louis Vuitton first met the magic of Yayoi Kusama. The Japanese "priestess of a total, hypnotic and colourful art" is not only the most successful living female artist but perhaps the pre-eminent global artist of the 21st century, most well known for covering canvases, sculptures and every other available surface in polka dots to represent infinity and a sense of self-obliteration.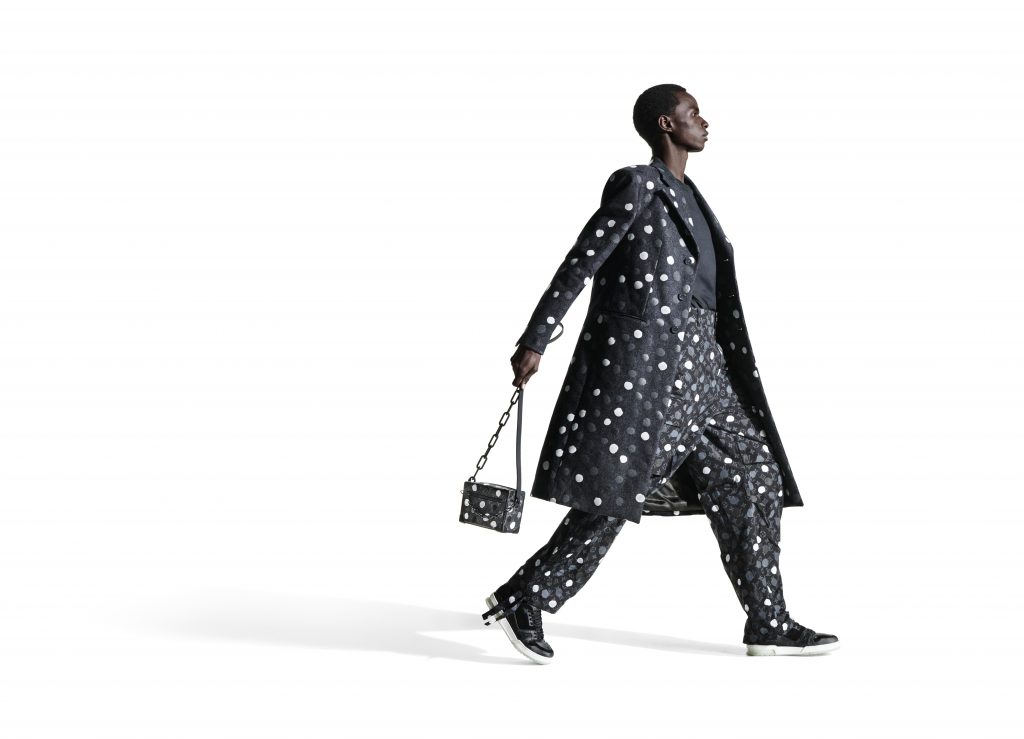 Following their first creative exchange, Kusama presented Louis Vuitton with a gift that encompassed their two worlds completely – taking one of the Maison's most timeless and emblematic objects, the trunk, and hand-painting it with her characteristic dots. While seemingly simple coloured circles, the dots are in fact the truest reflection of the pursuit of the infinite through craft that unites the luxury house and the artist.
Not only has Kusama presided over each incarnation of the dots but the Maison's artisans have challenged themselves to replicate each dot in exact detail, down to the brushstrokes, texture and weight.
Now, 11 years later, Kusama's talismanic objects, motifs and imaginings of infinity take over the Maison and all of its product categories: from bags to menswear; womenswear to sunglasses; fragrances to shoes and accessories. The notion of infinity is mirrored in the collections' expansiveness, sweeping up the iconic pieces of the Maison and transforming them along the way, as well as their ability to test and further the limits of Louis Vuitton's savoir-faire.
Louis Vuitton x Yayoi Kusama will appear in two parts, with Drop 1 launching this month and Drop 2 launching March 31. The initial release, which was hinted at during the Louis Vuitton Cruise 2023 show in San Diego in May 2022, comprises the Painted Dots, Metal Dots, Infinity Dots and Psychedelic Flower collections.
Kusama has been painting dots since she was 10 years old, after experiencing hallucinations of a vast field of dots and talking flowers. It's only natural, then, that Drop 1 begins with Painted Dots proliferating across ready-to-wear, leather goods, accessories and fragrances. Each dot is a direct translation of Kusama's hand through a complex serigraphy technique and embossed printing on leather or iconic coated canvas, from colourful renditions true to the original artwork to a gradation of black, silver, grey and white specifically for men.
Also see: Artist Luke Newton takes pencil colouring to new heights
There is also a playful meeting of Kusama's signature brush-stroked dots with Louis Vuitton's Monogram that runs throughout this collection, whether on hard-sided luggage and soft canvas bags or a down jacket and cargo pants. The painted dots continue their proliferation across other leather goods such as white Capucines and black Dauphine bags as well as a black leather skirt with multicoloured brush stroke buttons; then onto ready-to-wear silk twill pyjama suiting, intricately printed denim and cashmere knits for women with men's tailored outerwear, in the shape of a precision printed pure wool overcoat.
Accessories multiply, from reversible bucket hats, silk scarves and Edge chain jewellery in the women's world to baseball caps, belts and eyewear in the men's. The colourful and greyscale painted dots also travel to the fragrance realm of the Maison, enveloping both the packaging, bottles and Travel Cases of Attrape-Rêves and L'Immensité.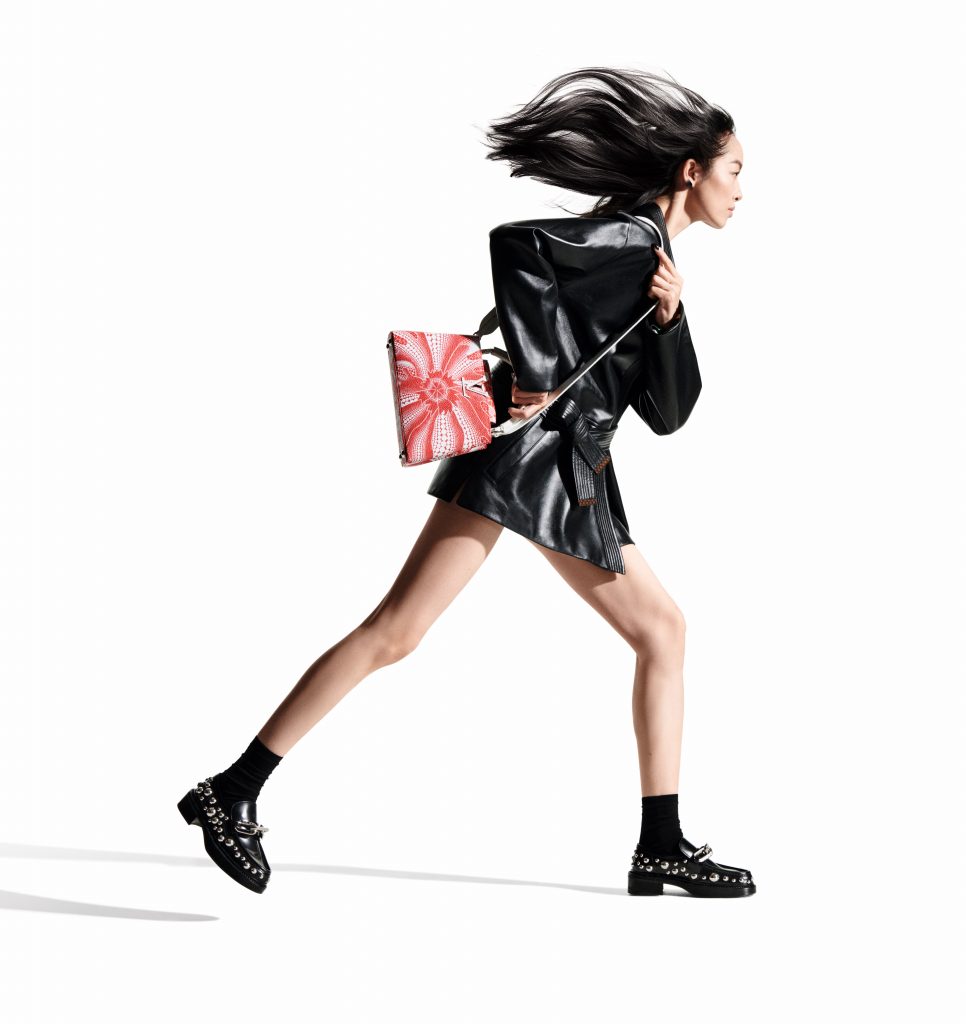 Metal Dots, as the name suggests, are inspired by Kusama's mirrored orbs, a motif familiar from her Narcissus Garden, shown (unofficially) at the 33rd Venice Biennale in 1966. Here, the silver orbs of varying sizes are placed with exacting precision by hand, embedded in women's black and silver leather goods, encircling a Cannes bag or proliferating on a soft Side Trunk, while featuring as almost a space-age gradient on the elegant Capucines.
The proliferation continues as they orbit Academy loafers and are on the counter of Squad hi-tops. They are at their most '60s futuristic when applied as a gradient to lamb's leather garments, such as a silver biker jacket and a sharp silver leather mini dress.
Kusama's most recognisable motif and as a collection, the one that encompasses most pieces in the project, Infinity Dots signifies her own "desire to predict and measure the infinity of the unbounded universe, from my own position in it". Proliferating in signature Kusama palettes of black and white, red and white, yellow and black, plus black and red for men, the infinity dots meld with a multiplicity of Maison icons, particularly in terms of leather goods, shoes and silhouettes.
The infinity dots morph with the Monogram on leather goods such as the embossed Empreinte Neverfull, but also find form in Epi bags such as the Twist or in the Taurillon Capucines for women and the Taurillon Keepall and the Soft Trunk for men. Woven into jacquards and 3D knits, printed onto silks and appearing as embroideries, the infinity dots also find the elegance of the everyday when featured for women in signature Louis Vuitton silhouettes, such as the short, sharp printed gabardine spin on the skirt suit and enter into a more utilitarian realm for men in items such as the tech fleece blouson and zipped overshirt.
For shoes, a proliferation of dots even takes shape on the soles and undersides of models such as signature Shake ankle boots and pumps while metal hardware on Academy loafers is enamelled and echoed in infinity-dotted jewellery. For men, the LV Trainer features its own palette of dots; on a grounding of white grain calf leather, black-on-white and green-on-white dots appear, together with a white-on-red iteration.
A myriad of other accessories is also encompassed, including signature silk scarves, sunglasses, reversible bucket hats, baseball caps and even the 'Vivienne' doll – a version of Kusama herself. The infinity dots further extend their reach to the realm of fragrance with, appropriately enough, the obsessional Spell on You.
Rounding out Drop 1 is another Kusama obsession, the fleeting beauty of the ephemeral contrasted with the sense of the eternal and infinite that exists in florals. Psychedelic Flower takes its inspiration from the artist's somewhat psychedelic Flower painting from 1993, unfurling across accessories and ready-to-wear for men and women.
In its more formal iteration for men, the distinct floral is intricately realised as a jacquard in wool tailored suiting and as a fil coupe in cotton shirting. Even a more casual varsity blouson features exceptional embroidery of the flower. Leather goods for men such as the Taurillon Monogram Bum Bag, Sac Plat and Keepall use elegant, debossed printing on white leather to highlight the flower's beauty and intricacy. Meanwhile, a more strident approach is takenwith the women's Capucines bags, with the motif blown up to encompass the bags entirely in either black or red on Taurillon. A short jacquard wrap skirt and top take a similar approach for women, mimicking the furling and unfurling of the large flower in black and white.
Louis Vuitton x Yayoi Kusama is being celebrated within a fully immersive visual landscape, ranging from window displays to pop-ups, to anamorphic billboards, alongside AR experiences, an XR game and a dedicated advertising campaign. It is both the Maison's and the artist's desire that the person who possesses one of the collection's objects feels both the care and emotional investment it took to make them; to become part of their story and one that will hopefully become part of the story of future generations – stretching into infinity.
Also see: #legendasks: What to expect at Asia Now, Europe's first Asian art fair?