A flaming red, speeding two-door coupé is what comes to mind at the mention of Ferrari. But that is all set to change with the launch of its first-ever four-door, four-seater sports car. Giuseppe Cattaneo, the President of Ferrari Greater China, talks about the Ferrari Purosangue, 40 years in Hong Kong and life beyond the Prancing Horse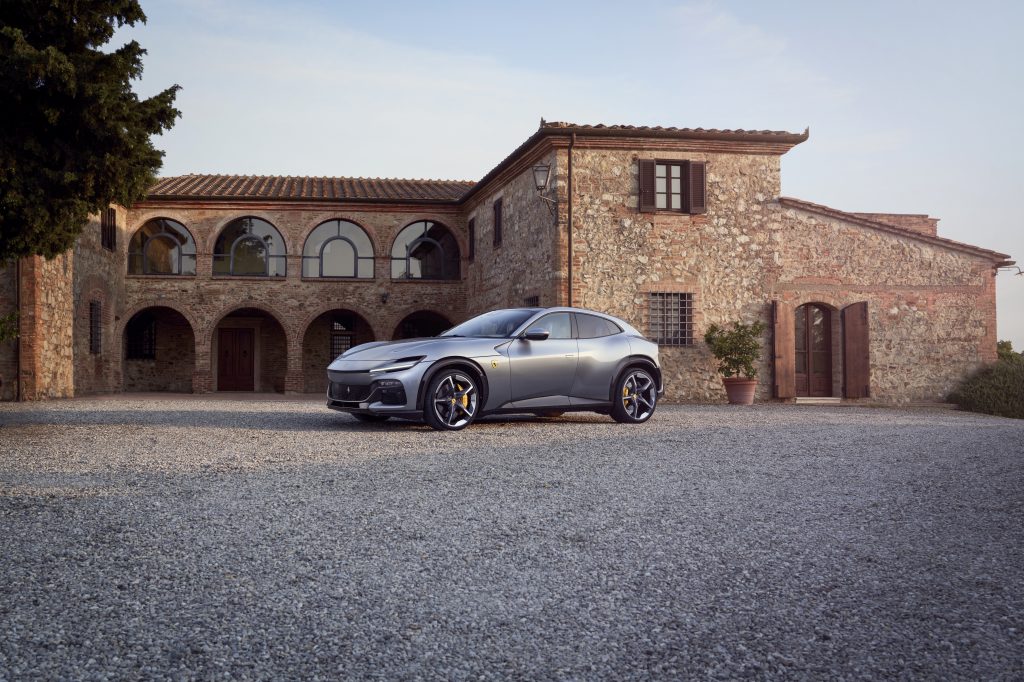 Ever since Ferrari took the wraps off its four-door, four-seater drive Ferrari Purosangue (which translates directly to "thoroughbred" in Italian) last September, the luxury car maker has been insistent that despite its SUV-like silhouette and character – the car rides with significantly higher ground clearance and sports two conventional opening front and two rear-hinged doors (or "welcome doors" as Ferrari calls them), as well as rear accommodation as plush as the front – it's not an SUV. While other marques have openly branched out from sports cars into the high-riding, family-friendly haulers, Ferrari has remained steadfast on not following in the footsteps of other brands or something as pedestrian as demand. And it continues to do so with the Ferrari Purosangue, which while not your archetypal two-plus-two Ferrari, bears all the makings of one all the same – plus, an unprecedented level of usability and comfort.
First, it moves, thanks to its 725cv iconic naturally-aspirated V12 engine, which sends it from zero to 100km/h in just 3.3 seconds and affords it a top speed of over 310km/h – not to mention the signature furious, snarling roar. Second, it features a transaxle layout (meaning the engine is located on the same end as the driven wheels – in this case, up front) for an optimal 49:51 front-to-rear weight distribution. And lastly, like all Ferrari, the Ferrari Purosangue is designed for fun driving on the road (though it does behave fine on sand, mud or snow), offering Ferraristas that same full spectrum of exhilarating experiences and emotions.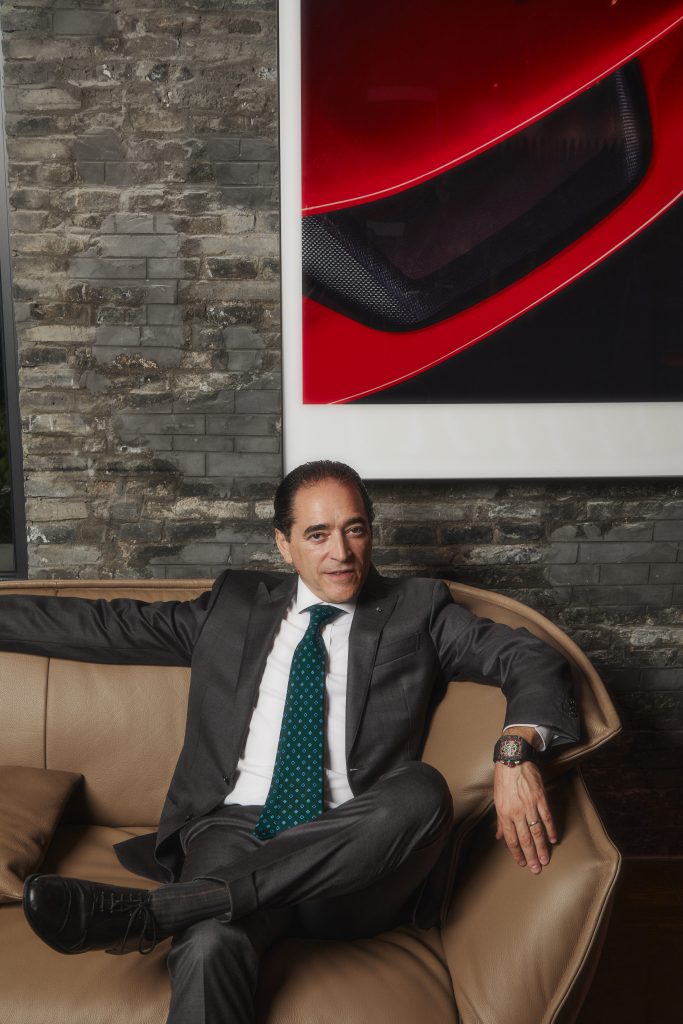 Could you tell us about some of the key Ferrari models of 2023?
Now we are proud to be introducing the Ferrari Purosangue to the Hong Kong market. Prior to this we launched the Roma Spider in Marrakesh in March. It's an amazing car, which will also be unveiled in Hong Kong later this year. Talking about the Ferrari Purosangue, we start from the engine, which is a 12-cylinder aspirator and the signature of the company. But then also, we try to give the car the spirit of the Ferrari. It is, actually, quite a big car, but to us it's not an SUV or something else; it's just a Ferrari. And if you drive it, you still have the feeling of driving a Ferrari. And that's the real reason behind the build of this car – we wanted to have a Ferrari which was for a different utilisation. We say we have many Ferraris for different Ferraristas and this is another step in that direction. This is a car for daily use and not so egoistic as the usual Ferraris tend to be with two full, real seats.
Why is it a four-seater and not a five-seater?
We wanted to leave the feeling of a sports car and that dictated the way it's designed and the architecture of the car – which is four seats. And in the back seats, you have exactly the same experience as the front. Now, the shape of the seats at the back are completely the same as the ones in front, which gives the passengers at the back exactly the same experience as being in front.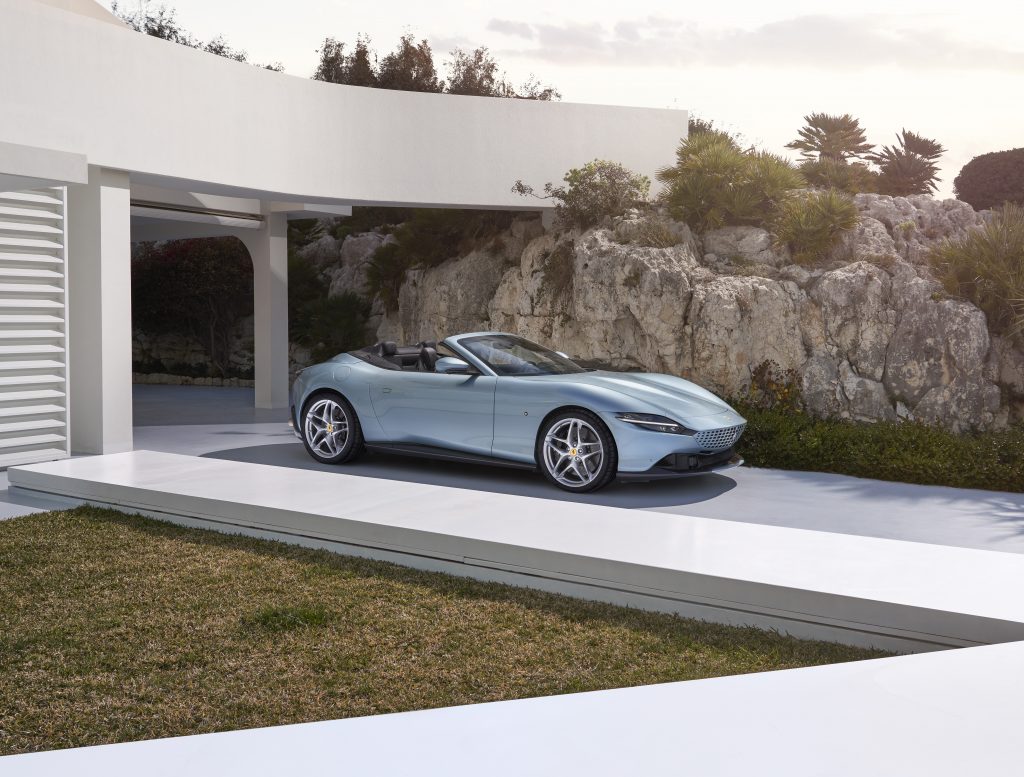 What was the motivation behind the Ferrari Purosangue's interesting "welcome door"?
First, we wanted to do something different. But, there were also technical decisions because with this system – which is very comfortable to go in and out of – we were able to maintain a shorter wheel base. This is the technical reason and Ferrari has always made its decisions based on the aim of giving the car a technical advantage. But honestly, from an aesthetic point of view, it is also really nice. The car has been introduced in many countries already and in all of them, everybody really likes this idea of having such a comfortable opening of the door. So, it's an aesthetic decision supported by technical reason, as usual.
This year marks the 40th anniversary of Ferrari in Hong Kong. What are some of your thoughts and expectations of the local market?
Hong Kong was – and still is – for Ferrari one of the biggest markets for collectors and aficionados. It's a market that's very much developed in terms of maturity. So the concentration of Ferrari in this city is probably one of the highest in the world.
There's a lot of heritage and these 40 years have been very good for the brand because Hong Kong was basically the entry to China when we arrived – we entered the Mainland market 10 years later. But we have a special relationship with Hong Kong and I've seen during the last weeks and couple of months the spirit and the adrenaline coming back to the city.
This year we will celebrate our 40th anniversary and the renaissance of this city, which has always been at the centre stage in China's development. We have been doing business in this very dynamic metropolitan place, where one can easily feel its energy. When you see the adrenaline keeps flowing in the market and when the people always want to do better every day, this is exactly where we sell more cars. Ferrari is associated with a sense of accomplishment – when a person reaches a target in their life or makes a very good deal, they reward themselves with a car. Therefore the spirit and vibrancy of a city are very much related to the performance of our brand.
Also see: Richard Mille: Its first-ever Ferrari collab timepiece
How did you begin your journey with Ferrari and what do you love most about it?
There are two different levels. First of all, I'm Italian and Ferrari is like a national team in motorsports, which is red. In the early stages of motorsports in Europe, they assigned red to Italy, green to the UK, blue to France and grey to Germany, which at that time, was our main competitor. So when you grow up as a young Italian, the motorsports colour is red and so the relationship with the brand is natural to all Italian kids.
But in my personal specific case, my grandmother's house was very close to the Monza Circuit, especially the Lesmo Curve, and on Saturday mornings there were many tests along there. So the first memory for me of Ferrari was the roar of the engine on Saturday morning. They woke me up around 9, when they switched on and started to run. And then with my friends, we would go to the Lesmo Curve where there was a wall that wasn't properly maintained and jump in without paying for a ticket to see the race.
Do you have a favourite sport in general?
Of course, besides motorsports, football is my favourite to watch as an Italian. In Italy, we normally speak about two things very seriously: First is cars, especially sports cars. Second is football. It's all about beauty and passion.
With your Italian origin and knowledge of the brand, how would you describe the spirit of the Ferrari brand in three words?
The first, without any discussion, is passion. Ferrari is all about passion. It's passion when you work for the brand. It's passion when you drive the car. Then, I would say technology. Because to be honest, we are always on the edge. And lastly, I would say style. Because when we say Ferrari is forever, we have a great responsibility. We're not building a car for the next five years or even the next 10 years. We're building a car that's supposed to last forever! Maybe the technology becomes outdated, but the style is forever. So, I would say passion, which drives everything, and then technology and style.
Also see: #legenddayout: Ferrari 296 GTS unveiled in Hong Kong