Digital Cover: Matt Orr x Hublot and I.T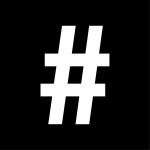 By: Ha Rin Choi
November 11, 2022
Believing in oneself and focusing on the bigger picture is key to overcoming challenges. This is the motto of young football talent Matt Orr, who discovered his passion for the sport at age five. He shares with Ha Rin Choi the uniqueness of football in Asia and the key to winning his internal battles
From a young age, Matt Orr knew football was all he wanted to do. The 25-year-old, who was born and raised in Hong Kong, has particularly fond memories of time spent with his father, Andrew Orr. "I started my love for football because of my dad. He was a professional [player] for New Zealand and passed it on to me," he says. "I've fallen in love with the sport since day one, and it has become part of my daily life ever since."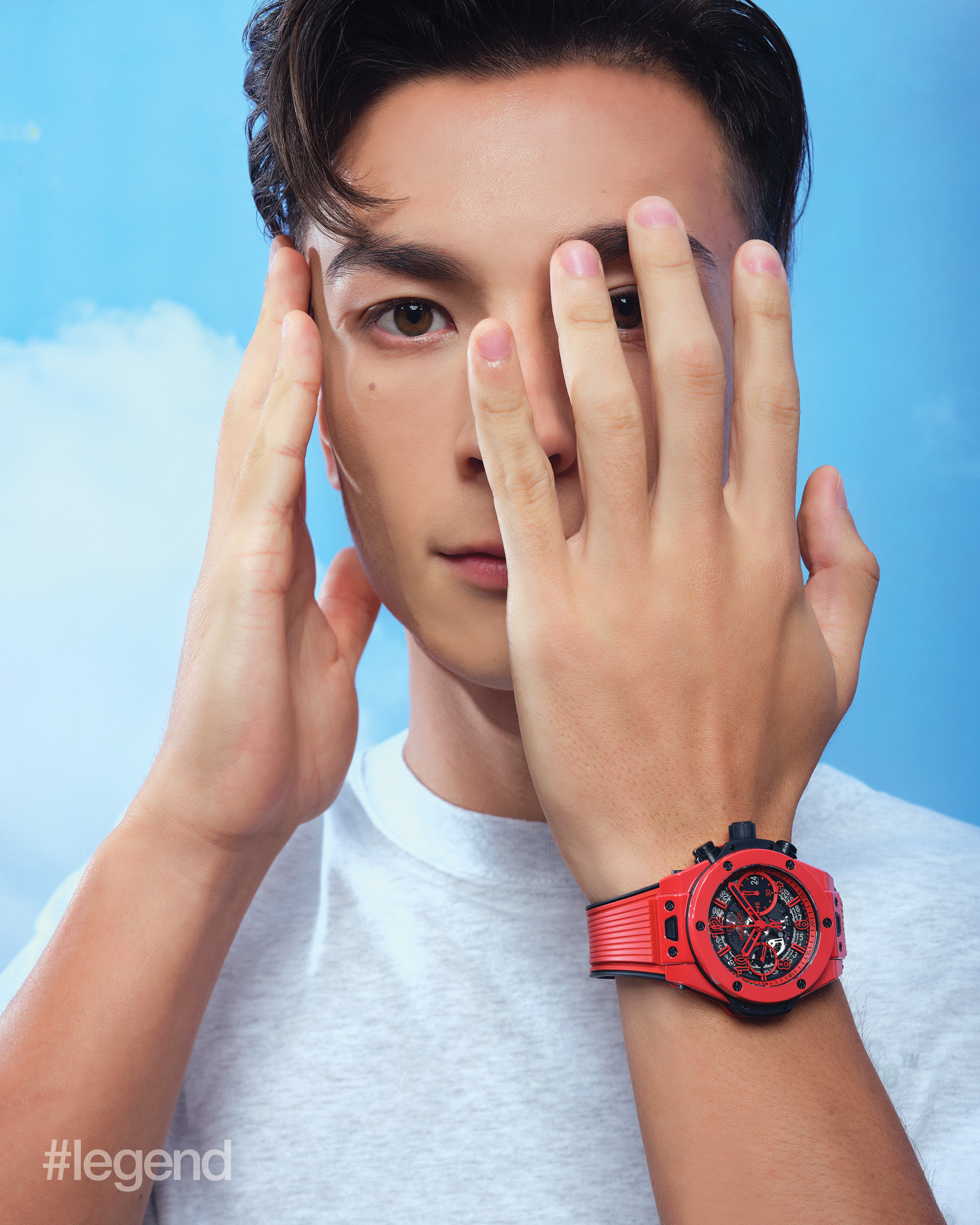 Though fully dedicated to the sport, Orr has encountered plenty of setbacks, but they never deterred him from pursuing his dreams. Ever since he first joined the Arsenal Soccer School in Hong Kong in 2002, football has influenced his life on and off the pitch. "It's responsible for the person I am and the characteristics I portray today," he admits.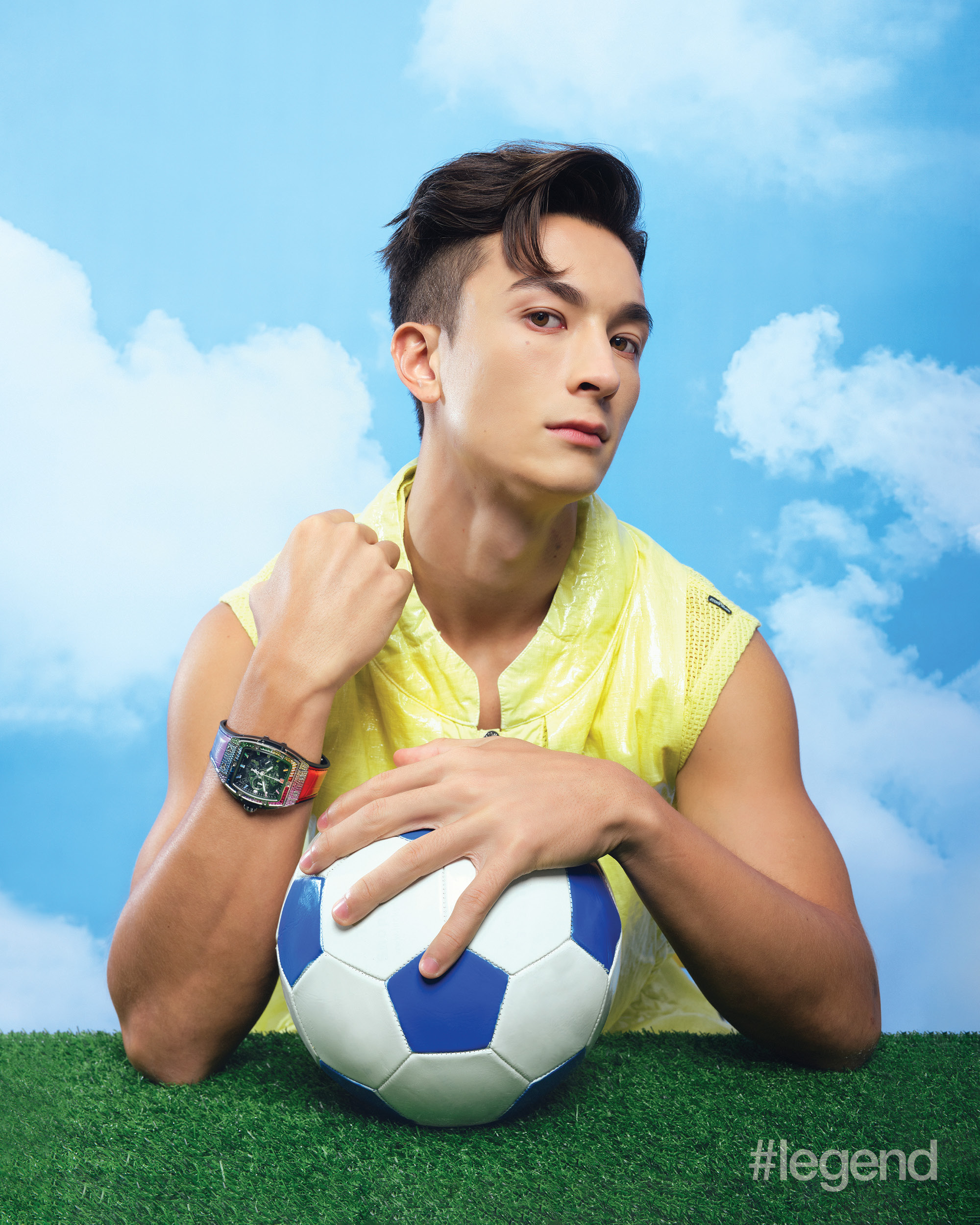 Orr's first milestone came at age 12 when he represented Hong Kong on the U13 team of the Jockey Club Youth Football League. This was just one year after he joined Hong Kong's most prominent professional football team, Kitchee FC's academy.
It was during his time on the U13 team that Orr received his first call-up to the U23 squad for the Asian Games, a feat he achieved through relentless hard work. "I think everyone has the capability to improve and learn every single day," he says. "Even if it's just the tiniest, it's still an improvement. So I hold myself accountable to high standards every day to get better at something."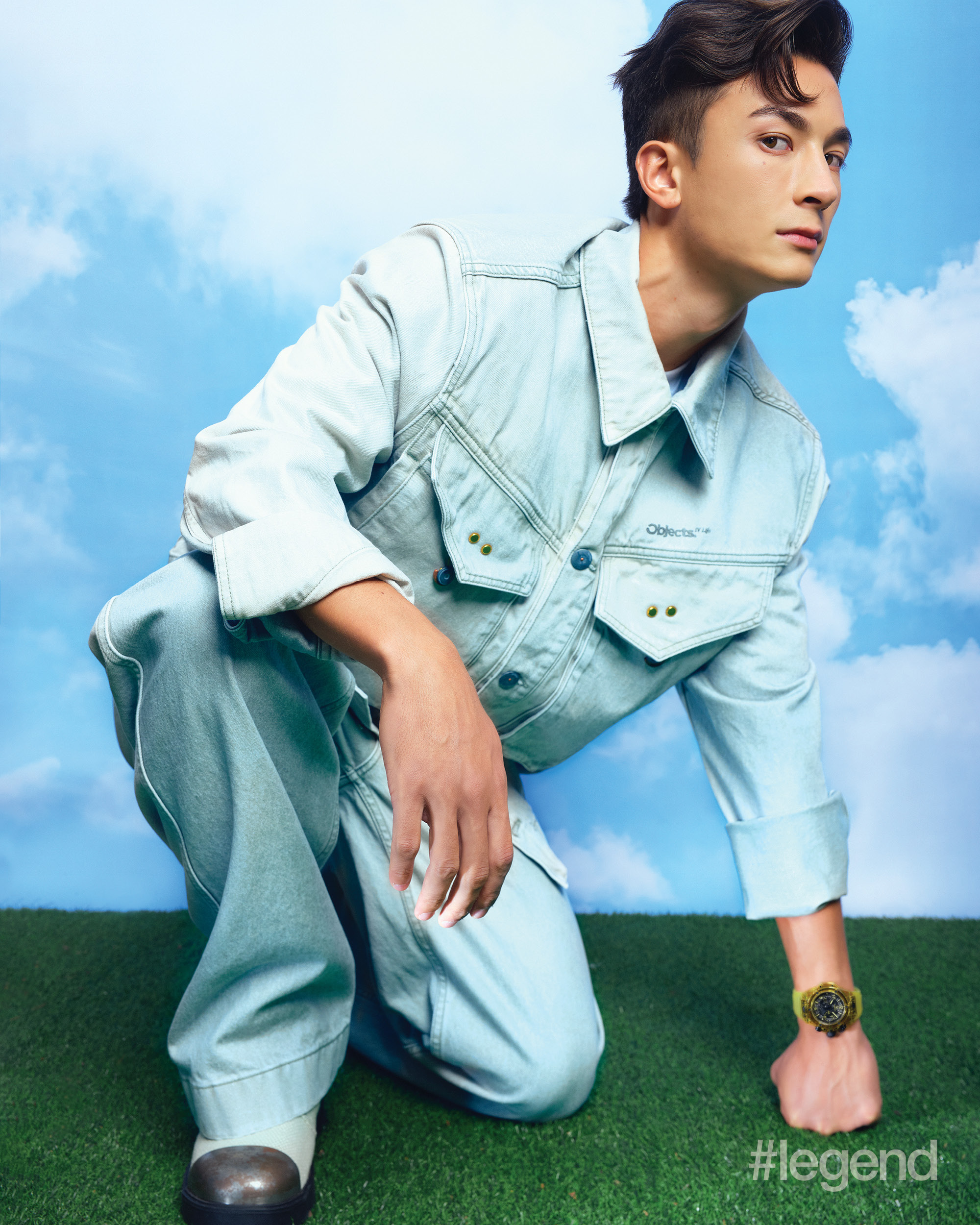 The next chapter in his career would see him relocating to the United States. Two years after becoming Hong Kong representative for the U13 team, Orr enrolled at IMG Academy, a renowned preparatory boarding school and sports training destination in Florida. In 2016, he played at the collegiate level for San Francisco, earning West Coast Conference All-Freshman honours. He was integral to the Dons team that won the conference the following year. "West Coast Conference is a big league on the West Coast, and it was the first time for the school to win in 10 years." he says.
Also see: Digital Cover: Fiona McLeish x Van Cleef & Arpels
Orr's return to Asia in 2020 saw the then 23-year-old make his professional debut at a Sapling Cup match against Rangers in Hong Kong. Orr scored two goals in the city's Asian Cup qualifying campaign in June of this year, which helped the team get into the finals for the first time in 54 years.
His reason for loving the game is simple but profound. "I love many aspects of the game," he says. "I've travelled the world playing football. The friendships and team culture are incredible. The constant daily goals to improve yourself and the sense of achievement you get after every good training session. The feeling of winning and success as a team of brothers or success that is remembered for a long time."
Football also teaches him to face challenges and competition, he says, but the greatest hurdles to overcome are those that arise from within. "The biggest challenges I faced so far have been internal battles with myself. When things aren't going well, I'm not playing on the starting team, or I've moved teams, and it's taken time to adjust and play my own game, doubts start to creep into my mind," Orr says.
"The key is to stay dedicated and consistent and work even harder to fight through the tough moments and doubt. You always believe in yourself, no matter how hard it gets. Focus on the big dream you've got."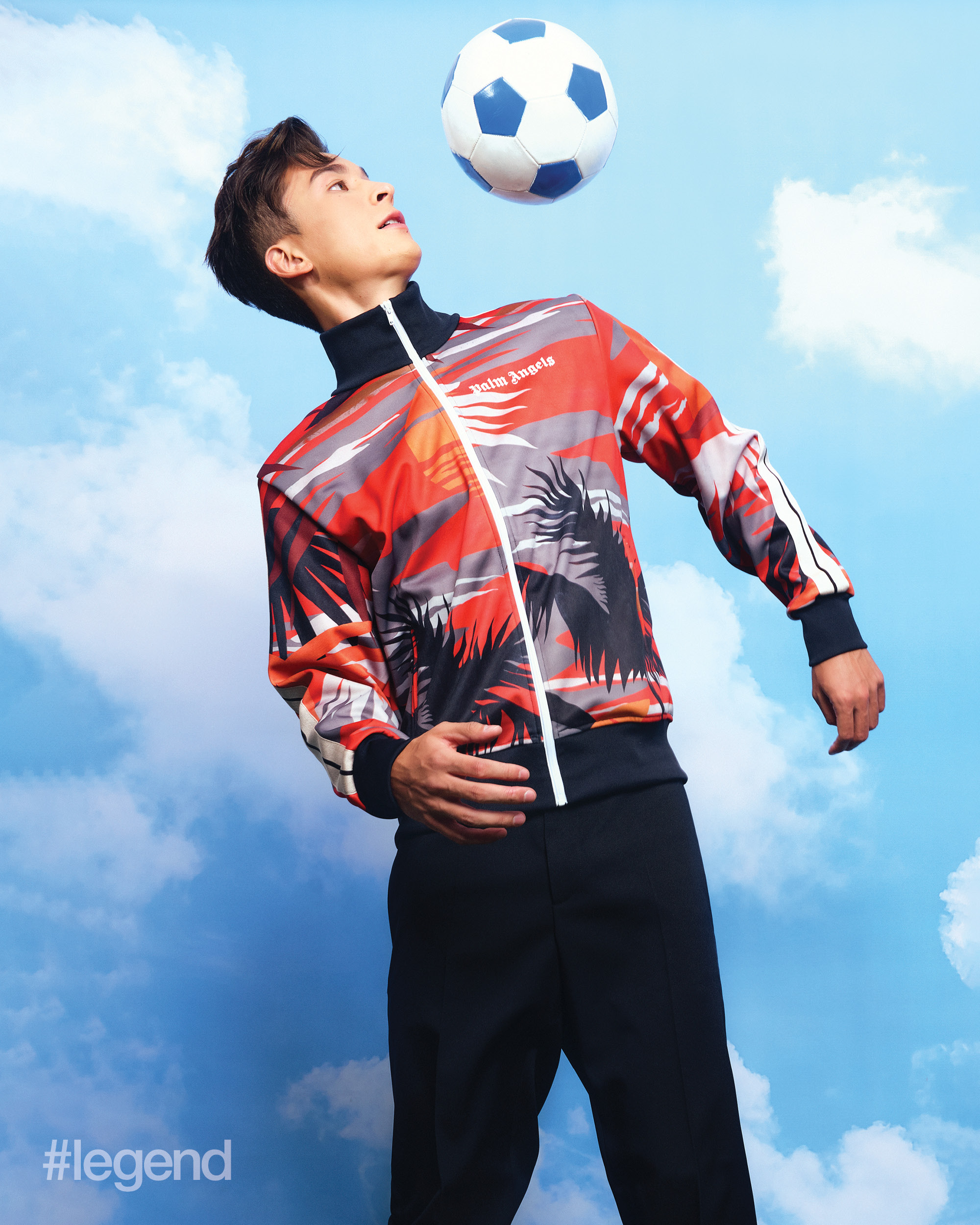 Orr admits that he is still learning and that he gets inspiration from fellow players. He spent more than half of his life with Chu Chi Kwong, the head coach of Kitchee, and has gained much inspiration and motivation from him. On the international stage, the young athlete has an idol as well. "My favourite football player ever and biggest role model in the sport is Steven Gerrard, who played for Liverpool," he says.
Honing his personal style is another important facet of Orr's identity. "I follow a lot of players with different styles on social media. Of course, I think it's important to be authentic and myself with what I wear because I think fashion can say a lot about the person. I won't lie; I'm a sucker for nice brands," he says with a laugh. "I like trendy slim-fitting bottoms but oversized tops. I do wear quite a bit of denim also, and because we do a lot of lounging around as footballers I think comfort is also a big factor."
Orr also counts watches among his favourite accessories. "I wear a watch almost every day. The watch I have at the moment is just something special to me that I got for my 21st birthday. Nothing too big and chunky, just fits the wrist nicely."
Also see: Digital Cover: Kevin & Moonie Chu x Fila
Whatever outside forces shaped his career, nothing has been as influential to Orr as Asian football. The diverse cultures of the region from which he learned sportsmanship and skills provided him with a unique experience that made him flourish and moulded him into a respected team player who's relentless when it comes to chasing his dreams.
"I think what's unique about football in Asia is the respect of the countries you play against, although the games are extremely competitive. Off the pitch, everyone is so respectful to each other, and it's part of their cultures which is really admirable no matter which country they came from," he says.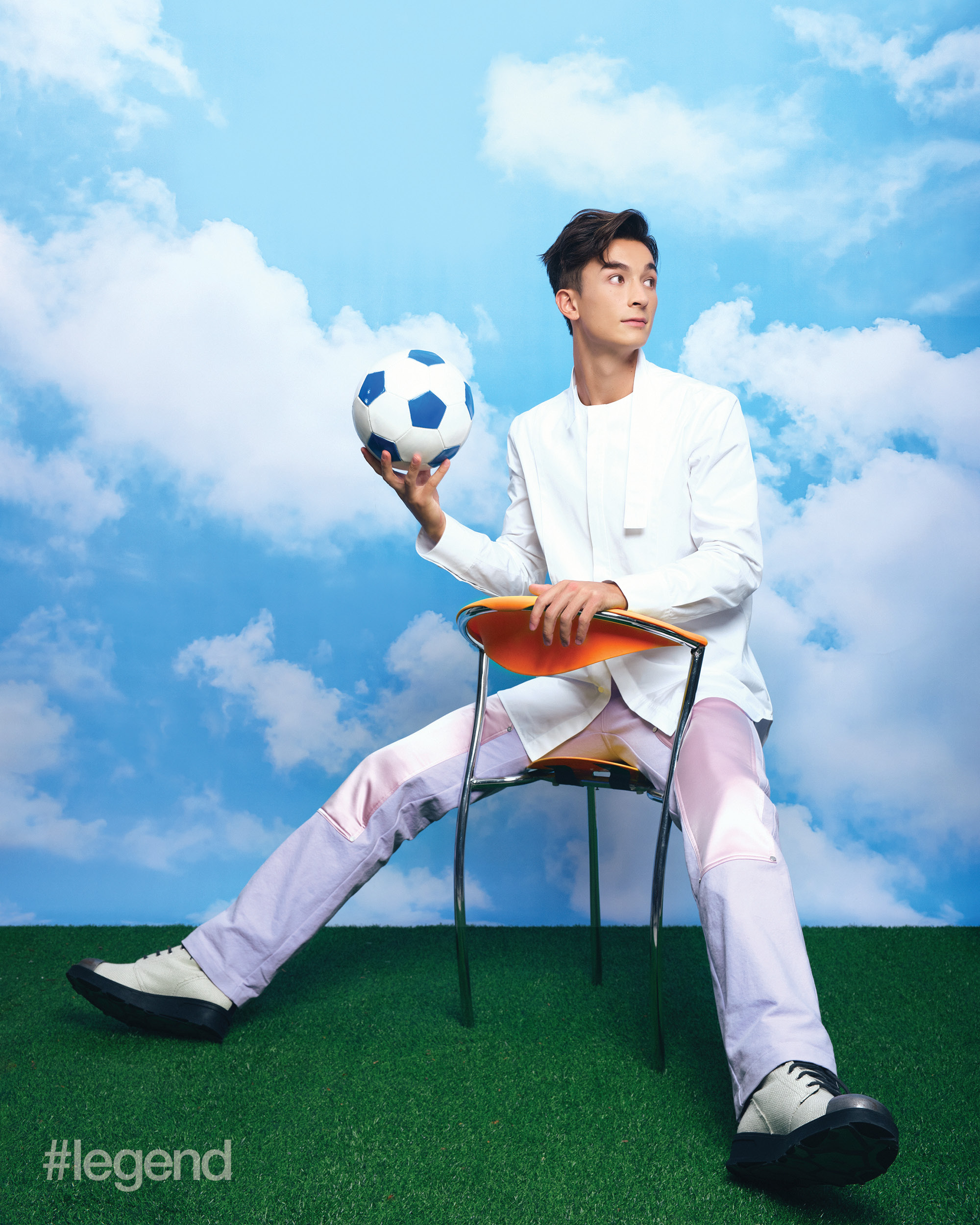 Orr is still thirsty, and he has no plans of slowing down. From joining his first team at age five to qualifying for 2022 World Cup fixtures against Iran, Iraq and Bahrain, to joining China League One club Guangxi Pingguo Haliao in recent times, his star continues to rise.
Though it's impossible to predict anyone's future, one thing we can be certain of is that Orr will go wherever his sport takes him – with gusto, grit, an open mind and perseverance. After all, he says, "Football gives me a sense of purpose, and it's never-ending."
CREDITS
Creative concept and production / #legend
Photographer / Feicien Feng
Stylist / Perpetua Ip
Set design / Owen Lo, Klinton Kwun
Makeup / Jovy Chai
Hair / Kidd Sun
Stylist assistant / Fung Tsz Hin
Photographer assistant / Victor Deng
Videographer / Lai Tsz Chung
Also see: 8 Hong Kong athletes to cure your Olympic hangover