Digital Cover: Ben Chiu and Jessica Chan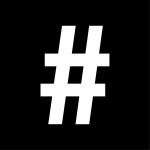 By: Stephenie Gee
October 4, 2022
More than just distinctive faces and indisputable talents, Ben Chiu and Jessica Chan talk to Stephenie Gee about easing into the spotlight, overcoming their fears and pursuing their entertainment dreams
Ben Chiu
When Ben Chiu sauntered onto the stage of Street Dance of China S2 in a casual all-black ensemble to deliver his audition number that saw shoulders pulled back at awkward angles, limbs folded like origami and bifurcated arms sent on a 360-degree tour – which was met with cries of revulsion and even an "Oh, sh–!" from judge and mentor Vanness Wu himself – it was apparent that he was not your average guy.
"I've always been a bit of a rebel," admits the 25-year-old on a call from the #legend shoot. "I've always wanted to do something a little more special and carve out a different path for myself. And with my dance, I started with popping but I wanted to add something extra that would be able to bring that wow factor. I saw that not a lot of people did flexing here in Hong Kong so that's what I did."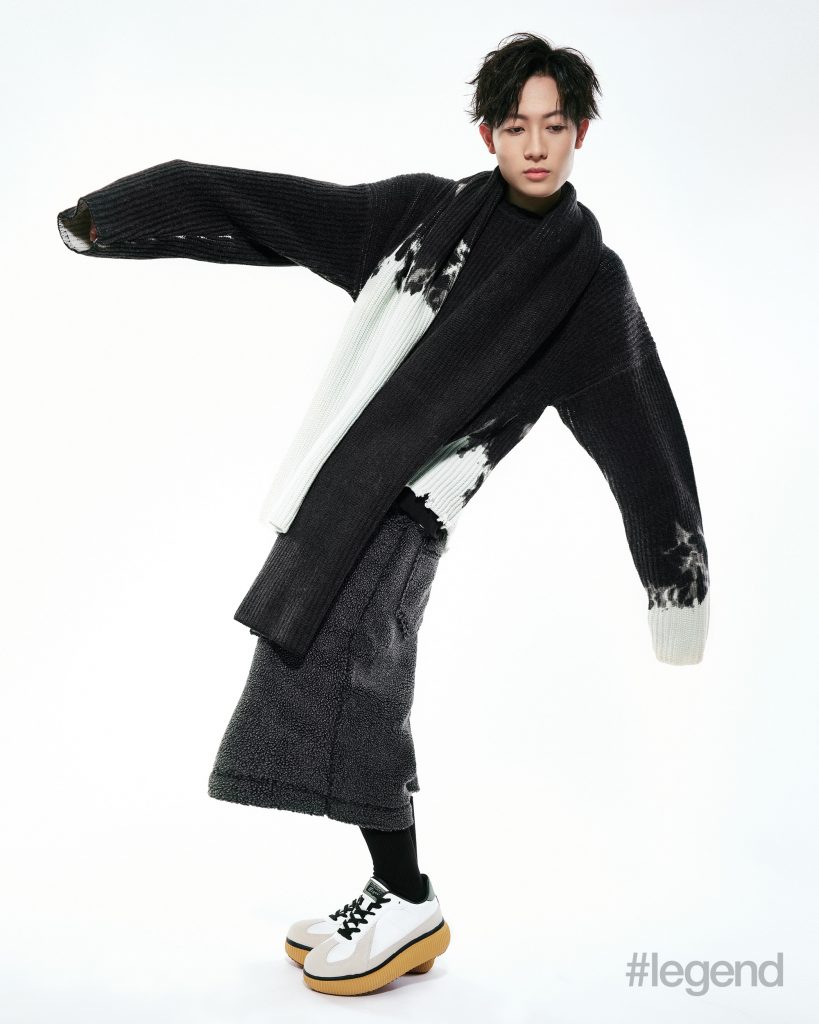 For the uninitiated, flexing, or FlexN, is not a freak show – though it may look and sound like one – but an offshoot of a Jamaican style of street dance called bruk-up (meaning "broken up") that arose from the streets of Brooklyn. Characterised by contorted shapes and disjointed movements, the rather niche genre – even among dancers and especially in our city's budding street-dance scene – is not one that those looking to pursue a full-time career in dance would typically pick. "I did wonder and was slightly worried in the beginning that picking such a different genre of dance wasn't going to get me far because maybe there won't be a lot of opportunities," says Chiu. "But after thinking, because it's so uncommon, if I was to be able to do it well then I'll definitely be the most special."
He proved that point on Street Dance of China S2, making it all the way to the quarterfinals among an incredible group of contestants, some even with world champion titles to their name. But as charming an attribute this singularity may have been, it also proved to be his biggest downfall. "Before I joined the show, I was always doing more freestyle, solo stuff. I rarely danced in a team so I didn't really know how to say, match the energy or blend together with other dancers because we all come from different backgrounds and we have different styles. I was also much slower at remembering steps than others," he recalls. "It was very challenging, but I learned a lot: team spirit, that sense of togetherness and working collectively to achieve something, how to showcase your individuality but still make the whole group look united."
These were skills that Chiu would go on to display to dazzling effect on King Maker III (the third season of the same talent show that gave us Hong Kong Canto-pop sensation Mirror), a competition, he admits, he did not intend to join but was rather thrown into when his sister signed up on his behalf. "I did think about joining season one and two because my friends would always tell me to go and try. Then when applications for King Maker III started, I'd just finished Street Dance and my sister was telling me to send in my applications," he says. "But I wasn't quite sure, I needed some time to think about it because I knew that it wasn't just going to be dance; I'd have to sing and act as well. And besides watching movies at home and maybe small singing competitions when I was in high school, I've never had any proper experience in acting or singing before. Then one day my sister came home and told me she had signed up for me, and so I had no choice but to go."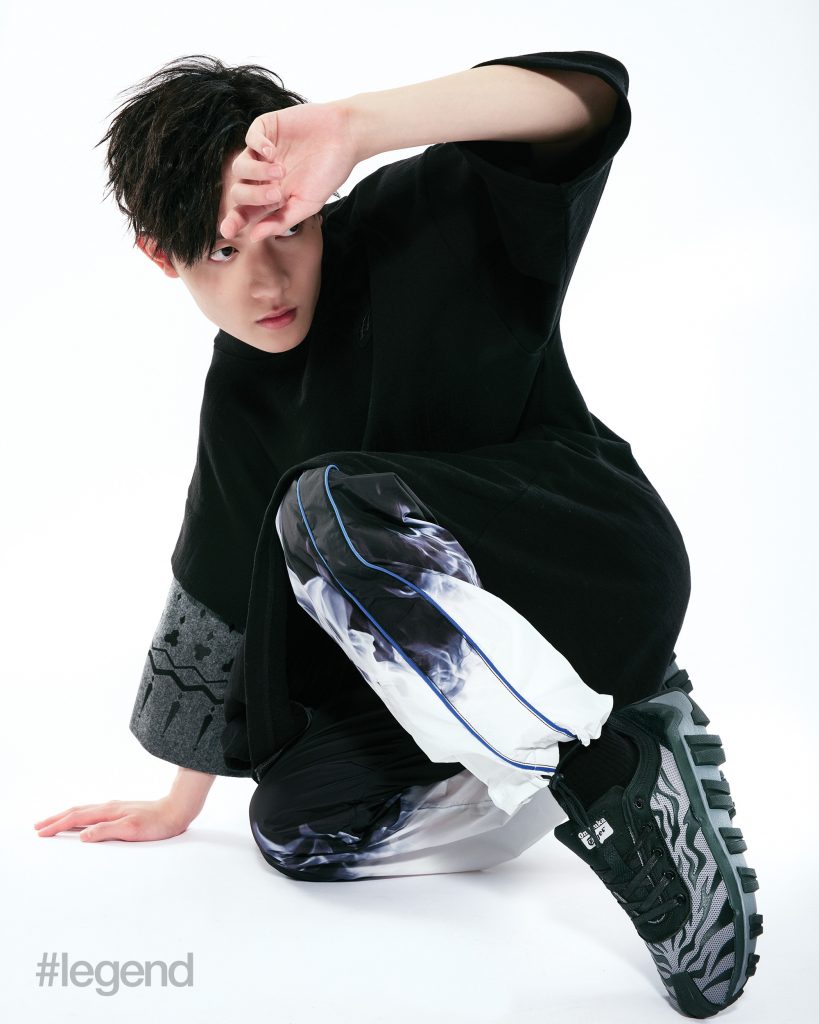 While it may not have been his intention, Chiu isn't one to back down from a challenge. Distinguishing himself among a total field of 83 contestants with his capacity for hard work and drive to achieve excellence, he was crowned winner. And when asked about his biggest takeaway, he says, with characteristic humility, not stardom or success, but "I met a group of amazing people, some of whom turned out to become really good friends of mine that I still keep in contact with today. Also, the experience really helped to transform me and my personality. Even back in my street dance days, I was very introverted and I didn't really know how to interact with others. It was in King Maker that I found a group of friends who supported one another and learned to open up to people."
It's this gracious personality along with his raw talent that Chiu modestly downplays as "just doing my best," that won the hearts of Hongkongers and major labels – in particular Media Asia, the home to creative powerhouses including Sammi Cheng and fellow #legend100 members Joyce Cheng and Jay Fung. "After King Maker, I wanted to sign with a label because I really don't know a lot, and I wanted to find people who can guide me, develop me and bring out the potential in me," says Chiu.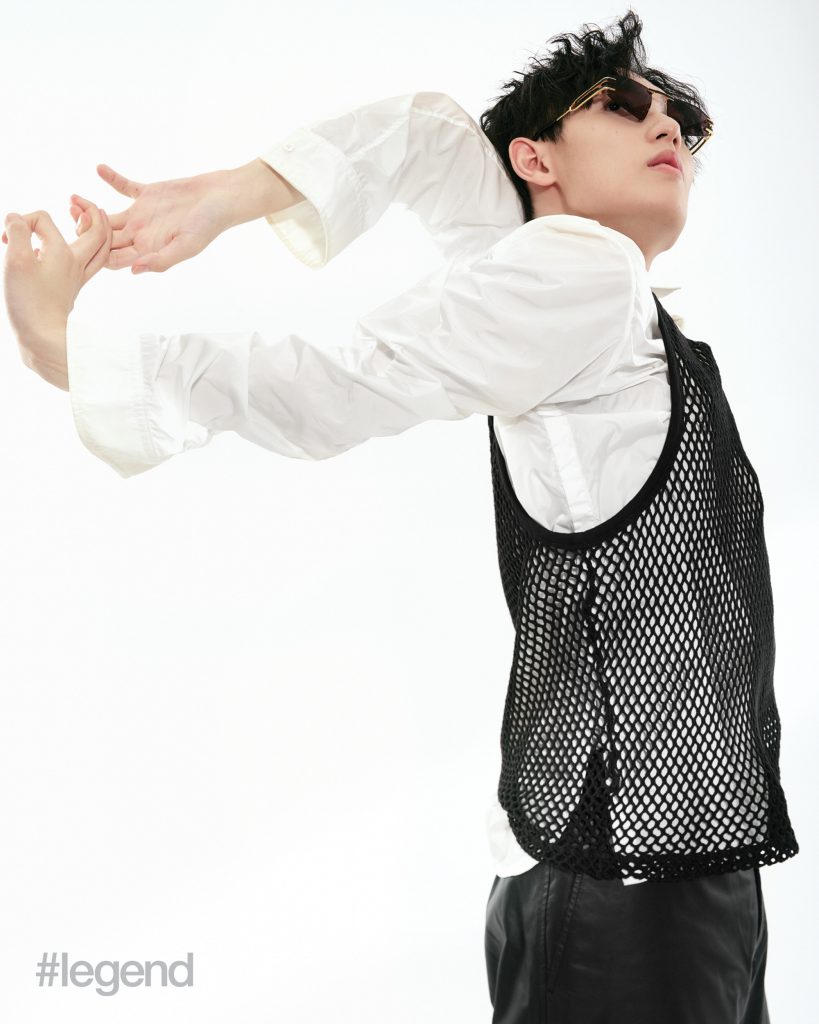 Such has been the case so far. With his debut single Crushed and Shattered, which saw him hanging from wires performing stunts as he sang (and rapped) about giving anything, even sacrificing oneself, for what or who they love; and more recently, Everything Everywhere Every Me (feat. Feanna Wong), that had him change into 12 different outfits as he navigated between universes just to bring us some positive vibes, Chiu is continually revealing new sides of himself. And if his past year is any indication, we can expect much more from the multifaceted artist.
"For now, singing is my priority, because I signed with a label and I'm also releasing some songs as well right now," he tells me. "Then I'd like to go into acting, because I've never tried it before and it's something I really want to experience. I don't know how it's going to turn out when I actually do it, but I want to take that first step."
Ultimately, whether it's singer Chiu, actor Chiu or dancer Chiu, his goal is simple: to work hard and deliver the best possible performance for his audience. "I want to become a successful artist," he says. "That means doing the best that I can, sharing it with everyone and hoping that my audience will like it. Whether it's my songs, the style of my music or my dancing – if my audience likes it, that's what makes me happy."
Also see: Milan Fashion Week SS23: Here are the #legend picks
Jessica Chan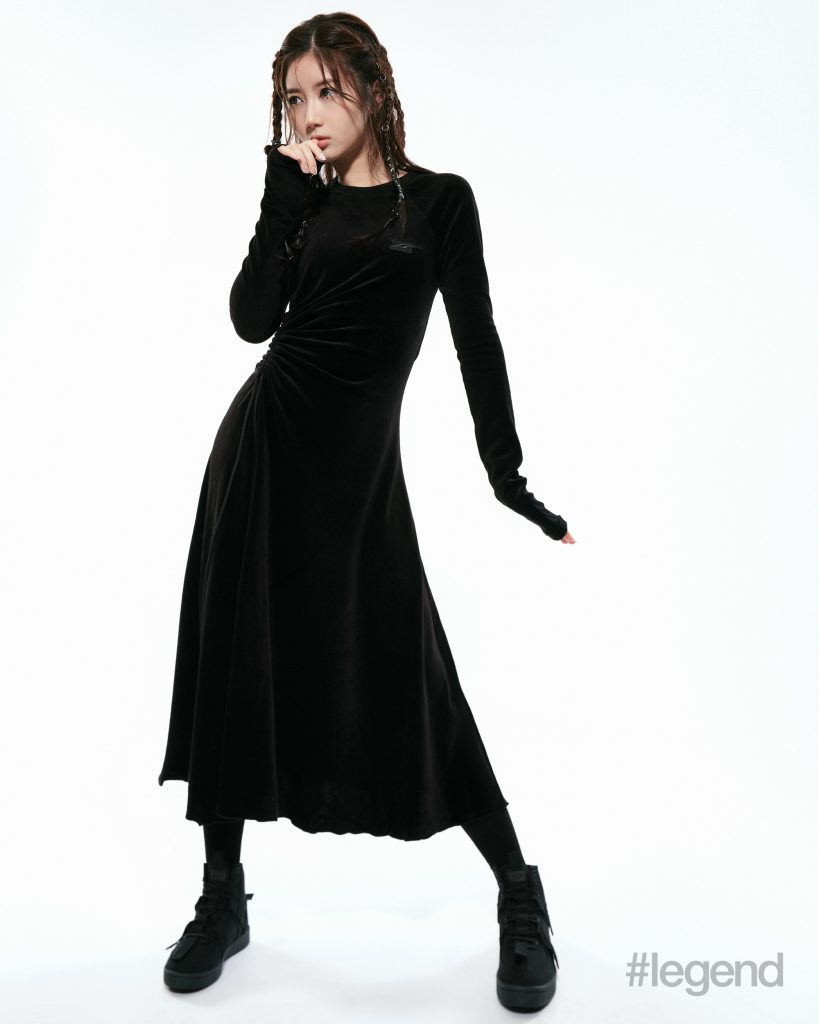 A scroll through Jessica Chan's Wikipedia page or Instagram – which goes by the name @krisssica, an amalgamation of her name and her teenage idol, disgraced rapper and singer Kris Wu – and you would not be wrong to suspect that she's another model-turned-actress wannabe who got her big break through good looks alone. But just two minutes into our interview, and it's clear that the 26-year-old is nothing like the assumptions I, admittedly, had been making. A strong-minded presence who radiates an endearing sense of wisdom beyond her years, Chan is more than just a pretty face with doe eyes and dainty features, and she's adamant to let us know.
"I'm quite a shy person; it takes a while for me to warm up to people. But in my private life, I'm actually quite a funny person – I think, at least – but I've always been scared to really express that side of myself to my audience," she tells me over the phone. "I've been in this industry now for around a year and a half and all that people see is just this pretty, quiet girl, and I feel like it's time for me to come out of my shell and show myself."
Glimpses of this humour peek through as she tells me of her love for hip-hop and aspiration of becoming a rapper ("I don't see a need to get rid of the name Krisssica even if I don't like him anymore because he was a part of my youth and my memories. Also, if one day I really do become a rapper, I want to save the name Krisssica for her because I think it's a pretty cool name"), but it's really acting that gives Chan the bravery to break free from the barriers that shackle her and present herself for who she is.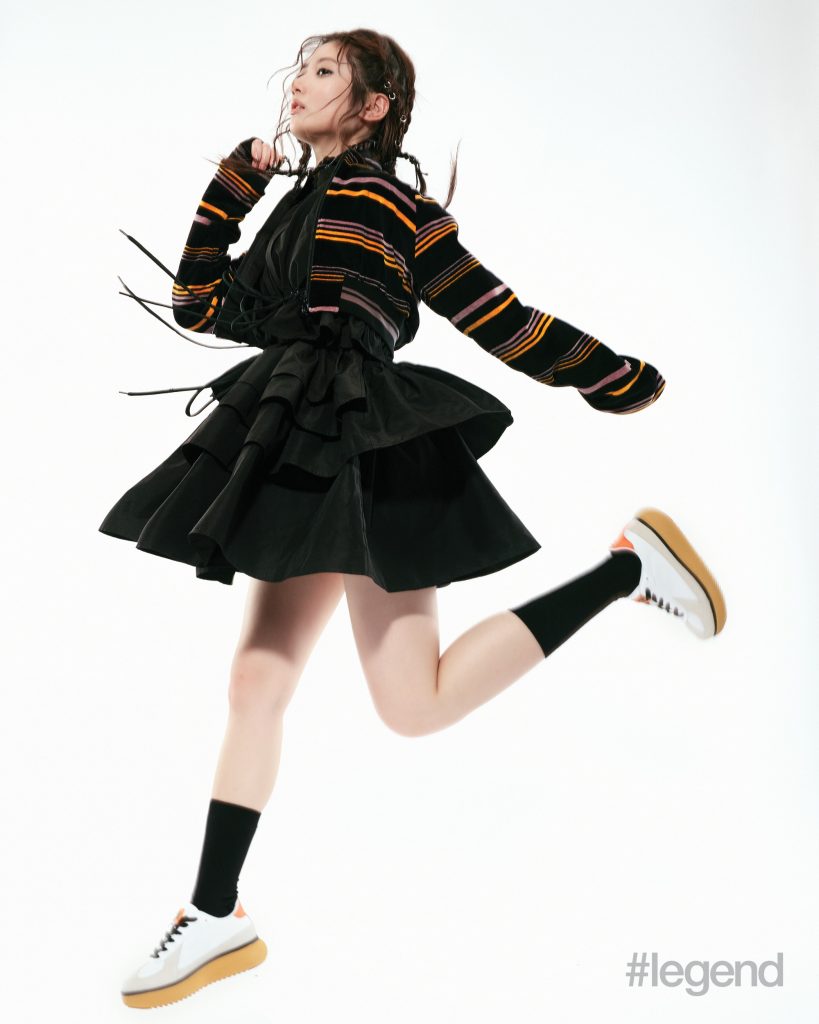 "I'm a timid person but when I'm standing on stage performing as a character other than myself, it gives me this urge to express myself to the audience for some reason," she says. "Acting makes me feel liberated; I can take off all my masks, become a different person and let people see the real me. My acting teacher always tells me that as an actor, you have to be naked. You have to first get rid of all your armour in order to be able to establish a connection with your audience."
This process of letting go is integral to an actor's craft, and one that we see Chan gradually familiarise with and master as a regular cast member of Trial and Error, an acclaimed local YouTube channel founded in 2020 by Hong Kong actor and director Neo Yao and hip-hop duo MC $oho and KidNey that produces short videos on a variety of timely topics and societal trends. Notably in Cornflakes, where we see her unafraid to get real and distort her image as she plays the part of a full-on psychotic cornflake-holic turned "cereal killer".
"It's a pretty short video, only around 10 minutes, but the changes in emotions are very big – one moment I'm smiling and the next I'm angry – and that is what made acting this so challenging," says Chan. "But nevertheless, I really enjoyed filming this one because it was definitely very different to the usual me; it was an image that I've never portrayed before and that's exactly what I want to do: try a wider scope of characters."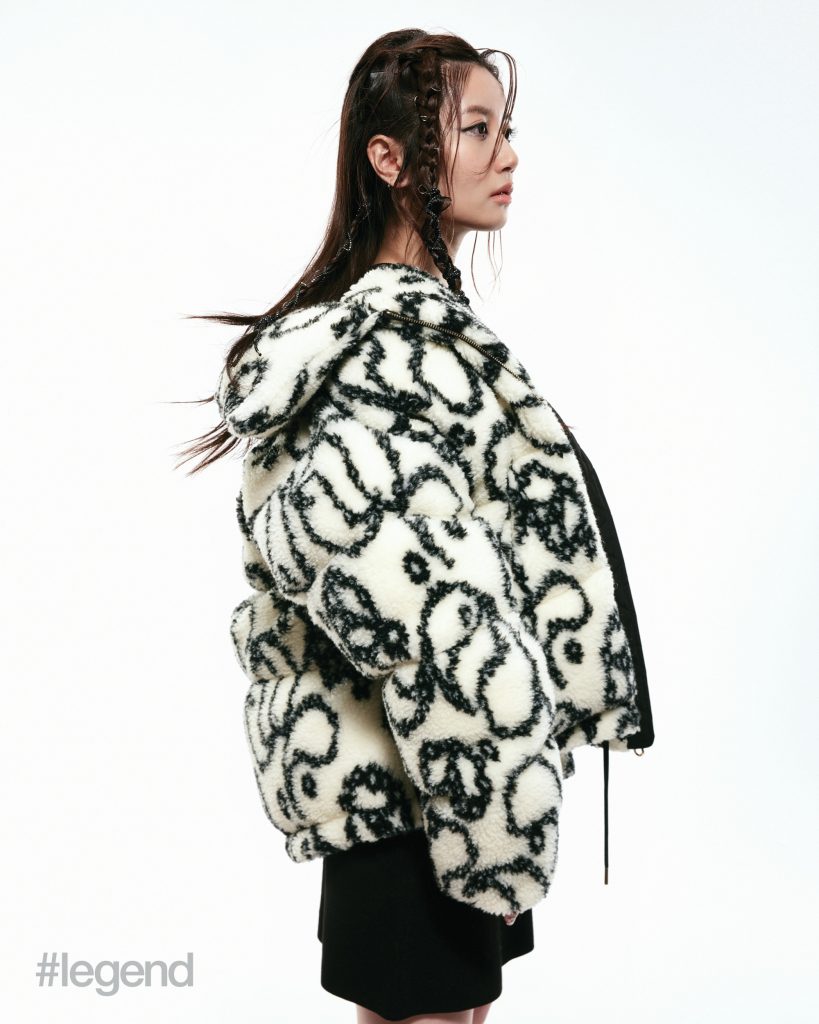 So how does she go from a sweet role that is more characteristically Chan to an erratic role like that of Coco in Cornflakes? Preparation? Look for references? Method acting? Her answer comes from the heart. "I don't really do anything specific in order to get into a character because I think, as an actor, flexibility and the ability to adapt to different characters is extremely important," she explains. "After I read the script, I just let my heart and my inner emotions lead me to portray the character. You shouldn't put too much thought into how you might act out a scene so that it becomes like you're designing it. It's all about feeling and reacting.
"I think a good actor is like a piece of blank paper. Whatever colours your director or screenwriter may draw on that piece of paper, you have to be able to show them to your audience. I've heard comments about me saying that Jessica doesn't really have a distinct style, but that's exactly what I think actors should be like. Actors shouldn't confine themselves to a style or genre."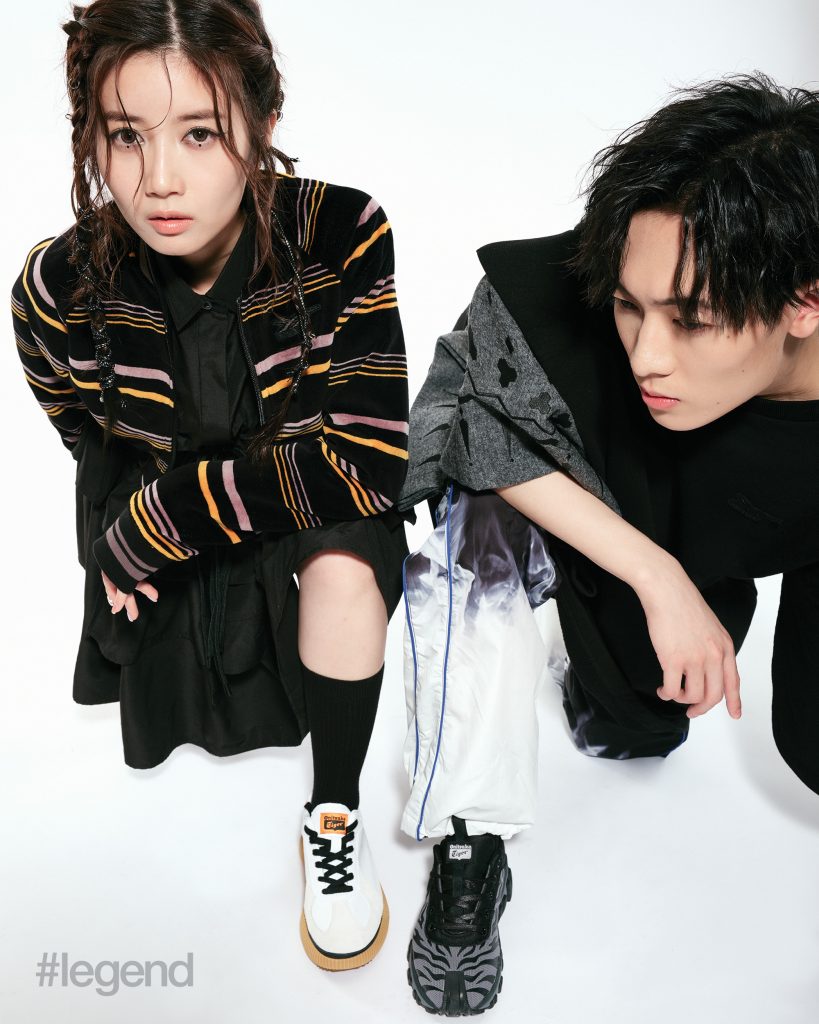 Chan wishes to become a chameleon, and what better way is there than to learn from other chameleons? "I think watching more movies and building your database is the fundamental thing to do as an actor," she says. "The other day I watched the Godfather trilogy back to back. It's hailed as the bible of drama and as I was watching it, I could see what made these great actors so great. I would note down the things that I should learn and also the different aspects in which I'm lacking in order to improve myself."
That, and observations from the audience. "At Trial and Error, everything is really fast. The whole process – from writing to acting and filming it, to putting it up on YouTube – takes a couple days, max, and so I'm able to receive feedback and comments from the viewers really quickly and learn from them before the next video, which I think has helped with improving my flexibility as an actor," says Chan. Though, she adds, not all are worth her time. While some are genuine in their feedback, there are those who are there simply to bring her down.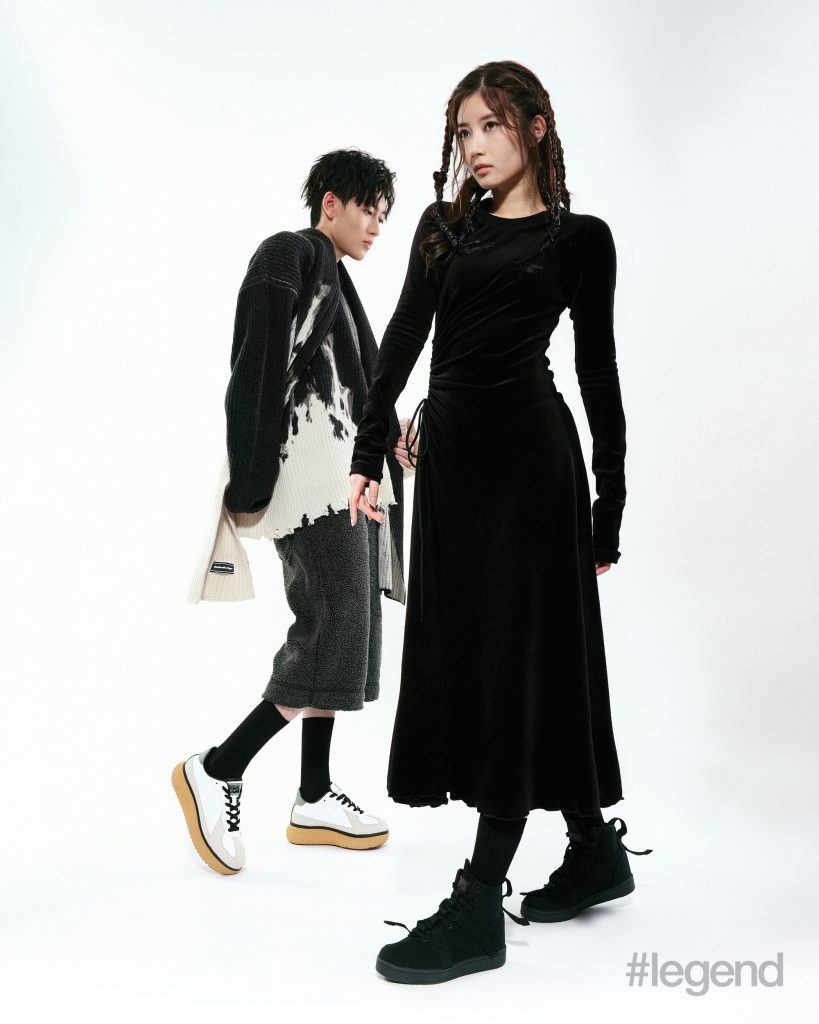 "Some comments may be harsh, but if they're practical, I'll still take from them because they can help me improve. But with trolls, I think something I've learned during this past year and a half is to not care for them and not let them get to me," she says. "I've come to understand that this is inevitable because I'm always going to be under the spotlight. There are people who are going to like me, and there are people who aren't. It's normal. And if I'm going to stay in this industry, then it's something that I'm going to have to accept. All that matters is staying true to myself and doing the best that I can. That, for me, is enough."
Even in conversation, Chan's disregard for making an impression on others shines through. No flowery vocabulary or emotional recounts of personal experiences, Chan's answers are short yet refreshingly honest. And on what the audience can expect to see from her next, Chan says, with that same sensibility, "I don't have any huge goals. All I want to do is just to keep working hard, improving myself and, hopefully, I'll get more opportunities to showcase my acting to a larger audience."
CREDITS
Creative concept and production / #legend
Art Direction / Klinton Kwun, Owen Lo
Videographer / Travis Leung
Photographer / Feicien Feng
Photographer Assistant / Leung Tsz Shan
Stylist / Perpetua Ip
Stylist Assistant / Yuet Chan
Makeup / Sakura Chow for Jessica, Deep Choi for Ben
Hair / Ziv Yeung for Jessica, Jamie Lee for Ben
Gaffer / Duncan Lui