K-pop's breakout "metaverse girl group" has been wowing fans at home, abroad and far, far beyond. Now members Karina, Winter, Giselle and Ningning are adding even more sparkle to their star power as the face of Swiss luxury jewellery brand Chopard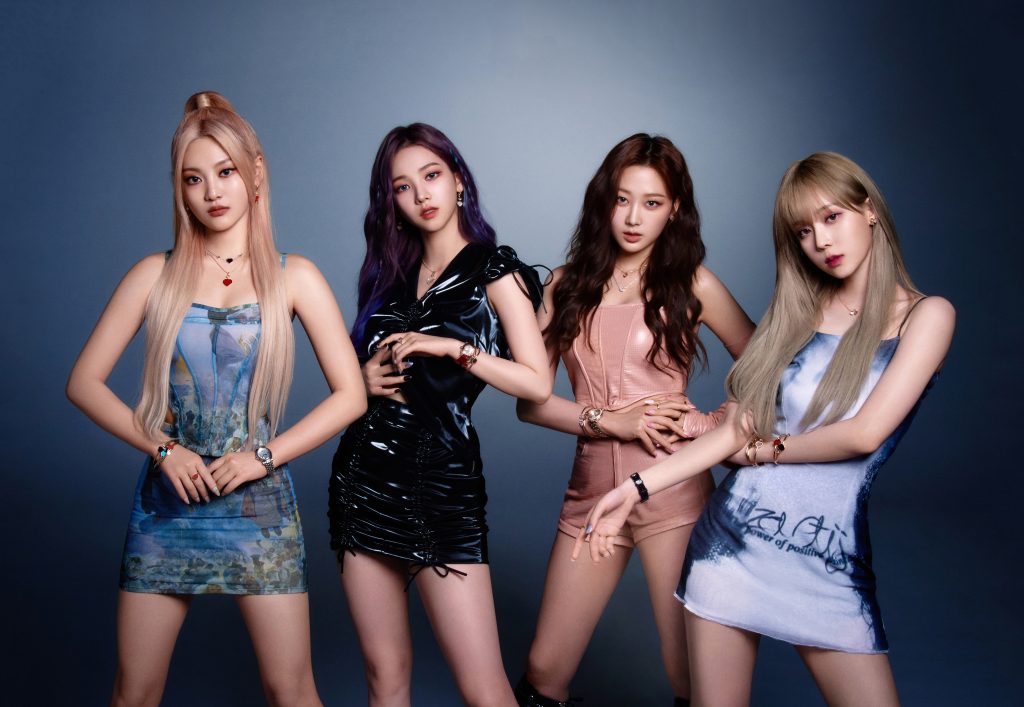 Happiness. The state of being happy. The inspiration for Chopard's My Happy Hearts collection. And the feeling that radiates from the jewellery brand's newest ambassadors, the wildly popular South Korean girl group aespa. It was Chopard's co-president and artistic director, Caroline Scheufele, who recognised the abundant talent and joie de vivre of aespa members Karina, Winter, Giselle and Ningning and chose them to be the face of an exciting new campaign.
The group, whose name is derived from a combination of the initials for "Avatar X Experience" and "aspect", is certainly one of the biggest K-pop sensations to emerge in recent years and arguably the most innovative in the way they are embracing virtual reality, the metaverse and even NFTs. Formed by SM Entertainment as its first girl group since Red Velvet in 2014, aespa made their debut in November 2020 with the hit single "Black Mamba" – said to be about a dark force that threatens the connection between aespa and their four corresponding "ae" avatars.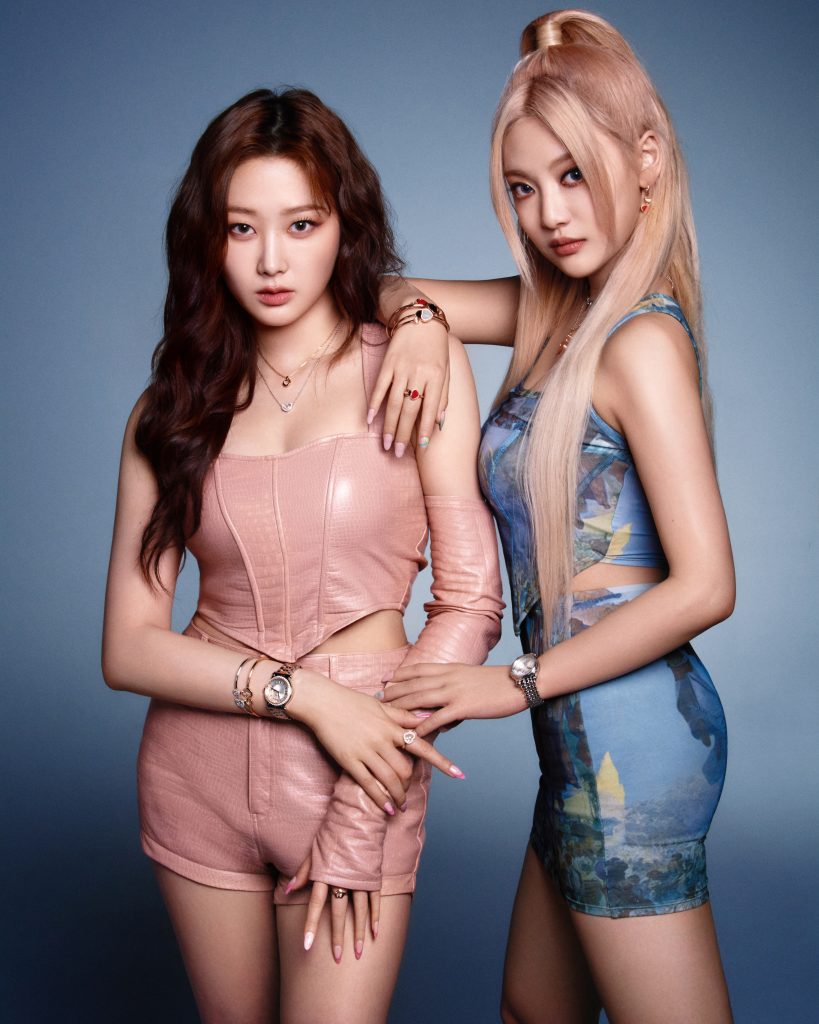 The group followed up with "Next Level", their first top five hit in South Korea and third song to chart on the Billboard World Digital Song Sales chart, peaking at number three, and "Savage", which continued the storyline with the members and their avatars confronting their Black Mamba villain in the fictional Kwangya universe. By the end of 2021, aespa had picked up their first music awards, including Record of the Year at the Melon Music Awards, and become the first Korean girl group to perform at the Macy's Thanksgiving Day Parade.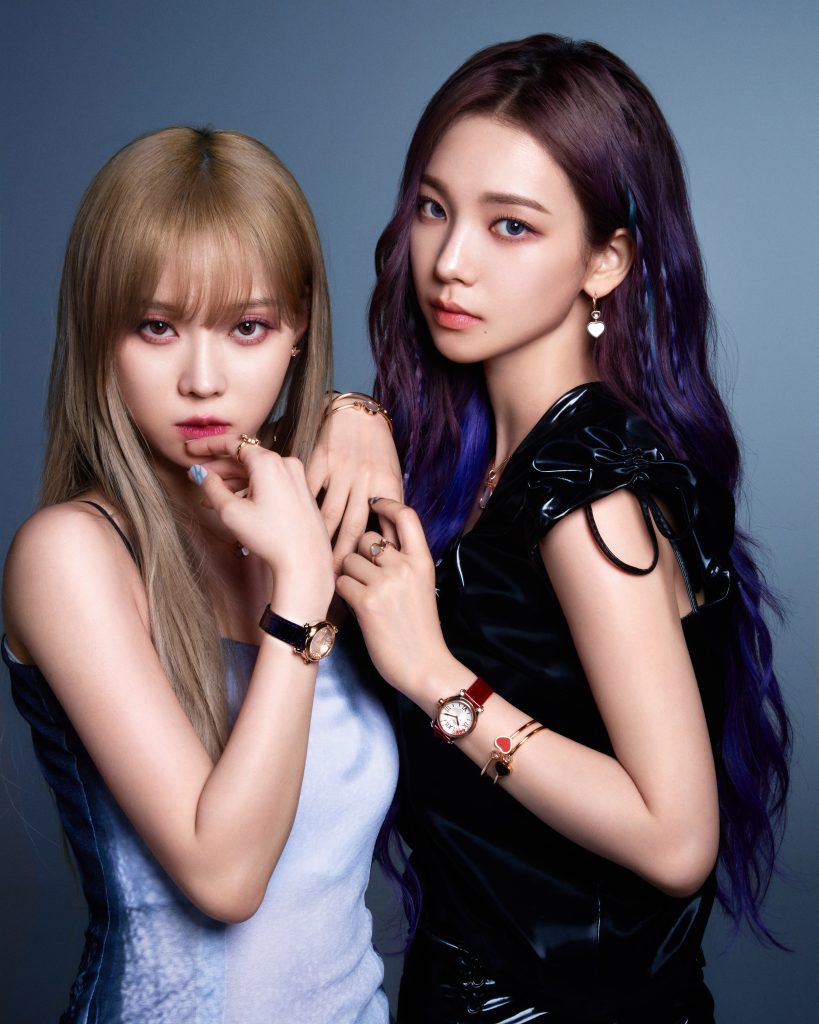 This year has seen aespa burst onto the international scene. The inaugural winner of Artist of the Year at the Golden Disc Awards was invited to take the main stage at Coachella in April, wowing fans with an "aenergy"-infused performance. They were also included in Time magazine's Next Generation Leaders list as well as Forbes' 30 Under 30. On top of that, they became the first K-pop girl group to perform on the opening stage for ABC's Good Morning America summer series concert and even made a speech about sustainable development and the metaverse at the United Nations.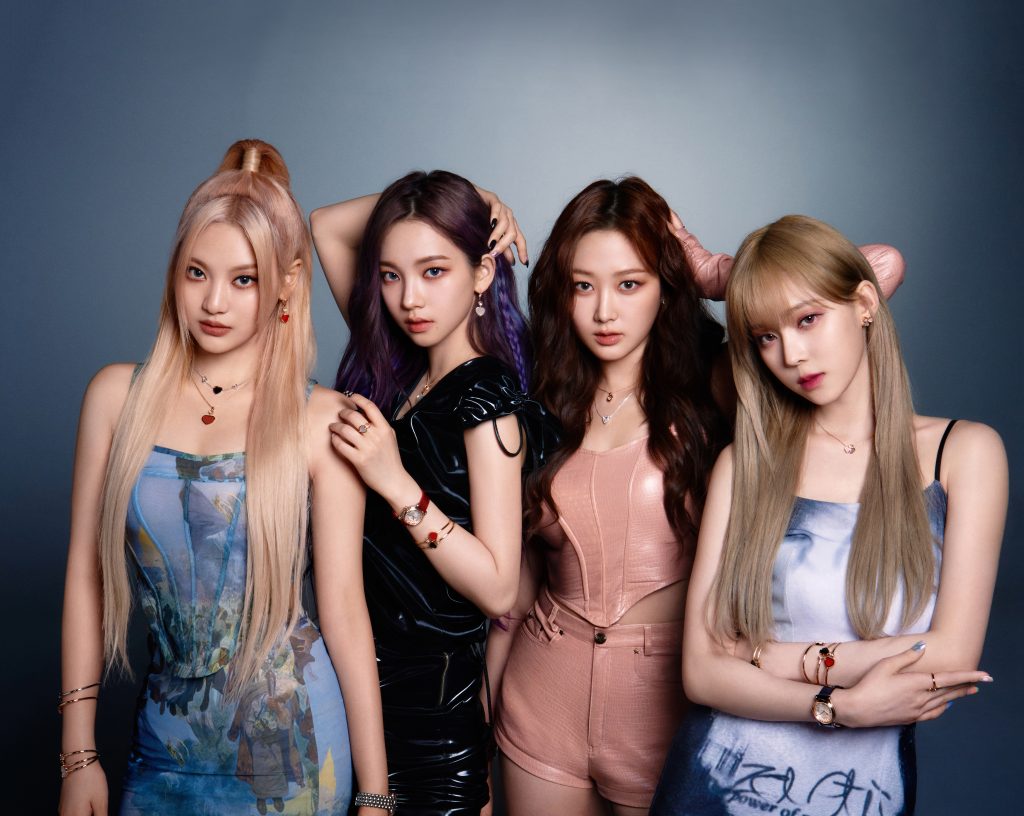 Glamorous, eclectic and versatile, the fabulous four have redefined in just 20 months what global audiences can expect from pop music and its stars – accurately exemplified by the "queen bee" stitching across the front of Ningning's Coachella outfit. Their dazzling blend of fantasy, futurism and youthful energy is also the perfect match for the light, elegance and freedom of Chopard's iconic Happy luxury watch and jewellery collections.
Karina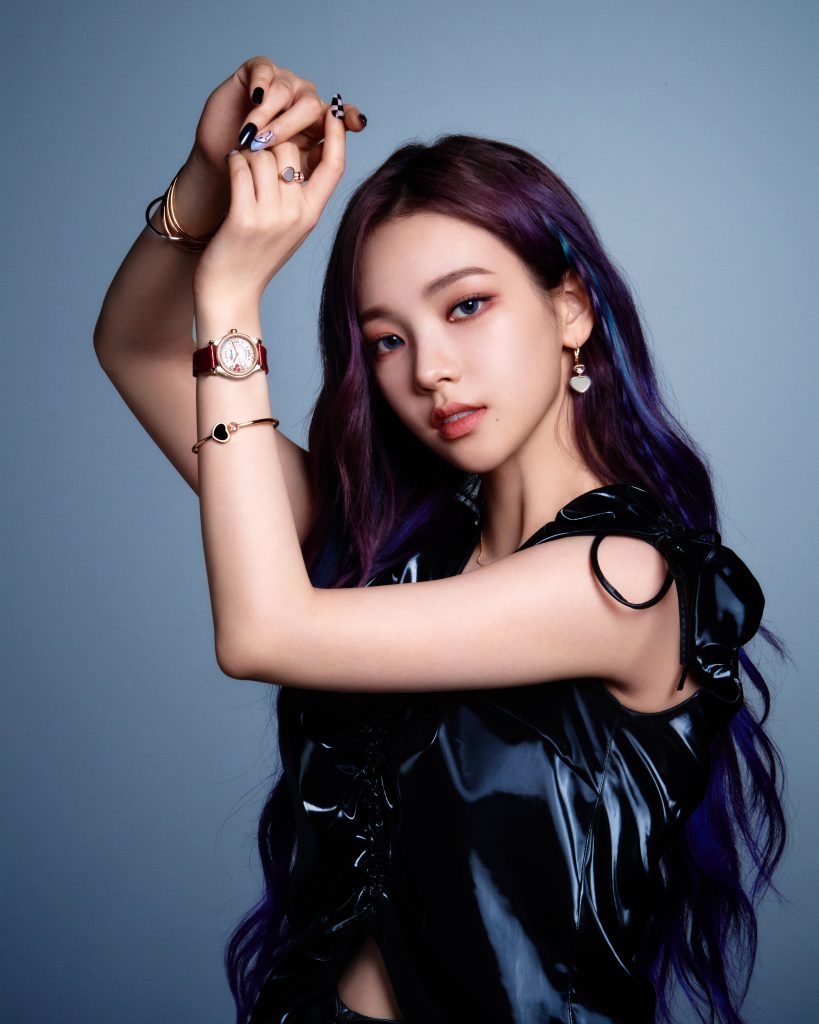 The oldest of the group at 22 and its lead member, Karina was born Yu Ji Min outside Seoul. Before joining aespa, the talented singer and dancer is said to have considered studying to become a flight attendant because she loves travel and learning new languages. When asked by Chopard "What's in your heart?" she even mentioned "looking at the scenery from an airplane". Lucky for her fans, she also mentioned "the cheers I hear on stage".
Recruited into SM Entertainment through social media, where she was a well-known ulzzang or "pretty face", Karina trained for four years and appeared in K-pop singer Taemin's music video for "Want" in 2019 before being revealed as the second member of aespa on October 28, 2020. She was later named to SM Entertainment's seven-member supergroup Got the Beat – a sub-unit of project group Girls On Top that also includes Winter from aespa, Taeyeon and Hyoyeon from Girls' Generation, Seulgi and Wendy from Red Velvet, and the soloist BoA – which debuted with the single "Step Back" in January 2022.
Besides her tall stature and graceful beauty, Karina is often praised for her natural talent as a singer and rapper. When she's not ruling the stage at Coachella or filming must-see music videos, she likes to relax by writing in her journal or taking walks while listening to music by the seaside or Han River. Among some of the interesting facts about her is that she likes cold noodles with pork cutlets, would love to travel back in time to meet dinosaurs and has a black belt in taekwondo.
Karina's stage name is derived from her baptismal name Katarina and within the group her representative animal is a whale and her symbol, in a serendipitous coincidence with the jewellery she's wearing in these pages, is a heart.
Also see: Cover Story: Sooyoung Choi on artistic pursuits
Winter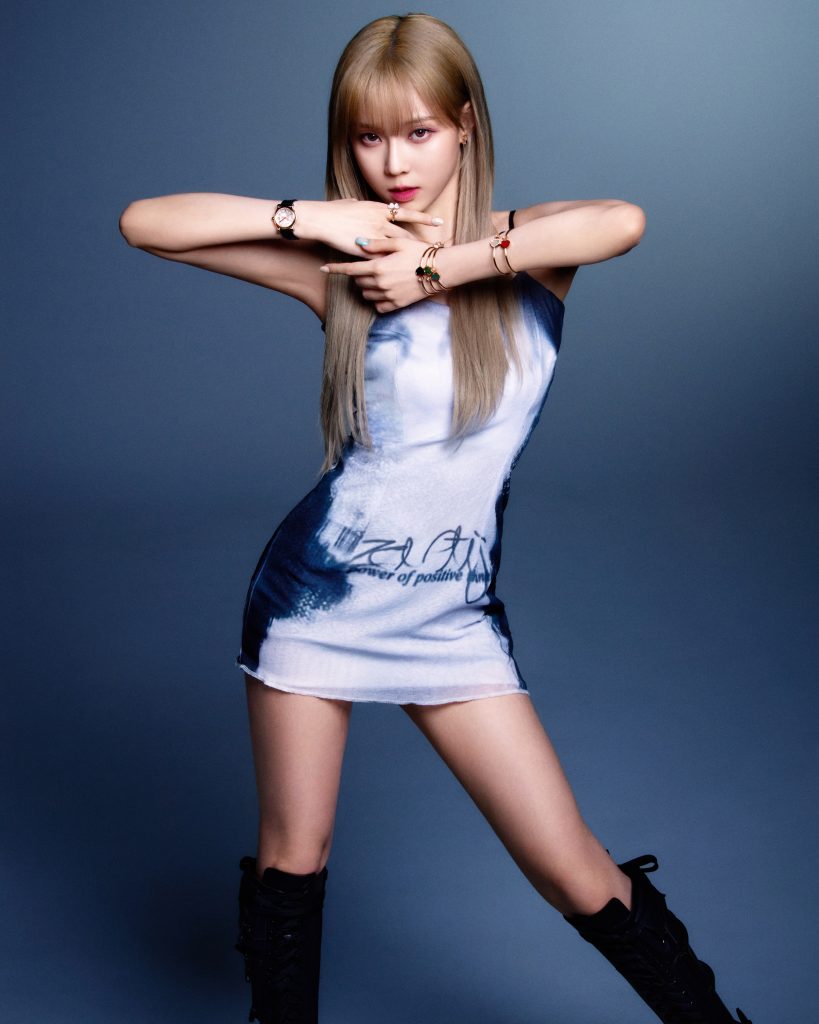 The first member of aespa to be revealed to the public, Winter was discovered at a dance festival in her hometown of Yangsan. The 21-year-old trained for three years and is said to have been given the name Winter because she was born on January 1. Her debut look certainly gave off snow princess vibes thanks to her long, wavy blonde and blue hair, but she has since been seen rocking all different hair lengths, colours and styles with the latest being a rich brown bob.
Like Karina, Winter is a member of Got the Beat as well as a martial artist, having studied kendo when she was younger. The avid Harry Styles fan is known for her incredible stage presence and chic sense of style. She has also talked about her love of action movies and roller coasters, often riding the latter with Ningning when they visit amusement parks.
Winter – whose representative animal is a Siberian husky and symbol is a star – has certainly endeared herself to aespa's devoted fans, recently giving out handwritten letters during an airport meet-and-greet. "Hi! It's me, Min Jeong! I'm happy if 'MY' (as aespa fans are known) are happy because of me," she wrote in a letter shared by a fan. "I think I am able to grow more thanks to MY who are always by my side even if I sometimes make mistakes or show my inexperienced self."
Other things that make Winter happy are going for a walk on a breezy autumn day, discovering an unfamiliar street and getting to do a photoshoot with Chopard's Happy Hearts collection. When she needs to recharge, she likes to sleep, get a massage or simply enjoy some quality "me" time.
Giselle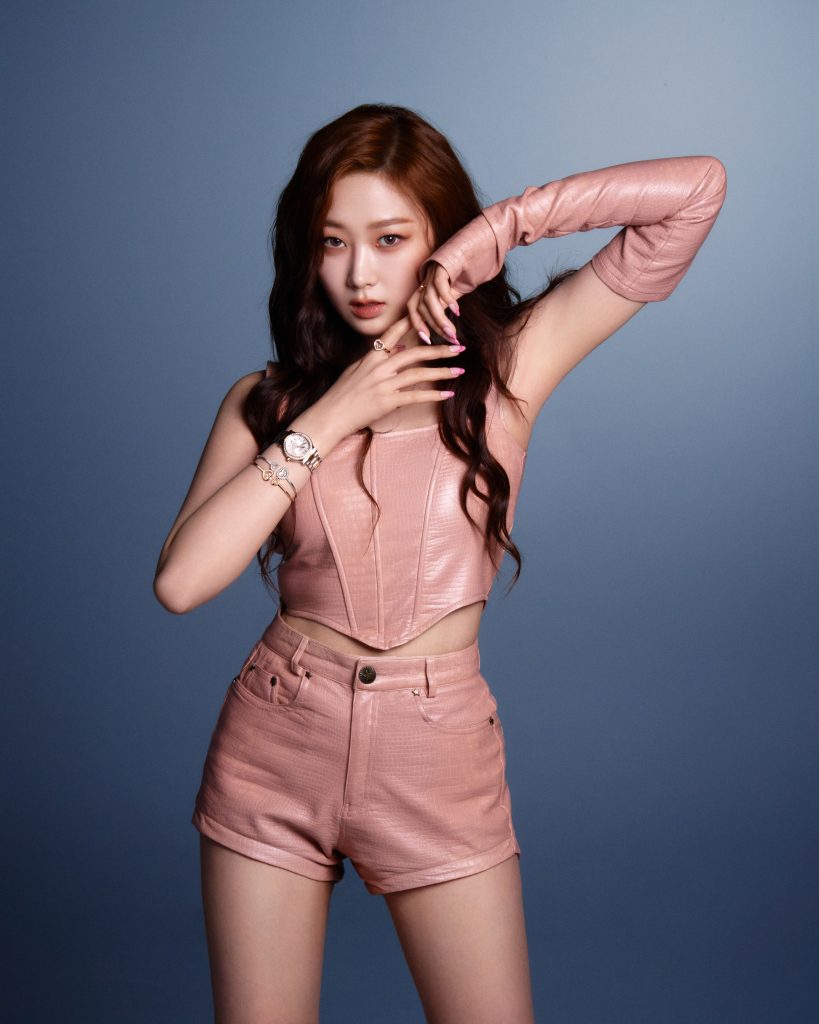 Born in Seoul to a Japanese father and Korean mother, Giselle is fluent in Korean, Japanese and English having attended international schools in Tokyo. The former alto in her school choir is one of a handful of Japanese idols to debut under SM Entertainment and the female idol with the shortest training period (less than a year).
Now 22, the talented vocalist also plays guitar and has emerged as the group's main rapper. She told W magazine that she wasn't really interested in K-pop until she was in high school. "I realised it really does have a lot of impact around the world and it gives a lot of good energy," she said. "It also helped me through the tough times. I wanted to be that for someone else."
In addition to sharing her energy on the stage and screen, Giselle has helped put aespa on the global map by way of her language skills. She delivered the speech, in English, at the United Nations' High-Level Political Forum on Sustainable Development. "As the metaverse accelerates, we have to ask the question: 'Are we working just as hard to create the best possible real world?" she said. "Aespa will continue to connect with the next generation through music and will work to represent sustainable goals in reality and hence, within the metaverse."
When asked what brings her happiness, Giselle, whose symbol and animal are crescent moon and unicorn, told Chopard "when I wash up and lie down on my bed" and "when I meet the fans". She also enjoys watching old TV shows and movies, with favourites said to include Deadpool, Fight Club and Miss Congeniality.
But there's more to Giselle than entertaining and being entertained. The reported dog lover made headlines earlier this year after making a large donation to a Korean charity that rescues abandoned animals.
Ningning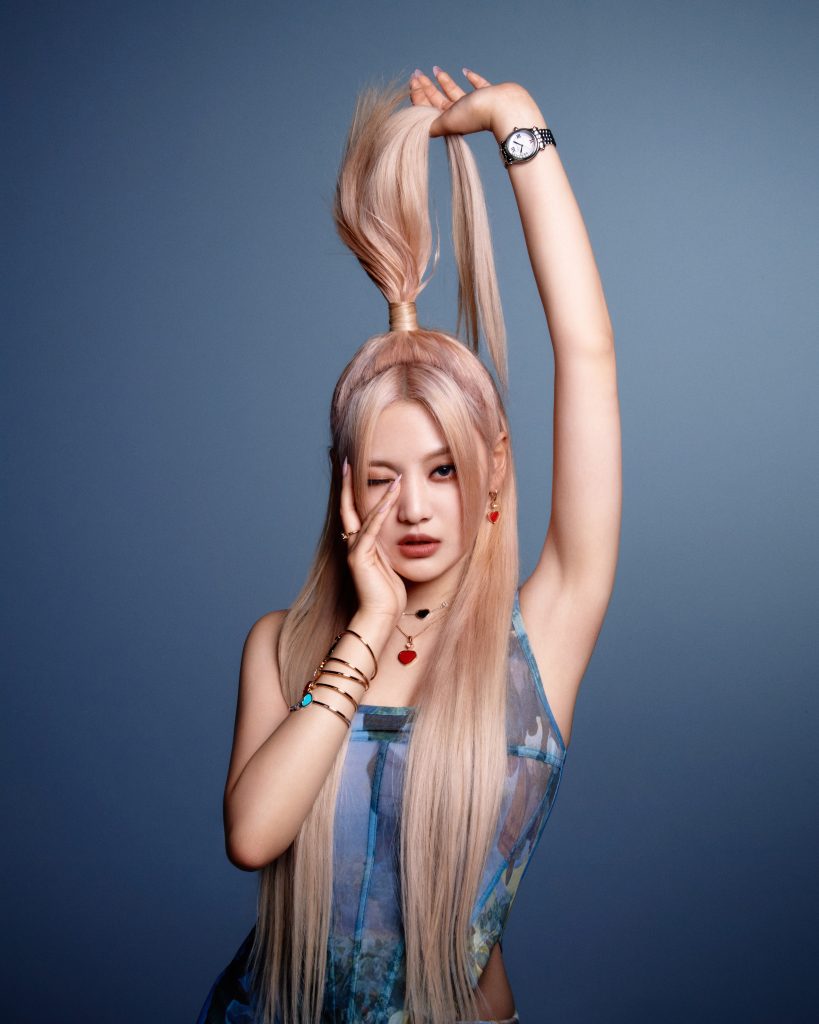 The maknae – youngest – of the group at 20, Ningning is also aespa's sole Chinese member. She was born in Harbin and appeared in singing contests on Chinese TV before being noticed by a member of SM Entertainment. She became a trainee and member of SM Rookies – young trainees who have not yet debuted – in 2016 and four years later was revealed as the third member of aespa.
Ningning, whose birth name is Ning Yizhou, is known for her singing – with a commanding, husky voice and a talent for being "really loud" – but also plays the piano. The bilingual Korean/Chinese artist has collaborated on a track for the eighth winter album by SMTown and has been featured on the original soundtrack for the Korean TV series Shining Star and Our Blues. Not surprisingly, the main thing that brings her happiness is music – followed by nice weather and a good nap.
The "baby" of the group's distinctive look, especially her long blonde locks, has been a hit with fans since aespa's debut. Earlier this year she sent them in a frenzy, seeming to answer their calls to dye her hair a light pink. Her symbol is a butterfly and her animal a tiger, but Ningning's fans call themselves "Ningmengs" – a combination of her name and the Mandarin word for "lemon". Ningning has attracted attention for her artistic talent, with the one-time aspiring painter showing off her skills on vlogs. She also has an eclectic fashion sense, with several Instagram accounts dedicated to documenting her style and love of vintage shopping. Ningmengs even discussed her penchant for wearing warm-weather clothes in the winter, with some talking about posting ads in her honour in her hometown of Harbin, which is famous for its frigid temperatures and annual ice festival.