Cover Story: Sooyoung Choi on artistic pursuits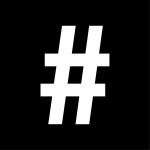 By: Zaneta Cheng
November 8, 2022
The actress and Girls' Generation member might already have 15 years in the industry under her belt, but her curiosity is as strong as ever. She speaks to Zaneta Cheng about how her latest drama taught her more about herself and why sincerity in her work will always be her north star
Can we try one more angle?" It's the last shot, at the end of a shoot that's wrapping up 50 minutes ahead of schedule. The speed at which the shoot has been completed would normally be considered a wonder in itself, but it's even rarer that a cover talent requests to do more than what's been contractually agreed upon. This, however, seems to be something quite routine for actress and Girls' Generation member Sooyoung Choi. The 32-year-old has been offering suggestions and giving input throughout the shoot, from trying poses on the floor when every variation around the chair seems to have been attempted to thinking up different ways to get a better shot.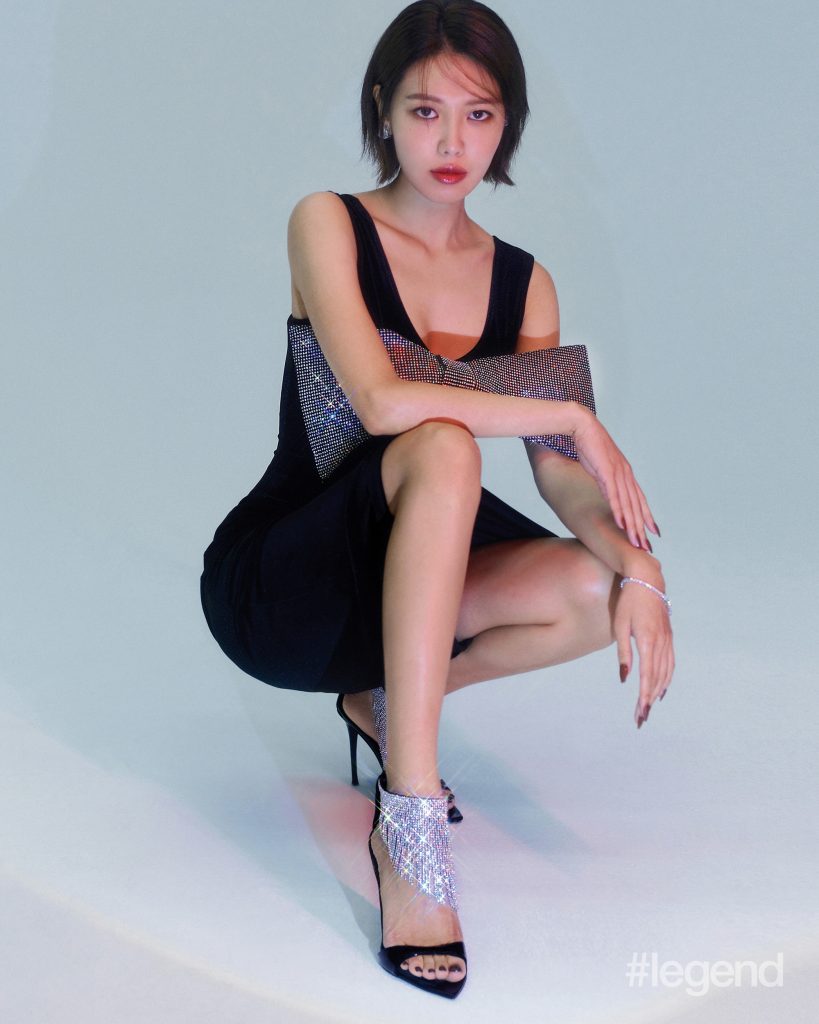 Having been in the industry for 15 years, debuting with Girls' Generation's first single "Into the New World" in 2007 and shooting to national renown with "Gee", an extended playlist, in 2009, Choi is one-eighth of one of South Korea's most successful and most popular K-pop groups worldwide. Alongside singing and dancing, Choi's skills encompass lyric composition as well as acting, the latter being her focus in recent years. Despite the years she's accumulated in the entertainment industry, Choi doesn't seem to have accrued the froideur that often comes with experience and popularity. Resolutely down-to-earth, she answers questions thoughtfully while waiting for a friend to pick her up after the shoot. It's a breath of fresh air compared to the more common rehearsed media responses. Turns out, it's a matter of principle as much as it's a matter of course.
"A lot of people are involved when I work. Their livelihood depends on it. But in this field of work, people don't pursue it simply to make a living but as a way of expressing their craft and artistry, so we need good results," Choi says. "For these people, it's not about providing their services in exchange for payment. We're delivering emotional and artistic results. I think that's why actors are inevitably sensitive. Actors carry a lot of weight on their shoulders. I didn't really feel pressure before. I liked being happy on set and would show up, shoot everything happily and go home. But these days I realise I carry a lot of responsibility.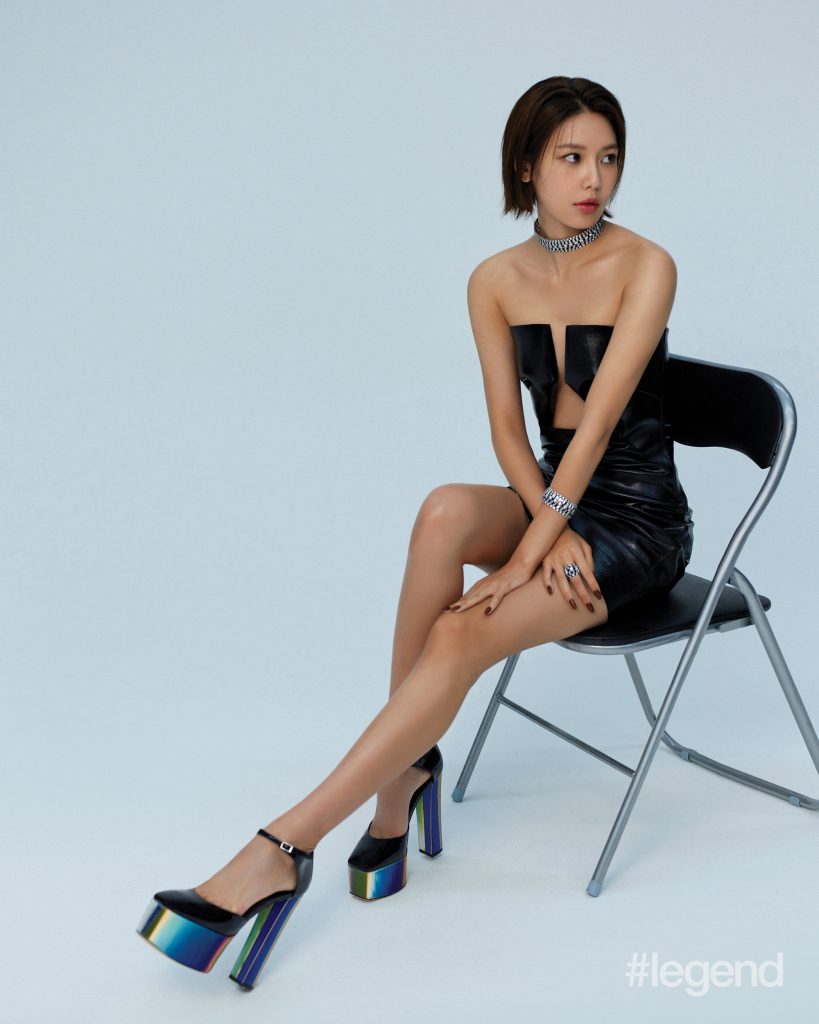 "Being the main figure on set comes with duty. Even on set today, everyone here is working toward achieving a particular artistic expression through me and if the pictures don't turn out nicely, a lot of it will be on me. I must remember that these photos are also a part of their portfolio. It's not just my work."
After having chosen a mood board roughly based on the idea of showing a celebrity in their natural state, Choi's efforts on set to convey the theme sees her thinking through each shot with the photographer. "During the shoot, I took some shots with the shoes in my hands. Before I did that, I was thinking about whether it made sense to wear an outfit like this and to pose this way. I thought it would make more sense to hold the shoes and deliver various expressions. And when the photographer suggested I just wear the gown that I put on in between takes, with the coffee that I was drinking, I thought it made sense for this 'between takes' theme," she explains. "I've been doing so many things that are pose-y and 'done' for the past 15 years so capturing raw moments draws me in more. I try to think about this when I'm acting also – this idea of what makes sense and what doesn't."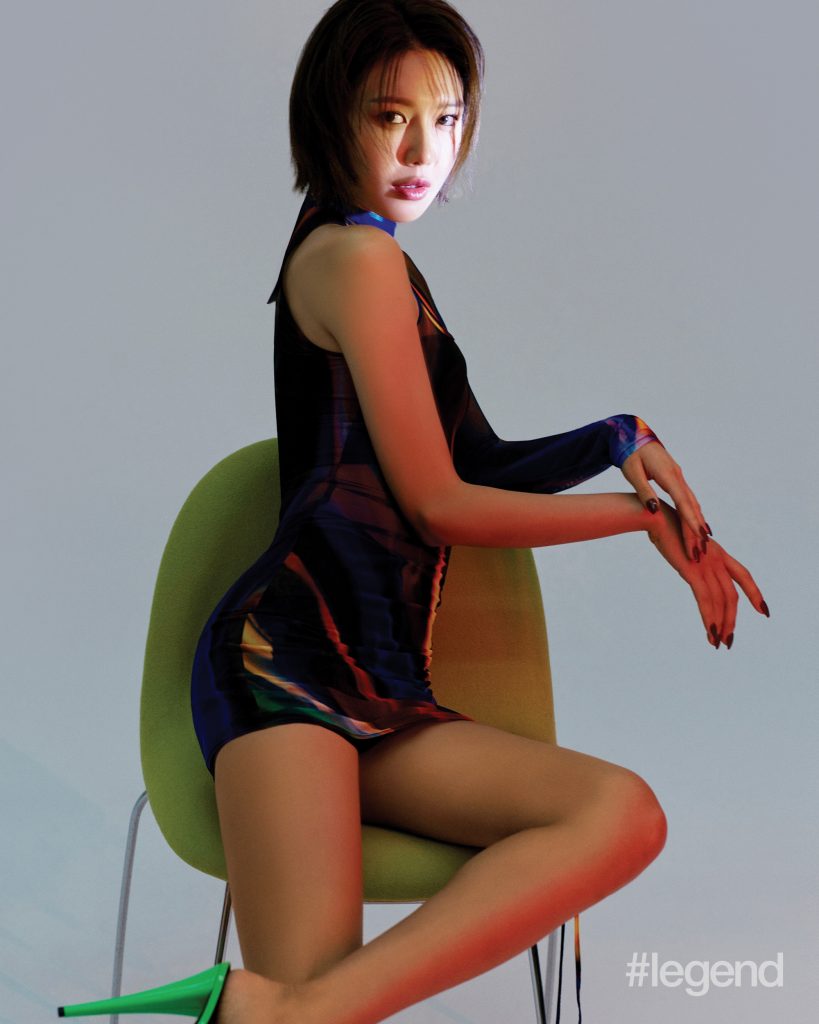 Perhaps it makes sense then that Choi chose to play Han Kanghee in her upcoming four-episode television drama series Please Send Me a Fan Letter. "It's a moving love story about a famous A-list Korean celebrity who heals her wounds that have come about from the loneliness and sorrow of being a celebrity. It's a short series but I related to it so much because it explained some of the emotions that I had as a celebrity and as a member of Girls' Generation so well, and the emotional changes that the character undergoes really resonated with me," Choi explains. "It made me see that maybe just one person can take all the stress away. I don't think there were many dramas before that depict a very ordinary love story and apply that to a famous but lonely actress. I think the series is about growth."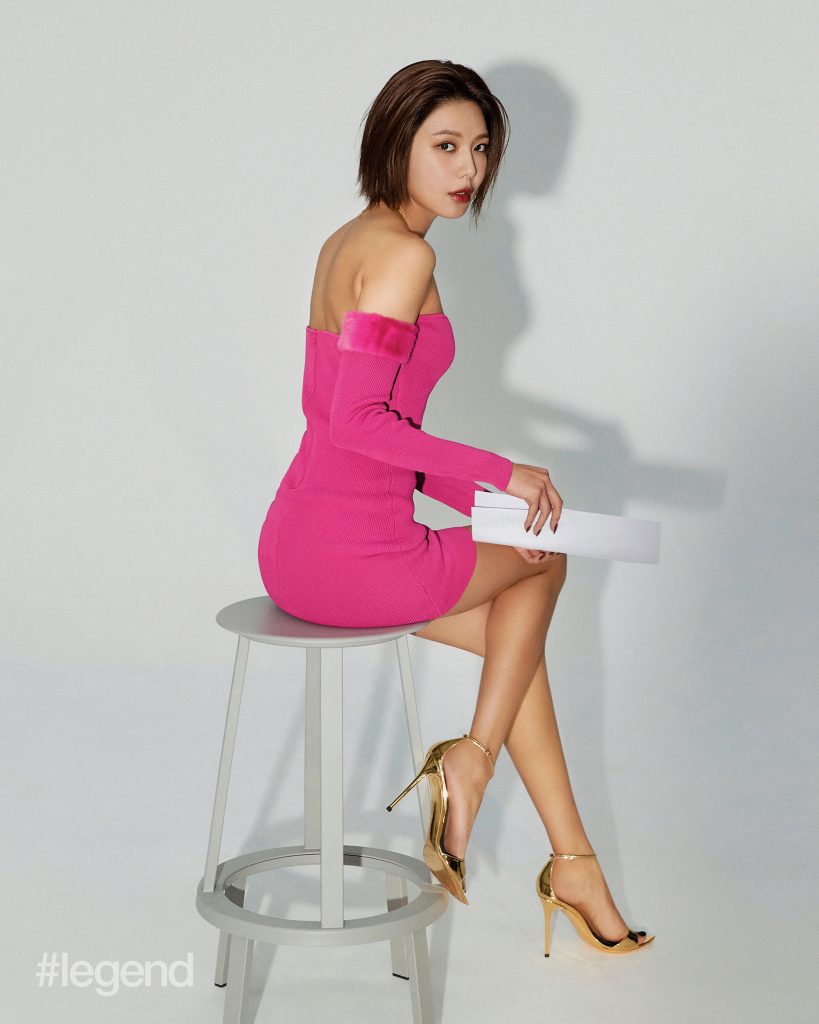 Having just come off a very successful run as Seo Yeon-joo, a healthy and vibrant nurse working at a hospice in If You Wish Upon Me, a hopeful television drama series that follows a lonely ex-convict (played by Ji Chang-wook), Choi chose Please Send Me a Fan Letter for some contrast. "I don't really choose my roles based on any set criteria. I think my choices are usually influenced by the last project I worked on. For example, after a romantic drama series, I'll be drawn to thrillers or a more human drama. It really depends on my mood at the time. I think I tend to choose based on my feelings and thoughts that I have at that time. But I can't always choose what I like and that's
probably why we have a management team," she says with a laugh.
"I listen to the people working with me at my agency. They look at me objectively as an actress and guide me toward a script that I should work on and make me aware of what others want to see from me. There's a difference between what I want to do and what people want to see from me, so I try to accommodate this difference but it's not easy.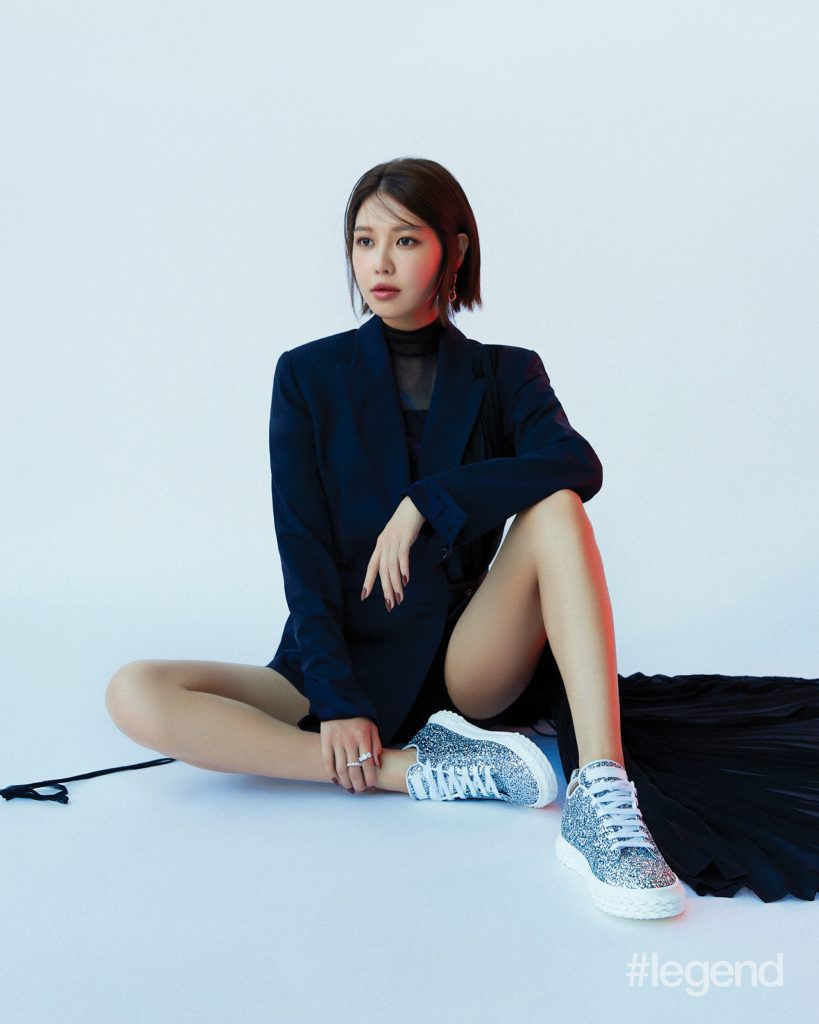 "What I do once I choose a script, though, is really figure out what new face and personality I can develop from it. For example, my role in my upcoming MBC drama Please Send Me a Fan Letter asks me to depict a famous Korean star. I want to try being this iconic character. But when I was filming If You Wish Upon Me, I wanted to put on the face of a vibrant, healthy character who spread joy and energy to anyone even just thinking of her. I think I'm still in a place where people have to ask, 'Will Sooyoung be a good fit for this role?' So I think it's important to show as many sides of myself as possible."
Please Send Me a Fan Letter has given Choi much food for thought – largely because it's the closest to her own reality. The experiences of the drama's protagonist mirror Choi's own. "It wasn't easy. Every episode had extreme tension but it was harder to express it because I have actually experienced those feelings before myself," Choi explains. "In real life, I used to not express what I was feeling when I encountered conflict or tension. But this is a drama and I needed to convey the character's tumult in a way that viewers would be able to see and understand it, so I had to think about how to do that quite carefully."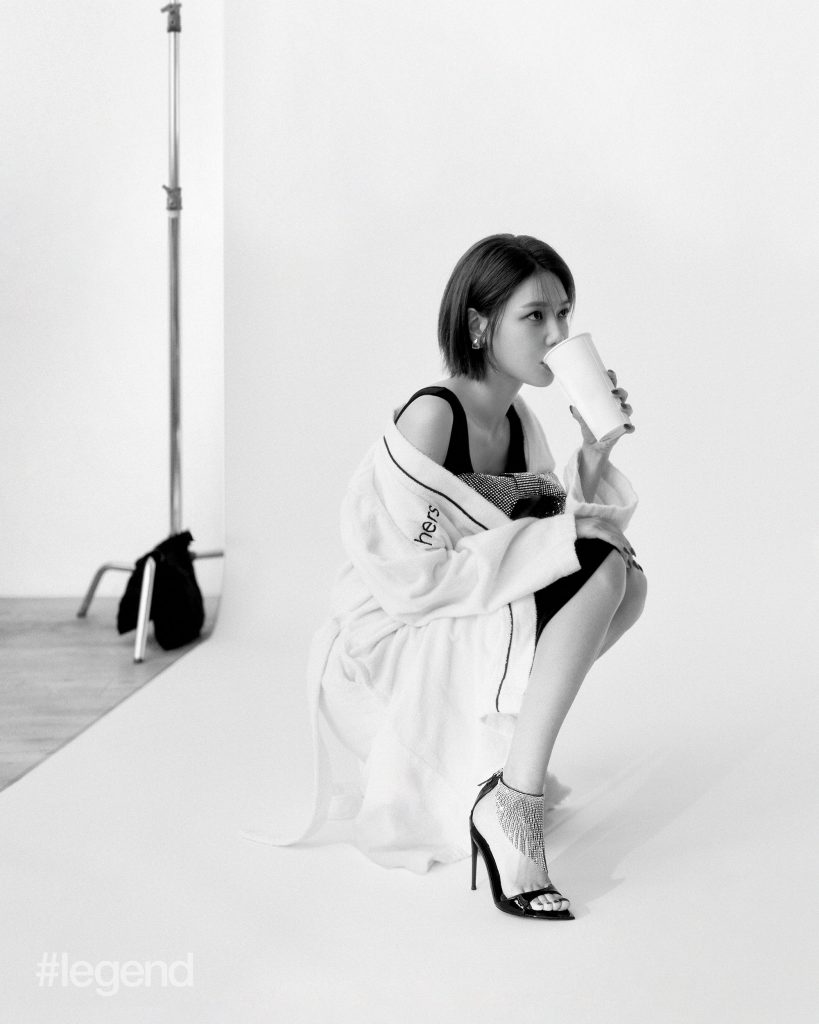 Choi admits that filming this latest series made her consider the relationship between fans and celebrities more than she had done, and remarks on the symbiotic relationship one has with the other. "I really like reading fan letters and I like letters in general. A lot of times, fan letters make me realise how fans see me and think about me. Fans don't actually write simple letters like 'I love you' or 'I like you'; they tell me stories about themselves in a very deep and personal way and I sometimes feel quite close to them," Choi admits. "I realise that even though we aren't close friends who talk to one another, we could, in a way, actually be very close and share a deeper bond.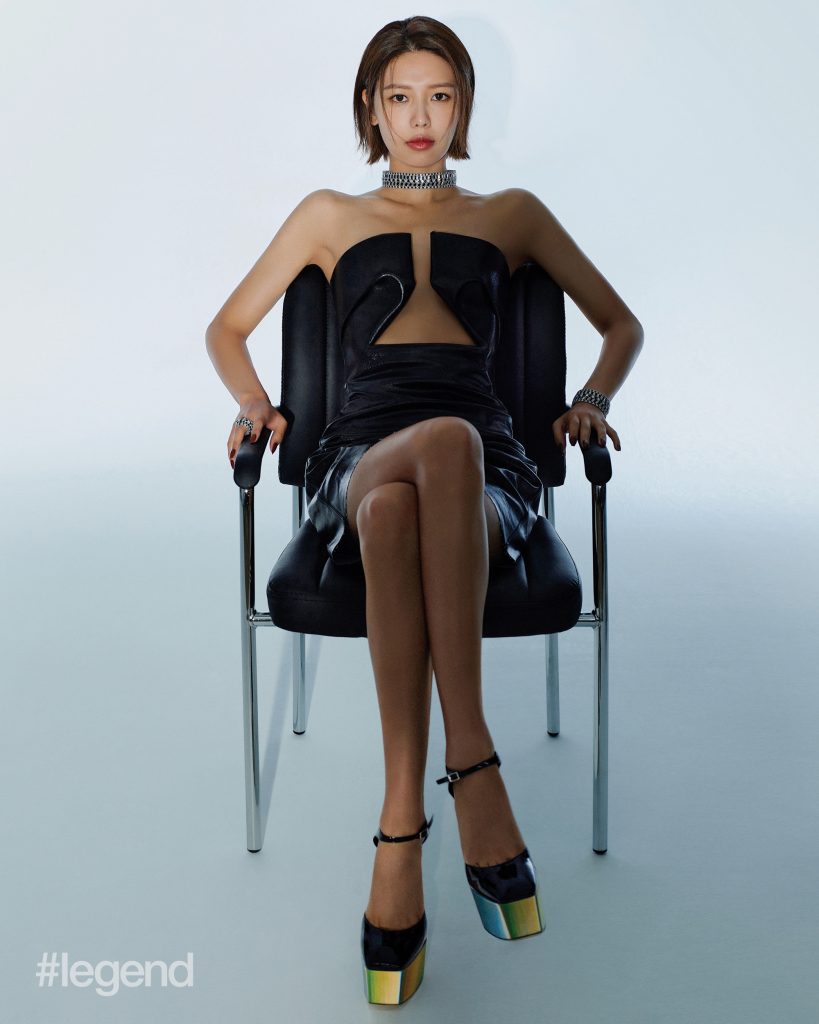 "I really hope that my fans can watch the gradual process this huge celebrity, who has shut everyone out, undergoes as she finds comfort again through her fan letters. I also hope that my fans can get comfort from watching this themselves. I want them to know that their fan letters are a source of comfort for me, because they really do comfort me and whenever I have time, I open one like choosing chocolate out of a box because I just really love reading them."
There's a sense of sincerity in Choi's conversation. While so many look at her as a sensation – one of a special group of people who brought Korean entertainment to an international audience – she's happy to admit that in her pre-debut days, failure was something she faced three times a week on a weekly basis. "I failed a lot," Choi says. "I've had a positive personality since I was young. From the beginning, I would go to auditions thinking 'oh well' if I failed but I think this might be a bad habit because I wasn't desperate enough.
It scares me a bit when people go at things with a now-or-never attitude but now that I'm in my 30s I realise these people are usually the ones who are really good at what they do. I think being motivated to become better is a good thing but you shouldn't allow it to lower your self-esteem. We decide who we are and if you make your decision, you should have faith in it and just go forward with it with confidence."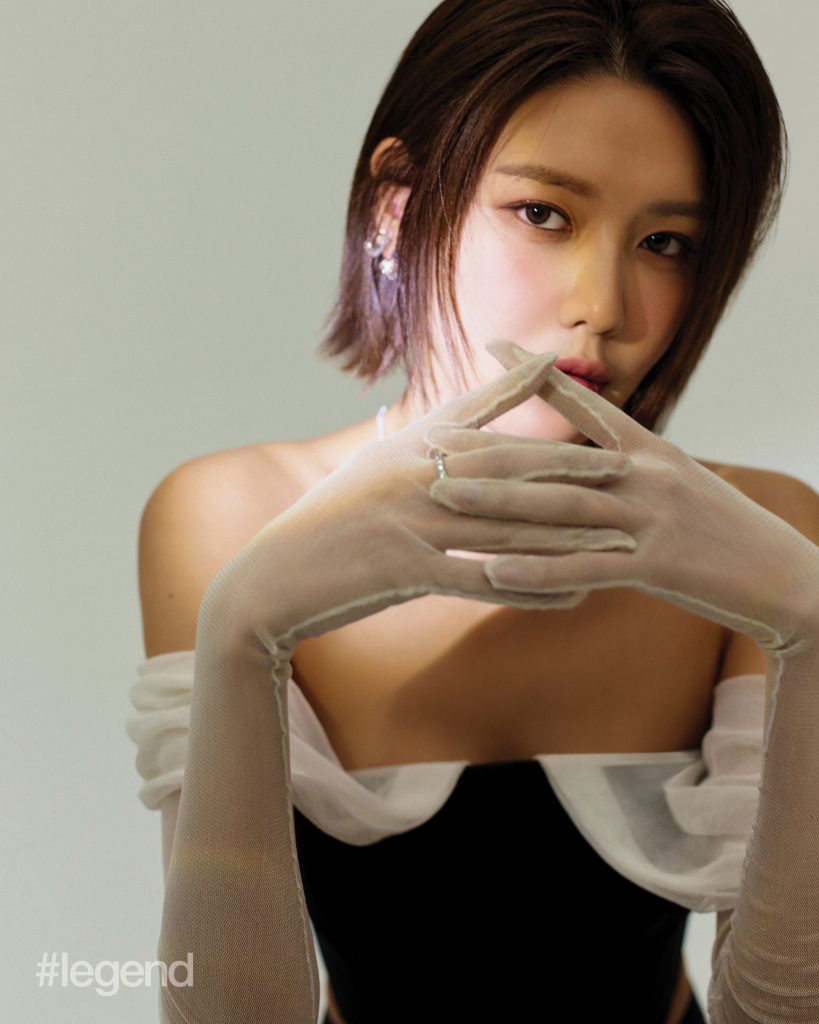 She practises what she preaches. To celebrate their 15th anniversary, Girls' Generation reunited earlier this year at the SM Town Live concert after having taken a hiatus from performing together since 2017. The decision to regroup after five years of pursuing separate goals drew emotional responses from fans for whom the girl band marked an era of their lives. "After this comeback, I thought to myself – sincerity overcomes," Choi says. "It was amazing that people could feel and recognise our sincerity. I went through all the comments on YouTube and seeing how people who lived through this era together with us and how they really waited for our return and were really enjoying the music felt so good. They didn't compliment the song. They said our performances felt sincere and real and that they could see that we tried so hard. We didn't do it for those reactions.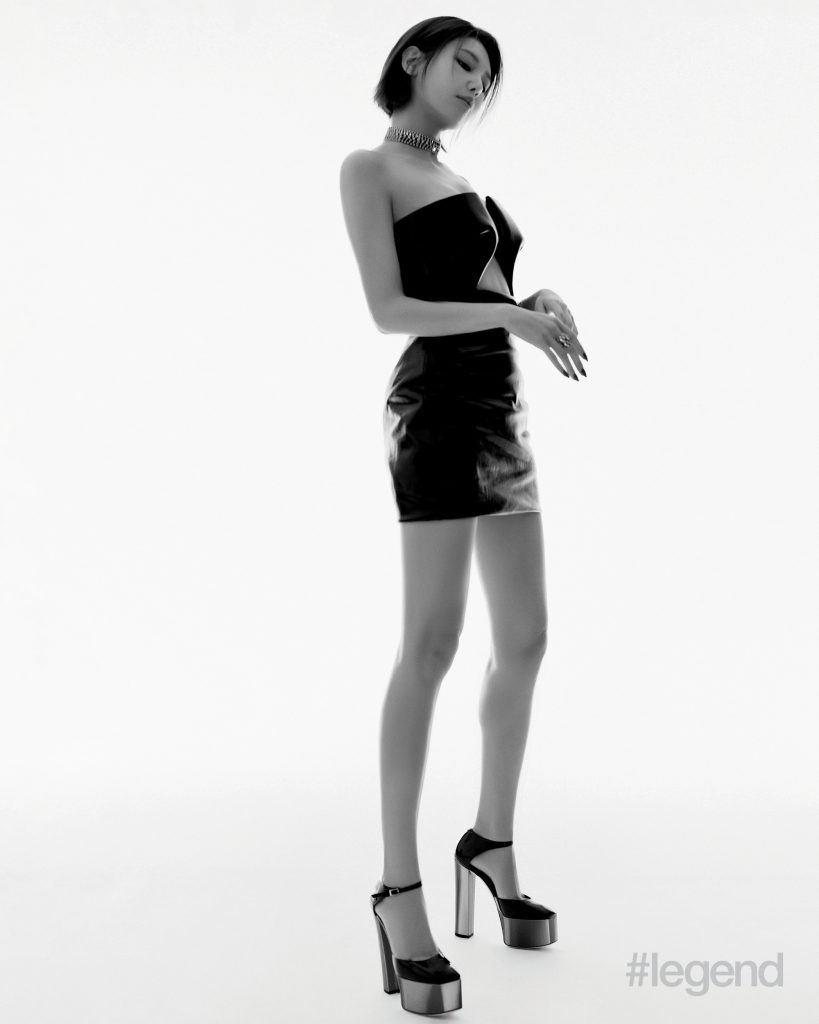 "Even when we started as Girls' Generation, we did it because we enjoyed it. I loved touring around on the bus chatting with the girls. It wasn't to achieve certain targets or awards and this time was the same. We didn't think of it as work or thought that we needed to show people how much we've improved. We did it because it made us happy and we sincerely wanted to perform for everyone and the fact that people noticed was very touching for me."
Citing the group as her #legend, Choi recognises the growing up she's been doing as she's pursued her solo acting career. "We're all heroines in our own arenas now. Can you imagine the synergy on stage with all of these heroines put together? In the years away from Girls' Generation, I couldn't step back and hide behind another member so I had to be fully responsible and I thought, if whatever I'm doing doesn't go well, it's all on me." It's a journey that's seen Choi put work above all else, reframing her health and happiness as a way to show up to work better, living her life more fully to bring more depth to her characters and physically keeping herself healthy so that her instrument is at its optimum for work.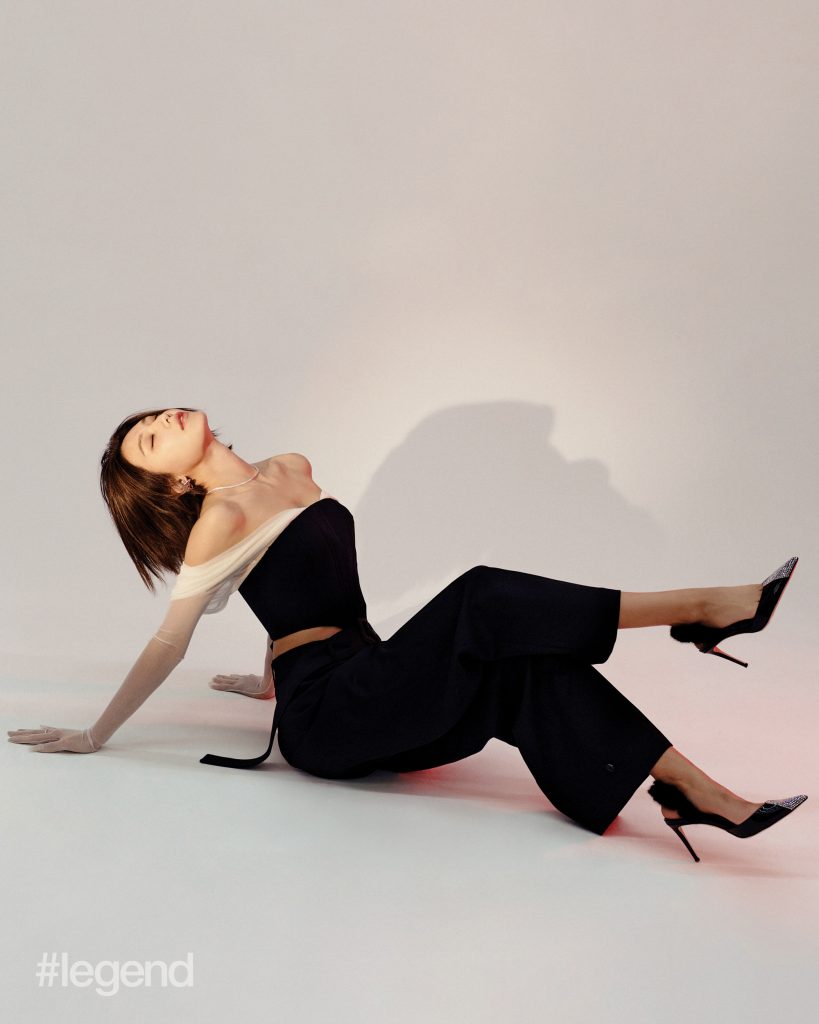 Perhaps the greatest reward then is to receive a letter of her own, having shot an entire series about a celebrity finding warmth from a supporter, right on set. "We had a party on the last day and I found out that one of the staff was a SONE (member of the official Girls' Generation fan club)." She was a real fan and not once did she mention it over the two whole months we shot together. It was just on the final day that she very shyly handed me a letter," Choi recounts.
"Everything about that fan letter was real. I was touched by every sentence. Being a real fan, she tried not to make a big deal about it so that I wouldn't be uncomfortable and observed me from a distance, checking in to see if everything was okay for me or whether I was stressed. She wrote to me about all of this in the letter and I just cried when I read it. This was the perfect finale to this drama."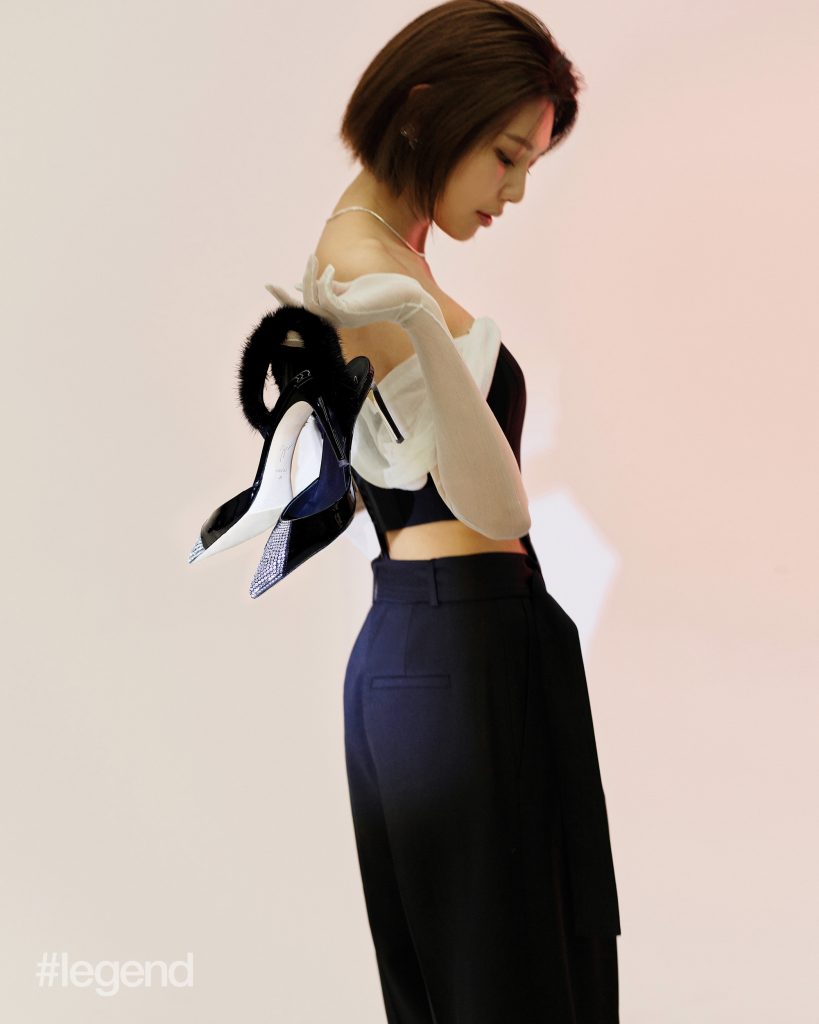 So, what's next for Choi? She wants to keep working on melodramas. She's happy being in her 30s now, dropping her age sporadically in the conversation as something that's given her a bit more perspective on life and the things that happen around her. "I feel like there are melodramas I can do at this age. Love stories or romantic comedies. I want to try a mature love story," she says.
"I don't really think about the things I want to achieve. I'm an ISTP (introverted, sensing, thinking and prospecting personality type) and I think it's an ISTP thing. I like to live without a plan. When we live without a plan and achieve something that wasn't planned, it brings more happiness. It's disappointing if you don't achieve what you plan, so I don't usually think about these things. But, like I said, I want to gain more faces and facets. I want to be someone who fits this face and that role and this personality. So, in order to do that, I'm just looking to feel."
CREDITS
Creative concept and production / #legend
Creative director / Gordon Lam
Art direction / Zaneta Cheng
Production / Danny Kang at thiziscompany
Photographer / Hyea W. Kang
Stylist / Seo Soo Kyung
Hair / Na Gun Wong
Make-Up / No Han Gyeol
Videographer / TSG (Shin Taeseok)
Shoes / Guiseppe Zanotti
Wardrobe / Farfetch, Net-A-Porter