Van Cleef & Arpels heads to Rome for Le Grand Tour High Jewellery Collection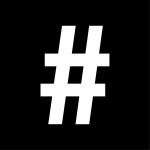 By: Gordon Lam
August 16, 2023
Van Cleef & Arpels travelled back to 18th-century Europe to inspire its latest high jewellery collection. Gordon Lam joins the maison on a dazzling journey to Rome to learn more about Le Grand Tour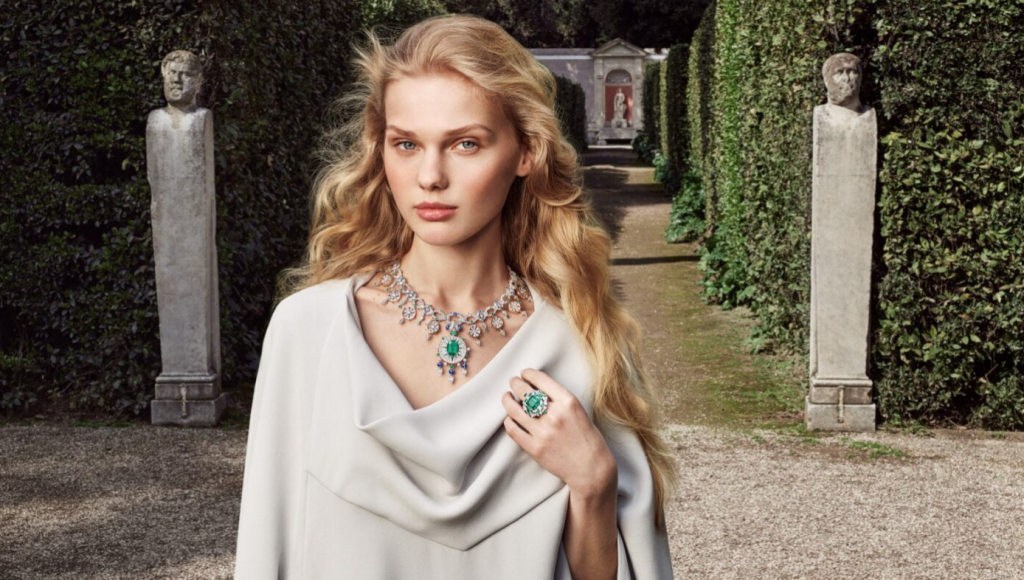 When it comes to a global launch event, few brands can even come close to matching the hospitality and showmanship of Van Cleef & Arpels. The last event put on by the maison that I had the pleasure to attend was in pre-COVID times, a celebration of the Alhambra Collection in Marrakesh. And what a memorable event that was, even now!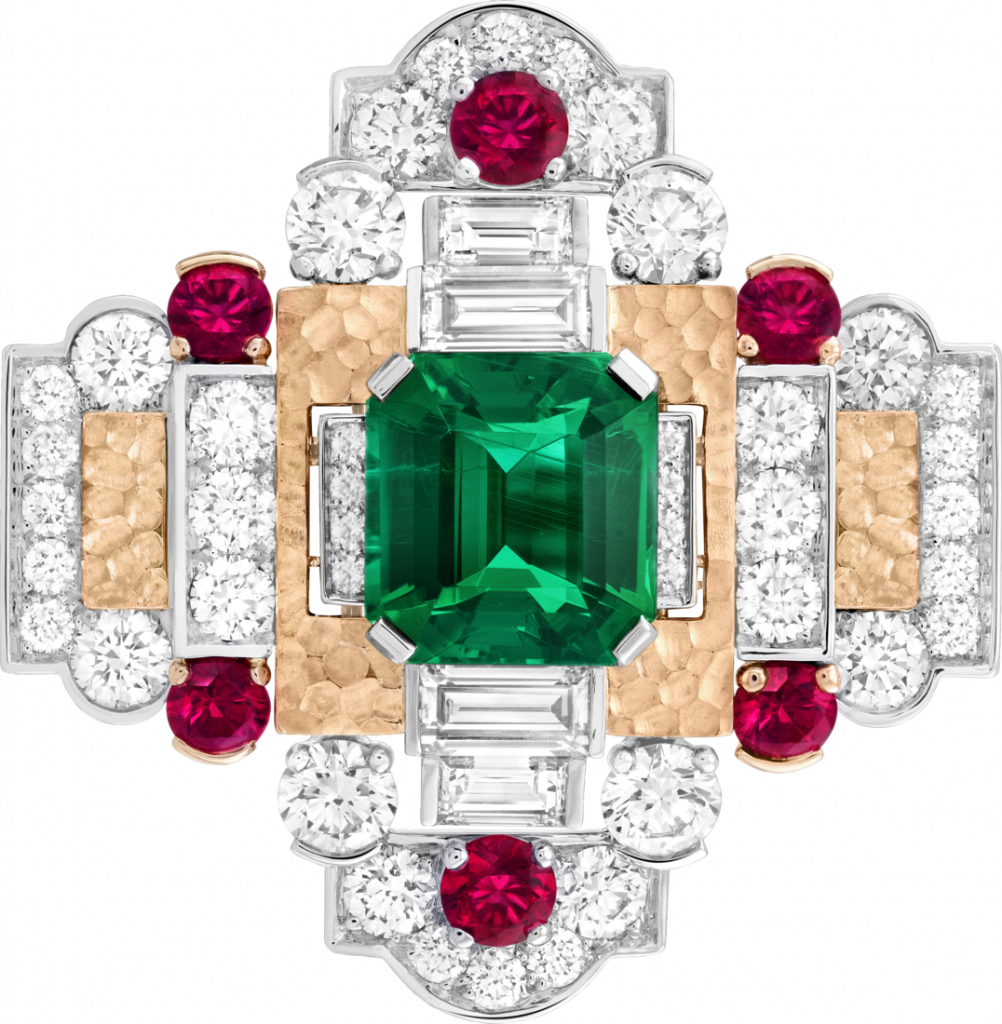 I have always admired and appreciated Van Cleef & Arpels for how it does its own thing without the need to follow in any other brand's footsteps. It has certainly been a while since the global press gathered in full force for one of its events and this time the destination was Rome – let's just say I knew it would be spectacular even before I stepped on the plane to leave Hong Kong.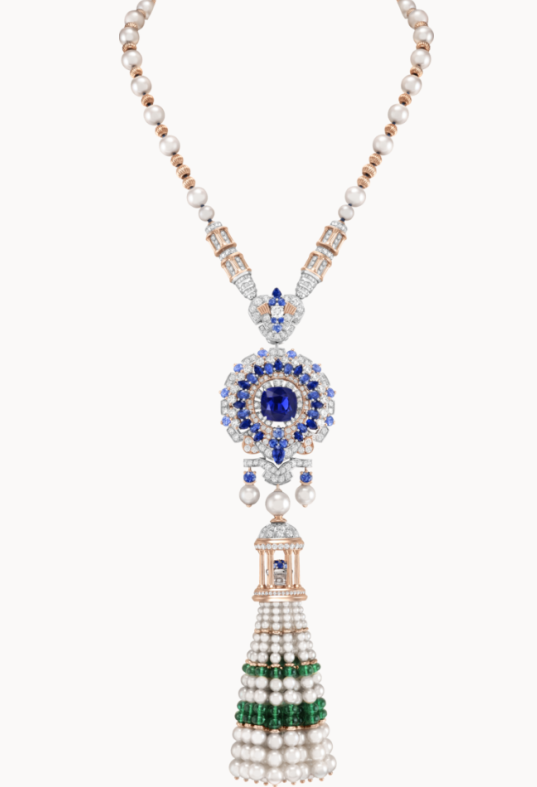 As to be expected, this was no ordinary event for no ordinary collection. It was in fact inspired by the Grand Tour, a popular tradition in the 18th and 19th centuries among young aristocrats – and then artists and intellectuals – during which they spent two to three years travelling across the European continent to finish their education, forge their character, broaden their minds and ensure their entry into society. Van Cleef & Arpels has reinterpreted this concept with Le Grand Tour High Jewellery Collection, an array of 70 exquisite pieces that showcase the maison's creativity, the excellence of its savoir-faire and its unique taste in gems while also demonstrating that a great voyage is indeed a work of art in itself.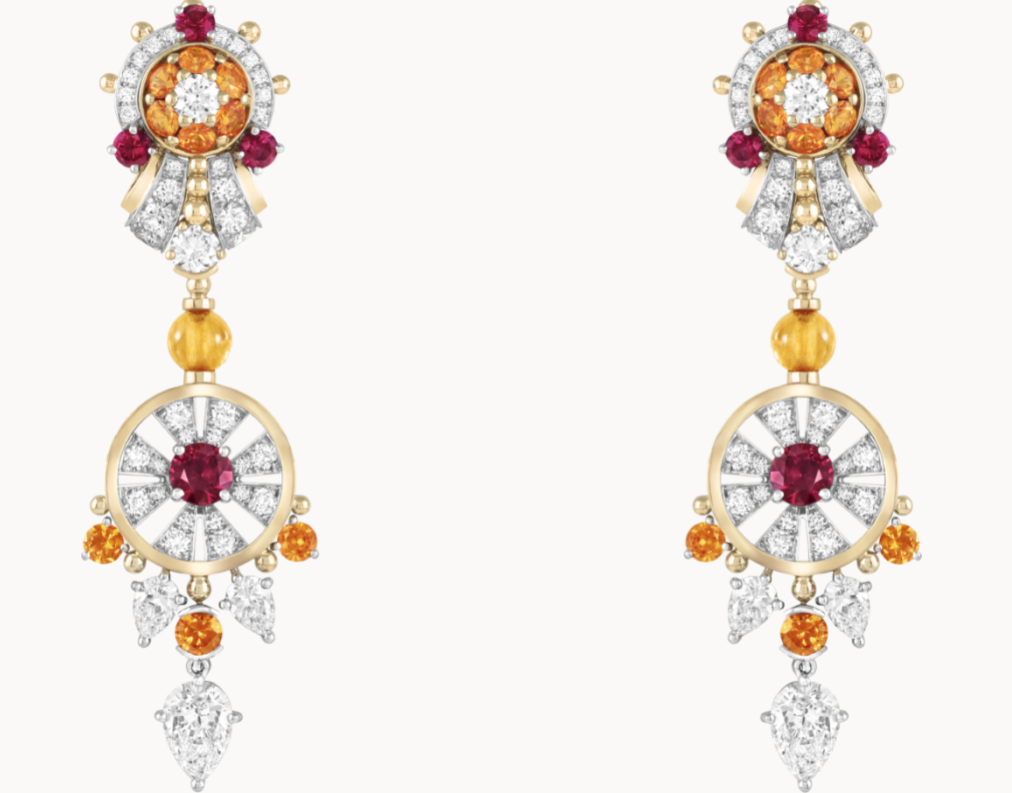 But first, back to our own great voyage, which kicked off at the newly opened Ambasciatori Palace on Rome's glamorous Via Veneto. The hotel, which first opened its doors back in 1905, served as the American Embassy Library from 1946 to 1993 before joining the InterContinental portfolio of luxury properties. Our first evening was spent with Nicolas Luchsinger, President of Van Cleef & Arpels Asia Pacific, and Julie Clody, Managing Director of Van Cleef & Arpels Hong Kong and Macau. The welcome dinner was held at the amazing Palazzo Doria Pamphilj, a 16th- century palace started by Pope Innocent X Pamphilj in 1644 and which now houses a museum with over 400 paintings dating from the 15th to 18th centuries from the private collection of the Doria family.
The next day was packed with activities planned by Van Cleef & Arpels' global team. The in-depth historical tour began at Palazzo Farnese, one of the most important High Renaissance palaces in Rome. Owned by the Italian Republic, it was given to the French government in 1936 for a period of 99 years, and currently serves as the French Embassy in Italy. We had to go through several security checks before entering the highly guarded palazzo but once inside I was blown away by the amount of history. This is definitely not the kind of place any tourist can enter, so all thanks to Van Cleef & Arpels for this special opportunity.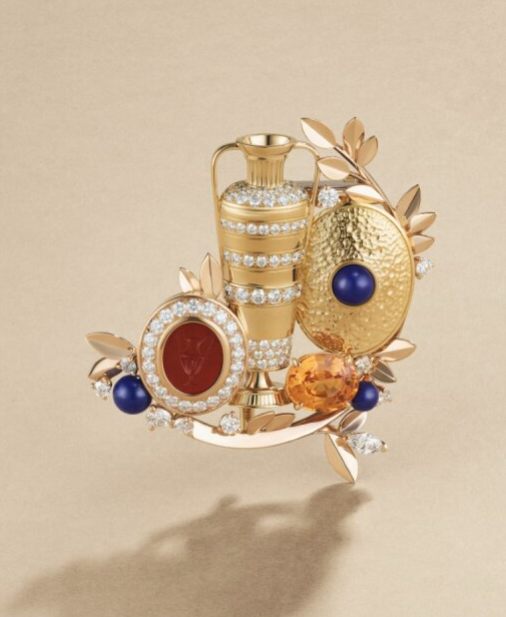 Right after our Palazzo Farnese visit, we rushed off to our next stop at the Musei Capitolini designed by Michelangelo. The museums are composed of three main buildings surrounding the Piazza del Campidoglio and interlinked by an underground gallery. We were split into groups, after which a tour guide introduced us to some of the most impressive and historical collections Rome has to offer. The eye-opening experience was one that money certainly cannot buy.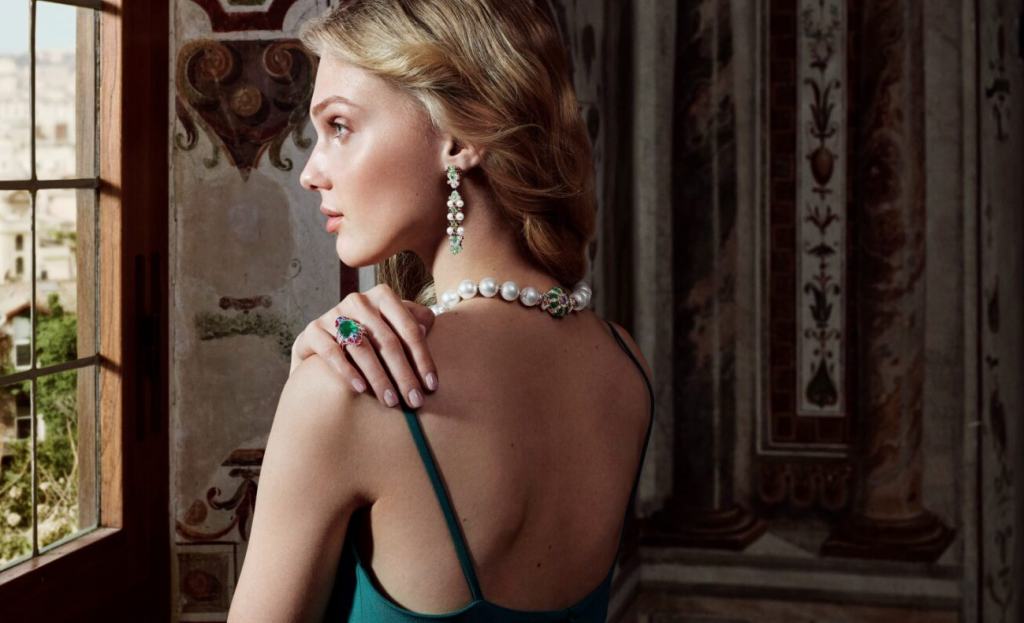 Unfortunately, due to an unforeseen eye infection, I couldn't join the lunch and afternoon activities planned for the rest of the day. Funnily enough, this wasn't the first time I had medical issues during a global Van Cleef & Arpels event. It has been an ongoing joke since the last time, in Marrakesh, when I incurred a pretty bad back injury that needed immediate assistance from a doctor. But the Van Cleef & Arpels team always manages to get me out of any serious trouble. What would I do without them?
I took the afternoon off and rested my infected eyes before the main event that evening. Luckily, my eyes recovered and I got dressed in my evening attire as Van Cleef & Arpels had requested on our itinerary. The dress code was black tie, although they warned us that the event would be held outside and the venue would have absolutely no air-conditioning – not the best news in the midst of the boiling Roman summer heat. But from the moment we arrived at the grand entrance leading to the Villa Medici, the temperature was the last thing on our minds.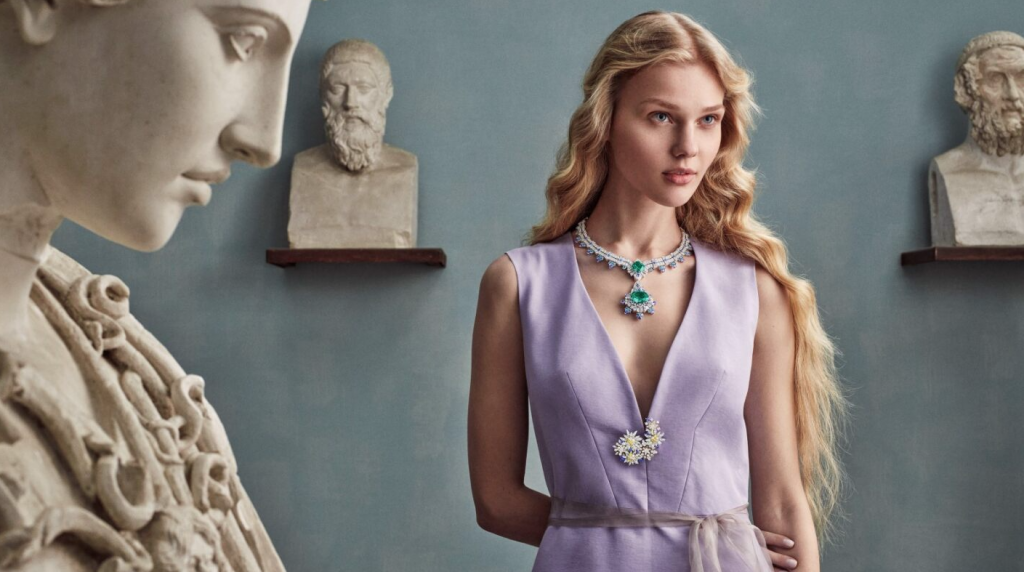 We ventured into our Le Grand Tour gala dinner by walking through and experiencing different garden areas set
up for performances that took us on a virtual tour from London to Paris, Venice, Florence and on to Rome and Naples. Each performance was as impressive as the next, with sets built in the form of the designated city and actors interacting with the guests to showcase the high jewellery pieces worn by models in different period costumes as well as highlighting each city's historical performances. Calling it spectacular is an understatement. This was unexpected, to say the least, and truly original.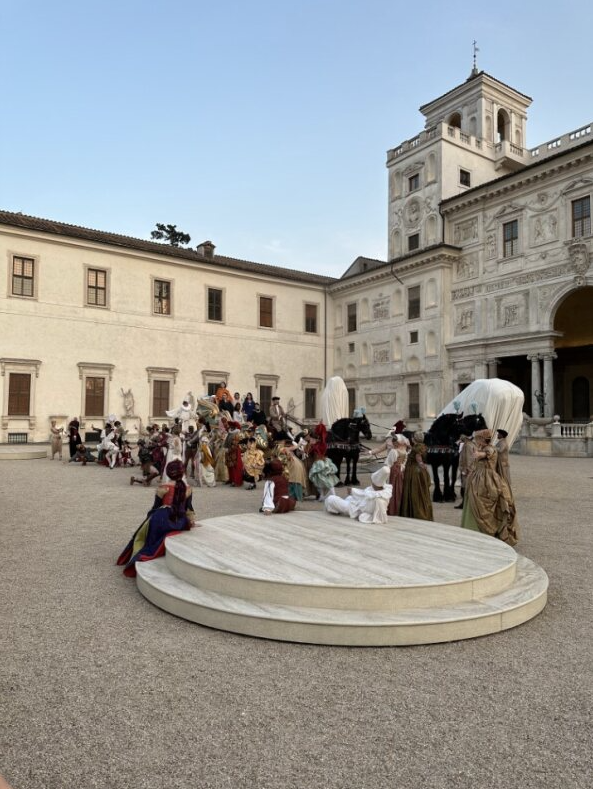 After we visited all the different cities, it was like coming out of a maze garden and finally encountering a destination
we had only dreamt about. Once we were all seated, we were told to await a performance. The suspense was killing us. When we couldn't wait any longer, a group of horses and riders filed out to the front of the villa, followed by performers all dressed in period costumes worn in historical times to entertain royalty. There were so many performers taking part in the show that no one could tell who were the main characters. Then, all of a sudden, two black horses emerged pulling a giant golden chariot with all the models wearing the high jewellery pieces we had seen during our garden visit earlier. Once again, we were totally blown away by the grandeur.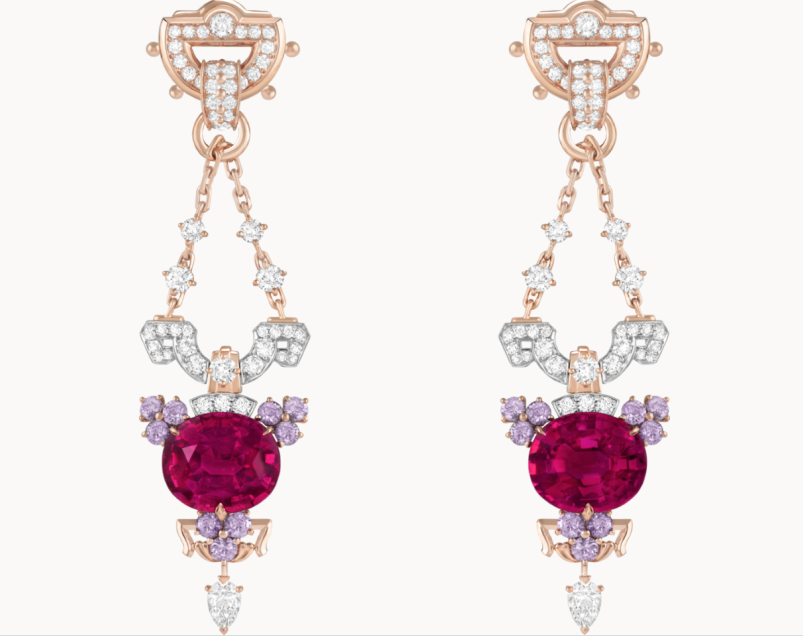 As usual, I filmed it all with my trusty equipment, including a 360° camera attached to a 10ft-long selfie stick. Also as usual, I was astonished by the number of guests who were intrigued by what I was doing. There was one gentleman in particular who seemed to be paying extra attention to me as I filmed the performance. After a polite introduction, I discovered that he was in fact the director of the Villa Medici, Sam Stourdzé, who kindly gave me his business card and told me he couldn't wait to see my final edit. We immediately became BFFs!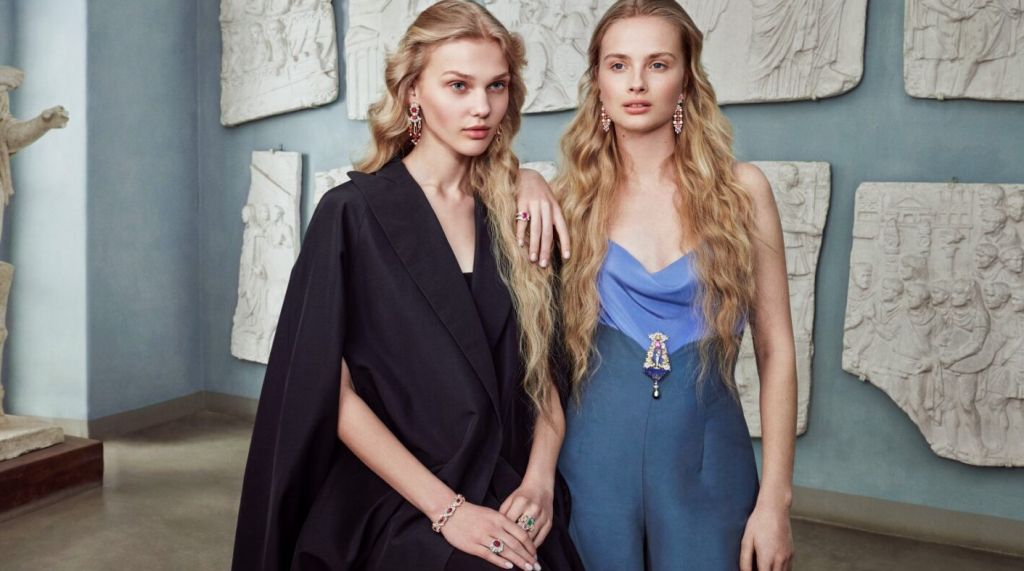 Right after the show, we were led to the dinner venue through more performers dressed in historical Roman costumes. My first mission was to locate and get a photo with Nicolas Bos, President & CEO of Van Cleef & Arpels, who happens to be the most charming CEO I have ever known. I've had the pleasure of attending many
of the maison's events and there has never been one that Nicolas also attended that I haven't taken a photo with him. Nicolas has known me for quite some time now and he jokingly said that I should have had a pretty large collection of photos with the two of us by now. Seriously, Nicolas, I have to say I'm not a stalker – so you can rest assured!
The gala dinner, gathering global press flown in from all corners of the world, featured the usual top-notch cuisine
Van Cleef & Arpels is known for serving its guests. I was particularly honoured to be seated next to the beautiful Olivia Zhu, Van Cleef & Arpels' international PR group manager, whom I had the pleasure of meeting many years ago during my first visit to L'École in Paris. To cut a long story short, we discovered that her father and my mother were from the same Chinese province of Yunnan Quimin. What are the odds?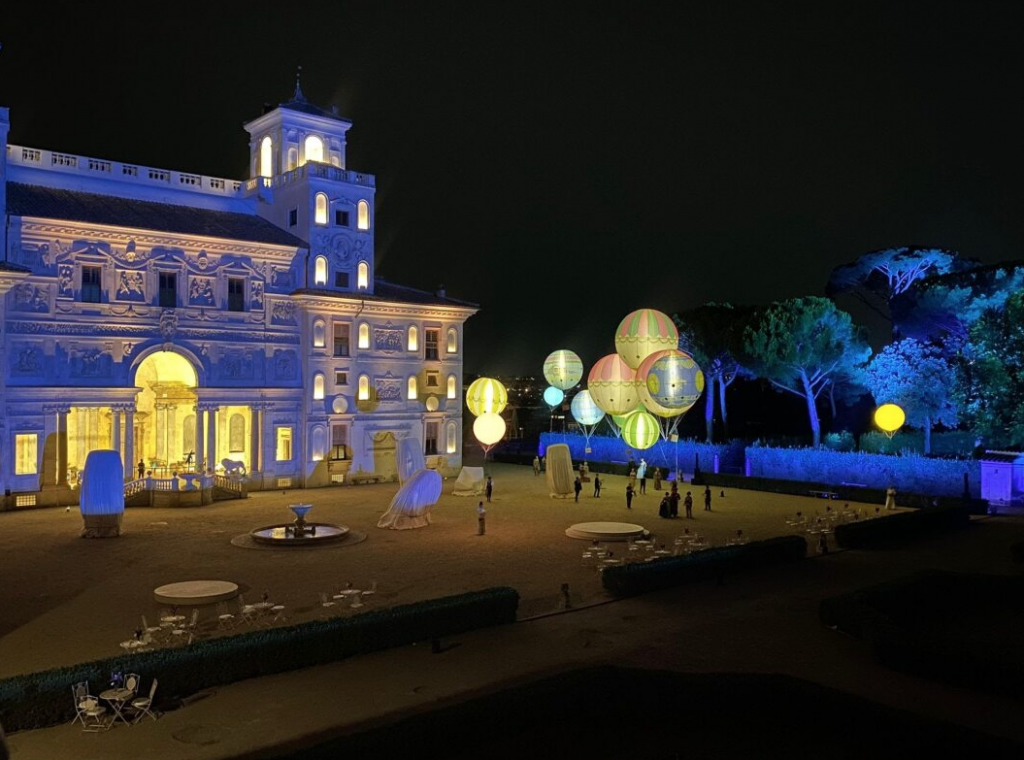 Halfway through dinner, the lights dimmed and out came a troupe of models walking the full length of the table to showcase pieces from Le Grand Tour. The high jewellery collection was unique and poetic, in true Van Cleef & Arpels style. But, just when we thought that the high jewellery show was the highlight of the evening, we were asked to leave our seats and head to the balcony area to witness another out-of-this-world performance. This time, a huge collection of giant helium balloons in beautiful patterns and different sizes floated out from the front courtyard on wires majestically manoeuvred by men on the ground. In the middle of it all, hoisted up in a harness, was an opera singer performing like an angel in a dream. It was an unforgettable performance that capped off another remarkable trip organised by the Van Cleef & Arpels team. Bravo to everyone who made it a great success for us to remember for years to come.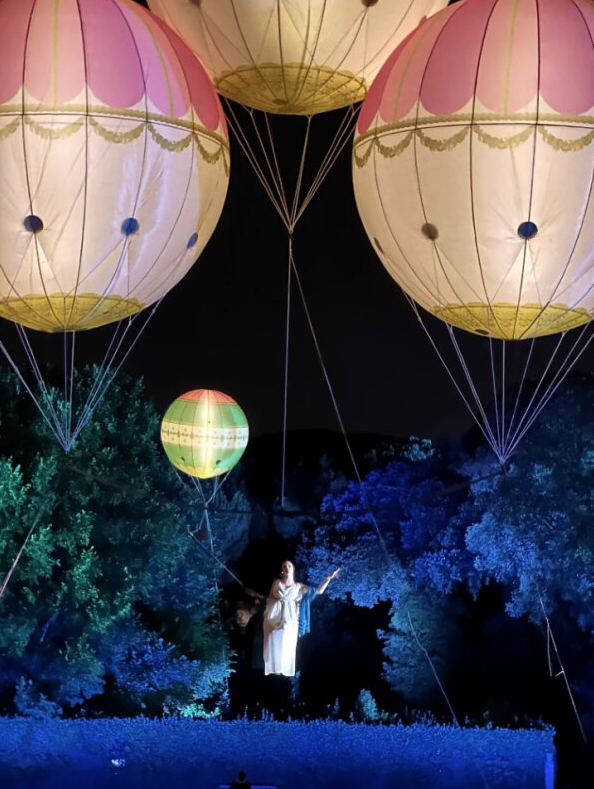 The following day, which was our last day before bidding farewell to Rome, we went back to Villa Medici to have a proper look at all the amazing jewellery pieces from Le Grand Tour. Finally having a chance to take a closer look at this entire collection made us realise the amazing craftsmanship and design that went into each piece. It was simply breathtaking. After the viewing, I was asked which piece was my favourite. To be honest, I had to admit that they were all my favourites! Van Cleef & Arpels had outdone themselves once again. I can't wait to see what they come up with next.