The long-awaited Aman New York brings the peace, tranquillity and luxury the brand is famous for to the heart of the Big Apple. Tama Miyake Lung pays a visit to the groundbreaking vertical resort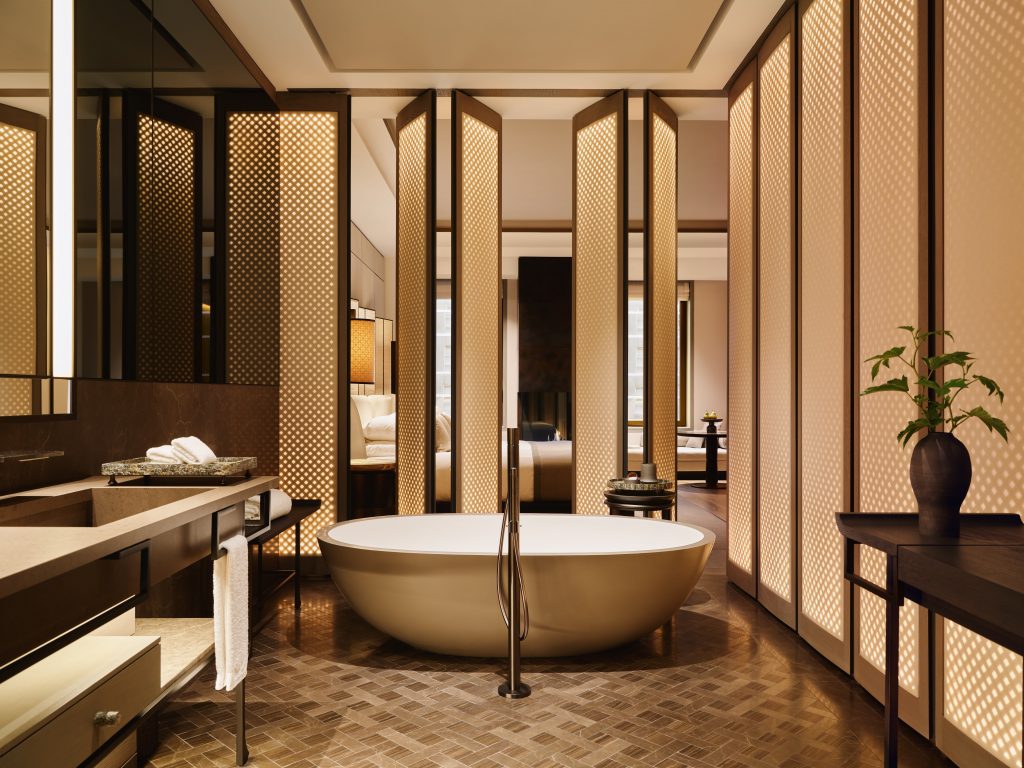 When was the last time you really travelled, not to attend an event or fulfil a family obligation but to experience the joy of sinking into freshly laundered hotel sheets or lingering over an indulgent breakfast in the comfort of your private villa? If you were lucky, maybe you escaped to a charming pied-à-terre in Paris this summer or finally made it back to your favourite beach resort in Bali. If you were really lucky, as we were, your reintroduction to the thrill of travel coincided with one of the most talked-about hotel openings in recent memory.
Aman New York welcomed its first guests, after several pandemic-induced delays, in August as the luxury resort chain's second property in an urban setting (after Aman Tokyo), third in the US and 34th worldwide. The 83-suite "island destination" in Midtown Manhattan's iconic Crown Building had the city's media buzzing, in part for its rejection of the requisite flashy crystal chandeliers but mostly due to its starting room rate of US$3,200 – three times that of other luxury hotels in the city – that climbs to upwards of US$15,000 for a corner suite.
There was also plenty of talk about the by-invitation-only Aman Club's US$200,000 initiation fee and the recent sale of the Jala Penthouse – one of 22 Aman-branded residences in the same building – for nearly US$75 million, making it the city's most expensive residential property transaction of the year.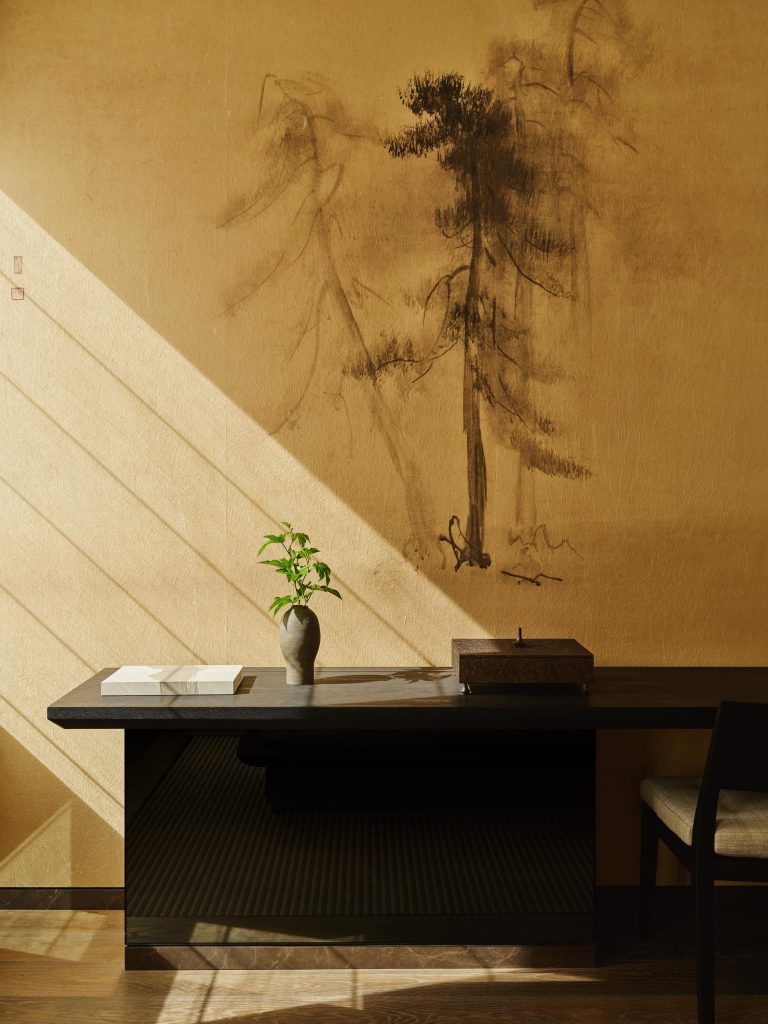 But what is money if not a means to access extraordinary places and experiences? And true to the brand's reputation, Aman New York certainly belongs in the category of extraordinary. We drove directly up to the hotel entrance – still somewhat obscured by scaffolding on our visit but very impressive when seen in renderings – on 57th Street, just off the corner of Fifth Avenue, where one valet whisked away our car and luggage before another escorted us into a small yet high-ceilinged atrium with the first of many glass-enclosed fireplaces we would encounter during our stay.
From there it was a quick trip up to the 14th floor, which houses the reception area and concierge as well as the hotel's two restaurants and indoor/outdoor lounge areas. Access to this floor and the rest of the hotel is restricted to guests, Aman Club members and occupants of the Aman Residences. The air of exclusivity was palpable even in a city flush with members-only clubs and more billionaires than in any other urban centre in the world.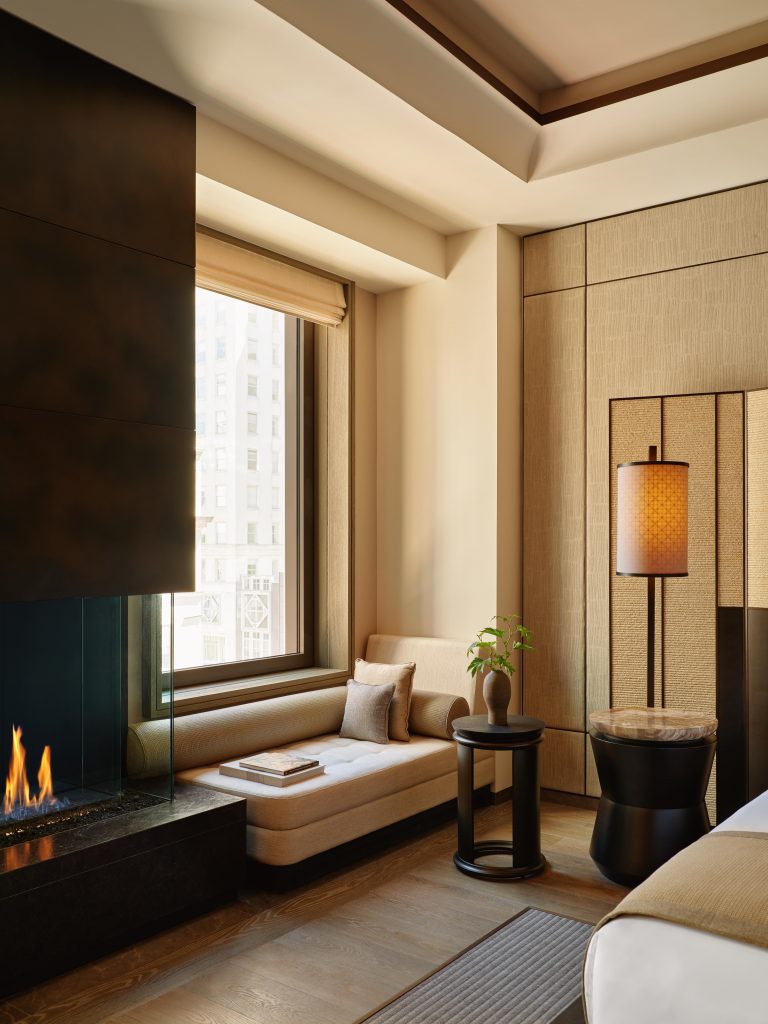 Aman New York, along with several other Aman properties as well as a number of high-end hotels from brands such as Four Seasons, Cheval Blanc and One & Only, was designed by Jean-Michel Gathy. The renowned architect's refined blend of Eastern and Western aesthetics was immediately recognisable in the muted but warm colour palette, layers upon layers of natural textures, and recurring motifs such as the lattice pattern – inspired by rattan woven baskets one might find in Indonesia – extending across the floors, walls and ceilings.
Every detail, down to the Japanese hinoki wood counter in the omakase restaurant Nama, seemed to unite in achieving the Aman goal of "transporting guests out of their everyday lives" and, in this case, into a serene sanctuary that looked like it belonged somewhere in ancient Kyoto and not smack dab in the heart of the city that never sleeps.
The airy atmosphere – said to be inspired by Aman's properties in Southeast Asia – and the unexpected absence of street noise were even more impressive considering this was not a new custom build but the result of a painstaking restoration of the 100-year-old Crown Building.
That meant Gathy had to transform what were once floors filled with offices – and, at one time, the first Museum of Modern Art – into lavish hotel suites without moving the windows, lifts or staircases. He also had to bring in untold tonnes of marble, steel, oak, walnut and other organic materials to create the seamless look that Aman is famous for. (No surprise, then, that Aman chairman and CEO Vladislav Doronin has described it as "the hardest and most expensive" project he has ever undertaken.)
Also see: review: Sparking joy at Andaz Seoul Gangnam
Already feeling relaxed, we were ready to check out our suite. There are eight categories of suites occupying the seventh to 12th floors, ranging from 745 square feet up to 2,770 square feet and all inspired by "the elegant minimalism of Japan's open-floor living". While on the smaller end of the scale, our suite was more than comfortable for two with its oversized twin beds pushed together to make one massive bed, an expansive bathroom with walk-in marble-lined rain shower, a huge oval soaking tub and private Japanese toilet, not to mention the most storage space we'd ever seen in an urban hotel room.
Our favourite feature, however, had to be the window seat where we could look out over Fifth Avenue and the various characters taking selfies in front of Trump Tower across the street. We also appreciated the glass-enclosed fireplace, which like most features of the room could be controlled by a bedside tablet, and the fact that Aman New York is the first hotel in the city to have a fireplace in every suite.
Grounding all this lavishness was the comforting silence provided by what must be the world's best soundproofing as well as the subdued decor, dominated by a large-scale mural by contemporary Japanese artist Ryoko Adachi and inspired by the 15th-century masterpiece and Japanese National Treasure Pine Trees (Shōrin-zu byōbu) by Hasegawa Tōhaku.
As tempting as it was to stay in the suite, we were keen to have the full Aman experience. That meant dinner at Arva, the Italian restaurant serving up seasonal cuisine made with locally and ethically sourced ingredients (Nama, specialising in washoku, was not yet open). While the portions were meant to be large enough to share, they were rather small by American standards and so tasty that we easily – and rather quickly – polished off our steak tartare, ragu pasta and lemon chicken. Part of our haste may have been our eagerness to enjoy what many consider the hotel's crowning glory, otherwise known as the 7,000 square feet Garden Terrace that wraps around the 14th floor and boasts dramatic firepits and water features designed (successfully, we might add) to minimise street noise. While we visited on a balmy night, the terrace can be enjoyed year-round thanks to retractable glass panels and underfloor heating.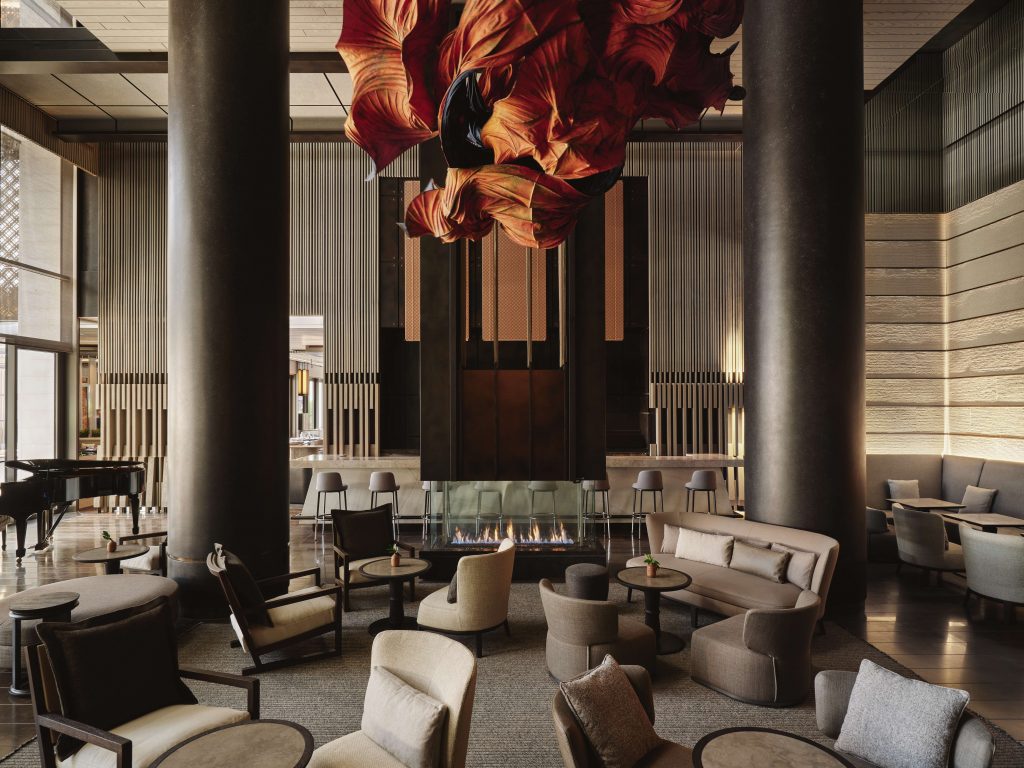 The other entertainment attraction, which is the only venue open to the public (by reservation), is the basement Jazz Club. The dimly lit lounge with a bar and small stage for live performances boasts a cutting-edge sound system that we're told only two other venues in the city have, one of them being Jimmy Fallon's Tonight Show set. But the real draw may be the club's speakeasy-inspired exclusivity, with a nondescript exterior door (if you know, you know) and access from inside the hotel only by way of the service corridors and lift.
We skipped the Jazz Club in favour of drinks on the Garden Terrace followed by a long soak and one of the most comfortable sleeps we've had in a very long time. The blissful experience continued through coffee and avocado toast in the room and, at long last, a visit to the Aman Spa. Occupying three floors and 25,000 square feet, the brand's new urban flagship wellness sanctuary is everything you'd expect of Aman and so much more.
There are, of course, the tastefully appointed treatment rooms, a 20m-long heated indoor swimming pool and state-of-the-art fitness centre (complete with infrared equipment to maximise calorie burn). But there are also two Spa Houses with private terraces, full-body cryotherapy facilities, and integrative wellness services incorporating bloodwork, Traditional Chinese Medicine and customised supplement programmes.
Our Aman New York Signature Treatment was, in a word, transformative. From the plush bed to the choice of massage oils to our expert Japanese therapist, everything was best-in-class. The treatment began with a full-body scrub and finished with an indulgent 90-minute massage that had us floating back to the changing room and eventually back to our suite to pack and bid our adieu.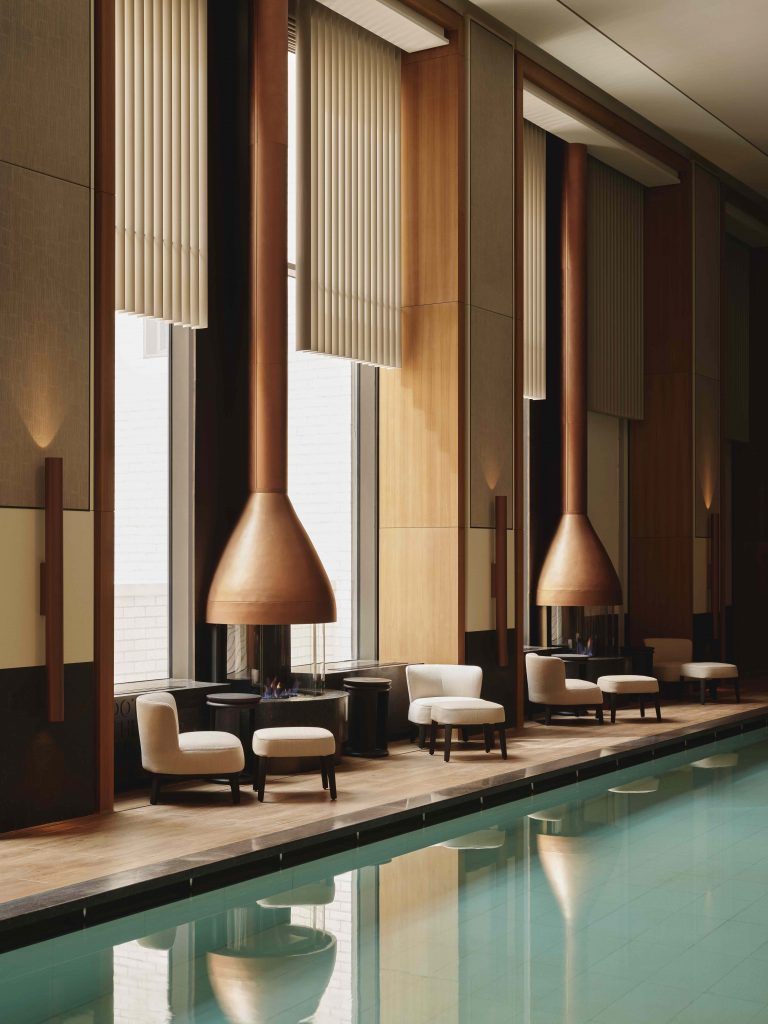 Aman New York has been described as part of a "new, pioneering generation of Aman properties in urban settings". It makes a particular effort to create a sense of place, from the minibar stocked with favourite New York brands to the Big Apple-themed chocolates provided on arrival and even the straight-backed restaurant chairs, chosen by Gathy to support the city's top bankers when signing big deals. But it also manages to make guests feel as though they have been transported to another, more serene and more gratifying world. If this is the future of travel, sign us up. Or better yet, help us find US$75 million so we can buy an Aman New York Residence and never, ever have to leave.
Also see: New opening: A JW Marriott family holiday on the Andaman Coast