The St. Regis celebrates Jakarta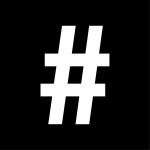 By: Stephenie Gee
August 28, 2023
See the Indonesian capital in a new light with a stay at The St. Regis Jakarta. Stephenie Gee reports from the Asia-Pacific launch of the brand's 'House of Celebration'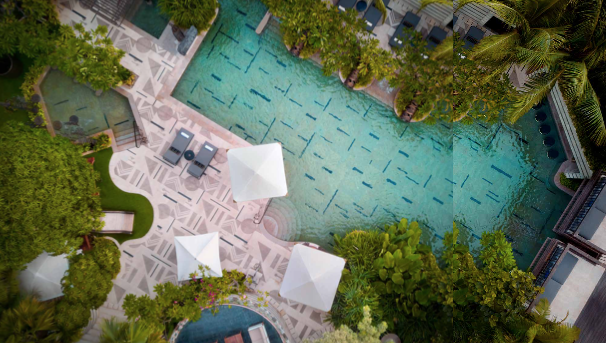 Bali always delivers – be it sunshine, spirituality or surf. In this place known as the "Island of Gods", there's something for everyone, from the cultural heart of Ubud to the awe-inspiring beaches of Uluwatu and dreamy rice terraces of Tabanan. But beyond Bali lies the world's largest archipelago – over 17,500 islands – filled with gems imbued with Indonesian culture, indigenous architecture and local flavour.
To the east, Lombok is just as scenic – and less touristy. You can walk with dragons in the Unesco-protected Komodo National Park. Immerse yourself in one of the world's last surviving megalithic cultures in Sumba. Hidden in the highlands of the peculiar K-shaped island of Sulawesi, Tana Toraja is where ancient traditions and breathtaking landscapes merge. At the geographic and economic centre of Indonesia, Java is home to, among much else, most of Indonesia's people, four of the country's nine Unesco World Heritage Sites and the capital, Jakarta.
Sure, it's not your average tourist's paradise. After all, its smoggy, hectic, traffic-clogged sprawl is not easy to like. But while Jakarta is certainly these things, there is in fact much more to it. Underneath the persistent blanket of grey, this is a city that is always reinventing itself, always changing and always on the move. And for those willing to dig deeper into the charms of this undersung Indonesian city, The St. Regis Jakarta offers the perfect base.
Also see: A stay at Aman Tokyo
As tradition dictates, everything about the property's locale folds into the experience of staying there. Nestled within the coveted location of the Golden Triangle – one of the fastest-evolving central business districts in the Asia-Pacific region – The St. Regis Jakarta serves as a theatre of a culture where design, music and art are lavishly celebrated. In the lobby, for example, is a kinetic chandelier entitled Sound of Light by celebrated Czech glassmaker Lasvit synchronised to music composed by Indonesian maestro Andi Rianto. Piano tones come alive as a palpable symphony of shapes and light effects, making for a glamorous welcome for arriving guests. Further in, another bespoke Lasvit glass installation resembling the form of a saxophone lends its charm to the main bar.
Then, there are the homages to the Astors – the iconic New York brand's founding family known for their lavish and incomparable gatherings – through the debut of "House of Celebration", a series of limited-edition reimaginations of the timeless and storied rituals of the Astors that draw from haute couture runways with a distinct theme for each of the four seasons (A Celebration of People for spring, Place for summer, Culture for autumn and Time for winter).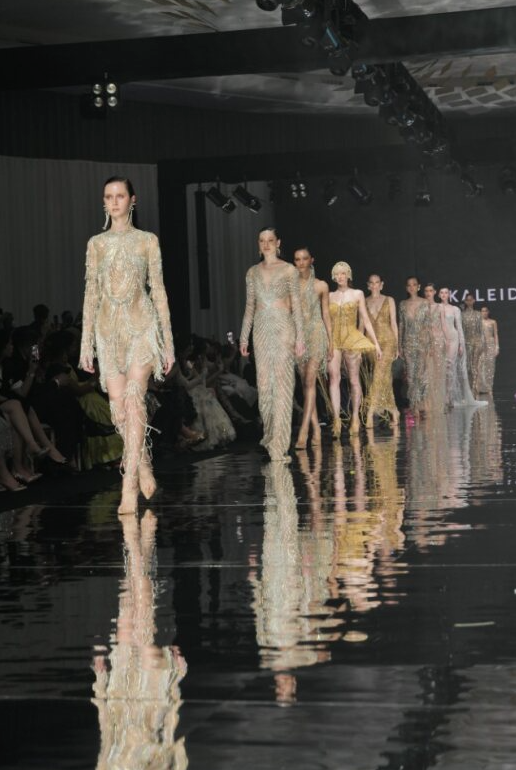 Kicking off the glittering Asia-Pacific launch was an ultra-exclusive Midnight Supper – which traces back to 1800's New York when socialite Caroline Astor, the mother of The St. Regis founder John Jacob Astor IV, hosted an invitation-only dinner that went late into the night – attended by a carefully curated guest list that included Korean-American singer-songwriter Jessica Jung. After dinner, attendees gathered around a mirrored catwalk where local fashion designer Monica Ivena showcased her elaborately embellished visions of Gatsby, Disco, Under the Sea and Birds of Paradise at the runway debut of her newest capsule collection entitled "Kaleidoscope Dreams".
Roughly 15 minutes north from the hotel's luminous façade, the National Monument is one of Jakarta's most iconic tourist destinations. Standing 132m tall, the marble obelisk was unveiled in 1975 as a solemn tribute to the country's long-standing journey towards independence – and as an added bonus, the structure is just a short walk from the National Museum of Indonesia, popularly known as the "Elephant Building", a palatial institution home to over 140,000 artefacts from all across the archipelago.
Also see: #review: Tailor-made luxury for group travellers at Àni Private Resort
Further up lies the former capital of the Dutch East Indies, Kota Tua, or Old Batavia, and its colonial buildings. Head instead 15 minutes southwest to Iwan Tirta Home for a glimpse into the native Indonesian cultural heritage of batik and one of its towering personalities. A Peksi Kencono hand-tufted wool rug or black velvet Nogorojo throw with hand-sewn sequin appliqués from here may just be the perfect souvenir to bring home.
Once you've worked up an appetite, pull into ST. ALi (good for a well-balanced cuppa and generous avocado toast) or Giyanti Coffee Roastery, a colour- infused space of good vibes. Closer to home, the hotel, with a grand total of six bars and restaurants – including director of culinary Oscar Perez-helmed J.J.A. (try the slow simmered Sumbawa crab with pumpkin and soymilk bouillon); Bel Étage, an all-day restaurant dishing up a range of Indonesian classics (some even drawn from the chef's personal recipes) and laid-back deli Rosé – is equipped for the varied culinary tastes of the new kind of traveller it's hoping to lure in.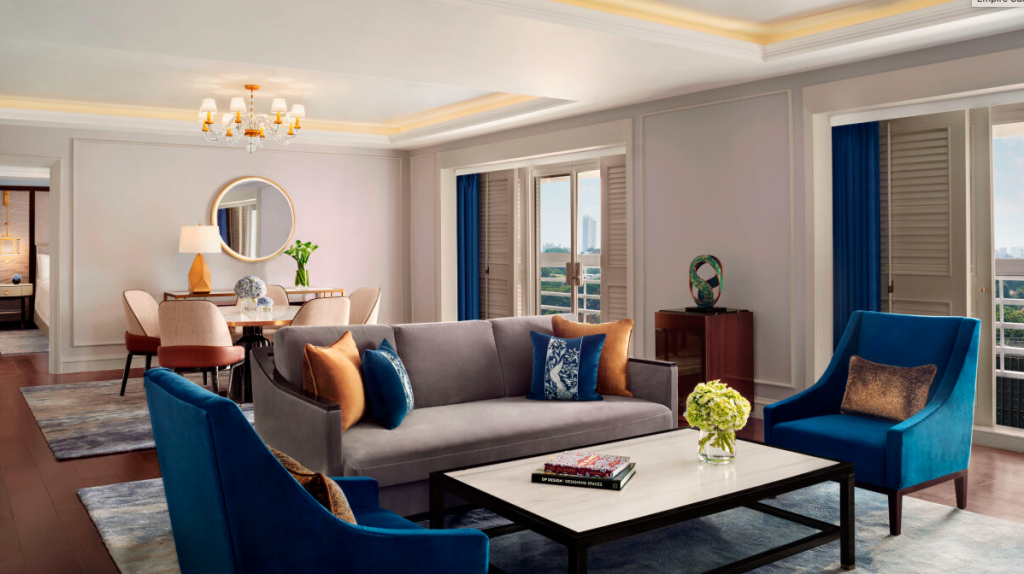 After a dip, linger over a corn colada at The Pool Bar adorned with artworks themed on "Discovery" by renowned Bangkok-based architect Bill Bensley. While the signature St. Regis Bar harks back to the Gilded Age of New York, elevated with the influence of spirited local culture, such as a wayang kulit mural by Indonesian artist Eddy Susanto and localised interpretation of the Bloody Mary, aptly named Batavia Mary, which captures the singular characteristics of the Big Durian with locally-made arak, cuka, sambal oelek and rempeyek (deep-fried Javanese peanut cracker) to finish.
The rooms – escorted to by your personal butler – come decked out in materials evoking sophisticated luxury such as Italian marble, walnut woods and plush velvets, and adorned with traditional flourishes like that of custom-made cushions accented with embedded batik motifs by Iwan Tirta, along with beds dressed in cloud- soft linens and spacious bathrooms with rainfall showers and tubs perfect for soaking in after a long day navigating the bustling streets of Jakarta. (And if you really want to escape from the rush of urban life, there's the impressively appointed two-storey spa to check out, with a head-spinning menu of revitalising treatments based on a philosophy of "New Life and Fertility" featuring ingredients from the volcanic mountains of Java.)
As the sun sets, sip up again at the bar on a Violet Hour Martini – named after the long-standing Violet Hour ritual where bar carts of bespoke gin and tonics are carted around as dusk settles – over sultry live jazz to celebrate a day well lived. And when it comes time to retreat back to your room, you'll find the beds turned down and a hot chamomile tea awaiting you on your nightstand. Make sure to leave the curtains open before lying down – that way, you can doze off to the city lights blinking below.
Also see: A stay at Aman Tokyo