#review: Tailor-made luxury for group travellers at Àni Private Resort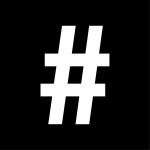 By: Hill Choi Lee
July 31, 2023
Looking for a bespoke, fun-filled travel destination for groups? Àni Private Resort could be your answer. Hidden on the serene island of Koh Yao Noi, Thailand, the resort offers a luxurious escape for group travellers seeking privacy, relaxation, and tailor-made activities. After a three-night-four-day stay on a personalised programme, Hill Choi Lee reveals what it's like to be taken care of hand and foot.
Koh Yao Noi lies in the Andaman Sea, with a surface area of just over 87 km², between Phuket in the southwest and Krabi in the east. Although it may not seem like much of an island at first sight, it has received an influx of luxury resorts that have gained a foothold in the last few years. A prescience of the potential this island has to offer to discerning travellers.
It is after all a destination that, with a simple boat ride, can reach the shores of Phuket in the west and Krabi in the east, and has its own batch of fine-sand beaches, rubber plantations, and fishermen's villages if you choose to stay on the island. The surrounding waters are a diving haven, and there are plenty of smaller uninhabited islands dotted around for a pleasant afternoon away from the crowd.
Amid all these luxury resorts, there is a hidden gem that you don't often come across: the Àni Private Resort. The name says it all. Àni ensures privacy down to the finest detail. A stay at this 10-villa/suites property with direct access to a sandy stretch of beach where longboats can moor comes with an all-inclusive food, beverages and activities package. It makes the resort an ideal stay for group travel, whether with family and friends or for special occasions and corporate trips.
However, there is a catch. You have to rent out the entire property, with a minimum requirement of booking six out of the ten villas.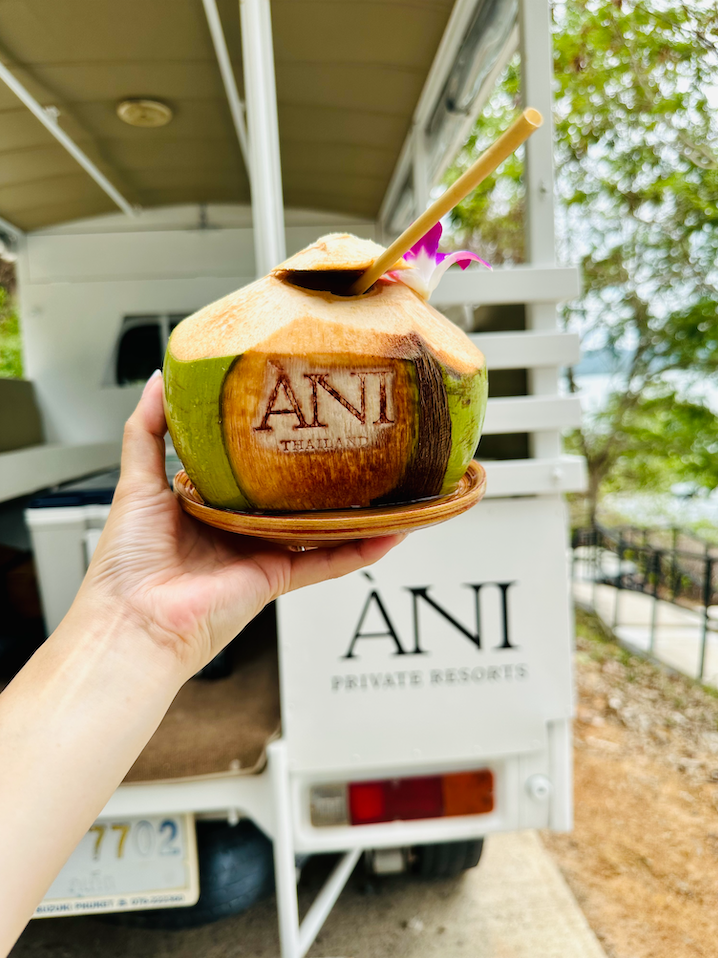 For those travelling from Hong Kong, the day can start with a morning flight from Hong Kong International Airport at 8.30 am. By noon, your group arrives at the Phuket International Airport, where a fleet of air-conditioned, leather-padded black vans await. A thirty-minute drive later, you board a sizeable speedboat where the Àni staff wind you down with local delicacies and fresh coconuts. Upon arrival at Koh Yao Noi, it's only a ten-minute tuk-tuk drive, to reach your destination, right in time for lunch.
The resort is stunning, to say the least. Upon arrival, all members of staff line up smilingly to welcome guests, from frontline management to the linen ladies. And then, there is Andrew.
Jakarta-born general manager Andrew Gianfranco-Cotel has over 14 years of experience across luxury hotel brands in France before returning to Asia. His intuitive service makes for a smoothly orchestrated experience. And when it comes to privacy, guests never bump into any of the staff inside their villas or suites. Beds are magically made, laundry collected, washed, and neatly presented upon return from your day. Whether on or off-property, privacy and discretion is a loud statement.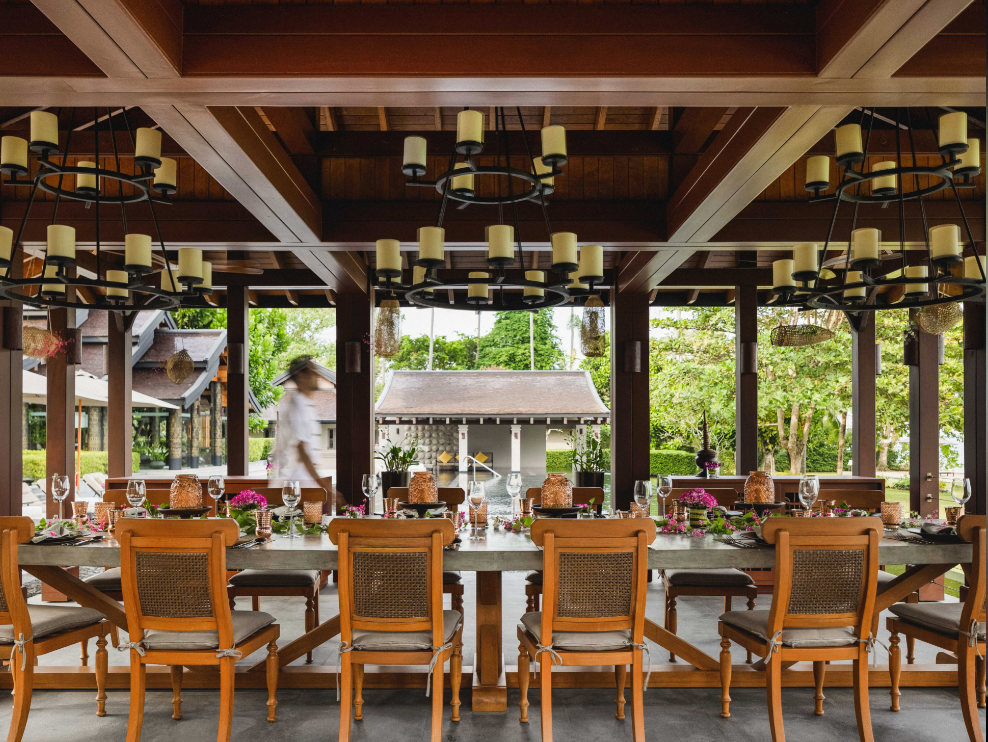 The resort comprises ten villas and suites, accommodating up to 20 people. With about 22 staff members at their disposal, it's practically a one-on-one service. The resort has a gym, two pools (one with waterslide), a spa, and a wall-to-ceiling glass-paned pavilion that functions as the check-in lounge and a yoga room when need be. The open-sided Dining Sala, adjacent to a very cool open bar (where you can grab coffee, tea, and all sorts of cocktails), is where guests can enjoy all their meals.
However, they can also choose to have their meals at any of Àni's other locations, such as the gardens in the evening where lanterns hang from tree branches for a cosy feel; or the beachfront where the sounds of gentle waves intermingle with the lively musical score you choose to accompany you for yet another alfresco experience. The staff can even serve your midday meal in the shallow end of their infinity pool for a unique "barefoot" experience.
The options are varied, and you never feel like each meal is the same even though you stay at one location for a prolonged period of time.
Accommodations at the resort blend traditional Thai architecture with modern luxury, ensuring that guests have access to all modern amenities while still feeling like they're at a tropical resort. Villas and suites are spacious and accommodate guests comfortably. The villas come with their own private pool and sun loungers, making it an ideal place to relax alone or enjoy each other's company. The front-facing suites located closest to the beach offer stunning views of the sea and surrounding gardens.
Staying at Àni Private Resort is the perfect option for groups with comprehensive guest privileges. From full-board dining and spa treatments to an inexhaustible list of activities as previously mentioned, the resort is there to give guests the full experience without them lifting a finger. At the same time, the staff is knowledgeable not only about the island but keeps a tight eye on weather conditions to ensure that regardless of blazing summer heat or tropical rain, guests get the most out of every day of their stay by suggesting and modifying activities on the fly if needed.
If the weather permits, actively exploring the island is made simple by renting a bicycle or a motorbike. Or better yet, have Àni arrange a lineup of vintage sidecar motorbikes and take you around the island, for a truly quirky and rather unique experience. (Where they found 12 of those on this remote island, beats all of us.)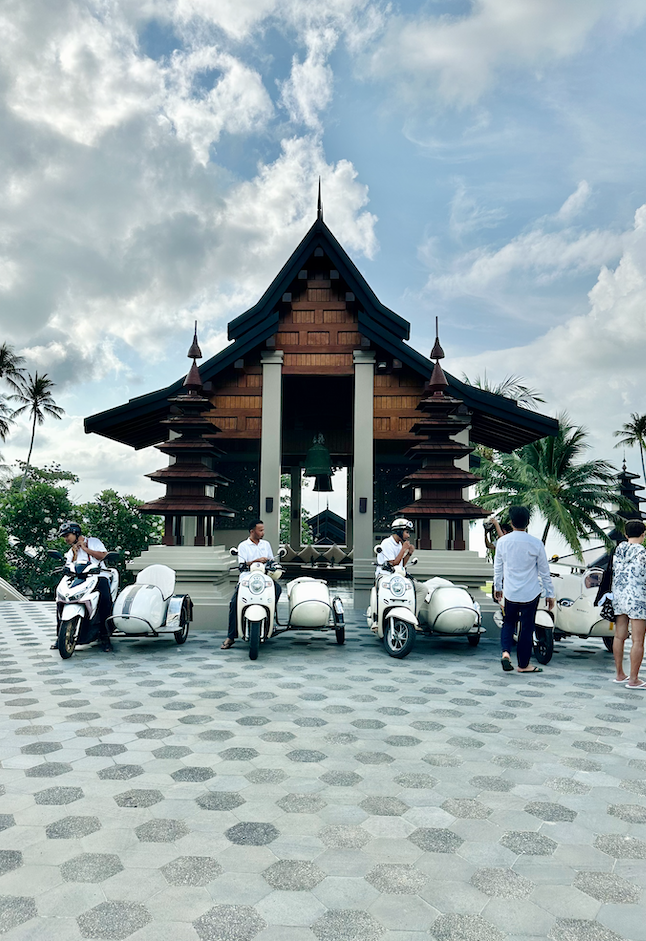 One thing that truly stood out and perhaps most applicable to the Àni stay is probably the word "unhurried". Regardless of the programme, there is a distinct laissez-faire throughout the entire trip. A singing bowl session scheduled for 7.30 am? Everyone still in bed at 8 am? No rush! The instructor patiently waits in the pavilion that has been converted into a meditation room. The glass walls allow all participants to absorb the soothing vibrations of the bowls coupled with the sounds of nature – the singing of birds and raindrops hitting the greenery. It also allows for the noise of the resort's operations to seep in. People who are enthusiastically prepping the lunch area next door. A bit distracting, but – thankfully – short-lived.
Curiously, when a Thai boxing session was scheduled one early morning, no one made the boxing instructors wait – perhaps it was the little, attentive gift from the resort: a Thai boxing short to look the part. The fighting spirit has been put ablaze.
To top it off, one of the staff members who has been with us from the speedboat pickup to scouting out snorkelling sites also doubles as an assistant boxing coach – we have never felt safer or more taken care of wherever we ventured around the island.
The resort has direct access to a "private" beach, which serves perfectly for swimming and paddleboarding. However, we opted for a day trip out, travelling to a remote uninhabited island by longboat for lunch. As the rain caught up with us, while we stopped to feed monkeys on our way to said remote island, the staff expertly diverted us to another stretch of beach where bad weather didn't hit us – saving the day, so to speak!
Needless to say the service at Àni Private Resort is exceptional. It is no exaggeration to say that Àni Private Resort is an excellent choice for those travelling in groups – especially when you are travelling with children and the elderly – as the resort can provide attentive services to cater for each of their needs.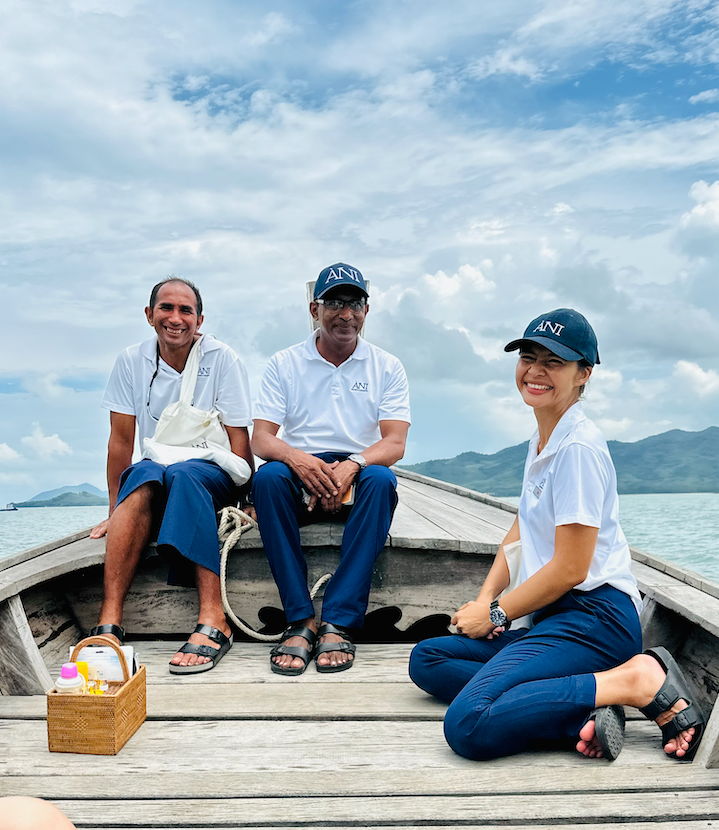 And if all this sound like another commercial hype to get people to spend their hard-earned money at a potentially overpriced resort (which Àni isn't) – check this out:
Àni Private Resort started out in philanthropy. Its owner, a successful Wall Street businessman, decided to pour his efforts into building an art academy in a developing area for underprivileged students. Those who are admitted to the academy will have their school fees paid in full for the years they spend there. Their artworks will be promoted for purchase with (major) art galleries and their services rendered for those interested.
This means that at Àni, the creative services of these students can be part of the deal (for an extra fee – as the full proceeds go straight to the student).
Should you decide to put the cherry on top of your grandfather's 80th birthday trip by commissioning a painting depicting all members (absent or not) of the family on canvas – this can be arranged through Àni, and be ready upon arrival at the resort.
Whatever your group travel needs – this private resort is sure to meet them and then some. The resort brand only has a handful of properties around the world, namely Anguilla, Dominican Republic, Sri Lanka and Thailand – making their vision and service a truly rare experience.
Also see: Cambodia's ethical luxury resort Song Saa Private Island