#legendchats: What sets apart the Grand Trawler 62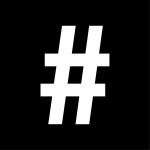 By: Stephenie Gee
November 11, 2022
French sail and motorboat manufacturer Beneteau responds to its customers' wants and needs with the new Grand Trawler 62. Stephenie Gee talks to the brand's product manager Robert Chaffer about this new flagship model and what sets it apart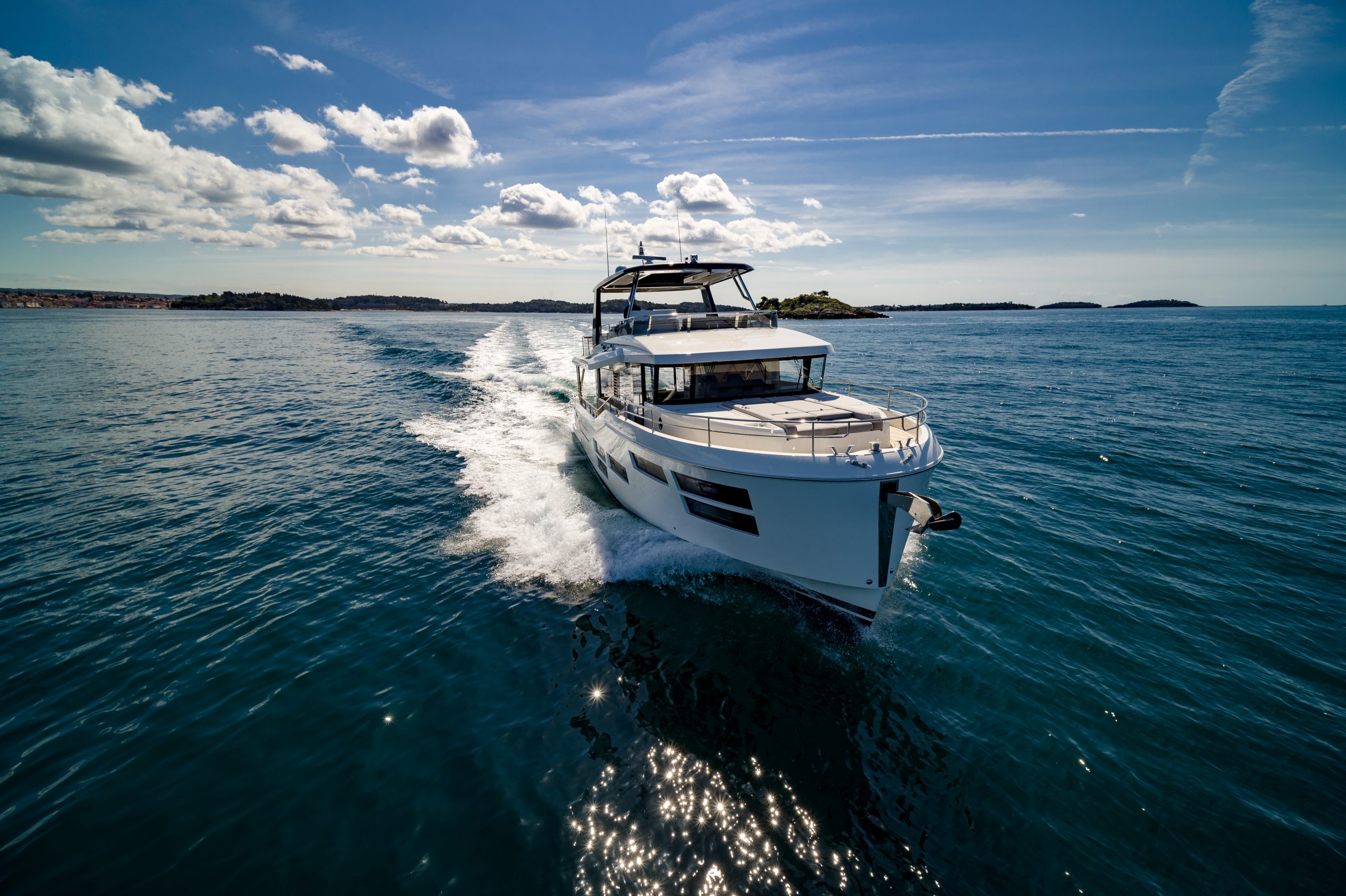 We all know Beneteau's Swift Trawler. Noteworthy for its comfortable cruising, easy handling and nimble yet stable hull suited for long sea adventures, the line's success is evidenced by the fact that some 1,300 have been built as of 2020 since its initial production back in 2003. Not to mention the French boatbuilder's admirable commitment to steadily refine its designs for improved useability. And with that, Beneteau has introduced a new flagship model, the Grand Trawler 62.
An evolution of the core factors that have shaped the success of the Swift Trawler line-up, this new long-range vessel, which measures 18.95 meters long and has a fully exploited hull beam of over 5m, is the largest the brand has ever built. Featuring a distinctive displacement hull developed by Micad for improved cruising range and elegant minimalist interiors thoughtfully composed for maximum space utilisation by Milan-based Nauta Design, the 62 is a boat built for spending time on board.
"As one of the oldest boat-building yards in the world, Beneteau's priorities are always focused on offering people a new experience on water by constant innovation and collaborating with great names in naval architecture and design," product manager Robert Chaffer says via email. "The boat gives people who love sea adventures and the simplicity of nature a comfortable cruising experience. It's the perfect choice for a family to enjoy quality time on a boat."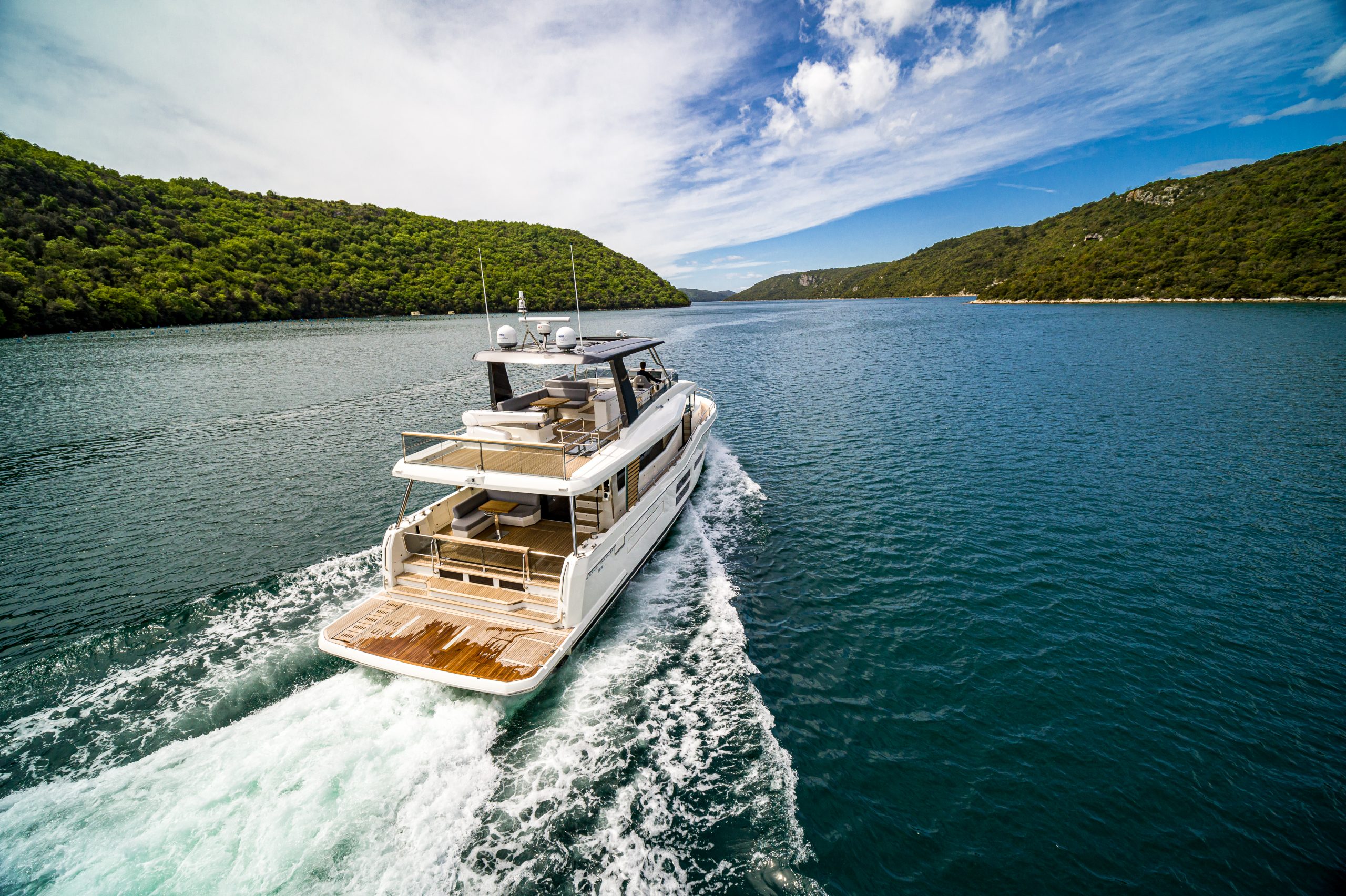 Nowadays in the modern cruiser market, we tend to see more lavish interiors, yet the Grand Trawler 62 boasts quite a minimalistic ambience – what was the motivation behind this choice?
The Beneteau Trawler range attracts clients who have 15-plus years of boating experience. These experienced clients know very well what they want on board. Many details, ergonomics and practical, easy functionality – all come from direct Beneteau client feedback over the many years. Our Trawler clients want to live aboard for weeks, even months, at a time, so the boat really has to function day to day. Carefully designed and logically located storage is a key feature of our Trawlers. Some examples: the crockery, glassware and cutlery stowage is adjacent to the dining table; the aft cockpit covers, rolls up and stows into the deck head above, not down in the lazarette; and the main cabin beds lift up on gas rams providing a huge space for bedding and luggage stowage.
Simply put, Beneteau Trawlers are designed to be used in the real world and everything must have its home and function simply and well. Massimo Gino of Nauta Design has respected these experienced client expectations and carefully conceived the interior design ambience, which he describes as "quiet luxury". The Grand Trawler 62 is the flagship of the Swift Trawler range and is the result of the Beneteau Group Engineering collaboration with MICAD (naval architect) and Nauta Design (interior and deck design).
Also see: New hotel: Ayana Segara Bali
What was the priority in terms of the design of this Trawler and were there any specific elements or features that you wanted to highlight the most and why?
Nauta's design brief builds on all of the practical elements appreciated by our Trawler customers and incorporates these into an elegant exterior that is respectful of Trawler heritage and an interior that takes full advantage of the boat's 5.45-meter overall beam and voluminous hull. What is worth noting is the fact that the Grand Trawler 62 boasts an impressive internal volume of 235 cubic metres.
There are also various "safe and easy" circulation details throughout the boat, such as the starting aft, which has full-width bathing platform stairs for easy handling of the dinghy; port and starboard transom gates and bulwark gates; flush floor from the cockpit to the aft saloon; plentiful overhead and bulkhead grab rails; slide-and-stow dinette table for comfortable passage making; wide and well-protected symmetrical side decks and more.
The interior spaces are spacious and well-appointed. The galley can be completely enclosed. The VIP guest cabin in the bow has a considerable amount of headroom so that you feel like you are in a hotel suite. Strikingly spacious inside, with volumes similar to much bigger yachts, and ingeniously designed, this large passage maker has enough space for two crew aft. The satin wax-finished wood, leather and elegant textiles make for a stylish interior and exterior, carefully designed by the experts at Nauta Design. The amidships owner suite uses the maximum beam so that you really feel like you are at home on the water.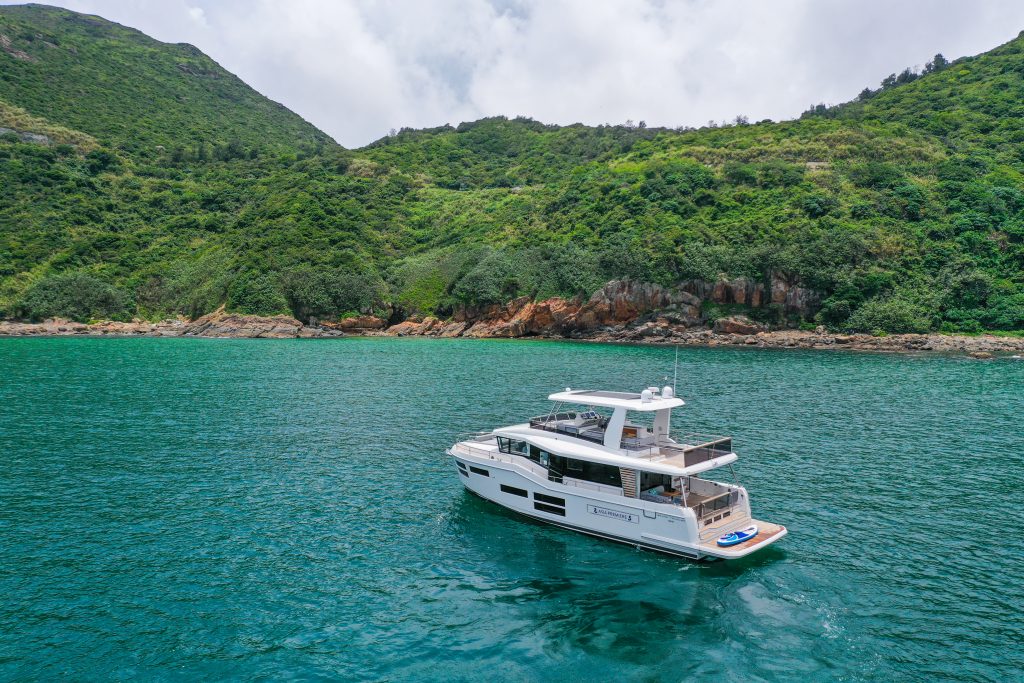 What was the design process like for the Grand Trawler 62 and where did the inspirations come from?
The design started with defining the hull form, which is the foundation of the Grand Trawler 62. A key research finding was clarifying the optimum "real world" cruising speed and autonomy expectation of our existing Trawler clients. Over 80 per cent of our clients cruise between 8 to 12 knots but they like the security of "reserve power" to go up to 20 knots should the situation demand it. So, Micad's naval architecture brief focused on long-range, low-speed comfort and seaworthiness in combination with optimum fuel efficiency. The maximum hull speed is just over 20 knots with economic cruising between 8 to 12 knots, which Swift Trawler customer feedback and research shows is the most common speed range.
Efficiency was another focus. A full displacement hull that speeds up to the mid-teens is more efficient than a planing hull as it's designed to push water out of the way as efficiently as possible. At 9 knots, the Grand Trawler 62 hull requires 30 per cent less fuel and 35 per cent less engine power than an equivalent planing hull. The Grand Trawler 62 hull and drivetrain allow our clients to enjoy the journey, taking in the experience of being at sea as well as the eventual destination.
Also see: First US Masterpiece Hotel by Oetker Collection opens in 2023
What would be some of the main features of the new Trawler that you'd like to highlight?
The Grand Trawler hull features a fine entry bow to efficiently cleave through the water in addition to having bow-spray deflectors under the flared bow to ensure sea spray is kept to a minimum. This fine entry bow then transitions into rounded bilge sections with a skeg keel to ensure directional stability and course-keeping. Because a displacement hull with skeg keel sits "in" rather than "on" the water, the effects of windage are reduced compared to a planing hull. Comfort on board can be further enhanced by the optional Quick gyro-stabiliser.
The Grand Trawler also features a gently rounded U-shaped full displacement hull for maximum comfort on board rather than a V-shaped planing hull with chines, which has features that impact comfort on board. Firstly, when the water hits the flat surfaces of the hull in certain sea states and speeds, you can get slamming, which makes for a noisy and uncomfortable ride. Secondly, at anchor, the intersection of the outboard chines to the waterline and gives rise to what's called chine slap. If this intersection happens directly underneath a cabin, it can lead to a disturbed night's sleep.
The transparent transom coming with a sliding port and starboard transom gates creates a seamless arrangement to connect the aft cockpit to the sea. Where most rival boats feature cockpit seating facing the patio doors, here the layout is orientated for passengers to enjoy the views over the water.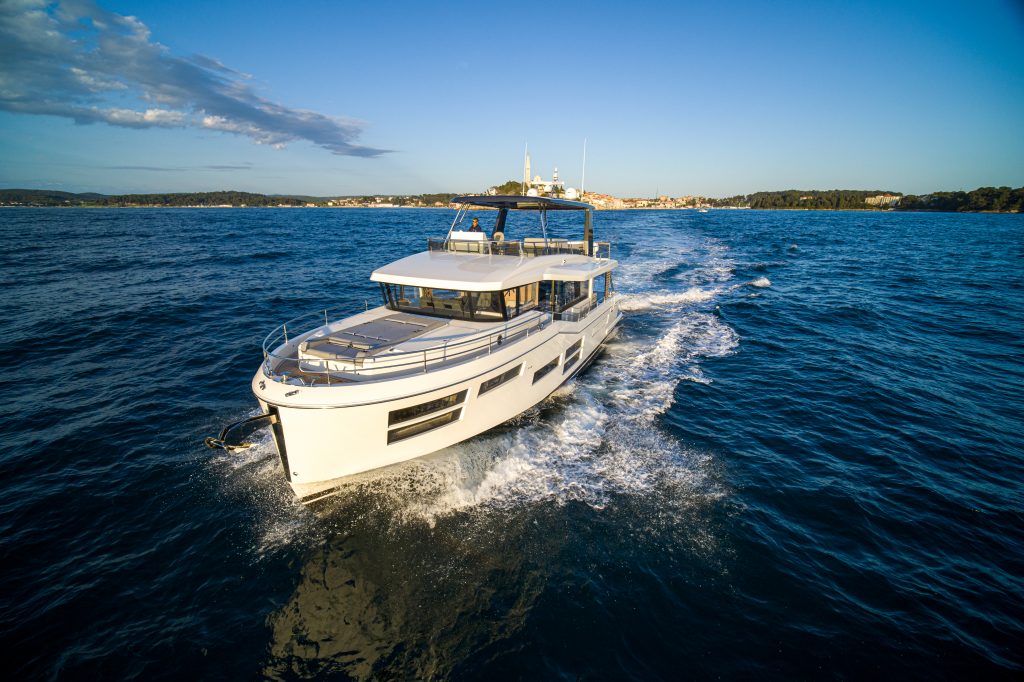 What is the aim of the Grand Trawler 62 in terms of design? And what is the Trawler experience that you want to create for your passengers?
Today, having time has become a real luxury – additional time to spend with family and friends. Nauta, the interior designer of this new boat, has created a subtle balance by creating large social spaces, alongside very comfortable private spaces. The stylish interior cleverly incorporates the practical features our Trawler customers have grown to love. The generous volume of the hull has been used to good effect to create bright airy spaces. And inside, the quality of the cabinet work as well as the supple leathers and various textiles enhance the feeling of elegance.
What do you think is a good luxury trawler design and how does the Grand Trawler 62 reflect this?
Easy maintenance is one. The Seanapps application lets you connect your boat to your smartphone. Whether you want to check your fuel and battery charge levels, or schedule maintenance operations, Seanapps helps you streamline and safeguard your boat's maintenance requirements simply and easily.
Another is comfort and seaworthy cruising. The saloon features a spacious and comfortable U-shaped saloon with sea views. An optional starboard sofa provides even more conviviality. The large, well-protected side decks, galley and helm side doors, bulwark and internal and external stairs to the flybridge all make for safe and easy circulation.