A dream drive in the Maserati GranTurismo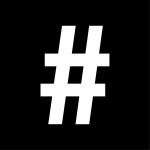 By: Gordon Lam
August 31, 2023
The Maserati GranTurismo has been described as 'more than a car, it's a lifestyle'. Gordon Lam journeys 400 km through the Italian countryside and across 75 years of history to find out why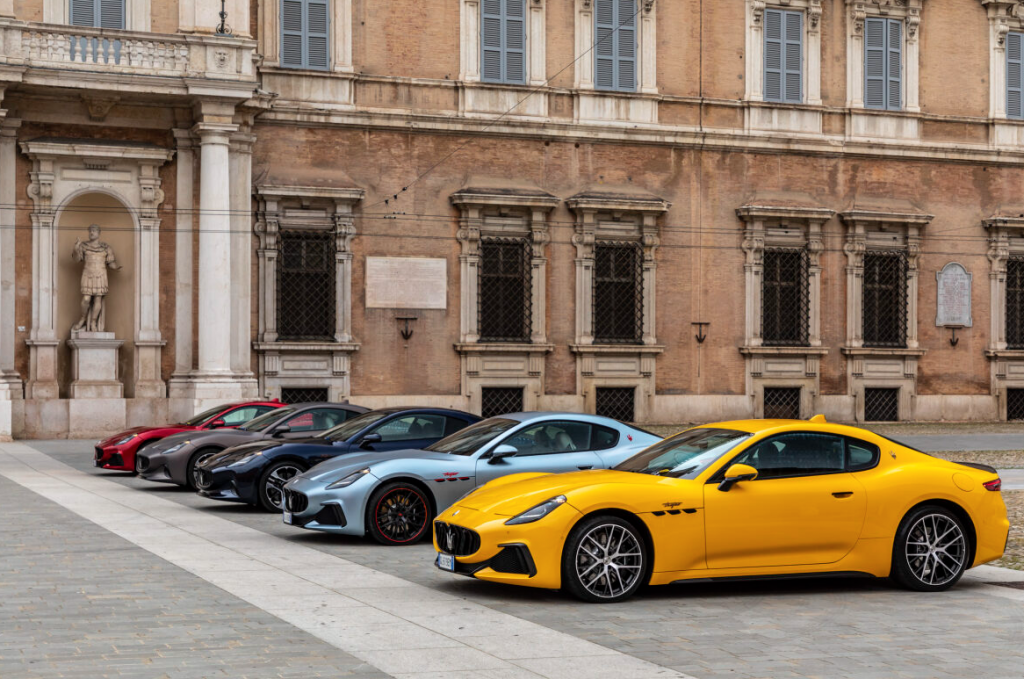 The Maserati GranTurismo has been my favourite car of all time since it came out in 2007. I happen to own one of the first-generation production versions, with the 4.2-liter V8 Ferrari-derived F430 engine, which even today drives like a dream and roars like a beast. So, when Blackbird Maserati told me I'd be the only press from Hong Kong to be covering their latest GranTurismo Lifestyle Driving Experience in Rome, I was over the moon with excitement.
If you're a Maserati fan, a trip like this is nothing short of a dream come true. Our journey started in Rome at the luxurious Rhinoceros hotel, a restored 17th-century palazzo owned by Alda Fendi that also houses the famed Rhinoceros art gallery. We all gathered in the evening on the rooftop for a quick meet-and-greet before heading off to our welcome dinner at the renowned Pierluigi Restaurant.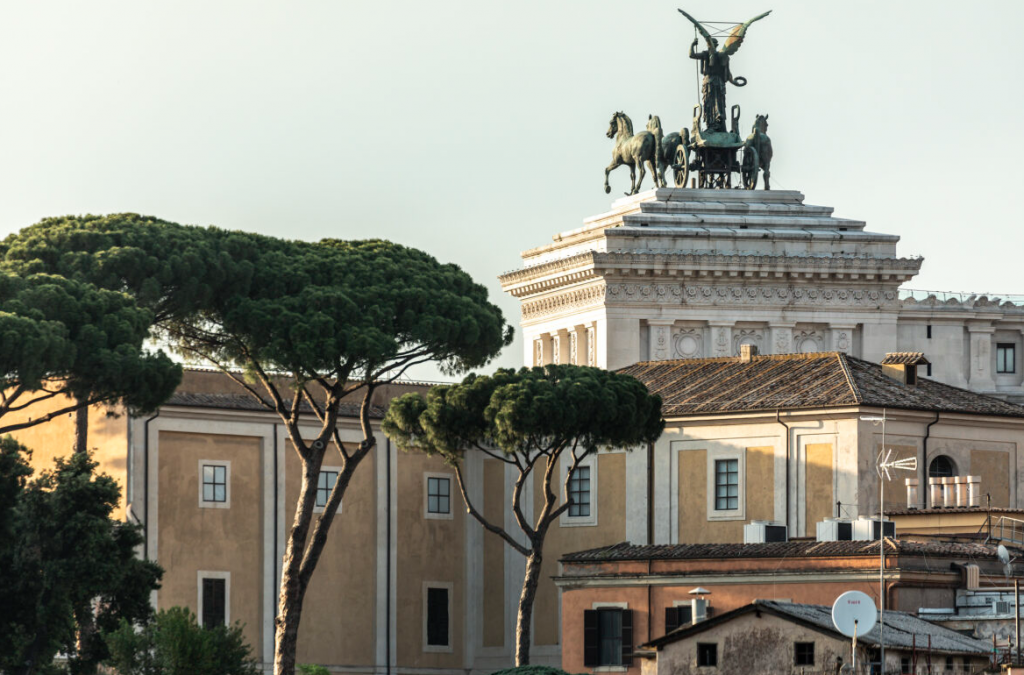 The GranTurismo Lifestyle Driving Experience was designed not only to allow participants to enjoy their fair share of driving but also to truly understand the milestones and designs that mark the history and development of the GranTurismo. As Maserati's head of interior design Andreas Wuppinger explained at the beginning of our trip, while we moved forward by experiencing the latest models of the GranTurismo, they would also take us back to introduce their most iconic models of all time.
And we didn't have to wait long. Parked right outside Pierluigi – all lit up in the public square – was the last production of the 2019 GranTurismo Zéda, featuring a special-edition paint work that started out blue in the front and gradually transformed into raw metallic silver at the back end. I wasn't sure what was more delicious, the car or the cuisine offered by Pierluigi. Either way, it was a great start to our trip. The next morning was our first drive, from Rome to Tuscany.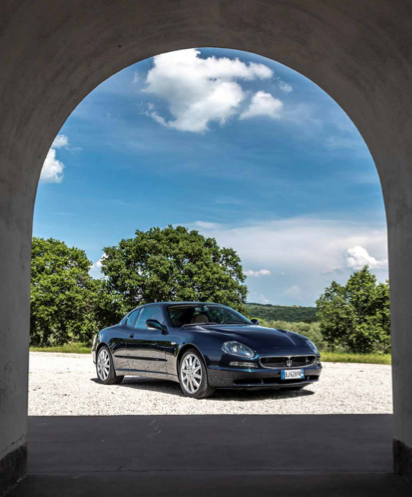 We all gathered in front of the hotel, where a row of different coloured GranTurismo models waited for their assignments. To be honest, I've been a petrolhead my entire life and I'd never really considered or admired a fully electric car before. So, to my surprise, the first GranTurismo I was assigned was the Folgore – the first car in the brand's history to adopt a 100% electric battery-based powertrain. Its three 300-kilowatt radial motors put a magnificent 751 horsepower and 996 pound-feet of peak torque to all four wheels. Fully deployed, Maserati estimates that the GranTurismo Folgore can sprint from zero to 100 km/h in 2.7 seconds and grind out a top speed of 325 km/h.
Even still, I had mixed feelings getting into the car. But how can I say no to any GranTurismo? The first thing I did was to mount my 360° camera on the front of the bonnet to record my driving journey. But after a few minutes in Rome traffic, my camera mount was already snapped and broken. What rotten luck. Thankfully, my co-driver from Taiwan suggested helping me out by holding the camera out the window by its extension rod.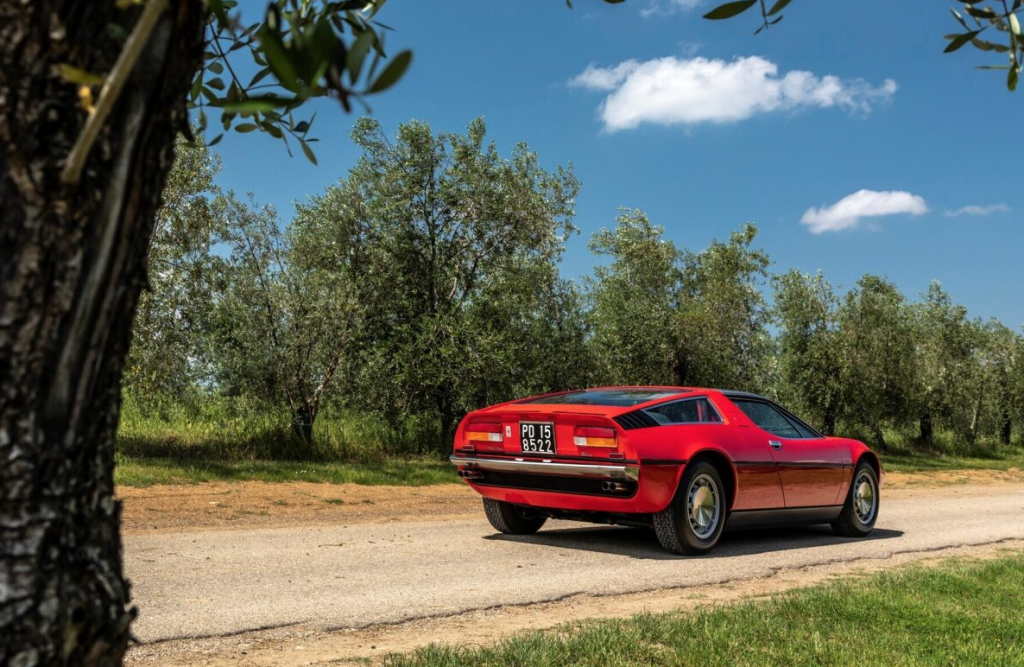 Once I was finally driving the Folgore, I noticed it wasn't that fast – reaching a top speed of only 144 km/h. The Maserati team later explained to me that someone must have set a speed limit. In any case, since I was driving at a low speed, I asked my co-driver to take some shots with my phone camera. And while doing this we happened to miss our exit! Thank goodness we had an official Maserati team car following us just in case we tried to steal the car and drive back to Asia.
Somehow we followed our GPS system and, after going through some very unusual and rough off-road tracks, reached our designated meeting point. Only, we were on a dead end road with a locked gate standing between us and the rest of the entourage. The only way to get to the other side was to unlock the gate but no one had a key.
To cut a long story short, we were trapped with no way out! Eventually they managed to find a key for a small gate to release myself and my co-driver but not the car.
After a short break, our journey continued onward to Tuscany and Casa a Cellere, a striking modern house designed by Giuseppe Pasquali and our lunch spot for the afternoon. But before enjoying our typical Tuscany-style luncheon, we had the highlight of being introduced to a Maserati classic, the 1998 3200 GT. This legendary car embodied a series of innovations, including boomerang-shaped tail lights that were the first application of LED technology in the car world. A true beauty.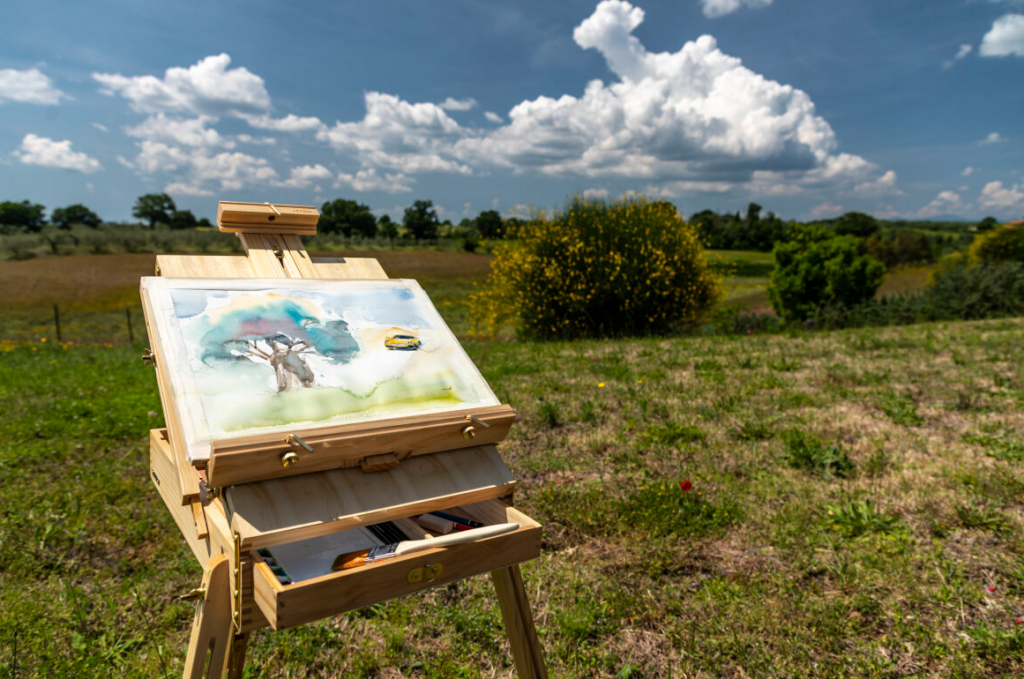 Of course, there's no free lunch in this world. The Maserati team had also organised a special activity for us: a watercolour-painting session overlooking the beautiful scenery of Tuscany! I can't say I did that well under the circumstances and the time given, but who knows – maybe Maserati will showcase our amateur paintings in a gallery or try to sell them in an auction. You heard it here first.
As we bid farewell to Casa a Cellere, we were each assigned a different car for a different experience. For me, it was the latest GranTurismo Trofeo. The 3.0 V6 Nettuno twin-turbo engine, which is the top of the range in the latest GranTurismo series, can go up to 500 hp, 0-100 km/h in 3.5 secs and a top speed of 320 km/h. When it comes to test driving fast cars like this, I have no hesitation putting them in the track-ready and "truly extreme" Corsa Mode.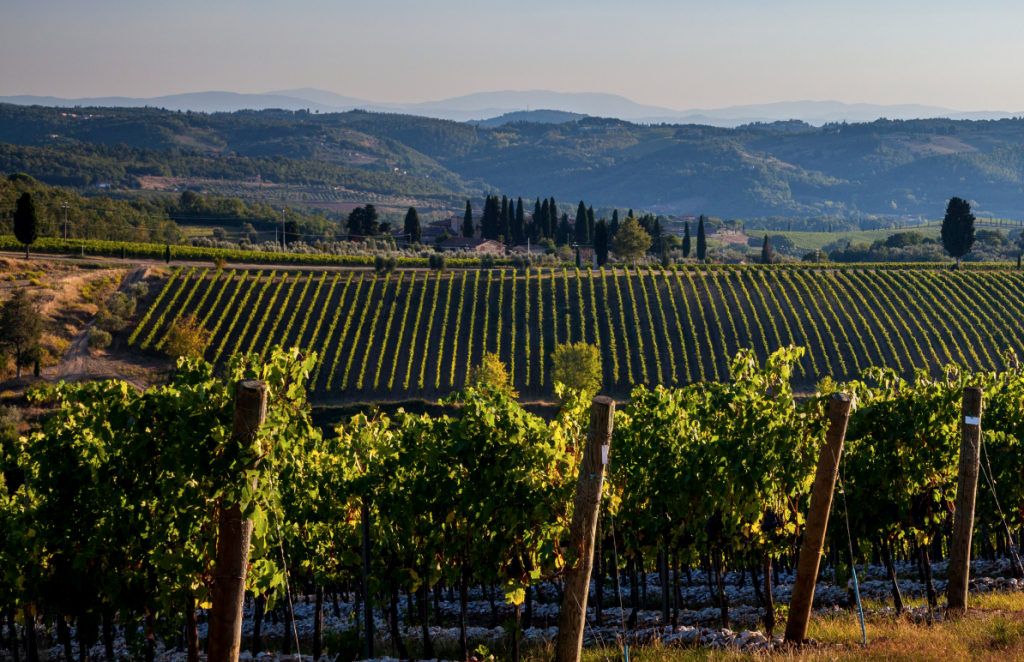 Throughout the entire journey, the Trofeo performed like a true super sports car. The latest version compared to my old GranTurismo version with the 4.2 Litre V8 twin-turbo was incredibly well-balanced in any cornering situation not to mention the speed that it got to. This GranTurismo has been upgraded in all kinds of ways and I was truly impressed by its latest technology and design features. One thing you might miss is the V8 engine sound from the old model. But this latest version, while being a true super sports car, is also a status symbol for the quiet luxury consumer who likes to be low-key but at the same time enjoys full racing performance.
The Trofeo was a dream to try out and it did not let me down. Eventually we arrived at the beautiful Monteverdi hotel set on a hilltop surrounded by the exquisite Tuscan countryside. My room appeared to be centuries old but with some very modern yet basic facilities. One thing that stood out was a Sonus faber sound system, which is the same technology used in all the latest GranTurismo models. You really have to get into one of these cars to truly appreciate all the little design and development details that Maserati has incorporated.
Also see: Lexus: The new LM model brings next generation MPV luxury
Of course, I couldn't wait to test out the Sonus faber and, to my surprise, it had to be the best sound system I had ever experienced in my entire life. If you think your sound system is the best, whether at home or in your car, you can literally throw everything away right now. As demonstrated by the Sonus faber sound engineers the following morning, this world-class Italian brand delivers such a purity of sound and emotion that it will take you into another dimension. You might want to purchase a Maserati GranTurismo just for the sound system itself.
Going back to the night before, after we had refreshed ourselves a bit, we had a lovely aperitif while learning about all the state-of-the- art materials that are used in the interior of the GranTurismo. Martina Santoni from Econyl was kind enough to explain how they transform nylon waste, which would otherwise be polluting the Earth, into regenerated nylon that can be recycled, recreated and remoulded again and again. This new material symbolises the next generation of sustainable car design, inside and out. Bravo to the Maserati design team once again for their innovation.
The next morning, I was eager to try the Folgore again but this time without any speed limits. My exhilarating journey took me from Monteverdi to the Tignanello Estate, another spectacular destination located in the heart of Chianti Classico and known for its large vineyard and unique cellars. After a beautiful lunch at the Michelin-starred Osteria di Passignano, we were ferried by motorbike buggies up a hill to view the legendary Maserati Bora. A milestone in Maserati history, the Bora was built between 1971-1978 and limited to only 542 cars. It was the company's first mid-engined street car and ended Maserati's reputation for producing fast but technologically out-of-date cars, also being the first Maserati with four-wheel independent suspension. This classic two-seater came in a 4719 cc and 4930 cc V8 engine designed by Giorgetto Giugiaro, and was certainly ahead of its time.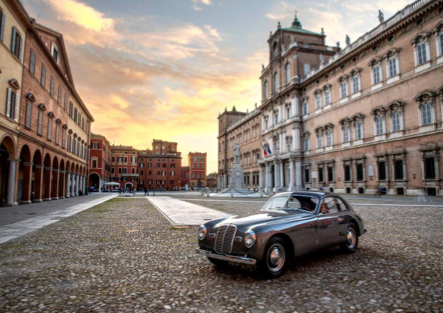 After admiring the Bora, we were led to the main house on the Tignanello Estate to taste some fine wine – albeit not too much since we still had some driving to do. The last leg of our Maserati GranTurismo Lifestyle Driving Experience took us to Modena and the prestigious Hotel Rua Frati. I was super excited to be driving a GranTurismo Trofeo, which gave me another chance to blast my way into Modena at super high speed. All of my drives had been captured by my 360° camera, which was mounted on the front bonnet of the cars. However, there were times I thought my camera mount wouldn't last for the entire driving experience and might actually fly off at high speed – especially during my last test drive in the Trofeo, going full speed on the highway in Corsa Mode. I was constantly thinking that all the footage might not even make it to Modena.
Luckily, my driving experience with Maserati was a true success and even my camera and my mount lasted the entire trip without flying off into oblivion. In fact, the entire trip was one of the best driving experiences I've ever had with any car brand. Everything was so well planned that I have to give credit to everyone from Maserati as well as our hosts.
How can I sum up the Maserati GranTurismo? All three versions – the Modena, Trofeo and Folgore – were superbly designed and a dream to drive. I had so much fun in all the models and if I had to choose one to buy, I would most likely pick the Folgore. I would have never believed that I could actually fall in love with a fully electric car, but I guess, never say never! If I need the loud engine noise, I already have it. To my utmost surprise, the Folgore is not about the lack of noise but the beauty of an electric car that can go even faster than any full-engine super sports car.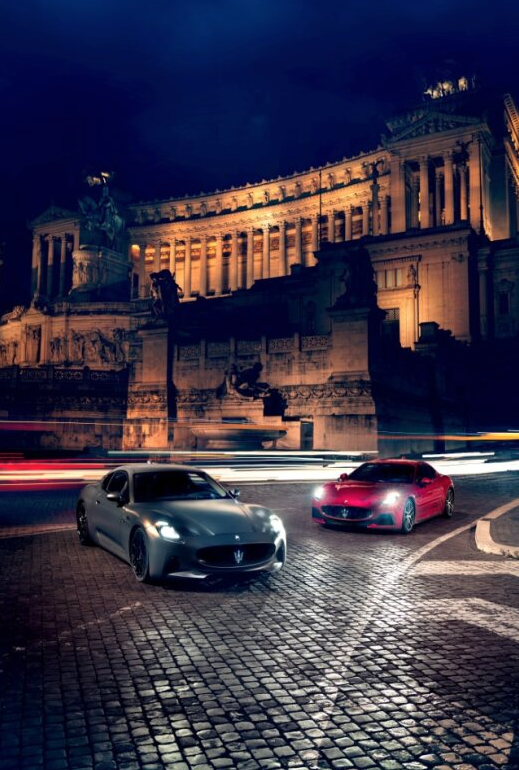 After arriving at Hotel Rua Frati, we had a few minutes to catch our breath and change for our final dinner at Oreste in Modena's Piazza Roma. Once we arrived at the piazza, we were greeted by the incredible A6 1500 GranTurismo Berlinetta by Pinin Farina – otherwise known as the first-ever GranTurismo, released in 1947. With only 61 cars produced, this highly collectable classic costs between US$550,000 to $650,000. We also had the pleasure of meeting Ermanno Cozza, who has been with Maserati for more than 60 years and even worked on the A6 1500 during its production period. Legend has it that the 89-year-old still drops by the Maserati HQ every Wednesday.
This was truly a happy ending to our driving experience. But wait – that's not really the end. The following morning we met up once again at Maserati HQ for one last drive in a Grecale, its latest SUV. The Grecale comes in a GT version along with the Modena, Trofeo and Folgore. This final test drive was along the small country roads just outside of the Maserati HQ.
The lead car took us through some of the hills with super windy roads in order to experience the true essence of what this SUV has to offer. I was doing my best to follow closely and was really pushing the GT to its limit, let alone my own driving skills. The route was the best way to test out the Grecale's power, superb balance and unbelievable braking and handling through all kinds of high-speed cornering.
There were times I thought I was going to lose control but the technical design of the car was so impressive that it helped tremendously in correcting the balance and making the drive as smooth and safe as possible. I was truly impressed and shocked that it was such an exhilarating drive!
A huge thanks to everyone from Maserati as well as Blackbird Maserati from Hong Kong for this most memorable experience. I can't wait for my next invitation – soon, I hope! Grazie mille!
Also see: Land Rover: Defender 130 is primed for adventure in style