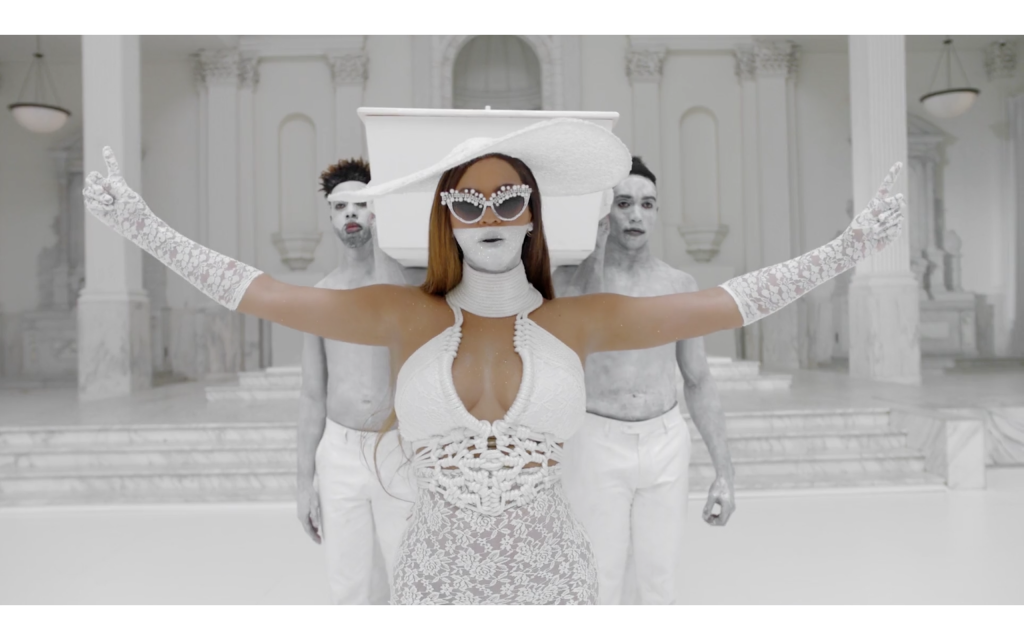 The Queen does not ever disappoint: Beyoncé's new visual album Black is King was what really saved 2020 for me: from heavy African beats and an all-Black cast to Beyoncé serving look after look, this album comes at just the right time to shed light on not just African culture and traditions, but African-American struggles in the modern age. Beyoncé's long-time stylist Zerina Akers pulled out her bank of Black-owned brands and poured her heart into styling Beyoncé's best Afro Pride outfits to date.
Now that we've watched the full film and are recovering from the sheer extravagance of it all, let's look at the brands that commemorate Black accomplishments and made this film all the more Afro-centric.
d.bleu.dazzled
Having worked with clients like Cardi B and Shania Twain, and even designing some outfits for Beyoncé's Formation Tour, d.bleu.dazzled specialises in lingerie and crystallised hosiery. This bedazzled bodysuit really set the tone in the beginning of this film.
Lace by Tanaya
As Zerina said: "I asked @lacebytanaya for rain and she gave me DRIP." An all-white set consisting a headpiece and custom crystal cape dress, Beyoncé exudes angelic vibes.
Adama Paris Studio
Made in Senegal, Africa, Adama Paris Studio showcases sustainable fashion, African-style. This bright yellow custom ensemble fuses traditional and modern African fashion, which can be worn even on the streets if you want a mini fashion week paparazzi moment.
Tongoro Studio
These patterns and prints are everything: Having three of their pieces featured in this film, Tongoro Studios must be on Beyoncé's favourites list. The BIRIMA and NGOR dresses are loud, bold and proud, and no doubt comfortable enough for Beyoncé to belt in!
Brookelyn Styles
Your female gang could never: dressed in all types of animal print, Beyoncé's gang slays in head-to-toe Brookelyn Styles. Though not worn by Beyoncé herself, this brand definitely deserves recognition for their show-stopping outfits – also worn by celebrities including Pharrell Williams and Kelly Rowland.
Loza Maléombho
Based in Côte d'Ivoire, Loza Maléombho is certainly a name to look out for with the structured black-and-white jacket and body suit. Dancing to the Afro-beats of ALREADY, this outfit really does suit the "image of African royalty".
Déviant La Vie
A white dress in front of an all-white backdrop could never stand out more: This bondage-inspired dress with flower-embroidered dress and gloves as well as the blood-red rope-tied dress are definitely outfits to remember. A mixture of shibari and lingerie, Déviant La Vie's pieces are so pleasing to the eye.
5:31 Jerome
The only blue ensemble in this film, this piece by 5:31 Jerome is made with beaded Nigerian lace and silk. Small Swarovski crystals around the trench/jumper hybrid, the details on the accompanied large turban is more than intricate.
Simon Hartman London
Last but not least, Simon Hartman dominates with his collection of pieces inspired by the game of chess. In Mood 4 EVA, Beyoncé wears the black Queen chess-piece costume which exudes regality and wealth, reflecting the core purpose of this film.
See also: What to expect from Beyoncé's new visual album, Black is King