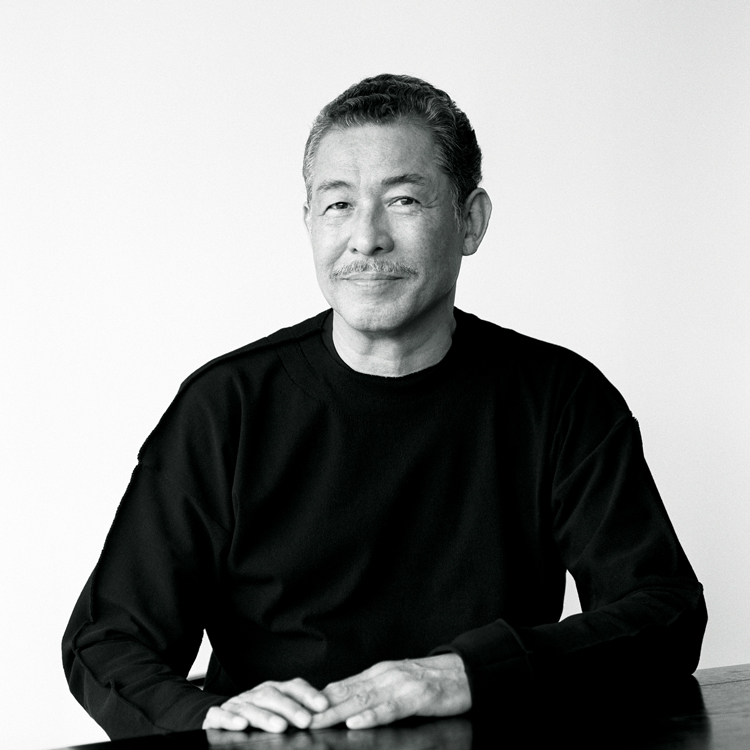 If legendary designer Issey Miyake is less conspicuous than his Japanese peers Rei Kawakubo and Yohji Yamamoto, it's because Miyake has never seen himself as a fashion designer, but more as a designer who makes things. Imagine Apple's Steve Jobs and Jony Ive making clothes as well as computers, and you can appreciate the scope of Miyake's ambition.
Miyake's outfits have never been about belonging to the fashion tribe but an invitation to liberation. While Yamamoto and Kawakubo's clothes impose upon the wearer, Miyake's liberate them. And they do so with fast-forward fabrics: plastic, rattan, Plexiglas, bamboo, silicon, horsehair and copper cable. To wear clothes designed by his fashion peers is to inhabit their world, like actors in a play. To wear Miyake's creations is to exit stage left into the daylight outside. While Yamamoto and Kawakubo espouse fashion couture, Miyake sees clothing as a social concept. Yamamoto chases dreams, but Miyake never sleeps. Kawakubo is impossibly cool, yes, and Yamamoto is dazzlingly poetic, but Miyake sees the future, knowing humanity needs more technology and to use its resources wisely.
That is the picture painted by Miyake Issey Exhibition: The Work of Miyake Issey, at The National Art Centre in Tokyo. Miyake followed or set for himself rules different from those his peers obeyed. Far from being expressions of status, wealth or sex appeal, Miyake's clothes have only ever been wearable answers to basic human needs. Exhibition curator Yayoi Motohashi says: "Miyake doesn't have such a strong identity in fashion. And if he does, it's more like freedom. And the person who wears his creations gets that, too. But with Yohji and Kawakubo, you have to be more of a fashion follower. It's more tribal."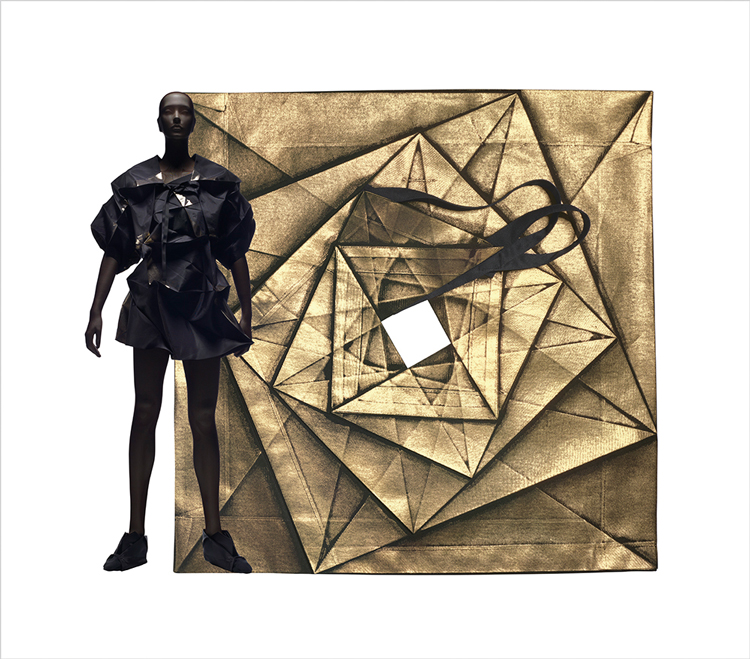 The influence of the three was so great that it was clear to see in the generation of Western designers of the 1990s, which included Martin Margiela, Hussein Chalayan, Dries Van Noten and the house of Viktor & Rolf, and in Japanese designers Junya Watanabe, Junko Koshino and Junichi Arai.
From the start, Miyake has been aware of temporal and social needs, the need for clothes that give the greatest importance to the human beings that wear them. He once said he hoped "to make clothes like jeans and T-shirts that many people can wear freely". He saw that to make that happen, he must meld tradition and technology, and strive continuously to develop new materials and methods. His exploits led to epochal designs such as Pleats Please and A-POC. And he has always said fashion should be fun – a sentiment Yamamoto and Kawakubo fail to share.
"What I hope people will take away from a visit is that the act of design and its process are synonymous with excitement and joy," Miyake says. "It offers so many possibilities, and is so much fun from start to finish. I planned the exhibition with this goal in mind."
Miyake's vision makes him something of a prophet – although his goals are not always easily understood. The designer was born near where the atomic bomb that destroyed Hiroshima fell. When he was a graphic design student at Tama Art University in Tokyo, Miyake sent a letter to the organisers of the inaugural World Design Conference, held in Japan in 1960, demanding to know why the programme omitted "clothing design". He was making the distinction between designing clothing and fashion. By upholding that distinction before he had created a stitch, he differentiated himself from Kawakubo and Yamamoto.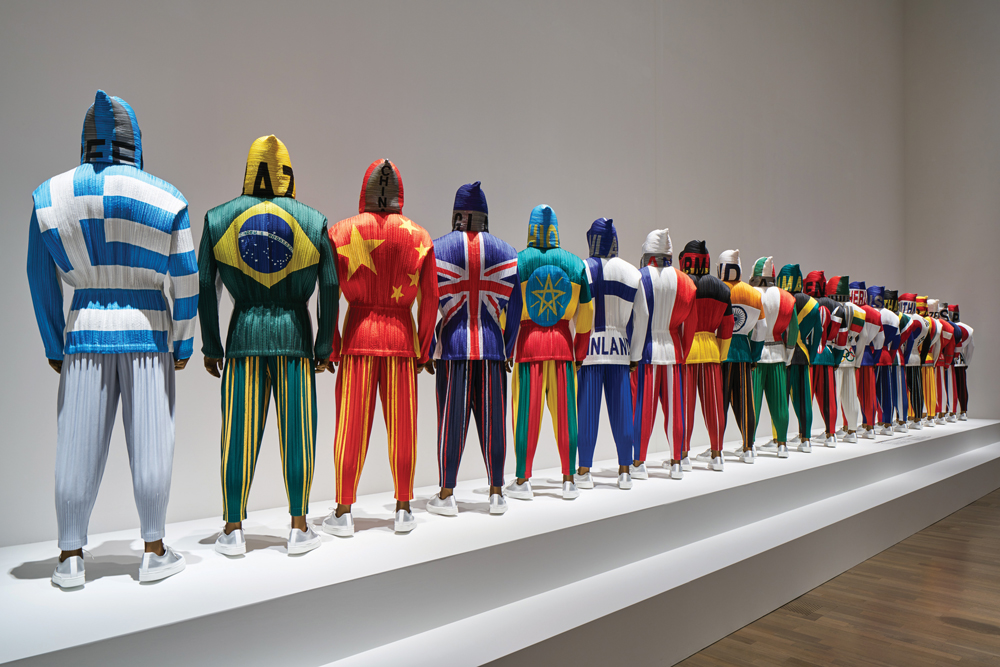 Miyake moved to France in 1965, studied at the École de la Chambre Syndicale de la Couture Parisienne, and then worked briefly with Guy Laroche and Givenchy. With the foundation in 1970 of the Miyake Design Studio, he began to focus on freedom of thought and freedom of the body. He created a jumpsuit with a tattoo motif that resembled a wearable second skin; a multi-size handkerchief dress made of three squares of fabric joined on the bias; a cocoon coat swept diagonally around the body; and a linen jumpsuit made with the whole width of the fabric. The free-form shapes took on different meanings on different bodies, making their wearer more important than the clothes. It was the underlying principle of freedom that Miyake upheld.
In 1975, at Miyake's urging, the Metropolitan Museum of Art in New York brought an exhibition entitled Inventive Clothes: 1909-1939, to the National Museum of Modern Art in Kyoto. This led to the establishment of The Kyoto Costume Institute, which has since housed many of Miyake's most iconic pieces. Miyake contended in 1978 that the distinction between East and West was disappearing. "It's unavoidable. It's the obligatory departure point for those who wish to address a global audience," he said. He maintained that he tried "to make a fashion that was neither Japanese nor Western." Miyake sees himself as an architect of clothing, or a sculptor that uses fabric as his medium. And his clothes are, indeed, art. A gown made of rattan vines in his 1982 collection was the first garment to appear on the cover of Artforum magazine. In 2005 Miyake won Japan's Praemium Imperiale for sculpture. He remains the only clothes designer to have won a Praemium Imperiale with the art prize from the imperial family normally awarded to painters, sculptors, architects, musicians and practitioners in the performing arts.
The designer was a pioneer of collaboration with artists. Long before Marc Jacobs and Takashi Murakami discovered each other, Miyake had merged fashion and art. He collaborated with several artists in 1998, at an exhibition called Making Things at The Fondation Cartier pour l'Art Contemporain. Miyake showcased his artistic collaborations on his Pleats Please series with artists Yasumasa Morimura, Tim Hawkinson, Nobuyoshi Araki and Cai Guoqiang, Miyake has also collaborated with dancers, architects and photographers. Most notable among photographers was the legendary Irving Penn. Penn took pictures of clothes Miyake sent him. The designer said seeing his creations through Penn's eye was an inspiration and a spur. Seven books and a series of exhibitions were the fruit of their cooperation. "His designs are not fashionable, but women of style are enriched by them and are made more beautiful by them," wrote Penn.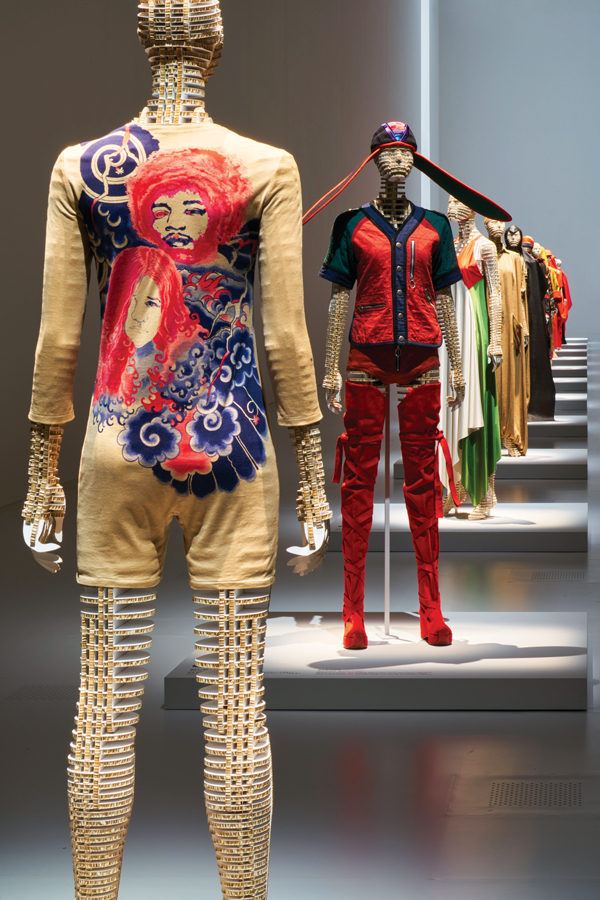 The raw energy of Miyake clothing of the early 1970s is fully appreciated by exhibition curator Motohashi. "To open the boxes and find clothes that I had only seen in photographs, like the 1970 tattoo jumpsuit with the printed pattern of Jimi Hendrix and Janis Joplin, at a time when Western clothes were still quite new in Tokyo, was remarkable," she says. "I could still feel the incredible energy in the work from the 1970s, and its youthful feel. He wanted to create a new fashion, a new kind of clothes, and he showed that in New York in his first collection. It was very close to Japanese underground culture of the time. And it almost looks like underwear. I think it shows his attitude at that time."
Miyake strikes a delicate balance. His work is utilitarian and populist, yet has an elitist feel. When Apple's Jobs found out that Miyake made uniforms for Sony employees in the 1980s, he ordered some for his employees in Silicon Valley. His employees declined to wear them, but Jobs was smitten. He ordered more than 100 Miyake black turtlenecks, which became part of his own signature outfit.
Motohashi thinks Miyake's influence, unusual philosophy and creative drive persist everywhere in Japanese style and design.
The designer is 77, but still actively supervises his empire, which includes the design facility 21_21 Design Sight. Motohashi says today's designers are far less robust. "They were rebels: Yamamoto, Kawakubo and Miyake the most of all. They had a stronger spirit. They knew why they designed, why they pushed so hard, their mission. Today's Tokyo designers are, of course, committed but we don't have rebels in the same way," she says.
"He feels more like a philosopher," the curator concludes from her discussions with Miyake about the exhibition. "When you speak to him, every word has deeper meaning.
And what he does, from the very beginning up to now, there is an underlying philosophy to what he makes. He's always trying to make new clothes, discover new materials. He doesn't cut the clothes in the shape of the body. He still has a social concept, and he still supervises the in-house Reality Lab, the most experimental part of the Miyake empire."
Motohashi makes one particularly significant observation. "Miyake was the only Japanese designer who catalogued and kept everything he designed, as a cultural record," she says. "He oversaw the avant-garde of Tokyo he was creating, yet still had the wherewithal to think of provenance and even a global future."
So how does Miyake himself see his contribution to the world? "We study tradition, technology and engineering to help us move forward and beyond," he says. "This exploration will bring about new movements and bring people together. Then the culture will be born. I believe that design has the power to both energise as well as synergise the next era and the next generation."