A Miu Miu film on vanity and femininity in the 21st century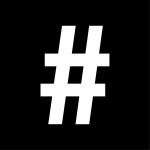 By: Stephen Short
October 19, 2017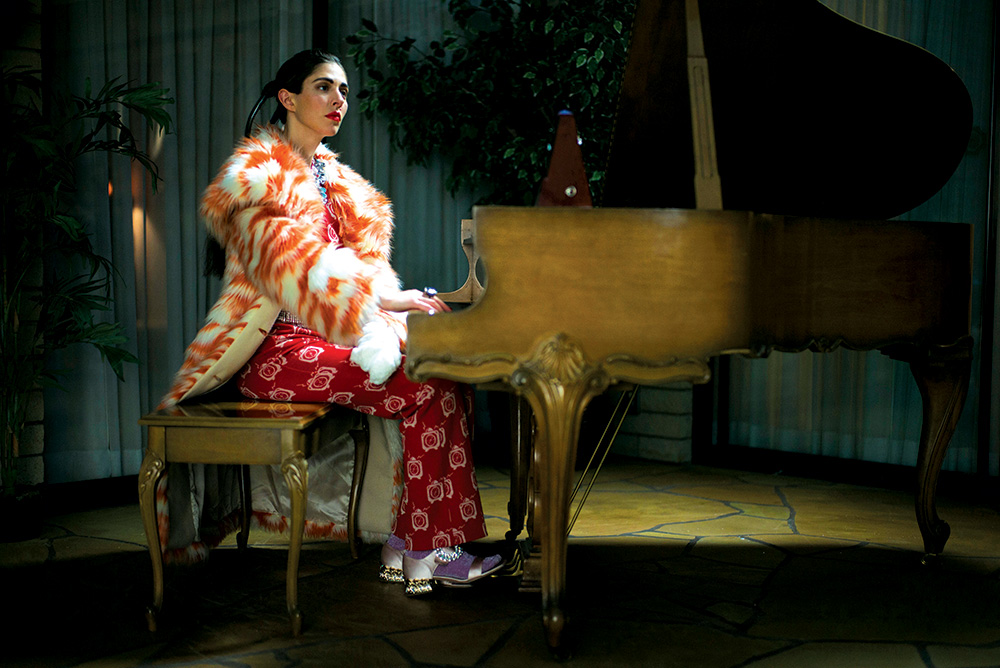 "We understand this political climate has turned your world upside down," the 1950s television-adman tells us. "Underground shelter is your best defence against radioactive fallout." Cue perky music, tap-dancing twins and a ballerina that bakes the perfect croissant. Welcome to your new luxury home, buried 8 metres underground, complete with a mini-golf course, dance floor, swimming pool, two Jacuzzis and a thoroughly modern mermaid. "This is reality." That is, until the nuclear siren rings.
(The [End) of History Illusion] by Celia Rowlson-Hall is the 14th commission in the Miu Miu Women's Tales series. The acclaimed short films invite some of today's most profound directors – including Agnès Varda, Chloë Sevigny, Naomi Kawase, So Yong Kim and Zoe Cassavetes – to investigate vanity and femininity in the 21st century. Throughout the films, Miu Miu collections have become a cast of characters in their own right.
A New York-based dancer, choreographer and filmmaker, Rowlson-Hall is best known for her choreography for the television show Girls, her work on music videos by Alicia Keys and MGMT, her bittersweet shorts including The Audition and Prom Night, and her 2015 feature MA, a contemporary, wordless retelling of the Virgin Mary's journey through deserts and across dirt tracks.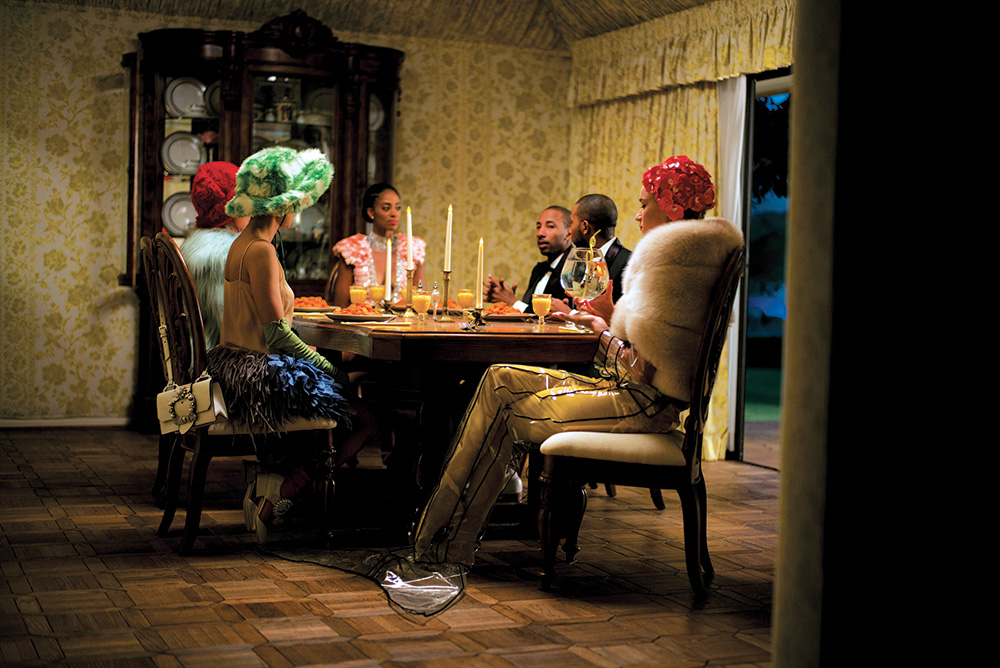 For her Women's Tales film, Rowlson-Hall discovered a ready-made setting: a Cold War-era nuclear bunker in Las Vegas shaped as a picturesque family home. "When I saw the Miu Miu collection, there was something about the textiles and colours that made me want to create characters that could come with this space," she says. The film depicts the disintegration of relationships as the cataclysm above ground takes its toll. The spirit of the film takes inspiration from the director's vision of Miu Miu: elastic, grounded, sensitive and risk taking.
(The [End) of History Illusion] premiered at last month's Venice Film Festival, alongside a screening of Sevigny's Carmen. A dedicated Instagram platform – @miumiuwomenstales – has also been launched, providing an innovative, expressive space that further explores the rich complexities of being a woman.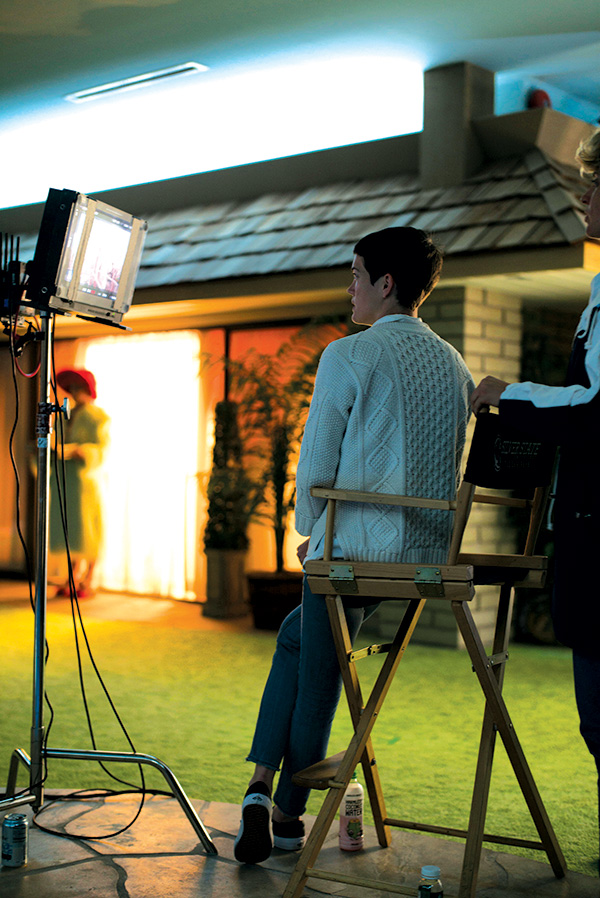 How were you selected by Miuccia Prada to do the film?
I've been a huge fan of Miu Miu for years. For the Women's Tales series, they commission a filmmaker each year. I got a call about six months ago and they asked if I'd be interested. I said it would be an honour.
The textiles and colours created the characters. When did you uncover the narrative?
Typically in other works, I think of a story and the rest falls into place. But for this, Miu Miu said, "You can make anything you want to make". It's a filmmaker's dream but also the most frightening thing. The one parameter is to use some of the current Miu Miu line in the film. There was such creativity already coming out of these clothes, I knew that the characters would be borne out of them. I was looking, I was thinking, "Oh, that coat, that's a dancer. And that dress with the flowers along the bottom, why don't I make her a gardener?" When I saw the runway show, there was a yellow sequin dress with clear plastic on top and I thought it looked like a goldfish. I made that a modern-day mermaid. That's how it generated: clothes, location and then story.
The location is an actual nuclear bunker.
A couple of years ago, I found this underground bunker online; a 15,000-sqft home in Las Vegas, 26 feet below ground, built by this guy for his family back in the Cold War-era. With North Korea, these conversations about nuclear attack and global fear are once again circling. Also, there was a New Yorker article in December about how the super-rich in Silicon Valley are buying bunkers in Colorado. It was a great story… chilling and, honestly, scary. The bigger question is – and what's really jarring for me – you're saving yourself, but what are you actually saving? Everything is lost.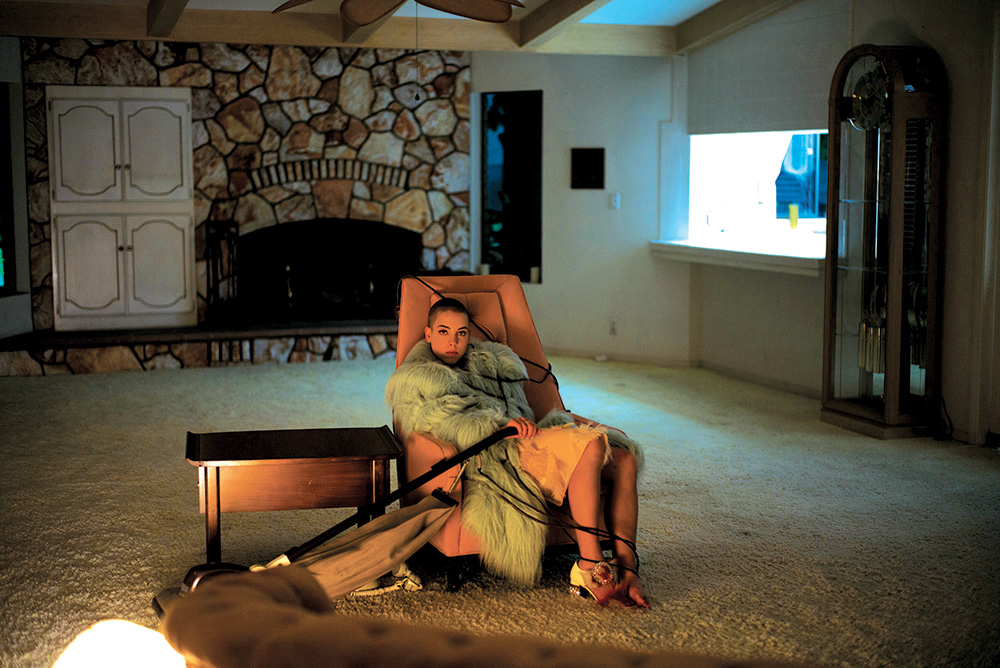 As an American artist, you must be wrestling with a lot right now.
I've been thinking a lot recently; what is our purpose as artists, what is our mission, in these politically trying times? Sometimes I feel a bit helpless, like maybe I'm not doing the right thing. My question was: what is art that lasts, that transcends time? What is an artist's role in wartime and what is a woman's role in wartime? I'm asking a lot of questions.
How should we read the film's women?
I look at all of these women as creating one woman because they each represent different aspects of femininity. The pianist, who's like the mad creator, driven by her vision and who will go to no end to block everything else out, that's something embraced by men and celebrated. For a woman to do that, it's selfish or unacceptable. Then there's the chef who's providing; the woman as provider, nurturer, creator. For the mermaid, I feel connected to her in the way I describe her as the "fish out of water". That's how it feels in my own country because of who I am and how I identify. Finally, with the maid, I'm interested in the animalistic side of women. I think we've always been expected to be tame and quaint, and that's why I wanted to give her the role of a housewife almost out of control.
Despite the dark themes, there's a strange decadence about this film, the feeling that we will dress beautifully no matter what.
I think we do need an uplift right now. It's like no matter how gutted and depressed and helpless I feel, I want to feel like I'm going towards truth and beauty. If we're going to approach the ugly, then we have to be beautiful around it. I don't want to be ugly for ugly's sake. I need to feel a moment of uplift because everything else is going down. I'm constantly updating Trump tweets; what the hell is he going to do next? Everything feels so tumultuous.
It's intriguing to be discussing female identity in the time of Trump, who has seemingly set it back.
There are a couple of things I'd like to say about that. A lot of white women voted for Trump and that got me thinking. Basically, these women responded to this toxic masculinity that almost makes them feel comforted. It's like, "Oh, I'm used to a man who tells me what to do, or who speaks out a lot." So they're more used to that, rather than a man who's confident and respectful and honest, right? But what does it say about the way masculinity is perceived in this entire country, when women would actually vote for their aggressor, for their abuser? The second is how Hillary Clinton was by far the most deserving candidate for the US presidency. She committed her whole life to this and this bully came in with no credentials and won. She endured the most public shame and humiliation that we'll ever see a woman endure in our lifetime. That shame isn't just hers to hold – it's all of ours. That's what breaks my heart. As a kid, you grow up and you get told the bully never wins. Well, not only did the bully win, he now controls our country. What is that saying to all of the marginalised communities? It's heartbreaking and saddening.
You once said it's not easy knowing how a gay woman should look, since that look evolves.
It changes daily. One day, I wore a Miu Miu dress that felt totally me and today, if you saw me, I definitely looked like a male painter. We're multifaceted beings and there are so many interests inside of us; we must reflect all of them and not lock ourselves into one. But there's something about the gay identity – "Oh, that's a butch woman" – which is archaic. Maybe that had to be assumed in a different time, when there were fewer people out. But now we're in a safer place – well, at least in New York – where identity is shifting. And that's important because more people can see themselves.
What's next for you?
Next month, I'm filming in the Everglades of Florida. It's my own [short-film] adaptation of Swan Lake – Swamp Lake. I'm working with dancers who are differently abled and professional dancers. I'm interested in exploring someone who wants to move and express themselves but has no legs or arms. My big project is my next feature film, about a town that's forced to move because their island is going to be underwater in the next 20 years. Again, this is not fiction, it's fact – based on Tangiers Island, which I grew up near in Virginia. I think the idea of climate-change refugees is a really big topic. The more we watch our land become uninhabitable, it's going to be interesting to see what happens in terms of protection and issues of ownership. I really like to play with extreme places of nature, with archetypes and themes inside of that – issues of identity. The protagonist in this film is a woman with a beard. I shoot next year, summer and fall.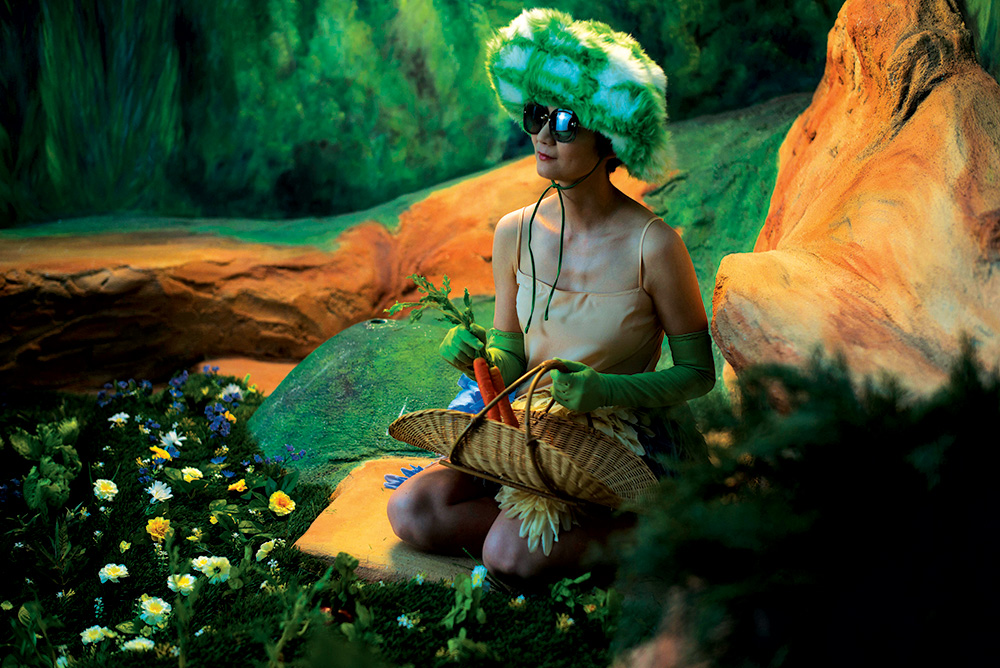 Who are your biggest film influences?
Pina Bausch was a big influence, the way she simultaneously elevated dance and theatre, and Charlie Chaplin is one of my biggest heroes and influencers. Charlie did it all. I give him a nod in the "carrot dance" sequence in the film.
If you had to pick one Miu Miu piece from the film, which is you?
I would wear the maid's coat because I tried it on and felt like I could rule the world. This weird sort of Italian mobster vibe came through and I was barking out orders. It was great. I loved it.
When the end of the world comes, what do you imagine you'll be doing?
Depending on how it happens, if we're all going down at the same time together… I would be at the ocean, the beach, with my love, my partner. And I would be listening to the waves. And that would be it.