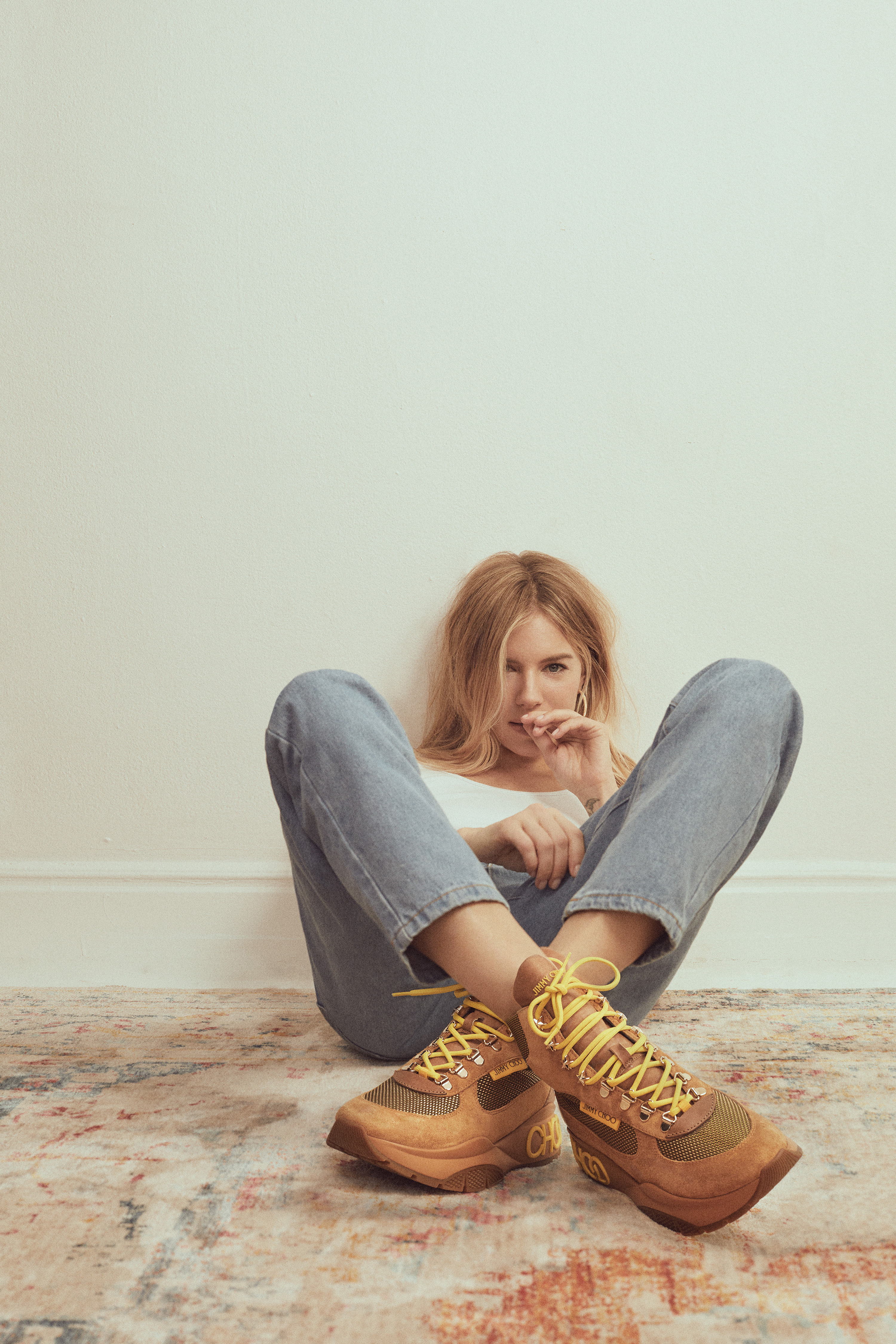 British-American actress Sienna Miller – who broke out in the early 2000s with acclaimed roles in Layer Cake, Alfie and Factory Girl – has always understood the power that a little real-life mystery can hold. She spent much of her early career navigating tabloid scrutiny with equal parts poise and gumption. In the social media age, she's posted just one photo to her Instagram account since joining two years ago – but she's no stranger to doing things on her own terms.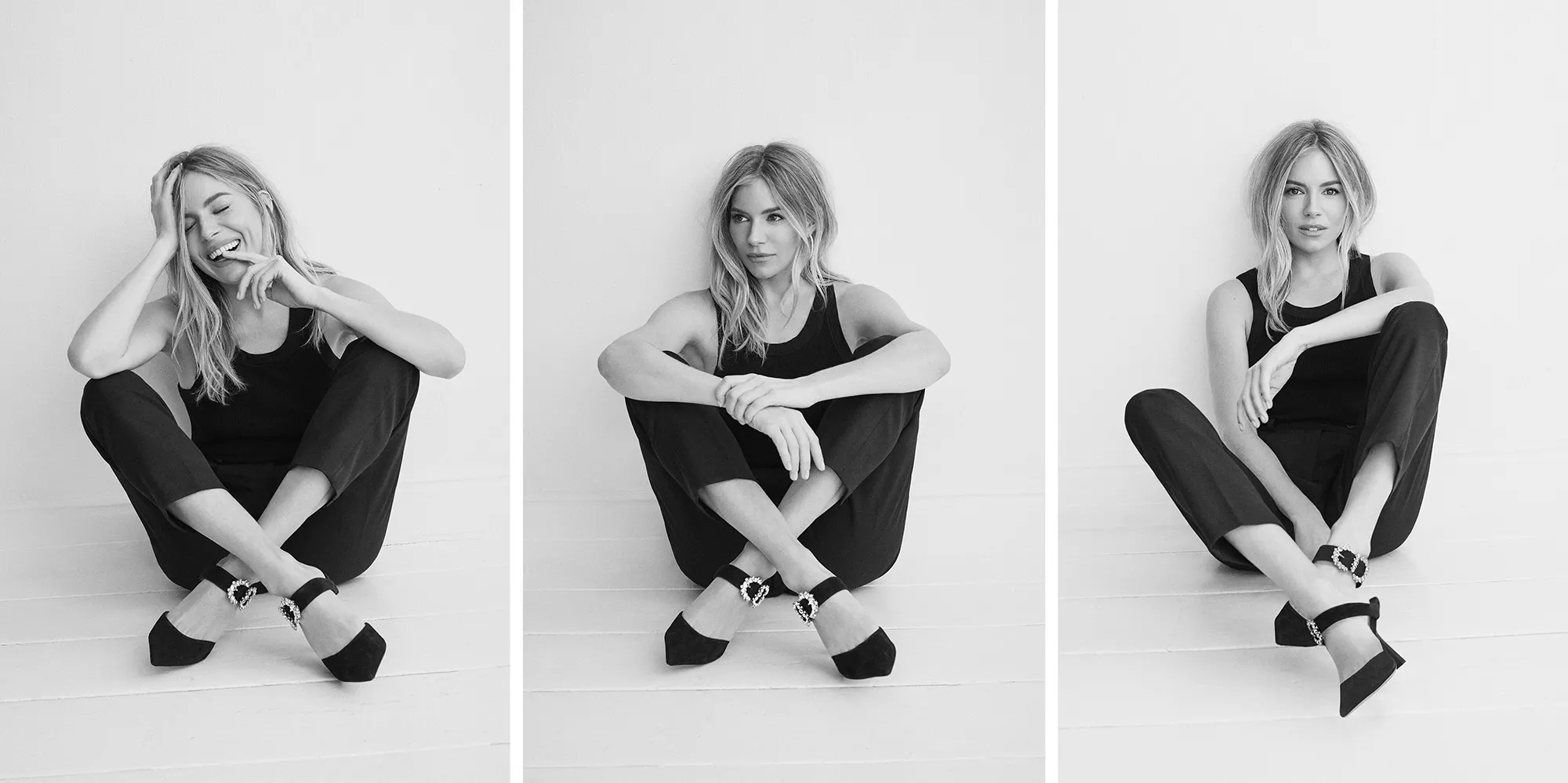 Someone once said to me, 'Let them come to you,'" recalls the 37-year-old beauty, sitting
at ease in the sunny Midtown Manhattan loft that serves as the backdrop for the shoot. That philosophy, along with Miller's witty and mischievous sense of self and fashion, has long set her apart from many of her Hollywood peers – both on-screen and off.
Since the start of her career, Miller has made a conscious effort to seek out rebellious, idiosyncratic characters – rather than the pretty-girl-next-door, think girl-from-the- neighborhood-you've-only-read-about. "I am not drawn to the ingénue wallflower lady," she explains. "The characters I am drawn to run all shades of the gamut. They can be detestable and irresponsible or maternal, but strength is always the common thread." Case in point: Her virtually unrecognizable turn as Elizabeth Ailes, the wife of the late Fox News chairman Roger Ailes, in Showtime's upcoming miniseries The Loudest Voice. "With acting, I tend to always root out the vulnerability in someone – that's not to say that they're all compassionate or even that likable," she says.
The actress's substantial body of work has teetered between thoughtful indies, Hollywood blockbusters and gruelling stage work. She recalls playing Sally Bowles opposite Alan Cumming in 2013's revival of Cabaret: "It was the most liberating and creatively fulfilling thing I will ever do – I would only play Sally Bowles for the rest of my life if I had my way."
Her passion and need for such drama was sparked early on. "The first childhood ambition that I remember having was to be an actor – astounding, but true," she recalls. "My mother took us to the theatre, and I saw grown-ups in costumes running around having what looked like an immense amount of fun. That seemed to all make sense to me."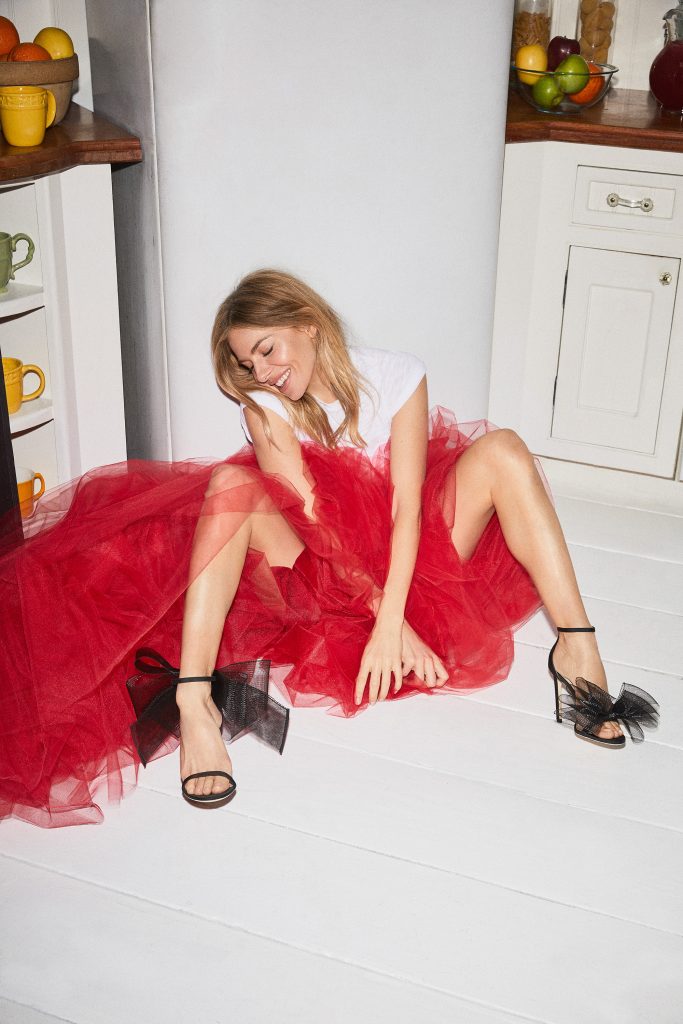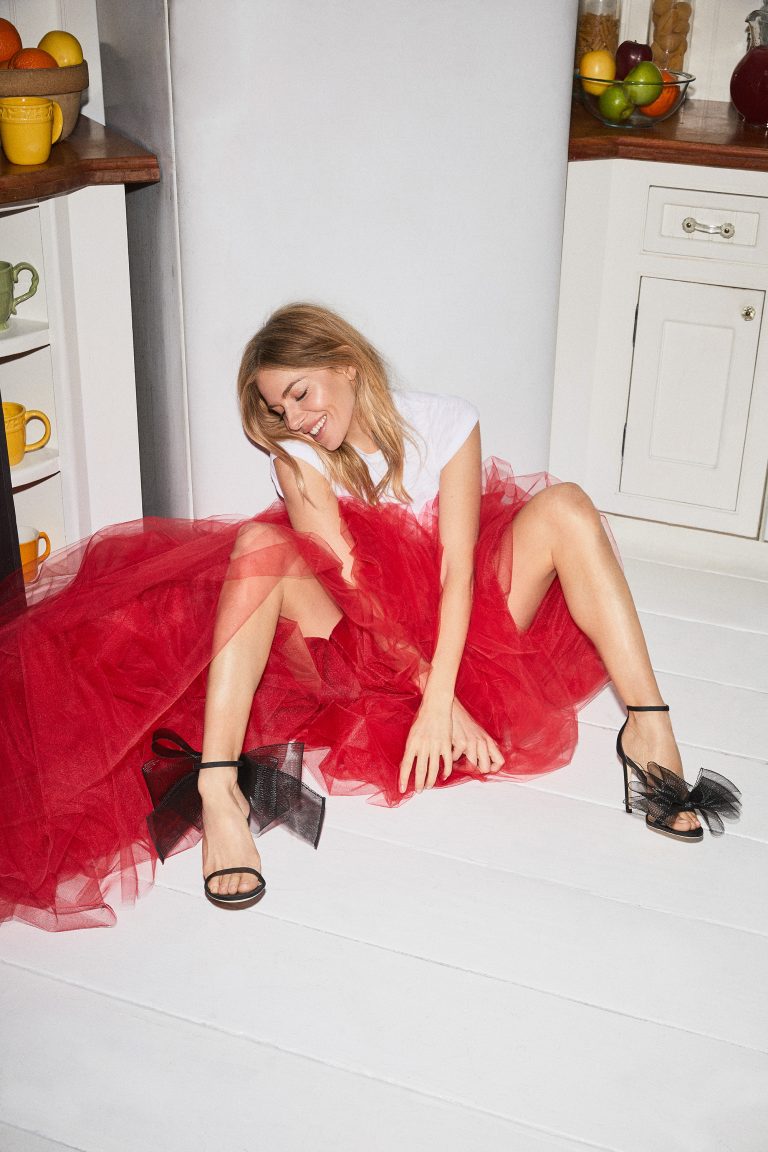 Her rule-breaking fashion sense, which quickly won over hard-to-reach industry heavyweights such as Anna Wintour, also feels predestined. "I did that thing, which I think a lot of little girls do, which is dress up in my mother's clothes and put make-up on, so I had an aesthetic that was all shades of wrong," says Miller, who aside from her busy career is also the mother of six-year-old daughter Marlowe with actor Tom Sturridge. "I was born in the '80s and, obviously, the fashion was insane.
We lived near King's Road in London, where all the punks used to hang out – it was inspiring."
Yet it's the effortless and minimal look of the '90s – coincidentally, the inspiration for the Jimmy Choo pre-fall collection – that continues to captivate her. "It's the chicest moment: Women in oversized blazers and very little make-up, and no one looked like they were trying too hard," says Miller, who as a teen would fawn over photos of Winona Ryder, Gwyneth Paltrow, Kate Moss, and Kurt Cobain. "I get sad looking back and seeing these pre-social media days where people were wild and reckless, and nothing was contrived or overthought. There were these original moments in fashion, even though they didn't feel like it at the time."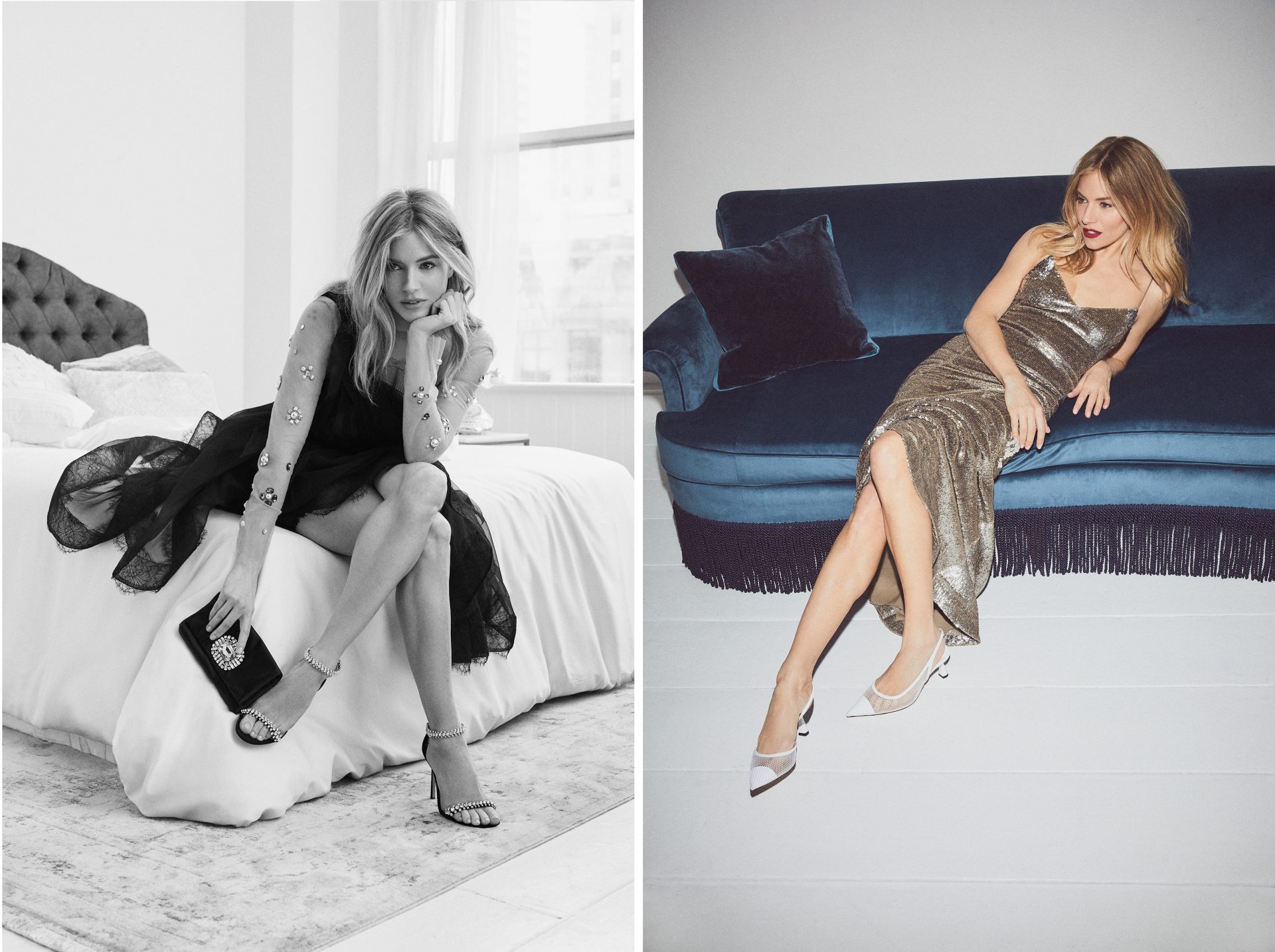 Though Miller's sartorial prowess ranges from being the original poster girl for boho-chic to being able to throw on ornate direct-from- the-runway creations with the ease of a pair of jeans and a hoodie, her style philosophy runs more profound than emerging trendsor expensive threads. "I'm always inspired by somebody who's brave and courageous, comfortable in their skin and illuminates that with humour and generosity," she says, noting that her golden rule is to wear shoes she can dance in – or be prepared to take off. "I think you have to have a sense of self," she adds. "A person who's wearing something as simple as black jeans and a T-shirt can radiate glamour, and that comes with self-confidence and being calm and centred."
Miller's own confidence has grown as she's become increasingly outspoken against rampant sexual exploitation and harassment in Hollywood. Last year, she spoke at the United Nations Commission on the Status of Women meeting, admitting she felt professionally "undervalued and undermined" and disrespected because of her gender. "I think we're at this point where women are being celebrated and feel like they have a voice," she says. "And I feel much more empowered by the Time's Up and #MeToo movement and the wave of women behind each other – in a way that there never was before – to really stand up for myself. There is something incredibly empowering and strengthening about knowing and recognising something is wrong and fighting against it, which I have done with the media and against paparazzi in moments, and in work scenarios, increasingly." While she admits there is still a long way to go, she remains optimistic. "We're in a pivotal, interesting moment for gender," she continues. "I think what probably defines the modern woman is that she doesn't even have to refer to herself as a woman these days. We're on the way to equal."
It's looking to be a busy 2019 for Miller; aside from The Loudest Voice, she also has lead roles in the films American Woman and 21 Bridges, both due to be released this summer. And she's well on the way to being one of Hollywood's most refreshingly self-aware individuals. "The best thing about growing up…" she begins, then pauses. "That sounds like such an un-grown-up thing to say! I feel much more grounded and settled in myself. I feel calmer and happy. I look back on myself in my twenties and I had an amazing time, but there was no root – nothing was holding me to the ground. I love that feeling of wisdom that comes with age. I am absolutely not willing to tolerate things that I would have tolerated before, and everything about life seems to become more and more enriching the older that I get."
It's Miller's talent, daring spirit and confidence to stand up for what she believes in that made her the obvious choice for Jimmy Choo's first In My Choos editorial content story, which celebrates women who dare to stand out.
Photography / Zoey Grossman
Styling / Kate Young
Make-Up / Kate Synnott
Hair / Ben Skervin
Location / New York City
Footwear / Jimmy Choo