One is a singer and actor, one is a model and mother, one is an entrepreneur. What all three have in common is their positive energy – an inner radiance that lights up the room when they walk in. We put Kenny Kwan, Jessica Cambensy and René Chu in the same room, and dolled them up in Tom Ford's latest Soleil collection for a sun-kissed, dewy look that's perfect for summer.
Kenny Kwan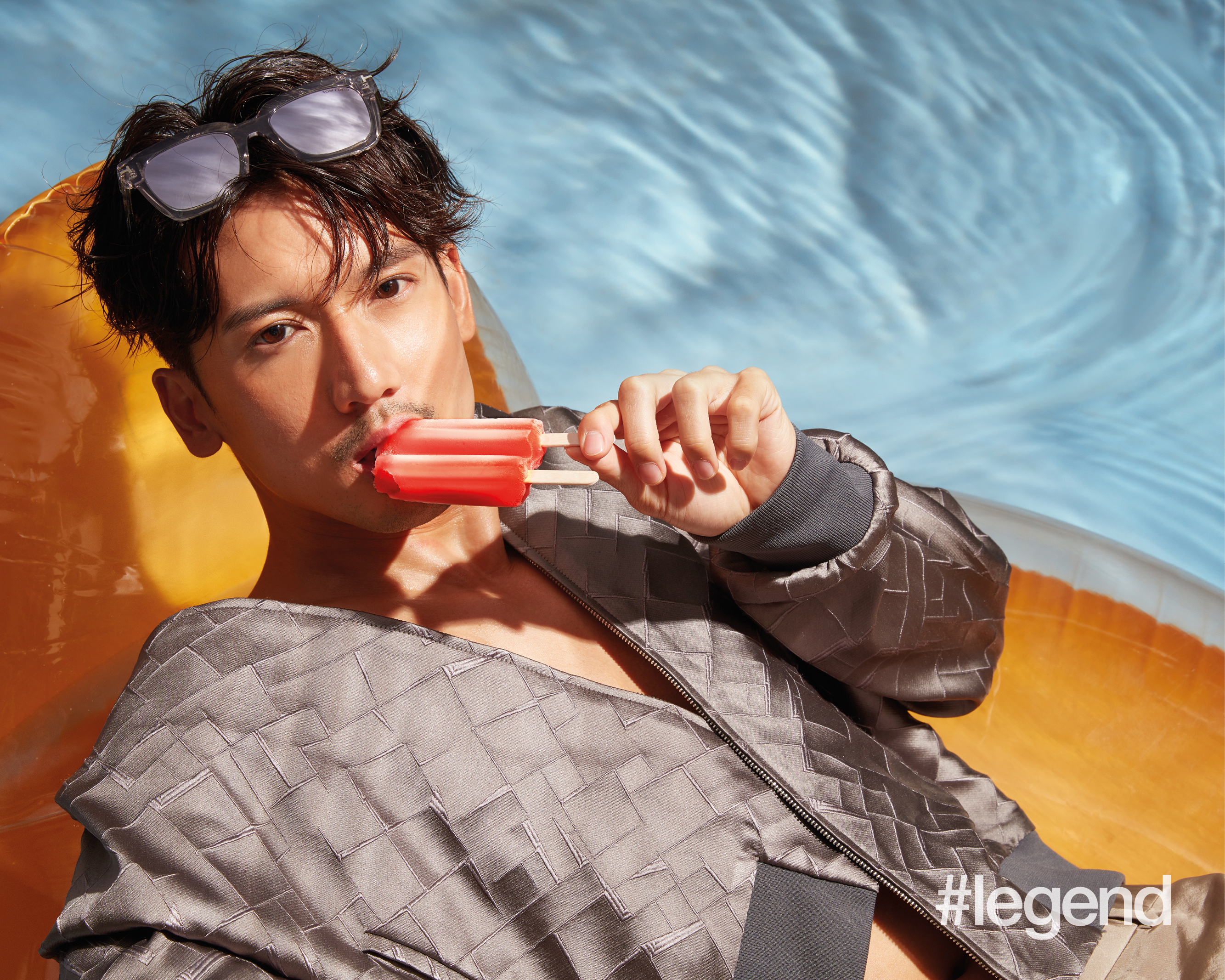 Actor and singer-songwriter Kenny Kwan might have a pretty face, but he's not afraid to get down and dirty with the movie role he chooses, nor is he afraid to be silly in front of his fans on social media. Kwan started his career in the early 2000s in the hugely successful duo Boy'z, but has since launched his solo career and begun writing his own songs. Extremely humble and easy-going, Kwan tells #legend how he channels his experiences into his songwriting and acting, dealing with fame, finding confidence and all the TV shows he's totally obsessed with. Read on to find out which perfume he is currently into.
Did you always know you wanted to be an actor or a singer?

Actually, when I was young, I didn't dare to have this dream. In Hong Kong, our parents feel that being in entertainment wasn't a real profession, not stable. When I first signed to a label I remember they were quite against it. I studied electronic engineering in college, it might be hard to believe now. But when I was studying, all my extra-curricular activities were drama clubs, singing competitions. I knew then I wanted to do this. I'm a Catholic, and when I now think back on this I find it pretty miraculous. I went to a church and knelt down to pray, asking to become a singer and an actor.

Do your parents support you now?

They're not against it anymore, having seen that I'm doing quite well for myself. Mostly these days they worry that I'm overworking. There were a few years when I was working on the mainland for long periods, I was away for ten months and I didn't see them for a while. They were a bit more worried about me then.

You started your career in 2003, is there any advice you'd give to your younger self?

What would I tell myself? Date more. [laughs] I think dating, having a romance really does help you grow emotionally. Especially now, when I'm here performing songs or acting in movies, I need to have a wide range of emotions. I didn't know how to cry before I was 30. But since then, I've loved and I've hurt and now I feel like I can give more emotion to the songs I'm singing or the parts I'm playing. I was a really good kid! I didn't party and I didn't date around. So probably, I'd tell myself to go out more, but of course, not to go and do bad things.

Do you put a lot of yourself into the characters you play?

Yes, and especially in singing. In the past, a lot of my music was arranged by the record label, and someone wrote the lyrics. My partner and I, Steven, our group just followed what our record label wanted so there wasn't too much of our own creative input. But in recent years it's different now. I want to sing songs that move me. I'm writing my own lyrics. So now my songs are more personal. Every song is a personal story to me.

Do you tend to prefer roles that were more similar to your own personality, or completely opposite?

I like roles that challenge me. Because of the way I look, I tend to get roles like the goody-two-shoes, or playing the privileged kid, royalty and so on. But now I like roles that are a bit different, I played a drug dealer, I also played a rapist one time. Now I'm in a movie where I play a cop. I have another upcoming movie where I play a washed-up singer. I find these more interesting.

What was your most challenging role?

It was a TV role with Cherry Ying Choi-yi as the producer. It was about people with psychological disorders. I don't think she's seen my previous work before casting me, but she dared to give me this really difficult role of a patient with four split personalities. That was one of my favourite roles. I had to be this violent older brother, and then this timid younger brother, then this really calm brother and even a cunning sister.

How do you deal with fame? Do you find you need to have a public persona that is separate from your private life?

Maybe more so in the past. But now, not really. If you look at my Instagram, sometimes I say some pretty dumb things or I try to look very cool. It's all me. I think this generation likes to see celebrities who are more genuine, it's not like before when they idolised their celebrities. If your public persona was really different from your actual personality, people will find out eventually. I think it's important to just be yourself and show your true colours. If people like you, they'll like you. If they don't then they won't. I feel much happier this way.

How do you deal with rumours?

I don't answer. Usually the rumours, I don't care if they're true or not, as long as they're not a personal attack. I just kind of respond to them in a not very serious way, just for fun. If you try to explain it it's like you're trying to hide something. So I just humour people.

Who are the people who have shaped you? Who are your role models?

I thought about your question earlier, and I was thinking in terms of my movie career, if there was anyone I've tried to model myself after until this day, and I couldn't think of one. For myself, I feel like I've had to slowly figure out how to do it, there wasn't one person… Take Leslie Cheung as an example, there's no way I can follow his footsteps and replicate his success. People like me maybe for things that other people don't have. So I don't have an answer for this.

You are very close with celebrities like Joey Yung. Are they your support group in this industry?

Yes, Joey Yung, Charlene Choi, Gillian Chung, Steven Cheung, Nicholas Tse, we have a group called the Bitches. [laughs] Whenever anything happens, we just share it with the group, even if it's just a photo and we say, 'You look chubby here.' It's all teasing of course, as friends do. We all started our careers in the 2000s, and we saw each other a lot, worked together a lot. And maybe because of this, we became almost like brothers and sisters. I won't call just for a casual chat, but if one of us was going through a rough patch, they know there's the group of us there to support. If someone had negative news written about them, no one's going to ask about the details, but we'll say, 'If there's anything you need, just say it.' We'll always promote each other's projects, no matter films or new music. I think this friendship is really special and I really treasure each of them. People thought we would be competitors, but after so many years, we've really stayed friends.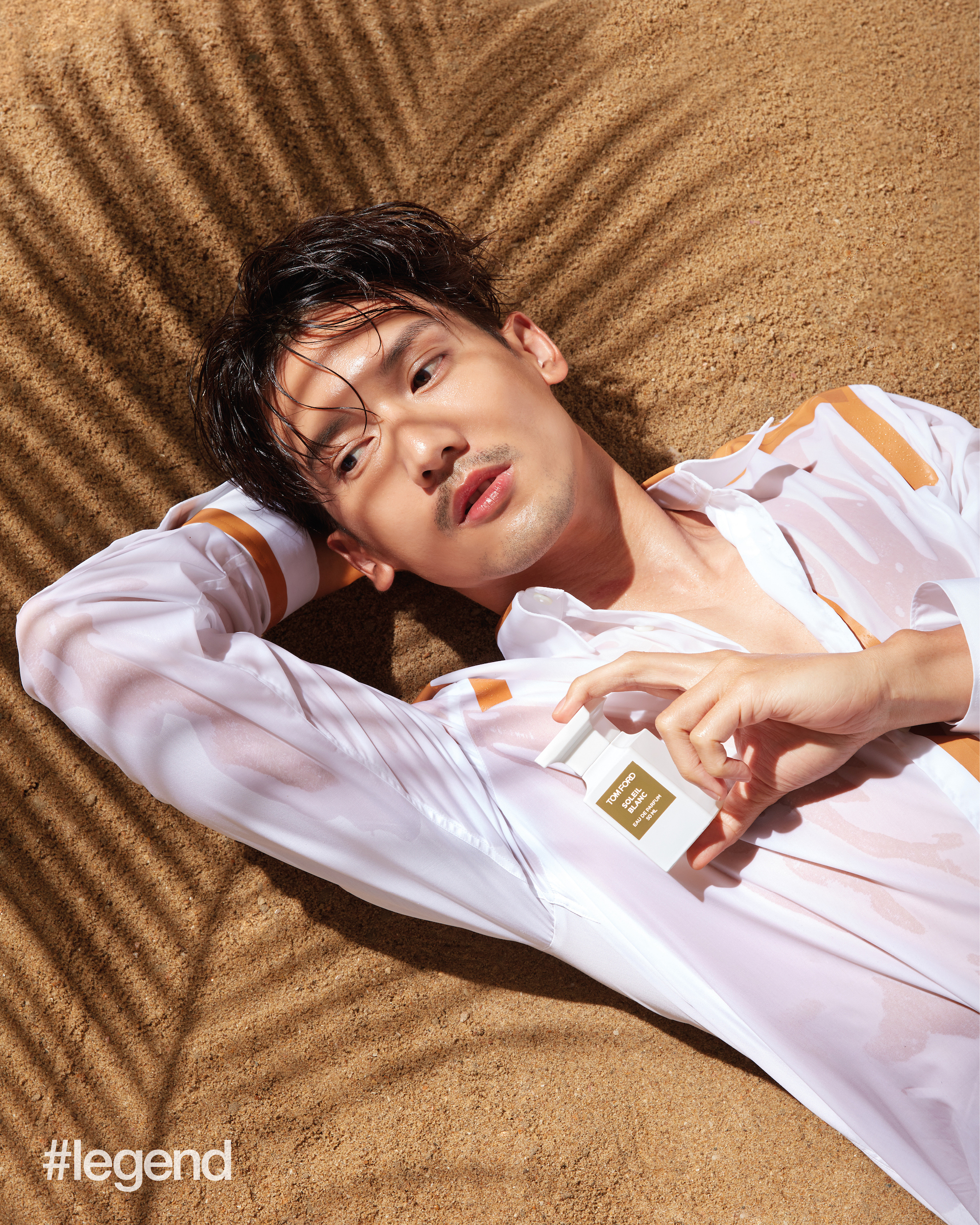 "I didn't know how to cry before I was 30. But since then, I've loved and I've hurt, and now I feel like I can give more emotion to the songs I'm singing or the parts I'm playing"

KENNY KWAN
Do you have a definition for beauty?

I'd say confidence. This is so important to me. I remember seeing this plus-sized model for the first time when I was abroad and I thought she was so beautiful and it was because she had this confidence. There are some societies who judge beauty on sizes, and after I saw the girl, I completely thought it didn't matter what size a person is. Her beauty came from her face, and it was her confidence.

What about you? Do you think you're a confident person?

Not enough, honestly. But I aim to be. I think to have confidence, you need to have something to show, you need to feel prepared. If I'm on stage and I feel like I don't have what it takes to do well, then it's because I haven't practiced enough. Practice makes perfect. When I had my concert last year, I wasn't nervous on stage at all and it really was because I've practiced so much I could express myself the way I want to.

Do you have any beauty secrets you can share?

Because I wear quite a lot of make-up on set, I really do take my time to make sure I remove all my make-up when I get home. I will clean my face twice. I know if I don't do it thoroughly, it will mess up my skin next day. I'll first clean with a make-up remover wipe, and then I use an oil-based remover to wash my face. Before I go to bed, I'll put on a moisturiser. I have a stack of masks, some fans have sent me these really interesting products that bubble up, or in powder form, but gosh those take so much work. I think sheet masks are my limit.

What are your summer essentials?

Sunscreen. It's important to wear sunscreen, I realise now that I'm older. I love water sports, I love wakeboarding and wake surfing. I didn't wear sunscreen before, but I noticed how it affects my skin so now I am careful and I'll wear sunscreen.

Do you have any current obsessions?

American TV shows. I watch so much shows on HBO, Netflix. I will watch a show or two before bed every night. Even really obscure shows, I'll watch them. Game of Thrones, I was so angry, I was so upset. [laughs] But now I want to maybe wait for the books and find out how it's supposed to really end. Even younger, I watched Friends, Sex and the City, Modern Family, Grey's Anatomy, Scandal, so many. Brooklyn Nine-nine, I love. It's so funny. I saw Chernobyl recently on HBO. Big Little Lies is really good too. I'm now watching Dark on Netflix.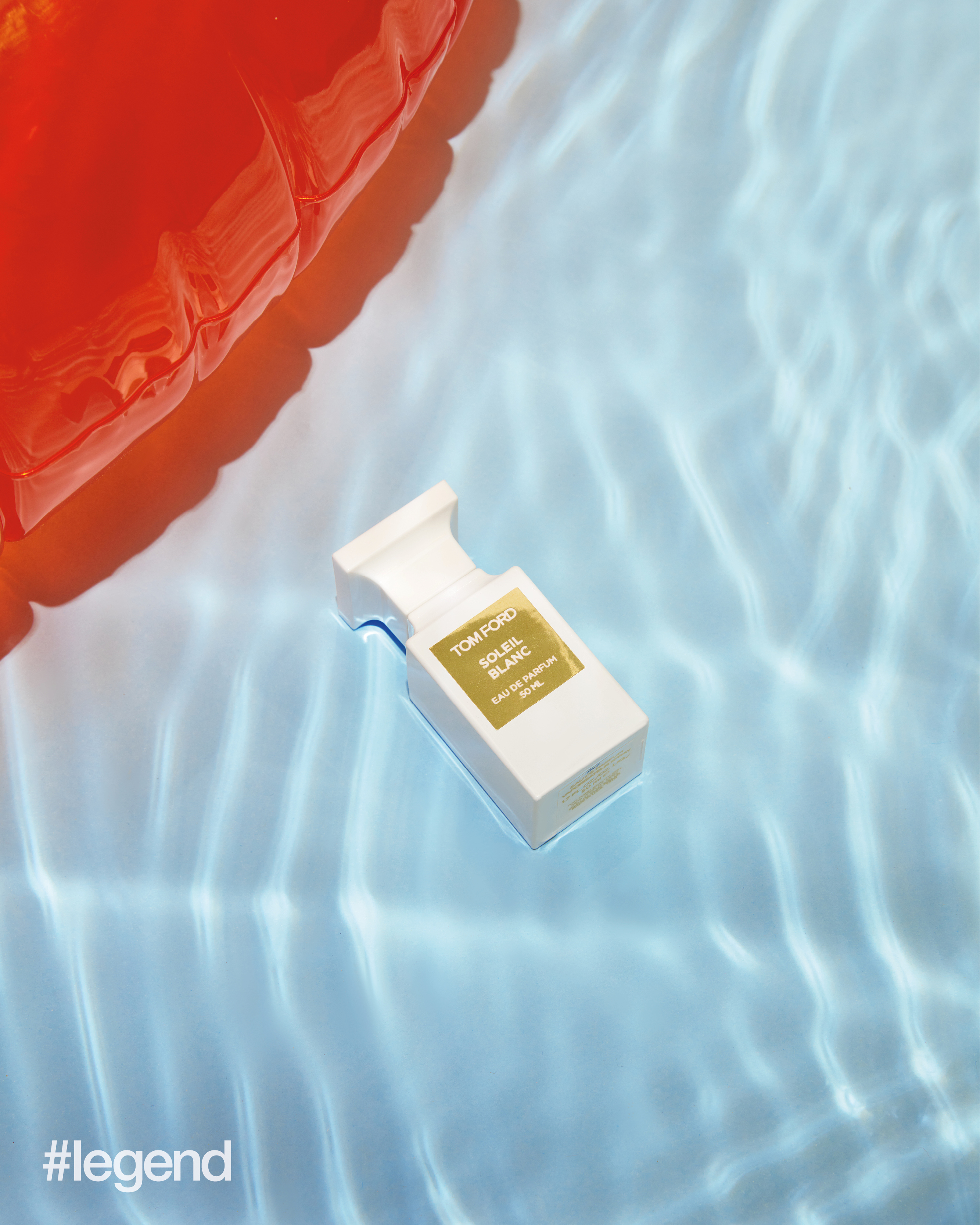 Jessica Cambensy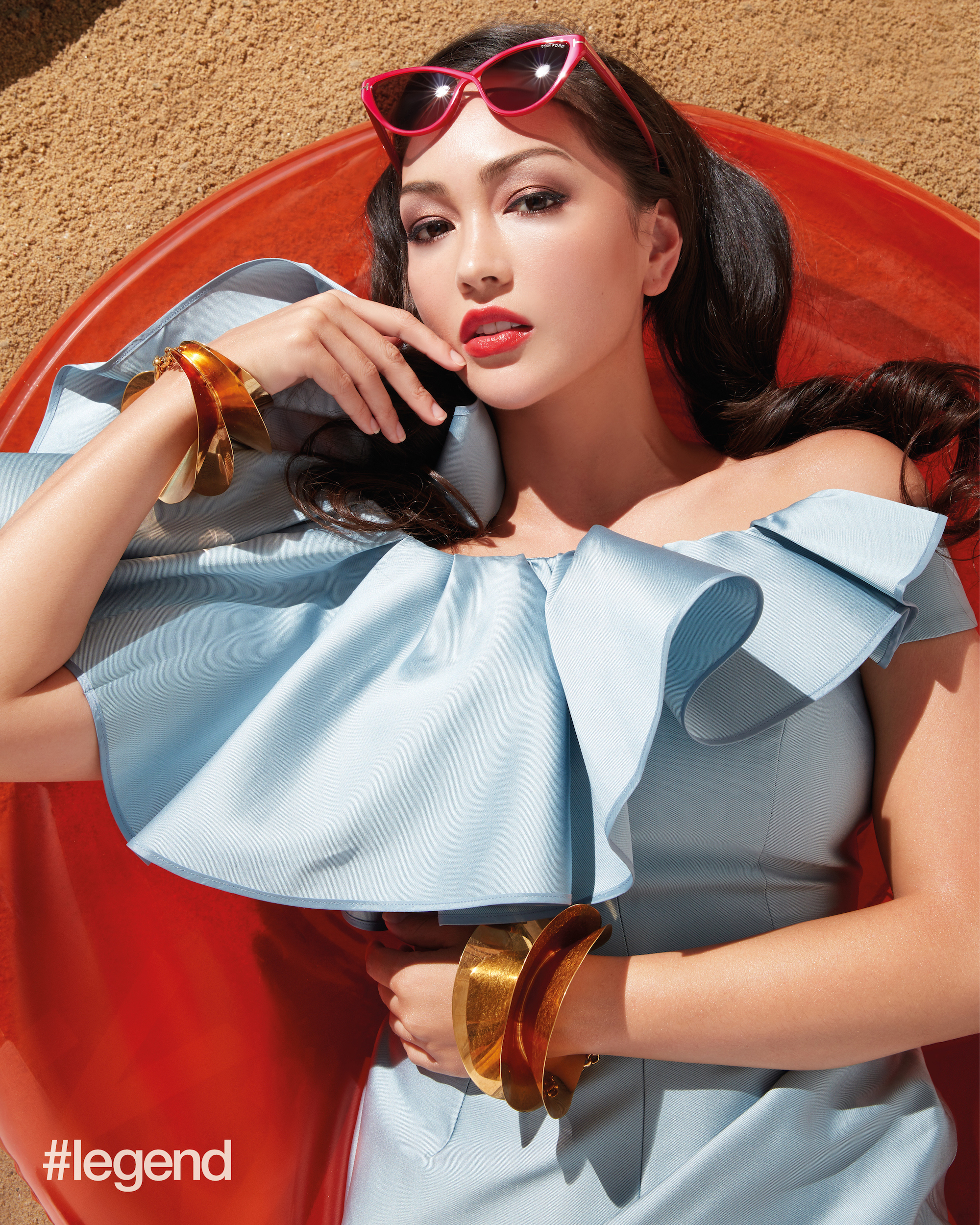 Jessica Cambensy has a beauty secret. Three words; to be happy. The model, actress and mother-of-two is no stranger to the spotlight but is always ready to face the public with a ready smile. Growing up was not all smooth sailing for Cambensy, who as a teen, struggled to accept her mixed heritage and her body image while navigating the tough world of modelling thousands of miles away from home. Now, motherhood is her top priority. #Legend spoke to Cambensy about the challenges of the modelling industry, watching her kids grow up and how having a loving family can make one feel invincible.
Was it hard connecting to your Chinese-Filipino roots while growing up in Chicago?
It's really weird because you know, depending on which side of the family I was hanging out with, or which friends I was hanging out with, I wanted to be more like them. So, you know, I was never Chinese enough or never Caucasian enough. I also grew up from the ages of three to six in Kentucky, which is like the country of the country [laughs]. When you're young, you don't realise it so much, but as you get older, you start to notice. When I was nine, I moved to Chicago where it's more urban and it's a lot of mixed races, I felt like I fit in a bit more, but then everyone's always like, 'What are you?' When I was in middle school I started hanging out with the more Asian crowd and I would draw my eyeliner, dress a little differently, I think when you're younger you just try to fit in more. Nowadays, you're trying to do the opposite. Everyone's about being unique. But when I was about 15, I did some modelling competitions and I got scouted to come to Asia. At that time, the market was all about Eurasians and mixed, so it was like a whole new world. When I came here I felt like this is my calling. This is where I feel good about myself. It's nice to totally accept yourself and not try to have to be one or the other way.
Fifteen is still quite young to start a career, was it especially tough in the modelling field because there were such rigid beauty standards back then?
Yes, especially back then. So even though, yes okay, fit in the mixed category, you still need to be skinny. I remember I was working in Japan and my agency, before we get our weekly advances, they would weigh you. So if you were too high on the scale, you don't get to eat, you don't get your money. Then there are times when you do swimwear stuff and you feel too skinny. So sometimes you feel too skinny, sometimes you feel too big. It was like that trying to fit in all over again. But in the modelling industry, you can't be every kind of model.
Would you let your daughter be in the industry?
It's a tough industry to be in, it's kind of hard. I don't want her to go through that kind of stuff but I mean, I am the person I am today because of it. So it's worth it.
And today's industry has it a bit better now.
Oh much better, much better. So I guess yeah, if she was just starting now, then it's okay. People are more open to things, it's not just this narrow-minded view of what models need to be or what people need to be. Now it's just so versatile and I just love that. The variety, the kinds of people, all kinds of shapes, all kinds of sizes, all kinds of just everything. And I think that it's more creative. Before it was just very bland. It got to be boring actually, the same kind of model, the same kind of looks.
Social media today probably helps build up your own identity too.
Exactly, now it's just like branding yourself. Like I said, being unique. Before it was like trying to fit in, but now it's just trying to be yourself. Everyone is unique and all you got to do is just show that it's you.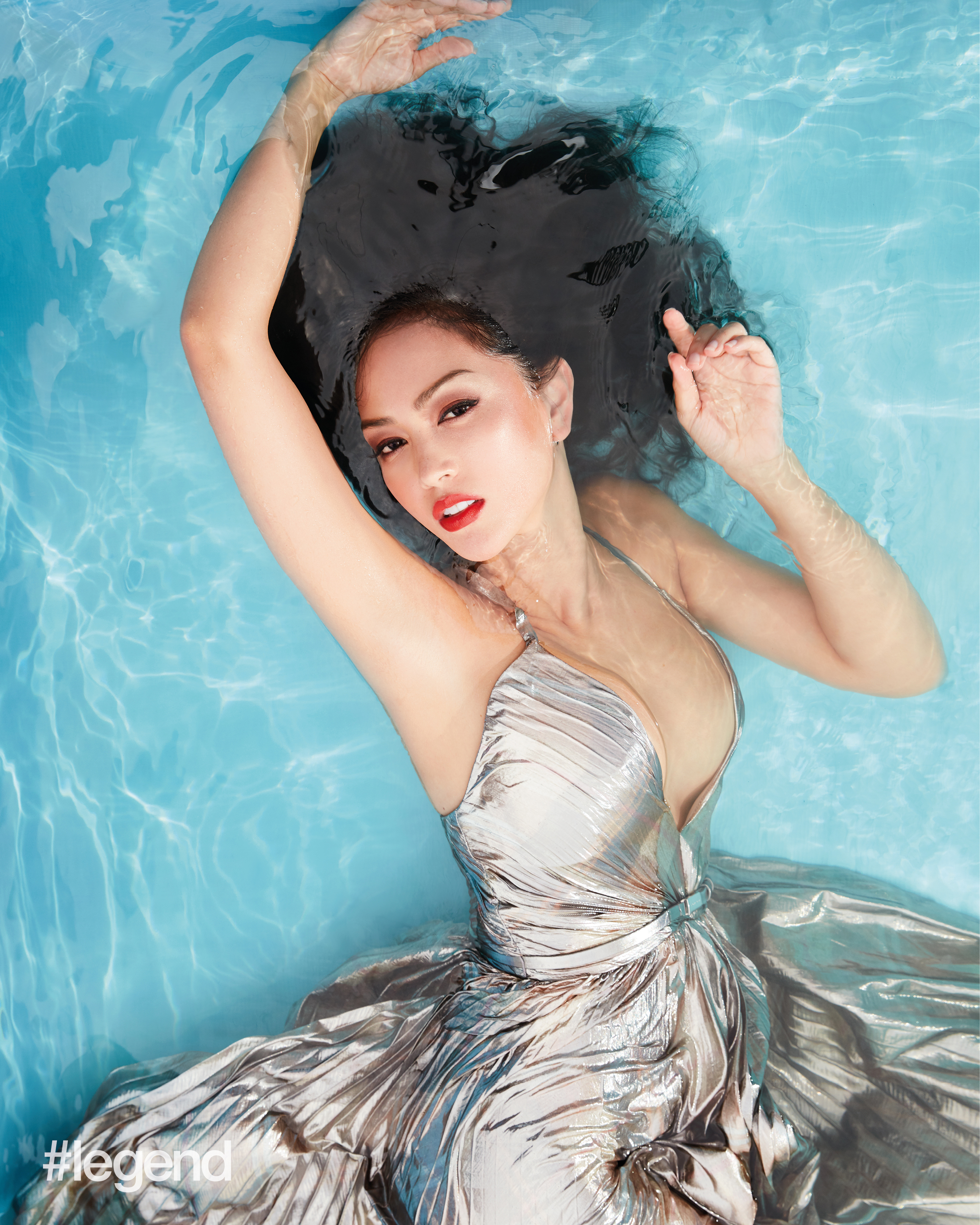 "When I was in middle school, I started hanging out with the more Asian crowd, and I would draw my eyeliner and dress a little differently, I think when you're younger, you just try to fit in more. Nowadays, you're trying to do the opposite. Everyone's about being unique"

JESSICA CAMBENSY
We're at a beauty shoot today. What is your definition of beauty?
Everyone says confidence is beautiful and it is. But I think confidence goes with being happy, right? I think happy people are beautiful, because I think you also radiate that kind of energy. When someone I'm talking to like, I feel that their energy is great, I think that's beautiful. They make you feel beautiful. There's just a warmth and yeah. I think happiness is beautiful.
How do you stay happy?
Through the people I love. I think nowadays, it's to do with social media, I think a lot of people get a lot of hate from people they don't even know and they make themselves feel less because of it. But then if you shut that out and realise it doesn't matter, and you hear what your friends and your family have to say and see how much you're loved. I think that will make you happy and feel beautiful. As corny as that sounds. I think growing up in this industry, every time I had a bad day, or I felt bad about something or I went to a job and felt like I could have done better, I call my family. My family really got me through this. Now that I have my own family, what I do for my kids and my husband is to give them that kind of support.
Has becoming a mother changed you?
So much. First of all, it's all I could talk about, but it's also like, all the little stuff that used to bother me or get me down, it's nothing now. You really find what's important to you and your priorities change. I feel more empowered being a mother and I just view the world differently. You know, it's just the same world I know. But you see the real stuff and you see the superficial.
You have a son and a daughter.
Yeah, a three year old and a one year old. Having a daughter, you know, I see a lot of me in her. I was really excited because I'm going to be her best friend forever, even if she doesn't agree. And then having a boy also is really sweet because he's just unpredictable. They both bring so much versatility to my life.
Who are the people who have shaped you into who you are today?
Definitely my family and now my kids. My kids are shaping me into the woman that I am now and my husband, especially my husband. I have had so many horrible relationships and you don't realise how bad they are until you find the right one. When I met my husband I just find myself wanting to be supportive and wanting to be better. Make-up was very important to me and I never want to leave the house without makeup, I don't want anyone to see me without makeup. But my husband's over there like, 'You don't need it, that's not what's beautiful.' He really chiseled that ice of me having to look a certain way to feel beautiful. He's such a wonderful man and he makes me want to be better and better. I want to be a good wife and I want to be a good mother.
These days if you put on make-up what's your go-to look?
I really love to be bronze, with a tan I feel my best, when I have like, that sun-kissed glow to me. A lip is more of a statement if I want to make it a little more interesting. But for every day, just a little bit of bronzer and blush, concealer to cover up the tired eyes, but just something that makes me look more happy.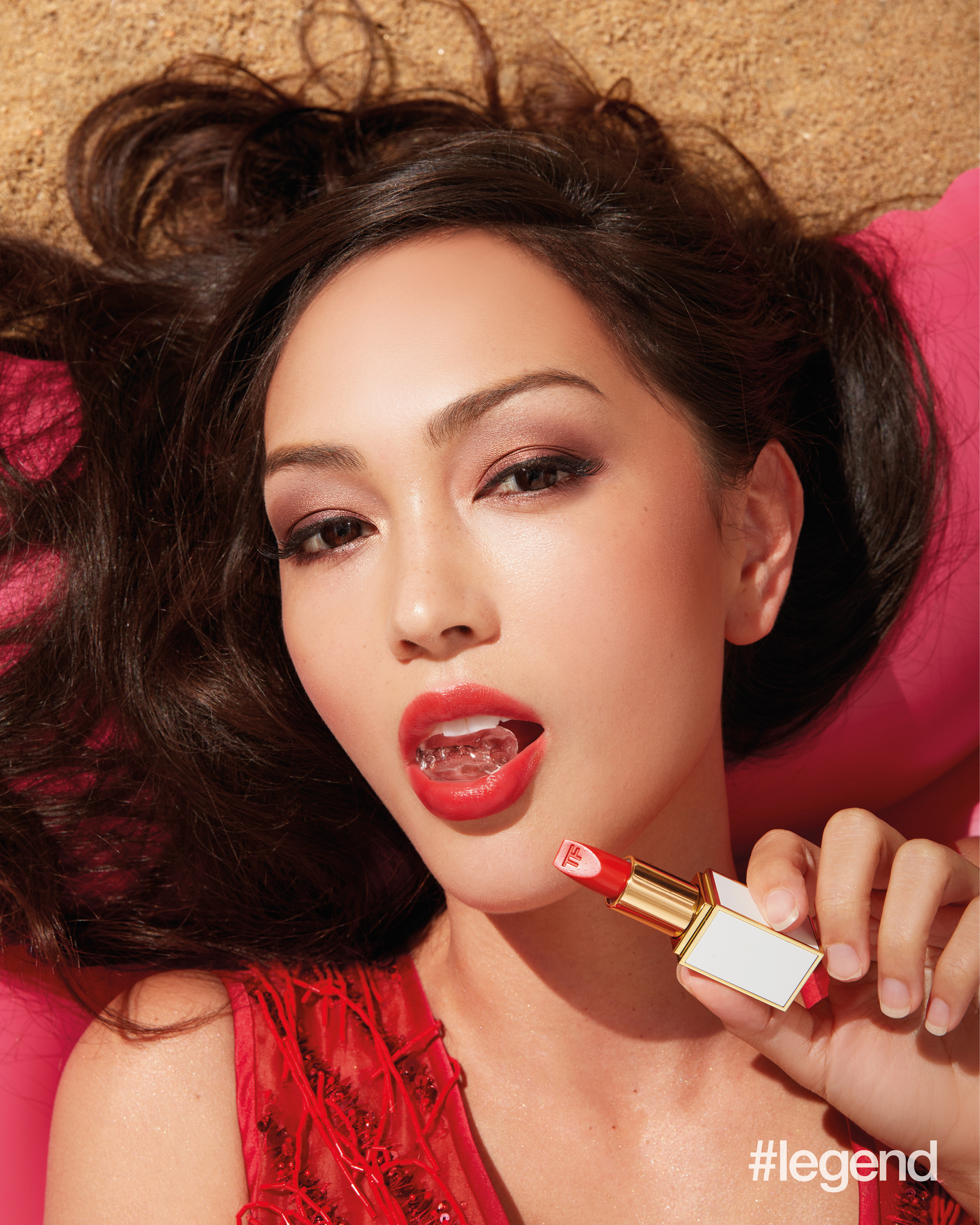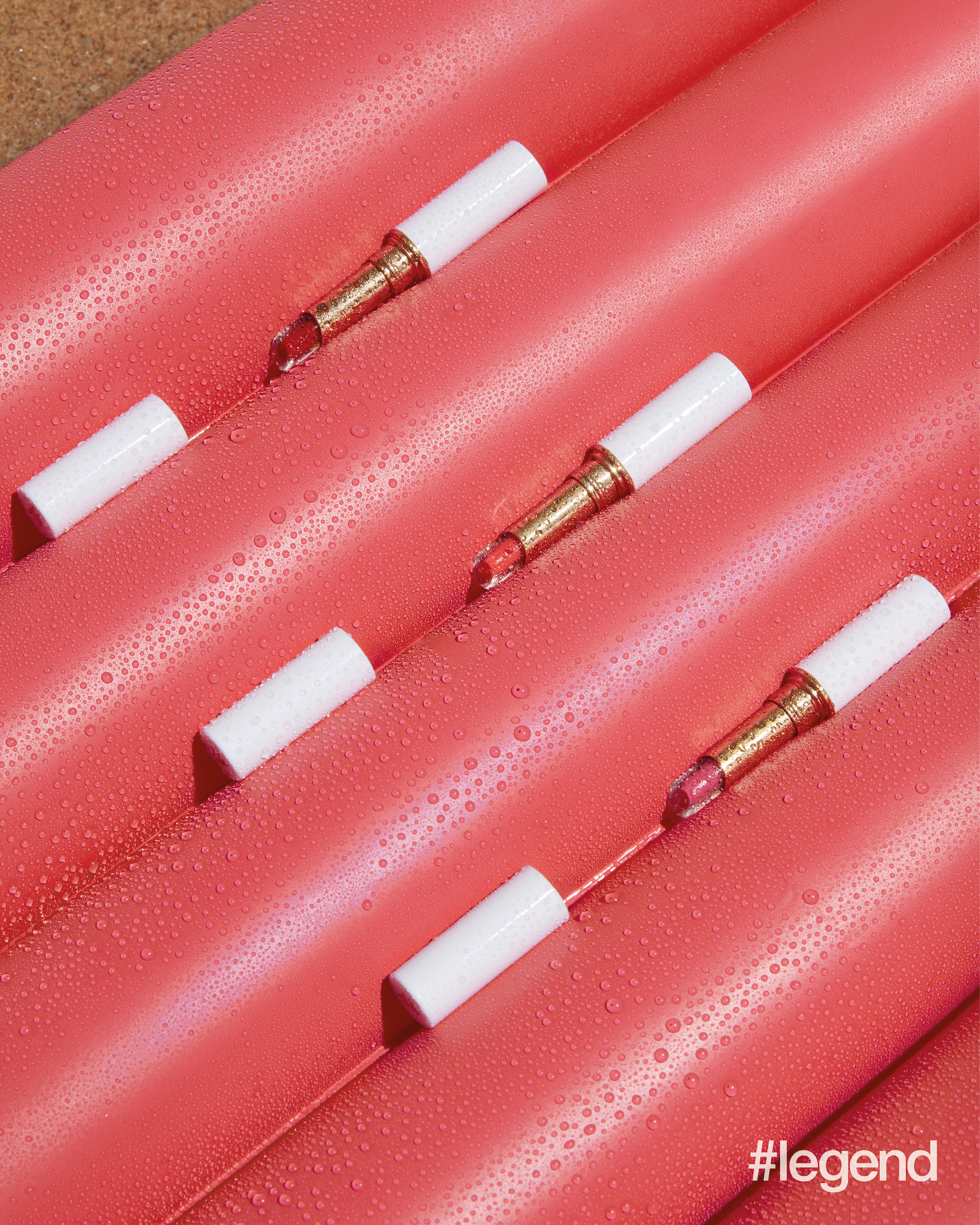 René Chu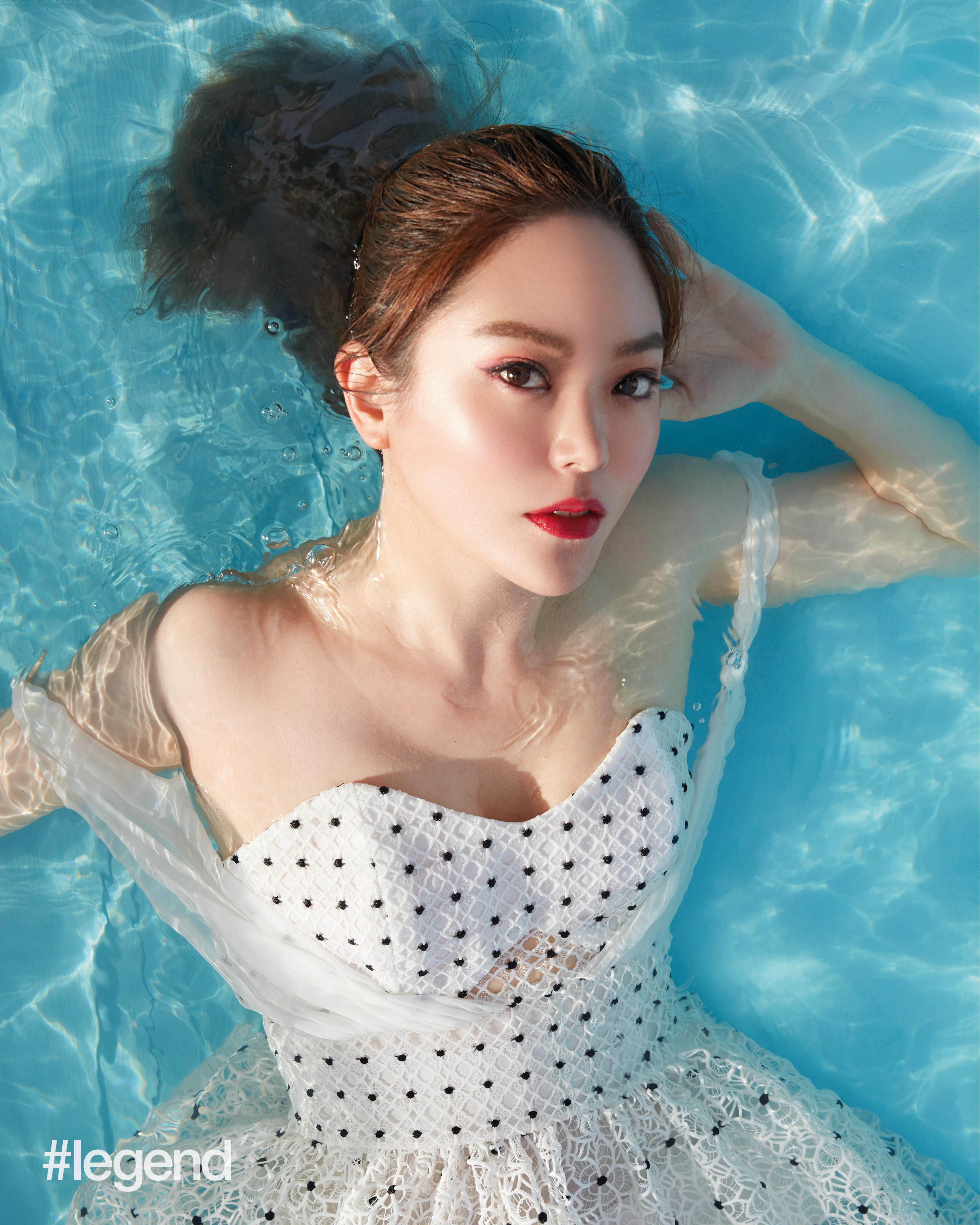 "When I first started, I actually had a lot of inspiration coming from my dreams. But I've found that throughout the years, the inspiration can come from anywhere. I like to surprise my audience"

RENÉ CHU
René Chu's favourite accessory is a good pair of oversized aviator sunglasses. This comes as no surprise; Chu is the founder of sunglasses brand Revé by René after all. The seasoned designer created her collections based on her dreams and her designs have made their mark on celebrities like Beyoncé, Gywneth Paltrow, Chaelin, Siwon Choi and more. But Chu secretly harbours a new dream–one that sees her becoming a best-selling author one day. #Legend sat down with Chu to talk about being an entrepreneur, her eye for beauty around her and what ambitions she has next. Her success story shows that anything can be done, as long as you dream big.
The story goes that you didn't like the sunglasses in any store…
Okay, I need to correct that. It's not that I didn't like, it's that I didn't find anything that had everything that was suitable for me. I wanted something with the cat ears but I wanted the ears to be removable, interchangeable. So that's how I first came up with removable magnetic parts.
Did you always want to be an entrepreneur?
I always wanted to have my own business, yes. And I always wanted to be my own boss because I don't really want to work for anyone. But it was never the right time until I guess seven years ago. Before that I worked as a wardrobe stylist, I was an assistant to William Chang, and I did a couple of movies in Hong Kong with him. And prior to that I studied photography for a while at Central St. Martins. I actually modelled for a while when I was many pounds skinnier [laughs]. I worked on a travel guide in Paris with my good friends, so I've dabbled in lots of things.
Who are some of the people who have shaped you into the person you are today?
I actually feel like everyone I met along the way, and the Revé journey since seven years ago, shaped me a little way or a big way. I am very blessed to have lots of people through this journey. I would say everyone I've crossed paths with have shaken me and changed me and inspired me in one way or the other.
Any quotes or advice that stuck to you?
I love quotes. I have so many favourite quotes. I just love looking for them all day long. It's insane!
We're at a beauty shoot today, so what is your definition of beauty?
Timelessness, natural and confidence.
What is your go-to summer look?
My go-to summer look… athleisure. I'm always very comfortable. Sporty clothes, sneakers. I'm always in black. I like a nice cap. Sunglasses. Minimal, minimal makeup, even when I'm travelling. I like a really good sunscreen. I guess that's it. Pretty simple stuff. (Tips: René gets her minimal look from Tom Ford Hydrating Cushion).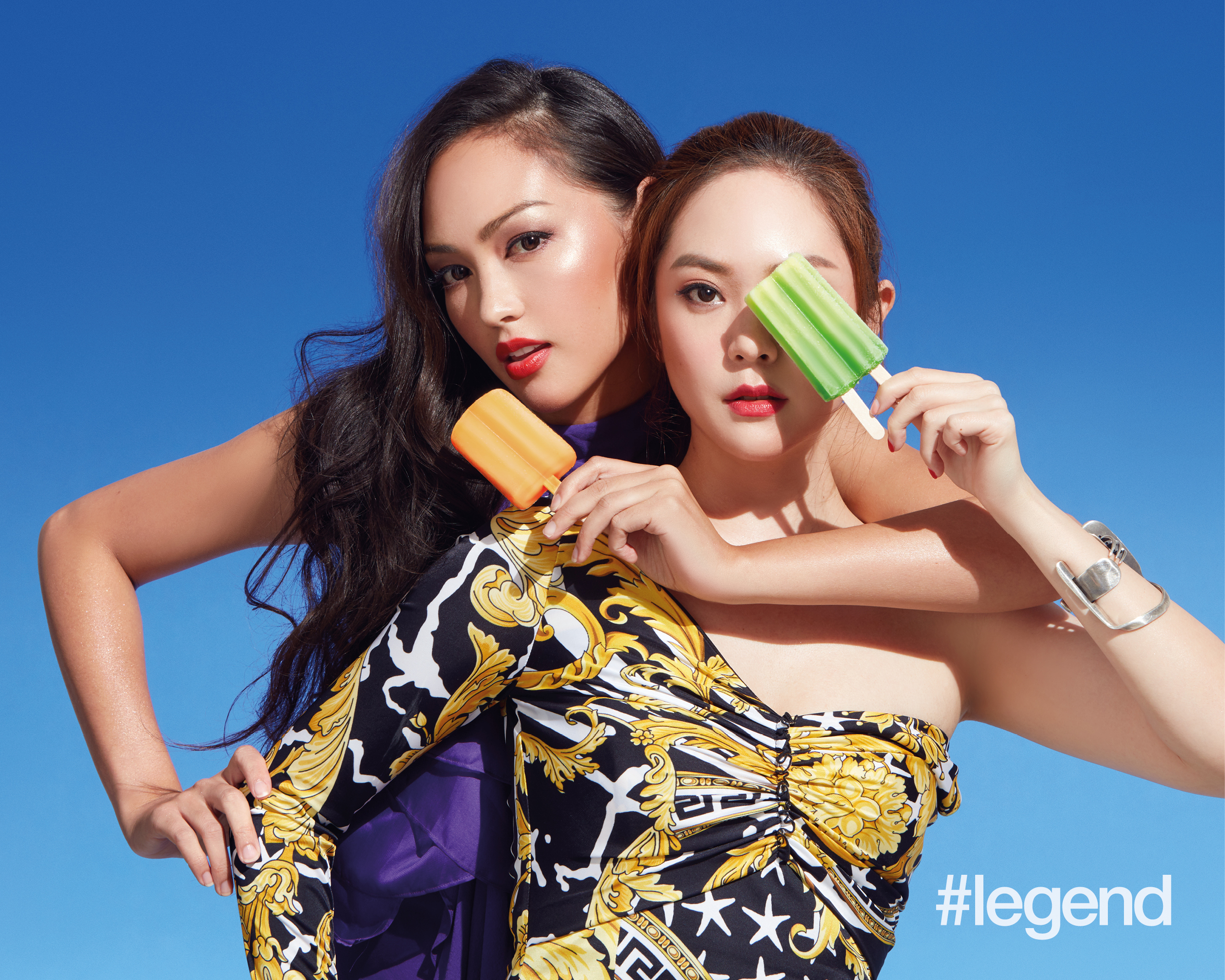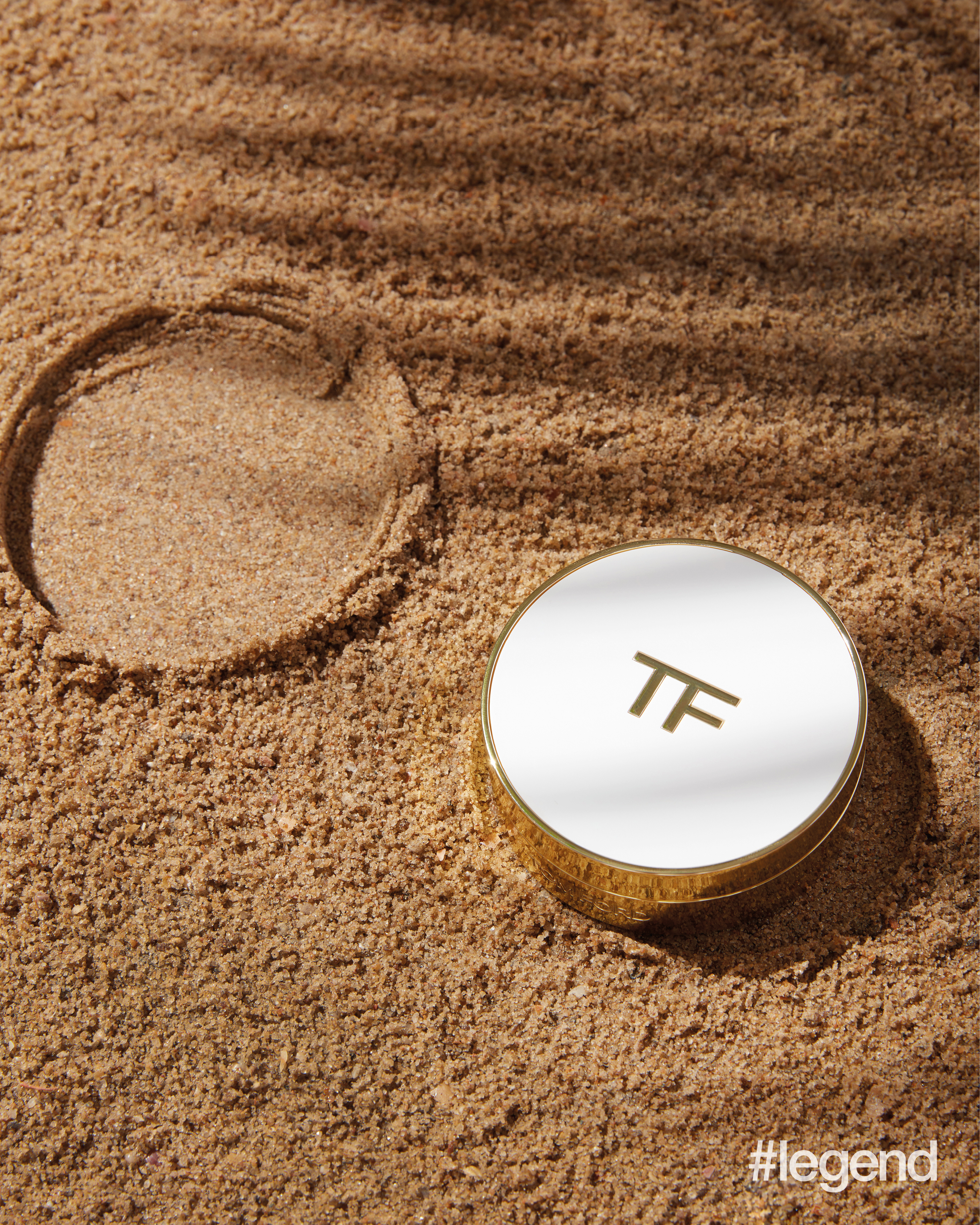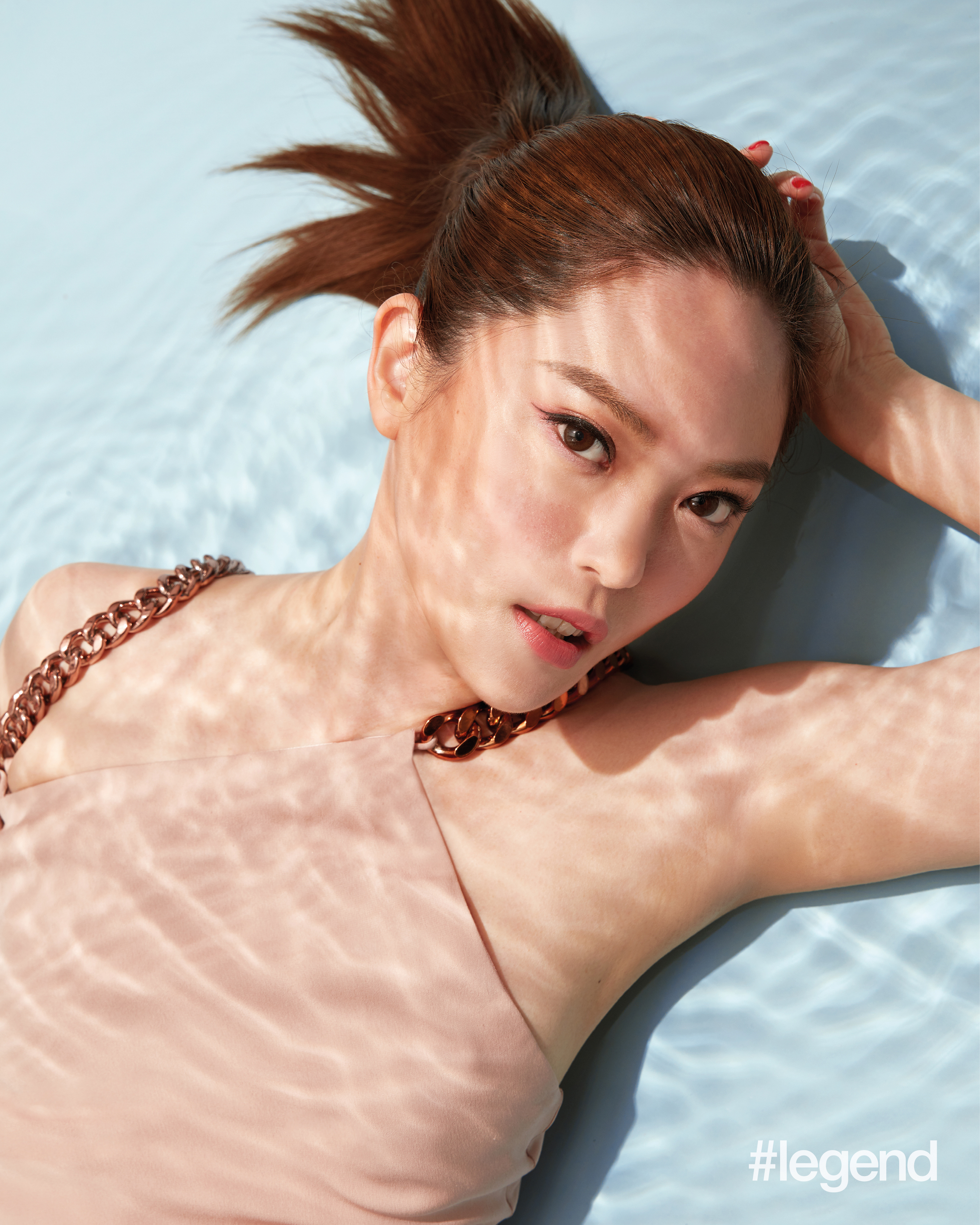 As a designer, you've got an eye for beauty. What is the most beautiful thing you've ever seen?
I was in Bhutan this April for my birthday and I was actually really surprised by the children there and their smiles. Bhutan, you know, with the Tiger's Nest, there's so much beautiful nature. The day that really got me was when we visited a school and donated to them. I spent quite some time with all the children and there's something about the kids in Bhutan that really touched my heart.
Why are sunglasses your favourite accessory?
It is the only fashion accessory that reveals and conceals. So for me, that's why it is most important and my favourite. Revealing, because when you are wearing the sunglasses everyone is looking at you; but concealing, because it also hides your eyes. I wouldn't say it's a mask, but it's great when you're not wearing makeup, or you need to hide your face at the airport, or in the mornings when you're just running errands.
Do you have a favourite type of sunglasses?
I like aviators a lot. I like them oversized.
For Revé by René, apart from a main collection, you also do special collaborations. Can you tell us more about those?
So we do a main collaboration and we always do one collaboration each year. Last year we did 5 Senses as the main collection and we had a huge event at Duddell's. And our collaboration was with the Minions. This year we're launching Boyish mid-July, and we have a collaboration coming out in the fall. We also have a capsule collection we launched in March called Honey Trap. It's glasses with quotes, that's why I was telling you I love quotes! It's a four-piece collection with four sort of personal quotes to me, but I feel like a lot of people can relate to.
Where do you get inspired for your designs?
When I first started I actually had a lot of inspiration coming from my dreams. But I find that throughout the years, the inspiration can come from anywhere. I like to surprise my audience, I like the surprise factor, it's the main thing we try to do here, like the ears popping off. When we first launched, we had a separate pair of ears with the cat eye that I don't tell people about. I really like to do that.
With your brand doing so well, do you have plans to expand or dabble in something new?
I actually want to dabble in something outside of the fashion industry. I want to do more philanthropy. People haven't had a lot of time to do something that feeds the soul. So that's probably something I want to work on.
What about creatively?
I actually really want to—but I feel like it's not the time yet—I want to write a book. I might find a ghostwriter, but hopefully, it'll be a book that can be turned into a film. A fiction based on my experiences, but a little bit more spicy, a bit juicier. I also want to draw a children's book, because I find I've become more and more into poems, and I like to draw, maybe like a colouring book. I just haven't had the time to do that.