Sculptor Polo Bourieau on working with stone and life in Hong Kong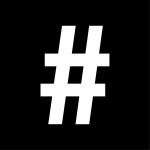 By: #legend
June 28, 2023
Master of stone, French sculptor Polo Bourieau tells Dionne Bel about living in Hong Kong, working in Italy and travelling the world to install his creations that build a strong sense of identity for a community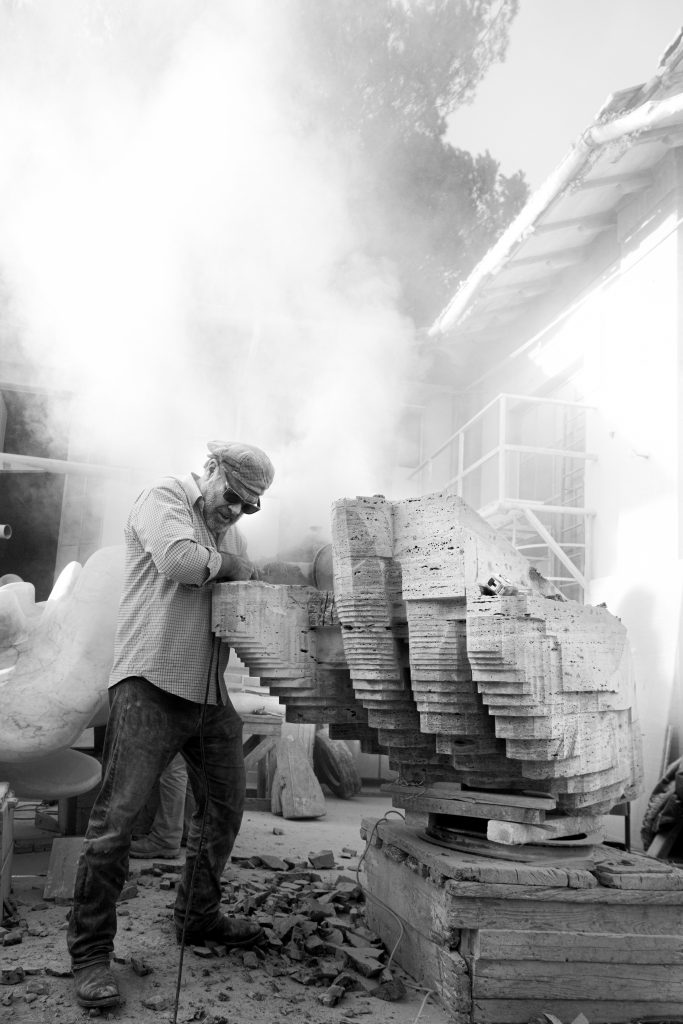 Swirls of dust and marble chips fly through the air as Polo Bourieau chisels away at a stone sculpture in his Hong Kong studio in Kennedy Town. The Nantes-born artist has made this city his home for the past two decades, having ended up here by accident in 2003 on his way back to Italy after finishing a project in Taiwan.
Fortune has smiled on Bourieau throughout his career. Following his classical training with the prestigious French stonemasons guild, Les Compagnons du Devoir et du Tour de France, he helped to restore the Louvre in the 1990's, found himself in Pietrasanta in Tuscany – in the very same atelier where acclaimed 20th-century artist Isamu Noguchi used to sculpt in this Mediaeval town considered the capital for transforming stone and which once served as a marble source to the great Michelangelo – and consulted for the Vatican.
Known for his monumental site-specific commissions that confront and dialogue with the public, such as his 8.5-metre-tall Walking Through stainless steel work in Chengdu or his massive Transformatter fountain-sculpture in white Carrara marble in Hong Kong, Bourieau has always embraced the inherent relationship between sculpture and architecture, working hand in hand with architects, landscapers and developers.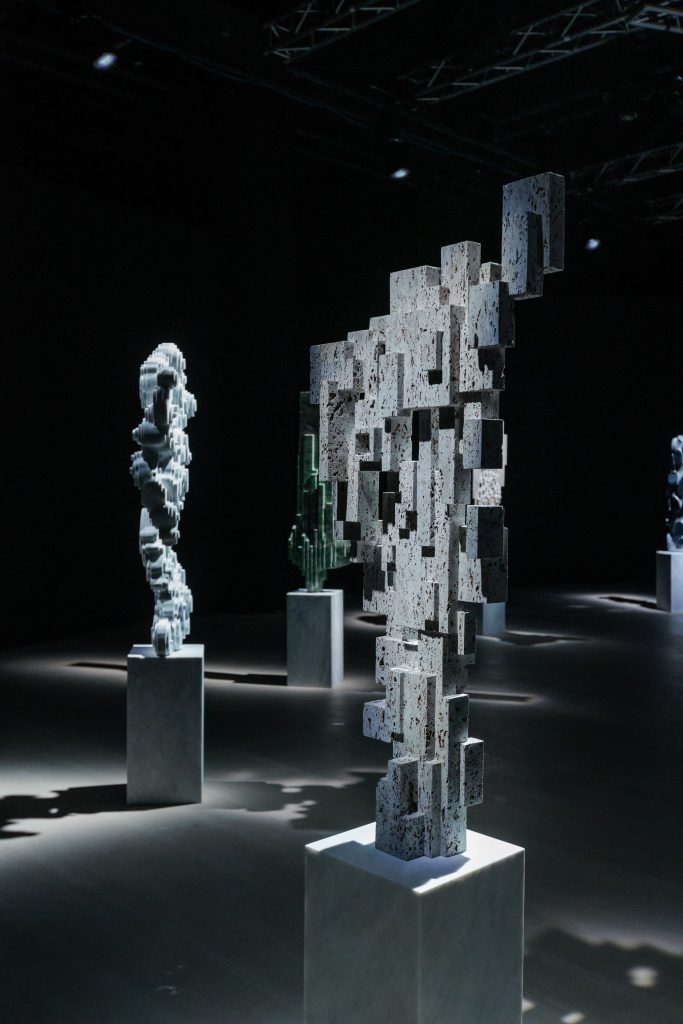 Smooth or textured, white or black, geometric or sinuous, Bourieau's ensemble of sculptures point to a new way of sculpting – with robots. Each hewn from a single block of stone using an intriguing blend of traditional carving techniques and cutting- edge robotic experimentations, he presented his own collection of dream-like cities, architectures and landscapes in a recent solo exhibition entitled Urban Rocks at ArtisTree in Taikoo Place. The idea behind the series came to him during the pandemic after reading Italian writer Italo Calvino's 1972 novel Le Città Invisibili (Invisible Cities), in which Venetian merchant- explorer Marco Polo describes 55 fictitious cities to Mongol emperor Kublai Khan.
Through Bourieau's sculptures straddling fantasy and reality, audiences found parallels with familiar aspects of their own metropolises. Inspired by spiritual Chinese scholar's rocks concealing mystical mountains and cave paradises that inspire meditative thoughts, and the way they were shaped by the violent forces of nature over millions of years, he's echoing mankind's irreversible footprint on the planet and encouraging viewers to contemplate the meaning of human existence.
Tell me how you learnt to sculpt.
I met an old master stone carver who proposed to me to come to his studio and I was hooked. Les Compagnons du Tour de France was where I honed all my skills. The Academy of Nantes was becoming too conceptual. I wanted to sculpt, I had something that I needed to explore in stone, and the only people who could train me with all the techniques were the Compagnons, so I joined the guild and moved to Brittany, Bordeaux, Marseille and Avignon. Then I joined the army in 1989 and, after that, I arrived in Paris.
I'm from Brittany, so to go to the capital was a kind of compulsory stop, but mostly just by mistake because on the last day of the army, the first TGV [train] that passed by was going to Paris. I went to the Louvre, and the Pyramid was almost finished. I climbed the scaffolding and some guy said, "What are you doing here?" I told him I was looking for a job, and I started my Parisian life like that. The day after, I was hired and then spent the next two years restoring the Louvre. That's how suddenly my artist life started after my artisan life because I always thought that before being able to write poetry, you need to be able to write. And I wanted to master all the techniques before exploring art through stone.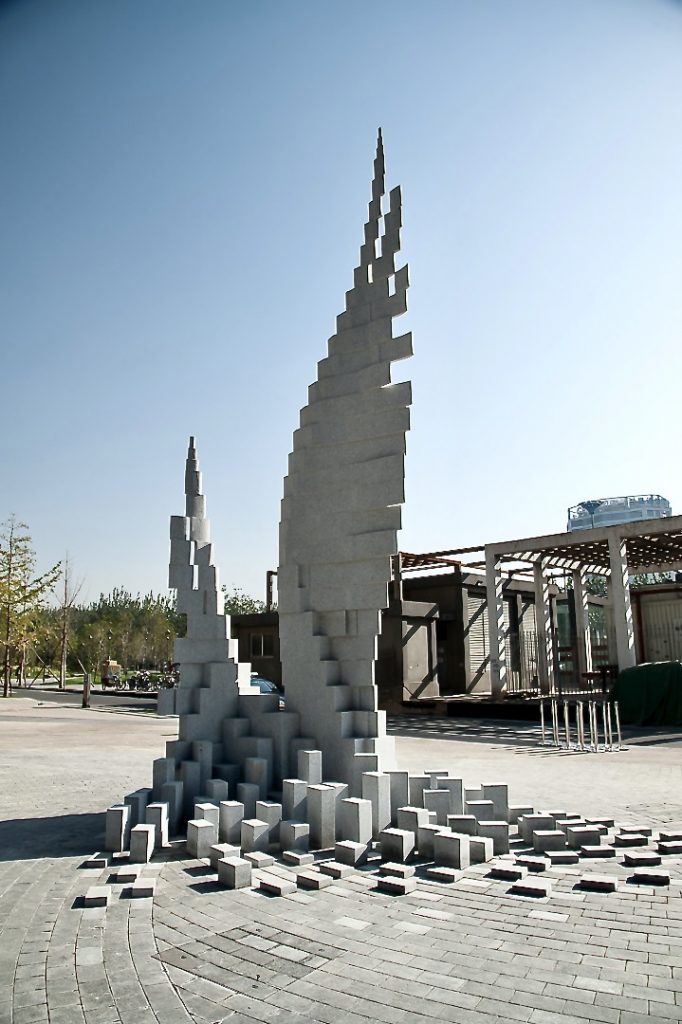 What attracted you to Hong Kong?
The Taiwanese government invited me to do a big sculpture in Hualien because they have quarries there, and, on my way back to Italy, I stopped over in Hong Kong. I fell in love with the city, with its energy. We were building a brand-new world, and because of my research on sculpture in the public space, suddenly I could do it here. I could knock on the door of developers and tell them they needed art, which they didn't know they needed. Then there were visionaries like Swire and other developers in the city that brought me to China.
Twenty years ago, there was nothing in China, just a forest of cranes, building stuff, moving 100,000 people overnight and no identity. I think the relationship between art and architecture is important. I believe that art helps to create a sense of identity for the community. That's why I created my second studio here and, 20 years later, we have sculptures all over the place and no intention of leaving. I'm a gweilo but I'm a Hongkonger. It's home here; I have almost spent more time here than in France.
Also see: Oscar Wang spills the tea on art collaboration with Daniel Arsham
You said that art creates a sense of community. Is that why you specialise in site-specific sculptures?
I'm trying to answer an impossible equation between the patron, the client and what you want to achieve with the art – the location, the landscape, the architecture, what we can do with it and how people are going to live with it. You don't design or sculpt in the same way if it's for a kindergarten, an office building or a hospital. They're totally different vibes, the different people who will interact with the art.
I work more like an architect because I work for the destination, so I'm going to investigate first what's around there and try to sculpt for those people because ultimately my real client is the anonymous person who's going to cross the square every morning. I love the fact that when you put a piece in the public realm, people are going to appropriate it by giving it a nickname, taking selfies with it and giving appointments there. It becomes a beacon in the city, a reference, and hopefully creates a kind of dialogue and engages through its massive presence.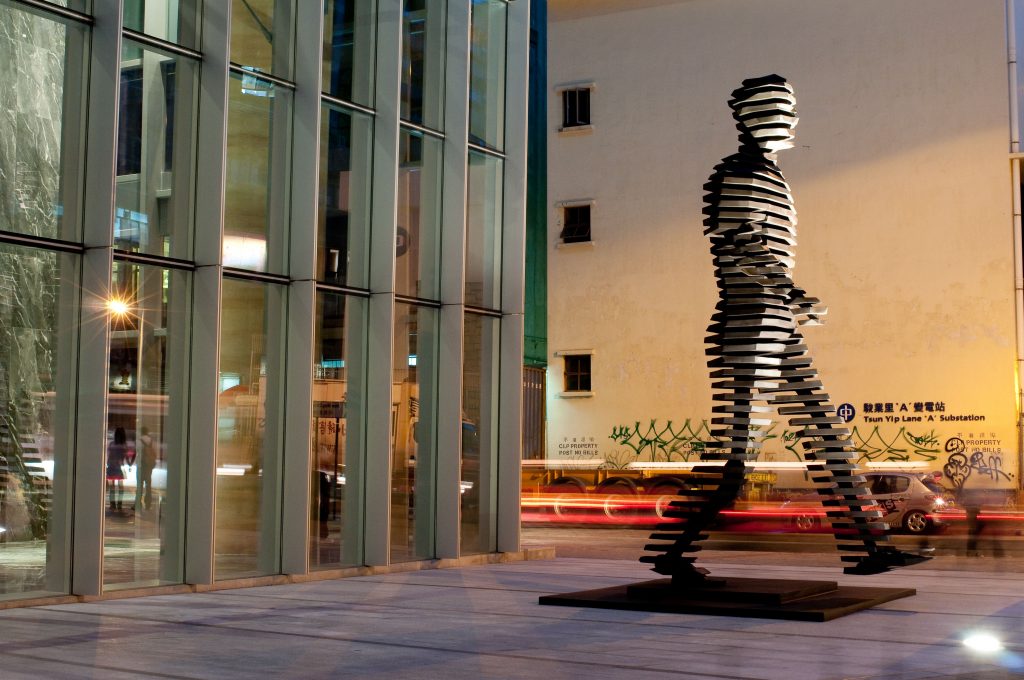 Do your works have to be monumental in scale to interact with the building's architecture?
Yes and no. My research at the moment is about big accents in the landscape. I want to follow on from Noguchi, who transformed the landscape into sculpture; you're walking in the sculpture. I want to develop that, where eventually my sculpture will become the landscape itself. It's always a big discussion of where the sculpture stops and the architecture starts and vice versa. Nowadays, we have more and more sculptural architecture since Frank Gehry and Zaha Hadid. But is it art? I'm not sure. Architects love to work with me because they are scared that someone is going to plonk something ugly in front of their building. Collaboration starts like this: a triangulation between patron, architect and artist for the best project.
Do you choose each stone personally?
Absolutely, this is very important. I've been so lucky. I trust my quarryman, who's the third generation doing this, and he will never show me something that is not good enough. We have techniques, like sounding a big block with a hammer. It goes "bing" because of the crystallinity. If you hear "bak", that means that there is a crack. So you wet the block and when the water evaporates, the water will show the crack. There are these kinds of rituals to make sure there are no surprises inside.
Once we do that, we discuss money and then they put your name on the block so no one else can buy it because there's always a race among sculptors. We all go to Pietrasanta and there's not much availability, so it's always a kind of fight. As a painter chooses his canvas to make sure it's appropriate, choosing stones is very important and complex because the bigger in size you go, the rarer they are.