The name on everyone's lips, Yoon Ahn of Ambush brings a streetwear edge as she explores the majesty of the snake in her fascinating collaboration with Bvlgari.
Yoon Ahn's reputation precedes her. The multi-talented Tokyo-based Korean-American co-founder of accessories-turned-fashion label Ambush and jewellery designer for Dior Homme has been in the fashion game for more than a decade. Following her headline-grabbing appointment at Dior Homme and then with Ambush joining New Guards Group, we're really starting to see Yoon solidify her standing as the fashion industry's coolest accessories designer. Now there's one more thing to add to Yoon's extensive résumé: a collaboration with Italian luxury brand Bvlgari.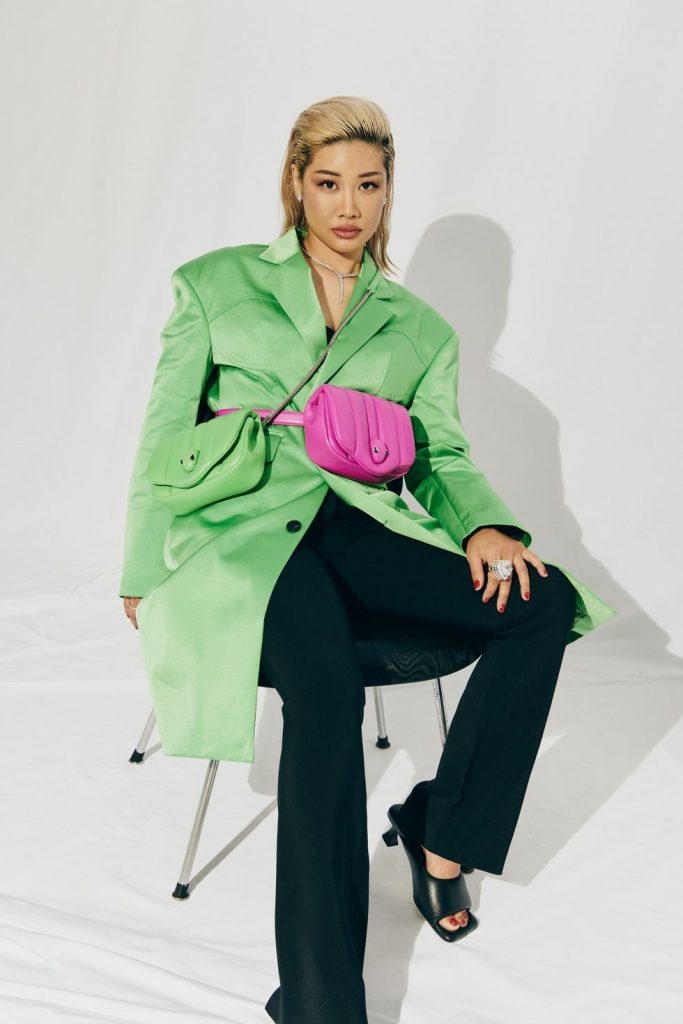 A graphic designer by trade, Ahn and her husband, Japanese hip-hop legend Verbal, started Ambush almost on a whim. She wanted to create special, eye-catching pieces for Verbal's stage performances and her fresh takes resulted in innovative pieces (think safety pins, security tags and carabiners) that catapulted Ambush onto the forefront of hype. Then came a unisex fashion line, followed by Nike and Converse collaborations. But Ahn didn't just stop there – her appointment by Kim Jones as jewellery designer for Dior Homme earned her a place beside the likes of Virgil Abloh and Matthew Williams, two big names that made the jump from streetwear to high fashion.
Not long ago, it was inconceivable to think that streetwear and high fashion could mix. But today, new blood and different perspectives in interpreting a luxury house's codes has proven to be a winning creative formula – especially for younger audiences. With the "Serpenti Through the Eyes of Yoon Ambush" collection, Ahn has proved exactly that. Translating one of Bvlgari's most iconic motifs through her unique and youthful eye for design, a daring collection has emerged with completely new shapes and a bold colour palette. Spanning bags and accessories, the classic Bvlgari snake head underwent a complete evolution. It's almost unrecognisable, but with just enough of its original DNA that the Bvlgari Serpenti lives on.
How did this collaboration come about?
I received the Bvlgari Avrora Award in 2018; it's an award that they started in Japan to celebrate women in different fields. Shortly after that, Bvlgari's team reached out to see if I'd work on a project with them. They've worked with many male designers, but they wanted to work with a female designer this time around. So I was like, "Yeah, let's do it!"
What did you think about Bulgari before collaborating with them?
I've always had huge respect for Bvlgari – it's a heritage house with a long history. When I started making jewellery, I was actually gifted many Bvlgari jewellery books. I've always admired their work from a little bit of a distance because it's a luxurious fine-jewellery house, which wasn't something that quite existed in my realm. But through this collaboration and the Bvlgari Avrora Award, I've gotten to know more about the house, and to see how playful and fun their ideas and the things they've done are. So now I have a totally different image of them.
What were your inspirations for this collaboration and were there any challenges?
The biggest challenge was overcoming my fear of snakes. I love animals, but snakes weren't something I've looked into before. So instead of just going into this collaboration by looking into the heritage of Bvlgari and what they've done in the past, I thought, "Okay, the subject is about snakes. How can I find beauty in them?"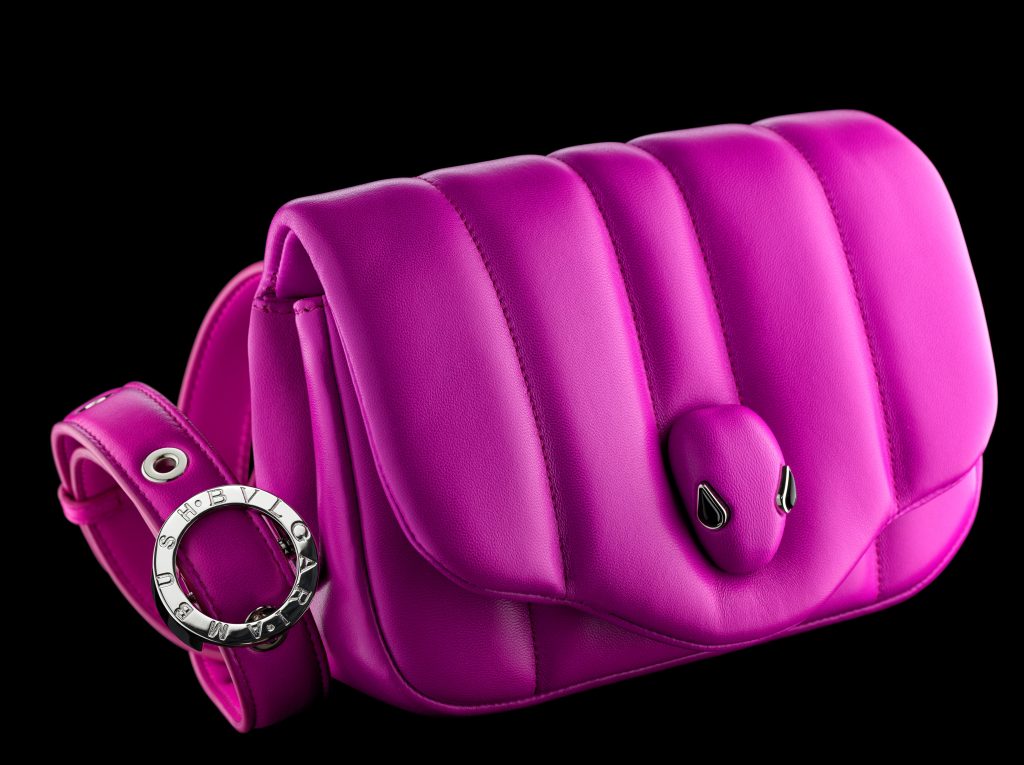 That's where the inspiration came from. I looked into snakes, where they exist in nature, different species and basically ever ything about them to figure out what's unique and interesting. I discovered how beautiful they are, which is quite different from how I think the media portrays them – as intimidating and scary and all that. Sure, there are very poisonous and dangerous snakes, but some snakes have mind-blowingly beautiful colours.
The shapes and colours in this collection are specifically inspired by the tree python, which exists in neon green or cyan and is super-bright. I think if you didn't know this, you'd just assume that I was being hyper with the colour palette, but I actually chose these colours and shapes because they reflect real things in nature.
How did you approach the design process?
For me, the Serpenti bags always came in very conservative shapes, so I wanted to capture the snake's fluidity through something softer and more approachable. Of course, I also wanted to design something that would fit in my wardrobe and that would suit my style. I kept thinking, "Would I wear that with what I have in my wardrobe, and can I go day to night with it as a female consumer?" So the real-life approach was super-important – which is a part of my design process all the time. I'm always thinking, "Can I dress up with this? Can I dress down with this? Can I just go to the market and then to dinner with this same piece?" I always strive to design pieces that are the perfect balance and fit all different scenarios.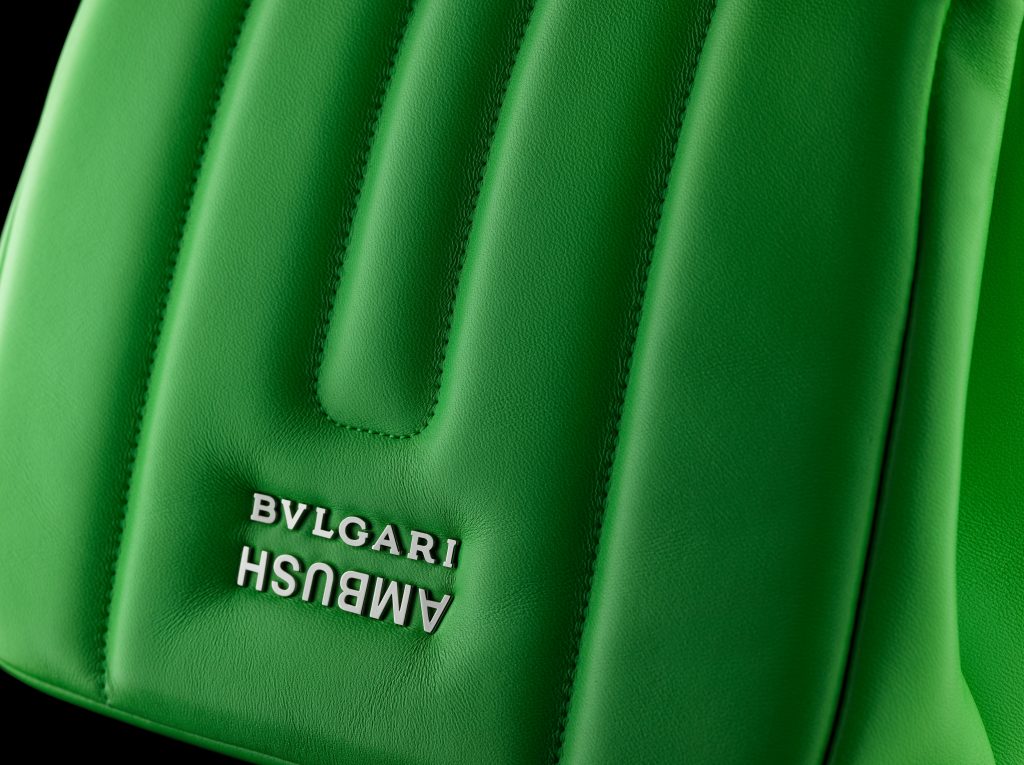 What's your favourite moment of this collaboration?
I got to go on a huge tour in Rome and Florence at the beginning of the collaboration, and I got to see the places where they make the jewellery and the bags and everything. I was blown away! The entire process and how everyone was so passionate about making each item – that energy is unforgettable. It was a fun thing to witness and experience, and it left a huge impression on me.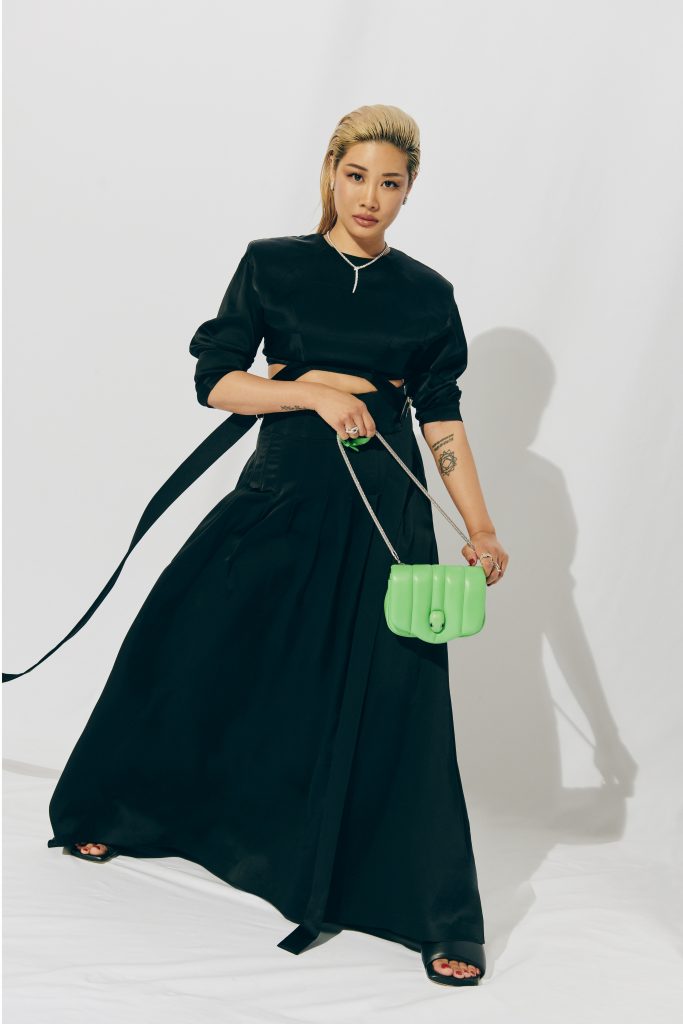 How do you differentiate your desgin process among all your different projects?
If it's not my own thing, I have to respect the different collaborators and the different people I work with. Because I'm going into their world and I'm playing there, I have to respect their codes. That's how I differentiate all my different endeavours; it's very clear to me. I would never go to Dior and think I can do whatever I want – I just respect Kim's vision and his story that he wants to tell, and the way I approach it is to see what I can bring to their story.
Have you faced any challenges as a woman in a male-dominated industry?
Luckily, I haven't experienced too many big detrimental challenges as a female in this industry, but there are definitely challenges that females in all sorts of fields go through. In the end, I really think you have to put aside your gender as a designer. If you put out something that's really good, you're going to get respect. It's not about being a male or female designer. But I do wish that they wouldn't label it so much – like no one would specifically say a male designer is a male designer, but somehow female designers are always labelled as "female designers". It's got to change. But I think as a designer, your product needs to speak louder than your gender.