The Art of Fine Jewels with Cindy Chao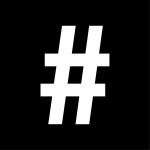 By: Michael Cheung
July 28, 2020
Enter jewellery artist Cindy Chao's sphere of fine craftsmanship as she continually pushes the envelope with her extraordinary juxtaposition of materials and enchanting combinations of rare jewels.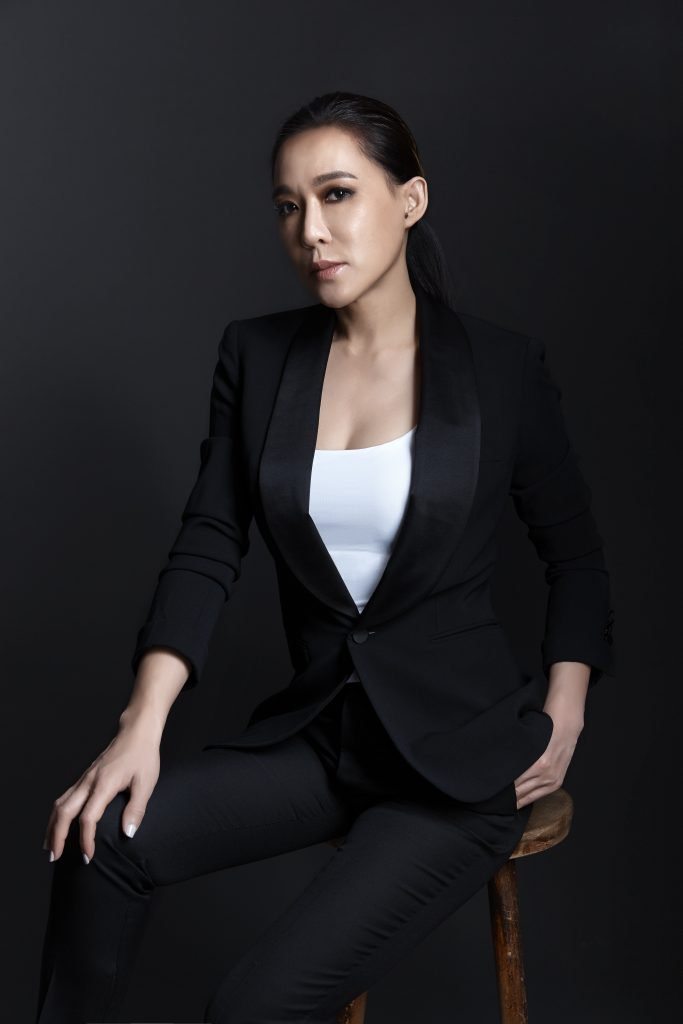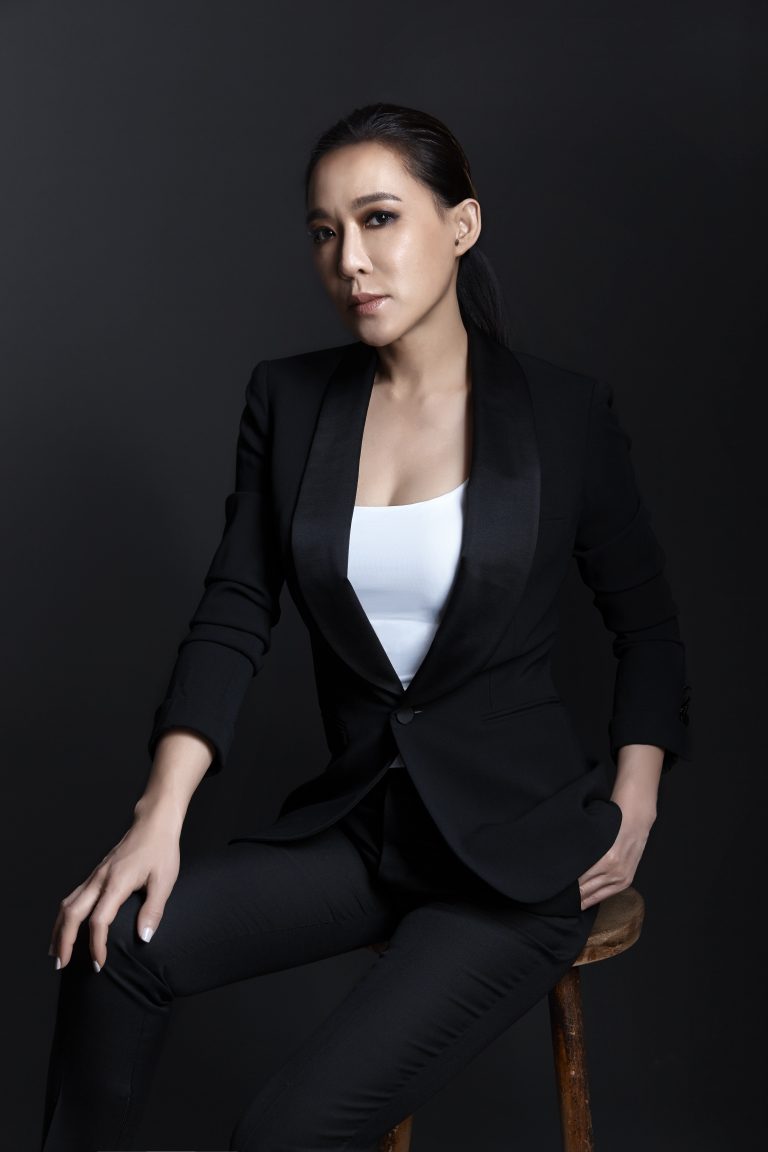 "If you give up, you just don't have a chance," says Cindy Chao. "The one who stays until the last wins." By honing her craft for the past 15 years, Chao has risen through the ranks to become a leading force on the world stage of high jewellery. Besides being adored by Hollywood's elite, with fans including Sarah Jessica Parker and Li Bingbing, her induction into prestigious instituitions including the Musée des Arts Décoratifs in Paris and the Smithsonian National Museum of Natural History in Washington DC have moulded her into an industry icon.
The granddaughter of an architect and the daughter of a sculptor, from an early age Chao was exposed to the meticulous processes that go into these fields. She has infused this architectural mindset into the way she conceptualises and constructs her precious jewellery pieces. Minimalist in practice, she's heavily drawn to nature's treasures and the exotic flora and fauna that inhabit deep lands. Merging clean construction and a bold approach to pairing different hues of gemstones, Chao explores a new vocabulary that's the result of incomparably beautiful miniature works of art that are sure to be cherished as heirlooms. In this exclusive interview, Chao draws us into her oasis of jewels as she reveals more about her design ethos and methods.
Your one-of-a-kind jewellery is prevalently inspired by the beauties of nature, such as exotic flowers and the creatures that inhabit those lands. What places have you visited that have left you in awe?
I believe that inspiration is an accumulation of one's life experience, sensibilities and passions. As an artist and a global traveller, I think art is something powerful that can break down barriers, regardless of religion, race, nationality, age or culture. The energy that I invest in my artworks can be said to originate from my accumulation of travel and cultural experiences. Therefore, instead of trying to find inspiration purposely, I let this inspiration come to me in any form. The ocean's mesmerising blue and green colours that greeted my eyes on a snorkelling expedition in Phuket, the splendid cliffs at sunset I witnessed in an olive yard in Majorca, the magnificently pure white snow in Gstaad… serendipity comes at every corner of my life. It fulfils my mind and motivates my designs in unexpected moments.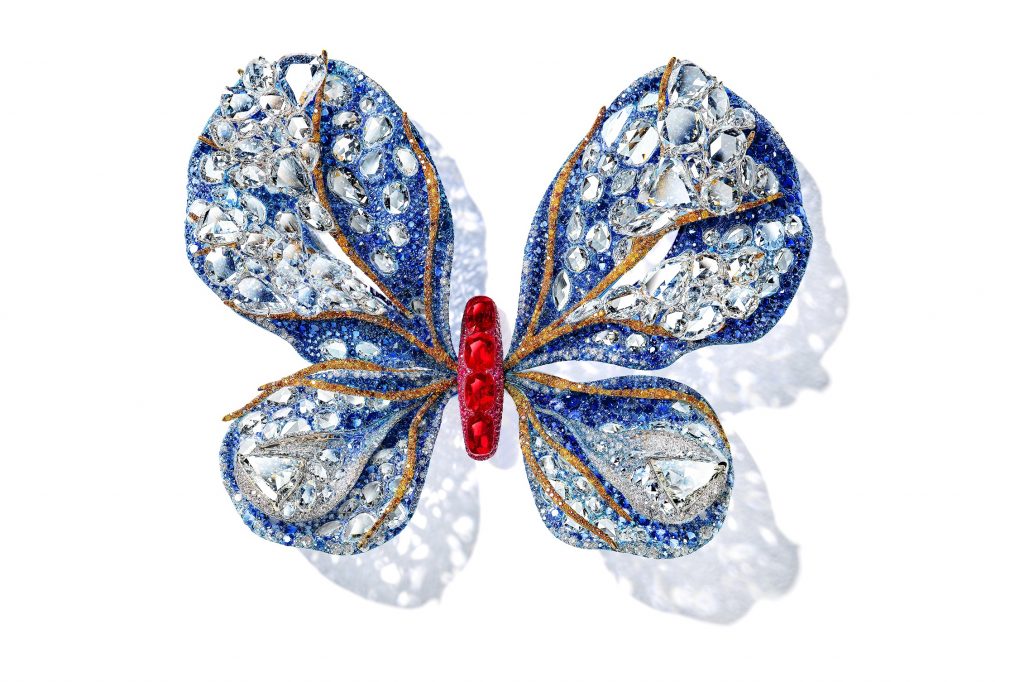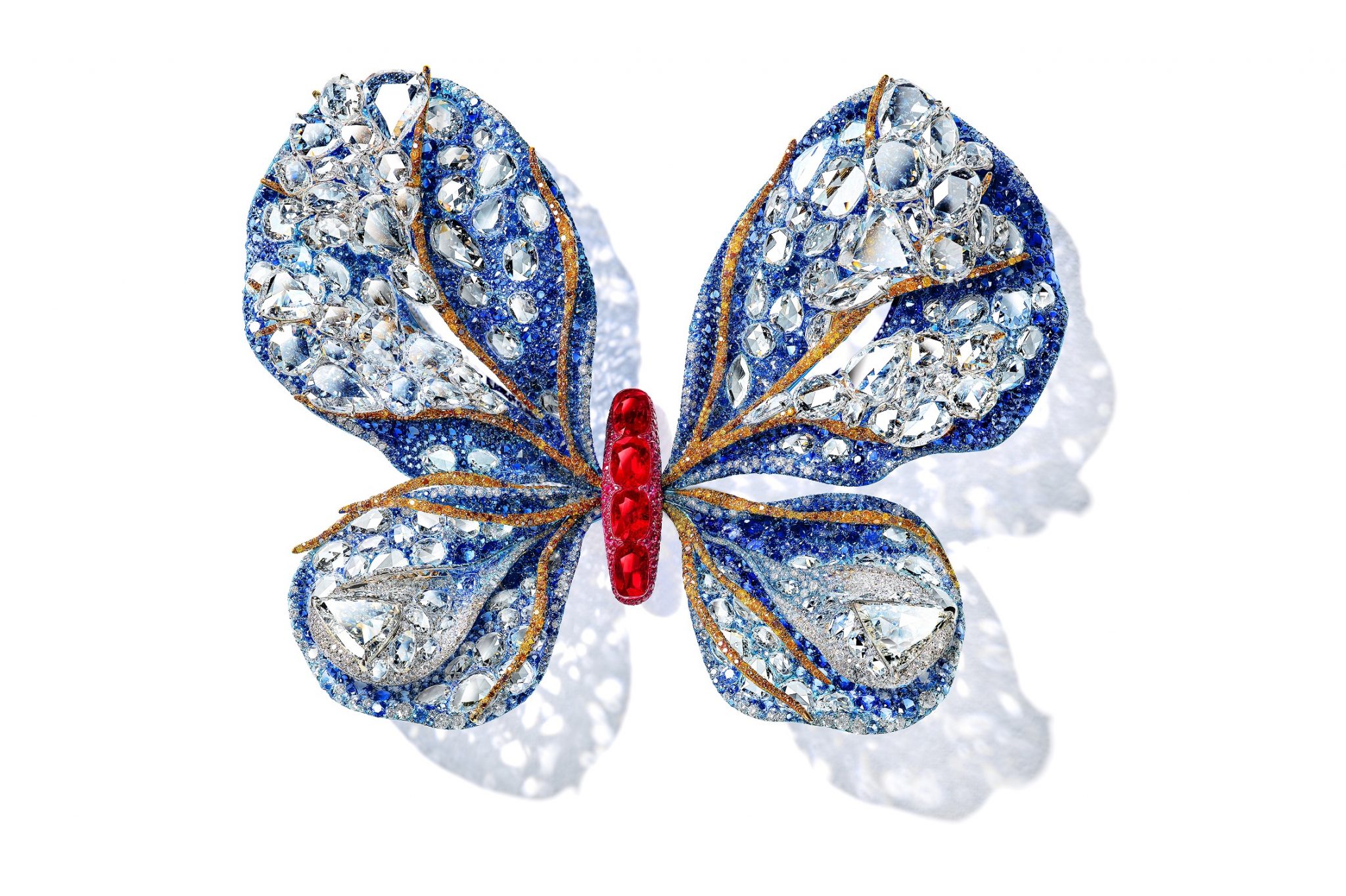 Your butterfly brooches have become your signature and are collected by connoisseurs around the world. What keeps you going
back to this motif ?
A butterfly's lifespan is fleeting and pure; it undergoes several transformations in a short period. This metamorphosis is the one I have experienced as an artist – transforming and pushing myself to create and share something pure and beautiful, and pushing limits to give life to something even more spectacular than the last creation. Through my creations, I want people to feel the presence and emotions gleaming in each of my art jewels. I have given life to a singular butterfly each year since 2008. Each butterfly evolved with my journey as an artist and has its own unique legacy.
The 2009 Royal Butterfly was inducted into the Smithsonian National Museum of Natural History for its usage of gemstones and its breakthroughs in craftsmanship. It was the utmost honour for anyone and I felt incredibly blessed. The 2012 Transcendence Butterfly was sold at Christie's Geneva for almost five times the estimate. In 2014, the Ballerina Butterfly was created with Sarah Jessica Parker and the brooch was sold at Sotheby's for US$1.21 million.
In January 2020, my first Butterfly brooch, the 2008 Ruby Butterfly, was inducted by the Musée des Arts Décoratifs, marking the first time a Taiwanese jewellery artist has been inducted into the museum's acclaimed permanent collection. Since the Butterfly-themed Masterpieces symbolise my artistic journey or a part of my story, each has its own unique success. They are about progress, growth and moments that bring new experiences and lessons.
If you could only pick one trait from the four C's of carat, colour, clarity and cut, which one would you value the most and why?
If I had to pick one, I'd choose colour. As a keen colourist, my eyes were trained by my grandfather, who was a renowned architect. I'm particularly sensitive to colour gradations and I find it indispensable in creating visual impact. I owe this to training with my grandfather, honing the traditional ways. At his construction sites, he showed me the art of toning to create a palette of colours with subtle nuances. Initially, I couldn't tell any difference with my naked eye, but he insisted so much and repeatedly tried until he found the correct colour that he was going to use on a specific column.
Architecture is a mindset; it's about the art of orchestrating colours, light and shades in a space governed by its structure. When I design my art jewels, I think about how my "blueprint" can be best planned to orchestrate the hues and the fiery brilliance of the gemstone in a layered, organic construction.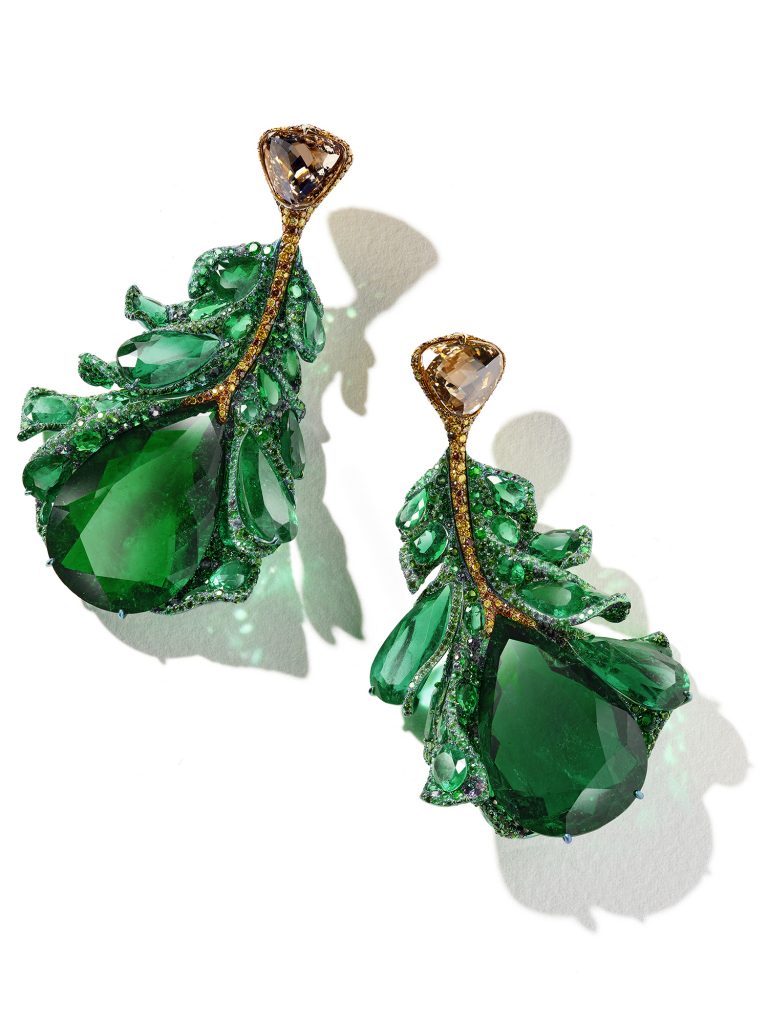 Which is your favourite coloured gemstone and why?
My favourite gemstone is definitely the emerald. I enjoy going outside and immersing myself in the beauty of nature. If I had to illustrate nature using a single colour, I'd choose green. The vibrant greens found in emeralds have always fascinated me. Their garden-like inclusion, which is never the same in any two pieces, gives me endless imagination about nature's fathomless power and wonder. This is why I often use emerald as the star gemstone in my Black Label Masterpieces every year.
"I believe that inspiration is an accumulation of one's life experience, sensibilities and passions. As an artist and a global traveller, I think that art is something powerful that can break barriers, regardless of religion, race, nationality, age and culture"

– Cindy Chao
In another recent feature, you mentioned that your late father never saw you at your best. Now that you've achieved so much, could you tell us what you admired about him the most and if there's a memory that is particularly close to heart?
Very early on in my childhood, my father, who was a sculptor, took me under his wing. It's when I became a jeweller, though, that we had the occasion to work in collaboration, which is when I gave life to the 2011 Black Label Masterpiece XVIII Stag Brooch. The brooch features a rare hexagonal-shaped emerald of 10.07 carats and is pavéd with diamonds and coloured gems totalling 30.42 carats. After my father sculpted a true-to-life deer, I added my personal, abstract touch.
Throughout the creation process, there were endless quarrels between my father and I on the stag's form, as we were both too focused on our respective artistic interpretations. Right before the work's completion, my father passed away. It was difficult to process his passing and realise that he would never see the outcome of our collaboration. Yet up to now, I feel tremendously grateful to have inherited immense energy and courage from my father, in addition to sculptural techniques.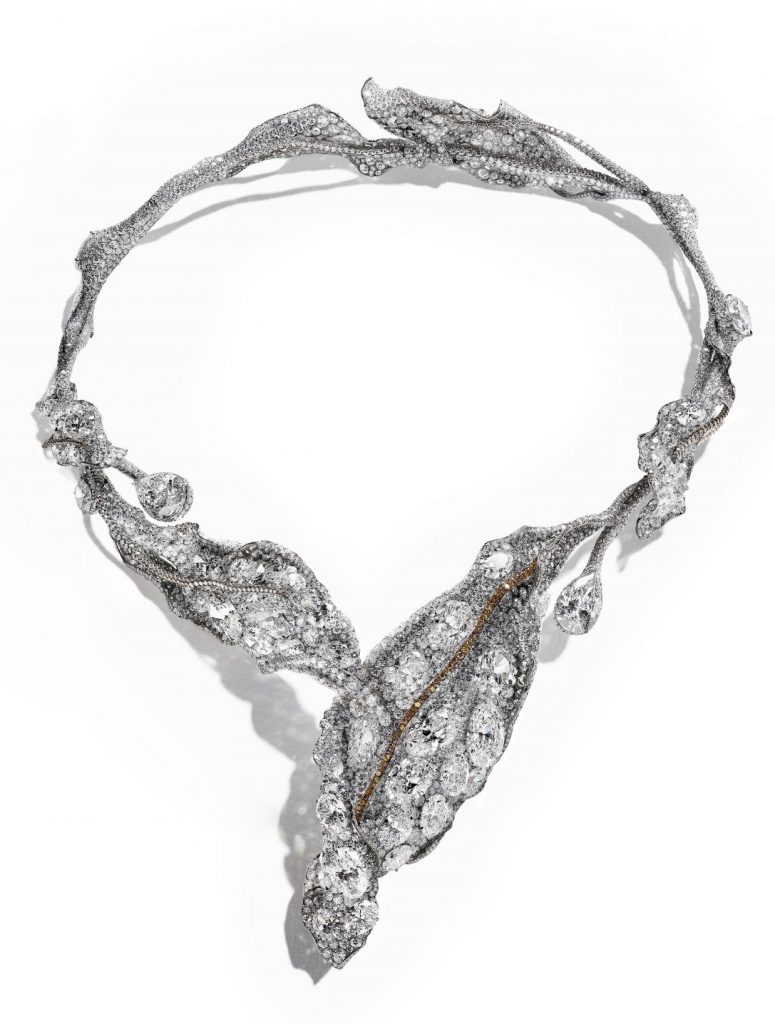 As a global citizen, how do you contribute to making the world a better place?
Contributing to society is essential to me. Since the founding of my brand more than 15 years ago, I have been actively working with different charity organisations in Asia and Europe, such as Sidaction and Teach for China. Cultural exchanges also can foster closer relations between nationalities and cultures. I have begun cultivating exchanges of European and Asian jewellery craftsmen to foster jewellery craftsmanship in Asia.
With the next generation of consumers valuing transparency above any other cohort, how important do you see the concept of sustainability in your own business model?
Sustainability has always been something I've personally been passionate about. To be honest, our whole industry is exploring what it means to be sustainable in today's society, in terms of the Kimberly Process or with the Sustainable Jewellery Council. We are looking at it from a holistic perspective that we can integrate into our overall business.
What is your vision of utopia?
Utopia would be the ability to spend my days immersed deep in nature – living among flowers, foliage and waterfalls – and being able to continually be inspired by the wonders of nature and translating these into my future creations.
What's next for you and your brand?
My overarching mission of fusing Asian creativity with Western innovation remains the same, as I hope to write my own page in jewellery history. The second half of 2020 will be a busy period. We'll be holding a series of international events in celebration of the brand's 15th anniversary. This entails the grand opening of our showroom in Shanghai.
Personally speaking, I'm keen on keeping my physical health intact. Recently, I became interested in hiking and it has proved a good time for me to isolate, take a pause and reflect. I hope to immerse myself more in the wilds of nature in the near future. #
See also: From Masterpiece London 2020 to Hong Kong: Up close with Cindy Chao's bejewelled masterpieces