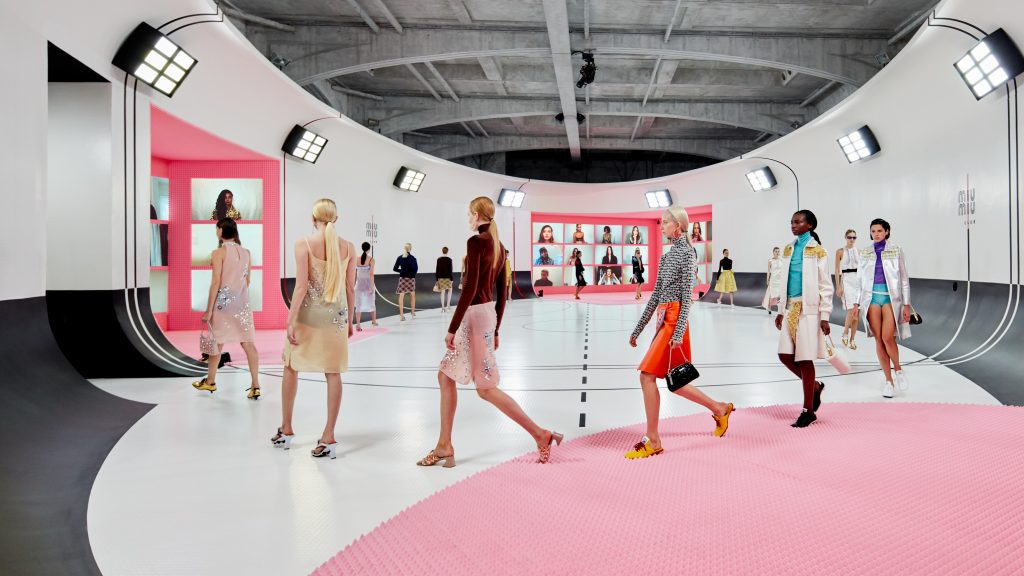 From Alexander McQueen to Versace, here's your ultimate guide to everything Spring/Summer 2021.
Alexander McQueen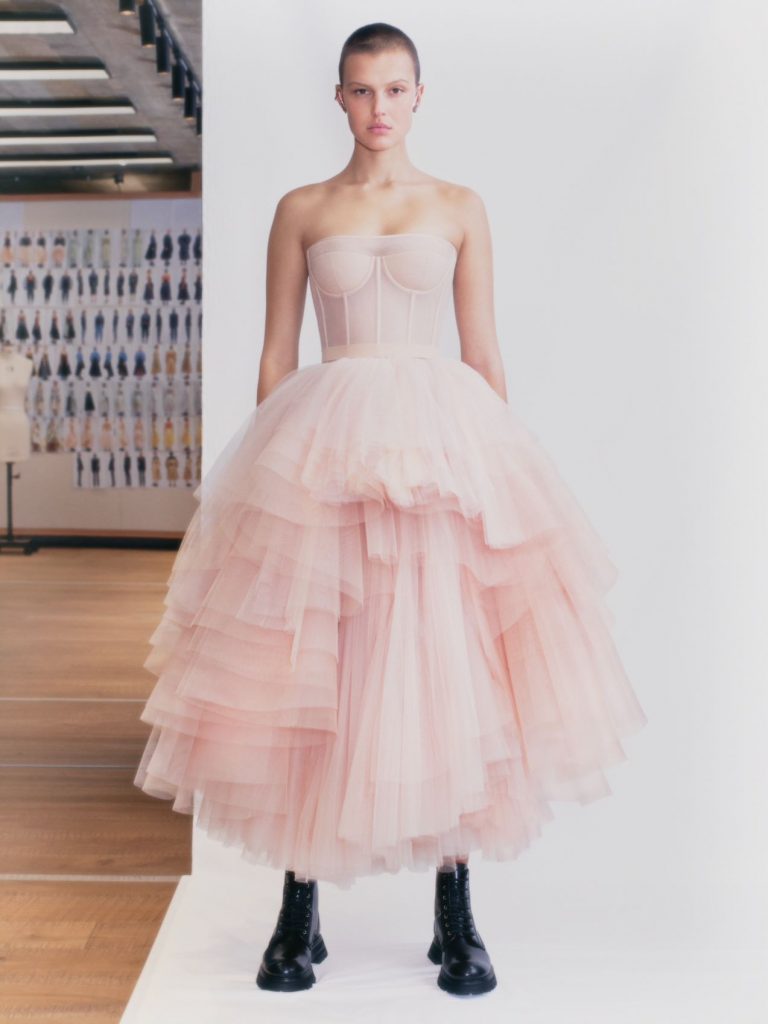 Showcased not in a Paris Fashion Week show, but in a five-minute video by Jonathan Glazer, for this collection models waded into the Thames and took to the mud flats under its bridges for picnics, liaisons, naps and mud baths – all in their McQueen finery. There were dresses with visible corsetry and huge, butterfly-draped skirts, and hybrid denim-and-leather biker jackets. Almost everything was made in a restrained palette of black, blush, beige, white and grey as Sarah Burton paid homage to London.
Balenciaga
Balenciaga took its summer 2021 collection out for a nighttime stroll in rainy Paris, where models in sunglasses wore dramatically oversized coats, shorts layered over tracksuit bottoms, leather jackets and trousers treated to resemble denim jackets and jeans. There were distressed sweatshirts printed with melting smiley faces or faded words reading 'PARIS FASHION WEEK'. There were also fluffy utility sandals and high-heeled hotel slippers in a collection that was fun to the core.
Bottega Veneta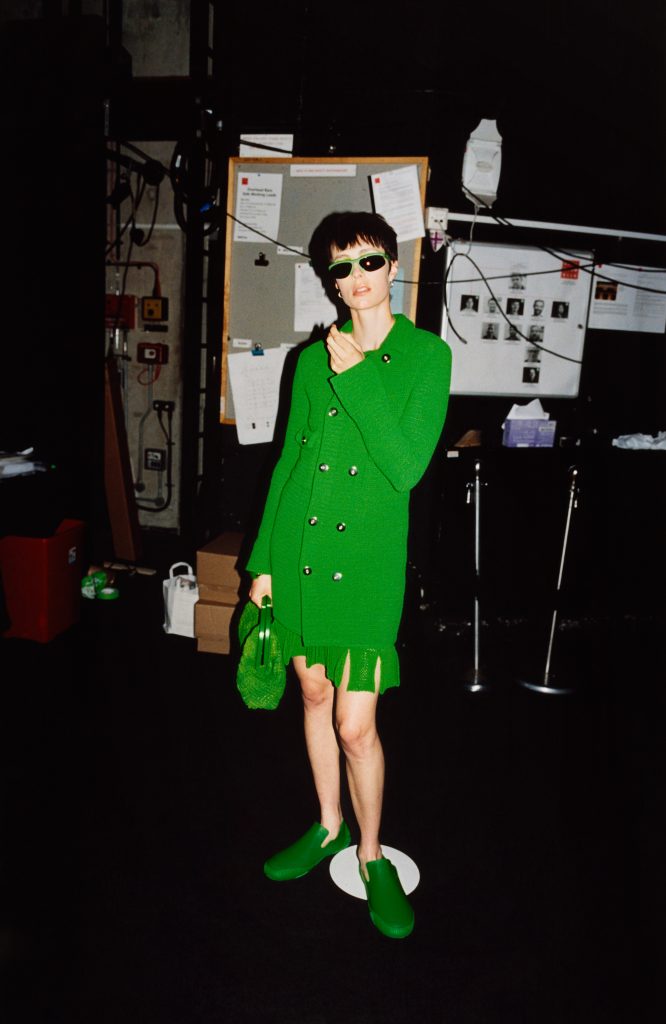 In a year where touching has become out of bounds, the defining characteristic of Daniel Lee's collection was its tactility. There were dresses made entirely from car-seat beads or tiny shards of pearlescent shells; there were buttoned-to-the-neck cropped jackets, and skirts that danced and leapt around the legs. In Lee's world, the end of the pandemic heralds a time when clothes become shorter, clinger and sexier – let's see if he's right.
Burberry
In this weird and wonderful ode to both the British countryside and the ocean, Riccardo Tisci sent slouchy fisherman dungarees, giant hi-vis jackets and pieces printed with mythical creatures down the woodland runway. In a nod to the idea that parties may one day return to the pandemic-ravaged UK, there were shimmering cocktail dresses (also in the T-shirt version) while trench coats, a Burberry bread and butter, came in the classic beige gabardine fabric spliced with indigo denim or glossy North Sea blue.
Chanel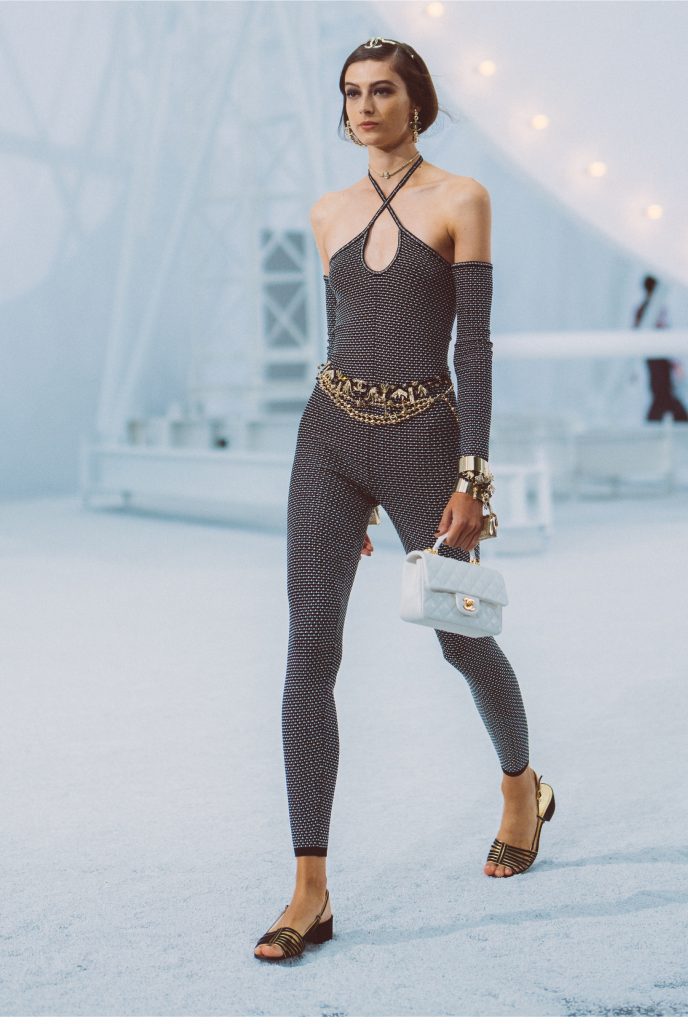 Virginie Viard went bold this season with halter-neck stretch catsuits and the red blouson metallic front cardigan with matching tweed bermudas, as well as lots of cropped tops and bare midriffs. There were also plenty of subtly updated Chanel classics such as tweed biker jackets and matching skirts in pink, wide sailor trousers, soft raglan-sleeve jackets, men's waistcoats and drapey tweed, sleeveless "pinafore" dresses.
Chloé
The clothes, which were shot on the streets of Paris as regular citizens milled around the models, had all the effortless boho élan for which Chloé is known. There were updates on '70s shapes in which the Chloé look is still very much rooted; shirts came with pointed collars, subtly flared trousers and long, languid maxi dresses.
See also: PFW Spring 2021: Givenchy, Chloé, Chanel and more
Coach 1941
Mixing past, future and present, Stuart Vevers combined trophy items from past seasons – such as a pastel vintage-inspired dress that Kaia Gerber wears – with an offering of locally produced sweatshirts, biker jackets, and T-shirts that are notably pandemic-friendly. And then there are the new belted trench coats and vegetable-tanned handbags that have been made to the highest sustainable standards to take the brand forward in a world fighting against climate change.
Dior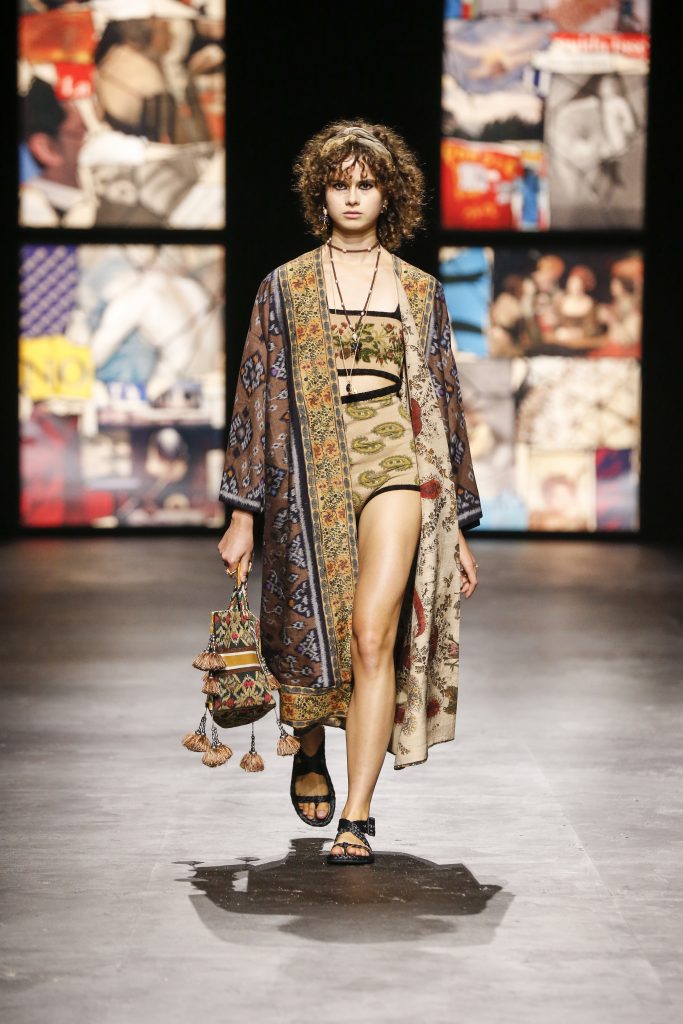 Maria Grazia Chiuri created her most deconstructed collection to date with calf-length skirts in soft, pre-washed fabrics and embroidered or African-inspired wax-printed wrap jackets. The latter, which could be cinched at the waist or worn open, were inspired by the "home" jacket Christian Dior introduced in 1975, based loosely on the kimono. Worn with white lace dresses and ballet flats, it was pretty to the core.
See also: Watch the Dior Summer 2021 Men's Collection show online
Erdem
This collection, which was one of loveliest of the season, was inspired by Susan Sontag's 1992 novel, The Volcano Lover, an account of a love triangle and an examination of the 1750 eruption of Vesuvius, and the political and artistic shadows it cast for decades after. The parallels with today struck a chord – as did the clothes. Empire lines, muslins, brocades, military bows, cropped Spencer jackets all feature in this new collection, along with languid pearl jewellery, and a pearl encrusted trouser suit, each sewn on by hand.
Fendi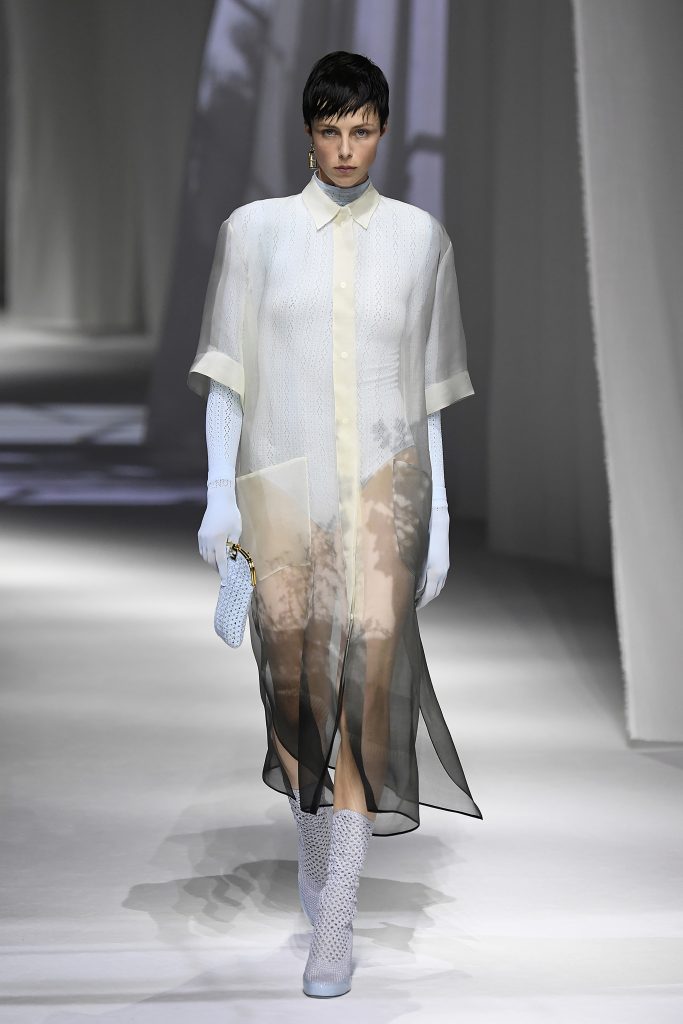 The pandemic had certainly made its mark on Silvia Venturini Fendi's collection, with lots of loungewear and pyjamas and floaty wood-printed caftans. Much of the collection was in faded ice-cream-coloured, but beautifully embroidered, linen – a fabric Fendi said she had chosen thanks to its simplicity and sustainability. On the models' arms were lots of wicker picnic baskets and rattan bags.
Gabriela Hearst
Back in September, we didn't know Gabriela Hearst would go on to become the creative director of Chloé and play a major role in dressing the First Ladies on both sides of the US campaign trail. Although the sleek, beautifully crafted designs could have given us a clue. The idea for the mostly monochrome collection was born from a shell bracelet the designer was given by her mother during a trip to Easter Island. She repurposed the shell trimming along the edges of circular cut-outs and on the straps of silk dresses, making these simple silhouettes particularly memorable.
Giorgio Armani
Clearly influenced by our new WFH lives, Armani presented daywear that was laid-back and made in soft textures – a collection that prized comfort above all else. Sculptural shapes were on display but more ubiquitous were slouchy pyjama-like silhouettes that evoked the comfort-wear adopted in quarantine. For evening, suits were sharp and took us back to pre-pandemic times, while dresses were silky, shiny, and shimmery but more covered up than usual Armani fare.
Givenchy
Matthew Williams' debut was strong on boxy jackets with cut-aways, drop shoulders and loose trousers, as well as plenty of athleisure. Williams reworked a slouchy version of the Antigona bag and the sole of a croc trainer that had been injected with a whopping 108 shots of air. Notable outfits included a sleek white trouser suit with bold midi heels in orange.
Gucci
Gucci's latest designs were revealed via a much-anticipated seven-part miniseries for which Gus Van Sant decamped to Italy for nearly a month. Called the Ouverture of Something That Never Ended, this dreamy seven-part drama follows Silvia, who is played by fashionably androynous Silvia Calderoni. We follow her in various delightful outfits including a intricate pair of black lace see-through pyjamas with GG mesh underwear and an ice-cream-coloured, crystal-embellished dress with a matching Pride & Prejudice-style pink sequinned bonnet, setting the tone for a joyful collection.
See also: Where to find The North Face x Gucci collection in Hong Kong
Hermès
The luxury leather house responded to the pandemic by creating the most sumptuous, beautiful clogs the world has ever seen in shades of conker, chai latte and an optic, surgical white. Creative director Nadège Vanhee-Cybulski also offered lots of touchable material: butter-soft leather pinafore dresses and enveloping cashmere coats that looked wonderfully comforting.
See also: What inspired Hermès' Lignes Sensibles high jewellery line
JW Anderson
The line-up for this thoughtful collection included asymmetrically draped tops and evening dresses, and lots of tailored pieces that played with proportion and added quirky embellishments including feathers and sparkle that showed how different this line is to his Loewe collection. Anderson described it as the tension between "arrogant and non-arrogant fashion" and it included jacquard peplum jackets and pleated suede T-shirts.
Loewe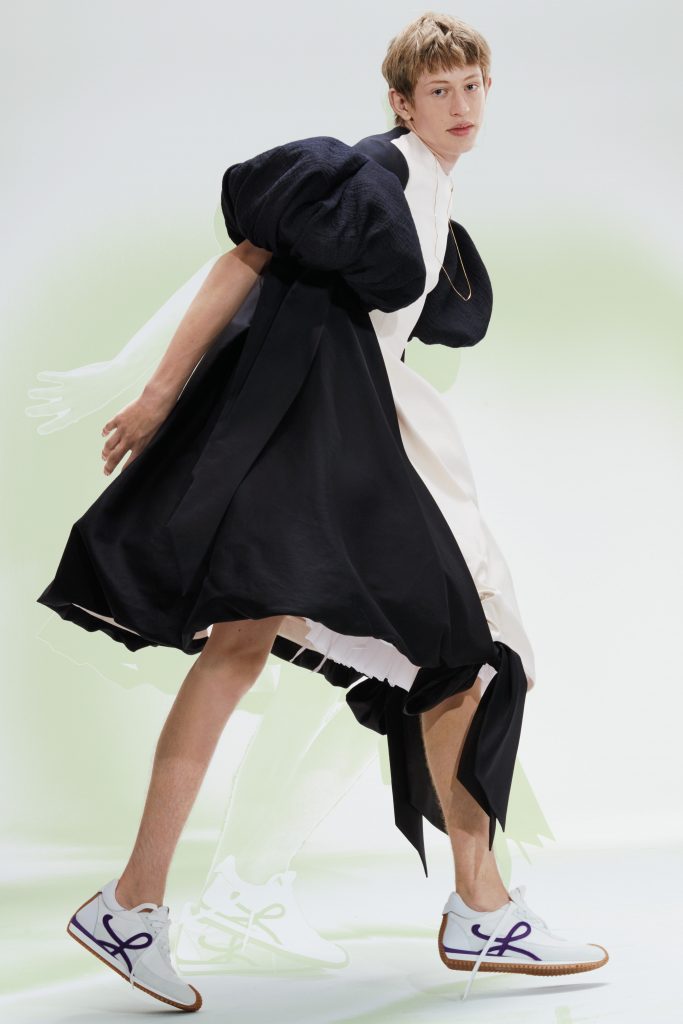 JW Anderson's collection for Spanish house Loewe was all developed remotely from his home in London, and clearly the isolation made him more creative than ever. Anderson's art was certainly multidisciplinary and the clothes he showed were sculptural to the core. Corset boning was manipulated to create theatrical crinolines and monochrome dresses featured giant fabric knots and puffball hems. He was doing it all, he explained, to remind people of "the art of fashion".
Longchamp
Longchamp returned to Paris for its spring/summer 2021 collection, having shown in New York for the past four seasons. Creative director Sophie Delafontaine emphasised floral prints and embroidery throughout the sport-chic collection that's a hallmark of the leathergoods house. In a gesture to the new fisherman net bag, designed in collaboration with French label Filt, Delafontaine showed a black macramé top as well as a black and white denim jacket with a net pattern.
Louis Vuitton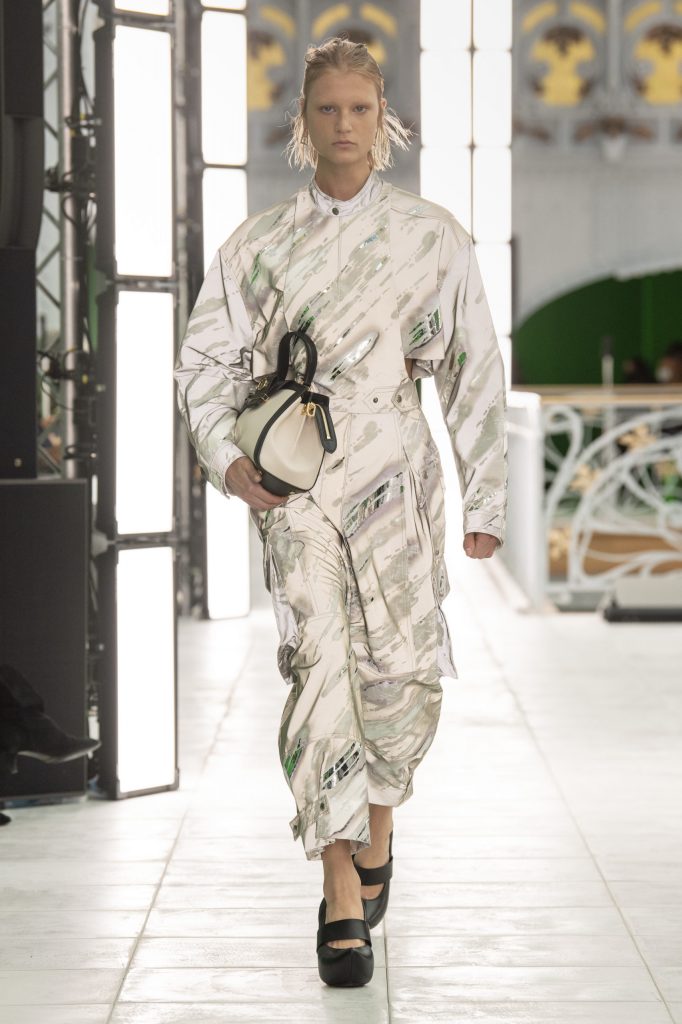 Creative director Nicolas Ghesquière had clearly thought hard about the kind of clothes that might resonate with a pandemic audience and that meant lots of baggy trousers, many of which were high-waisted, cocoon-shaped coats, blouson jackets, oversized jumpsuits and tank tops that made this show feel particularly relevant. Chain necklaces and bowling-style shoes completed the look.
Maison Margiela
The Maison Margiela show was a 20-minute video extravaganza filmed by Nick Knight. Creative director John Galliano was inspired by a memory of watching the tango being performed in a dilapidated warehouse in Buenos Aires. The clothes were constructed on models who had been taught the tango, by a teacher Galliano hired, and each step of the design and subsequent deconstruction process was shown in detail – and with relish. The final wedding scene plays out as an underwater phantasmagoria that viewers will no doubt rewatch for seasons to come.
Max Mara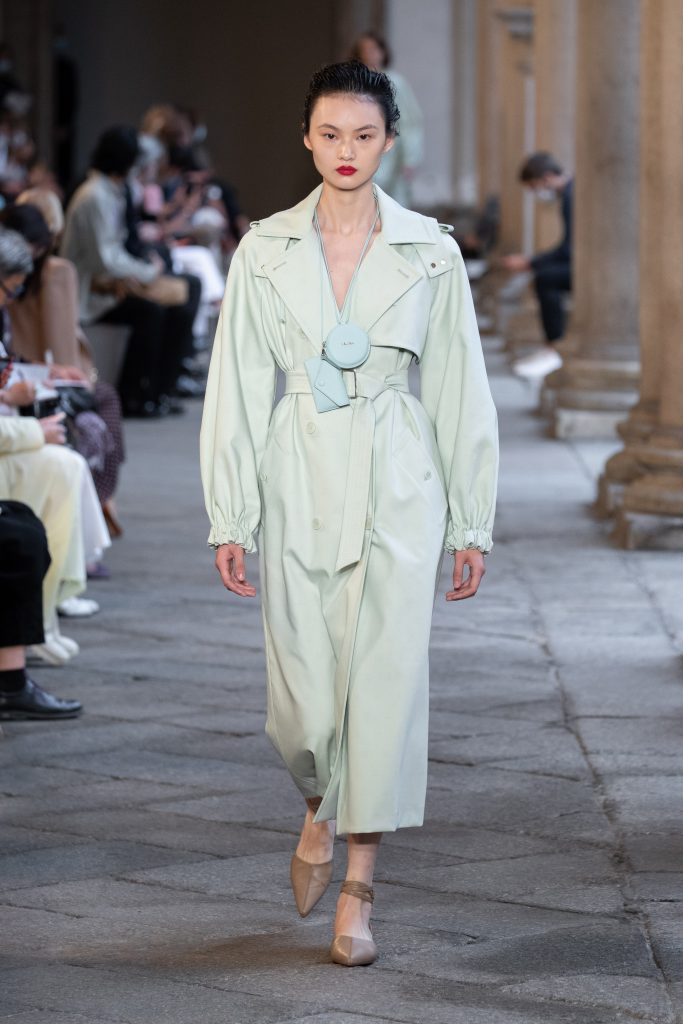 This cheerful collection was filled with delightful touches: silver brocade blouson cuffs on sweatshirt tops and sky blue leather pouch necklaces in particular. The fabrics used throughout looked rich but soft, the proportions of suits were relaxed with fluid trousers. The notion that we've all spent the last three months wearing tracksuits had been toyed with and elevated, as drawstring and ruching details were worked into everything from cotton maxi dresses to return-to-the-office-ready jackets.
Michael Kors
Kors has never been known for intricate, embellished designs but this collection was arguably the simplest of his career, focusing on mostly monochrome looks in the form of day dresses, simple shifts and flat sandals. The designer was clearly imagining a lazy return to life in a post-pandemic world with an array of asymmetrical knits, printed wrap skirts, floaty dresses in organic crepe de chine and loose trousers worn with linen gauze nightshirts.
Miu Miu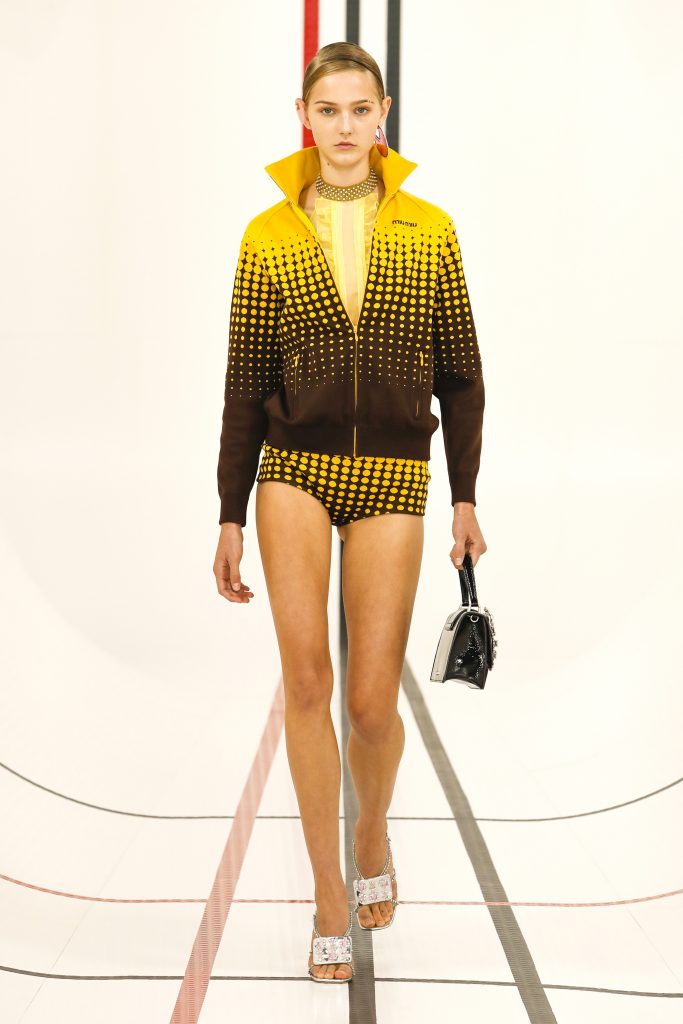 Many of us have turned to craft over the last year, and Miuccia Prada – always a fan of the patchwork-quilt look – presented a collection filled with home comforts that somehow managed to be avant-garde at the same time. In her Miu Miu offering, there were prairie dresses and jackets in neat tessellations of florals and ginghams, which you could happily pretend was a lockdown crafting triumph if you were so inclined.
See also: A Miu Miu film on vanity and femininity in the 21st century
Moschino
Inspired by the 27.5-inch dolls the Paris couture houses sent to clients who couldn't visit them in person during the dying days of World War II, Jeremy Scott had around 25 racially diverse marionettes constructed for his collection. Scott, who said he missed glamour more than anything, dressed them in 1950s couture. Gold brocades, sky blue and bronzy-pink tulles and duchess satins were turned into full skirts, shawl necklines and nipped-in jackets in the best-dressed puppet show of all time.
Prada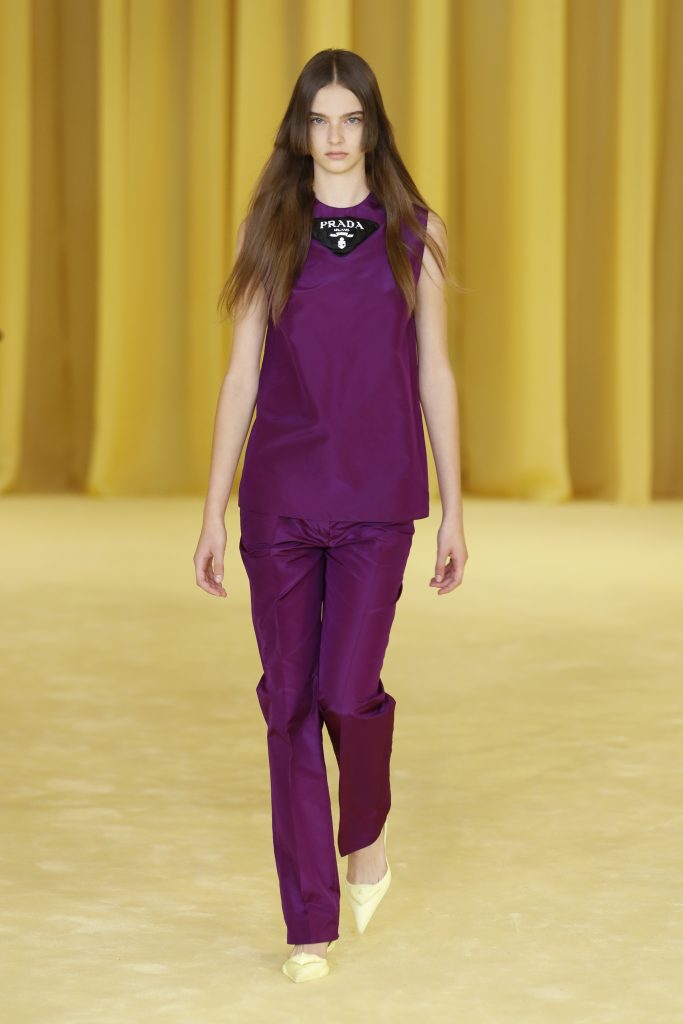 The show began with what could be described as the Prada uniform – '90s-style trousers; a sleeveless, tunic-length T-shirt and lots of pieces covered in the famous triangle logo. Adding to the '90s flavour were pointy-toed slingback kitten heels in contrasting colours, plenty of monochrome and jackets worn as capes, as well as a focus on architectural cuts and optimistic polka dots.
See also: Fashion files: Prada Fall/Winter 2021 womenswear collection
Rodarte
There's always a place for magic, and in the imaginations of Rodarte founders Kate and Laura Mulleavy, it came in the form of fanciful frocks decorated with flowers, tulle and bright colours that spoke to a slightly warped girly sweetness. With floral headpieces giving the models the
look of forest fairies, the sisters delivered a message of lightness and wonder in a sobering time.
Roksanda
Roksanda created one of the most imaginative presentations of London Fashion Week. Showing in a snazzy apartment in Kings Cross she was hired to interior design last autumn, she crammed so many sensorial experiences into a condensed time and space. The collection itself was refreshing and relevant with the majority of the pieces being made from repurposed fabrics and informed by our new WFH reality. Knitwear and sustainable cashmere was cheerful while her nod to denim pieces were actually a series of separates made in indigo cotton linen.
Saint Laurent
Smart, sexy and very wearable, Anthony Vaccarello's collection was full of chic slingback heels with pointed metal toes that captured the brilliant sunshine in the studio and reminded a lockdown-weary audience of the beauty of wearing heels. Notable silhouettes included a series of small shrunken jackets worn with oversized trousers, sleek black suits with bold white flowers worn at the neck and '60s-style negligees that recall books such as Valley of the Dolls.
Salvatore Ferragamo
Paul Andrew binged on Hitchcock movies in lockdown and his love of them shone through in this collection, which was filled with hourglass dresses and one black leather number in particular that felt as if it had leapt off the screen in Vertigo and onto the catwalk. This collection was the most sensual for the designer to date, with lots of glossy pieces and form-fitting proportions that were beautifully cut and highly sensual.
Simone Rocha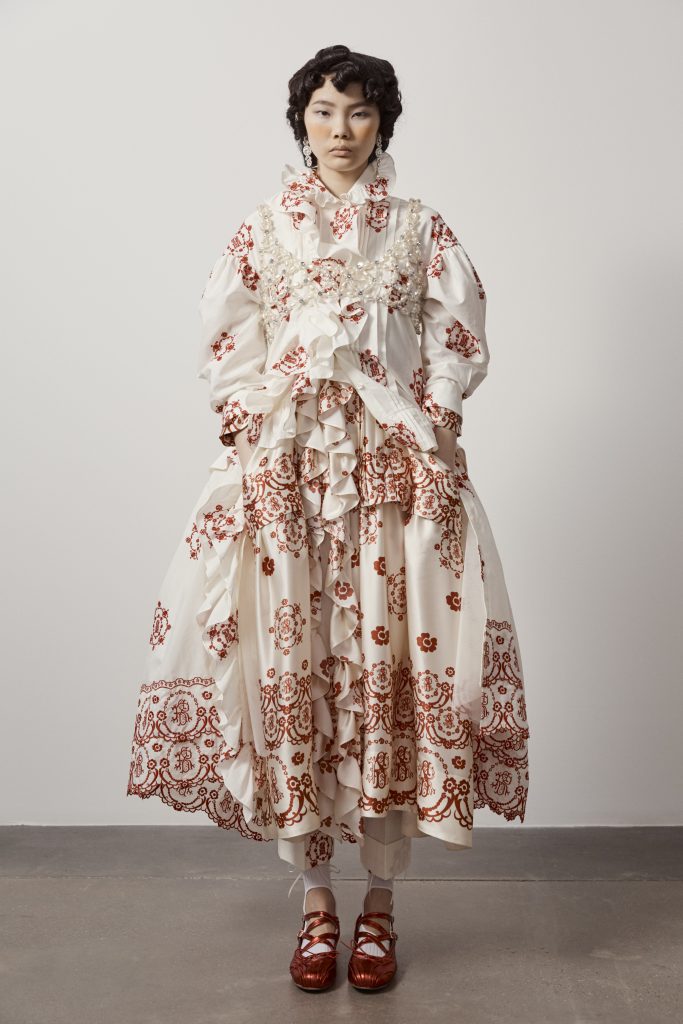 There was a bountiful excess of fabric at the Simone Rocha show with lots of rounded dresses and full jackets and the contrast lying between gilded brocades and plain white shirts; and the scalloped-edge cottons and gauzy layers. One standout piece was a cream canvas dress with a scoop neckline, curved hips, seamed bodice and a bow in the back, another was a tulle veiled dress with plenty of broderie anglaise.
Tod's
Luxe materials and an emphasis on comfort were the priorities at this glossy, glamorous show. Field jackets and parkas were ubiquitous but were made in soft, luxurious materials, smoothed down but slightly worn as if they were pre-loved, not brand-new. Tailoring was on display, but sportier than in previous incarnations, and slightly oversized proportions and lots of suede and silk highlighted the concept of wearability above all else.
See also: Fashion files: Tod's Fall/Winter 2021 womenswear collection
Tom Ford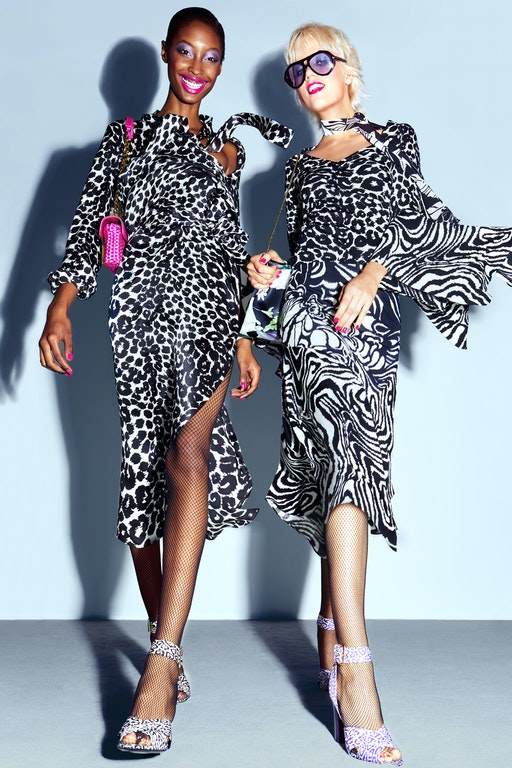 Unlike many designers, Tom Ford went extrovert with his first pandemic collection and heavy on the sex appeal. Shirts were unbuttoned to the navel, trousers came with the unmistakable logo waistband and dresses were slinky and covered in bold prints. Ford clearly envisions a maximalist summer around the pool with tie-dyed caftans and gold throws worn over itsy-bitsy white bikinis.
See also: Tom Ford: The holiday must-haves
Tory Burch
Tory Burch has moved away from her maximalist print-heavy collections in recent seasons, and this spring/summer output was the cherry on top of her new aesthetic. The girliness of her previous work has been replaced with cleaner, crisper lines, simple white shifts that wouldn't look out of place on a tennis court, and cotton voile dresses with sleek contrast trims. Perhaps her new life in Paris is rubbing off on her…
Valentino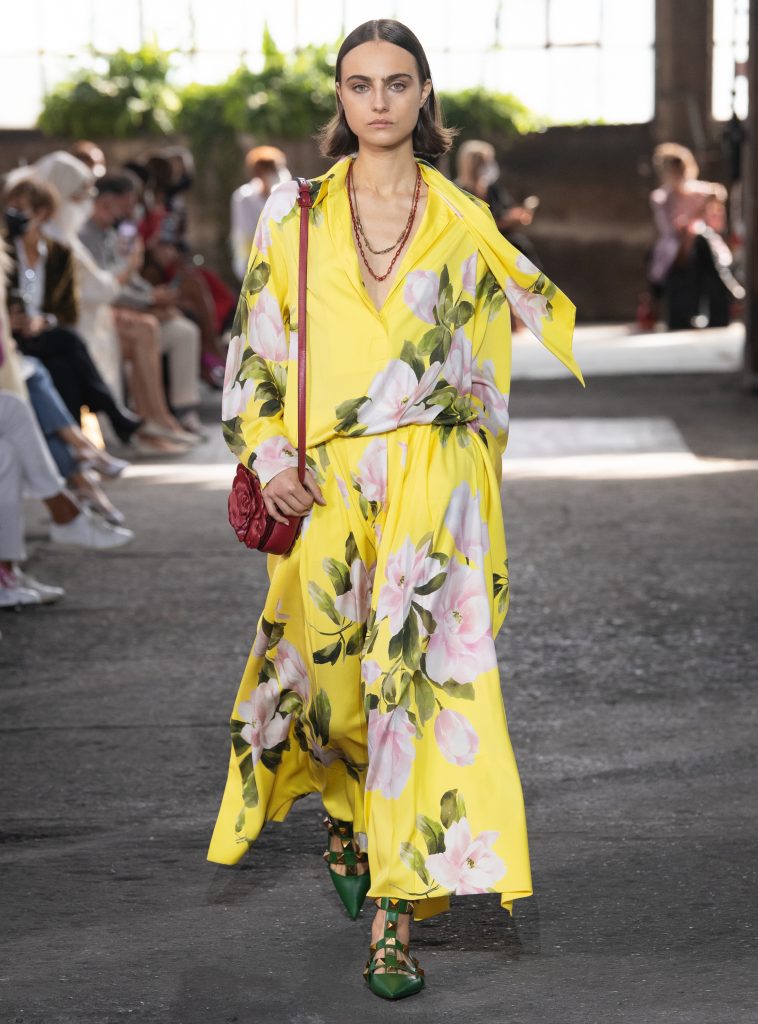 Floral chiffon maxi dresses billowed, oversized shirts in fuchsia or cappuccino fluttered over slim trousers, and cycling shorts and high-waisted denim jeans were worn with white blazers. In a nod to pandemic fashion, there were also plenty of floral printed hoodies on display, as well as lots of primary-coloured clothing: tangerine orange shift dresses and lemon yellow jackets that reminded us of the joy of beautiful clothes.
Versace
The models looked like a group of modern mermaids brought to earth, in strong dark tailoring that quickly evolved into an uplifting spectrum of colour and decoration. Supermodels were everywhere: Joan Smalls paraded in a pleated magenta skirt with cascading ruffles and a matching shrunken cardigan while Irina Shayk epitomised under-the-sea glamour in a skintight, slit-to-the-thigh gown embellished with glitzy starfish tentacles.
See also: From Gucci candles to Versace pillows: Luxury designer homewares to spruce up your home
Words by Melissa Twigg