#jewellery: Gems and kisses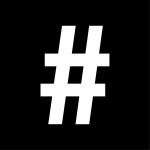 By: David Ho
February 24, 2023
Valentine's Day has just passed us by but kissing will always be fashionable, particularly if they are from the Boghossian Maison
The Kissing technique is a signature of the Swiss high jeweller. It is done by setting two precious gemstones in a manner where they appear to embrace each other, much like a kiss.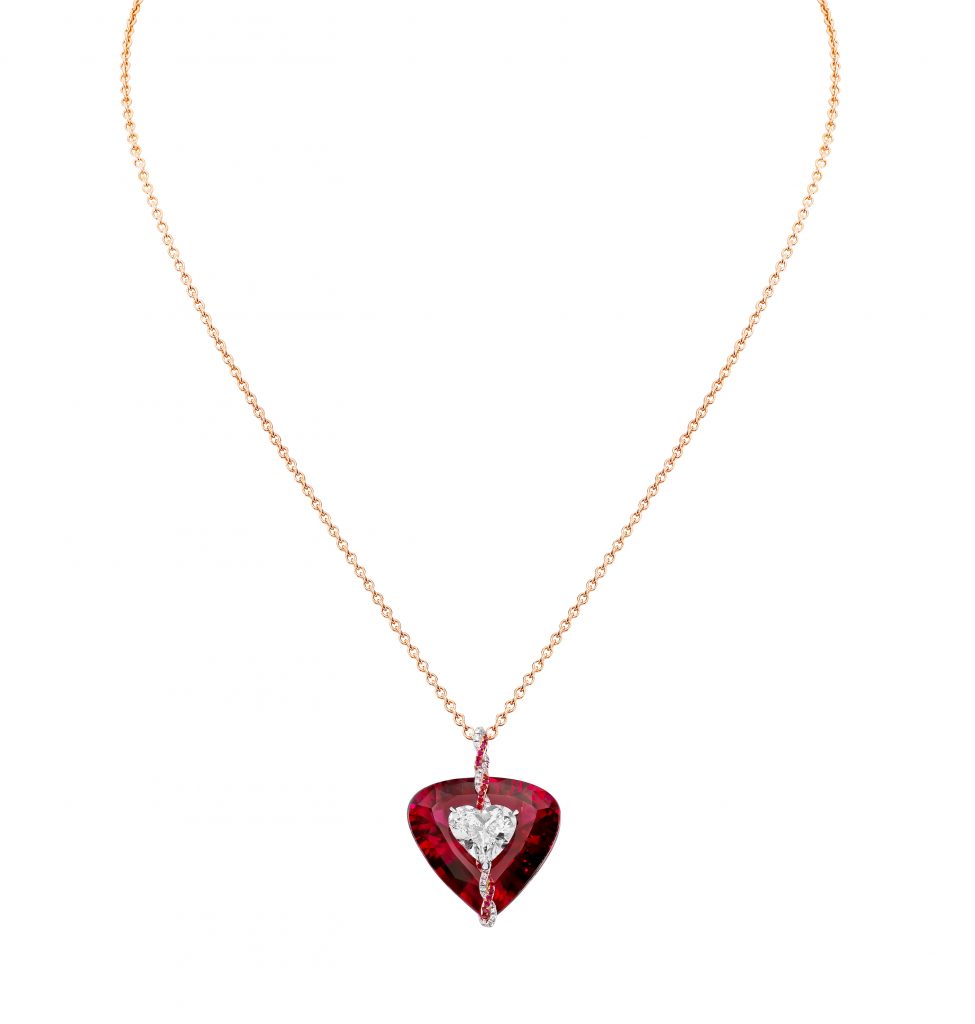 Each gem is selected to complement and enhance the other's colour and beauty. They are then set with minimal gold visible through Boghossian's innovative and expert craftsmanship. It is done to allow light to flood in and bring out maximum warmth and full radiance.
Boghossian's unique take on multi-gem design can most notably be seen in its Kissing Four Elements collection. The pieces embody one of the four core elements of natural matter: Earth, Water, Air and Fire.
The Boghossian family recently detailed their six-generation-long history in a book, starting on the Silk Road. Their move from East to West sees them inspired by all the elements encountered on their journey and captured in dazzling creations.
Given that we are still in the mood for love, their fire element creations catch our attention. They come in two distinct shades: deep red like the colour of fiery passion and a light pink that recalls a softer, gentler love. In terms of neck pieces, the Diamond and Rubellite Necklace is a bold heart with a dazzling diamond centre, held by strands of 18kt white and rose gold.
A similar design with a different feel to it, the Kissing Diamond and Morganite Necklace sees a heart-shaped morganite paired with a dazzling white diamond entwined in an elegant love knot.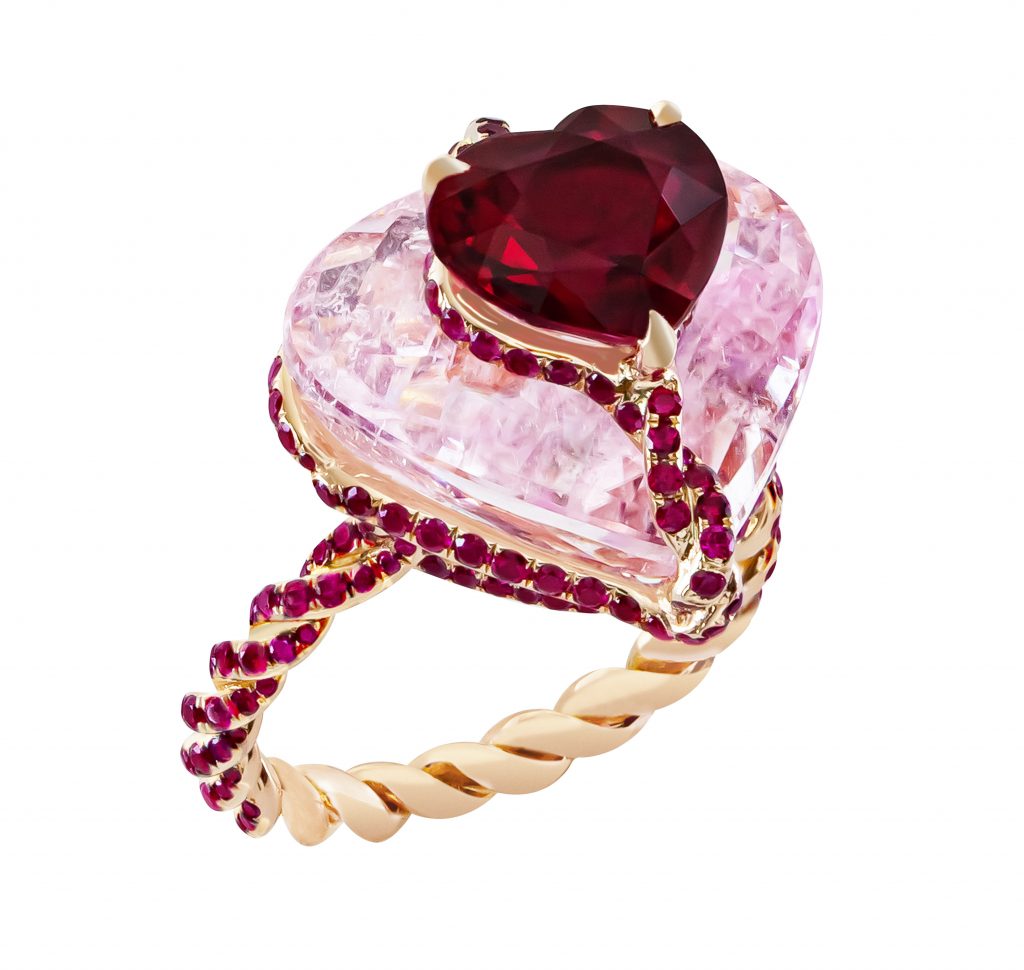 Their fire element rings are also differentiated in the same manner. For one, we have a heart-shaped pink tourmaline is paired with a dazzling ruby, delicately positioned in their signature Kissing technique. A softer but no less passionate creation is the morganite coupled with a dazzling white diamond.
Boghossian also employs the Kissing technique for a special edition of their Inlay Reveal collection, an exclusive for Hong Kong. The bold colours of rubellite really stand out when set against white jade, be it in earrings or a pendant.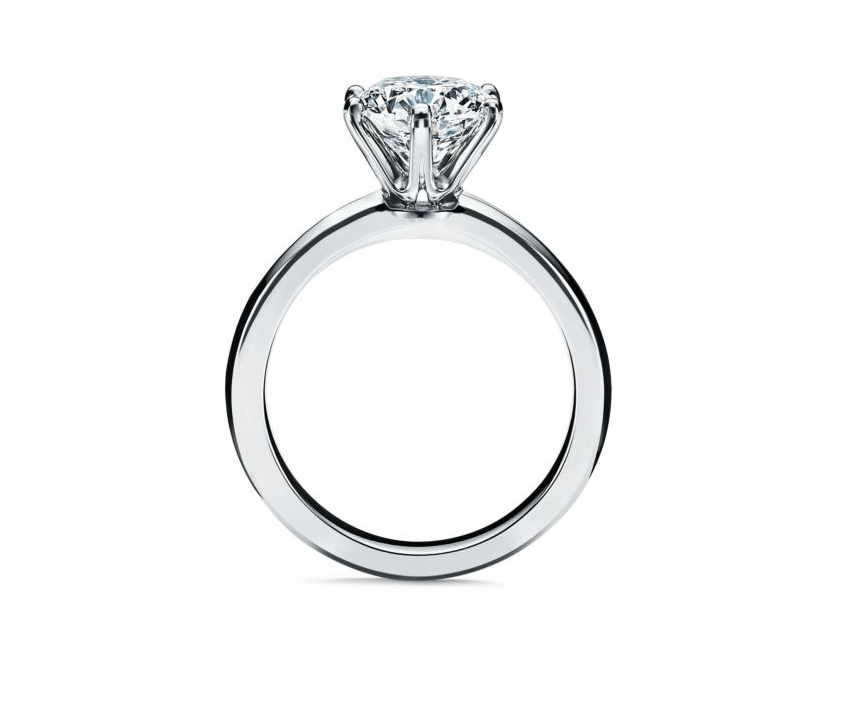 The way a gemstone is set can make a big difference and become known as a maison's signature. When Charles Lewis Tiffany decided to raise a ring's centre diamond using six evenly-spaced claws to maximise the light that travels through it, he likely had no idea it would become the Tiffany setting that still holds up to this day since the 19th century.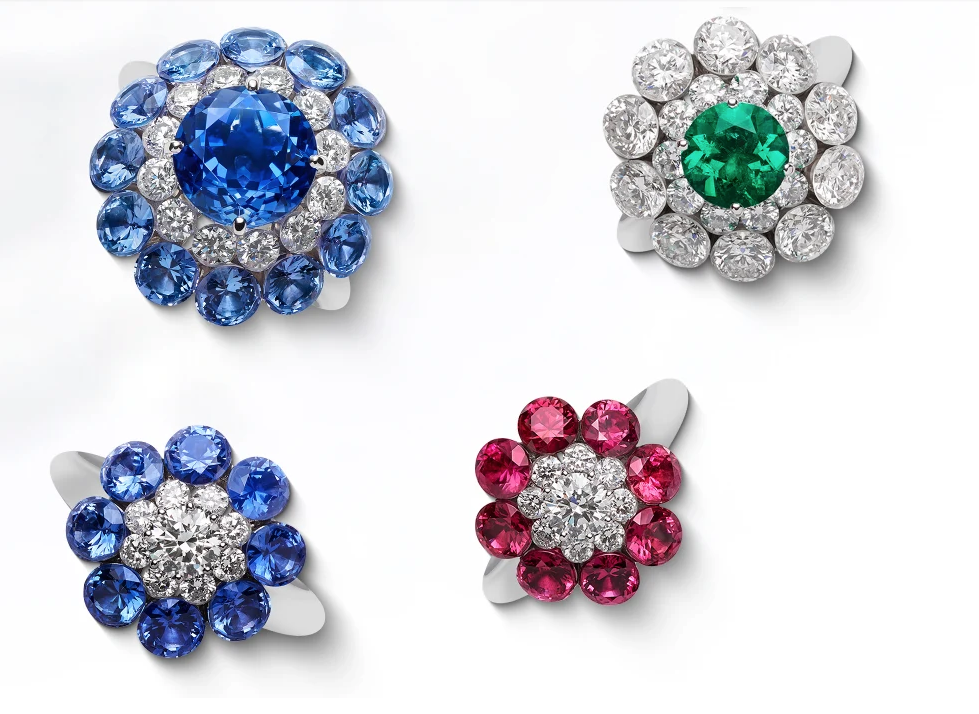 Chopard is known for its magical setting. The main train of thought behind it is to minimise the amount of metal between the stones, so as to let the maximum amount of light reflect between the piece's precious gemstones. Often used to depict a flower, the centre stone of each piece is set in claws that are barely discernible, making it look like it's floating mid-air by magic.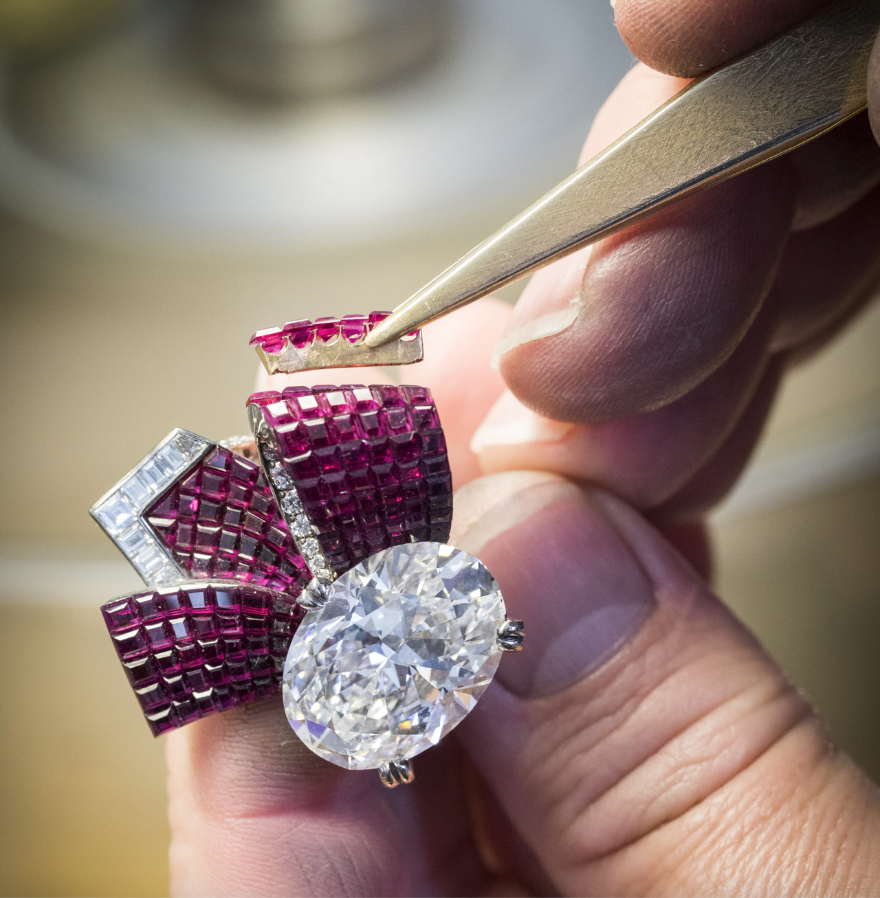 Van Cleef & Arpels also aims for a free-standing look for its gemstones with its mystery setting technique. It involves painstaking work with thin gold rails less than two-tenths of a millimetre thick. Only a few pieces are produced annually due to the amount of handiwork involved.
Also see: How diamond rings became the ultimate symbol of love