Uncategorized
Design ACPV: on embedding soul into Bulgari Hotel Paris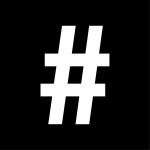 By: #legend
July 26, 2022
Fresh from completing the Bulgari Hotel Paris, architects Antonio Citterio and Patricia Viel speak to Dionne Bel about their long-term collaboration with the Italian luxury brand and how they engage with products, interiors and architecture using the same approach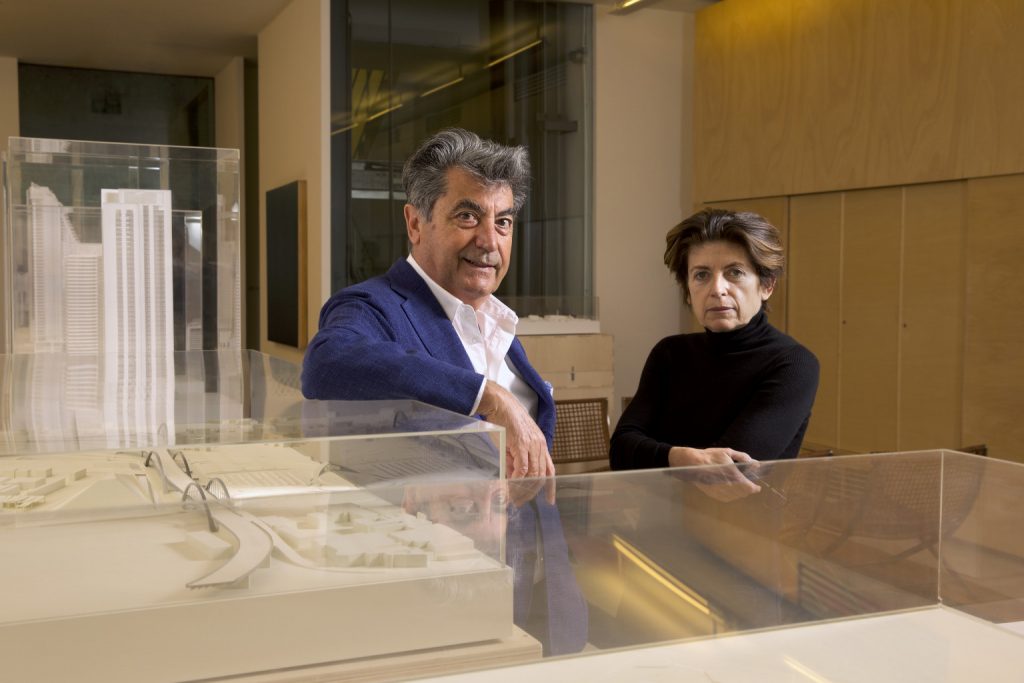 For Antonio Citterio and Patricia Viel, every detail counts. Right from the beginning, Bulgari Hotels & Resorts has entrusted their Milan-based architectural and interior design firm, ACPV Architects Antonio Citterio Patricia Viel, to design all of its luxury hotels worldwide, from Milan, Bali and London to Beijing, Dubai and Shanghai.
While showcasing the jeweller's Italian DNA in every outpost, ACPV has simultaneously succeeded in embedding each city's local character. For example, the mosaics of the hotel spas reference the baths of Caracalla from ancient Rome, which was also the inspiration for Bulgari's Divas' Dream jewellery collection, while the star in Rome's Campidoglio Plaza and in Bulgari's historical Rome store on Via Condotti appears on the floors of the brand's hotels.
Also see: What to watch on Netflix this August
Each city's identity is reflected by the use of local materials, such as Portland stone and bronze – typical of London's public buildings St. Paul's Cathedral, Buckingham Palace, the National Gallery and the British Museum – for the Bulgari Hotel London.
ACPV is now bringing Bulgari's Roman heritage to the Bulgari Hotel Paris, located in the capital's ultra-luxe Golden Triangle and which opened last December. French craftsmanship and Italian design come together in a delicate embrace.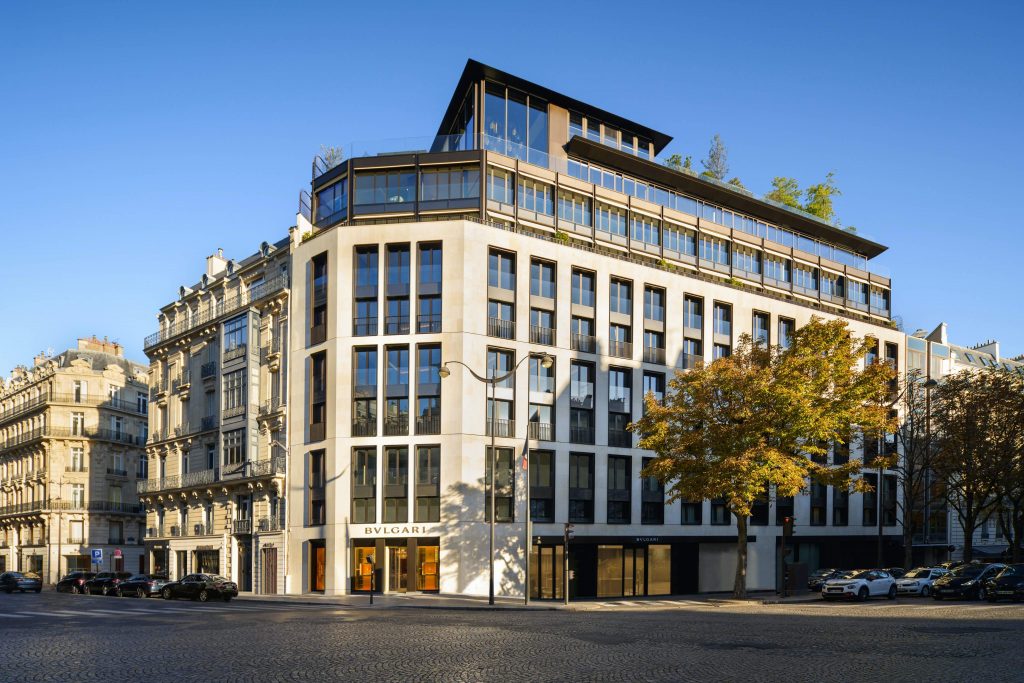 "We aimed to achieve a synthesis between this particular Parisian identity and the Roman spirit and meticulous craftsmanship of Bulgari," says Viel. "The taste for colours, the tone of voice and the aesthetics that distinguish the Bulgari brand are translated in the hotels, in an architecture that is not interested in creating trophies but, instead, goes beyond the architectural project itself to create unique experiences."
Also see: Digital Cover: Tyson Yoshi x Hublot & Sandro
Guests will find straw marquetry panels by Paris-based artisan Lison de Caunes and crackle lacquer finish walls by Atelier Midavaine matched with rare Gio Ponti ceramics and furniture designed by Antonio Citterio for the likes of Maxalto, Flexform or B&B Italia.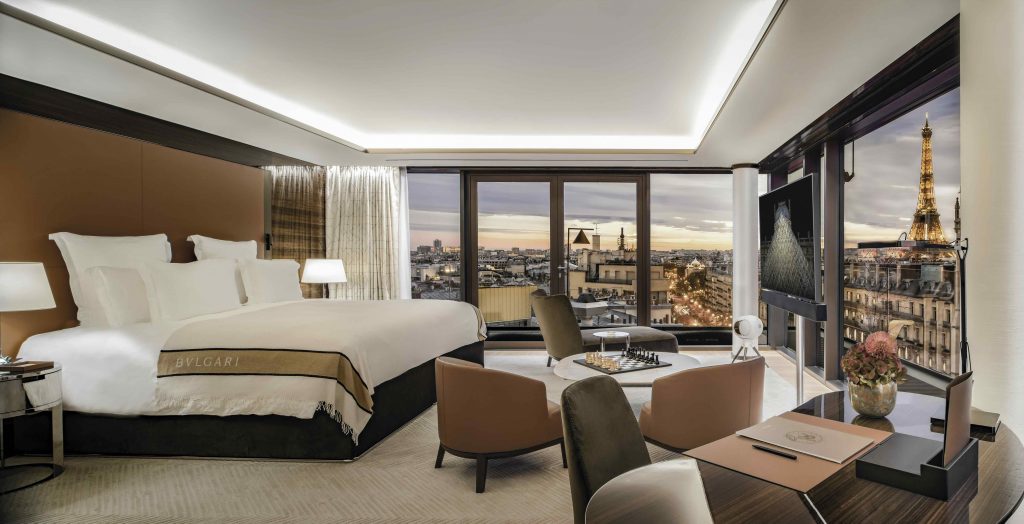 But the real showstopper is the 400 square meter, two-storey penthouse with 360-degree views and an expansive 600 square meter rooftop garden planted with oaks, magnolias, redcurrant bushes, and apple and pear trees. Its dining room features an antique hand-woven Altai carpet, and is lit by a head-turning glass and gold chandelier by Barovier & Toso. No extravagance was spared, from a private gym and a hammam to a cigar cellar and a glass-walled master bedroom overlooking the Eiffel Tower.
Citterio and Viel have always harboured a desire to build the society of today and tomorrow. A slew of ACPV flagship projects in Italy have come to life recently: Covivio's Fastweb headquarters in Milan, San Babila Business Centre in Milan for Goldman Sachs, the Turin offices of international consulting company Reply and the Cascina Merlata apartment building in Milan.
Also see: Ukrainian artists Synchrodogs push man-nature boundaries in photography
Internationally, the practice has delivered the Arte oceanfront condominium in Miami and Havenkwartier master plan in Hasselt, Belgium. Over in Taiwan, the newly completed La Bella Vita and Treasure Garden residential towers in Taichung employ stone construction and contemporary Italian geometric shapes, while the mixed-use Taipei Sky Tower currently underway draws inspiration from Chinese bamboo and the vertical grooves of classic Greek columns, thereby revealing ACPV's carefully considered East-meets-West approach.
Concepts of liveability, the improvement of quality of life and sustainability lie at the heart of the ACPV philosophy, conceiving spaces that connect streets, public spaces, services, nature and people. Not interested in making loud statements that break the mould or in following trends, Citterio is a world away from the starchitects of today. He prefers to go quietly to the essence instead, getting to the synthesis while integrating a form of clarity and exactitude.
"Designing objects is not about creating a mere expression of something, but rather about giving answers to concrete and real questions," he states. "In architecture, the approach is the same: buildings are not about creating new icons, but about designing in a way that integrates into the context and the location."
Born in 1950 in Meda, a furniture production hub near Milan, Citterio came naturally to design. At the age of 14, he enrolled in the Art Institute of Cantù, where he designed furniture for four or five hours a day, then joined the atelier of his father, an artisan- entrepreneur who crafted furniture. After graduating in architecture from Milan Polytechnic, he established an industrial design studio with Paolo Nava. They parted ways in 1981, and Citterio went on to work on buildings alongside his wife, American architect Terry Dwan, for a decade, but he never stopped designing objects.
Also see: New fragrance collections for a fresh summer
By the end of the 1990s, his client roster included some of Europe's most respected furniture brands, including Kartell, Vitra, Artemide, Flexform and Moroso. Citterio enlisted Milan- born French architect Patricia Viel in 1986 when she was still studying at Milan Polytechnic, and in 2000, they cofounded ACPV, with Citterio as chairman and Viel as CEO, which presently counts almost 150 employees.
Today one of Italy's best-known contemporary designers and architects, Citterio makes no distinction between product and architectural design, where the product is conceived within an architectural vision. In fact, Italian design has almost always been carried out by architects, with objects conceived as solutions to problems of space and architecture.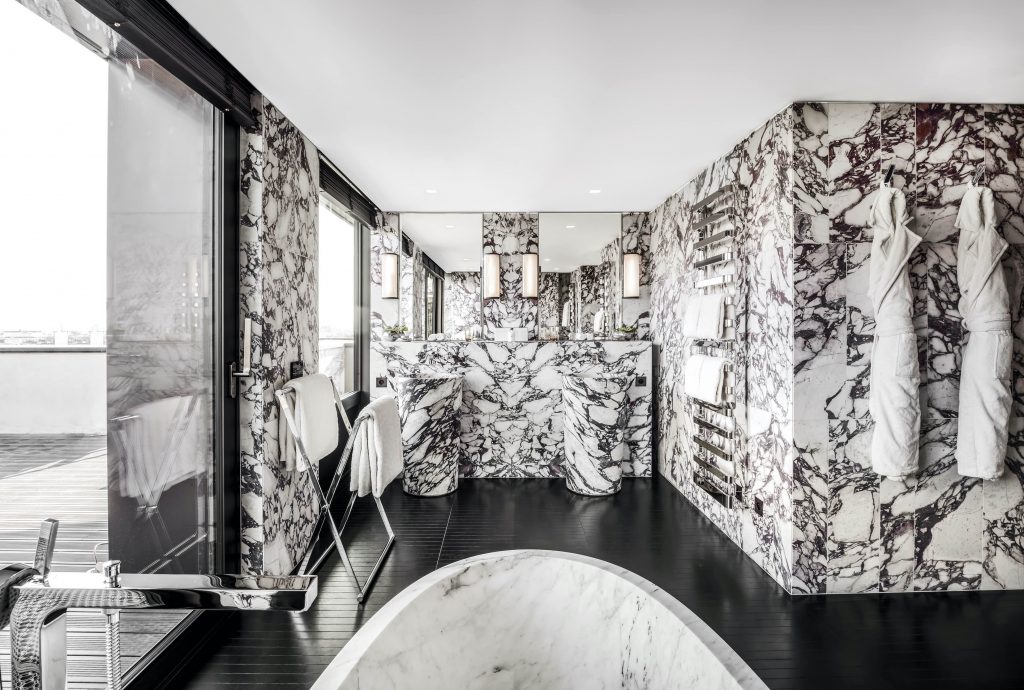 "It is typically Italian to [design] architecture, interiors and products with the same approach," he notes. "Objects
and spaces are closely related to the way people live and interact with them. Even in architecture, the same thing happens. When we design, we always imagine people: how they arrive, how they enter, how they move within the space, what they will do. Basically, the way people interact with the space becomes one of the guiding principles of the project."
Also see: Richard Mille: An all-female racing force
Viel adds, "Antonio would say that design and architecture are like two souls that live together: the architect's conceptual approach and the designer's creativity. Design and architecture share an understanding of people's needs; you need to have a clear idea of what the needs are when you design an object, when you furnish a space
or when you design a building. We approach architectural or interior design projects by studying the building site, its context and history, and we consider them as the raw materials. We seek solutions that build a strong relationship with the surroundings. Always, the aim is to enhance the values that govern the life of the location."
Now boasting an impressive repertoire after more than two decades of existence, ACPV's future certainly looks bright. In the pipeline is a makeover of the Enel Group's 80,000 square meters historic office in Rome with new transparent glass façades and A2A's vertical village lighthouse headquarters soaring 144 meter above Milan.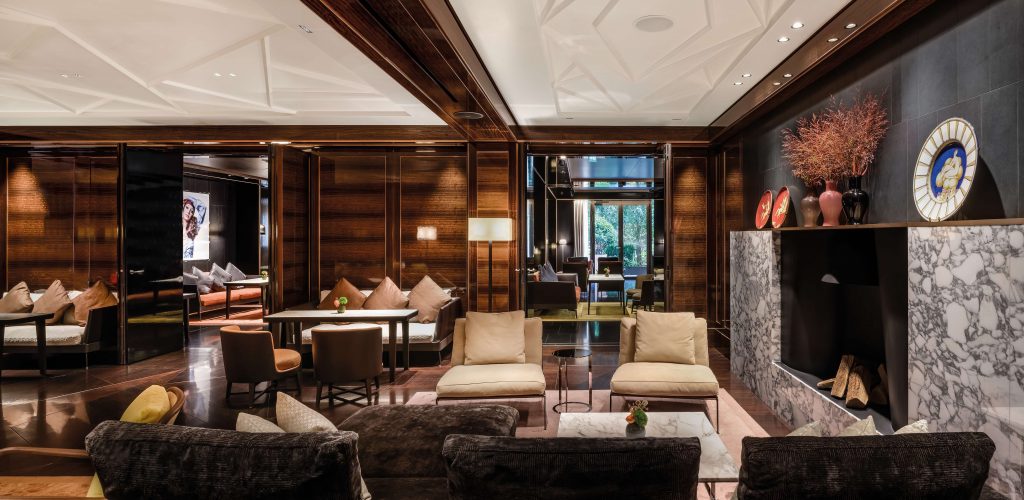 On the heels of its Parisian launch, the highly-anticipated Bulgari Hotel Roma will open its doors next year in the Italian jeweller's birthplace, which Viel qualifies as "the next major milestone that we will celebrate with Bulgari in our long-standing collaboration". Milan Design Week last June also saw the debut of Citterio's first project for Cassina in a new partnership with the high-end furniture manufacturer.
"I believe that our role is to imagine the future of cities, hotels, offices and residential spaces by carefully curating the evolution of the built environment," Viel concludes. "We must understand how people prefer to use their shared and private spaces. It's about giving solutions to questions that maybe no one is asking yet. Our projects are, in fact, responses that we give with attention and sensitivity to the surrounding urban, natural and social contexts."
Also see: A journey to a taste sensation with Christopher Ho
In this Story: Uncategorized