Censu chef Shun Sato breaks away from izakaya tradition toward modern Japanese fare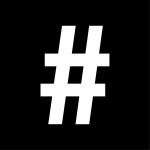 By: Stephenie Gee
August 1, 2022
Adamant about not following in the footsteps of his izakaya-owner father but instead finding his own route in the culinary world, chef-owner Shun Sato talks to Stephenie Gee about his modern Japanese restaurant Censu and why he doesn't really care about Covid.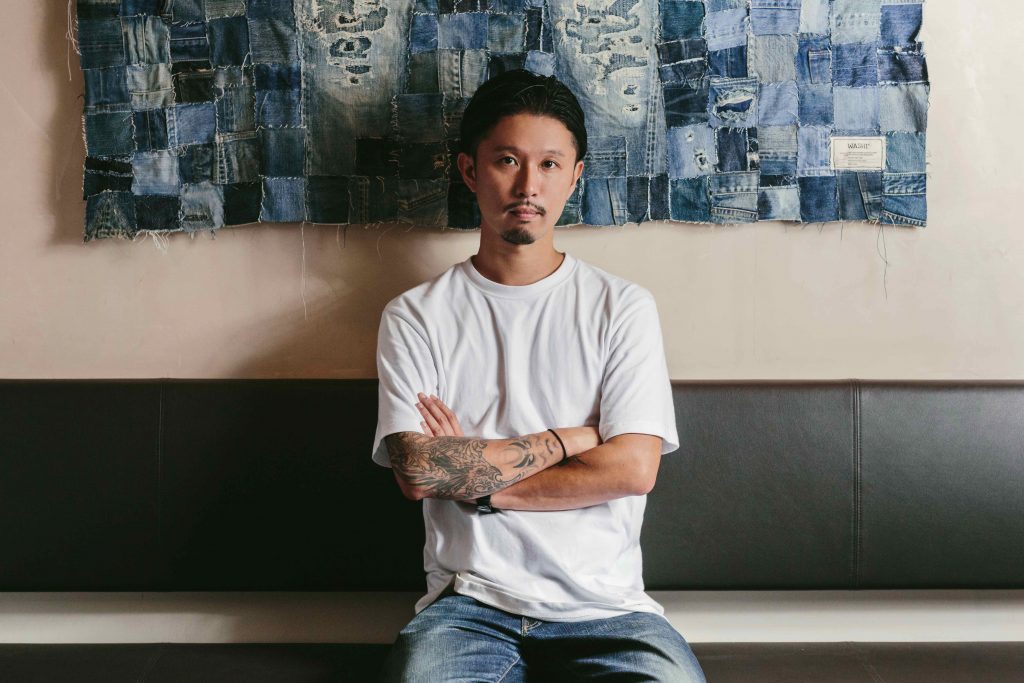 It's three in the afternoon on a rainy Friday, and the sky's a glum shade of grey. We're in the restaurant Censu located halfway down trendy Gough Street and chef-owner, Shun Sato, who has just finished preparing for dinner service to begin at 6pm, sits down, beer in hand, and our interview questions, translated into Japanese, at the ready.
Also see: From Central to Tsim Sha Tsui, 5 oyster places to try
"The first question, how did you begin your culinary journey?" he asks, right off the bat. "So, can I answer now or do you want to…?" No small talk or idle chat – it's perhaps this no-nonsense attitude that has brought Sato to where he is today: a respected chef with a cast of loyal fans. And as Steven Chu, Censu's assistant manager, explains, it is indeed.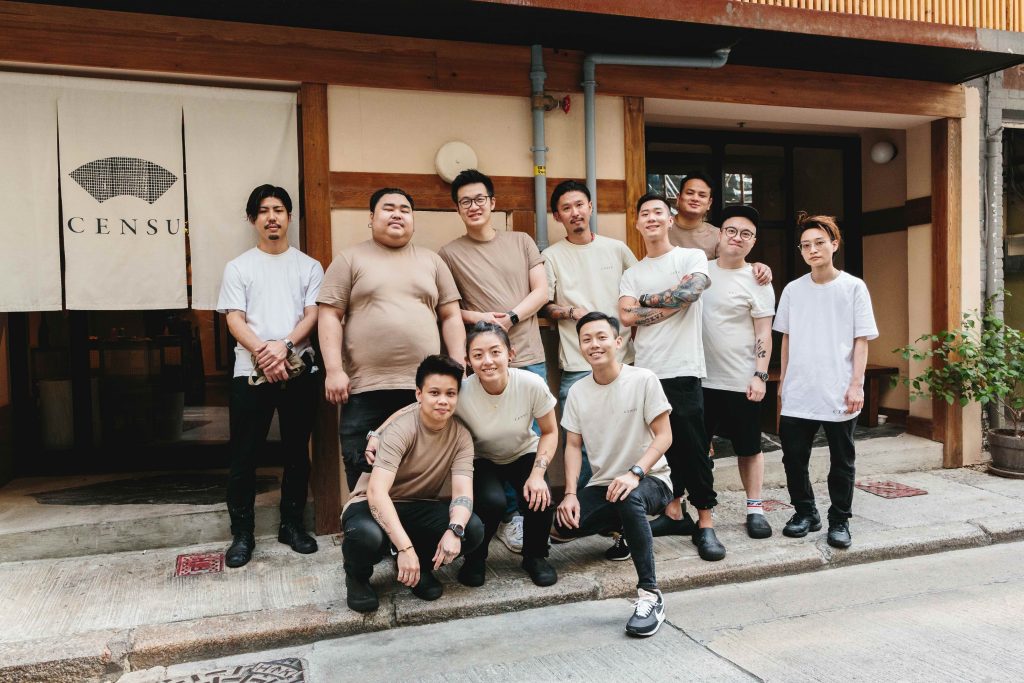 "He's a big risk taker," Chu says. "Even if people disagree with him, he still goes through with it and does what he wants to do." Chu is talking about how the restaurant, which opened its doors back in June 2021, came to be. Previously head chef of Fukuro, a spirited late-night joint and love letter to debaucherous Tokyo nights in the heart of SoHo, Sato made what many consider a wild decision to open a restaurant of his own amid a global pandemic. The way Sato sees it, however, there was nothing impromptu about it. Rather, it was a decision two years in the making and Covid-19 was just the catalyst that kicked-started him into action.
Also see: What to watch on Netflix this August
"I couldn't bring myself to [open Censu] because of how much I loved Fukuro," he says. "But when Covid started to worsen, Fukuro closed down [temporarily in July 2020] and it was quite frustrating." To say that Covid was a huge blow to the food and beverage industry would be an understatement, with restaurants having to limit their capacity, shorten their operating hours or close their doors entirely – whether temporarily or for good. Sato, contrary to current thinking, found this dire situation to be the perfect opportunity "because prices for rent are a lot cheaper, I think by 20-30%."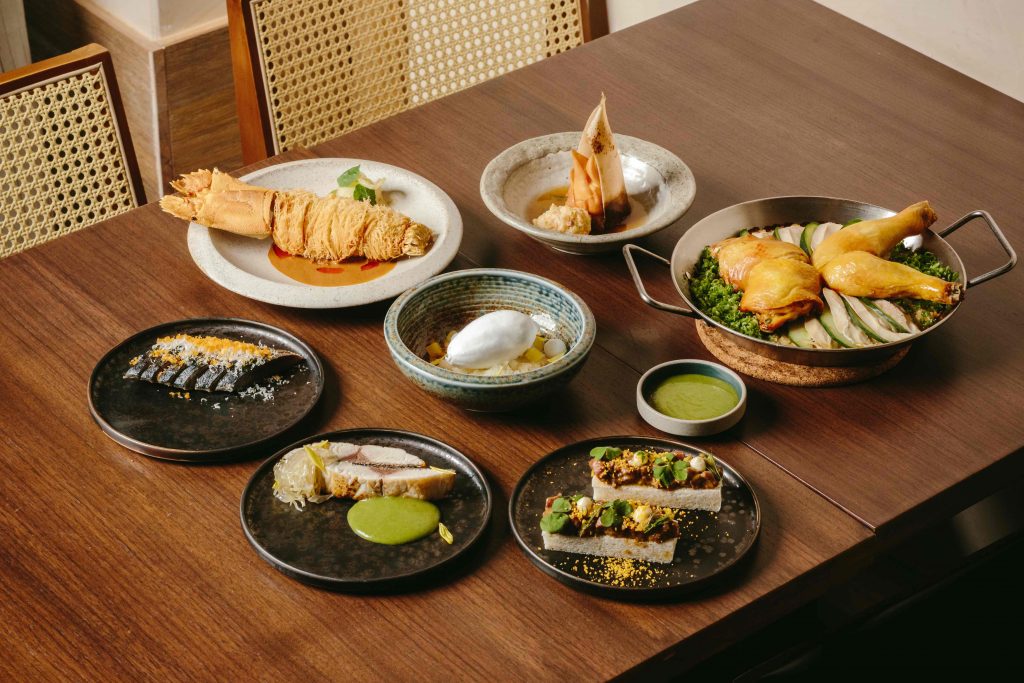 He continues, "I don't care about Covid, it doesn't bother me. If I want to do it, I'll do it. It doesn't really stop me. If my restaurant is good enough, customers will come no matter what." On the day I visited for a taste of the new menu (around two weeks prior to this visit), the restaurant was fully booked for both seatings at 6pm and 8pm with closing at 10pm as per regulations (now seatings are at 6pm and 8:15pm with closing at 11pm). And while waiting for my arrival this afternoon, multiple guests had already knocked on Censu's door asking for a table, they tell me, only to have been turned away as lunch isn't served at the 40-seat dining destination.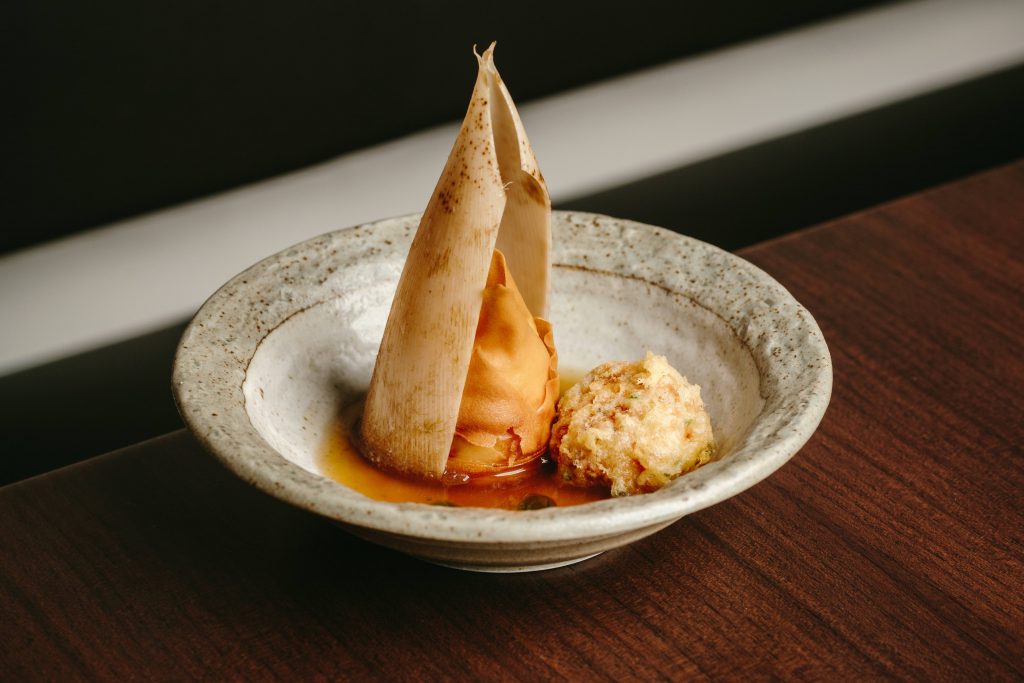 Why is that? "For us, we think lunch is not capable of providing the guests a full experience since they can't actually have a good time as most of them have to rush back to the office and rush back to work," says Chu. "Dinner is the only time when they can relax, have fun, have a drink, have a chat with friends and have family gatherings." Though Sato and his team reluctantly had to give in and open for daytime service – a weekday lunch and weekend brunch – when the city's strictest dining regulations were in place and with the burden of practical realities like paying rent and providing for families on their shoulders, "we were not very proud doing it."
Also see: Zuma Hong Kong celebrates its 15th anniversary with a special tasting menu
As it turns out, it's not just about guests enjoying themselves but also Sato. Drawing inspiration from Chinese, Singaporean, Spanish, French, Japanese and more cuisines, as well his team and loyal diners, the chef creates dishes that are the result of having fun and finding the balance of flavours and seasoning, as well as authenticity and refinement. And though the ingredients used are locally sourced as much as possible and the plating takes on a French, fine-dining approach (influenced by Sato's background in the cuisine and tenures at star-studded restaurants including Sydney's Yoshii and London's Aqua Kyoto), the core flavour will always be Japanese. This means that while you may not find plain sashimi on the menu, you will be rewarded instead with, say, mackerel sashimi pickled with yuzu vinegar and served lightly torched with parmesan, horseradish and karasumi.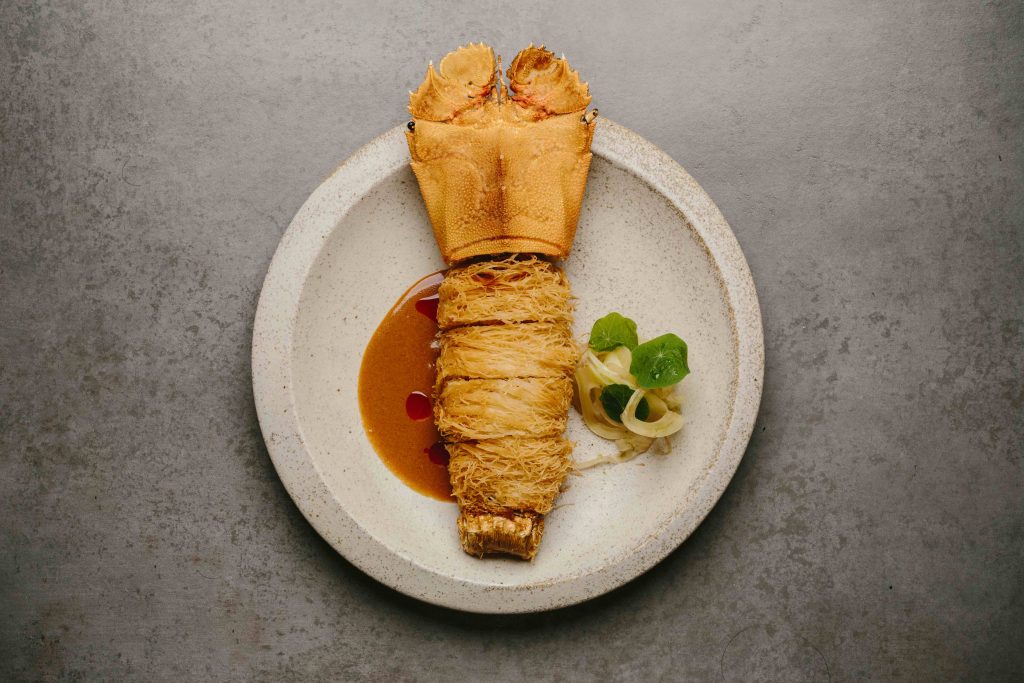 A true tribute to spring's bounty, the new menu also includes other sumptuous offerings such as beef tartare, made with premium wagyu beef in a shoyu- and sake-infused sansho pepper concoction and accompanied by toasted Hokkaido milk bread in place of conventional French crackers; flathead lobster kataifi, which takes its cue from the popular Middle Eastern dessert kataifi; and "three yellow chicken paella", a cross between Singapore's Hainan chicken rice and Spanish paella.
Also see: Digital Cover: Tyson Yoshi x Hublot & Sandro
Don't be mistaken: this is not a fusion restaurant. "Fusion is too old," says the Sendai native with a laugh when asked how he would describe his cuisine. "Modern is better." Nor is it a traditional izakaya. In fact, if anything, Sato, the son of an izakaya owner, hopes not to be labelled as such. "My dad can't make food," he quips, sparking a laugh from all of us. "I mean, he can make it but it tastes like shit. It's not my style – izakaya. [Mine] has nothing to do with it. It's completely different."
Delicious, "modern" Japanese fare is only one small element of a much larger experience guests can expect from Censu. Designed by Jamo Associates, the rustic space features sakan plastered walls inspired by his grandmother's house in his home province which reflect the ancient wabi-sabi philosophy of finding beauty in imperfection. The idea is to take diners on a sensory journey – just as the restaurant name suggests, which itself is a play on words, meaning "folding fan" in Japanese ("sensu") and embracing "sense" in all facets.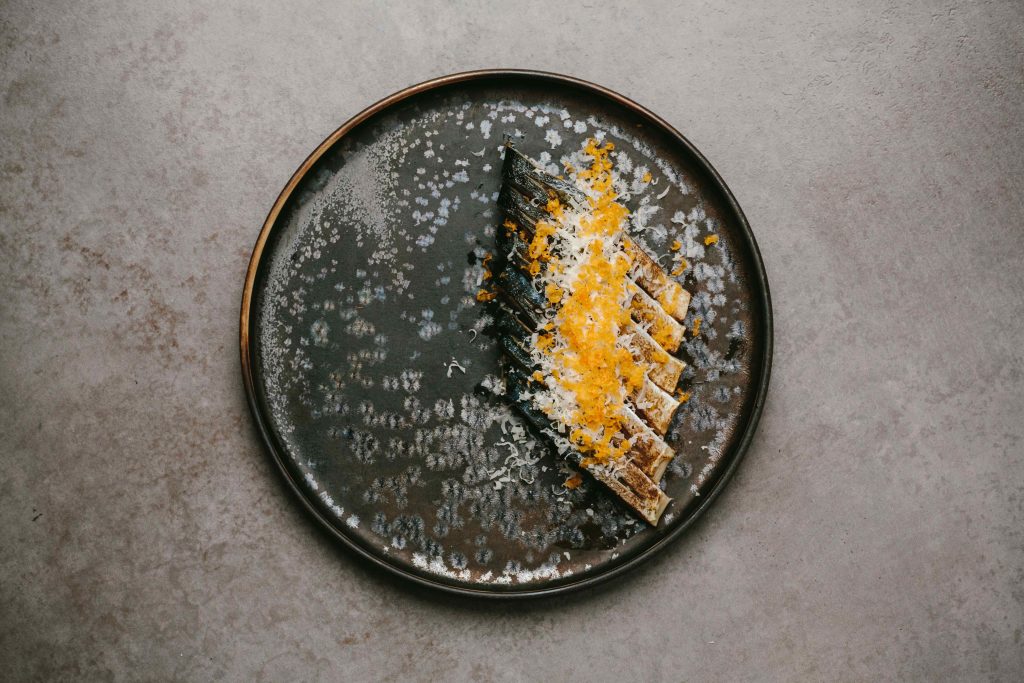 "With Covid, it's hard to visit Japan," explains Sato. "So I wanted to make a little Japan in Hong Kong. Also, I wanted to make sure all the five senses were there – the smell, how it looks, the crunch of the tempura, the sounds and so on. Everyone has their own five senses and so our focus on that makes Censu hard to compare to other restaurants."
Also see: Roman holiday: Walk in the footsteps of Caravaggio
Noren curtains hanging at the doorway; beige woven chairs pulled up to walnut wood tables made to get roughed up by customers as a sign of a good time and a homage to old Japanese homes; tables intimately spaced and lit up by traditional Japanese hanging paper lanterns; washi coasters for your glassware; incense (which is also available for sale along with other merchandise) designed by Sato himself that fills the air with a scent he describes as "a lot like Japan and just carries an overall Japanese smell" – nearly every aspect of the restaurant is a representation of the East Asian country.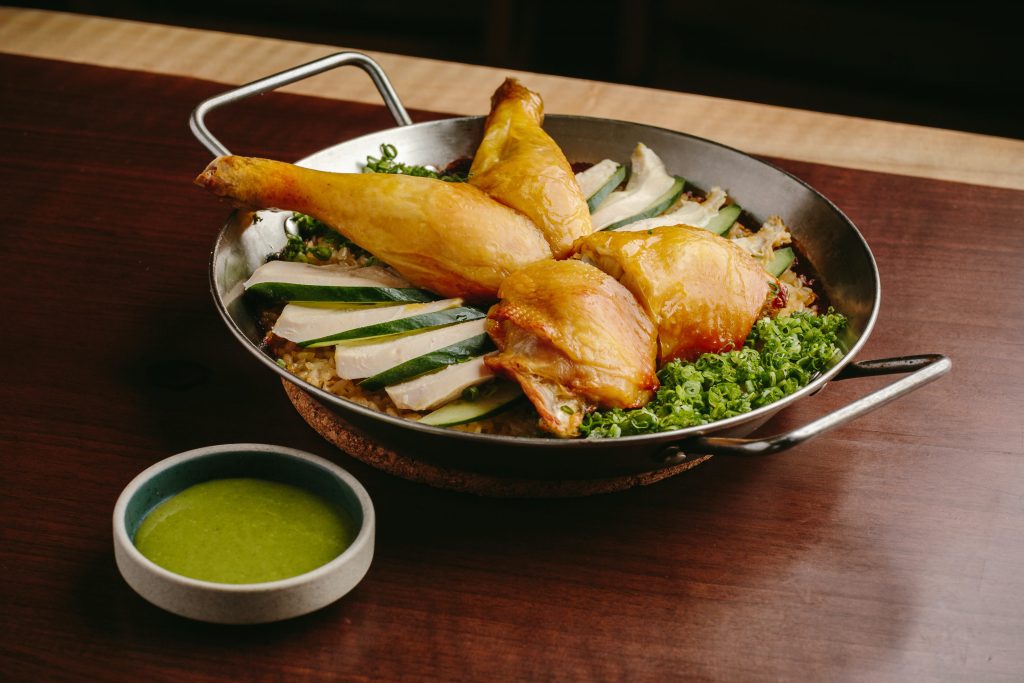 But it's not just about bringing a piece of Japan to life for its guests. More than that, Sato wants Censu to be as much of a workplace and restaurant as it is a home and place for enjoyment for himself, his team, or rather his "family", as he refers to them and everyone who visits.
"It's a big combination of different people," Chu explains. "Everyone contributes different personalities, characters, what we like – all of it can be brought to this restaurant. Even the music we use at night, sometimes we're playing Japanese music, sometimes even Cantonese music – just to make people feel like they're at home because Shun wants everyone who comes in to feel like this place is their home as well."
Also see: Apple TV+'s success at the Emmy Awards