The Love exhibition in Évora, Portugal, unveils how Morocco served as second home and cherished muse for boundary-pushing French couturier Yves Saint Laurent. Dionne Bel reports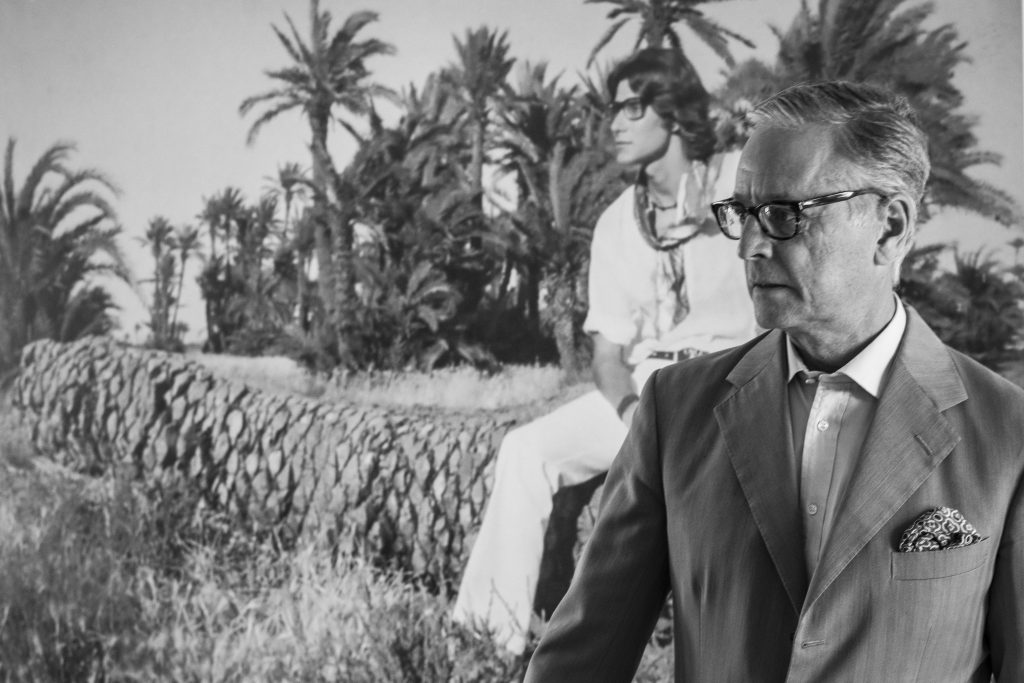 My introduction to Marrakech came with a jolt. The city opened my eyes to colour," said Yves Saint Laurent after his first trip to the city in 1966. He and his partner, Pierre Bergé, would go on to fall in love with Morocco, which eventually became a second home for them. After their first visit there, they even purchased a modest dwelling in the medina of Marrakech called Dar el-Hanch, or House of the Serpent. Now, after a two-year renovation, Palácio Duques de Cadaval in Évora, Portugal, reopens its doors to present Love, a three-part exhibition running until October 31 that unveils how the acclaimed French couturier, considered one of the most influential fashion designers of the 20th century, was deeply inspired and transformed by Morocco both personally and professionally.
Also see: Unique mooncakes to make Mid-Autumn 2022 unforgettable
The brainchild of Duchess Claudine de Cadaval and her two daughters Diana and Alexandra, the Love exhibition stems from the Duchess' strong connection with fashion – she modelled for Yves Saint Laurent, Givenchy and Chanel, and opened Valentino's first shop in Paris – and comes after they organised the largest show of African contemporary art in Portugal in 2018 at the palace, the ancestral home and property of the Dukes of Cadaval family.
Madison Cox, president of Fondation Pierre Bergé – Yves Saint Laurent, wrote in the exhibition catalogue, "Throughout Yves Saint Laurent's long and creative career, which began in 1957 and ended with his retirement from fashion in 2002, his many personal passions – whether painting, music, cherished individuals or distant lands, to name but a few – were endless sources of inspiration and strongly influenced his creative output. At the forefront of this long list is Morocco. Beginning with his first trip there, in the late 1960s, the couturier remained passionately in love with the country."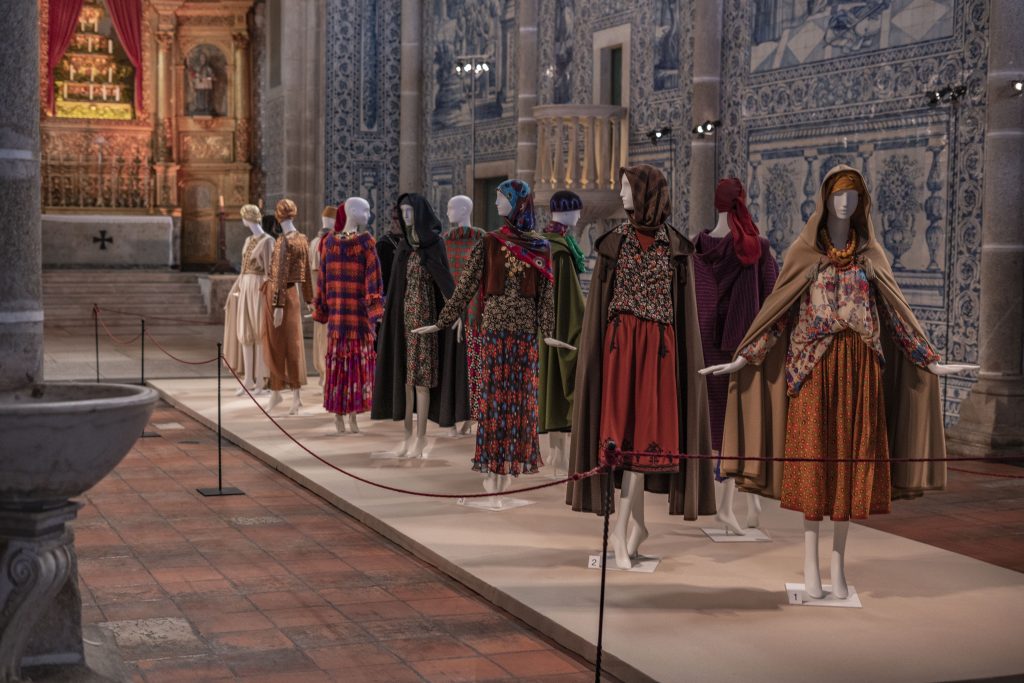 Curated by French designer and friend of Saint Laurent and Bergé, Stephan Janson, the exhibition debuts with 14 Yves Saint Laurent ready-to-wear outfits echoing the vibrant and subdued hues and traditions of Morocco. On loan from the Fondation Pierre Bergé – Yves Saint Laurent in Paris and private collections, they are displayed inside the São João Evangelista Church on the palace grounds.
Highlighting Saint Laurent's role as the greatest colourist in the fashion world, the exhibition explores how he used the myriad shades of Morocco as raw material and the importance it had throughout his career.
Initially favouring beige, navy, black and red, Valentino would never use colours the same way after his first trip there. The colours of zellige tilework, zouac painting, djellabas, caftans and the gardens of Marrakech became those of his collections.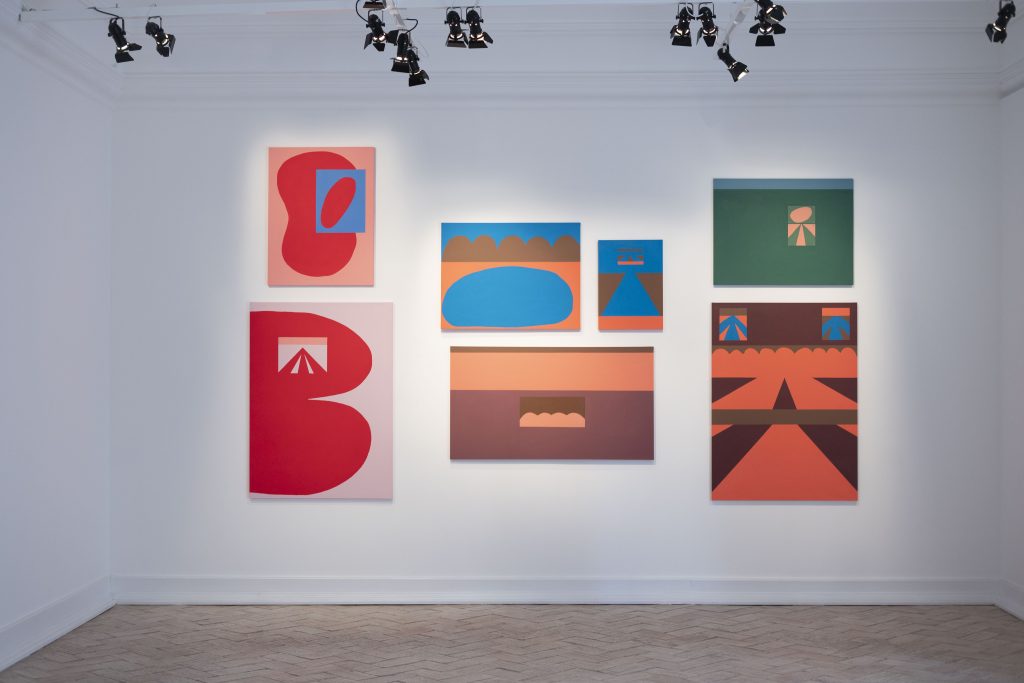 "It was not only what Yves Saint Laurent saw in the street that seduced him, but the power and quality of
the light in Morocco also made him see colours in a different way," explains Janson. "He was very sensitive
to the play of shadow and light. That's when he discovered all these colours of the earth, sand and very natural tones that before were not very interesting to him, but that were enriched by sunlight. He used to work with beige and, when he was in Morocco, he discovered that beige could be 100 different colours according to the shadow and the sun."
Also see: #obsessed: top picks from Kapok, Nespresso, Valérie Messika, Gucci and more
What's unconventional is Janson's decision to juxtapose garments from various seasons and years ranging from 1972 to 1992 instead of presenting the original looks shown on the catwalk. For example, on the first mannequin, a Moroccan-inspired beige wool cape from 1981 is proposed with a printed silk tunic from 1974, a printed wool skirt from 1978, an undated beaded necklace and a silk jacquard scarf from the 80s. They are matched together to perfection, just as how women actually wear their clothes, combining a blouse, skirt, hat or belt from different collections.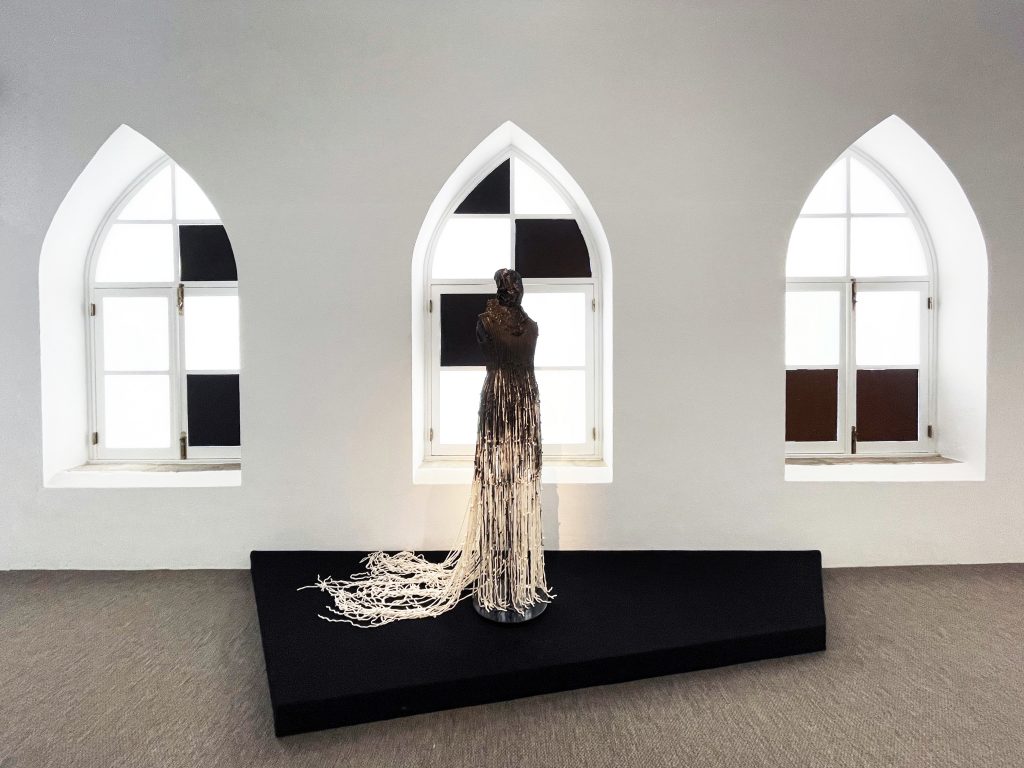 The second chapter of the exhibition at the heart of the palace delves into Morocco's contemporary art scene and the influences today's artists share with Saint Laurent. Chosen by Moroccan curator and art critic Mouna Mekouar, the works of 12 contemporary Moroccan artists reflect the couturier's bold use of colour and space, desire to work beyond cultural boundaries and fascination with Moroccan decorative arts.
"I had this idea of working around how Yves Saint Laurent was very much inspired by colour and how today contemporary artists in or from Morocco use colour in their works," notes Mekouar. "With that as a starting point, I started to choose different artists who have colour as a main theme that could dialogue with the works of Yves Saint Laurent, revealing one aspect of their own way of looking at colour and the way we use colours in Morocco."
Also see: Fashion Shoot: song of the open road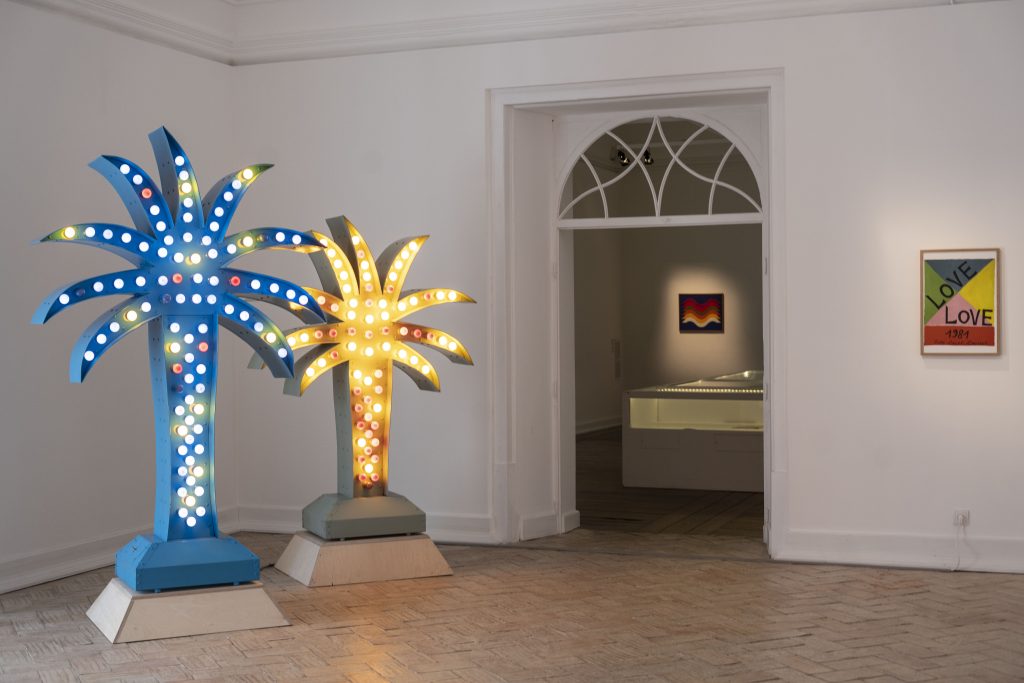 Yto Barrada's blue and green painted metal palm trees illuminated by multicolour light bulbs examine her concerns with Morocco's urban development, while Mohamed Melehi's variations on the wave motif in colourful lacquer paint, commonly used in cars, display a bond with the working class.
Obsessed with the natural hues of the soils of southern Morocco, M'Barek Bouhchichi sheds light on the savoir-faire of traditional craftsmen like potters or weavers. Also collaborating with artisans, Sara Ouhaddou's salvaged glass sculptures ranging from colourful to transparent tell the story of stained glass in Moroccan houses with glassmakers who perpetuate a dying form of Arab-Muslim art.
Also see: 7 activities to do in Hong Kong to make you feel you're abroad
Accompanying the selection are Saint Laurent's iconic poster-sized New Year's greeting cards featuring the word "Love" in the vibrant hues and patterns of his adopted country, which he had created and printed for his friends and suppliers over a 27-year period during his biannual stays in Marrakech.
Some of these coloured collages showcase two motifs dear to the designer – the heart and the snake – while others feature paper cut-out blocks of colour reminiscent of Matisse, or represent abstract mosaic patterns, exotic flora found in his Marrakech garden or simple stripes. They were made using multiple techniques including mixing photos, visiting cards, coloured felt pens, coloured pencils, ink, watercolour or gouache.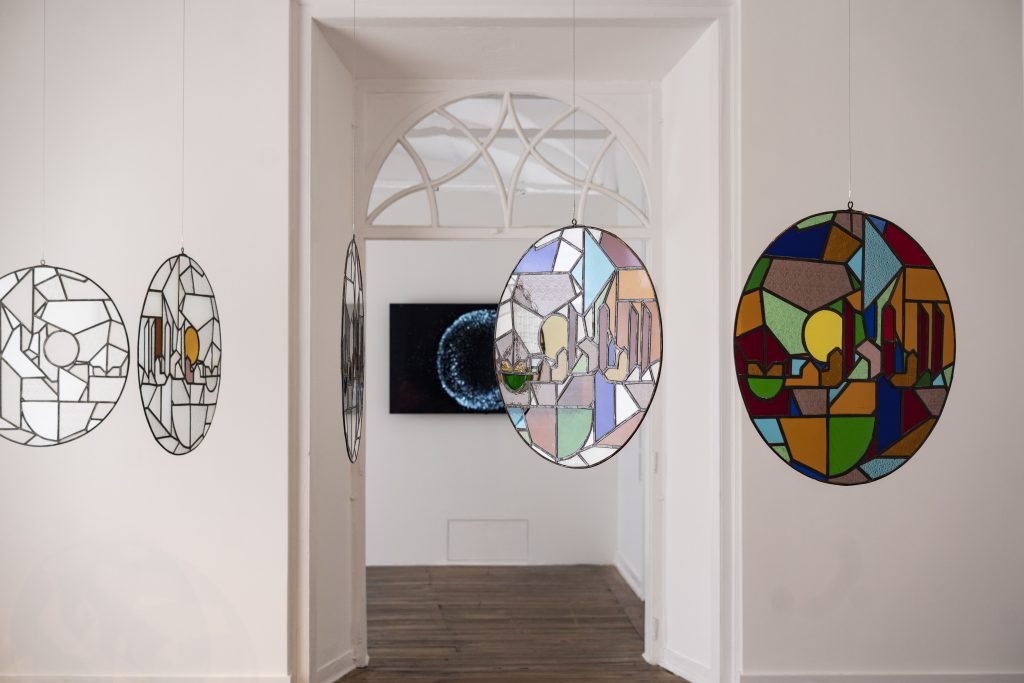 The final room of the exhibition pays tribute to Bergé, who had backed Moroccan couturier Noureddine Amir by showing his work at Fondation Pierre Bergé – Yves Saint Laurent and at Musée Yves Saint Laurent Marrakech.
Amir was the first Moroccan designer to have presented a collection in Paris as part of the official haute couture calendar in July 2018. Curated by Alexandra de Cadaval, this third chapter showcases Amir's boundary-crossing sculptural dresses that blur the lines between fashion, art and architecture through various textures, hues and shapes recalling the Amazigh construction of towns in the southern regions of northern Africa.
"Noureddine Amir is unique in how he tames and fashions materials to his own architecturally complex requirements, revisiting and reworking natural, primaeval elements like jute, raffia, wool and cotton," says de Cadaval. For more than 25 years, she and her family have been transforming Palácio Cadaval – located just over an hour's drive from Lisbon – into an epicentre of the world's art and culture. After Yves Saint Laurent in Morocco, we can't wait to see what's next.
Also see: What is on Apple TV+ this September?