Is the Four Seasons Hotel Hong Kong the ultimate staycation?
April 26, 2018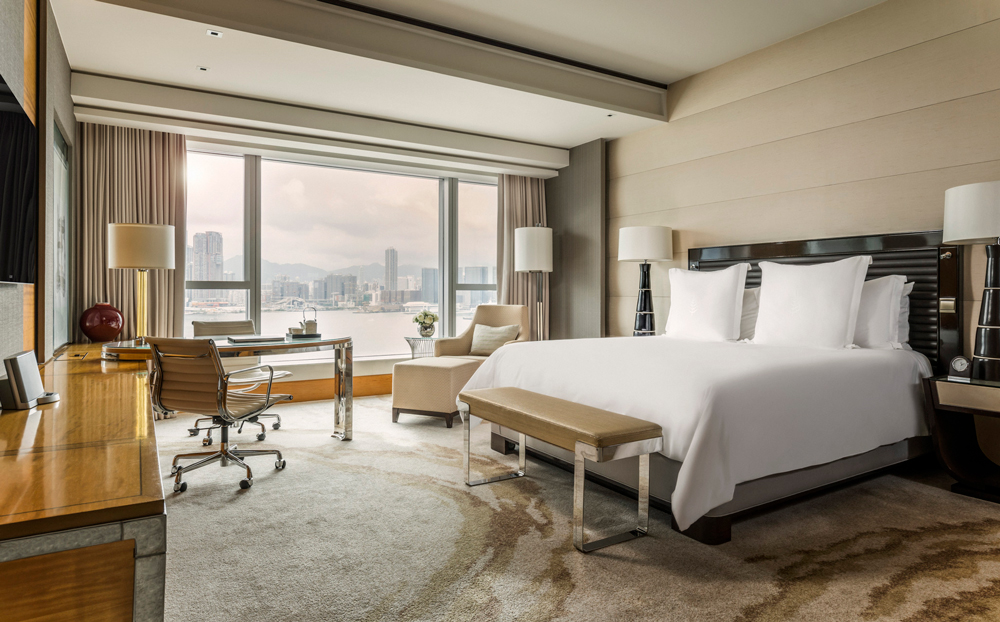 Everyone knows the Four Seasons hotels– the name is synonymous with luxurious travel, be that for business or pleasure. They're certainly not a boutique brand, but over the years they've managed to capture that intimate feeling, without sacrificing an ounce of luxury expertise.
It's no secret that I'm a huge fan of the Hong Kong hotel. From their exciting pop-ups like The Dead Rabbit and Longtail, to their forward-thinking spa initiatives and flawless hospitality, everything they do seems to impress me. Honestly, I even spent my birthday in their lounge for High Tea.
I was lucky enough to get the chance to stay over one weekend, and the quick 'staycation' exceeded my already high expectations.
Check out our top list of the best staycations in Hong Kong here
After check-in, we were escorted to our Club Premier Harbour-View room. The room design is classic and neutral, professional enough for the business traveller but with just the right amount of plush to make it a haven for walk-weary tourists. In the bathroom, there was a gorgeous walk-in rain shower and generous tub (a very appreciated perk in space-starved Hong Kong), and a built-in LCD screen. But the best aspect by far was the adorable, handmade welcome sweet from chef Ringo Chan: a chocolate hedgehog, inspired by my own Hargao the Hedgehog. Just one of many small surprises that made the stay so memorable.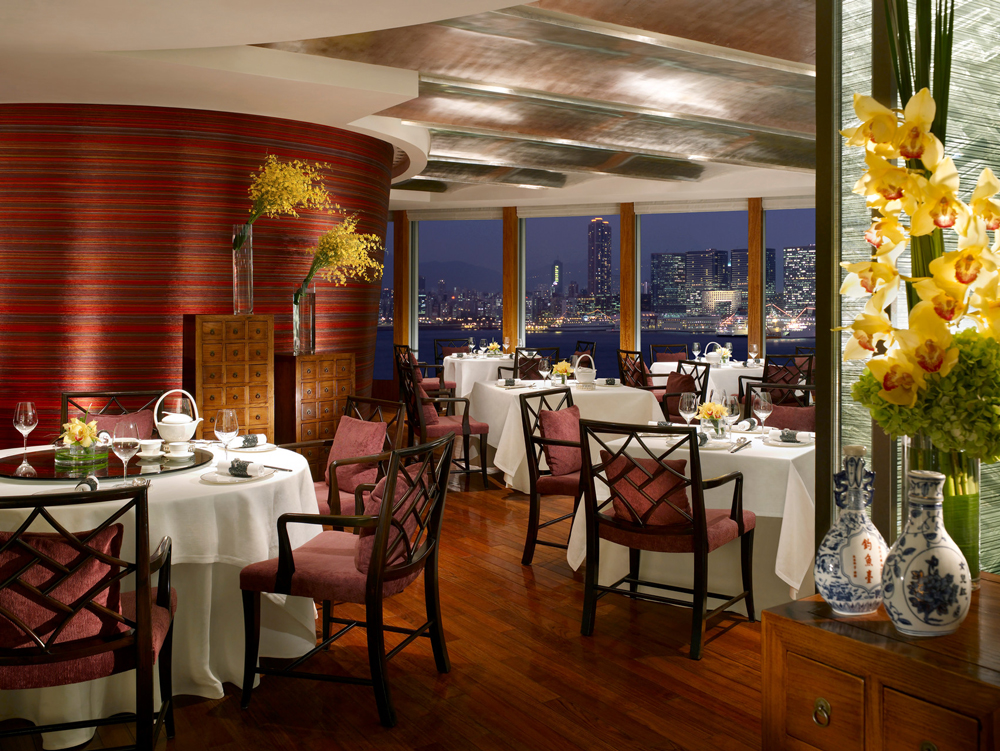 After a quick explore around the room, it was time for dinner at their renowned Cantonese dining room, Lung King Heen. Meaning "View of the Dragon", it's the first Chinese kitchen in the world to be awarded a Michelin three-star rating, and it's famous for its dim sum, seafood and stunning views over the harbour.
Like so much of the hotel, it manages to exist comfortably in that hard-to-find space between luxury and relaxation. With Cantonese cuisine, the secret is fresh ingredients, and Executive Chef Chan Yan Tak and his team deliver. I loved the deep-fried crab shell stuffed with onions and crab meat, and the surprisingly spicy wok-fried prawns with organic black garlic and dried chilli. If you're celebrating a special occasion or have out of town guests, definitely book a table for afternoon dim sum or dinner. You can also try two-starred Caprice, or the just-opened Sushi Saito (if you can get a seat, that is…).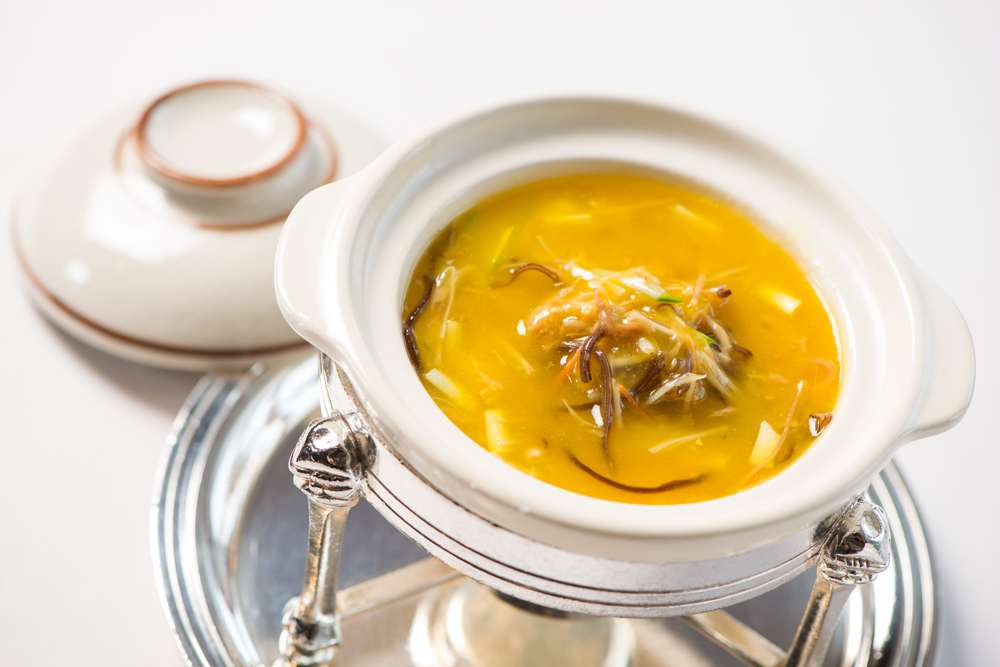 The service was flawless and the food was delicious, as one would expect, but what really stood out was how much personality and autonomy the servers had. Unlike other fine-dining restaurants where the staff are often invisible, our waitress was an active part of the experience. She walked us through each of the eight dishes on our set menu, and told us about her son and why he loves the Chicken Pottage. Our sommelier introduced each pairing, but also dropped some life-lessons in the process. He even taught me how to get better food shots by just sticking a match box under the plate. It lifts the dish up just a bit so you get the best angle, and it legitimately works wonders.
After dinner, we stopped by the Executive Club on the 45th floor for a nightcap. A perk of the Club Premier Room, the exclusive space is open 24-hours and provides a host of personalised services, including garment pressing, and even setting up business meetings. But we were just there for the evening bar. They have a small but well-curated selection of Japanese whiskies, free-flowing Bollinger champagne and mixed drinks available until 1 am.
The next morning we were back at the Executive Club for their buffet breakfast. There's something for every taste including bacon, sausages, pastries, dim sum and a salad bar. I loved the dripping honey comb and house-made preserves on the fresh sourdough, but my boyfriend made the most of the egg station. They also serve an afternoon tea and light supper throughout the day.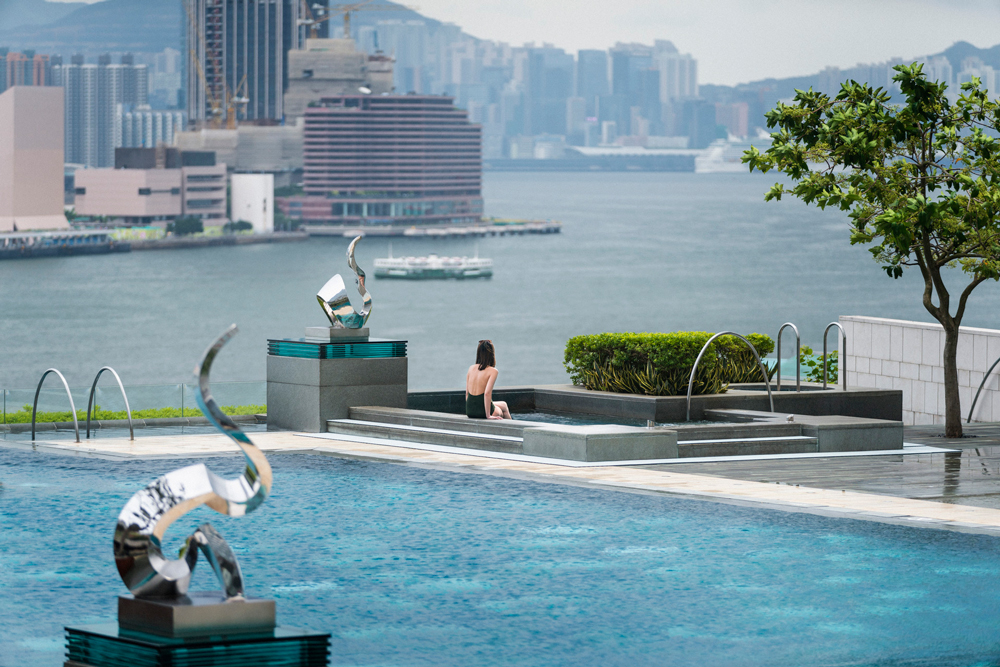 After breakfast we headed to the infinity pool, but were quickly deterred by the weather. No matter, we opted to spend the afternoon in their gorgeous spa, ducking happily between the sauna, steam room and my favourite, the rejuvenation pool. We didn't get any treatments but we did get into one of their more unusual (and highly celebrated) areas of the spa programme: the spiritual.
Under the guidance of director Shoshana Weinberg, Hong Kong's Four Seasons Hotel spa sets the standard for mindfulness across the city. No one is even coming close to what they do. Just this year alone they've introduced two wildly popular programmes: the Masters of Wellness, an ever-rotating host of offerings by the world's foremost healers, and their full-moon meditations.
You can read up on the Masters of Wellness programme here, but I'd highly recommend the full-moon meditation. Happening once a month, participants gather in one of the hotel's rooms for an hour of deep reflection, aroma therapy and energy healing. Draw an oracle card before the practice begins to help set your intention, then find a spot on the floor. Weinberg's guided meditation will relax you, and in some cases, inspire you. Then she and her team will make their way around the room for quick but powerful energy healing. When it was over, I felt like I was in a daze. Never in Hong Kong have I been so relaxed. And yes, it's followed by refreshments.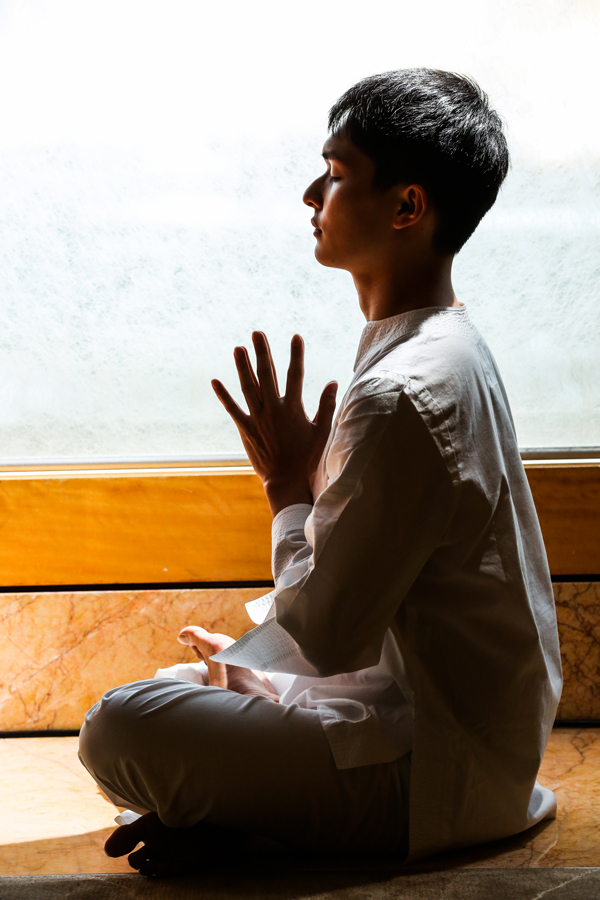 And then, just like that, it was over and we went back to reality. There is so much I didn't mention, small moments of thoughtfulness and hospitality that give The Four Seasons Hotel Hong Kong it's five star edge. When I sent my cocktail dress to get pressed, it came back not just cleaned but also hemmed. We never had to introduce ourselves at the Executive Lounge, they seemed to simply remember us (and our preferred drink orders). The gentleman at the pool brought out a blanket so I wouldn't get cold, and the woman who checked us in left a goodbye note for us when we left.
It's this level of attention and care that sets this hotel apart from the rest in my eyes, and I wholeheartedly recommend it to anyone looking for a lavish escape in Hong Kong.
Four Seasons Hotel Hong Kong, 8 Finance Street, Central +852 3196 8880

fourseasons.com/hongkong