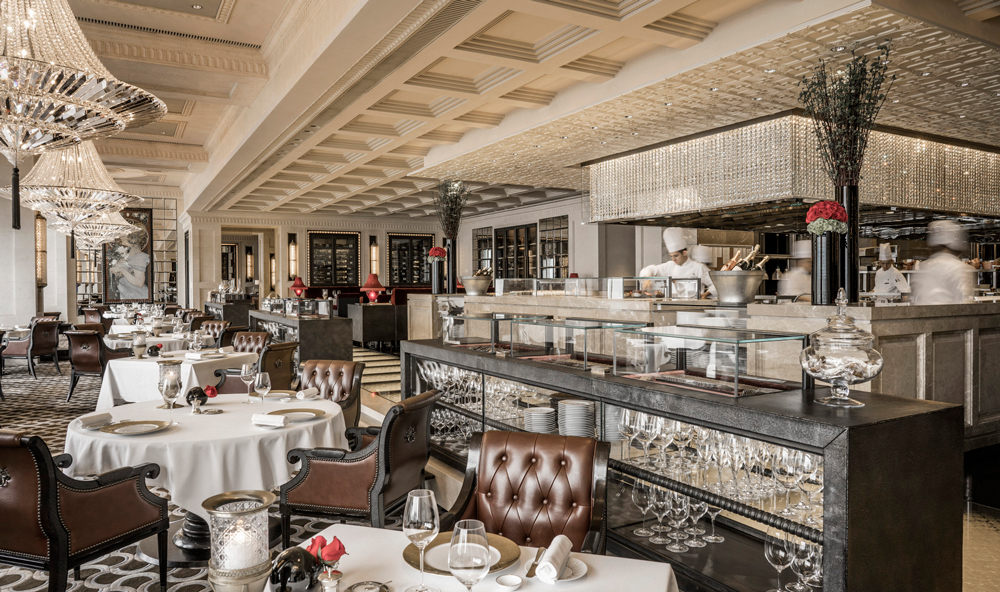 A meal at Caprice has never been disappointing, but newly-appointed Chef Guillaume Galliot, formerly of Macau's The Tasting Room, has subtly revolutionised the experience. Gone are fussy, overly formal dishes; they've been replaced with sense of playfulness and an enhanced appreciation for Asian ingredients, used to complement the French flavours.
The first thing one notices about Chef Guillaume, is the people around him. The team in the open-plan kitchen buzzes around happily, as the chef makes his rounds; making jokes while he checks on the different stations. Though new, it's clear he's already made an impression, and the atmosphere is pleasantly infectious.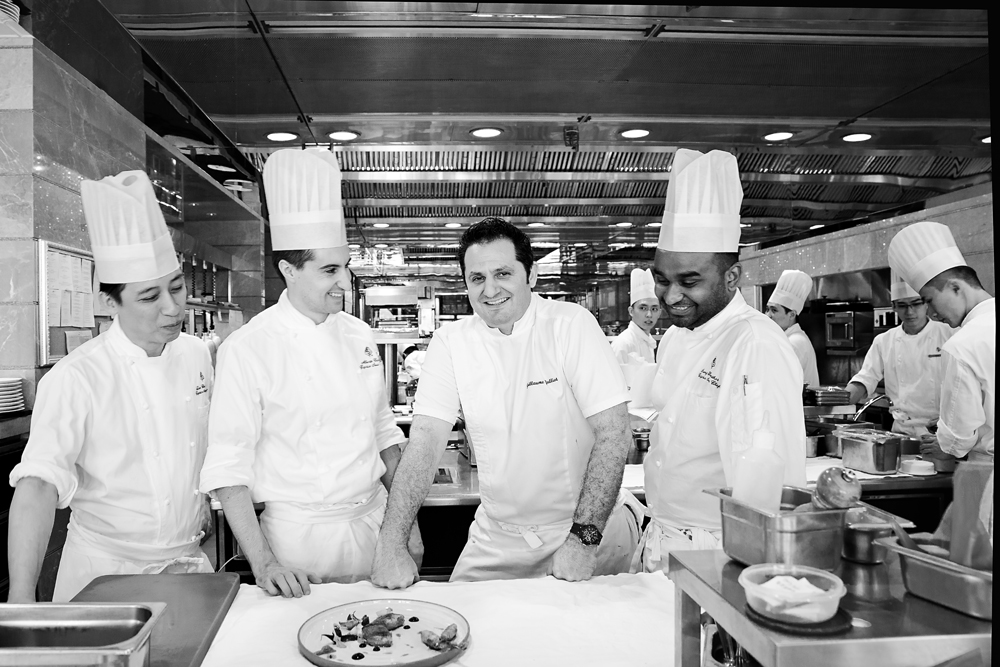 Seated at the Chef's Table just behind the kitchen (and in dangerous reach of the cheese cabinet), we started with a stunning Tartare Boeuf Huître et Caviar topped with a generous spread of caviar and delicate gold foil. It's worth noting Chef Guillaume doesn't adorn unnecessarily, each embellishment has a purpose, in this instance it's an homage to the restaurant's gilded interior. It was light, and slightly sweet, with a vibrant egg yolk and parsley gel dotted around the side of the plate. The tartare was followed by a beautiful Tomato Water Scampi with Mozzarella Espuma. Made with a surprising splash of vanilla oil, it was incredibly refreshing.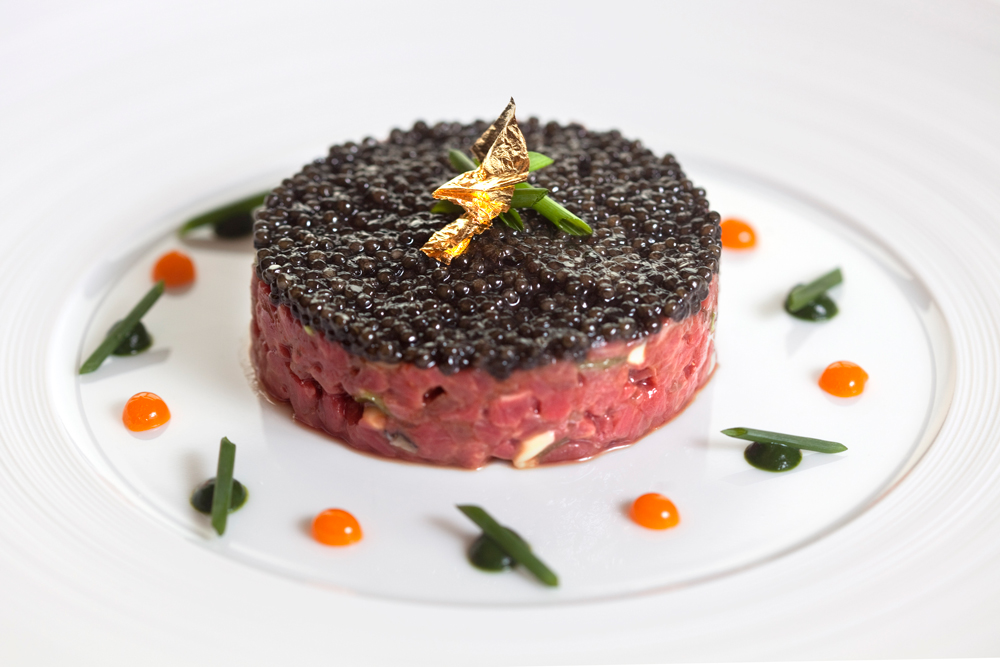 Arguably the most stunning dish of the evening was the Laksa de Crabe et Oeuf Confit, a gorgeous re-interpretation of the classic Singaporean dish. Made with succulent snow crab, the noodles have been replaced by a rich foam for a touch of French elegance, and sprinkled with a fragrant dusting of Sudachi lime. If you're in the mood for something heavier, the Pigeon Rôti, Cuisses Confites is a stunner. Made with blood pigeon from the chef's hometown in the Loire Valley, the rather dramatically plated dish is served with a decadent port wine sauce, and will be a favourite for any meat-lovers.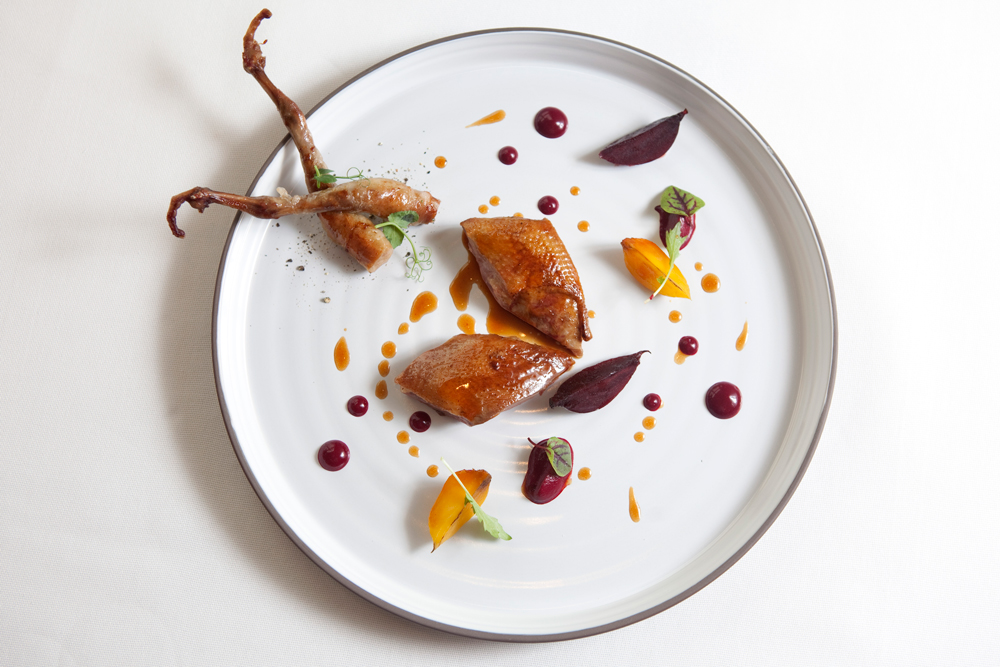 Galliot has brought over some of his signatures from Macau, which will please the die-hard fans, but to be honest, we're more interested in his new innovation. Caprice now has an ever changing chef's choice menu, similar to a Japanese omakase, which allows the kitchen to create new dishes daily depending on the ingredients. Obviously an exciting addition for regulars, but also an interesting change for the kitchen. The chef hopes it will encourage his team to become more enlivened by their work, and fight the dreaded 'routine' so many fall into after months of the same dishes.
The new offerings at Caprice are undeniably French, with a welcome touch of the Mediterranean, in flavour and feeling. Guillaume's dishes move away from the stuffy, precision-plating that fine dining has become known for, and create an almost comforting experience for guests. It's quite clear that this is the start of a new, and very welcomed, era for Caprice.
Caprice, Four Seasons Hotel Hong Kong, 8 Finance Street, Central, 3196 8690
www.fourseasons.com