10 Hong Kong quarantine hotels that'll make you feel at home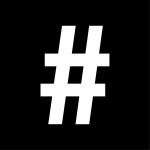 By: Natsuki Arita
October 18, 2021
As everyone knows, Hong Kong requires all guests and citizens to undergo a mandatory 21-day quarantine before launching into the city, but this period of isolation doesn't have to be without its perks. Check out this list of Hong Kong quarantine hotels that will make your 21-day stay go by in the blink of an eye
Note: Be sure to check the most updated version of designated quarantine hotels through the HKSAR Government website before booking.
The Landmark Mandarin Oriental, Central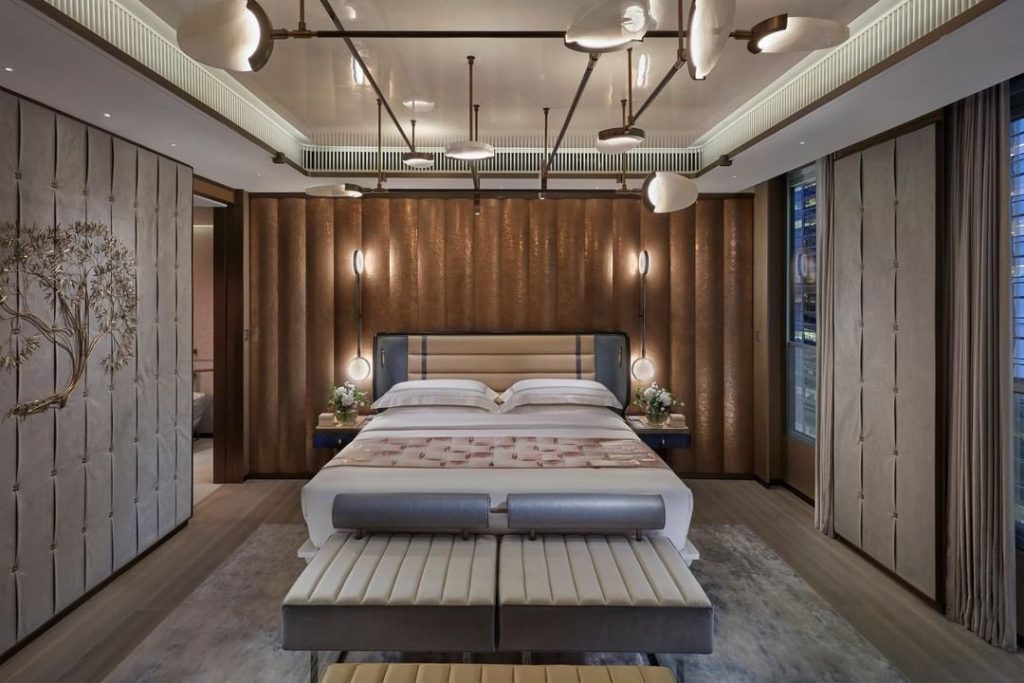 Your quarantine stay at the five-star Landmark Mandarin Oriental in Central puts you right at the epicentre of Hong Kong's bustling business district and right in the lap of luxury.
Guests can enjoy a full board meal arrangement prepared by the exclusive Mandarin culinary team along with 20% off of any additional menu order of your choice. The meal arrangement includes breakfast, two-course lunch, and three-course dinner every day.
Choose from their luxurious bedrooms (L600 Premier/Executive, L600 Deluxe, L450 Superior/Deluxe) to their spacious suites (Landmark Suite, Entertainment Suite) to pamper your quarantine needs. All rooms feature contemporary and bespoke furniture, open-spaced planning, spacious bathroom facilities, and extravagant Ploh bedding that'll soothe your body, mind and soul.
Room size: Guest rooms range from between 450 sq ft to 600 sq ft (hence the name of the rooms), while both the Landmark and Entertainment Suites are upwards of 1,500 sq ft.
See also: Hong Kong's best pet-friendly hotels for your next staycation
The Kerry Hotel, Hung Hom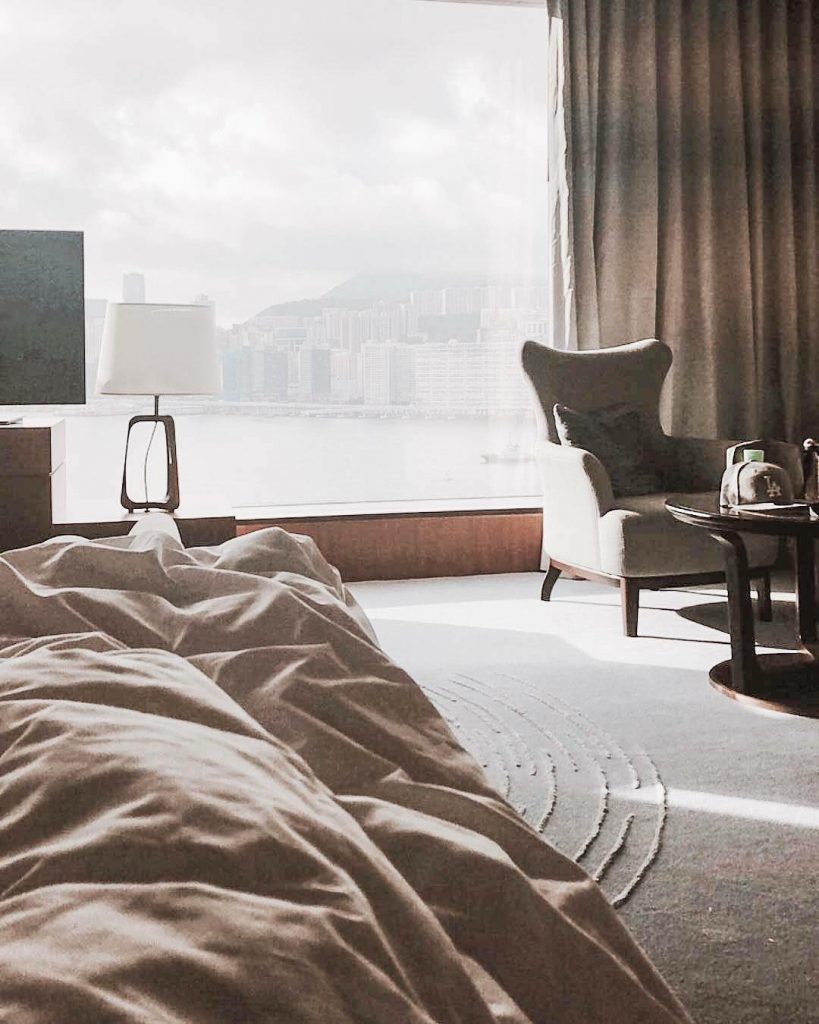 The Kerry Hotel is another five-star Hong Kong quarantine hotel, located on the other side of the harbour at Hung Hom. This location guarantees a relaxing stay, especially when you have a stunning view of Kowloon's waterfront.
The Kerry Hotel offers a quarantine package that includes set breakfast, lunch, and dinner at your choice of predetermined times. Guests may also enjoy delivery food or order off the special in-room dining menu.
Each room and suite is understatedly luxurious, which is a breath of fresh air after your long journey to Hong Kong. Neutral tones, rounded furniture, and sleek storage spaces make for a stylish home away from home.
Room size: Each room averages about 452 sq ft, while suites average up to 969 sq ft – with the largest suite room offering a whopping 3,160 sq ft of luxury.
Sheraton, Tsim Sha Tsui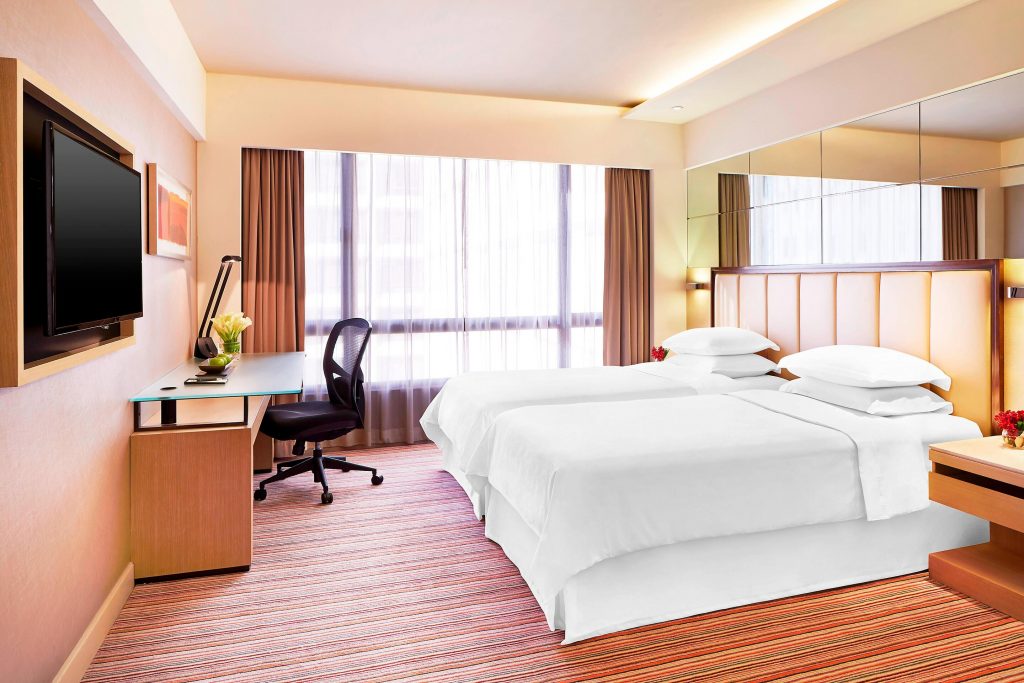 Our next five-star Hong Kong quarantine contender is the Sheraton, Tsim Tsa Tsui. This location boasts the iconic Victoria Harbour view that will instantly make you feel connected to the culture, scenery, and energy that Hong Kong has to offer despite being confined to your room.
The Sheraton's quarantine package also comes with a meal plan, daily breakfast, lunch and dinner as well as a celebration drink at the opulent Sky Lounge upon checkout. What's more, the rooms at the Sheraton are classy, minimalist, and allow plenty of natural light to permeate the room so you get your fill of Vitamin D.
Room size: Standard rooms average up to 323 sq ft, while suites offer between 409 sq ft to 502 sq ft of comfortable living space.
See also: 5 incredible castle hotels to add to your bucket list
Le Meridien, Cyberport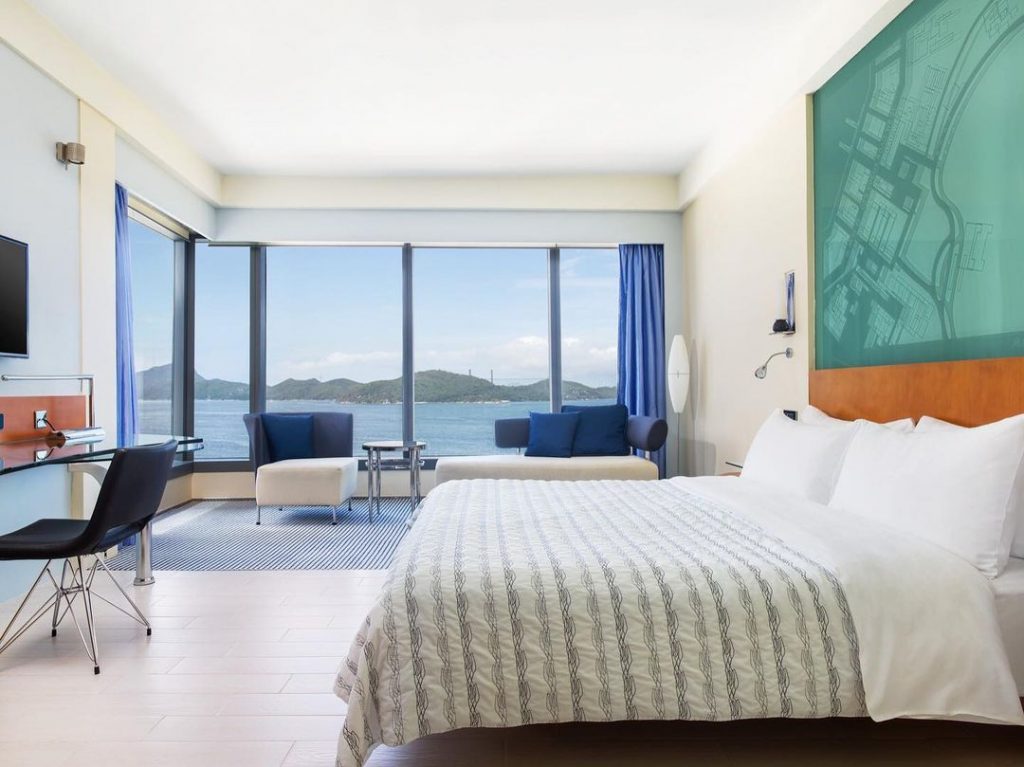 Le Meridien is another five-star hotel under the Marriott group, tucked away near Pok Fu Lam. Away from the hustle and bustle of Hong Kong's restless cars, lights, and pedestrian traffic – a quarantine stay at Le Meridien is sure to bring you unparalleled peace and quiet.
Le Meridien's quarantine package includes a full board meal plan inclusive of breakfast, lunch and dinner. The international in-dining menu also features Western and Asian dishes for guests to select, but if that's not your cup of tea, Le Meridien will also accommodate all food delivery orders and bring those meals outside of your door.
Room size: Both 'Smart Room' variations for single occupancy average up to 350 sq ft, whereas the suites can be between 800 to 945 sq ft.
L'hotel Island South (rebranded to Nina Hotel), Aberdeen
L'hotel Island South is a popular destination for quarantiners for its unique room decor inspired by nature, effectively bringing the outdoors inside. Located in Aberdeen, the four-star L'Hotel Island South (now Nina Hotel) offers impeccable views of the Aberdeen Harbour, the surrounding city, and the lush hillsides.
L'hotel Island offers an extensive quarantine package that is incredibly focused on your specific needs. Their in-house full board meal plan menu offers Asian, Western, Vegetarian, Halal, and even meal plans for those who are health-conscious or counting calories.
The hotel also offers extra benefits to outrun your boredom during the long stay such as rentable workout gear from stationary bike sets, resistance bands, yoga mats, twisting boards to sit-up bars. In addition to workout gear, L'hotel also offers chess boards and pieces and other puzzle games for a fun-packed quarantine.
Room size: A City View Room is approximately 320 sq ft and a Suite Room is approximately 645 sq ft.
See also: 6 exciting new luxury hotels opening in 2021
Four Points by Sheraton, Tung Chung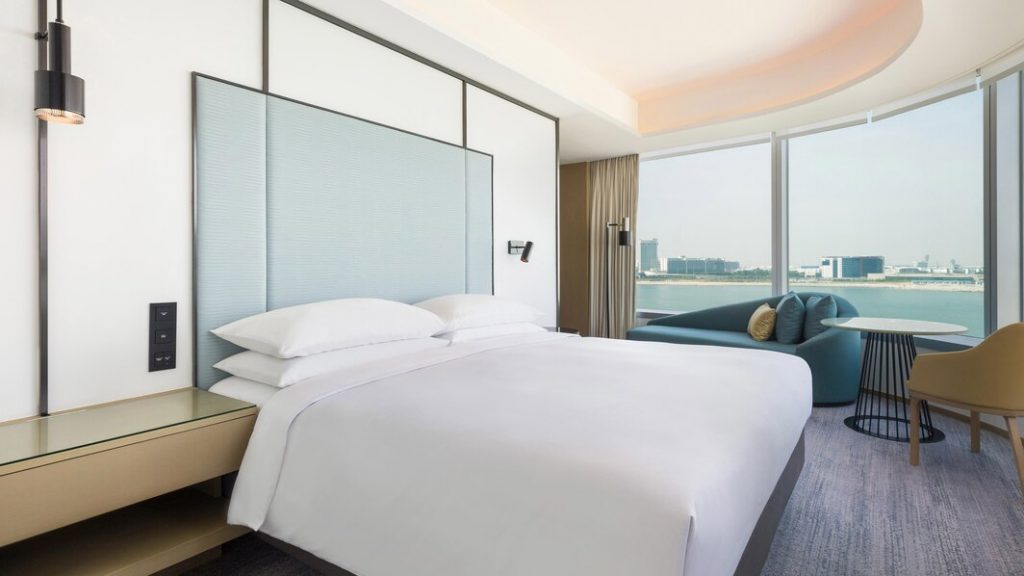 Located in Tung Chung, the newly opened Four Points by Sheraton provides unrivalled convenience for inbound travellers. After picking up your luggage and getting tested at the airport, the hotel is just a quick bus ride away – meaning that you'll be checked-in, masked off, showered, and ready for bed in record time.
Four Points by Sheraton welcomes travellers with their special quarantine package, which includes a full-board meal plan with a choice of Asian and Western dishes along with vegetarian options to suit specific dietary requirements.
Room size: Traditional rooms average up to 215 sq ft whereas the Ocean View Suites are approximately 377 sq ft.
Hotel Indigo, Wan Chai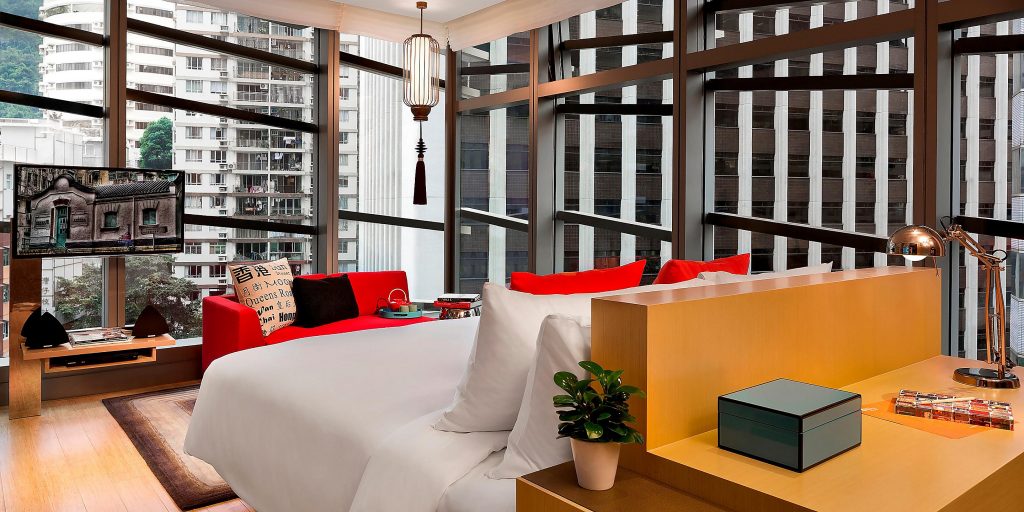 Located in the eclectic Wan Chai district, Hotel Indigo is a chic and trendy boutique Hong Kong quarantine hotel inspired by the city's rustic yet rich history, local artwork, and bespoke interior design.
Their quarantine package also offers a daily full-board selection of Western and Eastern cuisine for breakfast, lunch, and dinner, along with complimentary in-house Nespresso coffee or tea. Each room at the Indigo Hotel is thoughtfully furnished with elegant accent pieces that pay homage to the city.
Room size: Each Deluxe room averages approximately 320 sq ft with the superior rooms offering 350 sq ft. The six suites available each average approximately 680 sq ft.
See also: #legendchats: Tara Bernerd, designer of The Hari Hong Kong
Dorsett, Wan Chai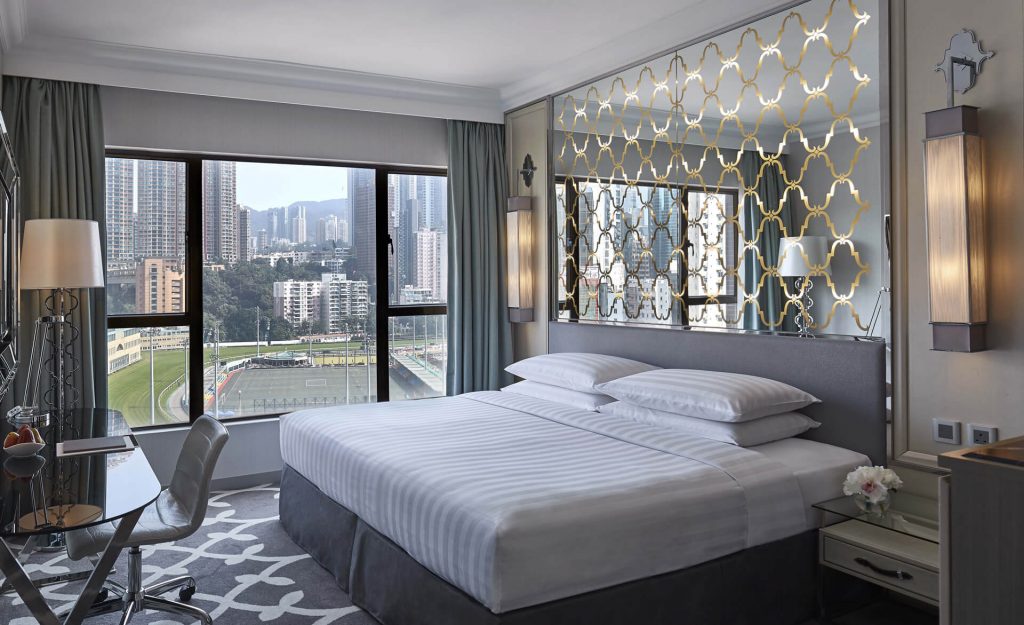 The Dorsett Wan Chai boasts a fantastic view of the Happy Valley Racecourse, so you can be sure that you stay entertained. Its location in Wan Chai also serves as the perfect launching pad into the city once the quarantine stay has passed.
The Dorsett hotel's quarantine package includes a full meal plan from their Standard Menu. They also provide vegetarian options and would be more than happy to accommodate other dietary requirements with a minimum of 72 hours advance notice. Dorsett also has a partnership with Foodpanda, allowing guests to pick from select in-room menus from the best restaurants in town, including Michelin-recommended restaurants. Personal food deliveries are also allowed.
Room size: A Standard room at the Dorsett is approximately 220 sq ft and the larger rooms are between 300-340 sq ft.
Mira Moon, Causeway Bay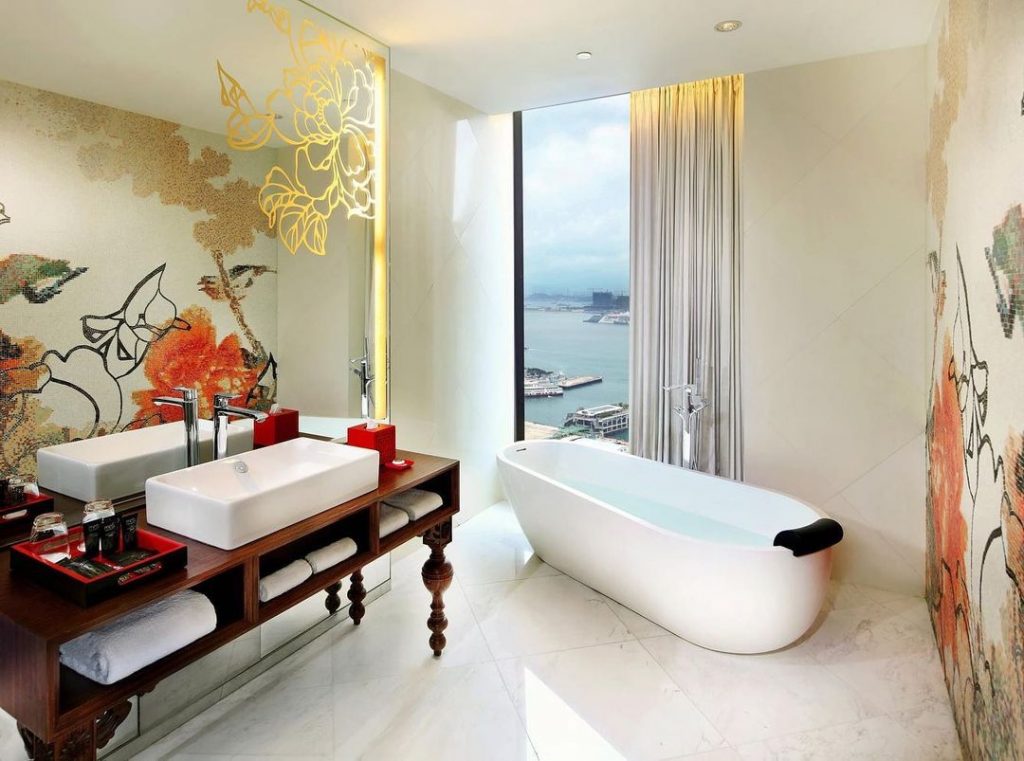 Located in the middle of Hong Kong's electric retail neighbourhood in Causeway Bay, Mira Moon is regarded as one of Hong Kong's most notable award-winning design boutique destinations. The interior of the rooms are inspired by Chinese Mid-Autumn Festival mythology, providing one of the most unique and culturally rich stays in all of Hong Kong.
Mira Moon' quarantine package also includes a full-board meal plan that will be left outside of your room at predetermined times. This offer includes high-speed free WiFi, complimentary rental of a yoga mat to force a stretch, as well as a flat walking mat for running for those who prefer a more intensive workout (with an additional fee). The package also involves an iPad mini that guests can use for entertainment during their stay.
The rooms at the Mira Moon are thematically designed with reds, whites, golds and peony oasis marble bathrooms. While the rooms may not offer a spacious interior, they definitely make up for it in style, comfort, and uniqueness.
Room size: The New Moon Room is 220 sq ft while the Half Moon and Full Moon rooms are between 380 to 410 sq ft.
Crowne Plaza, Causeway Bay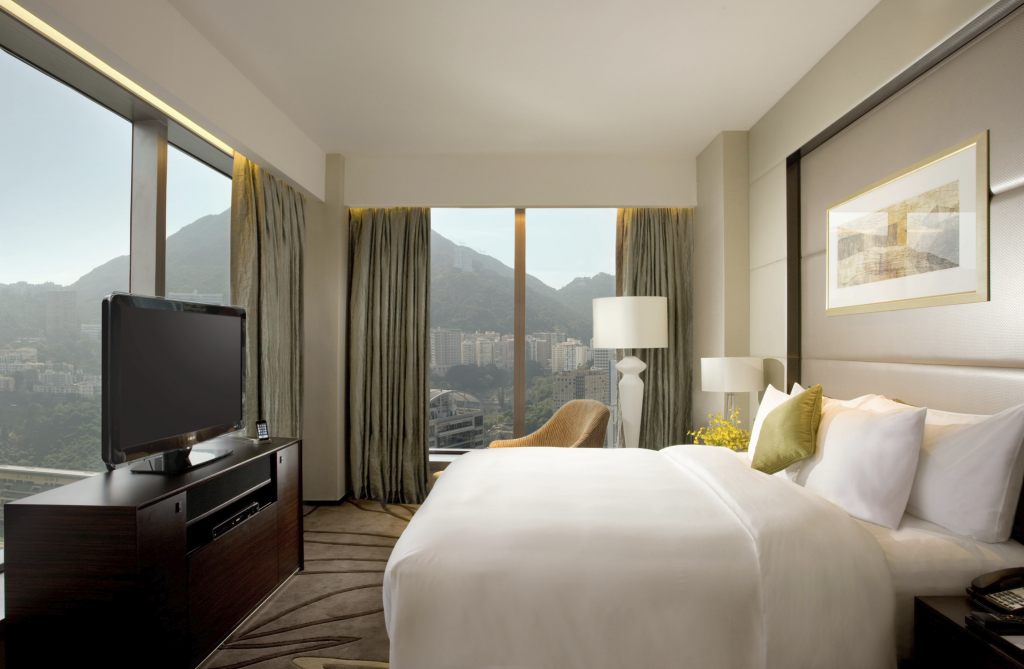 Located in Causeway Bay, the four-star Crowne Plaza hotel is flanked by many high-end stores as well as a variety of restaurants for delicious takeaways, no matter what cuisine you're craving. The Crowne Plaza's quarantine package also includes a full-board meal plan for breakfast, lunch, and dinner.
The rooms are fitted with 100% goose down pillows and duvets, 100% cotton linens, hypoallergenic pillows, Simmons beautyrest mattress and blackout curtains to ensure an uninterrupted and comfy night's rest. There's also a full-size executive desk for getting work done in between.
Room size: A standard Superior room is between 365 to 420 sq ft, whereas the Executive Suites can range from 850 to 905 sq ft.
See also: Post-COVID travel: Why private islands are the way to go