5 incredible castle hotels to add to your bucket list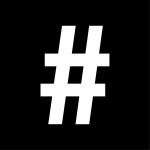 By: Ching-Yin Foo
October 8, 2020
If you've been dreaming of a castle trip around Europe for when travel opens up again, we've got you covered. Exclusive, luxurious and secluded, these majestic castle hotels will spark your imagination and inspire your next fairytale journey.
Cliveden House in Berkshire, England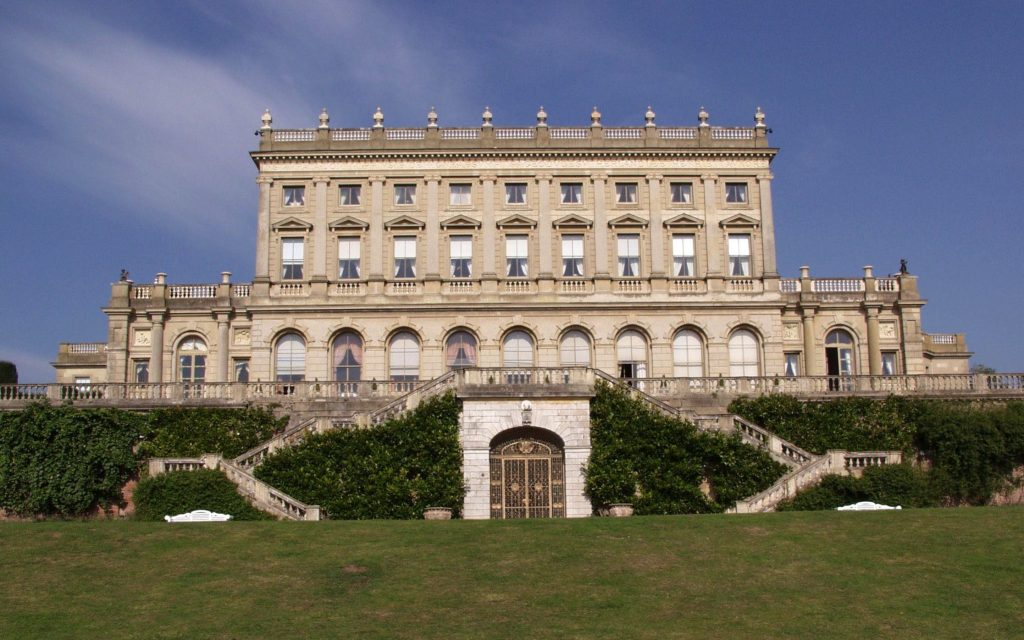 Cliveden House is a grand British hideaway with some juicy history. Built in 1666 by the 2nd Duke of Buckingham and at one point owned by William Waldorf Astor (the richest American of his time), Cliveden House has seen more than 350 years of British intrigue and history. If these walls could talk, it would tell stories of aristocrats, millionaires and politicians – and maybe even of Meghan Markle, Duchess of Sussex, who stayed there the night before her 2018 wedding to Prince Harry.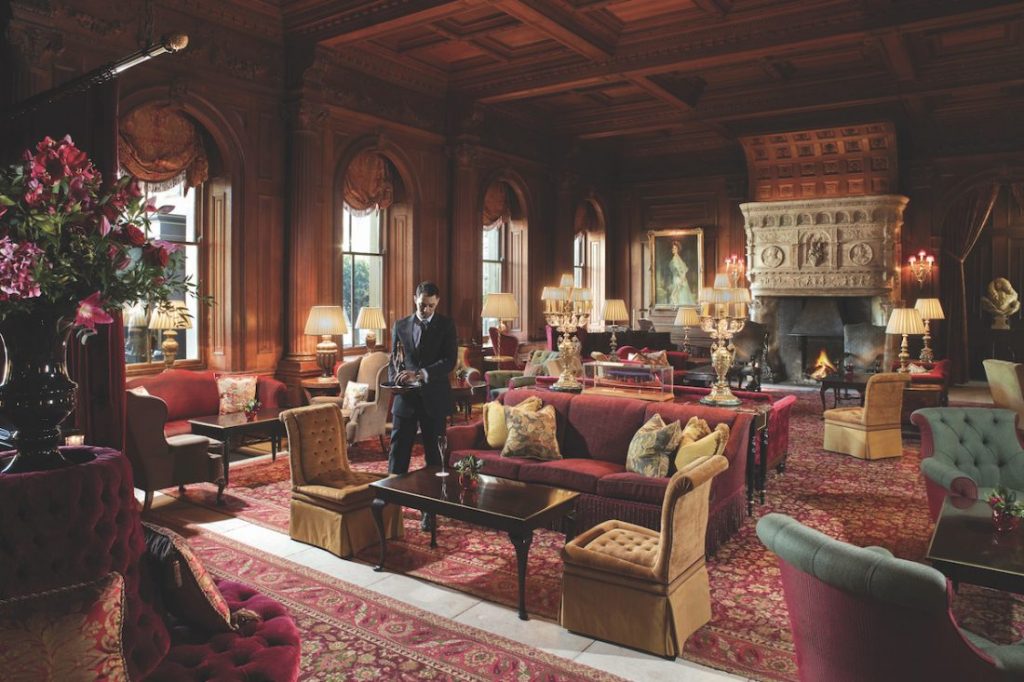 The palatial five-star property is surrounded by 376 acres of National Trust gardens and woodland with 47 luxurious suites and rooms named after its famous guests. No two are alike, as each one is individually styled. Those looking for a little more privacy can book the Spring Cottage: a three-bedroom summer house nestled in the grounds on the banks of the River Thames.
Learn more at clivedenhouse.co.uk
Castello di Vicarello in Tuscany, Italy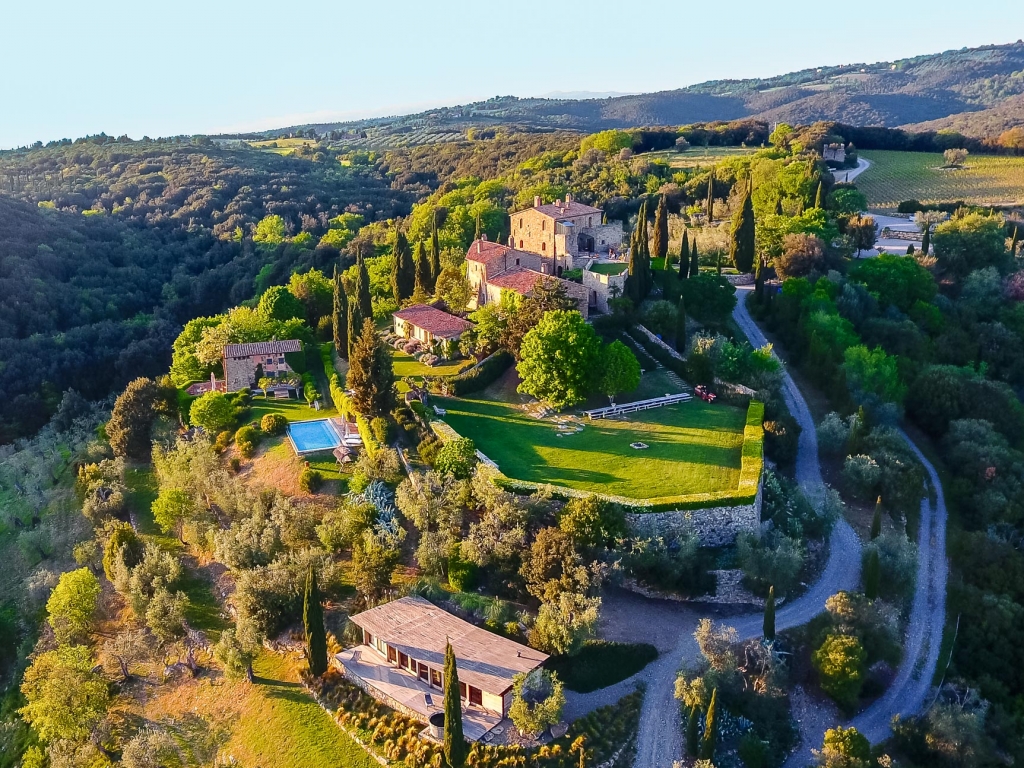 Castello di Vicarello is a secluded romantic retreat in the heart of the Tuscan countryside. Built by the Republic of Siena in the 12th century, the castle is surrounded by almost 100 acres of land with stunning sea views to the west and panoramic views of the Tuscan hills. It's also a working farm, producing all the fruits and vegetables used in its restaurant, as well as its own award-winning wines and olive oils.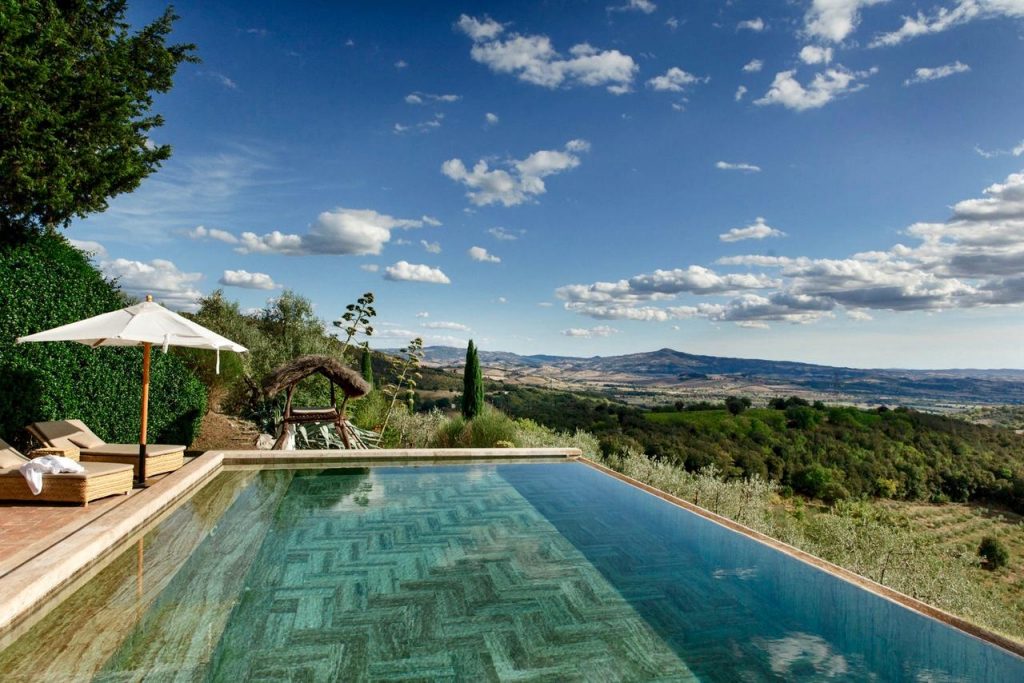 There are nine exclusive suites spread throughout the castle and grounds, each beautifully decorated with a tasteful mix of contemporary and antique furniture, and a unique Balinese touch inspired by owner Aurora Baccheschi Berti's years in Indonesia. Note: there are no TVs – and that's not a bad thing, since you should be immersing yourself in the luxurious Italian life. Take in the sweeping views of the tree-clad hills and valleys in one of the two chlorine-free pools. If you tire of relaxing, take advantage of the concierge service to book cooking classes, wine-tastings, horse riding or even hunting.
When you're ready for a hearty Tuscan meal, the restaurant offers delicious seasonal Tuscan dishes inspired by recipes from Berti's cookbook My Tuscan Kitchen.
Learn more at castellodivicarello.com
Schloss Lieser in the Mosel Valley, Germany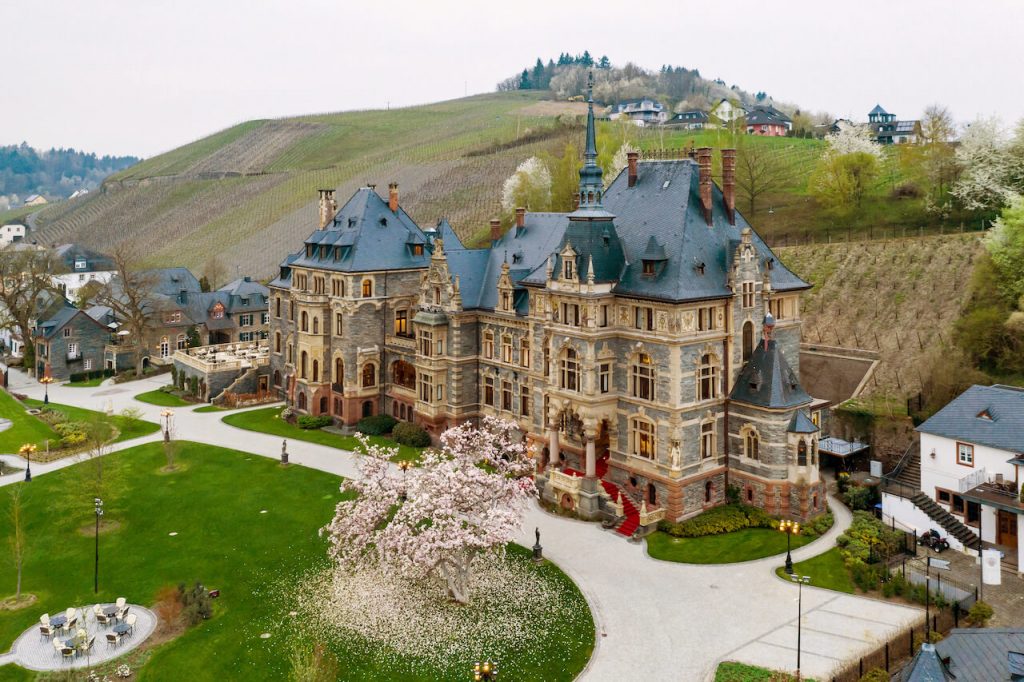 The magnificent Schloss Lieser sits in the heart of the Moselle region, on the river bank close to the borders of Belgium, France and Luxembourg. Built in 1885 by Eduard Puricelli, an entrepreneur and wine enthusiast, it harkens back to an era of grandeur, with its art nouveau architecture and its design of jewelled bays and granite columns.
The feeling of grandeur carries over into its 50 sumptuous rooms, all of which are tastefully furnished with antique furniture and ornate chandeliers. Most sumptuous of all is the 125-square-metre Emperor Suite, which has a jacuzzi with a direct view of the Moselle River.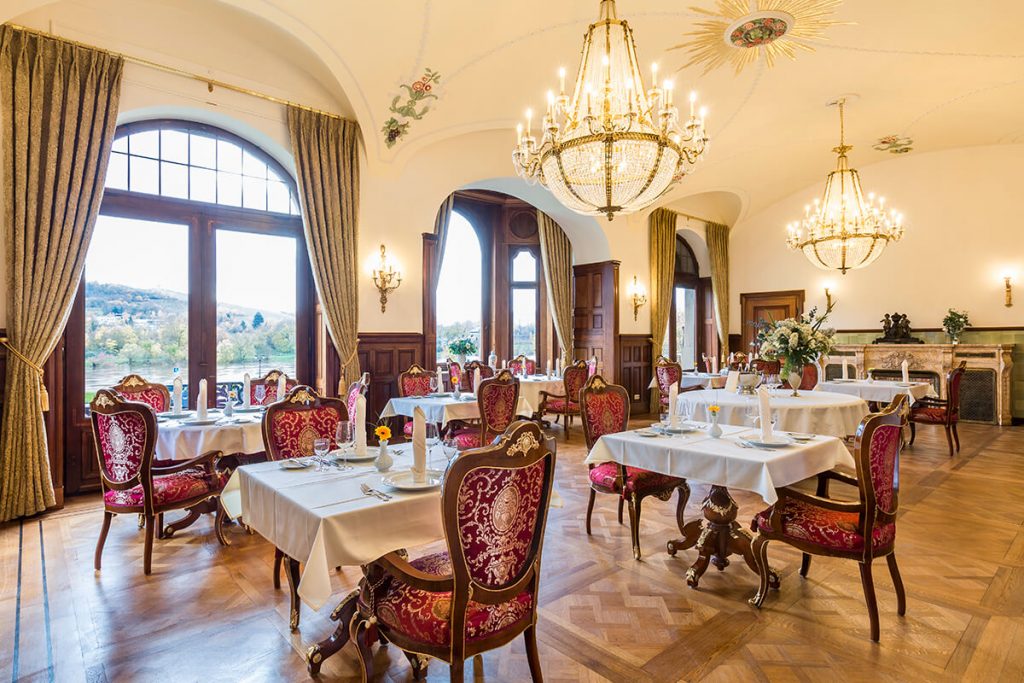 Guests can continue observing the opulence in the spa, which contains three Finnish saunas at varying temperatures, an infrared sauna and steam room. Alternately, they can indulge in a wine tasting session in the hotel's private wine cellar. At the hotel's ornate fine-dining restaurant, head chef Wolfgang Preßler serves locally inspired dishes alongside a carefully selected wine list of bottles from the Moselle region – including those produced on the 27-acre vineyard surrounding the castle.
Learn more at schlosslieser.de
Inverlochy Castle in West Highlands, Scotland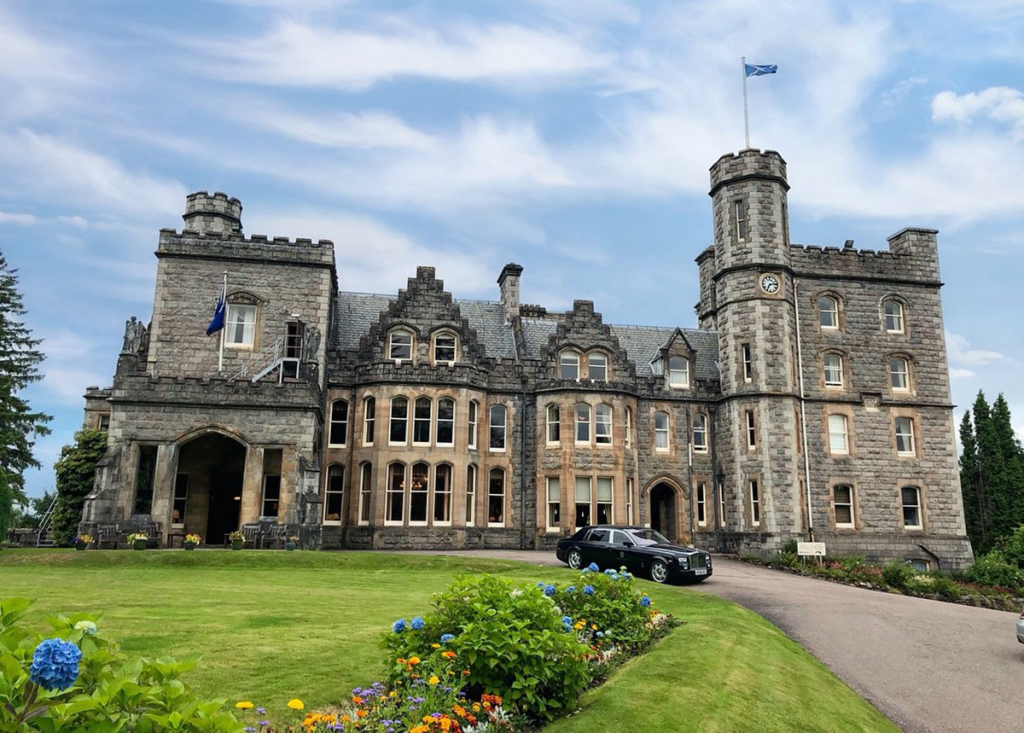 Queen Victoria wrote of her one-week stay at Inverlochy Castle, "I never saw a lovelier or more romantic spot." Those with an appreciation for old-world glamour and sophistication would agree. Built in 1863 as a private residence for Lord Abinger, its dove-grey stone walls and romantic turrets sit at the foot of the majestic Ben Nevis, surrounded by gorgeous Scottish scenery of luscious evergreen trees and the sparkling loch nearby.
Today, it's one of Scotland's most luxurious hotels, with opulently decorated rooms, grand chandeliers, antique furniture and traditional furnishings. It houses 17 uniquely-designed bedrooms, each with views of the grounds and private loch. The two-bedroom Gate Lodge, situated at the entrance of the hotel, offers stunning mountain views with added privacy.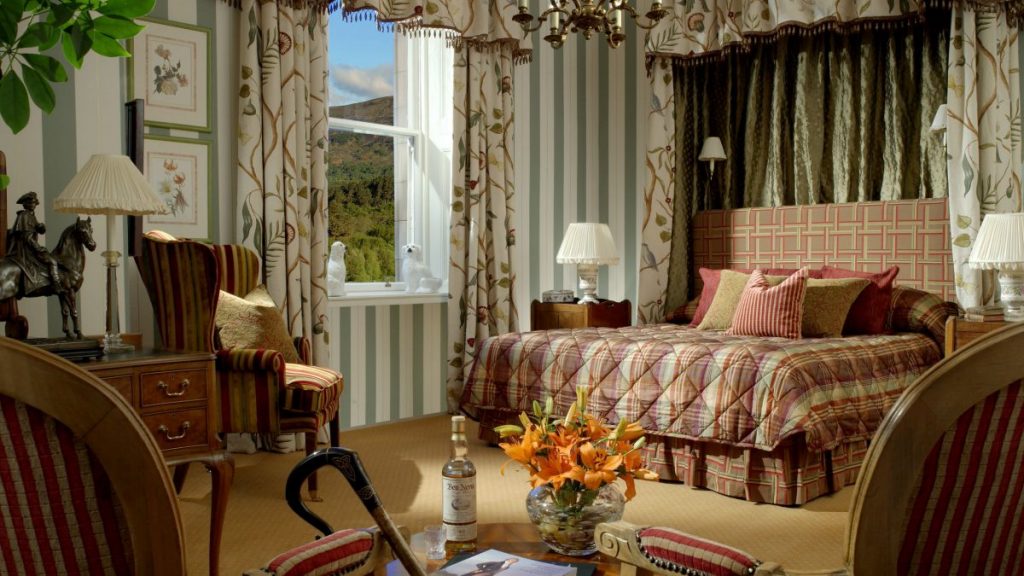 When it comes to dining, guests are treated to the AA 3 Red Rosettes-rated restaurant Albert and Michel Roux Jr at Inverlochy Castle, where the father-and-son team serve modern British cuisine with a French twist. For even more of a twist, the meals can also be paired with whisky. Naturally, the elegant dining room calls for a smart dress code.
Learn more at inverlochycastlehotel.com
Palácio Belmonte in Lisbon, Portugal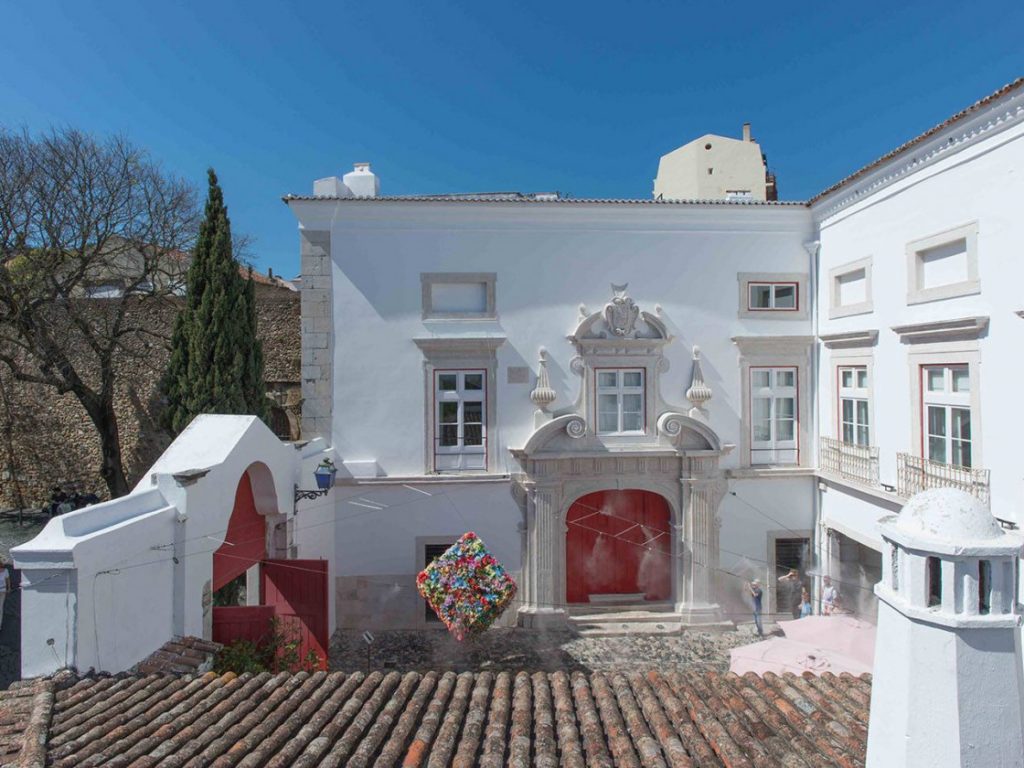 Frédéric Coustols and his wife, Maria, spared no expense in their six-year restoration of the magnificent Palácio Belmonte. To bring back the original opulence of this 15th-century castle, they employed traditional techniques alongside elements of modern sustainable design, which won accolades, awards and the attention of wealthy artists in the process. 
Vaulted ceilings, arched doorways, and painted frescoes sit alongside double-paned windows and hallways with natural ventilation. The 3,800 antique blue-and-white azulejo wall tiles, commissioned in the 1720s, are perfectly flanked by antique furnishings and pieces of modern art.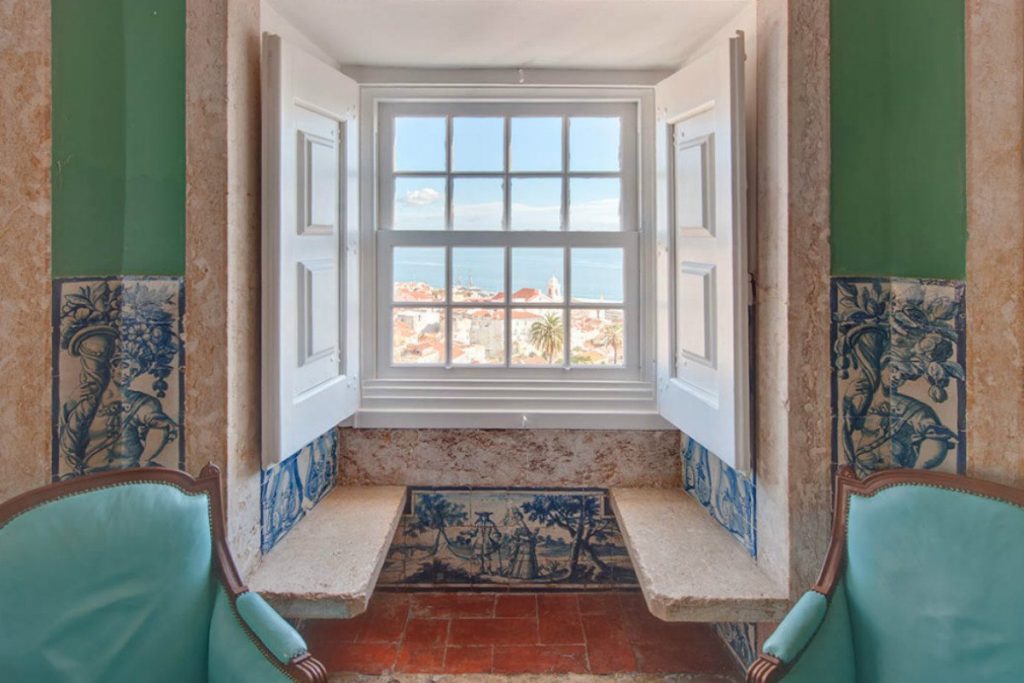 Palácio Belmonte has 10 exclusive suites, all of which are uniquely designed, many with private terraces and beautiful views over Lisbon and the Tagus River. Each suite is named after a major figure of Portuguese history such as the Bartolomeu de Gusmão, a 110-square-metre suite built in a seventh-century Muslim tower. The hotel's 41-seat restaurant, Grenache, is helmed by the talented young chef Philippe Gelfi and delivers high-end French fare using local produce.
Learn more at palaciobelmonte.com/palace
Eastnor Castle in Herefordshire, England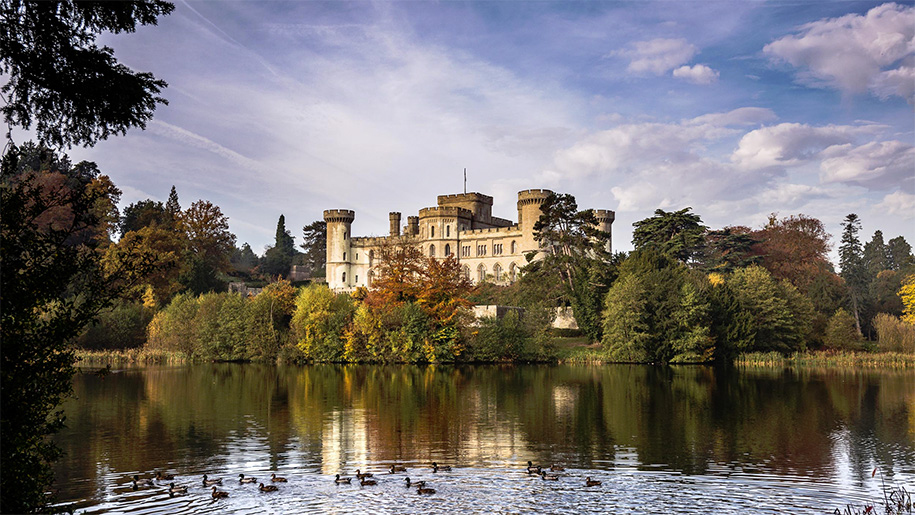 You might recognise Eastnor Castle from the various movie and TV productions that have taken place there, not least of which is season one of HBO's Succession. It is, after all, one of the most prestigious private exclusive-hire venues in the UK. Situated on a 5,000-acre estate in the foothills of the Malverns, it's surrounded by a deer park, an arboretum and several lakes.
Built in 1812 as a mock Georgian castle for John Cocks, 1st Earl Somers, the castle remains the residence of his direct descendants today. Eastnor is simply impressive, from the stone turrets and towers to the oak doors of the Grand Hall, and to the luxurious interiors and lavish furnishings. It has elegance and grandeur in abundance and, not least of all, magnificent views of the rolling Herefordshire countryside.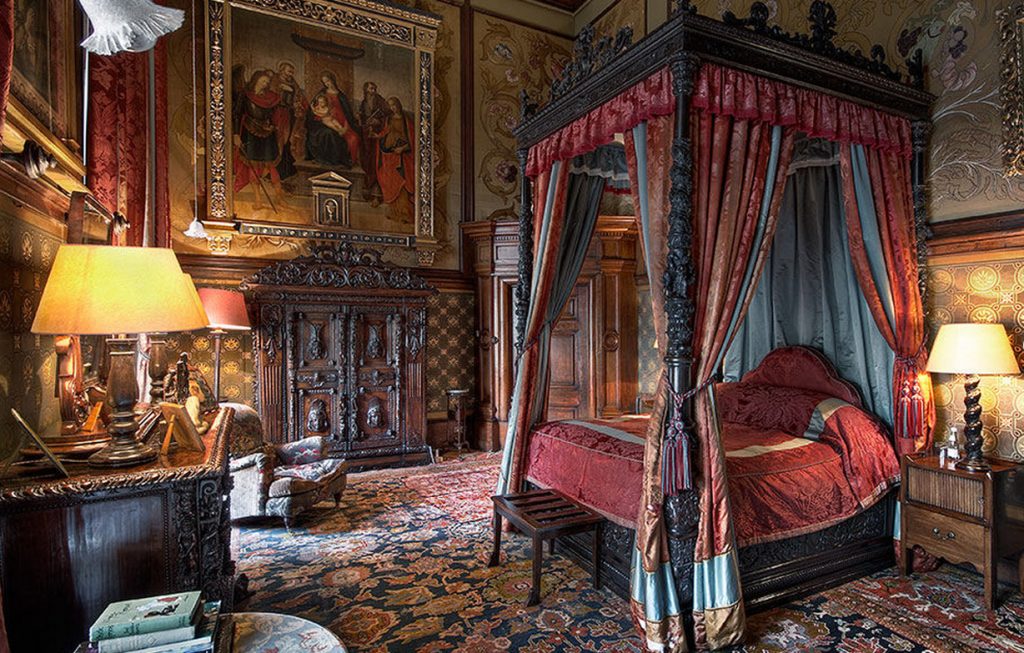 Guests will get a taste of traditional English high-society living at the estate. The castle comes fully staffed, including a team of in-house chefs. It has 12 individually designed, luxury bedrooms that accommodate 23 guests. There's also a three-bedroom apartment near the old stable that can be hired for extra accommodation.
The estate offers a wide variety of activities on its expansive grounds, from the traditional to the more adventurous – such as zip-wiring between the castle turrets and the Land Rover Experience test track, which has been based on the estate for more than 50 years.
Learn more at eastnorcastle.com
See also: Hong Kong's best pet-friendly hotels for your next staycation