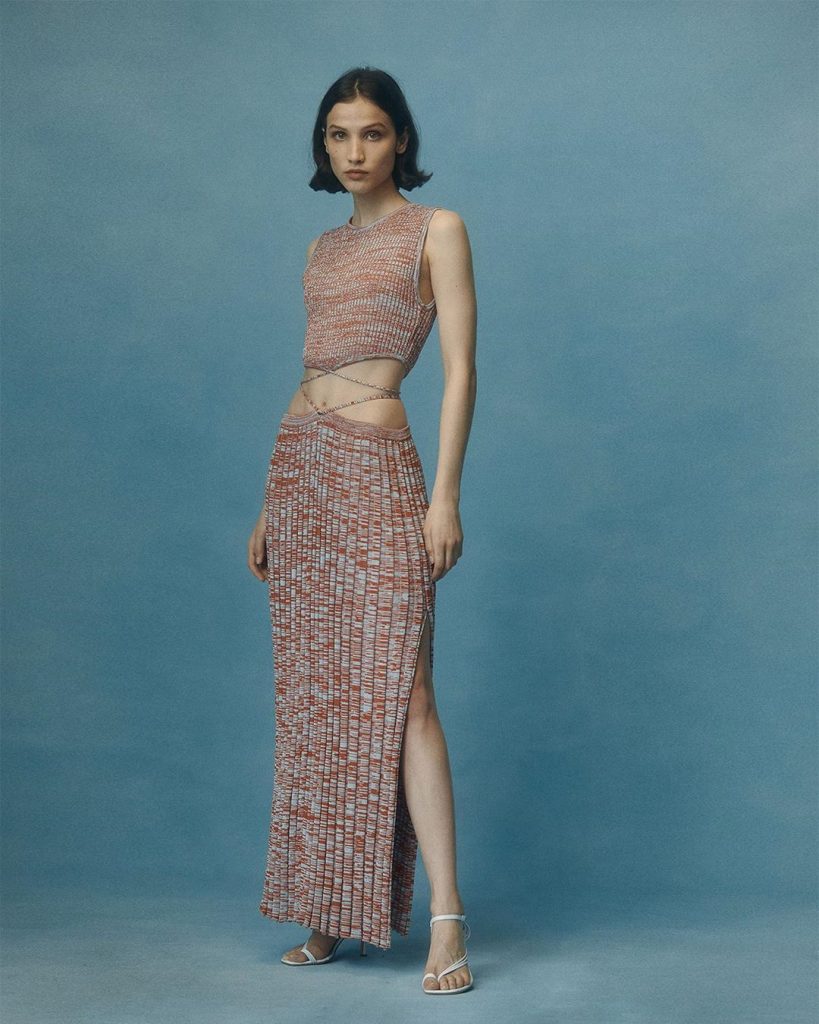 As the temperature drops in Hong Kong, it's time to start thinking about replacing those summer dresses with something a little warmer. Below are some of the best knitwear ensembles to stay cosy and chic through the fall season:
The Elder Statesman cardigan and pants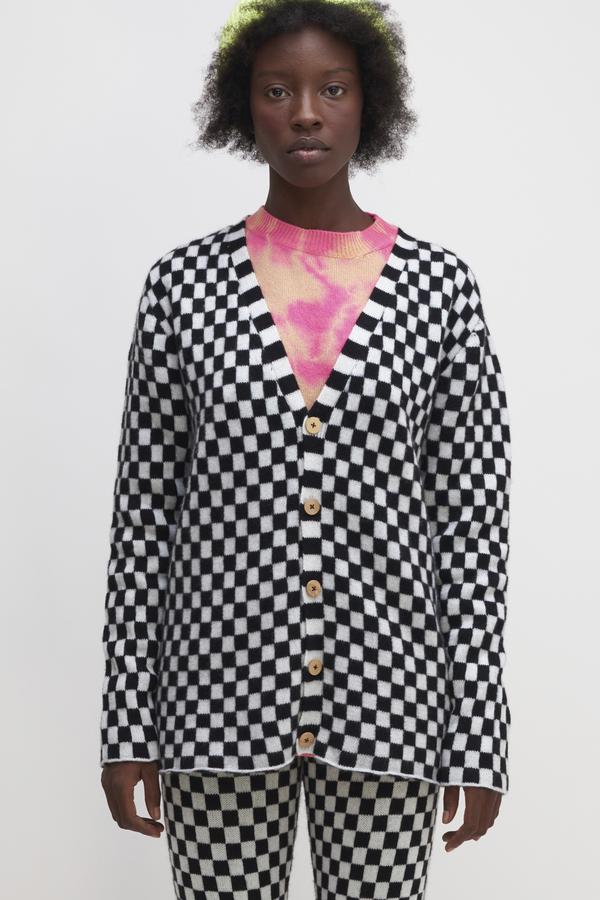 If this year has taught us anything, it's the importance of comfort (oh, and washing our hands and wearing a mask). From my experience, there is no softer cashmere than that of The Elder Statesman. The classic black-and-white checkered combo will keep your stay-at-home look both graphic and cool. Wear it with a tie-dyed t-shirt if you're feeling fun. 
See also: 7 timeless tie-dye pieces to add to your wardrobe
Christopher Esber sleeveless knit cropped top with matching skirt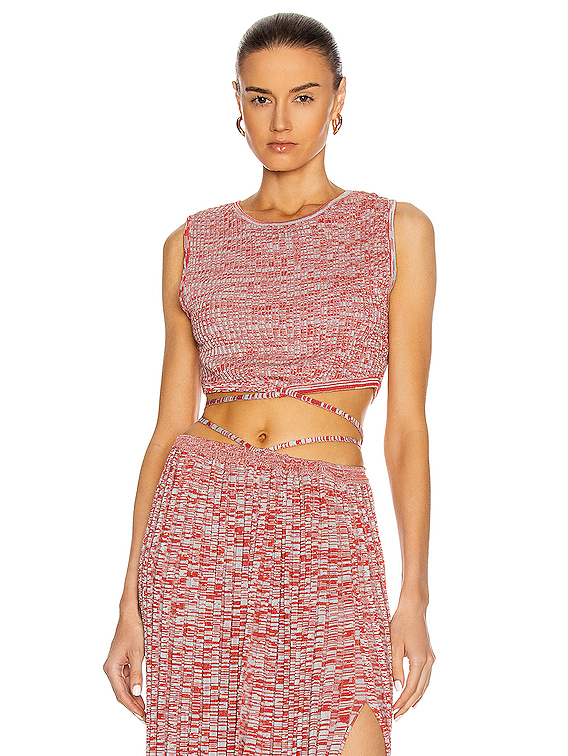 While full-on cashmere sweaters may not be needed at the moment, Australian designer, Christopher Esber makes it convincing that knits can work just as well in the heat. This two-piece knit ensemble in red and dusty blue speckle has lace-up ties and creative cut-outs that speak true to the brand's forward approach to design. Wear them with sandals while it's still hot, or layer it with light tailoring when the temperature drops even more. 
LESET floral burnout bra top with matching cardigan and pant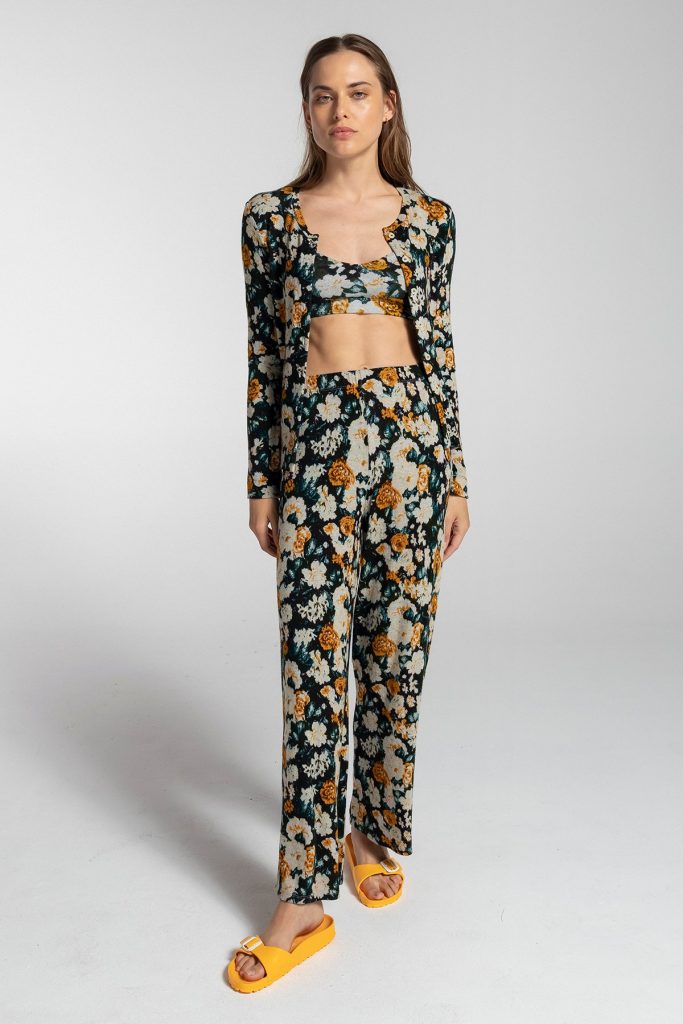 Los Angeles label, LESET, delivers chic and comfortable ensembles you can wear on both nights in and nights out, and even counts Selena Gomez and Kylie Jenner as fans. This floral burnout ensemble features three pieces and is best worn together. Pair it with a pair of fuzzy slippers or white sneakers for a casual vibe or dress it up with a pair of heels if you're headed somewhere glam. 
Loulou Studio cashmere hoodie and track pants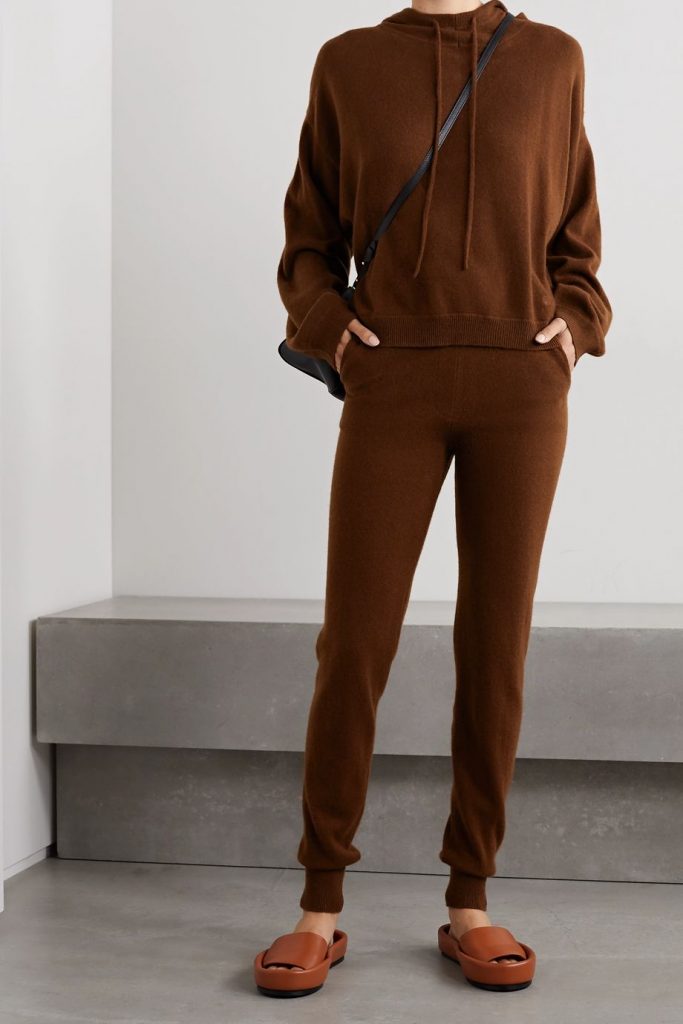 Influencer Chloé Harrouche launched her label, Loulou Studio, a couple of years ago when she couldn't find the perfect knitwear and decided to make it herself. Classic and minimal styles and sophisticated yet streamlined, her designs can seamlessly merge into any woman's wardrobe. The Linosa hoodie and Maddalena track pants are crated from cashmere from Mongolia. Wear them at home or pair them with chunky socks and sneakers for when you make a trip down the street.
See also: Lounge in style: 8 cool and comfy labels to wear at home

Khaite cardigan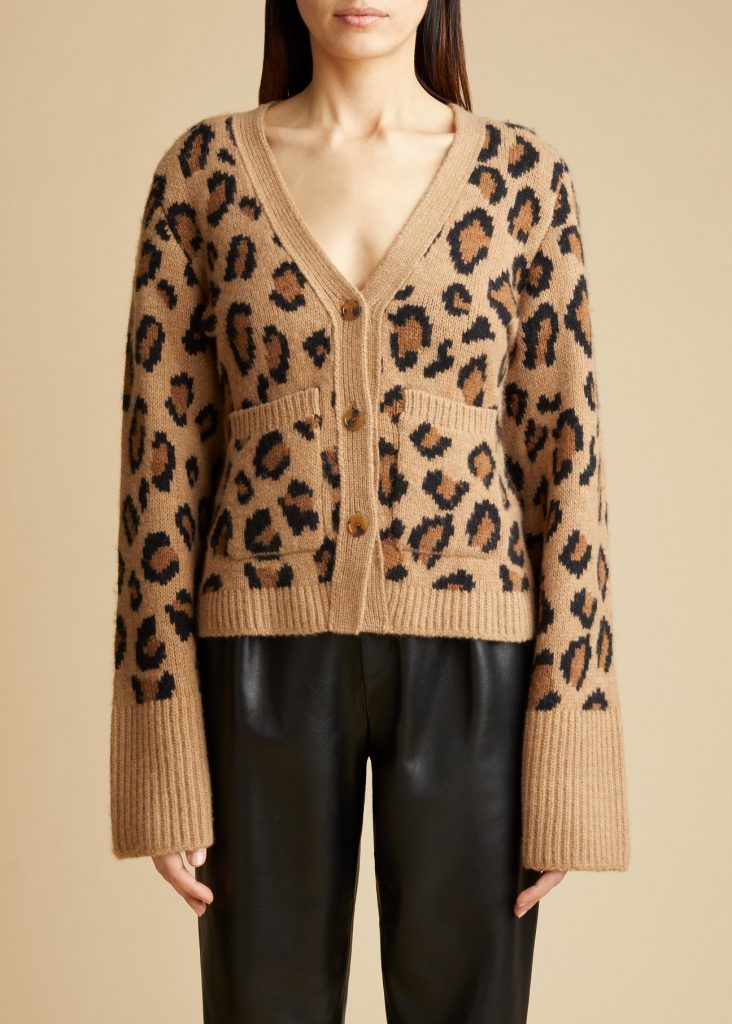 Katie Holmes was snapped wearing a Khaite cardigan and matching bralette in NYC last September, and the rest has been history. The image went viral, and the American label couldn't keep the sweater on their shelves long enough – until recently. If you're looking to score one of these Khaite cashmere sets, you'd better act quick!
Joseph tweed knit sweater and trousers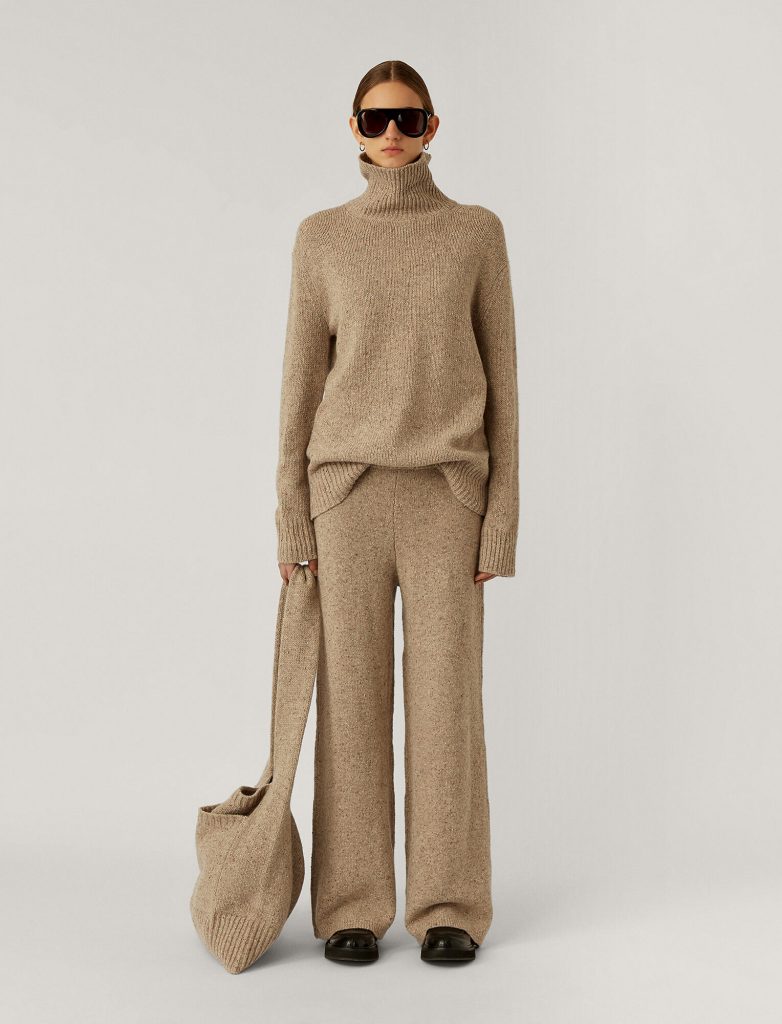 Soft and cosy, this sweater and trousers combination is an elevated take on a staying-in-on-the-weekend look. Take a closer look and you'll see a heritage tweed pattern on both the highneck and elastic-waist trousers. Style it with thick-soled boots and a shoulder bag in the matching knit fabric for an easy, effortless fall look. 
See also: 9 knee-high boots to add to your fall/winter wardrobe
Gabriela Hearst sweater and skirt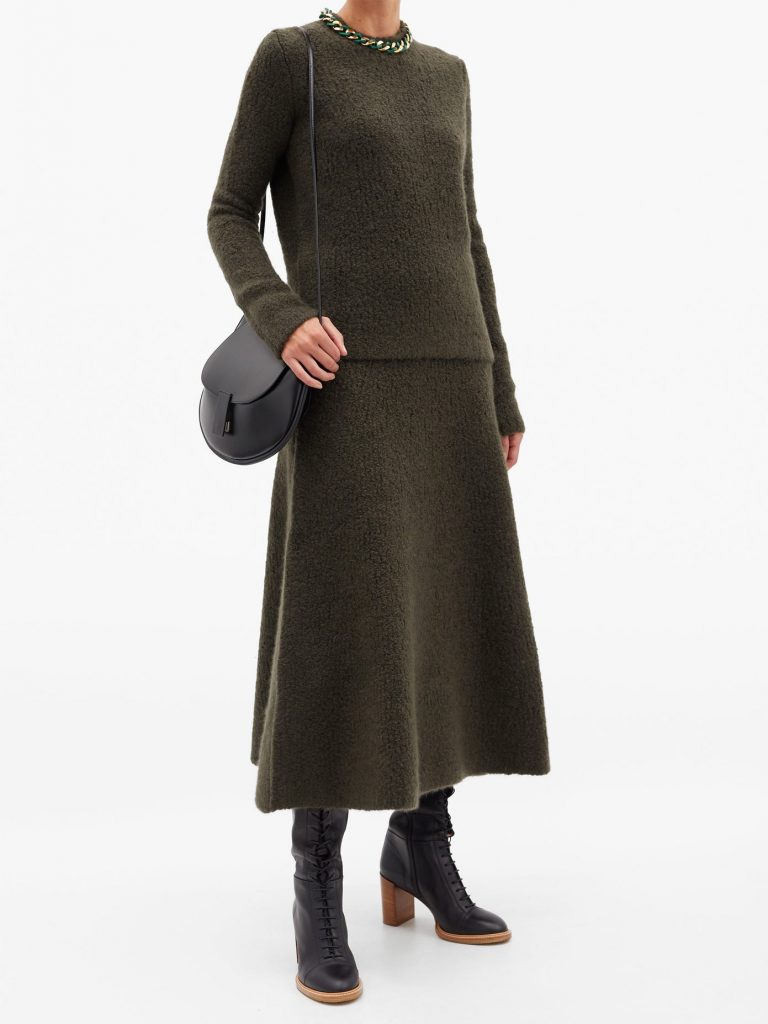 Gabriela Hearst's army-green Philippe sweater and skirt combo is made from a blend of bouclé-knit, cashmere and silk, which shows the designer's dedication to luxurious fabrics. Wear it as a full set during the cooler months, or style the skirt with a tank top, chunky sandals, and wrap the sweater around your shoulders for warmer days.
See also: Highlights from MFW SS21: Fendi, Prada, Tod's and more