Cover Story: CL Redefined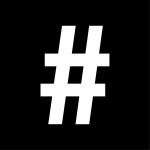 By: Zaneta Cheng
July 14, 2022
Since going solo, the Korean superstar has doubled down on defining just who she is. From new album ALPHA to the 2NE1 Coachella performance that broke the Internet, she talks to Zaneta Cheng about why, at the end of the day, it's most important to remain true to herself
(Scroll down for the Korean version / 국문 기사는 하단에서 읽어보실 수 있습니다)
C-H-A-E-L-I-N, that's me
Tell me, what in the world is real, real
I'm never sorry 'bout how I feel
I don't really care if you hate me
Or love me, you will never change me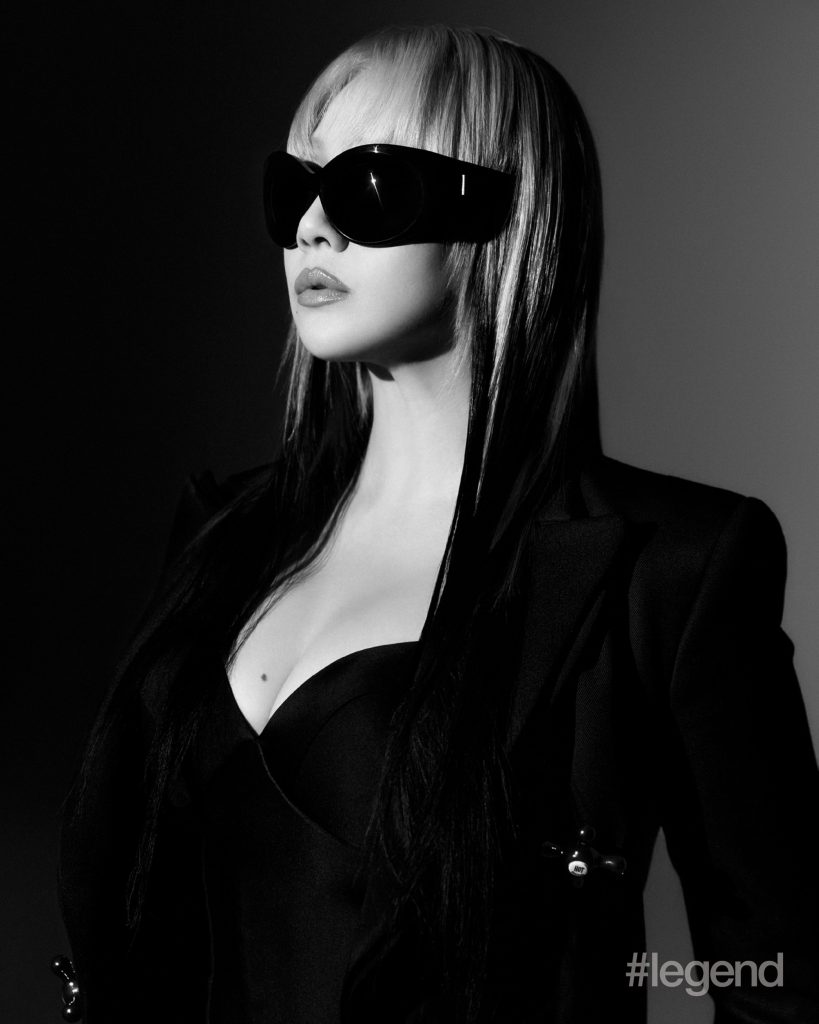 This is the only verse in Chae-lin Lee's (most commonly known as CL) new single "Chuck" that she raps entirely in English. The lyrics are a bold statement of what the Korean pop sensation is all about in ALPHA, her first physical solo album since leaving her previous label YG Entertainment to establish her own company, Very Cherry, as an independent artist. Each track is unchartered territory.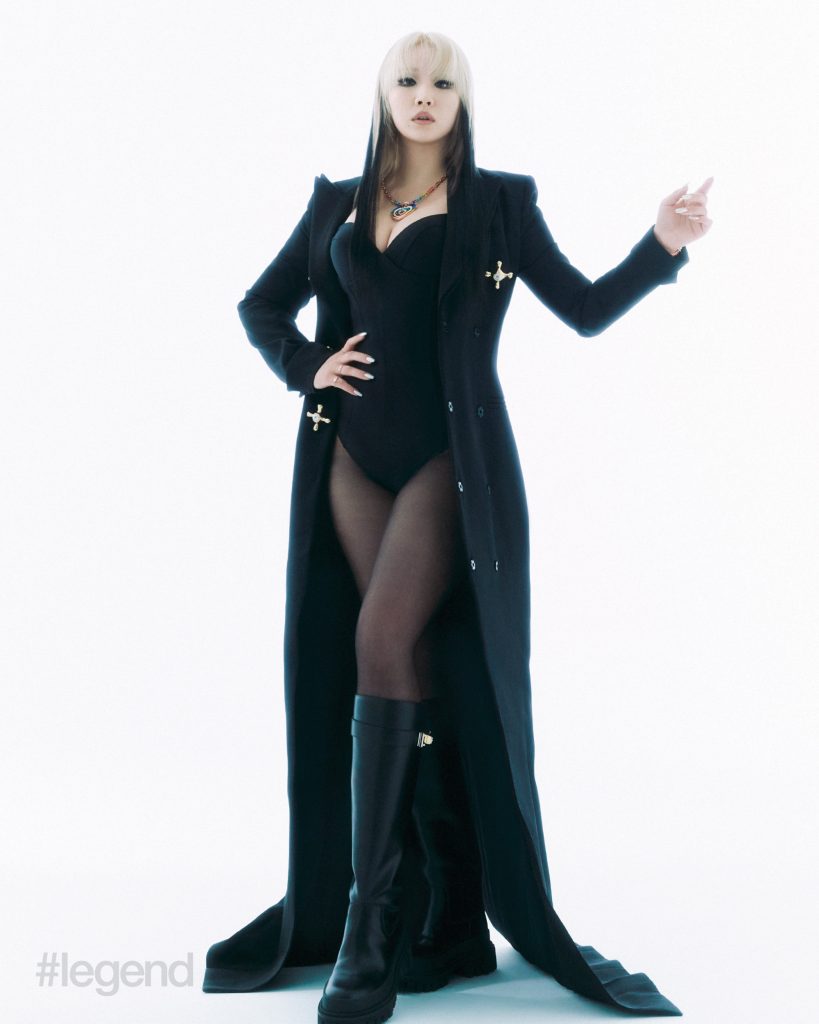 From genre to visual direction, the dancing, singing, rapping powerhouse has taken control of the wheel. "I like to take on new challenges and try new things. Rather than committing to a particular genre or style, I like to explore new things in my own way at any given moment and maintain my own style and identity," she says. "I've always worked on and been involved with all the creative. But to be in charge of and responsible for the direction – that wasn't easy, but it was certainly a fun experience."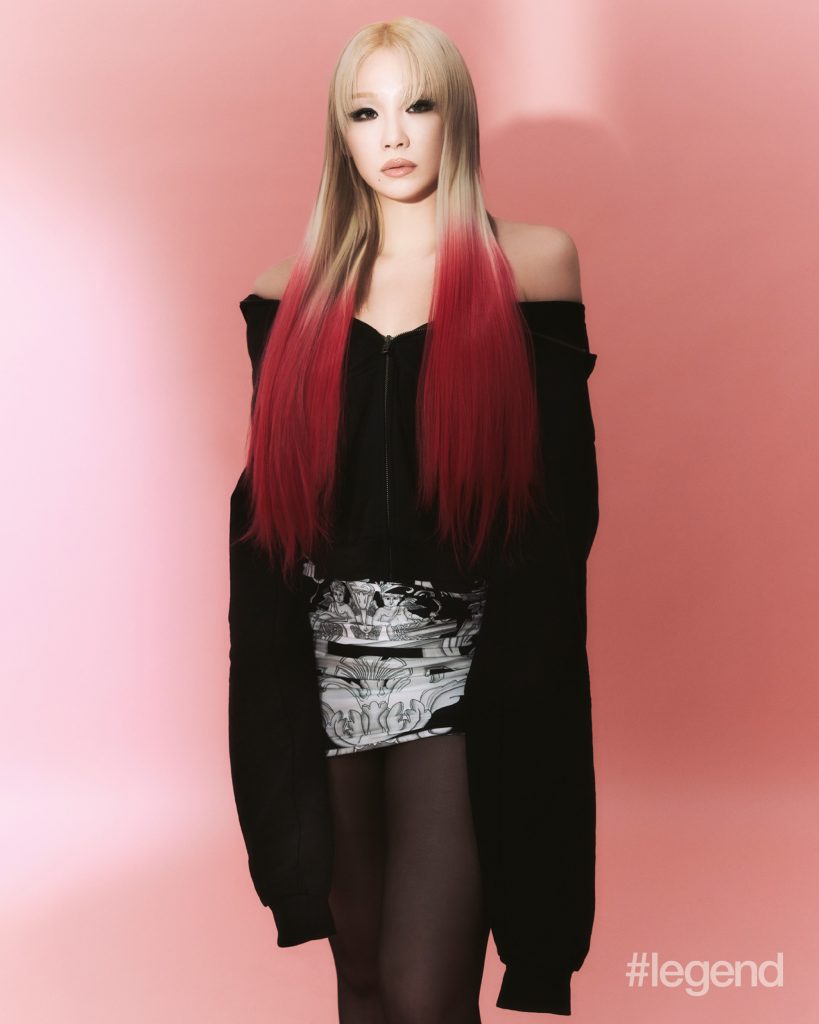 This newfound independence certainly seems to be a merger of the best of two worlds for the artist. For all the countless documentaries that have been made about training in South Korea's largest entertainment agencies, there's no doubt that the talent that makes it out to domestic and international audiences is a cut above the rest. It's evident in the music video for "Chuck" that CL can dance laps around even the best in the industry. The 31-year-old has, after all, been training since she signed with YG at 15.
With not a single outfit or location change, the "Chuck" music video is a three-minute showcase of CL's incredible ability to hold an audience rapt to her performing ability. "I started my career with dancing and I wanted to show that original aspect of me in this MV," she says. It's not just CL's prowess that the video demonstrates; the dancers spelling out each individual letter of her name also help to show how she is wresting her identity away from the behemoth corporations that once defined her.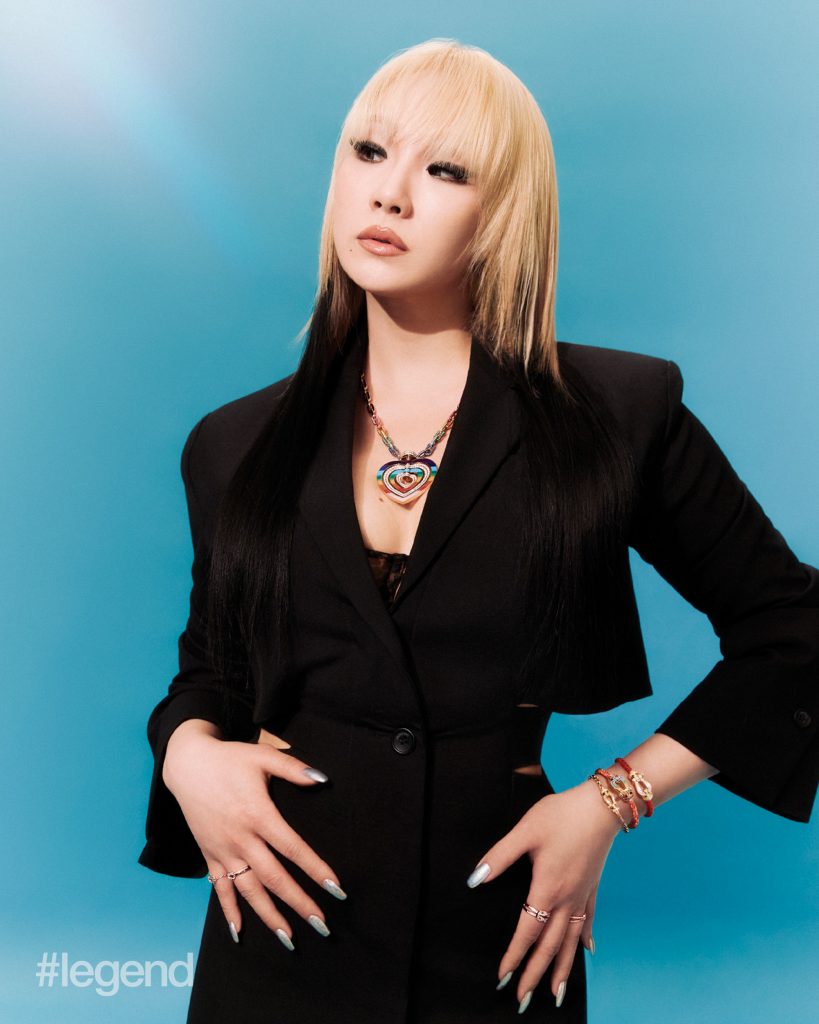 There are also scenes where CL is smacking down hwatu cards from the archetypal Korean card game Go-Stop in front of an arched doorway so representative of classic Americana. Of this, CL says, "I've always had Korean elements in my music videos and I usually like to do that. But this time I wanted to do something different. I chose a special location that's very American to capture the contrast between the background and me, as an Asian."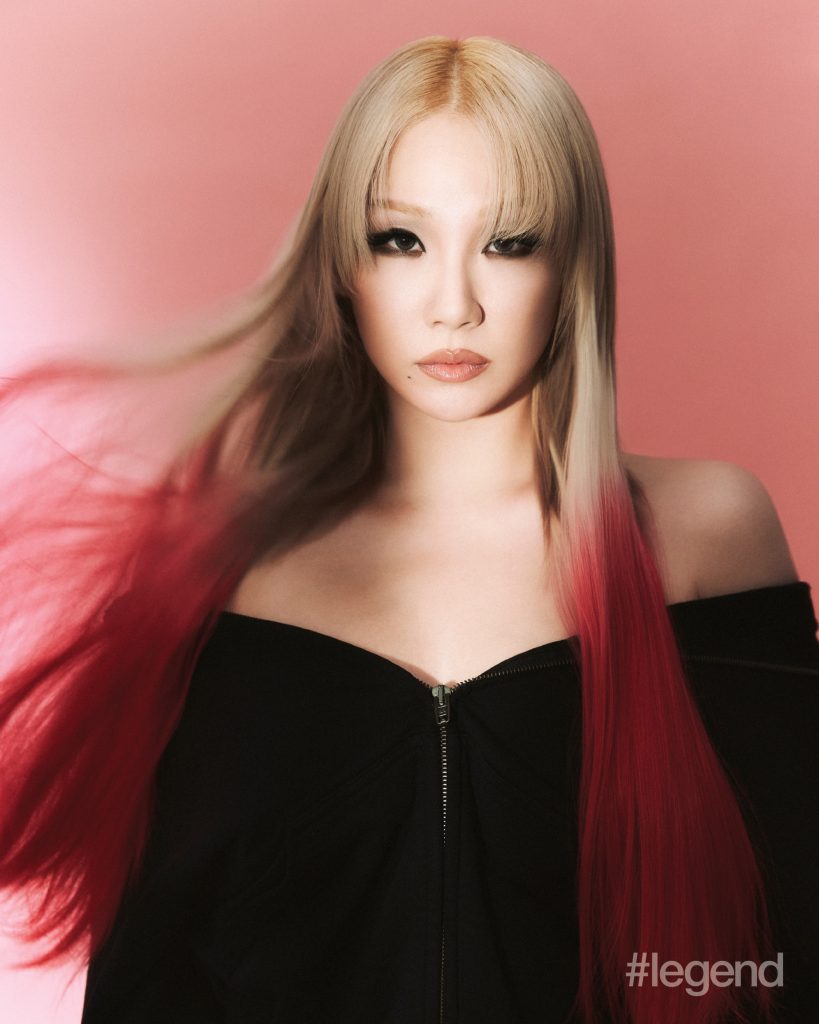 Born in Seoul, CL spent a large part of her early life in Japan and France, which might go some ways to explain her openness to genres and experimentation in her work as an artist now but also when she started out in the industry as a member of girl group 2NE1.
Opting out of the hamster wheel of sugary sweet girly girl groups that were emblematic of the K-pop industry in 2009 when 2NE1 debuted, CL and her fellow group members Bom, Dara and Minzy showed girls there was an option to be who they wanted to be outside of the mainstream. With singles like "Fire", "I Don't Care", "Ugly" and CL's first solo single "The Baddest Female", the artist has staked a place in a space where girls can be whoever they want to be.
Also see: Digital Cover: Elva Ni and Vincent Ng x Kenzo
Move the scrubber to the most replayed section of the "Chuck" music video and it's where CL twirls, belting out "lie, lie, lie, lie, lie, lie" while casually and proudly holding up a middle finger with her backup dancers that makes one think just how much work it has taken for artists and musicians like her to get to a place where they can stick it to the man and do what truly represents themselves.
"My music always contains the message that we must be ourselves and not think about what others think. I've been trying to get messages like these across because it's hard to be like that," CL says. "I've been making music for a while now and it's always a challenge to maintain my own musical identity. This song is a reminder for everyone who is in this situation or will be in the future."
Perhaps the most exemplary instance of this contrast is CL's debut performance at this year's Coachella music festival where she reunited with the other members of 2NE1 for a performance of "I Am the Best", a song which reached number one on Billboard's World Digital Songs Chart, the first K-pop song to do so, and remained the sixth-best-selling K-pop song in 2013 in the United States. The song was, in a way, both a homecoming and a farewell for the group that disbanded in 2016.
"I've always wished to be back on stage with all the other members as a group," CL explains. "I always had this thought in the back of my mind that we didn't say a proper goodbye to our fans. I happened to get an invitation to perform at Coachella and I had a strong feeling that this was the stage I'd always been waiting for. I'm grateful that the other members also bravely accepted this."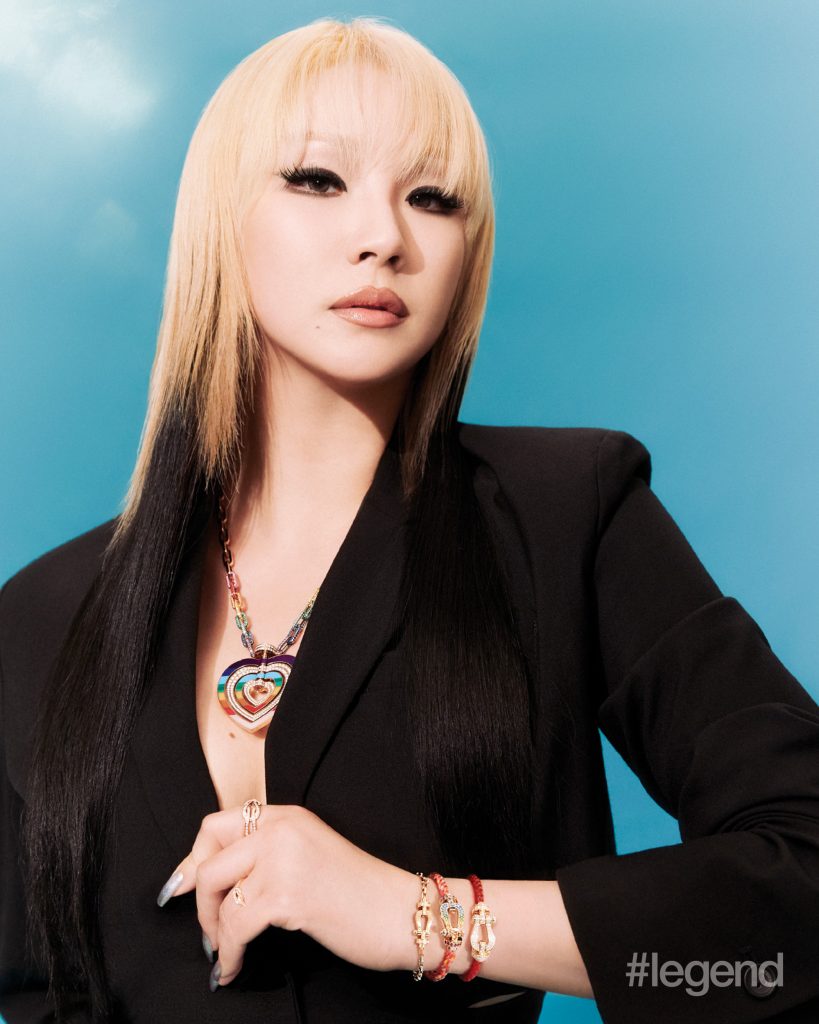 Lately, CL has been tearing up Paris Fashion Week. Never one to fear pushing the envelope, the K-pop star has eyes trained to whichever show she attends. Lest we think she doesn't do downtime, CL, in her new independence, also relaxes by exploring the outdoors. "These days, I try to take time to see nature, even when I'm abroad for work. Recently I was at the seaside, and I also try different kinds of tea."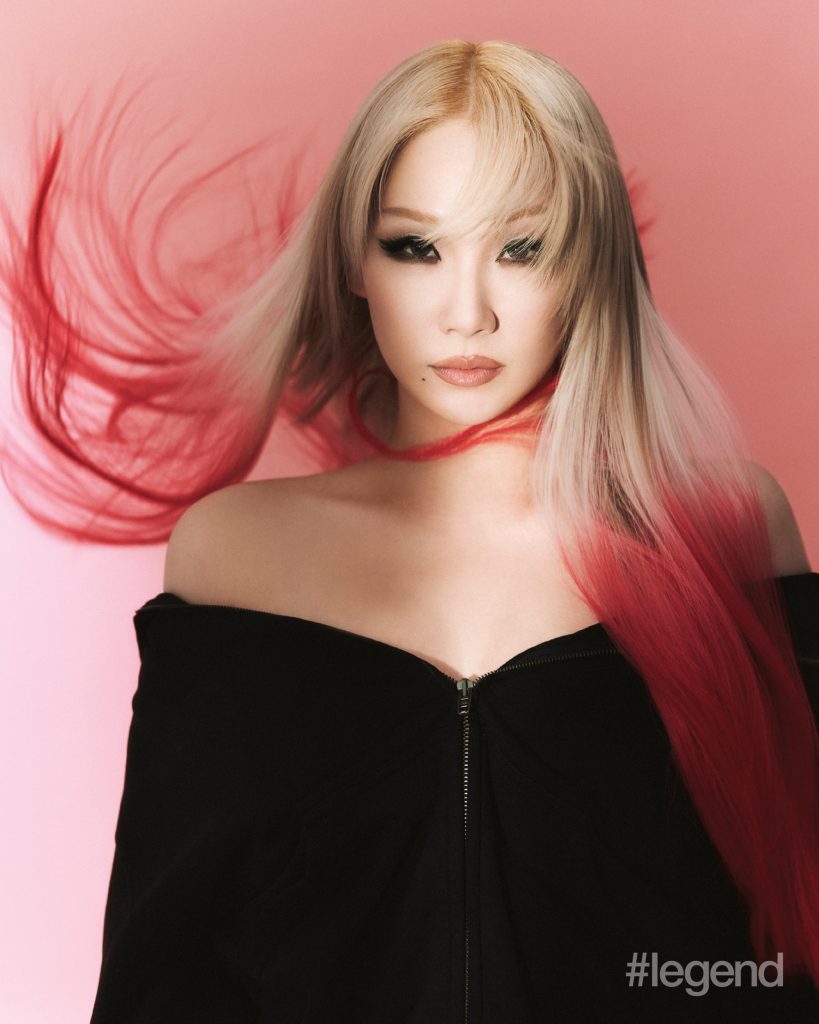 There's more we learn about CL, beyond the superstar. She alternates between extrovert and introvert each time she takes an MBTI test. She really likes cucumber. Her tattoos aren't really of anything special but they're all special because she decided to put them on her body. This is similar to her approach toward the songs on ALPHA – "Every song means a lot to me. That's why I don't have a title song on this album."
CL's #legend is her mother and she still – despite having broken chart records and having become a symbol of the Korean pop success story, pioneering the way West for groups following her like Blackpink and BTS – has dreams. Only, "I have dreams, but I was told that dreams are not to be said out loud."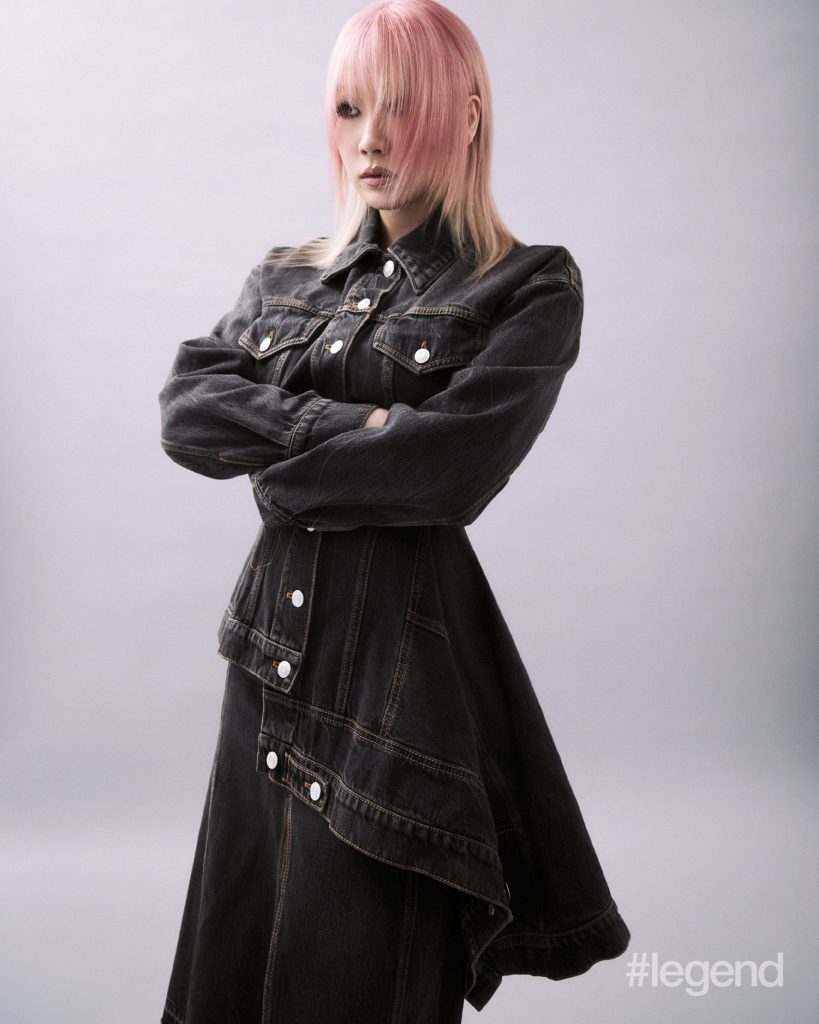 At the end of the day, CL is now just, happily and freely, herself. "You should never give up but maintain your own pace. Sometimes you feel like you have no motivation to do something, but once you get moving, something new might come up," she says. "So I suggest you keep going. But it's just as important to rest well when you want a break."
Like the lyrics of her song says, "you will never change me", and change her we do not want to do. Along with her avid fans around the world, we can be sure that CL will bring us much more of herself and we won't be sorry for it.
CREDITS
Creative concept and production / #legend
Photographer / Mok Jungwook
Stylist / Kim Taewook, Bora Choi
Makeup / Tae Yun Park
Hair / Hyunwoo Lee
오랫동안 함께한YG 엔터테인먼트를 떠나 용감한 홀로서기를 통해 솔로 아티스트로서의 새로운 면모를 보여주고 있는 가수 씨엘 (본명 이채린) 이 다시 한번 #legend와 함께 합니다. 최근 발매된 그녀의 첫 솔로 정규앨범 알파부터 코첼라에서 펼쳐진 감동적인 2NE1 완전체의 재결합까지. 그녀가 #legend 에게 그녀만의 모험기와 '진솔함'에 대한 중요성을 들려줍니다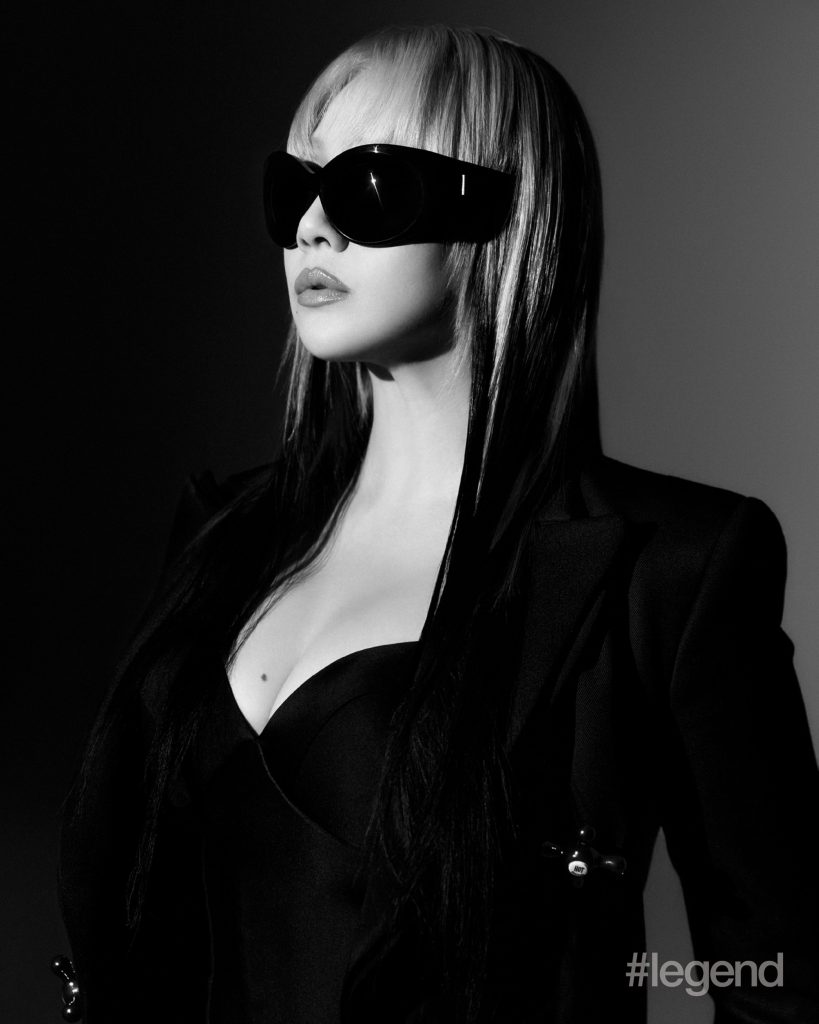 C-H-A-E-L-I-N, that's me
Tell me, what in the world is real, real
I'm never sorry 'bout how I feel
I don't really care if you hate me
Or love me, you will never change me
2NE1 씨엘이 아닌 솔로 가수 이채린의 첫 싱글 "척"에 나오는 위 구절들은 특별히 영어로 구성되어 있습니다. YG 엔터테인먼트를 떠나 설립한 그녀의 솔로 레이블 체리베리에서 발매한 첫 솔로 앨범 알파에서 눈 여겨 봐야 할 점은 케이팝 센세이션을 정의하는 가사들 입니다. 또한, 앨범 내 모든 트랙은 미지의 영역들을 보여줍니다.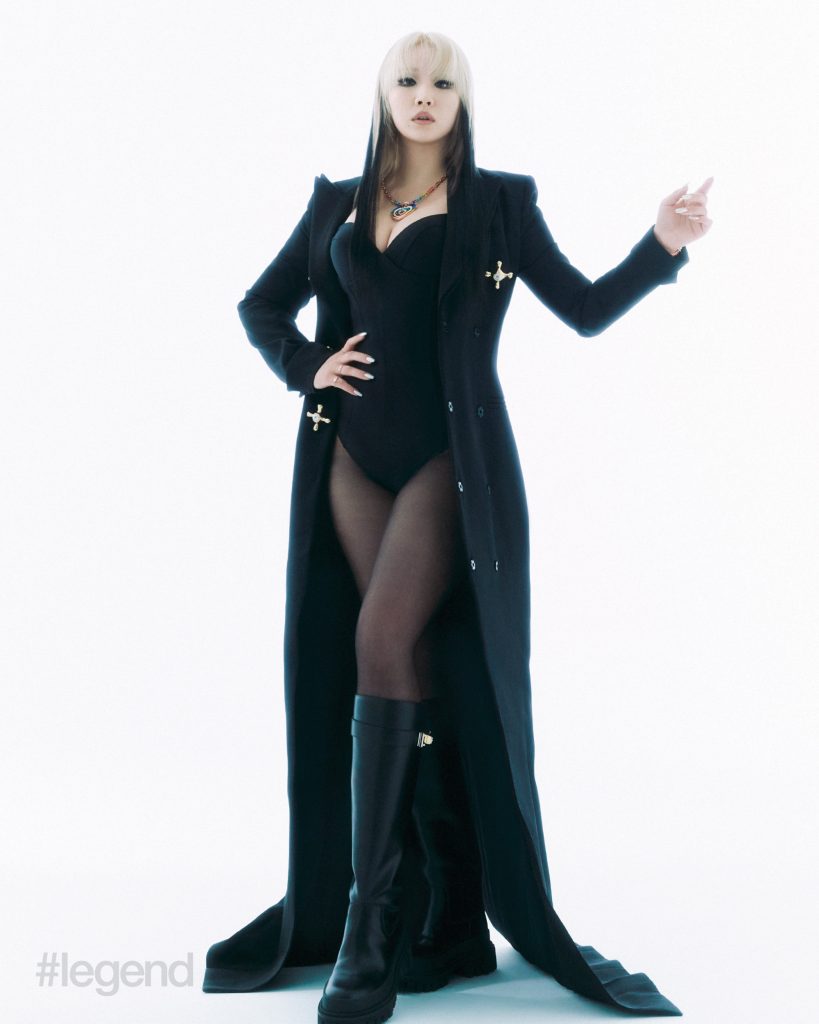 한계 없는 장르와 비주얼 다이렉션, 춤, 노래, 그리고 랩까지 능통한 완성형 가수인 씨엘은 늘 새로운 도전을 즐깁니다. "저는 항상 새로운 것에 도전하는 것을 좋아해요. 특정 스타일이나 장르에 메이기 보다는 제 색깔을 지켜 나가면서 제 방식대로 무엇이든 그때그때 도전하고 싶어요." 이어서 "항상 100% 크리에이티브 컨트롤을 해보고 싶다고 생각했었는데, 이번에는 그런 부분들이 가능했어요. 쉽진 않았지만 즐거운 경험이었죠," 라고 그녀는 말합니다.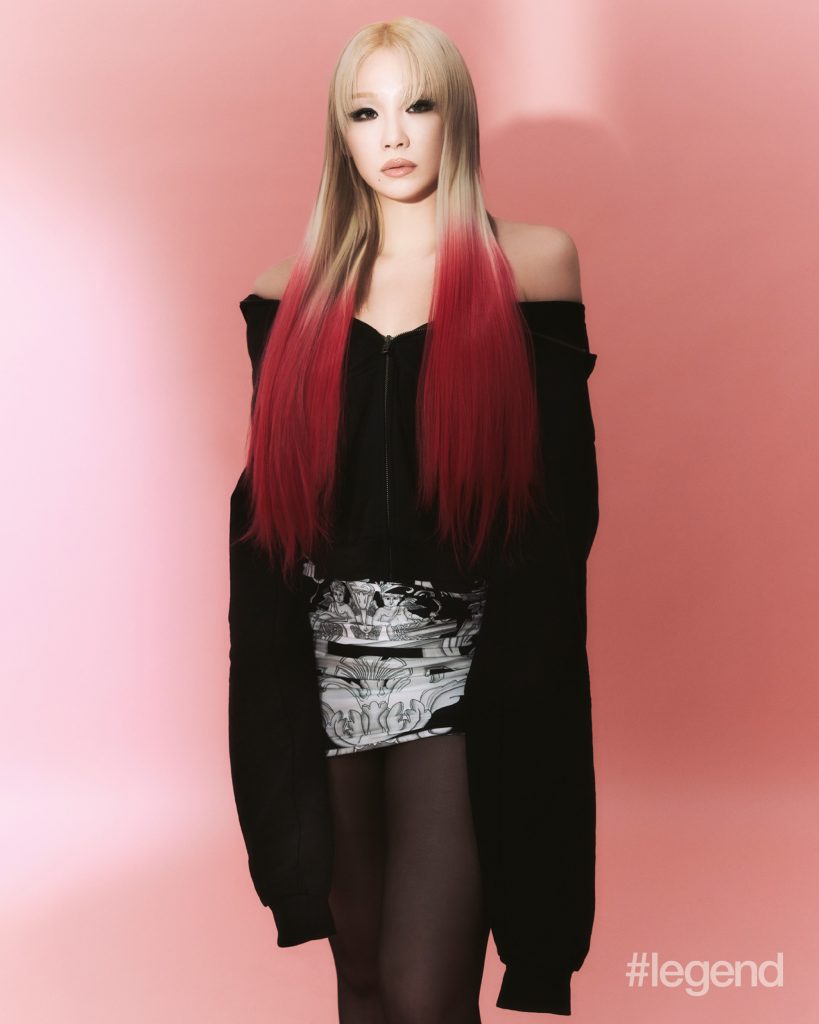 그녀가 말하는 이러한 새로운 도전들은 가수 이채린을 업계 최고의 아티스트로 성장하게 도와줬다고 할 수 있습니다. 한국의 수 많은 엔터테인먼트 회사의 다큐멘터리에서도 볼 수 있듯이, 한 아티스트가 국내 및 해외로 뻗어 나가는 것은 '뛰어남' 없이는 불가능 한 일입니다. 그리고 그녀는 31살이 된 현재, 15살때부터 YG 연습생 시절을 거쳐 나간 뛰어난 아티스트로서 이러한 기질들을 최근 발매한 "척" 뮤직비디오에서 당당히 보여주고 있습니다.
"척" 뮤직비디오에서 주목해야할 점은 단 한번의 의상 및 장소 변경 없이 관중을 앞도하는 씨엘의 엄청난 퍼포먼스 실력입니다. "저는 댄스로 커리어를 시작했고, 그렇기 때문에 이번 뮤직비디오를 통해서 그 본래의 모습을 보여드리고 싶었어요". 이번 뮤직 비디오는 단순히 그녀의 실력만 보여주는 것이 아닌, 오랫동안 함께한 대형 기획사를 떠나 용감한 홀로서기를 하고 있는 솔로 아티스트 이채린의 정체성을 보여줍니다 – 뮤직 비디오 내 그녀의 이름을 한 글자씩 외치는 백댄서들의 장면이 보여주듯이요.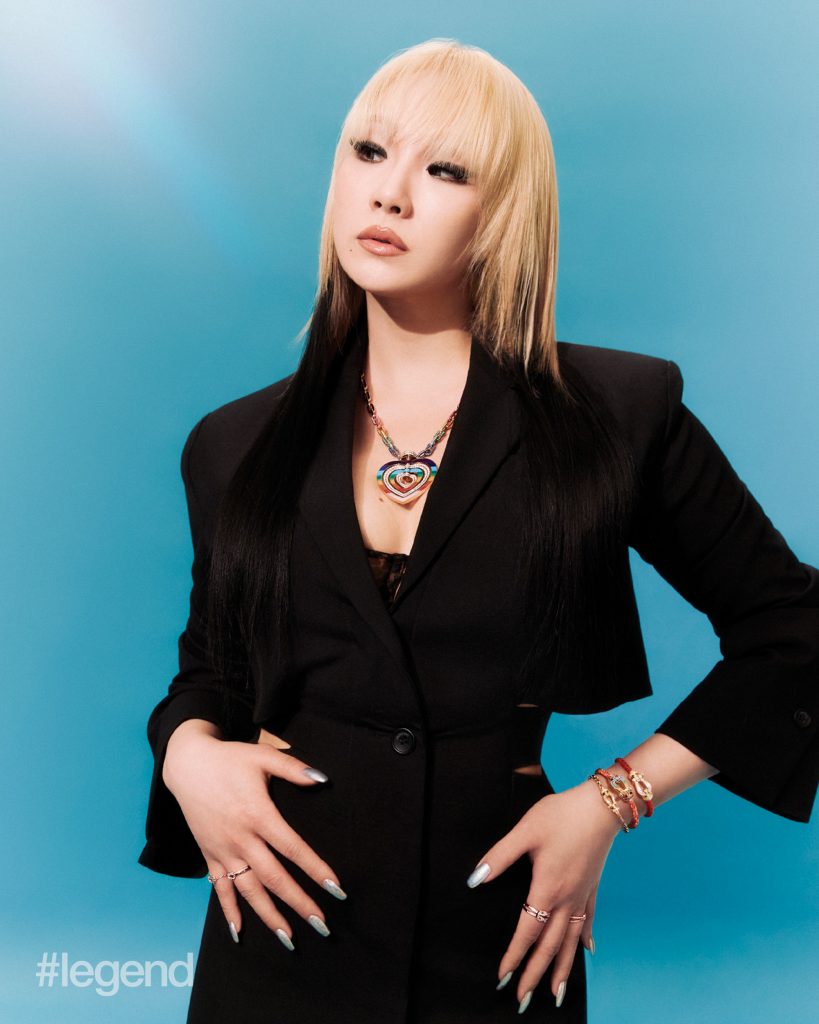 이번 뮤직 비디오에는 씨엘이 한국 화초 그림이 그려진 화투 카드들을 미국적인 분위기를 풍기는 공간 앞에서 내려 치는 장면이 등장합니다. "전 항상 뮤직비디오에 한국적 요소들을 넣는 걸 좋아하는데, 이번에는 새롭게 해보고 싶었어요. 미국의 느낌이 강하게 나는 공간에서 아시아인인 저의 모습이 대비되는 모습을 담아내고 싶어서 좀 특별한 장소를 선택해봤어요."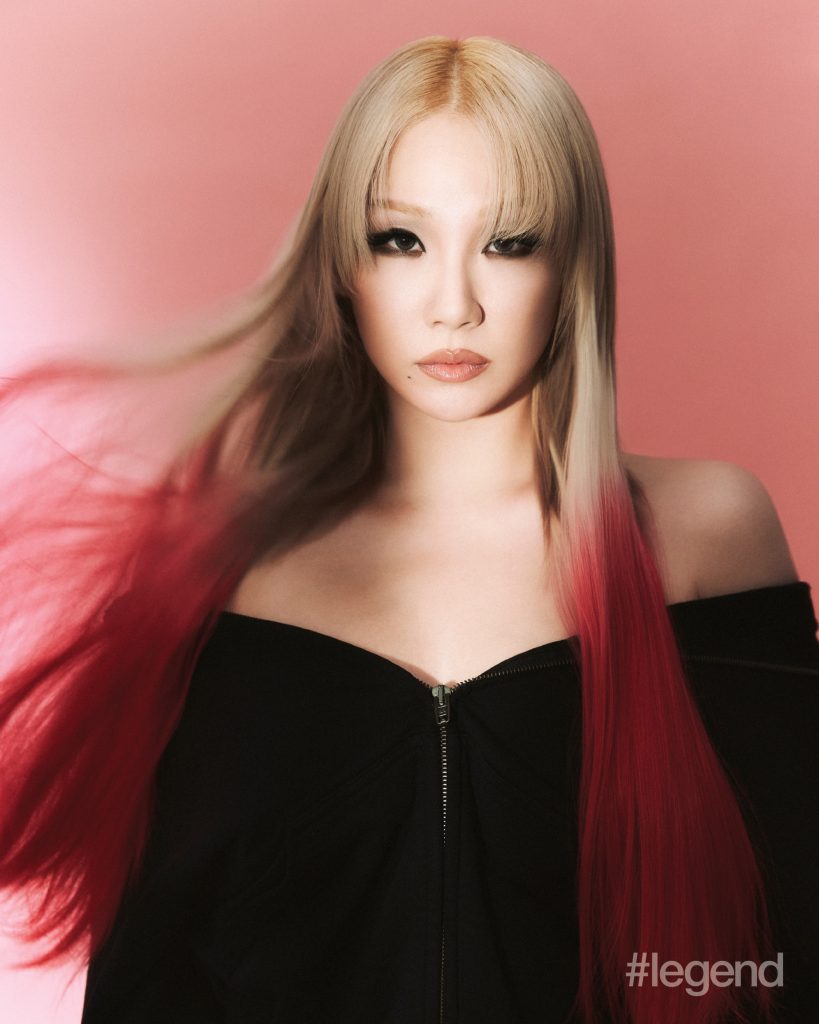 서울에서 태어난 씨엘은 대부분의 삶을 일본과 프랑스에서 보냈습니다. 그녀가 솔로 아티스트 그리고 2NE1 멤버로서 지금까지 시도해왔던 용감한 도전들을 설명해 주는 부분이죠.
봄, 다라, 그리고 민지와 함께 2NE1 이라는 이름으로 데뷔를 한 씨엘은, 2009년 당시 청순함을 강조하던 다른 걸그룹 이미지를 완전히 깨트리며 트렌드에 메이지 않고 자신들이 원하는 모습을 보여줘도 된다는 메시지를 여성들에게 전해주었습니다. "Fire", "I don't care", "Ugly", 그리고 씨엘의 첫 솔로 싱글 앨범 "The Baddest Female"는 본인이 원하는 모습대로 살아가도 된다는 메시지를 강하게 전달해 주었습니다.
Also see: Digital Cover: Elva Ni and Vincent Ng x Kenzo
뮤직 비디오 "척"에서 가장 많이 재생된 구간은 씨엘이 백댄서들과 함께 여유롭고 자랑스럽게 가운데 손가락을 치켜 들고 빙빙 돌며 "lie, lie, lie, lie, lie, lie" 를 외치는 부분입니다. 자기 자신을 진솔하게 표현하는 그녀의 모습이, 남성에게 당당하게 손가락을 드는 그 모습이, 그 위치에 이르기까지 얼마나 많은 노력을 했는지 생각하게 만들었습니다.
"저는 늘 음악에 다른 사람 눈치 안 보고 자기 자신이 되어야 한다는 메시지를 담아오고 있어요. 이런 메시지를 담고 있는 이유는 그렇게 살기가 쉽지 않기 때문이에요." 씨엘은 이어서 "저 역시 이 일을 오래 해오면서 지금 시대와 맞춰 나가면서도 나 자신의 색깔을 유연하게 지켜 나가기가 쉽지 않거든요. 이 곡은 지금 이런 상황에 놓여있거나 앞으로 이런 일들을 마주하게 될 사람들에게 리마인드를 해줄 수 있는 곡이라고 생각합니다."
K-pop 최초 빌보드 차트 1위, 그리고 미국에서 2013베스트 셀링 6위를 기록한 2NE1의 "내가 제일 잘나가" 를 올해 코첼라에서 멤버들과 함께 공연함으로서, 씨엘은 앞서 언급한 내용을 가장 모범적으로 나타냈습니다. 2016년에 해체 되었던 그룹의 복귀이자, 또 작별이 된 곡이기도 합니다.
"늘 네 명이 함께 다시 무대에 서고 싶었어요." 그녀는 이어서 "팬분들에게 제대로 인사를 못 드렸다는 것이 항상 마음에 남아있었어요. 마침 제가 코첼라에 초청을 받게 되었고, 이 무대가 제가 늘 생각해 왔던 그 때라는 느낌이 강하게 왔어요. 다행히 멤버들도 용기를 내줘서 정말 고맙게 생각하고 있어요." 라며 마음을 전했습니다.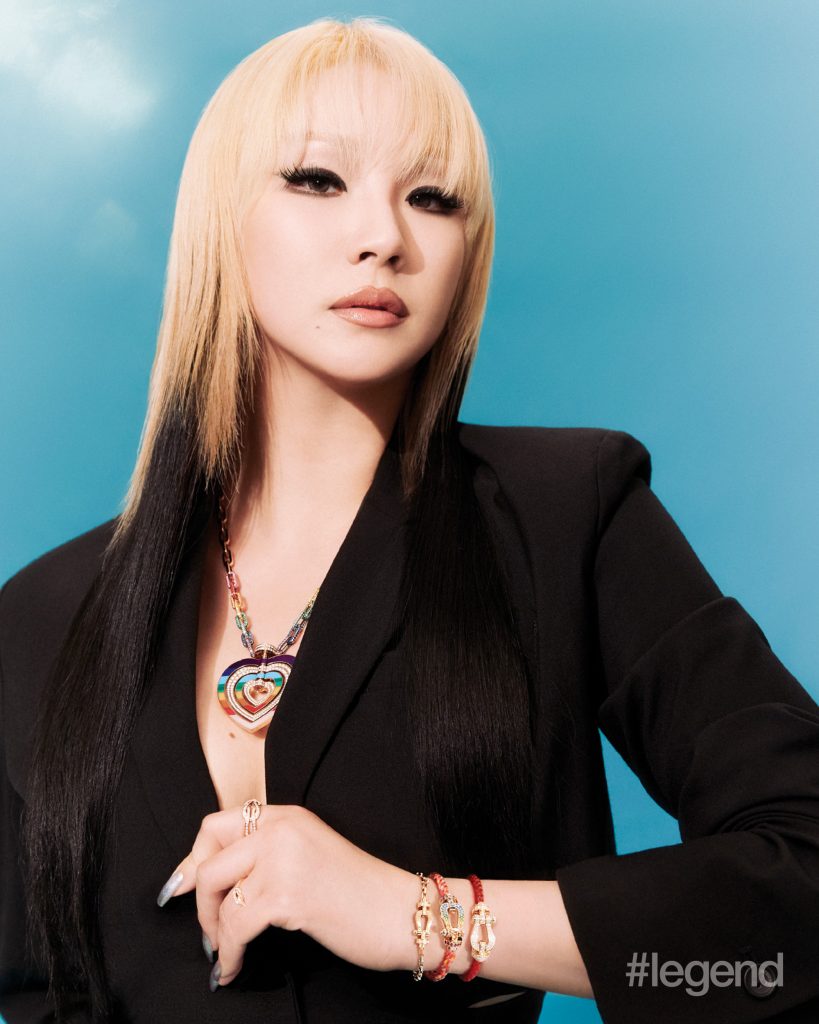 최근, 씨엘은 파리 패션 위크에서 화제를 일으켰습니다. 자신감에 가득 찬 모습으로, 참석 한 모든 쇼에서 대중을 압도하는 모습을 보여줬죠. 더불어 쉴 틈 없이 바빠 보이는 일상 속에서도 그녀는 새로운 취미를 찾으며 본인의 힐링을 추구하고 있습니다. "요즘은 일로 해외를 나가더라도 시간을 내가 자연을 보려고 해요. 최근에는 바다를 보고 왔습니다. 다양한 차를 마시는 것도 저를 즐겁게 해요."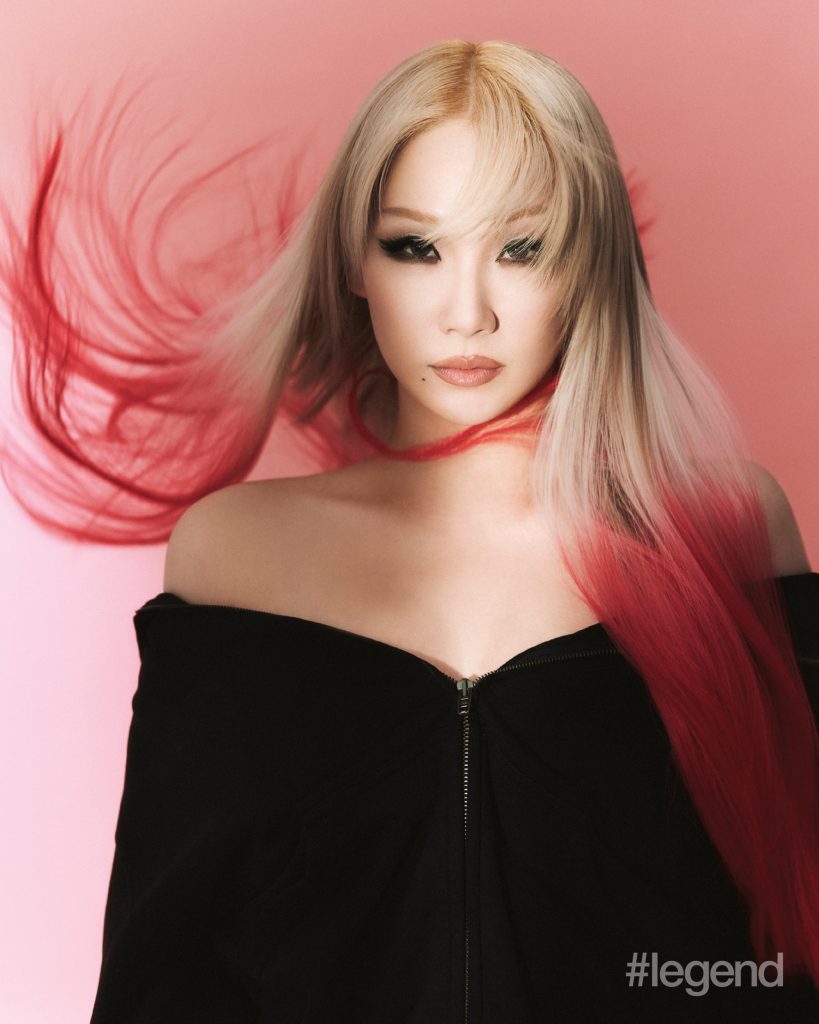 그녀는 슈퍼스타 이면의 씨엘의 모습에 대해 들려줍니다. 그녀는 MBTI는 E(외향형)와 I(내향형)를 오갑니다. 그녀는 오이를 좋아합니다. 그리고, 그녀는 타투는 아무것도 아니어도 타투를 함으로서 의미가 생긴다고 믿습니다. 이는 알파 앨범을 향한 그녀의 태도에서도 엿볼 수 있죠. "이번 앨범의 모든 곡이 저에게 의미가 있었습니다. 타이틀 곡이 없는 이유이기도 하고요."
씨엘의 #레전드는 그녀의 어머니입니다. 또한 차트 기록을 깨고 케이팝을 성공 신화를 이루고 있는 방탄소년단과 블랙핑크의 1세대 선배인 그녀도 여전히 꿈을 꿉니다. "꿈이 있긴 하지만 꿈은 말하는 것이 아니라도 하더라고요."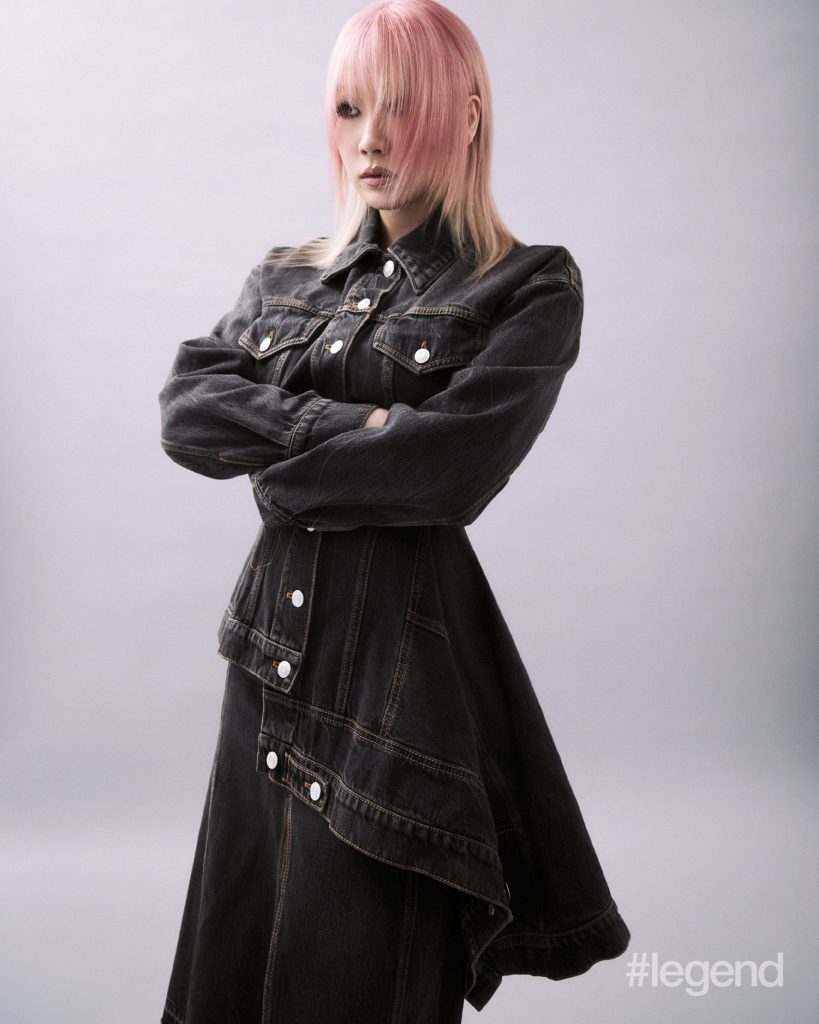 여전히 씨엘은 즐겁고 자유롭게, 그녀의 정체성을 지켜나가며 잘 살아가고 있습니다. "자기만의 페이스에 맞춰서 포기만 하지 않으면 되는 것 같아요. 가끔은 계속 하고 싶은게 없어서 의욕이 떨어졌을 때라도 막상 움직여보면 새로운게 나타날 수도 있으니 계속 도전하는 걸 추천해요" 그러나 그녀는 "쉬고 싶을 땐 잘 쉬는 것도 그만큼 중요한것 같아요" 라며 휴식의 중요성도 강조합니다.
그녀의 곡 속 가사인 "너는 나를 바꿀 수 없어" 처럼 우리는 그녀를 바꾸려고 하지 않을 것입니다. 그리고 전 세계 그녀의 팬들과 더불어, 우리는 씨엘이 앞으로도 계속해서 자신만의 색깔로 그녀의 진정한 모습을 우리에게 보여줄 것을 확신합니다.
Also see: Digital Cover: Kenny Kwan x Emphasis