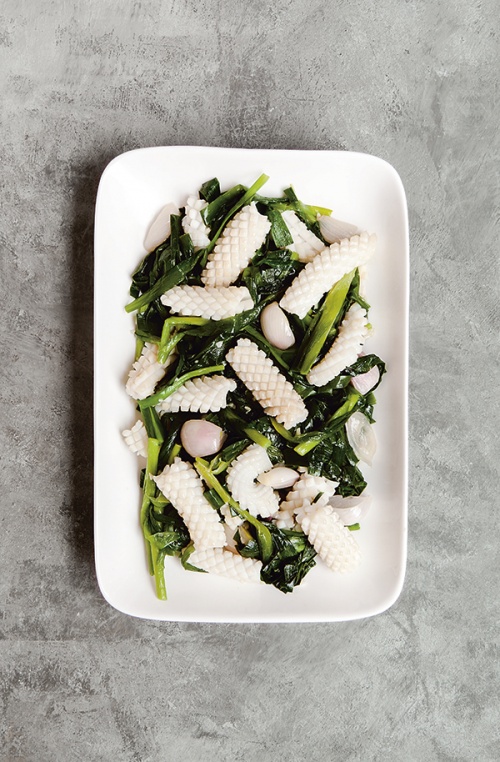 Chaozhou, or Chiu Chow, is one of the more well-known regions when it comes to Chinese food. In this dish, the squid is scored in a criss-cross pattern to create a flowering effect. More than just decorative, the marks also symbolise good luck in Chinese culture. This recipe is excerpted from China: The Cookbook , and the full interview with authors Kei Lum Chan and Diora Fong-Chan can be read here.
Ingredients:
300 g Chinese chives, rinsed, drained and cut into 8 cm lengths
500 g fresh squid, cleaned; or 450 g calamari tubes
2 tablespoons vegetable oil
4 cloves garlic, chopped
2 shallots, quartered
1 teaspoon salt
1 teaspoon rice wine
0.5 teaspoon granulated sugar
0.5 teaspoon cornstarch
0.25 teaspoon sesame oil
Steamed rice, to serve (optional)
The steps:
Bring a saucepan of water to a boil over high heat, add the chives, and blanch for 30 seconds. Drain and rinse under cold running water.
Pull out the squid tentacles from the main body, cut below the eye, and discard the innards. Discard the beak from the head and peel off the membrane. Remove the quill, then use the back of a knife to remove the innards. Open it out flat, rinse and trim. Lightly and finely score the squid, then cut into 6 cm pieces.
Fill a wok or a large skillet with water and bring to a boil. Place the squid in a hand-held metal strainer and lower into the boiling water. Turn off the heat immediately and use chopsticks to disperse the squid pieces in the water. Steep in the water for 5 seconds, then remove with the strainer, drain and transfer the squid to a bowl of ice-cold water. Set aside to cool. Drain and pat the squid dry with paper towels.
Heat the vegetable oil in the wok or large skillet over medium-heat heat, add the garlic and shallots, and stir-fry for 1 minute until fragrant. Increase to high heat, put in the squid, and stir-fry for another 30 seconds until half-cooked. Add the salt, wine, sugar, and chives and stir-fry rapidly for another 30 seconds, until the squid is cooked through.
Mix the cornstarch with 0.5 tablespoon water in a small bowl and stir this mixture into the wok. Bring to a boil, stirring, for 30 seconds to thicken the sauce. Stir in the sesame oil and transfer to a serving plate. Serve with rice, if using.