Inside the revamped Van Cleef & Arpels' Hong Kong flagship store
November 2, 2020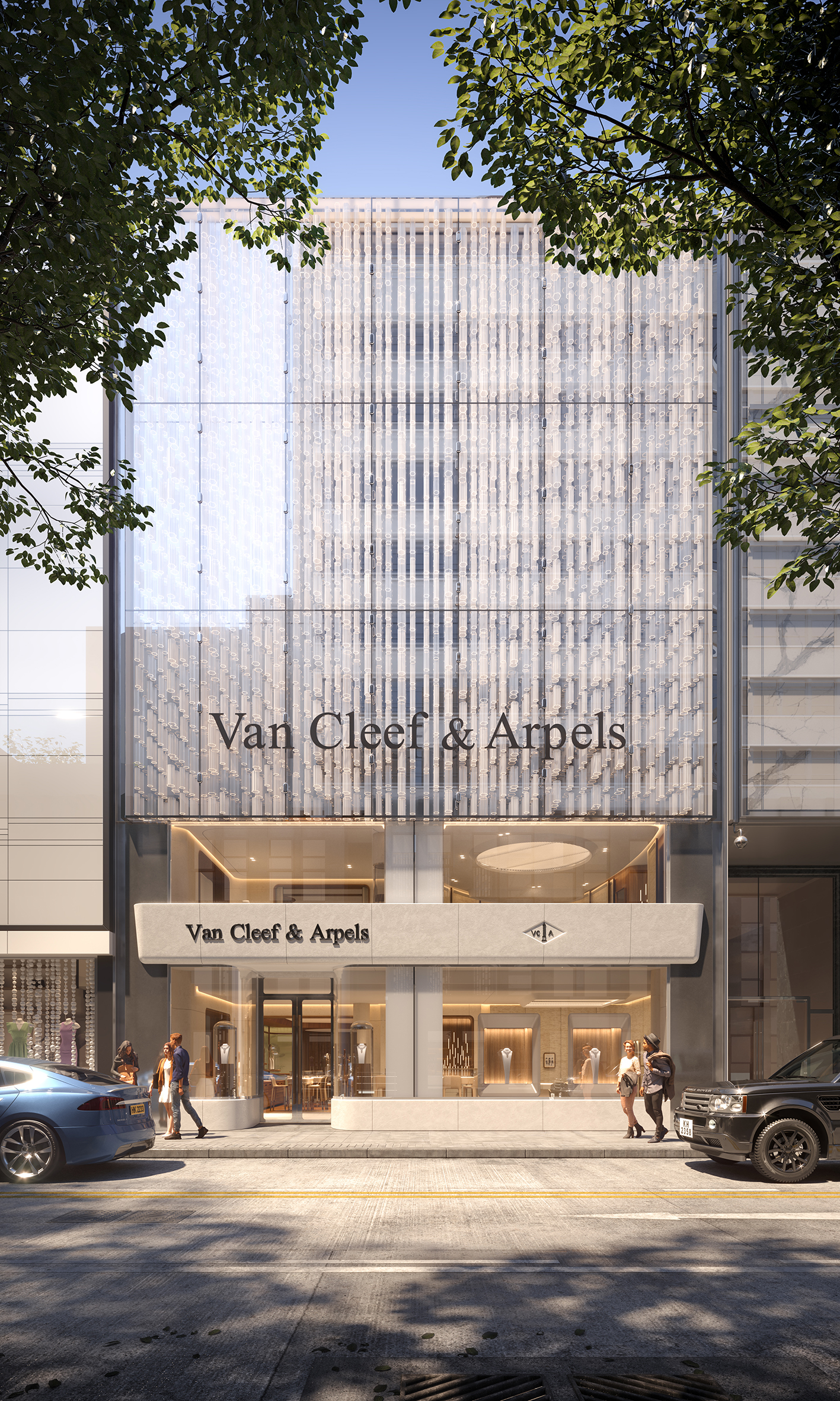 The long-awaited reopening of French high jewellery maison Van Cleef & Arpels' Central flagship store at the end of October marks a visionary triumph for the brand – one of both artistic flair and commitment to the city. The two-storey space, fronting Landmark Prince's on Chater Road, has undergone a thorough makeover from its previous incarnation that dated back to 2011. In its new form, it presents an inspired gemmological realm that borrows in equal parts from the city's contemporary architecture and design and from its breathtaking natural beauty and biodiversity.
Created by Patrick Jouin and Sanjit Manku, the same team who implemented the original Van Cleef & Arpels flagship store almost a decade ago, the project reflects the Jouin Manku agency's ethos as dreamers, trailblazers, inventors and designers. "We wanted to keep the boutique's iconic elements we imagined in 2011 while creating a multidimensional space echoing Hong Kong's contrasted landscapes," says Jouin. "The result is a decor inspired by both the lush nature surrounding the city and the cutting-edge architecture characterising Hong Kong."
In the bustling heart of Central's luxury boutique quarter, an illuminated two-storey façade features curvaceous windows, beckoning sinuously with the promise of treasure within. Shoppers are irresistibly drawn through the ground-floor entrance doors and into a fabulous domain of fantasy, poetry and nature. The curvature of the shopfront windows is reflected within by gigantic oak wood showcases, presenting one of the key design elements of the project. The ambience of the uncluttered space is enhanced by the calming harmony of stylised fern motifs that are embroidered into the refined fabric wallpaper.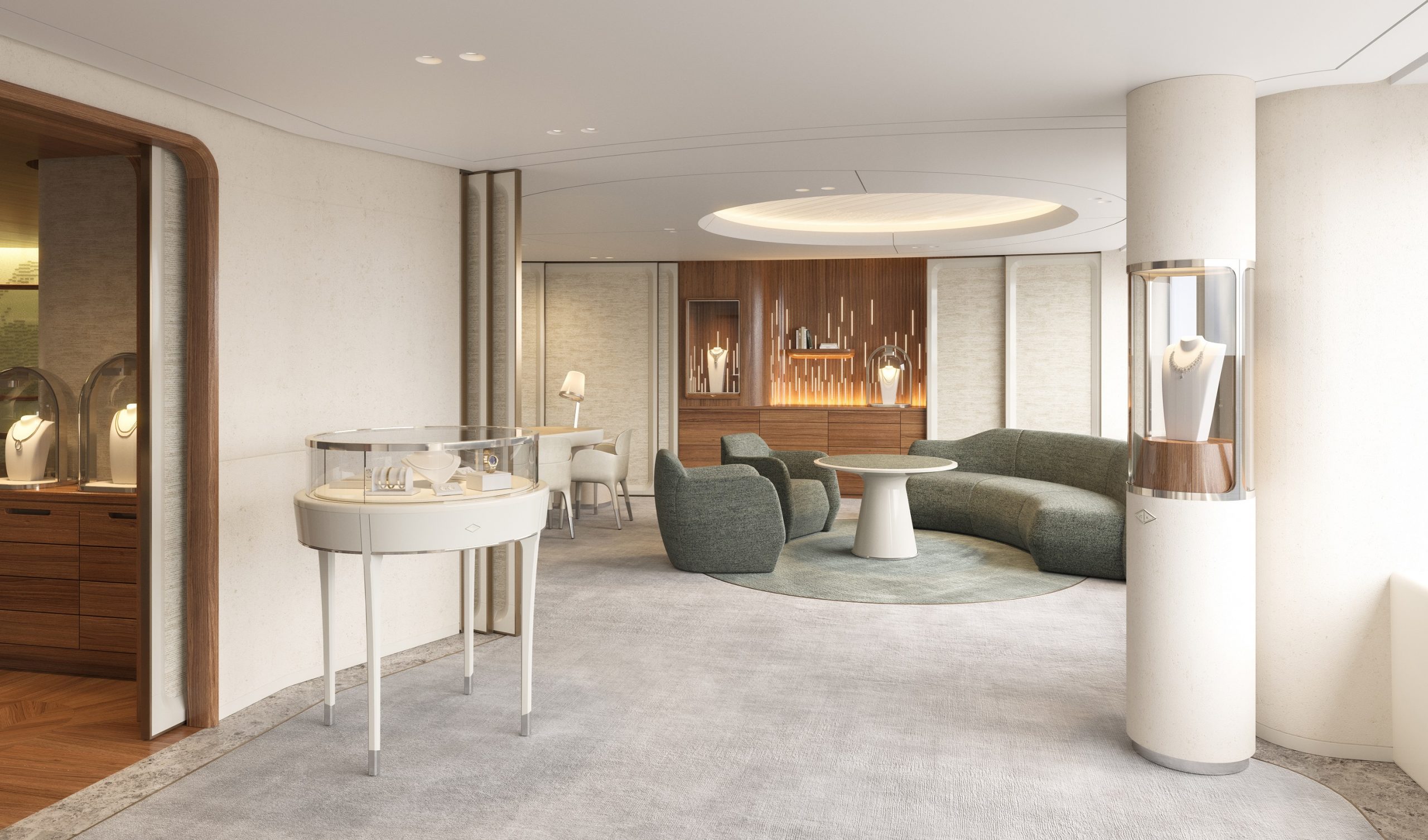 The three-part entrance-level space is dedicated to Van Cleef & Arpels' timepieces, jewellery and high jewellery. The horological and gemmological works of art on display here provide a dynamic overview of the maison's commitment to a highly distinctive code of creativity, the professionalism of its workshops and the skill of its craftsmen.
But there's more to come. Continuing upstairs via a curving oak wood staircase, our shopper comes upon yet more enchantment with the bridal bar, where star-crossed lovers will secure future matrimonial bliss as they discover spellbinding stones and creations with which to pledge their troth. Tearing herself reluctantly away from the bridal bar, she then comes to showcases dedicated to the Heritage collection, with a selection of archival pieces from past decades. Perhaps she'll see a Minaudière precious case, a transformable Zip necklace or an early expression of the iconic Alhambra motif?
Finally, our shopper gets off her feet and sinks down onto a sofa in the intimate lounge nestled at the back of the upper floor – a tastefully furnished space in which to relax and reflect on the artistry of Van Cleef & Arpels as she looks out serenely over the landmarks and the hustle and bustle of Central.
See also: The wonders of Love Stories with Van Cleef & Arpels in Geneva