Digital Cover: Collar's Candy Wong x Maje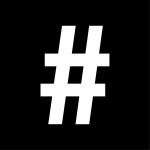 By: Hill Choi Lee
October 30, 2023
Hong Kong girl group Collar's Candy Wong is the contradictory embodiment of confidence and youthful naivety. In this month's digital cover with #legend, the singer tells Hill Choi Lee what makes her tick and what her future aspirations are with and without Collar
Candy Wong's first-ever outdoor show with bandmates from Collar was at Clockenflap earlier in the year. The experience proved to be one of her most exhilarating interactions with fans. "It's entirely different than when you are indoors – the way the fans give feedback to you and the overall atmosphere was something I haven't experienced before," says Wong. Whether there will be more of these outdoor shows in the foreseeable future remains to be seen as nothing is in the books yet. However, Wong and the rest of Collar's girl group members are not sitting idle. They continue to stir up Hong Kong's musical landscape with their most recent release of "Speak Love".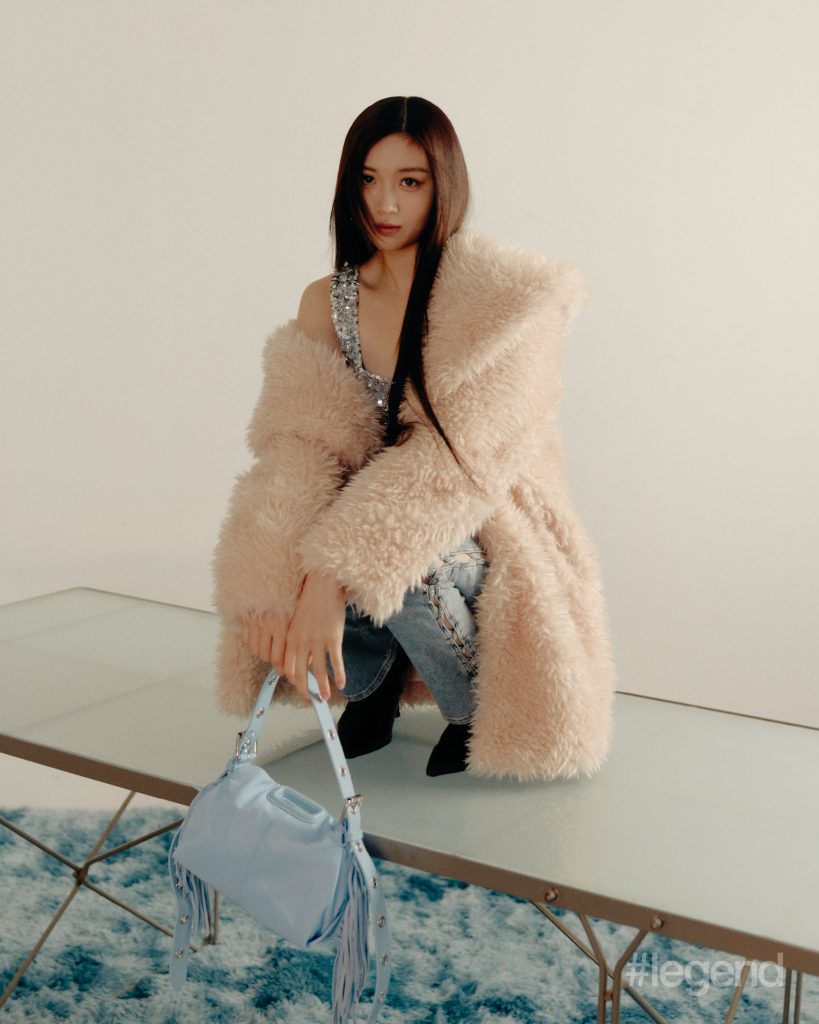 The new single is a step away from their usual work. "It is quite different in style," explains Wong. "It is very chilled and 'happy', not as fast-paced as our previous songs. "Speak Love" is about an independent woman's journey to romance where she takes charge. It doesn't always have to be the man who has to take the initiative. We all had a blast working on this track. It is also the first time we collaborated with Hong Kong singer-songwriter Serrini, so it is special on different levels."
A self-proclaimed introvert, it took her family and friends a bit to get used to the idea when the 21-year-old went on a talent show to compete for the whole nation to see. It was on ViuTV's King Maker IV that Wong found her calling as she shares, "This is where I realised that I really wanted to become a performer. Instead of doubts, I found a surge of persistence within me. A kind of bravery to break through every stage and challenge they imposed on us." That moment's bravery came about through a deep-seated sense of self-belief, she claims. It is perhaps the kind of almost reckless self-confidence that stems from youthful naivety.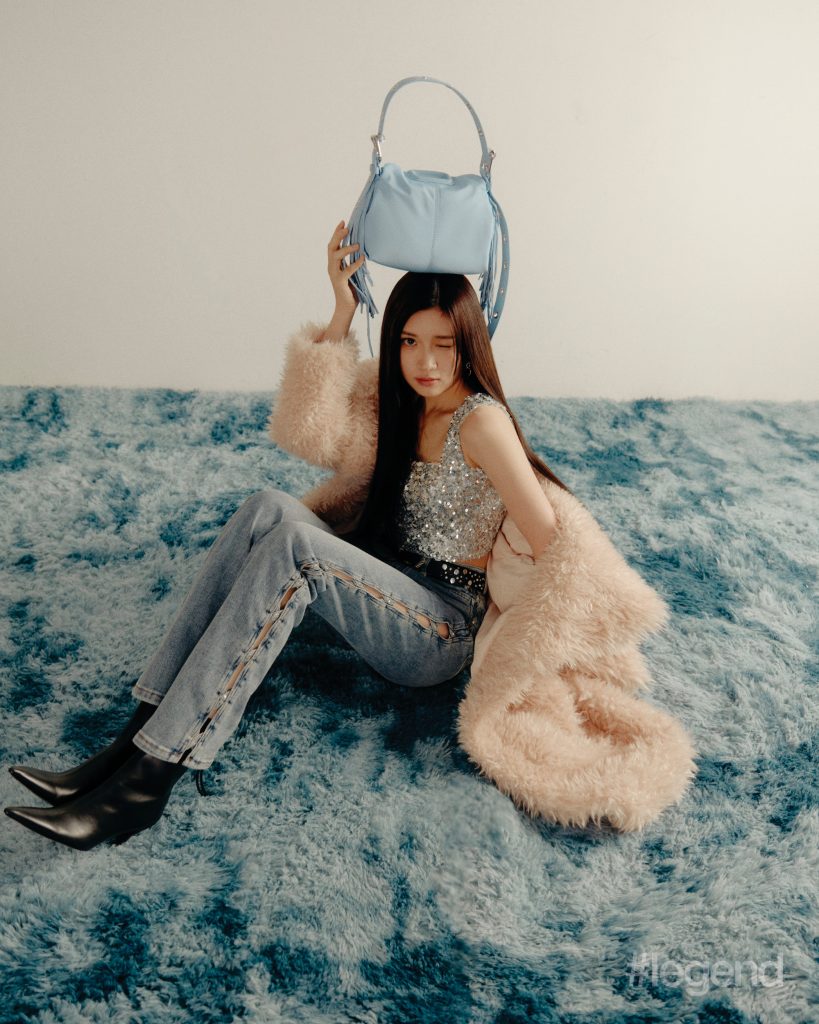 However, she wouldn't go as far as to say that this kind of brazen courageousness would extend to her embarking on a solo singing career. "One of the reasons why as an introvert I could go the distance is because of the other members in my group." Even in sports, Wong prefers team-based activities, she divulges. She hopes that Collar will go on to do many more songs together. Wong is deeply impressed by Korean girl groups G-Idle (band member Yuqi Song happens to be #legend's October cover star) and Itzy, and shares that their stage presentation and performance exude the kind of energy she wishes to bring to the fore in Collar's own shows.
Also see: Digital Cover: Wayne Huang x Chow Tai Fook
In the meantime, her identity isn't entirely dependent on the other members of the band. She's recently been cast in an upcoming Hong Kong zombie show alongside actor and film producer, Philip Keung.
"If anything, the show is a little reminiscent of Train to Busan. It is about a father-daughter pair trying to navigate and survive in a zombie-infested world. Philip plays my character's dad, and I am so glad to be involved in this project as there is so much to learn from many seasoned actors who are all my elders," says Wong. The release date of this new feature has yet to be announced.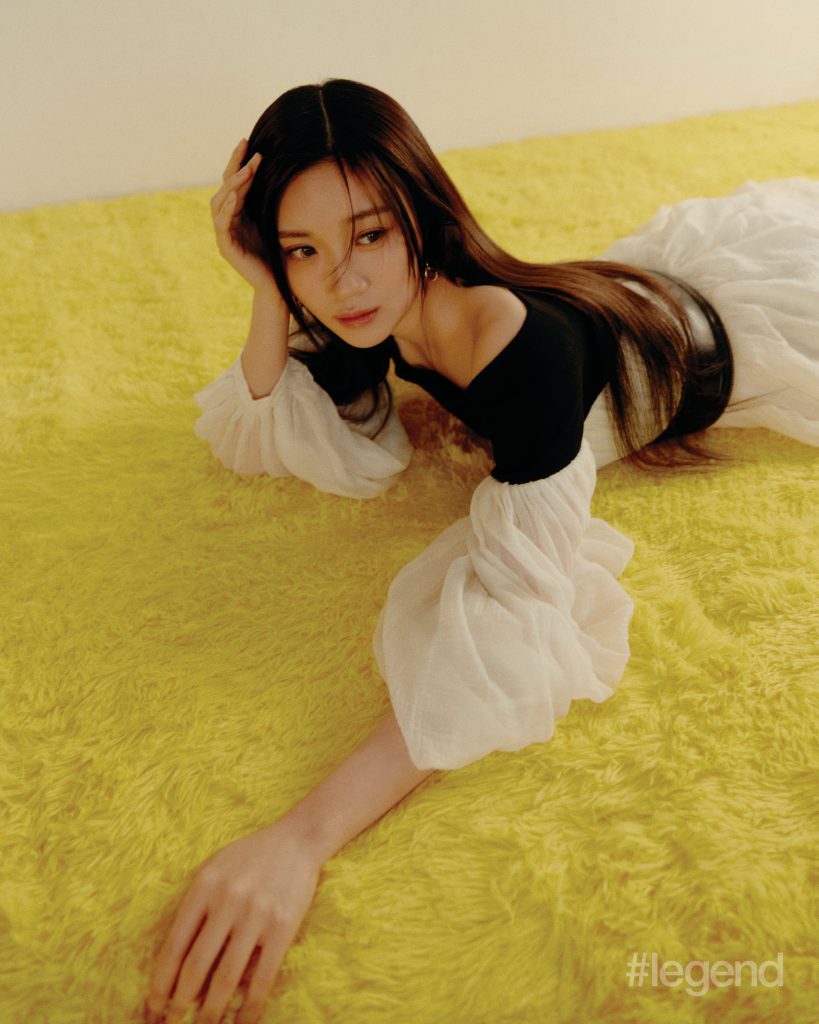 She adds how Keung would always strike up a conversation with her and make sure she is taken care of and feels at ease. "He engaged in conversation with me a lot. It puts me at ease and we built a good rapport. It also helped that he gave me a lot of feedback and tips, which helped me improve as an aspiring actress."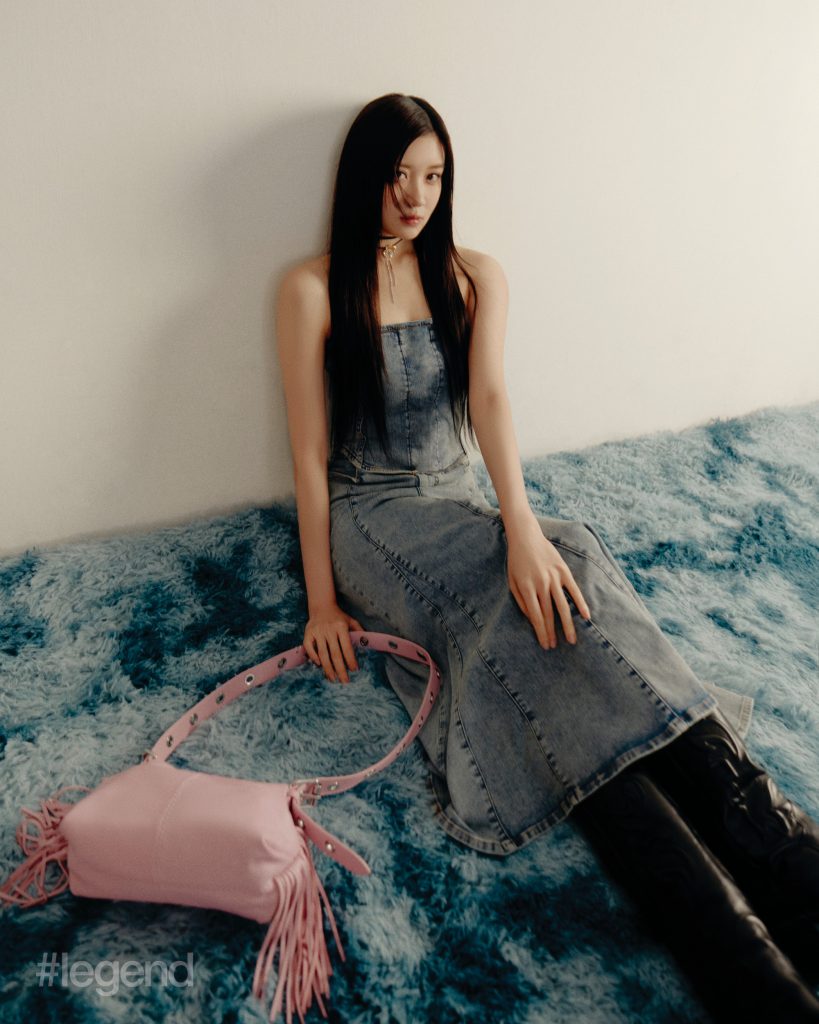 This is her first ever acting gig and to directly swan-dive into a horror genre does little to intimidate the young singer. On the contrary, Wong is a huge fan of the zombie genre, alongside other natural disasters and apocalyptic flicks (though she isn't a huge fan of jump scares when watching scary films). It is an impression that is not immediately associated with this young artist. In addition to the spooky genre, Wong is partial to disaster films and those 'based on real-events.' She is all about the excitement and suspense, and being part of this new show with Keung was a dream come true for her. Not only because she was cast alongside some of the most veteran actors in Hong Kong's entertainment industry, but because it offered her an opportunity to verify her own limitations.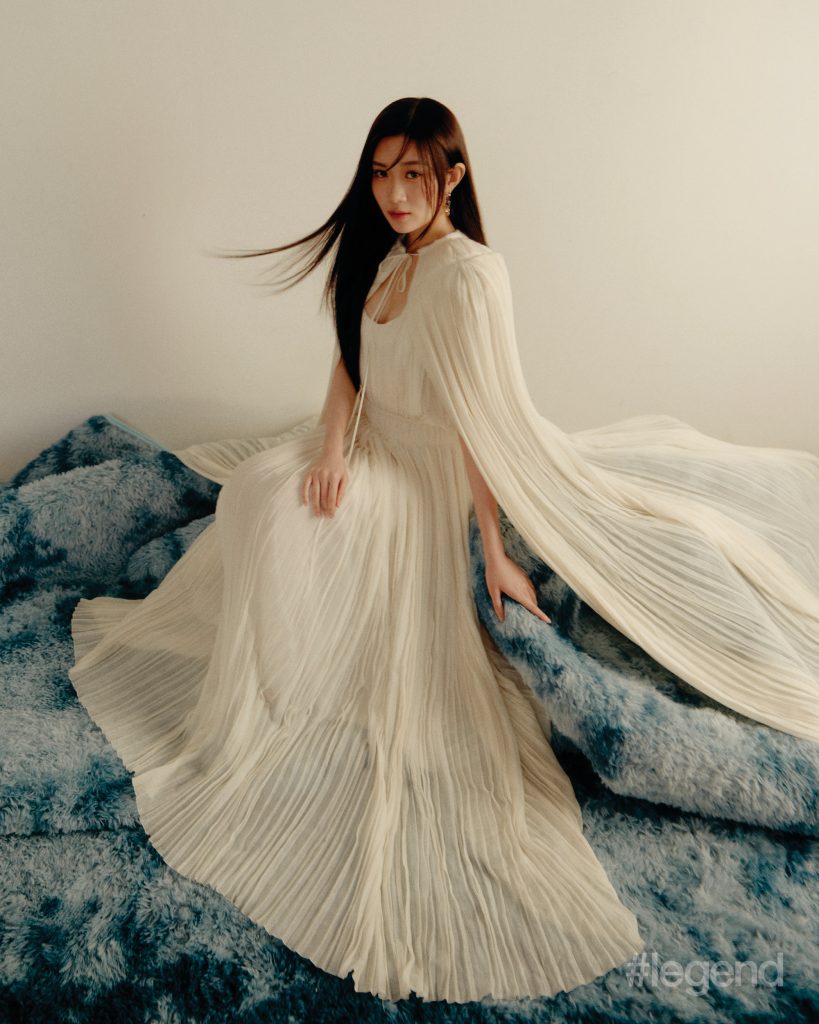 Thus far, the sky is the only proverbial limit. As each member of Collar is mapping out their own direction in entertainment, Wong is setting her sights specifically on television presenting. She already had a taste in the past when she was a host on a travel programme. It is something she is eager to do again if the opportunity arises.
Despite her laidback attitude and a deceptive lack of hunger for top fame that is often so prevalent in a starlet of her calibre, one can only discern that Wong has a penchant for quiet action. "I don't like going out and I'm the first to admit that I'm not a very social person," she says. "I like staying at home, doing my exercises and spending time watching films. At the same time, I do like my fair share of travelling and experiencing new things, so I won't say no when a good opportunity comes my way."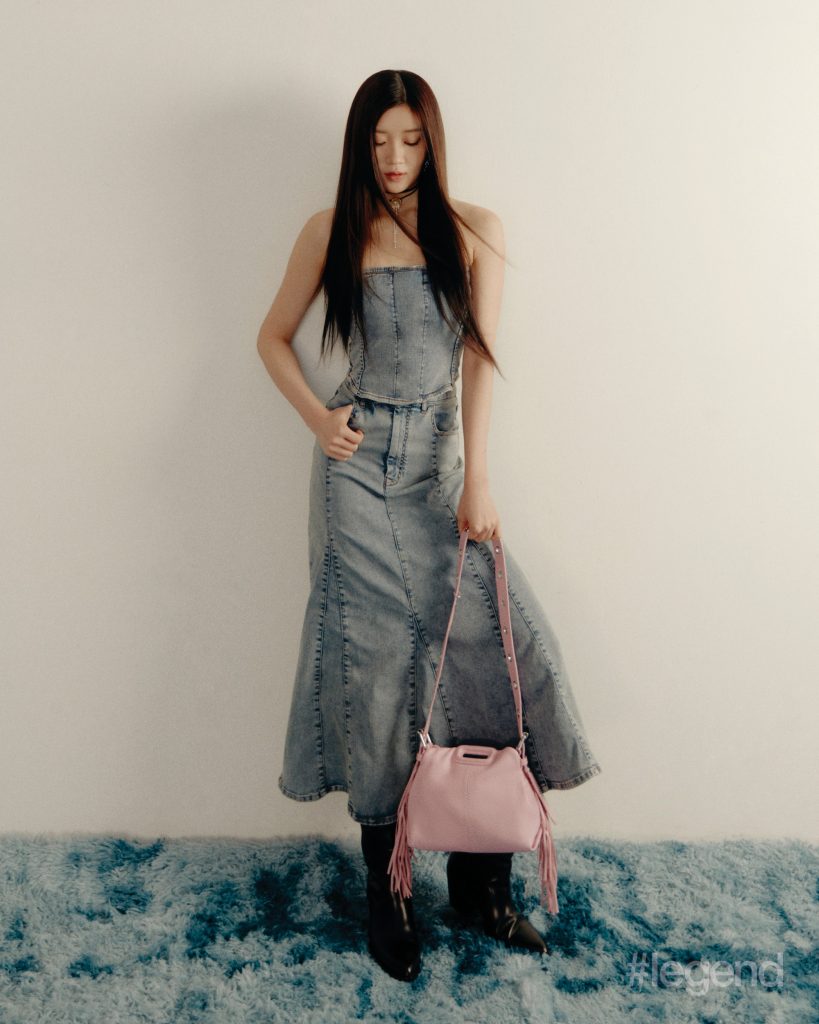 Wong's approach – in all aspects of life – is rather simplistic by her own virtue. She takes inspiration from her immediate environment and makes choices based on the moment. After all, it isn't always about making flashy statements or climbing to the top of the pile. It is about embracing opportunities and being unafraid of acknowledging the level of limelight – whichever degree it comes in.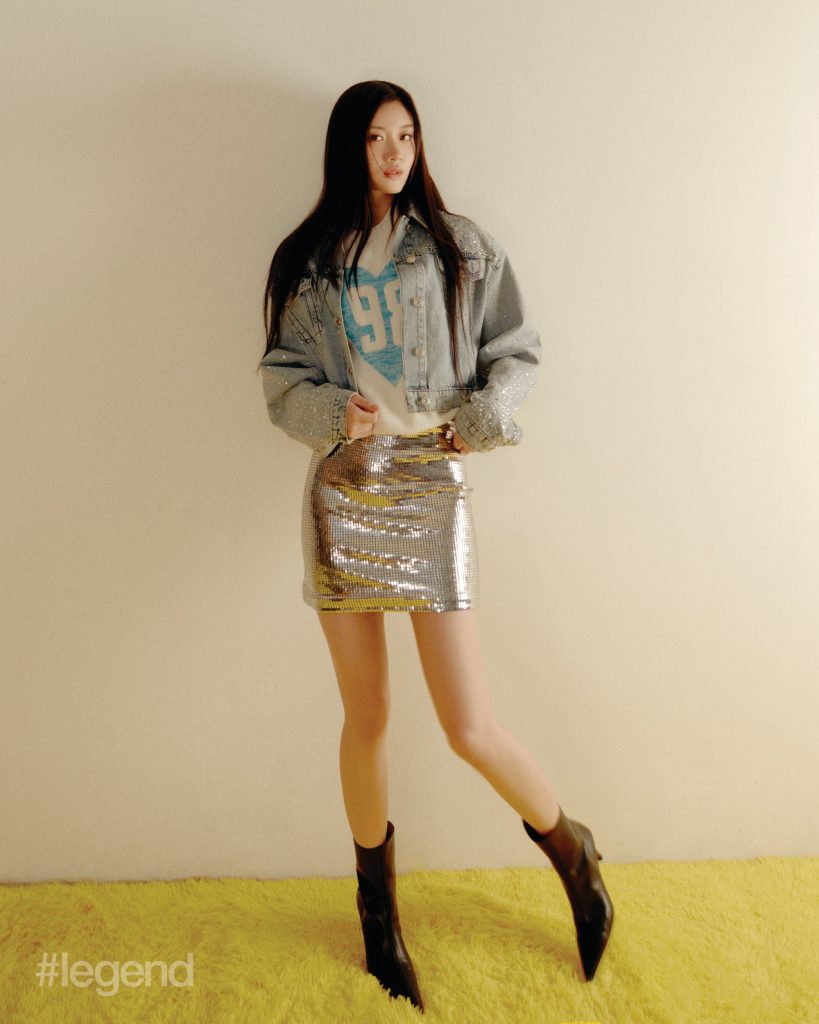 As Candy Wong, she prefers the spotlight in small doses (if that is at all possible when one is part of a popular girl group in Hong Kong) and likes it filled with things she personally enjoys. There is still scope for her ambition to grow, but for now, Wong takes pleasure in things that come to her naturally – preferably in things that can be done as part of Collar rather than as a solo act. After all, her bandmates are what keep her going, she says. "I want to experience many more things with them because I know we are stronger together. Anything else remains to be seen in the future!"
CREDITS
Creative and production / #legend
Photography / The Buffacow
Videographer / Billy Elvis
Styling / Kellie Chan
Makeup / Janice Wong
Hair / Taurus Lee
Wardrobe / Maje and Chloe
Also see: Digital Cover: 193 Denis Kwok forges ahead with new songs