Cover Story: Yuqi Song on growing in idol-hood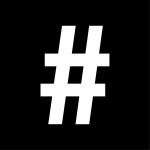 By: Zaneta Cheng
October 3, 2023
With her first solo album in her pocket and a cameo on Netflix's Celebrity, the Beijing-born K-pop star Yuqi Song is ready to take on even more projects. Zaneta Cheng finds out why
Yuqi Song's flourishing career is just one byproduct of the Korean wave that has swept across Asia over the past two decades. The breakout star recalls watching Korean television series with her mother growing up and taking in all the videos, dances and melodies generated by the mammoth institutions of Korean pop.
"My family and I loved to watch Korean shows together. I also noticed a significant improvement in my Korean after watching dramas or variety shows, and I always had the confidence to know that I [could] do anything that I put my mind to, which is why I often ask myself while watching something – 'If I were that character, what would I have done?'" the 24-year-old says of her initial interest in an industry that would come to shape her life.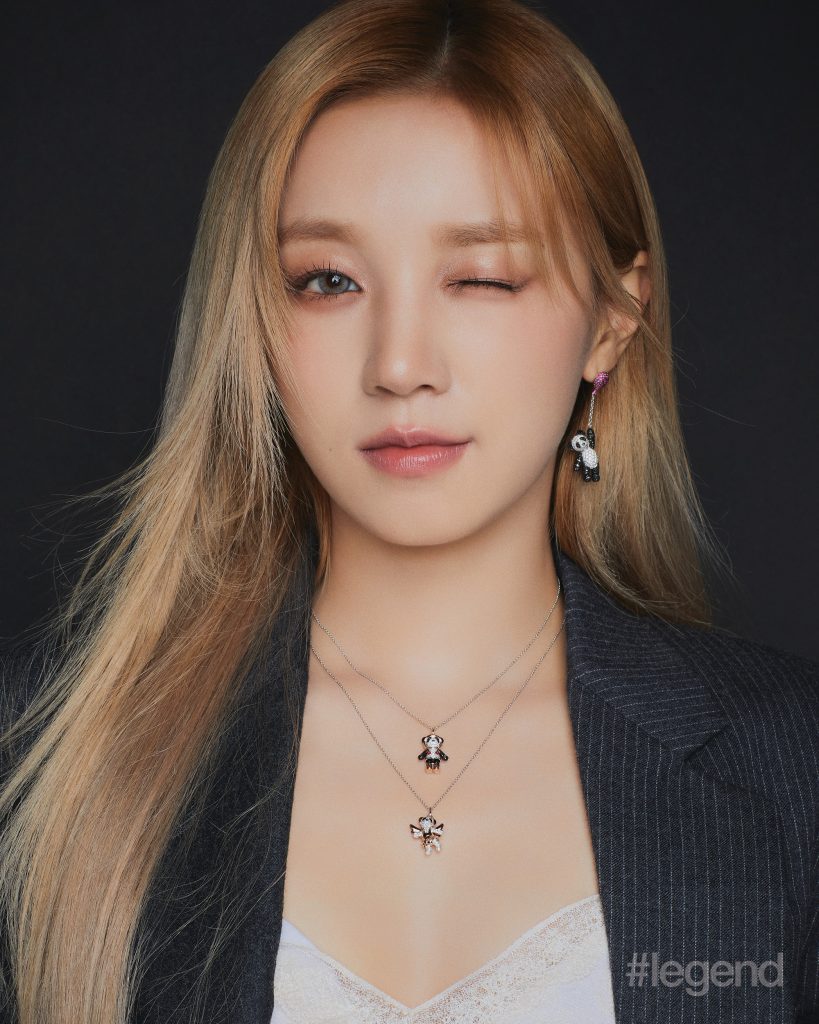 Unlike some others, the Beijing native was not learning to sing from coaches from a young age. According to her, it was a hobby that she would dabble in occasionally. "I've always enjoyed it and gained more confidence when I would sing at karaoke. I was never too picky about what genre of song I would sing and often enjoyed pushing myself out of my comfort zone to sing new styles of songs," she says. Inspired by Super Junior, the now singer-dancer-actor admits that she "became an instant fan."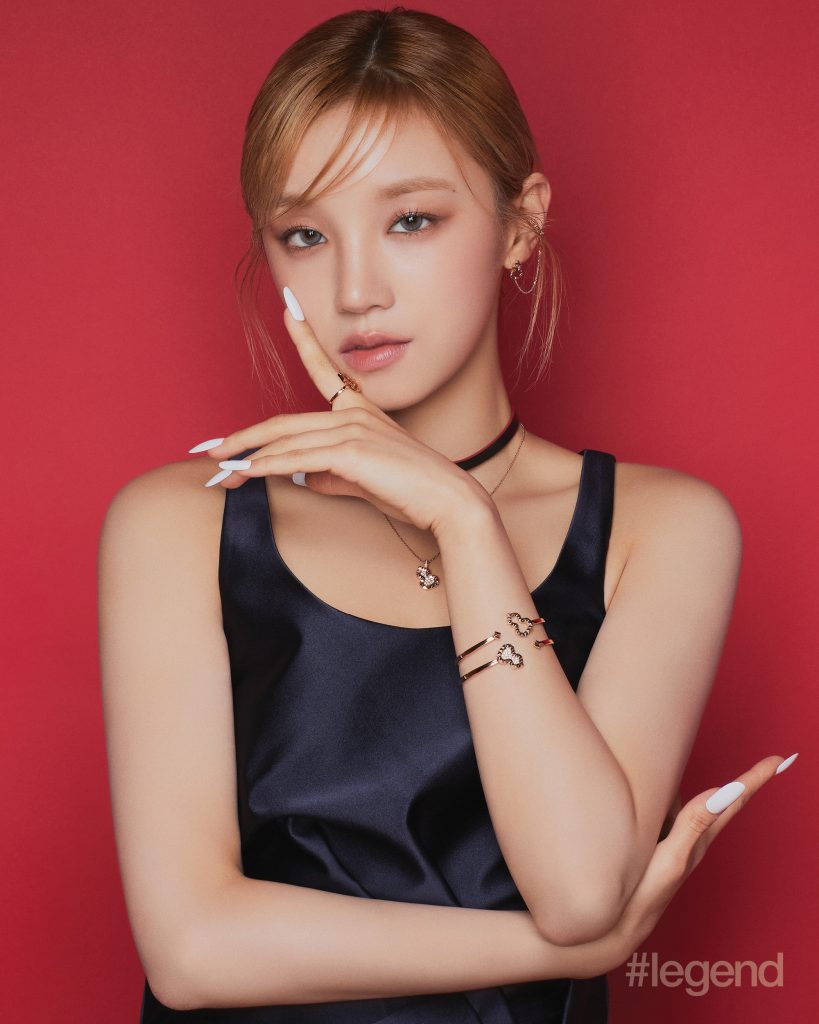 As she became more interested in K-pop songs and dances, Yuqi was also intrigued by the artists' performances on stage. When she was 16 and on track for a decidedly less glamorous career, Yuqi decided to audition with Cube Star World, performing the songs "High Heels" by CLC and "Bubble" by Hong Kong singer GEM. "I was a diligent student who focused on my academic studies during my school days. However, one day, I suddenly became interested in K-pop and decided to change my career path from business management to singing," Yuqi recalls. "In order to fulfil my dream of becoming a singer, I worked hard and joined multiple auditions and, luckily, I got accepted into Cube Star World."
As a trainee, Yuqi appeared in a YouTube video where she introduces herself as an idol in training before busking in front of passersby. But it wasn't long before she debuted as a member of new girl group (G)I-dle with the song "Latata" on their debut album I Am. "After joining the agency, I was able to develop my skills as a singer by learning more about what style suits my voice and different techniques to enhance it," Yuqi says of her idol trainee days.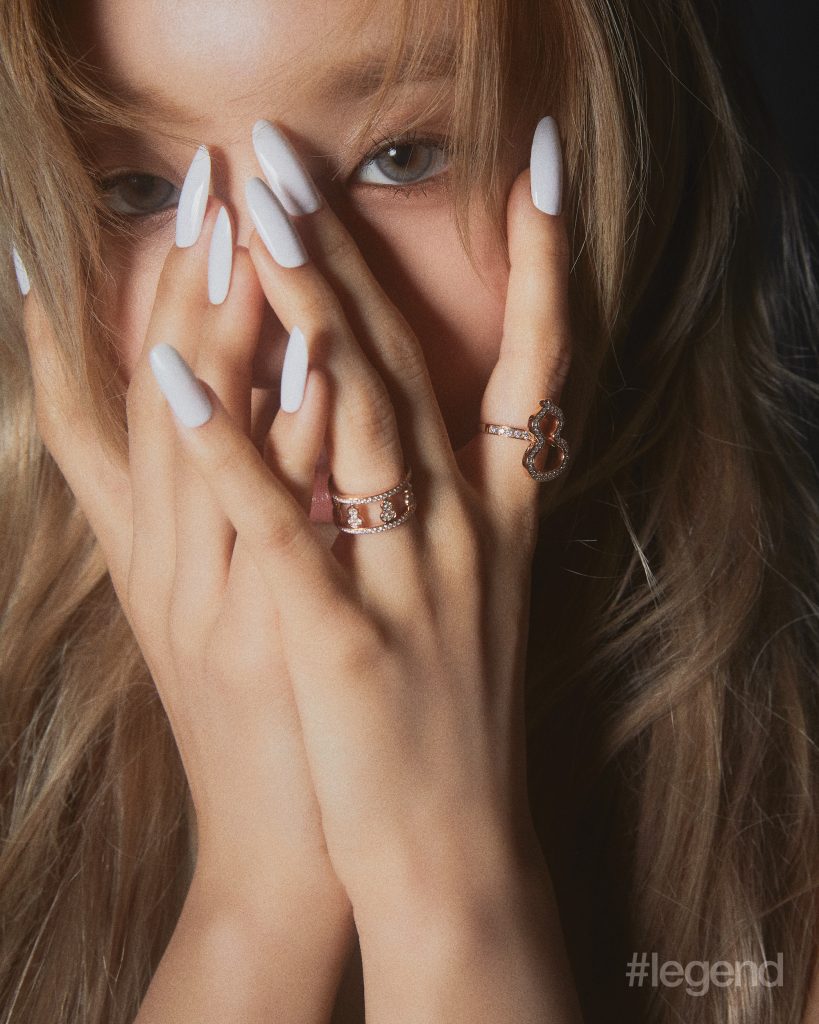 "At first, it was a very new experience as I would always practise alone before joining (G)I-dle. However, after joining, it was great to have a team to support and share parts of the song, which relieves some of the burden. The training process was also a fun experience for me as we would share rap and vocal parts with our group members and be periodically evaluated to enhance our skills."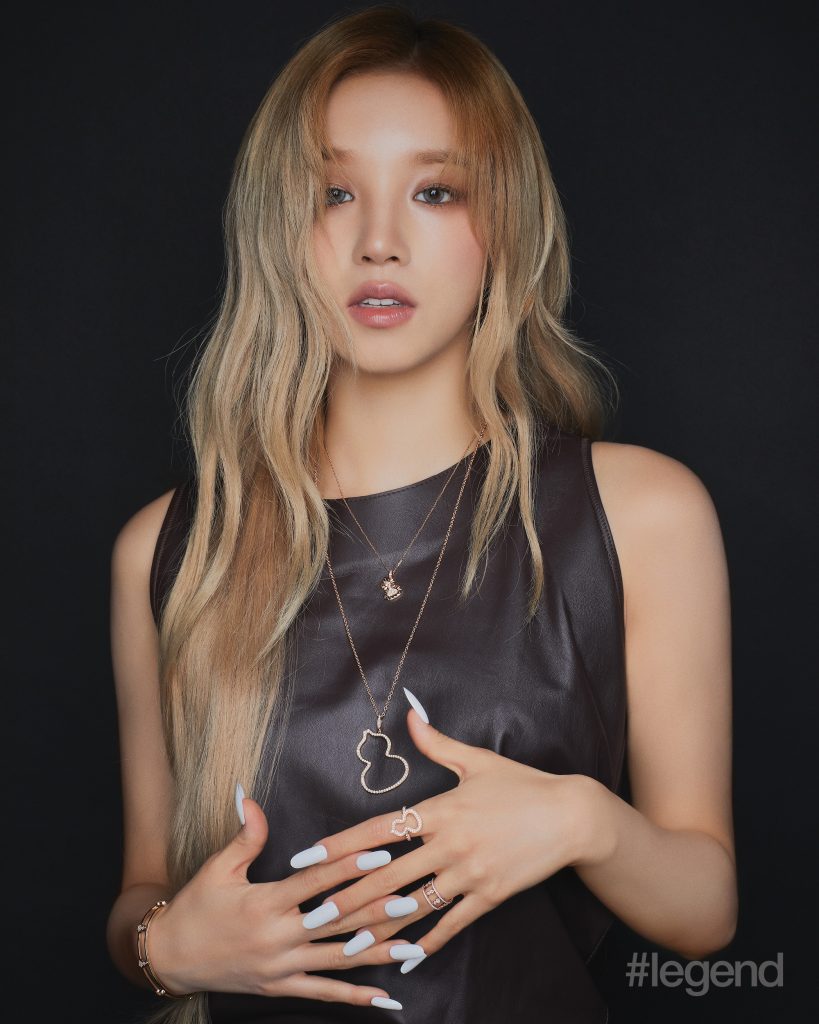 Yuqi was kept busy during her trainee days, already securing endorsement deals as a model for Rising Star Cosmetics, a South Korean skincare brand. She continues to recall this time fondly. "I found my trainee days very exciting. As I have an MBTI of J (judgment rather than perception), having our schedules planned for us was very reassuring and I was grateful for the opportunity to have fun with my fellow members while continuing to grow. To be honest, as we've worked together and succeeded as a group, not much has changed. Since our debut, I feel like we've really grown and gotten older together."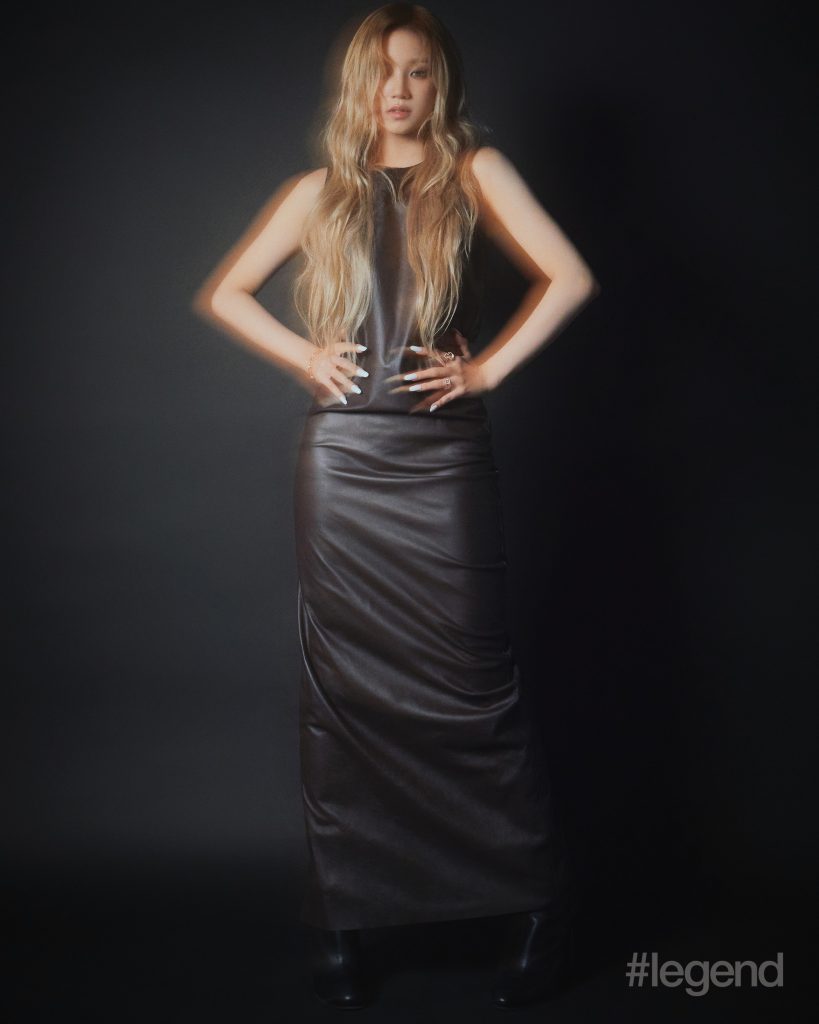 So far, the group has released four extended playlists together and one studio album titled I Never Die for which Yuqi wrote and composed two tracks, "Polaroid" and "Liar". On the girl group's fifth extended playlist "I Love", Yuqi co-composed tracks "Reset" and "Dark (X-file)". This May, (G)I-dle released their sixth EP I Feel for which Yuqi wrote and composed tracks "All Night" and "Peter Pan". Her musical abilities certainly give her the scope to be experimental and bold in her career choices. Perhaps because of this, in 2021, Yuqi made a concerted effort to push a solo career and released an album called A Page.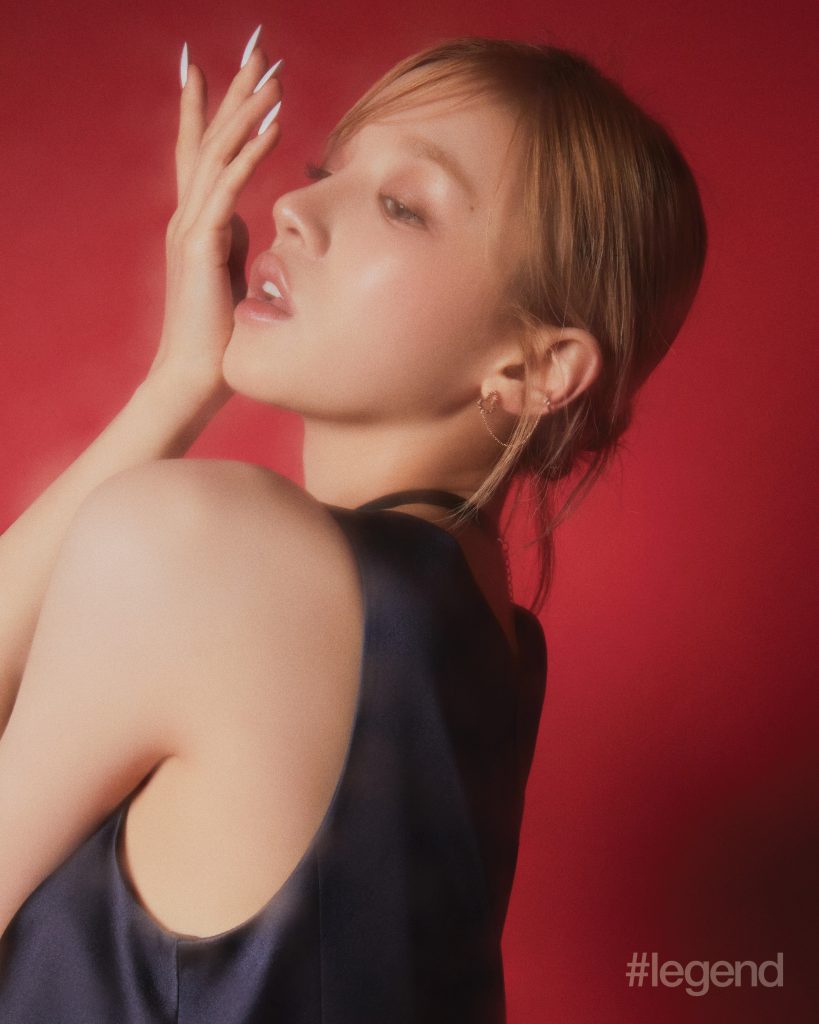 Working on a solo career, while exciting, also proved a new challenge for Yuqi. "Although the process was very complicated and challenging, I'm grateful to my fans who gave me this opportunity," she says. "I think when we work as a group, there's room to show off the different characters of each member and showcase what makes us charming. There's a synergy created between us as we help fill each other's cups while also being able to show the variety and richness of each song that we perform together.
"When working on my solo career, I found that I could show more of my own personal flair and style. I can focus on songs that I believe represent me the best. I think, overall, the main difference between solo and group activities is the emphasis I can place on highlighting and perfecting my personal strengths in solo activities."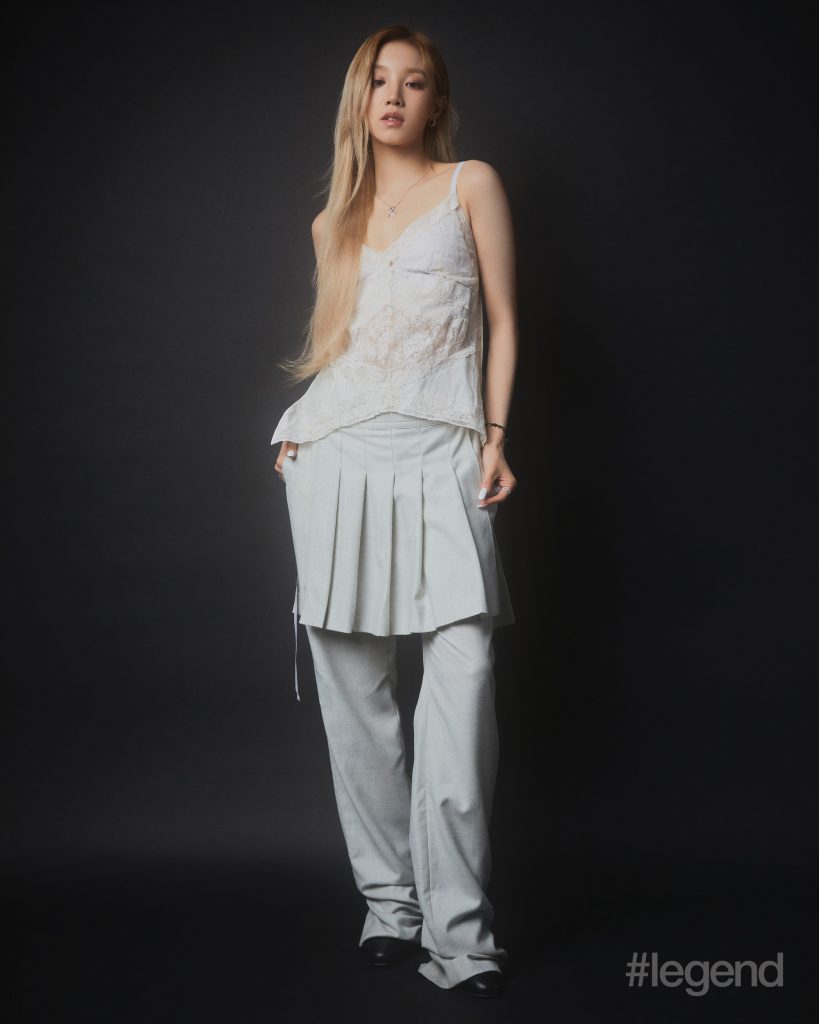 Lately, Yuqi has expanded into acting. Not that she hasn't been on screens across the nation already, mostly attributable to a prolific run in variety television in both mainland China and South Korea. These include music talent survival shows like Stage Boom and TVN's I'm a Survivor where entertainers go through strict survival training in the event of natural disasters. There have been e-sports reality shows and stints as host for Shine! Super Brothers. On screen, Yuqi makes it seem so easy but, according to her, it was a journey.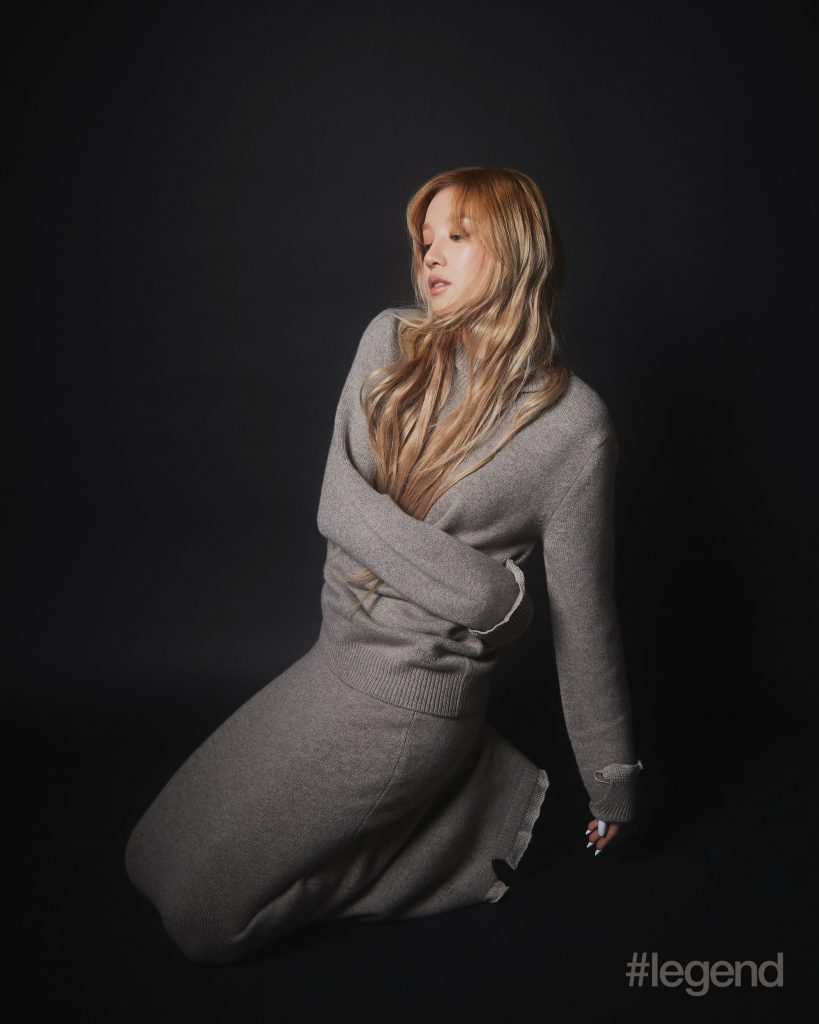 "Participating in a programme is definitely not an easy task. When I host, I think the key difference is how I intend to lead the show and the analyses I make to ensure the flow of the show is going well," she explains. "There was no scripted speech and we had to naturally adapt to each situation while interacting with the public. This gave me great experience in learning how to manage the flow of unscripted programmes that have more flexibility."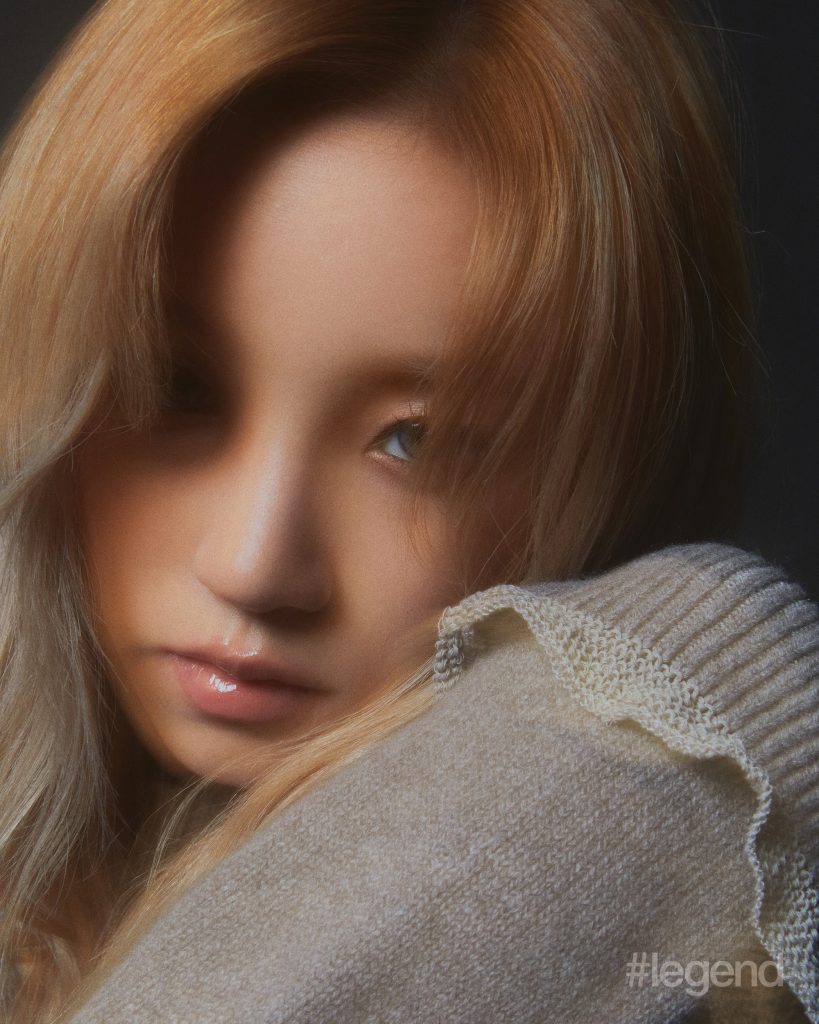 This year, however, Yuqi finally made her first cameo in episodes eight and nine of Celebrity, a Korean series that looks into the good and bad in the complicated world of social media influencing. Of this experience, Yuqi says, "Compared to singing, it was quite a new experience. However, acting was not too difficult, and it was very fun. If there was a role I hope to play in the future, it would be in an action piece." But all was not without trial. "I wish I could have understood the character at a greater level," Yuqi says of her appearance on Celebrity. "Nonetheless, I'm still very grateful for everyone's love and support."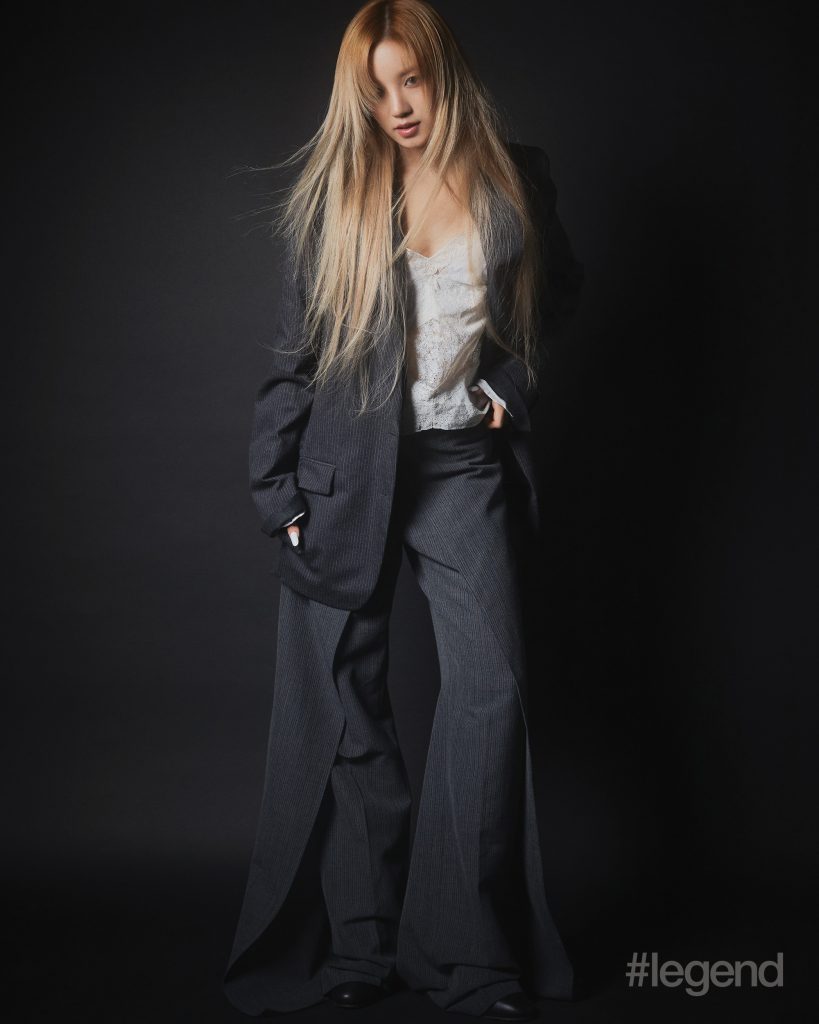 Yuqi's ability to achieve all of this and in all likelihood even more may come down to an innate sense of self-belief. When asked who her #legend is, she replies without a second thought. "My #legend is myself as I believe I can be the best in the world!" It's not arrogance, however. "Personally, I don't believe that I've succeeded yet. I always think of how I'll continue to develop and grow," she explains.
"I think that the things I want to do and the dreams I want to achieve are pretty closely linked to each other. I believe that once you exclude things you realistically cannot achieve and focus on what you really want by starting with action, everything [falls into place]. Just remember to dream big and constantly take action to reach those dreams."
CREDITS
Creative concept / #legend
Creative direction / Gordon Lam
Production / Danny Kang
Photography / Jawook Park
Videographer / TSG (Shin Taeseok)
Styling / Young Man Kim
Hair / Sohyun Kim
Makeup / Haemin Kim
Wardrobe / Fendi
Jewellery / Qeelin
Also see: Cover Story: Poyd Treechada Hongyok on forging her career ahead