Cover Story: Lee Jae Wook on dissecting characters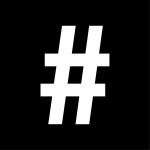 By: Zaneta Cheng
January 3, 2023
Skyrocketing to the top of the Hallyu popularity charts, the actor has taken Korean entertainment by storm since his debut in 2018. He speaks to Zaneta Cheng about working to embody his characters with laser precision and how he wants to continue perfecting his craft
(Scroll down for the Chinese version)
It's common in the Korean entertainment industry to hear of models making the transition into acting and finding success because – of course – they have the stature and they've learned to move their bodies. It's also easier for magazines because they can guarantee beautiful editorial images given that the models-turned-actors have spent years in front of photographers.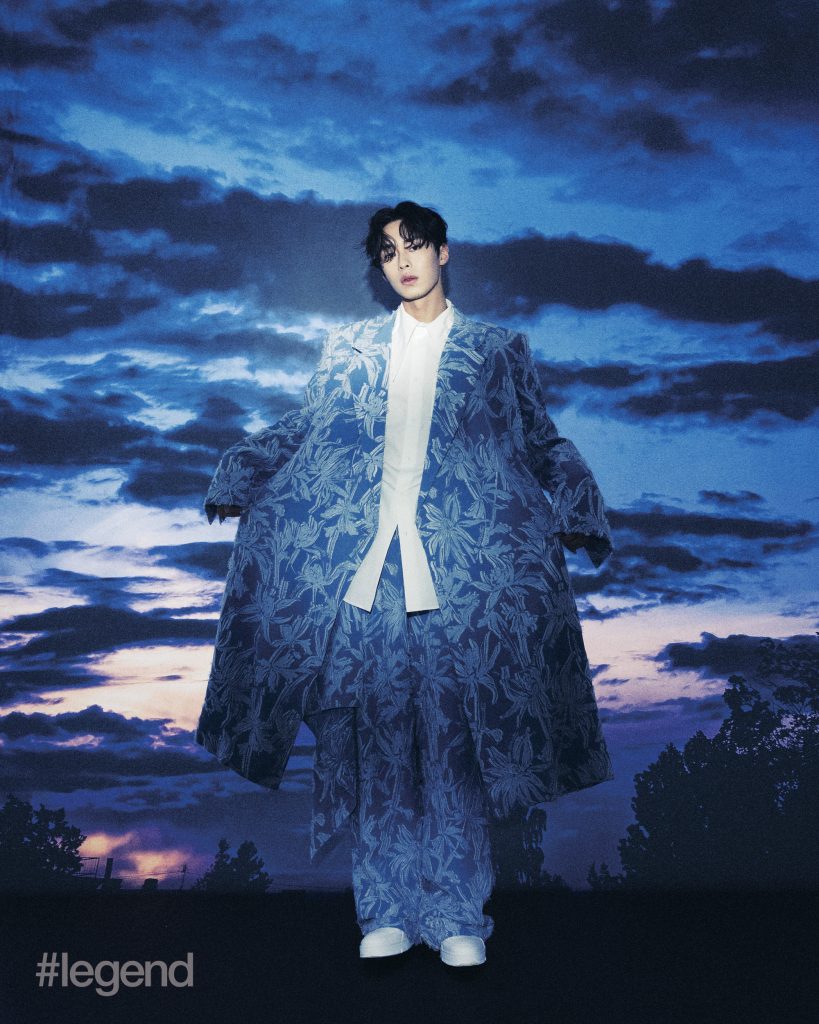 Less common is to hear of actors, especially younger ones, who take to the camera quite as well, which makes the 24-year-old star of the hit drama series Alchemy of Souls Lee Jae Wook something of a unicorn. Standing at a willowy 187cm, Lee takes on a character in front of the lens and the nods of approval from behind the display monitor mirror the satisfaction that one usually sees on set with seasoned celebrities. This isn't surprising given Lee's ability to make an impact ever since he began acting just four years ago.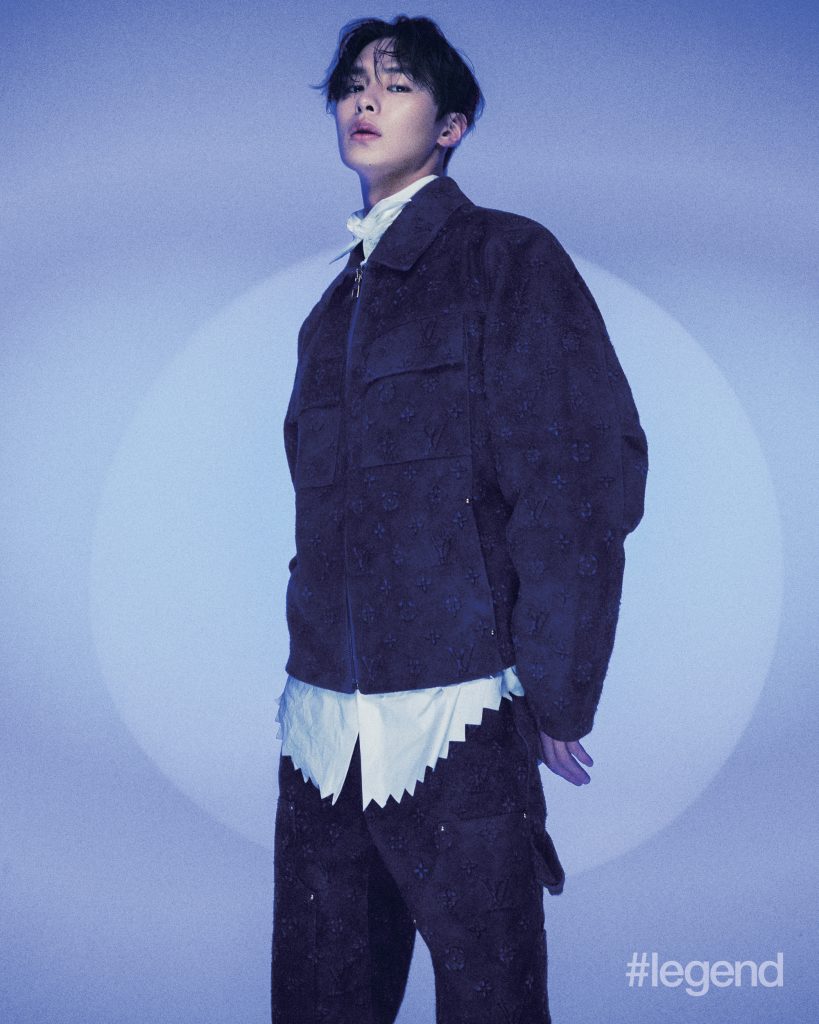 While Lee seems to leave a lasting impression on others, his own memory of his first filming experience is hazy. "Back then I didn't know anything about cameras or filming, or who it was that was shooting," he recalls. "I was so nervous that I can't even remember what I said or who I was with. My memory from that time is definitely a little blurry."
Lee didn't really dream of becoming an actor when he was younger. Not that he isn't still very young, but it wasn't something he wanted as far back as he can remember. "I had different part-time jobs and worked in different fields but I realised that the work I was doing then didn't really interest me," he explains. "I thought about what I could do to keep my interest alive and not get tired, and I decided to become an actor who could live the lives of different people. I think it was a good decision because I'm still enjoying it today."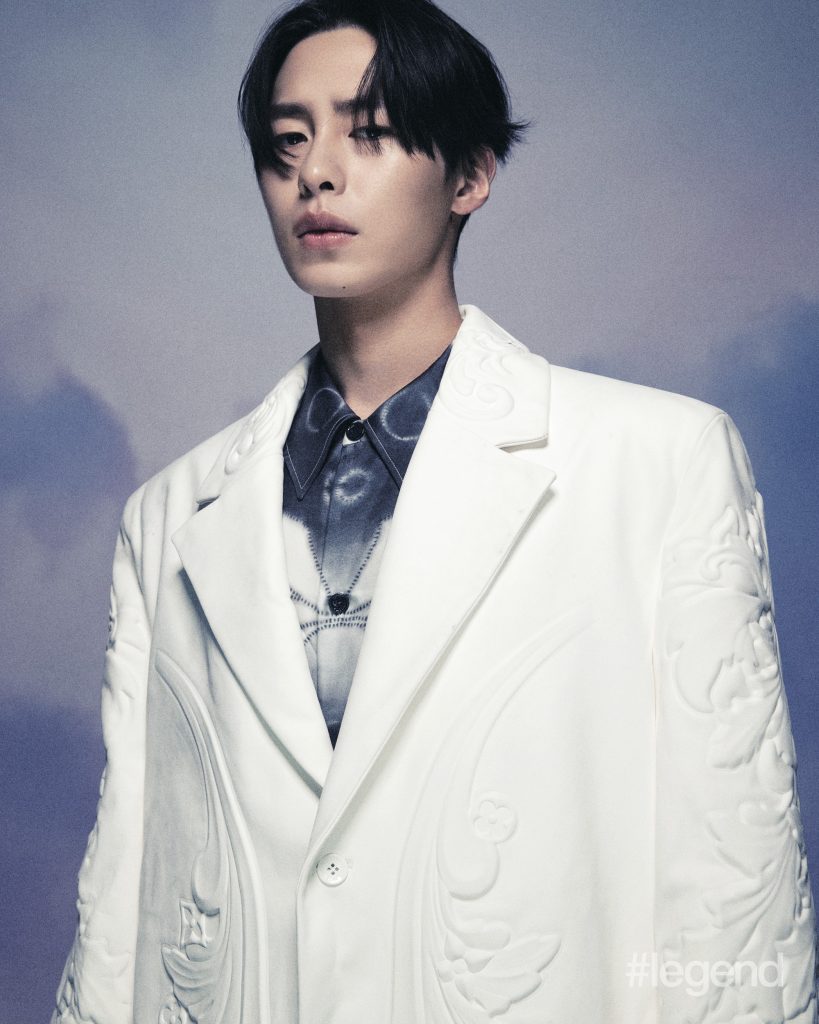 True to his word, Lee has explored a range of characters and won praise from his quickly growing fanbase for his versatility. From the unappreciated aspiring actor Seol Ji-hwan in Search: WWW, goofy, happy Lee Jang-woo in When the Weather is Fine, and special ops shooter Lee Gae-tae in Battle of Jangsari, Lee's talent and ability to embody both serious and lighthearted characters saw him scoring lead roles almost straight off the bat.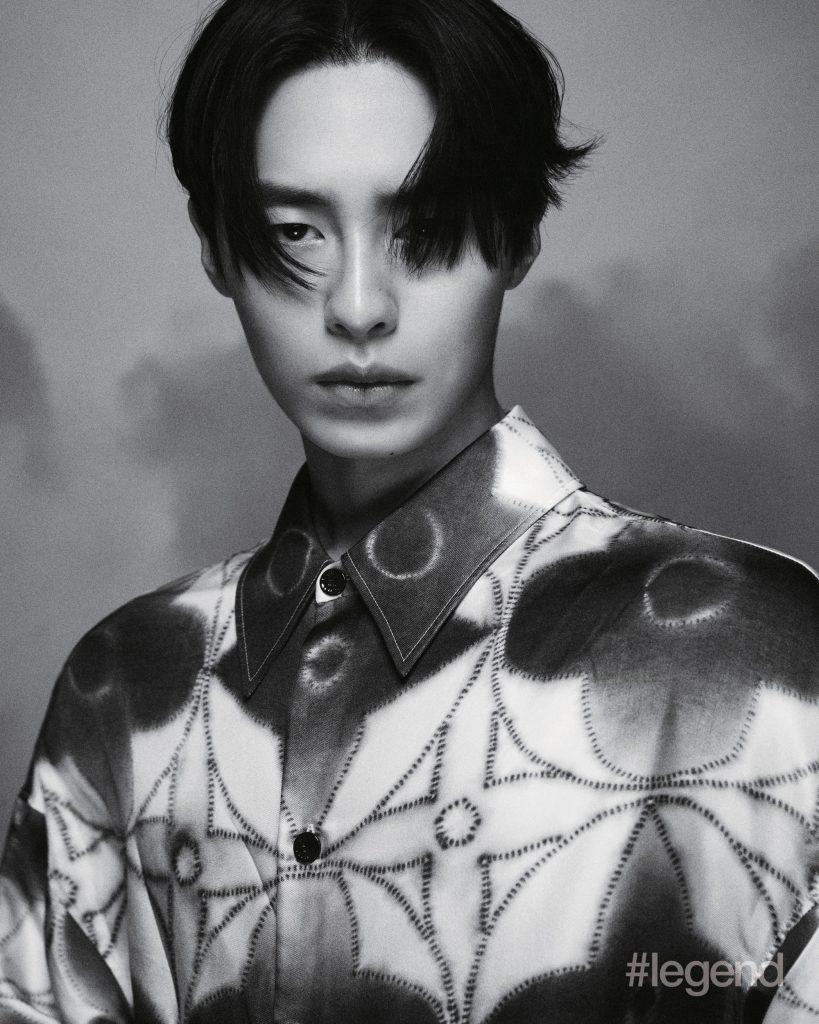 Among these was his awardwinning role was as Sun Woo-jun, the mysterious and aloof male protagonist in Do Do Sol Sol La La Sol.
"I didn't look for different genres to take," Lee says when asked about his wide-ranging portfolio. "I think I've always been lucky to be cast for different roles. I think that's why I've been able to work on different projects and present myself to the audience as different characters. Every moment of every project is memorable to me. I learn step by step from all the actors I meet on set while shooting all these projects across these different genres."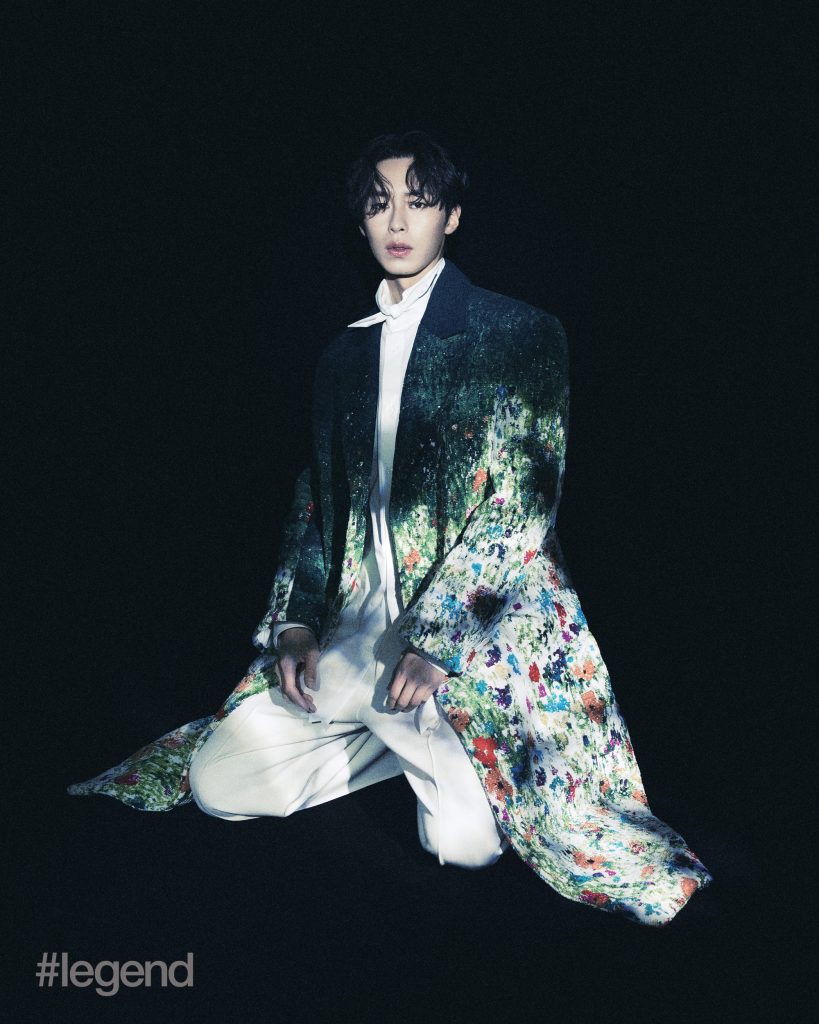 Despite crediting luck, much still falls to Lee's own willingness to take on the challenges presented to him. When screenplays make their way to the actor, his considerations involve pushing himself into foreign territory. "I take a moment to consider whether the material is something I know I'll be good at or if it's something that I want to challenge. Because I have a desire to be able to achieve both those things. I try to choose projects that I haven't done before but that I also think I can do well," he says. This approach is somewhat influenced, Lee says, by a piece of advice he was once given, which was "Don't try too hard. Think about what you can do, do it and give it your best shot."
Also see: Cover Story: aespa x Chopard
And certainly the actor has done so to great aplomb. In 2019, just one year into his career, Lee won Best New Actor at the MBC Drama Awards and in 2020 swept a slew of awards, winning Rookie of the Year at the Asia Artist Awards, Actor of the Year – Rookie at the Brand of the Year Awards and KBS Drama Awards' Excellence Award for an actor in a miniseries for his performance in Do Do Sol Sol La La Sol. Never has acting looked so easy.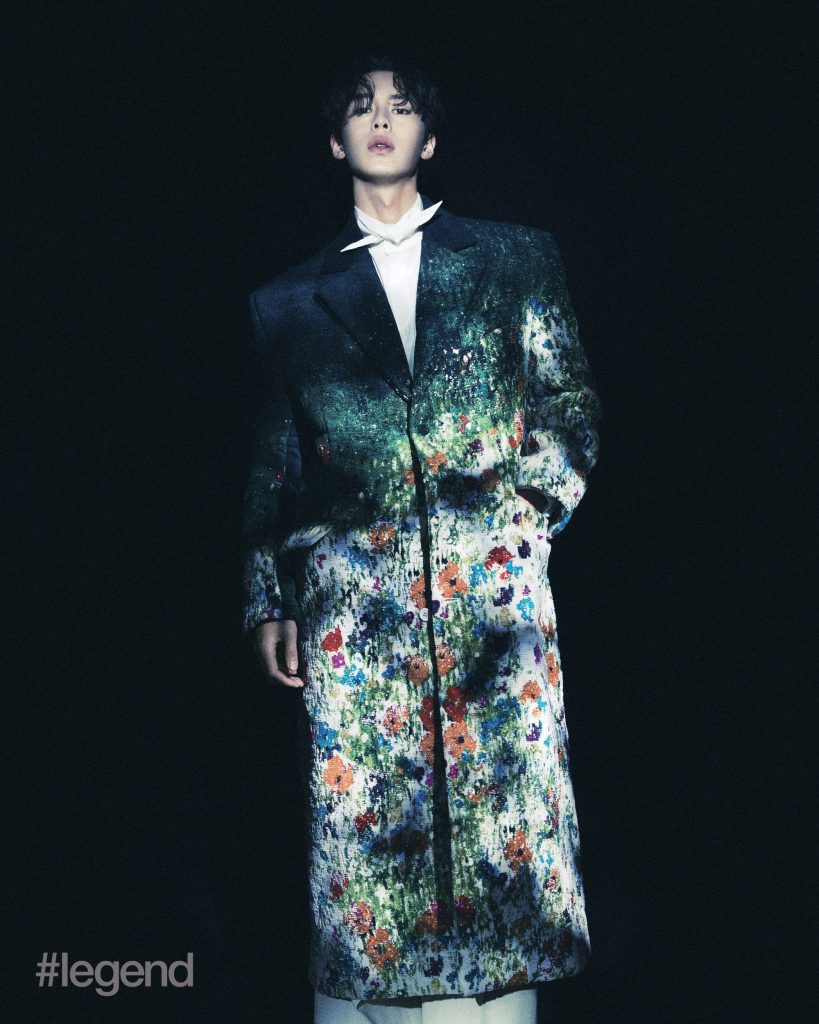 But making it look easy is one thing. The reality is that even when Lee chooses a role he thinks he will do well at, ease is not a part of the process. Given the breadth of his characters, it's unlikely that too many are close to Lee's own character.
"The most difficult challenge is to express these characters fully and to adjust myself to them when they think and behave completely differently to me," he admits. "Getting to know the character and understanding them is always a difficult task. I try to figure out how my character speaks and thinks. Then I separate the things I have in common with the character from the things that are different. After this process, I try to understand and express the parts of the character that are different from me."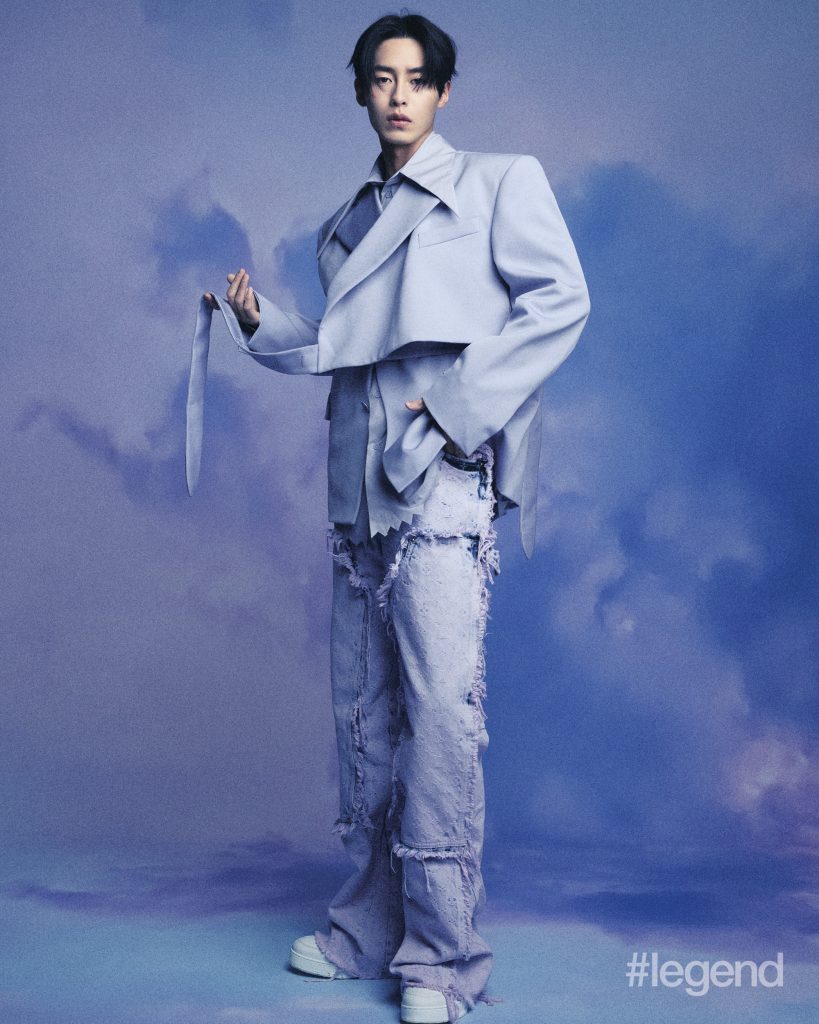 Lee's process seems to be working very well for him, given the rave reviews he's garnered for his most recognised role to date. Starring as Jang Uk in Alchemy of Souls, a period television drama, Lee is an outcast nobleman, thrown into a world of mages and magic.
For this role, he won the AAA Best Actor Award at the Asia Artist Awards, the Asia Special Award at the Asia Model Awards and the Global Excellence Award at the Korea Drama Awards in 2022. Having just released a second instalment, the show and Lee's performance have been met with eager anticipation.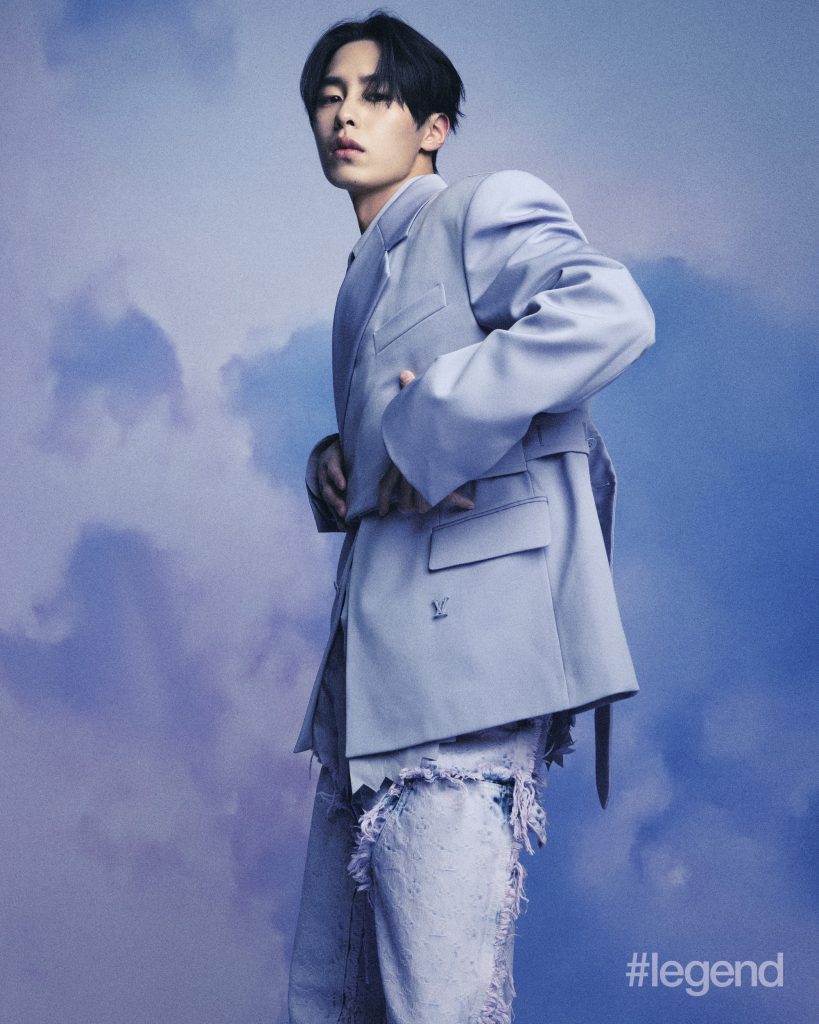 The second instalment picks up three years after the first ends. And because of this, Lee sees it as a completely fresh role. "The fact that this is the largest-scale fantasy-romance-action series produced in Korea really attracted me originally and I knew that being on Alchemy of Souls was going to be a challenge for me. In this second series, Alchemy of Souls: Light and Shadow, I tried to show the change in Jang Uk's character, how he has changed in the three years that have passed, so I took a completely different approach to the character. It was a little difficult to build the character, actually, because we only had a small window of time between filming the first instalment and the second but I did my best and people seem to like it," Lee says.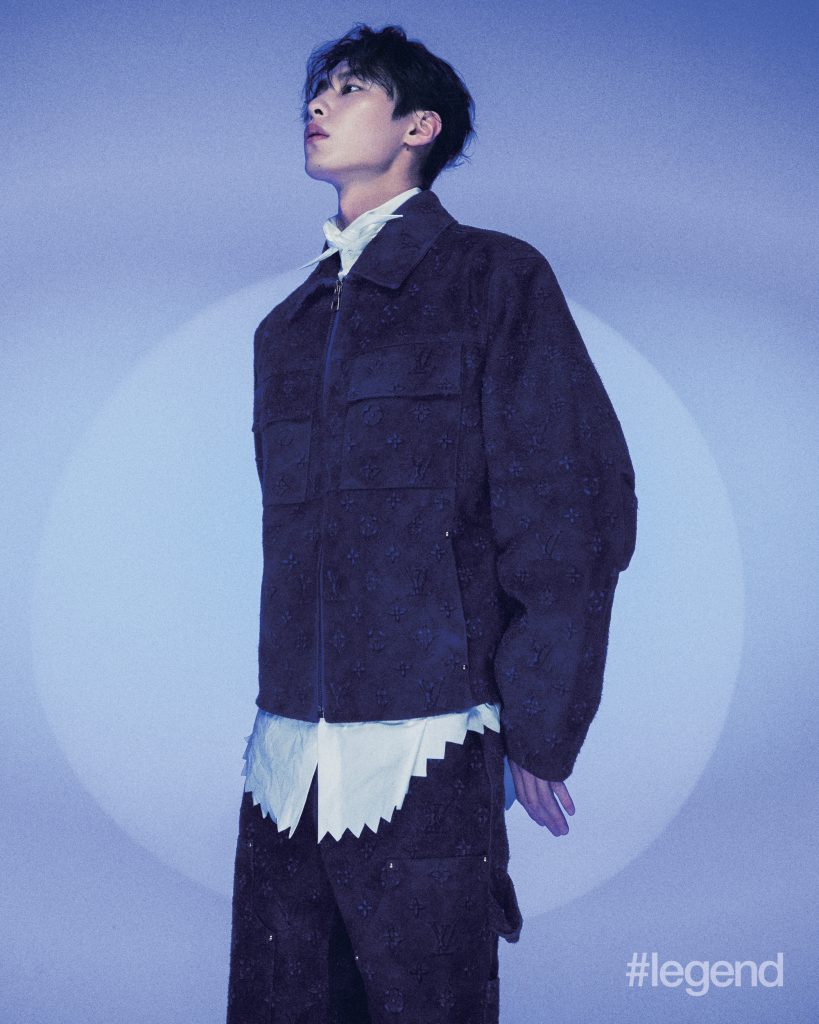 Citing Robin Williams as his #legend, Lee says his goal at the moment is to continue exploring unknown territory. "I want to do a piece in the noir genre, and play a role in a dark and gloomy story," he says. "I want to try it because I think I could show sides of myself that I haven't been able to show before. I want to do my best to show more facets of myself because I think that will show audiences who watch me that Lee Jae Wook is growing."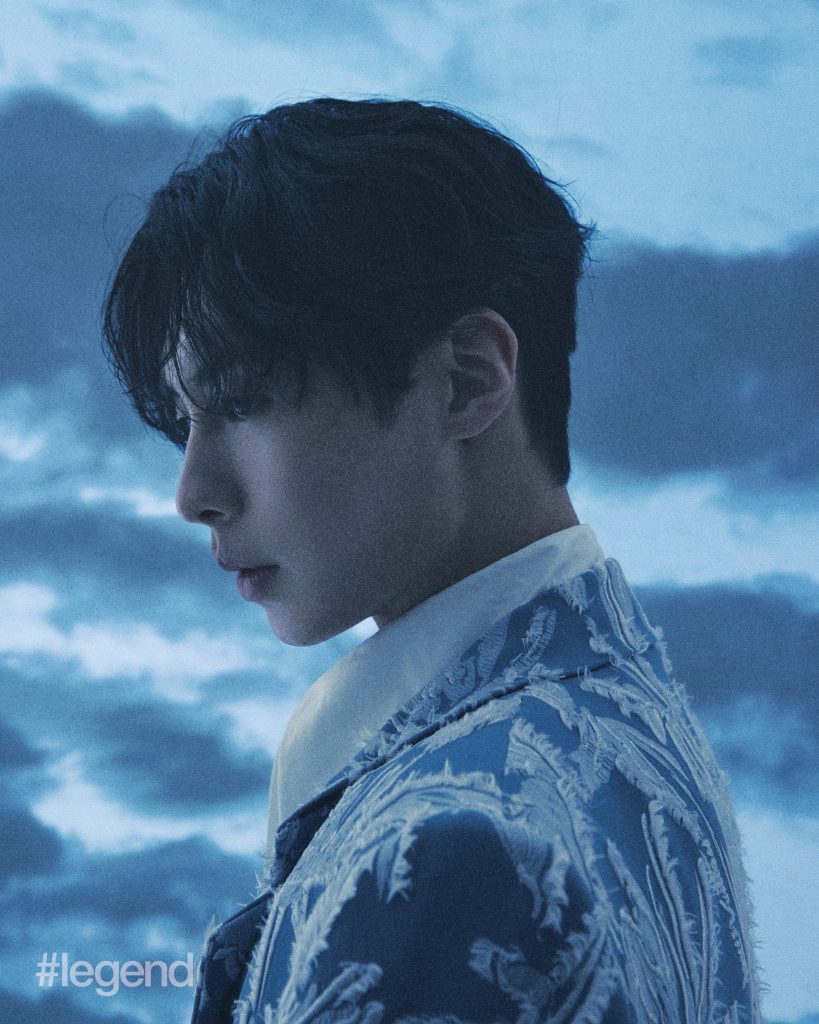 And growing he is. Lee was selected as one of the best actors of 2022 by industry professionals in South Korea and the star is due to embark on his first fan meeting tour across Asia early this year. And as he collects accolades and experience that may add colour to the way he chooses his projects and how he sees he path unfolding, it seems Lee might just hold on to the motivation that compelled him to start acting in the first place – self-discovery.
"I discover things about myself that I didn't know through the process of acting. It lets me grow and learn about myself, through myself. That's really what keeps me going and pursuing my career as an actor."
CREDITS
Creative concept and production / #legend
Creative direction / Gordon Lam
Art direction / Zaneta Cheng
Production / Danny Kan
Photography / Yeongjun Kim
Videography / TSG (Taeseok Shin)
Styling / Hyerim Im
Hair / Hongmoon Ahn
Makeup / Jiwon Moon
在韓流熱門排行榜上一飛沖天,24歲的李宰旭自2018年出道以來即在韓國娛樂界掀起風暴。他和 Zaneta Cheng 談了談他如何精準地扮演角色,以及他如何繼續完善表演。
在韓國娛樂界,經常聽到模特轉型成演員並且獲得成功的消息,當然,他們本來就有良好的身體基礎,並且早就學會如何自如地移動身體。這對於拍攝精美的雜誌照片來說也比較容易,因為這些演員在轉型前早就適應了如何在鏡頭前表現。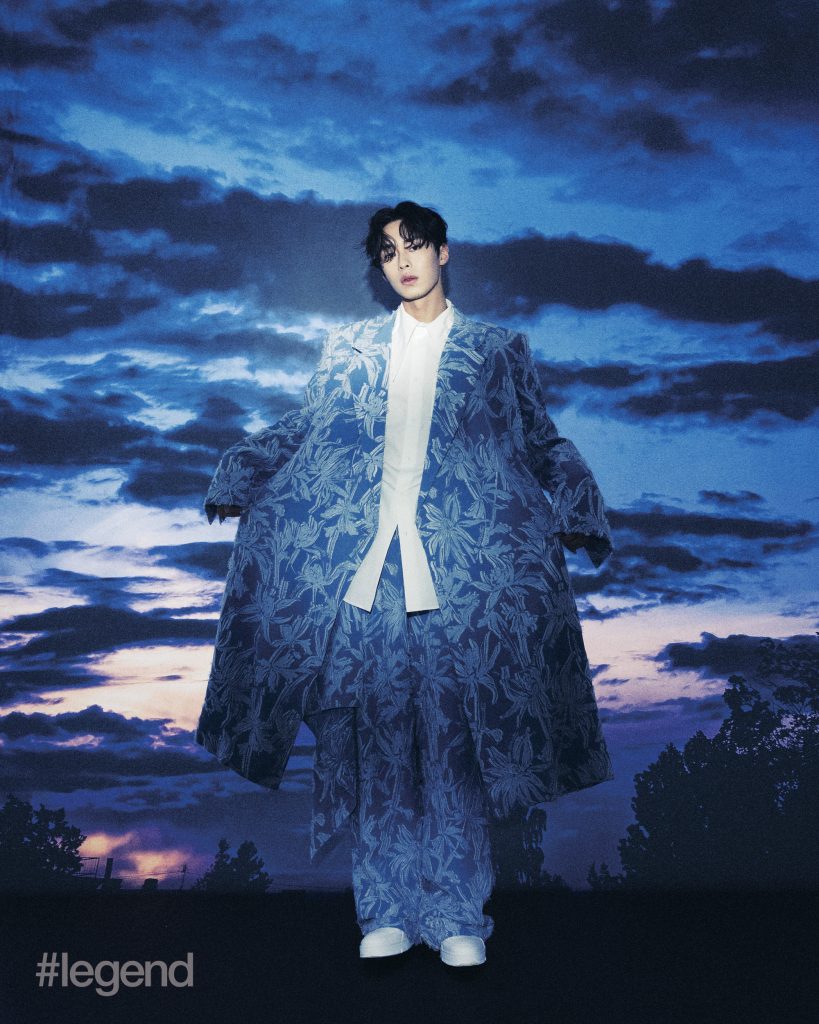 不太常見的是聽說演員,特別是年輕的演員,能夠很好地接受鏡頭。這使得24歲的熱門電視劇《還魂》的主演李宰旭成為稀有一員。李宰旭身高187厘米,他鏡頭前扮演角色時常收到工作人員的稱讚。這並不令人驚訝,因為李宰旭在四年前開始演戲時就有能力產生影響。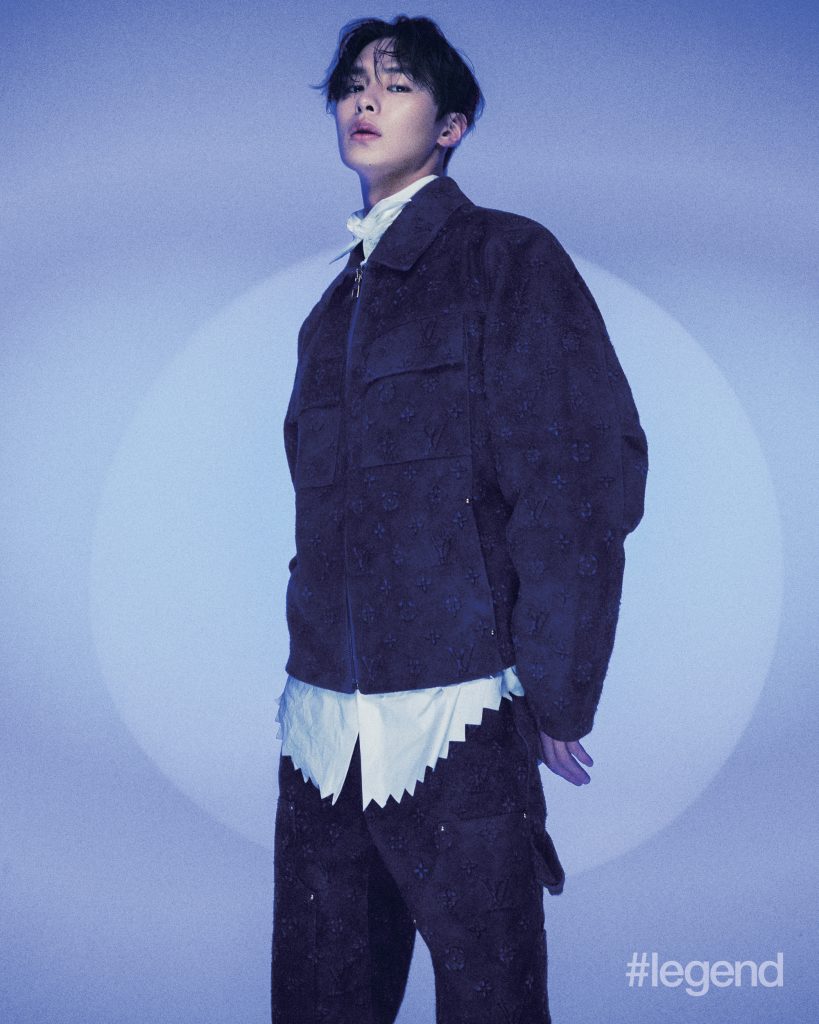 雖然李宰旭給別人留下了深刻的印象,但他自己對第一次拍攝經歷的記憶是模糊的。
「那時我對攝像機和拍攝一無所知,也不知道是誰在拍攝,」他回憶說。
「我當時非常緊張,我甚至不記得我說了什麼,也不記得我和誰在一起。我對那段時光的回憶肯定是有點模糊的。」
李宰旭更年輕時並沒有真正夢想過成為一名演員。在他成熟記事起,成為演員並不是他想要的東西。
「我有不同的兼職工作,在不同的領域工作。但我意識到我當時所做的工作並沒有真正引起我的興趣,」他解釋說。
「我想了想,我可以做什麼工作來保持我的興趣而不感到疲倦,我決定成為一名演員,可以過不同人的生活。我認為這是一個很好的決定,直至今天我仍然樂在其中。」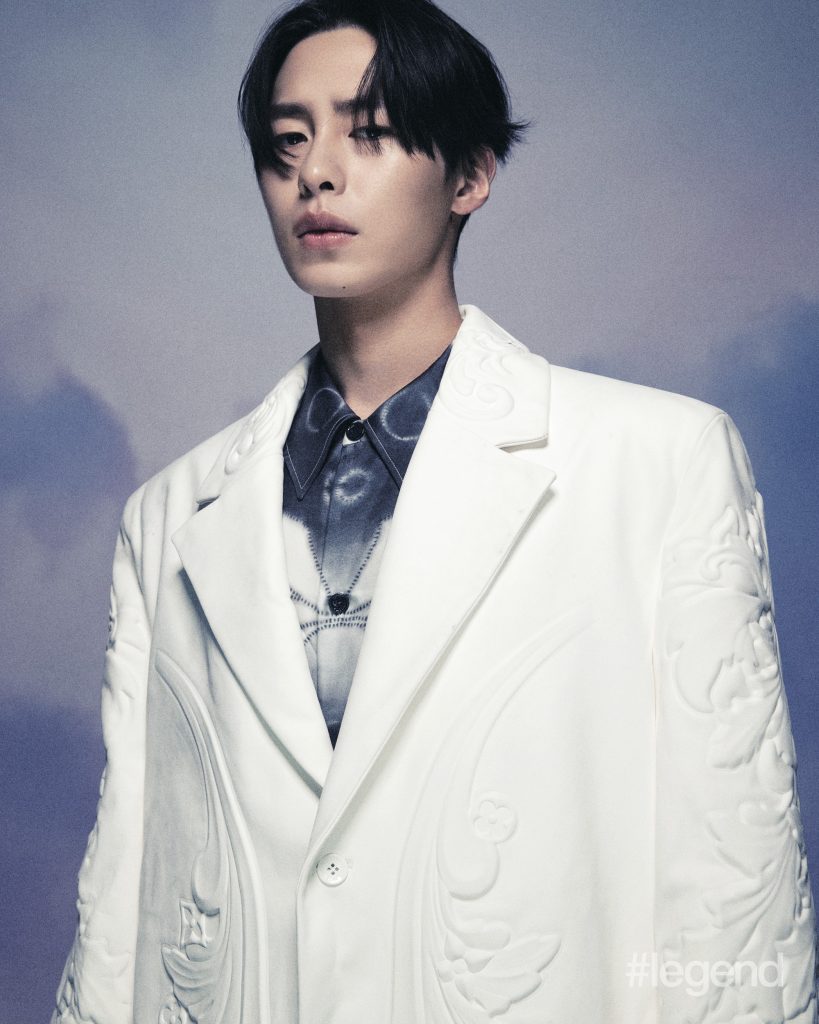 忠實於他的說法,李宰旭探索了一系列的角色,並因其多才多藝而贏得了迅速增長的粉絲群的讚譽。從《請輸入檢索詞WWW》中不被賞識的有抱負的演員薛智煥,到《天氣好的話,我會去找你》中呆萌快樂的李章宇,以及《長沙里之戰:被遺忘的英雄》中的特種部隊射手李開泰。李宰旭的天賦,和他在嚴肅和輕鬆角色之間自如切換的能力,使他幾乎一出道就獲得了主角的位置。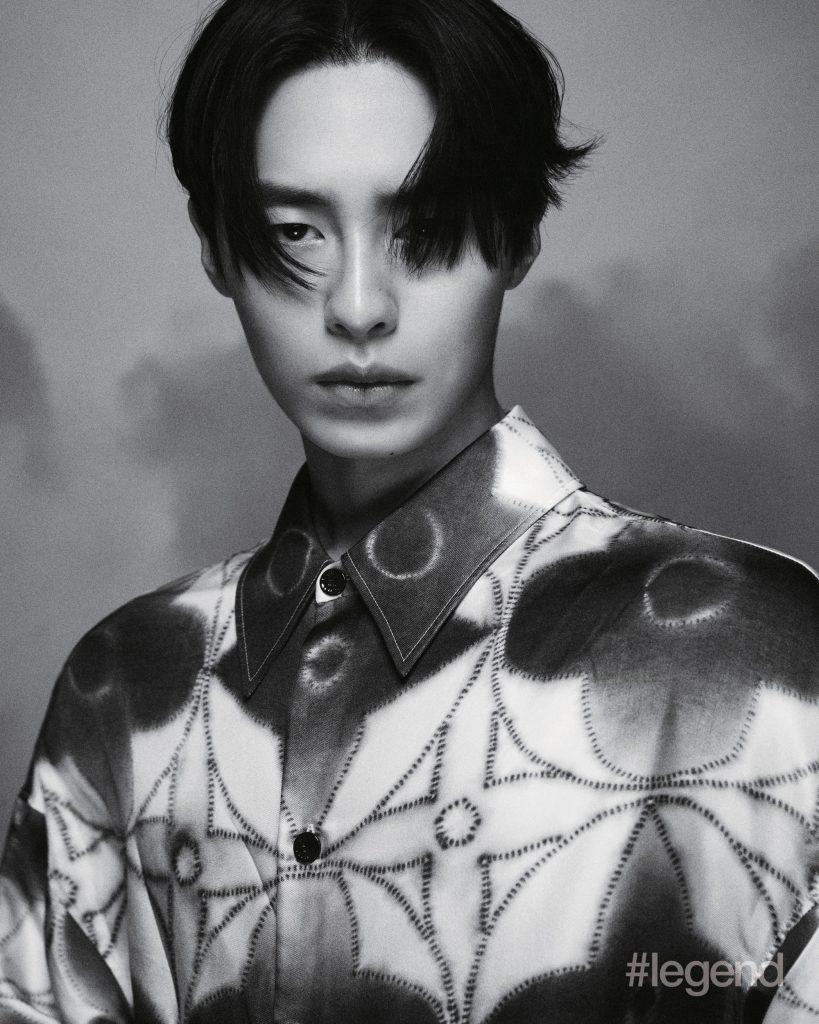 其中,他的獲獎角色是《Do Do Sol Sol La La Sol》中神秘而冷漠的男主人公鮮于俊。
「我並沒有主动尋找不同的角色來拍,」在被問及他的廣泛角色時,李宰旭說。
「我很幸運可以出演這麼多不同的角色。這些經驗使我可以繼續接不同的項目並且為觀眾呈現不同的角色。在拍攝項目中的每個時刻對我來說都是印象深刻的,我從我在片場遇到的所有演員那裡一步步地學習。」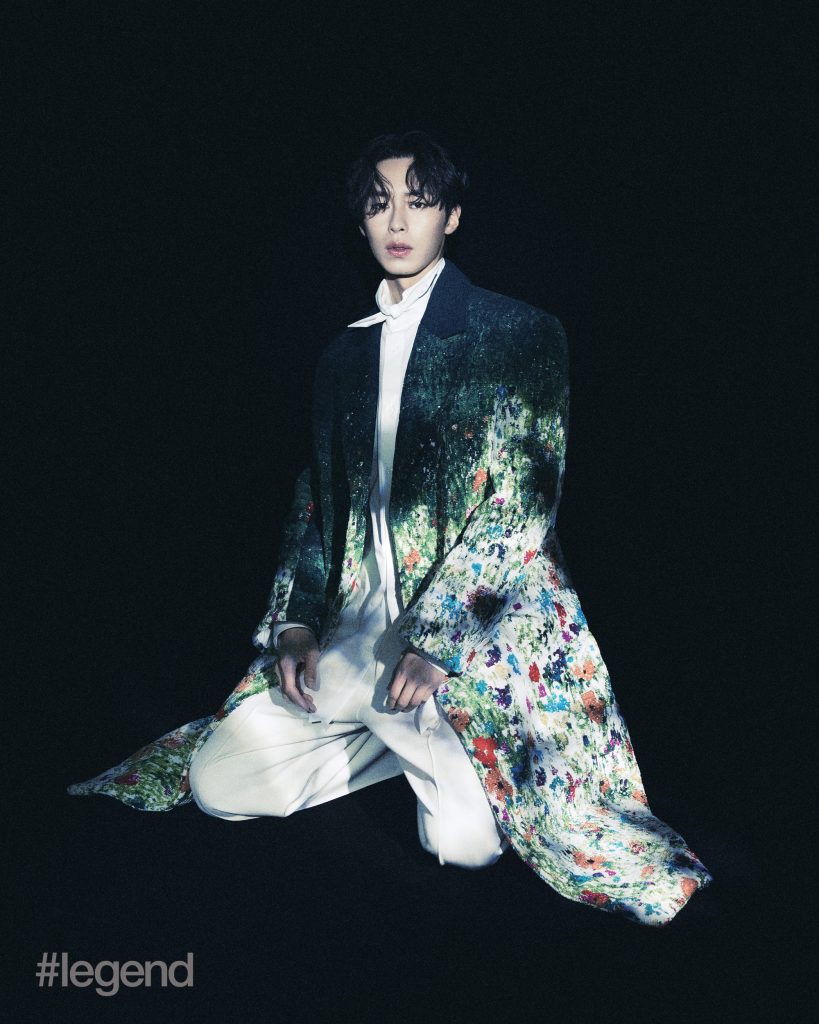 李宰旭的運氣是不錯,但他的成就大部分還是歸功於他自己願意接受挑戰。當劇本送到他手中時,他要考慮自己是否願意探索陌生的領域。
「我會花點時間思考這些材料是否是我會擅長的,或者是我樂意去挑戰的。我希望能夠同時實現這兩件事情。我盡量選擇那些我以前沒有做過但我認為我會做好的事情,」李宰旭說。
這種想法來自於別人曾經給他的一個建議,那就是「不要太努力。想一想你能做什麼,去做,盡你最大的努力。」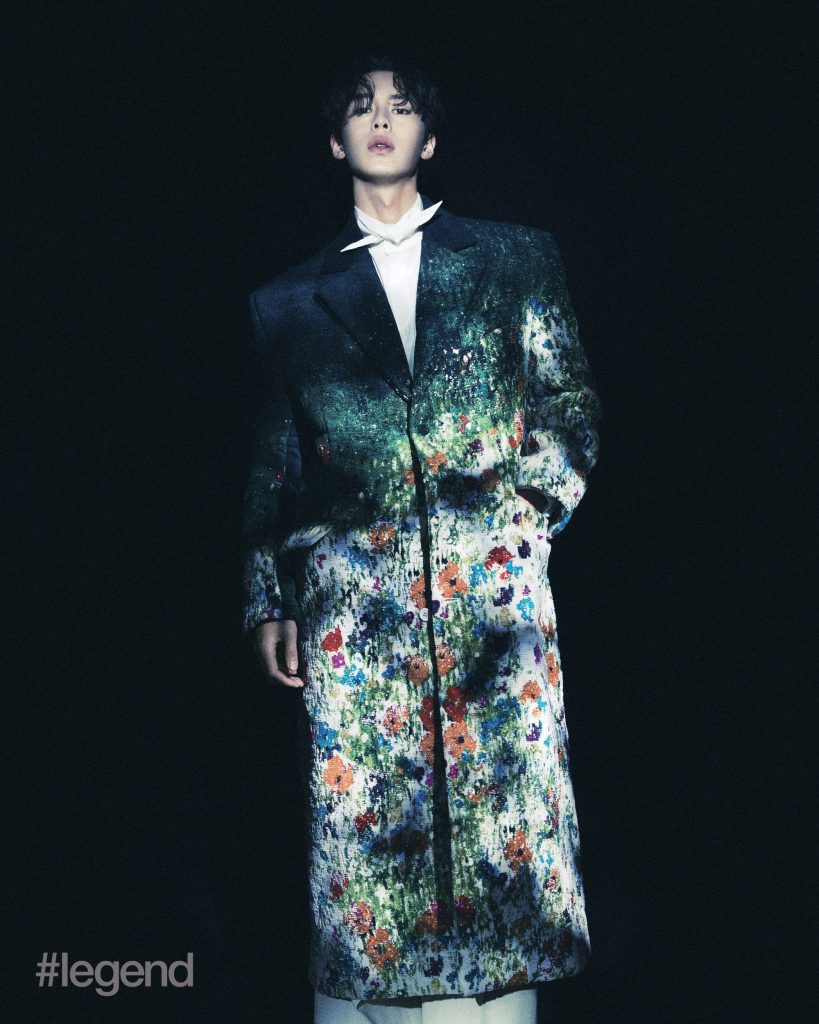 當然,這位演員在這方面做得有聲有色。 2019年,剛出道一年的李宰旭就獲得了MBC演藝大獎的男子新人獎,2020年又橫掃一眾獎項,獲得了亞洲明星盛典的年度最佳新人獎
、年度品牌大賞的年度最佳新人男演員獎,以及憑藉在《Do Do Sol Sol La La Sol》中的表演獲得KBS演技大獎的迷你劇部門男子優秀賞。演戲從來沒有看起來那麼容易。
現實情況是,即使李宰旭選擇了一個他認為自己會做得很好的角色,過程也並不輕鬆。考慮到他的角色的廣泛性,不太可能有太多的角色接近於李宰旭自己的性格。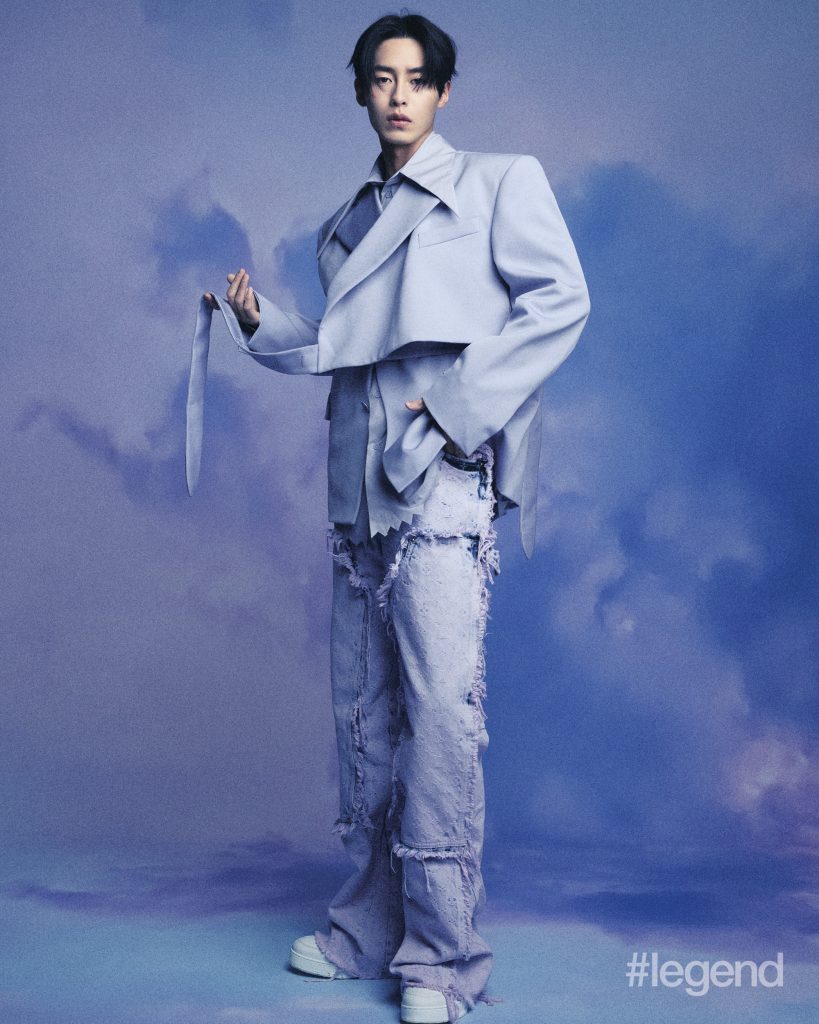 「最困難的挑戰是充分表現這些角色,當他們的思維和行為與我完全不同時,要調整自己適應他們,」他承認道。「了解角色並理解他們始終是一項艱難的任務。我試圖弄清楚我的角色如何說話和思考。然後,我把我和這個角色的共同點和不同點分開。完成這些步驟以後,我試圖理解和表達角色中與我不同的部分。」 李宰旭的演戲方法似乎對他非常有效,因為他迄今為止最被認可的角色贏得了大量好評。在《還魂》(Alchemy of Souls)這部時代劇中,李宰旭飾演張煜,是一個被拋棄的貴族,被扔進一個法師和魔法的世界。
這部劇的第二季在第一季結束後的三年後拍攝。
也正因為如此,李宰旭將其視為一個完全新鮮的角色。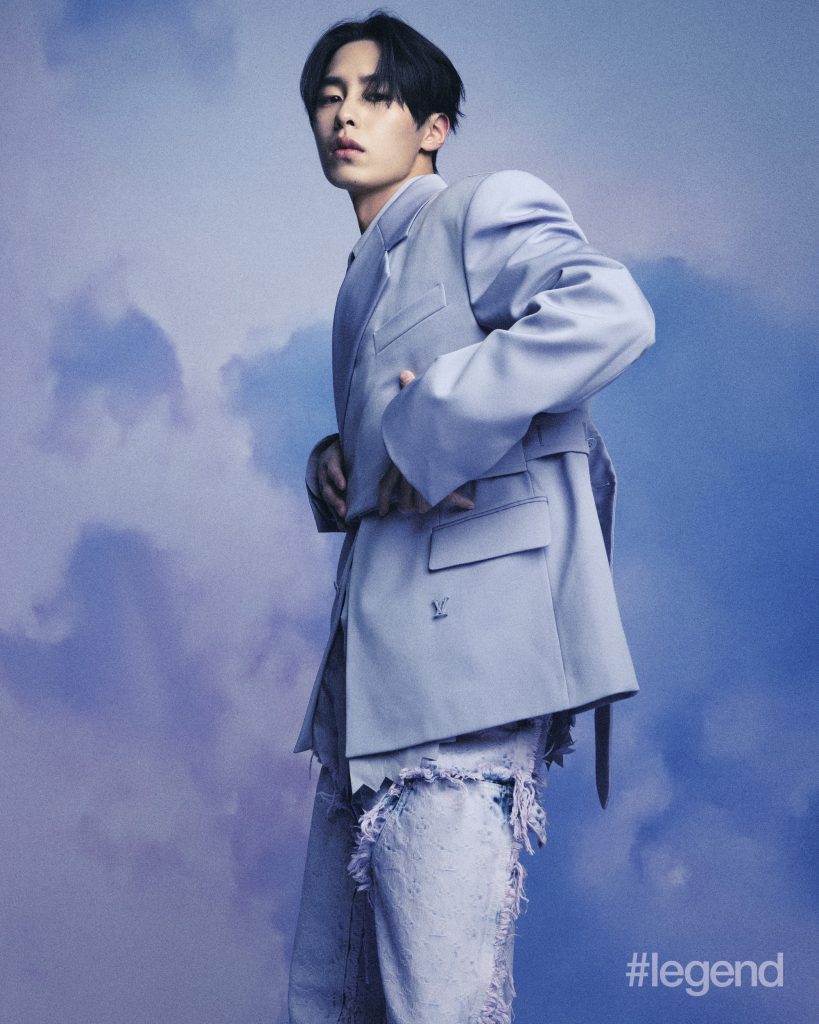 「這是韓國製作的規模最大的奇幻愛情動作片,這一點最初確實吸引了我,我知道參加《還魂》對我來說將是一個挑戰。在《還魂2:光與影》中,我試圖展示張煜性格的變化,包含他在這三年中的變化,我對這個角色採取了完全不同的詮釋方法。實際上塑造這個人物有點困難,因為我們在拍攝第一季和第二季之間只有一個較短的時間窗口,但我已經盡力了,人們似乎挺滿意我的演出,」李宰旭說。
憑藉這一角色,他在2022年獲得了亞洲明星盛典的年度最佳新人獎的AAA最佳男演員獎、於亞洲模特大賞拿下亞洲特別獎,和韓國電視劇節中的全球優秀演技獎。在剛剛發布的第二季中,該劇和李宰旭的表現受到了熱切的期待。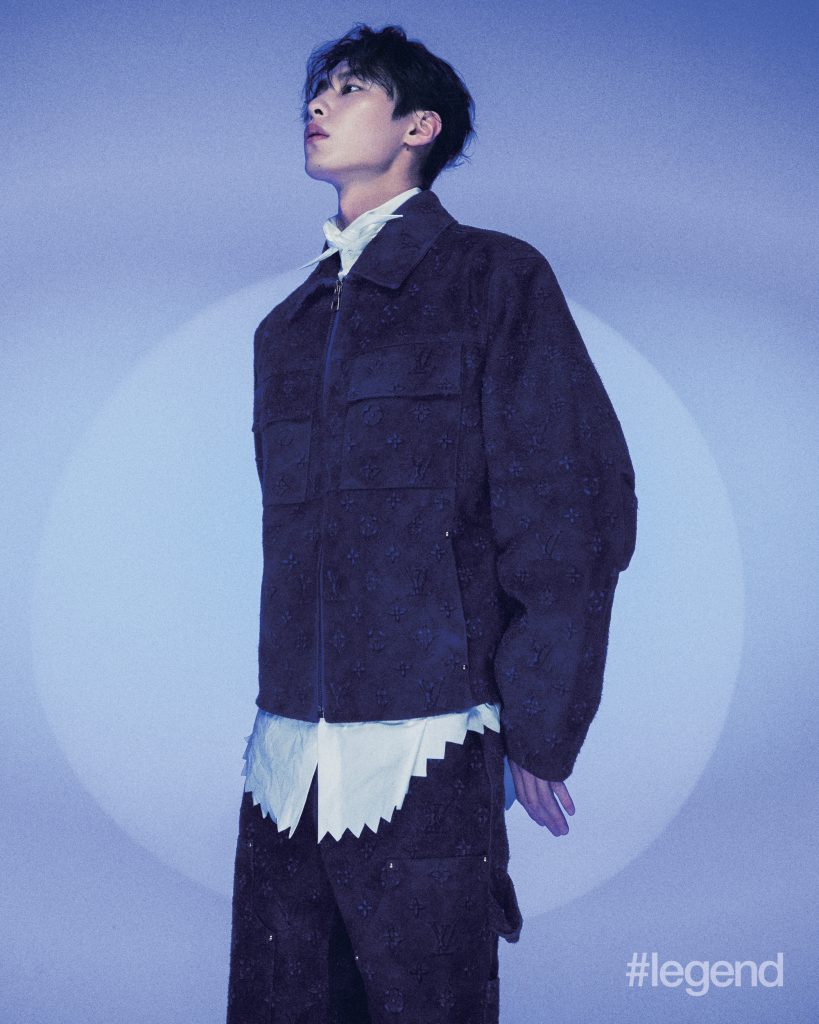 李宰旭說羅賓·威廉斯(Robin Williams)是他的#legend,李宰旭說他目前的目標是希望像他一樣囊繼續探索未知領域。
「我想出演黑色電影,在一個黑暗和陰鬱的故事中扮演一個角色,」他說。
「我想嘗試一下,因為我認為我可以展示自己以前沒有展示過的一面。因為我認為這將讓觀眾看到李宰旭正在成長。」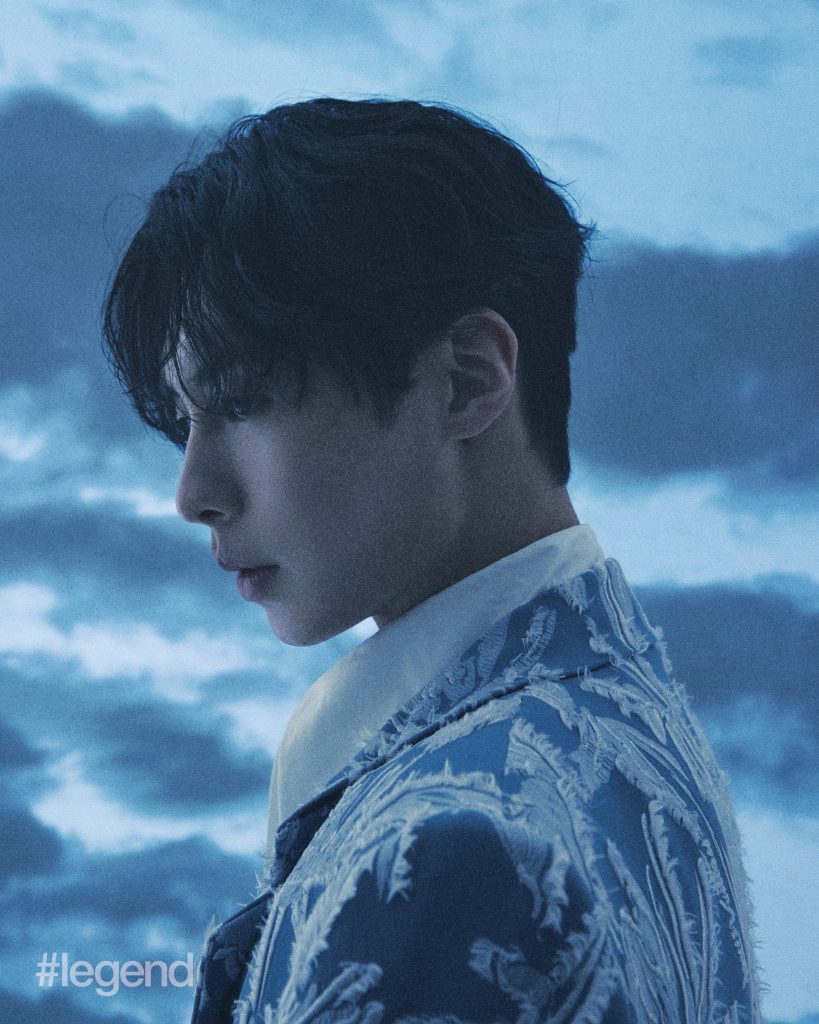 而他確實在成長,李宰旭被韓國的行業專家選為2022年最佳演員之一,這位明星將在今年年初開始他在亞洲巡迴粉絲見面會。
當獲得的榮譽和經驗為他未來的發展道路增添色彩時,李宰旭只是在堅持當初促使他開始表演的初心——自我發現。
「通過表演的過程,我發現了我自己不知道的東西。它讓我成長,通過自己了解自己。這是讓我繼續前進並追求我的演員生涯的原因。」
CREDITS
Creative concept and production / #legend
Creative direction / Gordon Lam
Art direction / Zaneta Cheng
Production / Danny Kan
Photography / Yeongjun Kim
Videography / TSG (Taeseok Shin)
Styling / Hyerim Im
Hair / Hongmoon Ahn
Makeup / Jiwon Moon