Raising the bar on bar snacks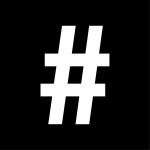 By: Stephenie Gee
May 3, 2023
Drinking and snacking have always had a perfectly symbiotic relationship. But with the rise of cocktail culture, bar snacks have evolved from sidekick to full-fledged player with offerings that go from charcuterie to caviar and beyond. Stephenie Gee looks at four local hangouts that have taken their bar snacks menu to the next level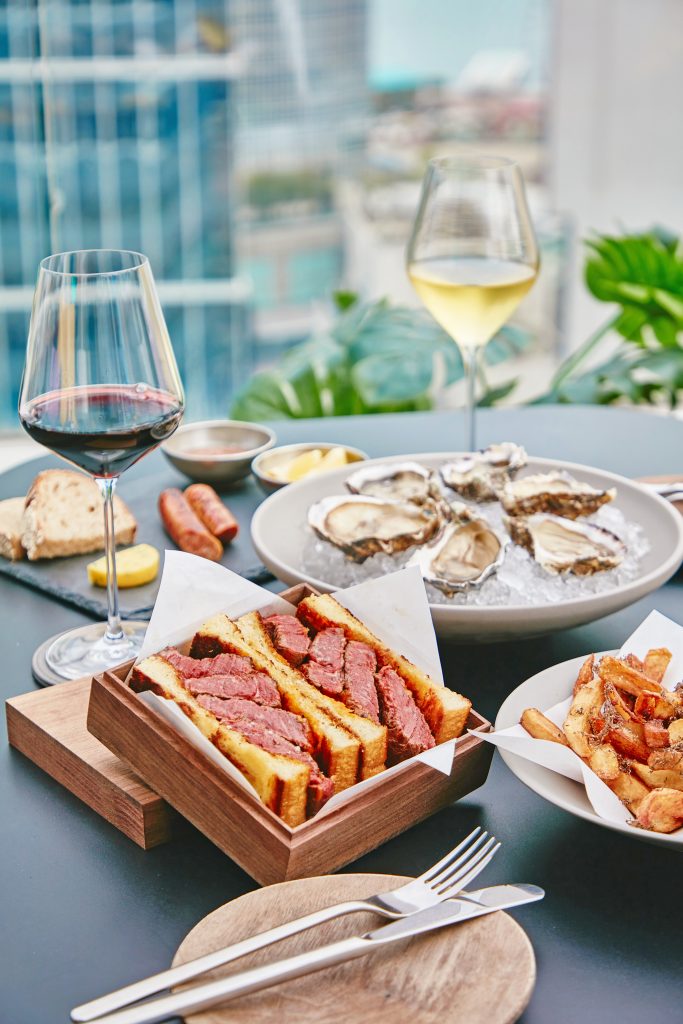 It used to be simple: there were bars and there were restaurants, and you would always know where each stood and what to expect. Looking to spend time in good company with a menu of entrées, mains and desserts? Then a restaurant was what you were after. Was chatting with friends over drinks – be it a pint, cocktail, shot or glass
of wine – served from behind the counter your intention of the evening? Then the bar is where you'd go. You might have been able to order something to eat at the latter, but it was probably a selection of greasy, salty snacks and handheld bites the likes of sliders, a bag of Monster Munch or a communal bowl of peanuts and pretzels – which become infinitely more satisfying when enjoyed through a veneer of intoxication.
While things haven't entirely changed, the black and white distinction between the two has significantly faded into a monochrome grey in recent years. Bars in particular have evolved into artfully- designed and perfectly-patterned establishments that occupy premium spaces – Four Seasons Hong Kong's Argo, Singapore's Atlas and The Connaught Bar in London, for example – where people visit to escape the monotony of everyday life. In this light, there has been a unanimous consensus around the need for bar bites to move on from the standard – but gratifying – bar snacks repertoire to fare that is refined and appealing to an audience of well-informed and food-savvy palates, but still hits the spot for those post-Martini fried-food hankerings.
At Rosewood Hong Kong's DarkSide, a timeless celebration of rare aged spirits, vintage cigars and cocktails crafted with time-honoured traditions updated with innovative techniques that pay homage to Kowloon's "Dark Side" moniker, this territory is expertly navigated under the direction of the hotel's director of bars, Simone Rossi. "We adopt a highly guest- centric approach, whereby we strive to understand our guests' preferences as the backbone of the menu. In line with this, we aim to curate a menu that caters to the evolving dietary needs and preferences of ingredients of today's discerning diners," explains the Grosseto native.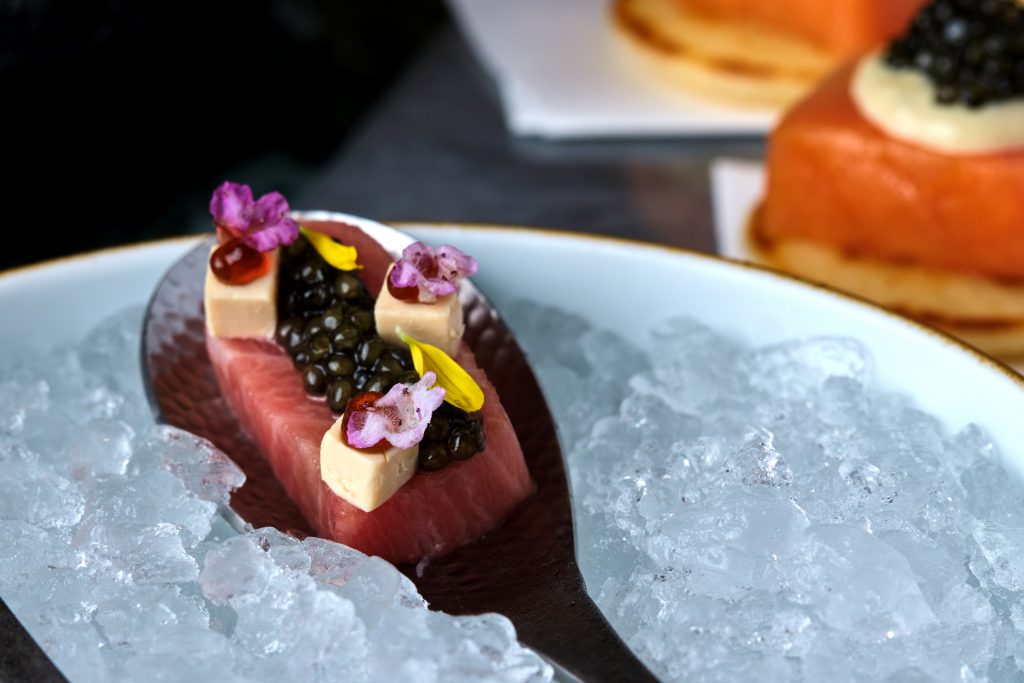 On the concise yet mindful roster at DarkSide, offerings carry the same stamp of ease, approachability and efficiency that define the good bar snacks of the past, but at a quality to rival whatever your 8pm restaurant booking has to offer with everything from bikinis of mortadella, mozzarella and truffle, and Wagyu katsu and pickle mustard, to cold cuts including Serrano ham, Lomo Iberico and chorizo, cheese boards of Comté 24 months, Crottin de Chavignol and Brie de Meaux, and perfectly crispy truffle fries. And, because inclusivity has become the watchword of modern society, equally flavoursome vegetarian options are also available, like the prawn rolls with celery, green apple, aioli and potato chips, and vegetable crudité served with a tzatziki dip. "Our menu features a range of finger foods, which not only allows for a more relaxed dining experience, but also maximises space utilisation by eliminating the need for cutlery and plates," he says. "Additionally, our food programme is thoughtfully designed to complement our extensive selection of wines, cocktails, mocktails and spirits."
Refinement takes on another dimension at Plume, a laid-back rooftop wine bar atop the iconic H Queen's in Central with a world-class 500-reference-strong wine list and modern French bar bites courtesy of its two-Michelin-starred sister restaurant Écriture. "Coming from France, we always love to enjoy a bite with our wine; usually the go-to is cheese and charcuterie. To me, it is the complete experience," says executive chef Maxime Gilbert. "I have personally been to bars that have a good and extensive drinks offering, however the food programme pales by comparison. And, for me, this kind of experience is incomplete. So at Plume we try to offer a simple food menu that complements our guests' wine experience."
Also see: Nespresso: Vertuo Pop gives coffee making a pop of colour
Or rather, seemingly simple. Designed to be "homey, good for sharing and fun", each dish at Plume, he tells me, is made from scratch and à-la-minute: the Wagyu sando is made entirely in-house from the milk bread to the ketchup; potatoes for the truffle mayo fries are each carefully selected, hand-cut, blanched and deep-fried in the kitchen; and the cheese and charcuterie are all top drawer, meticulously sourced and handpicked. "Although it impacts the food cost, guests who come here deserve a through-and- through premium experience being in the heart of Central on a rooftop with stunning views of Hong Kong," he says.
Because, ultimately, what is of utmost importance is curating a holistic story between the bar's identity, drinks and culinary programme. There is no use having a great concept if its offerings don't deliver. Similarly, an outstanding food – or beverage – menu that simply stands on its own is not enough to satisfy today's guests. Artifact,
an upscale chef's table and speakeasy bar tucked away in the depths of Jardine House's BaseHall 2 that showcases caviar in all its shapes, sizes and infinite gradations, and Botanical Garden, an al-fresco gin bar nestled in lush foliage on the terrace of the Magistracy Dining Room, understand this concept implicitly.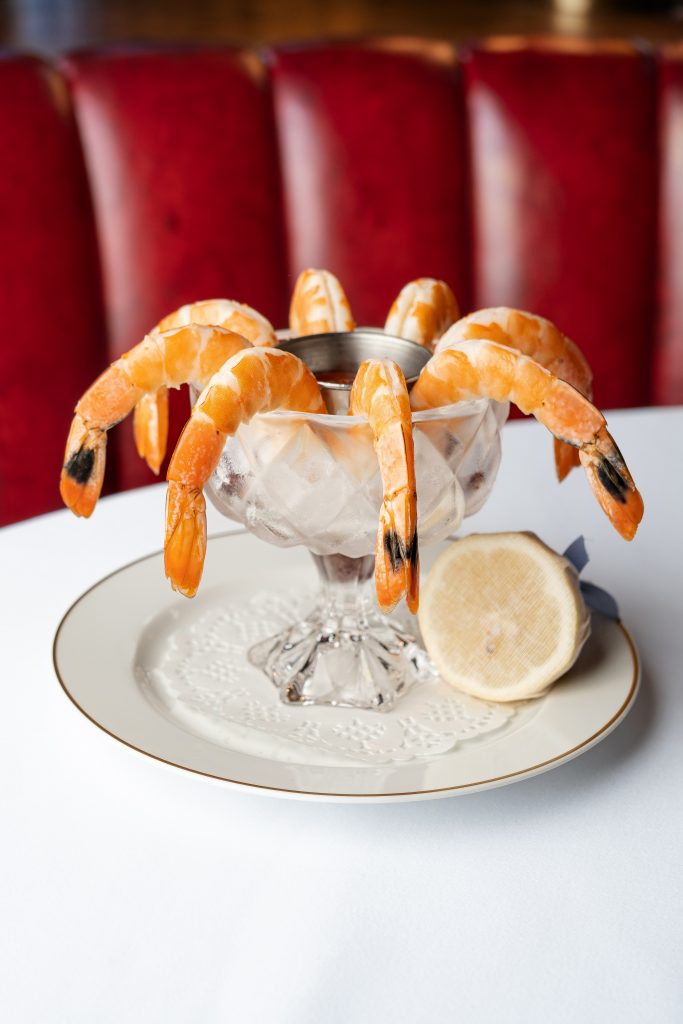 For the former, the snacks menu at the speakeasy offers plates in a similar vein as its Japanese counter dining concept – caviar-heavy with the same dynamic seasonal ingredients and specials. "Generally, I would create a skeleton of basic snacks based on what's in season and currently on the Artifact tasting menu. Then I customise them to match the drinks programme," explains head chef Sato Kiyoshi. On the current menu, there's a salmon and ikura puff, jamon caviar, misozuke (miso pickling) tuna belly and salmon blini. "We go through many tastings to find the perfect balance, and we use natural umami instead of high sodium to maintain the food-beverage harmony."
As for the latter, set in the century-old former Central Magistracy – a declared monument since 1995 – The Magistracy by Black Sheep Restaurants is an evocative homage to heritage architecture and quintessential London restaurants.
Also see: #legendeats: Feast for the eyes
"For us, we had a clear idea of what the drinks programme was going to be – centred on the storied spirit, gin," says Matthew Kirkley, executive chef of the Magistracy Dining Room and one-Michelin-starred Belon. "We knew that we were going to focus on a vast collection of gins that would tell our story, highlighting the archetypal style – London Dry. And we shaped the culinary offering around that but ensured that the menu remained rooted in the British-inspired cuisine that would complement the heritage of the space."
For example, Pacific blue prawn cocktail – one of the most popular hors d'œuvre in Great Britain during the 1960s to '80s; Dungeness crab on toast with avocado, butter lettuce and house-made sourdough bread; Welsh rarebit with Lincolnshire Poacher cheddar; and Quality Chop House confit potatoes. "At Botanical Garden, we really try to enhance the gin programme by highlighting a menu of traditional garden fare. We offer a selection of bites that are perfectly enjoyed in the lush surroundings, nothing too heavy but enough to have a shared table of bites over expertly made drinks or to enjoy a full meal if that's what the guest is looking for," he says. "Of course, we really try to lean into items that are inspired by our ties to London, something you also see on the menu for Magistracy Dining Room, but we hope that guests can envision themselves transported to the beautiful heritage gardens of the past."
After all, as Kirkley notes, "There is no perfect recipe to create a good bar menu, but it's important to stay within the storyline that you're trying to tell. A guest should be able to know what to expect if they join you, and your offering should always be in line with that."
Also see: Clarence chef clarifies his take on French cuisine