Clarence chef clarifies his take on French cuisine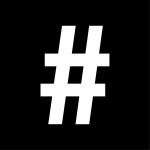 By: Stephenie Gee
April 25, 2023
Hong Kong has no shortage of culinary stars, but Olivier Elzer has a way of taking things to another level. The chef-founder of Clarence talks to Stephenie Gee about his multitude of references and utterly unique interpretation of French cuisine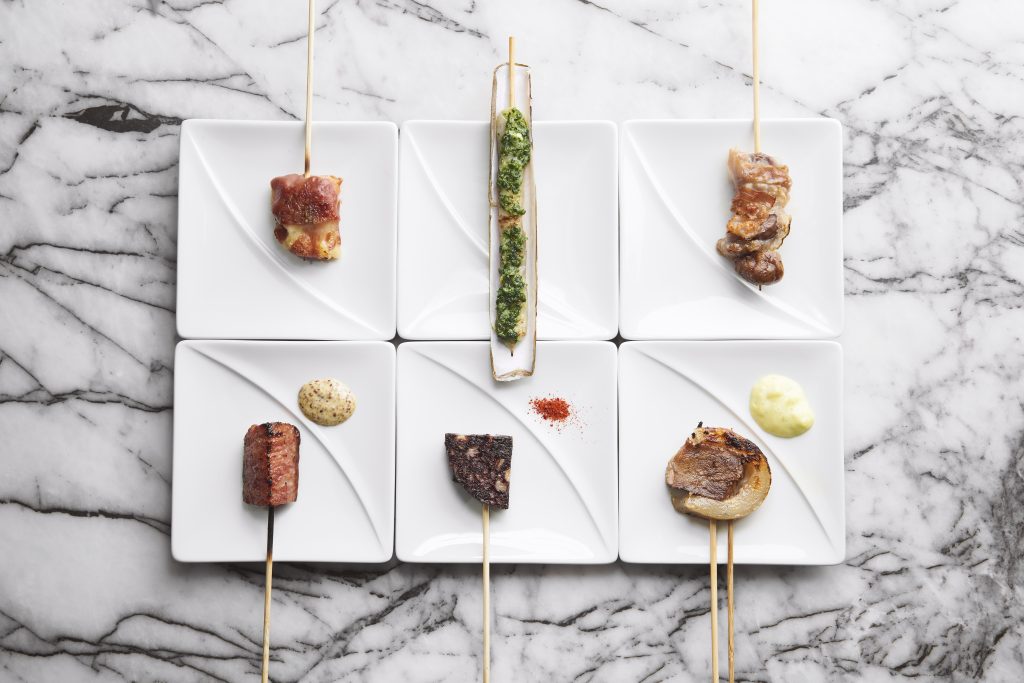 In a city full of acclaimed chefs serving riffs on their home cuisine, Olivier Elzer is definitely one of the more prominent – and not just for his Hercules-like stature. Over his decades-long career, 14 years of which he has spent in Hong Kong, the German-born, French-raised chef has amassed 23 Michelin stars and been named one of the Top 22 Best Young Chefs in France by the Gault&Millau guide. His culinary projects, including the now-closed Seasons, L'Envol at The St. Regis Hong Kong and H Code's Clarence, are all widely lauded and loved. And just last November, he was bestowed with the distinction of Knight in the Order of Agricultural Merit of the French Republic for his culinary creativity and leading role in promoting French cuisine in Hong Kong.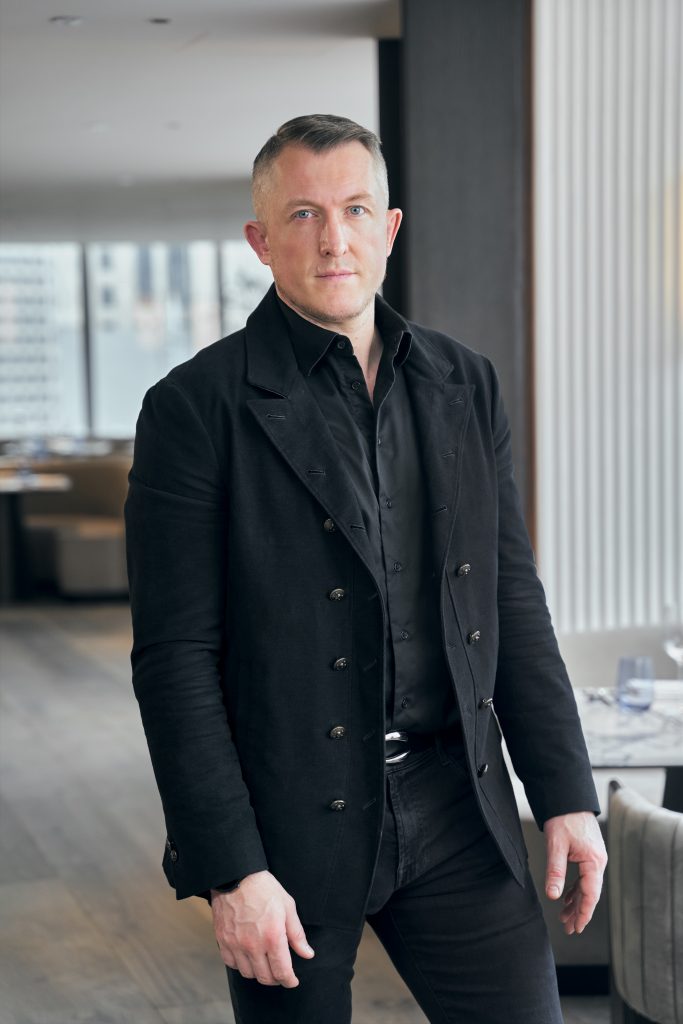 "It was something I really didn't expect. I know some of my mentors received this medal but I really wasn't expecting it for me because it's more of a life achievement you get when you're 50, 60 years old – because this award is for the talents and people who have represented France in a beautiful way throughout their career and achievements," explains the 43-year-old as he sits in the sun-drenched dining room of his Central restaurant Clarence. "So when I got my knighthood, it was a beautiful surprise and I'm very honoured, of course. But at the end of the day, this little medal comes from all my years of hard work and collaborating with amazing people, all who have helped and pushed me to become who I am today."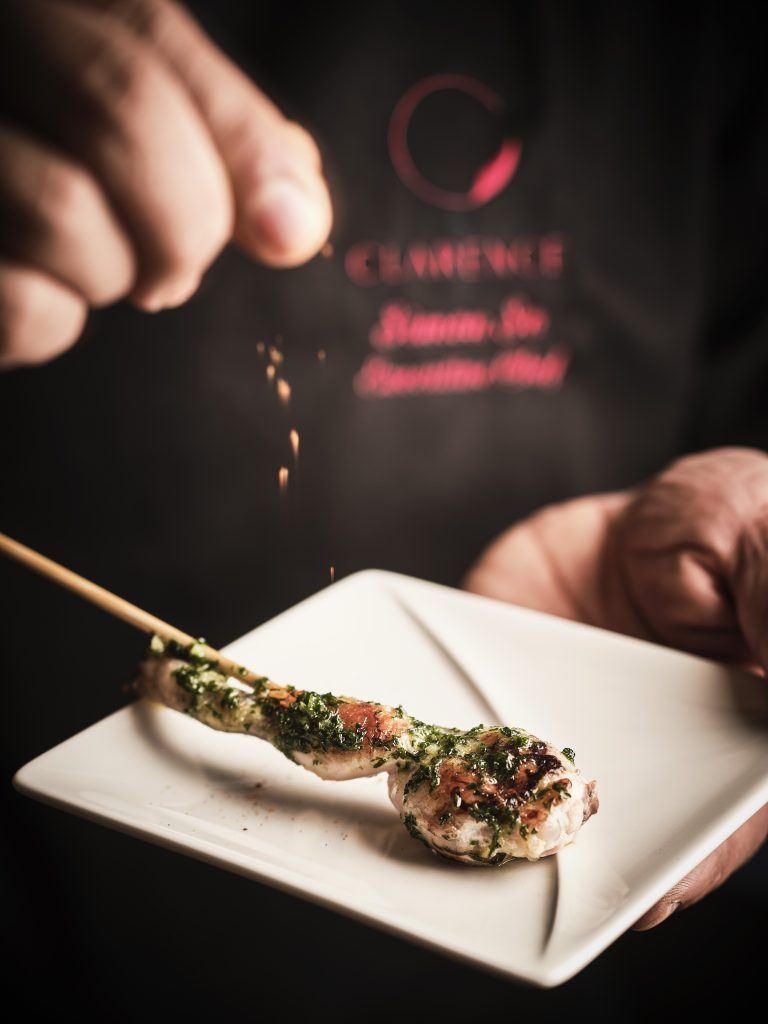 Clarence is the perfect expression of Elzer's evolution and growth as a chef. The upscale casual restaurant overlooking the Tai Kwun courtyard opened amidst the pandemic's fifth – and worst – wave, some eight years after his inaugural personal concept Seasons, which maintained one Michelin star for each of its three years until his departure in 2017. Here, Elzer tackles the world he knows best, his native cuisine, and pushes it to the brink with a polished level of maturity and touches of Asian and original flair.
"I have three fish tanks representing three different types of recipes that I play with. The first one is seasonal produce, because in France every single product is connected to the seasons, and so for me I'll try to include a lot of seasonal dishes on the menu," he tells me. "The second fish tank is my traditional French background.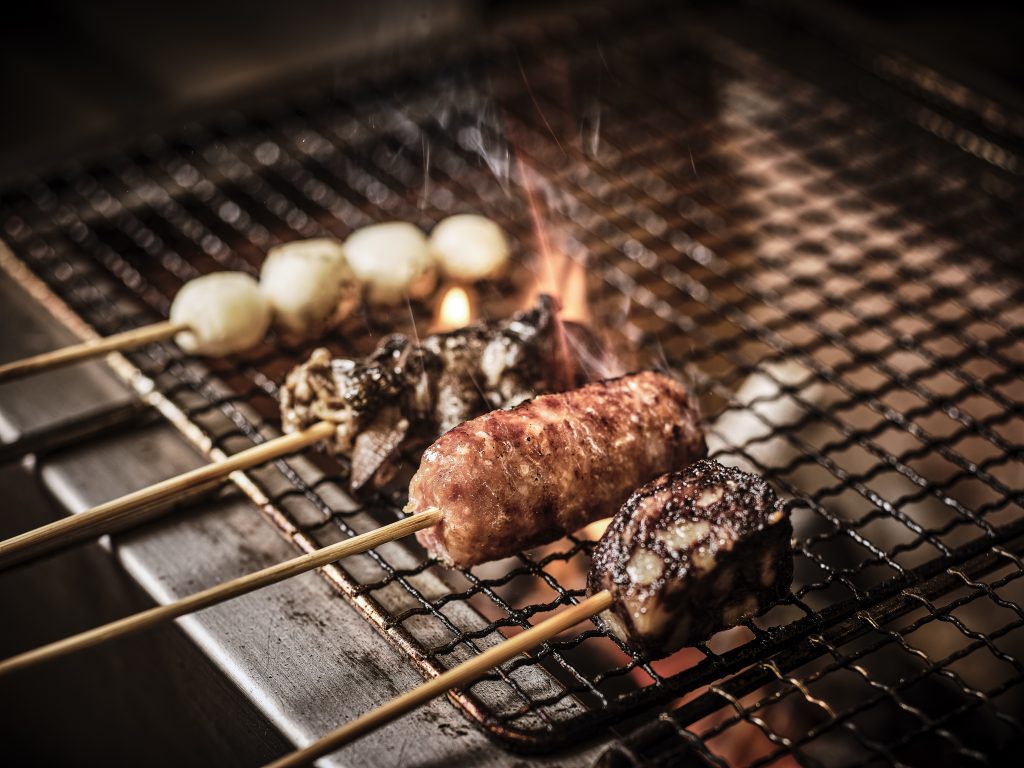 For example, steak tartare. I didn't create the dish; it's been around for I don't know how many years in France and it belongs to my French history and my French background. The last fish tank is my personal twists. Every chef is inspired by where they are and, after coming to Hong Kong, my kitchen is changing every day because I'm evolving. Of course, after 14 years of being here, do I know everything about Asian food? No. But, I've learned quite a bit and I can see that I'm shifting more and more to a kitchen which is proud to be French but where I have my little Asian twists."
Some are more overt, like his patented "Yakifrenchy", in which quintessential French ingredients the likes of Burgundy snails, frog legs and reblochon, are skewered and prepared over a Japanese robata grill. A blend of
13 French spices, Dijon mustard dip and French radish bites resembling the Japanese shichimi togarashi, miso sauce and edamame offered at yakitori joints are served alongside to recreate the full experience.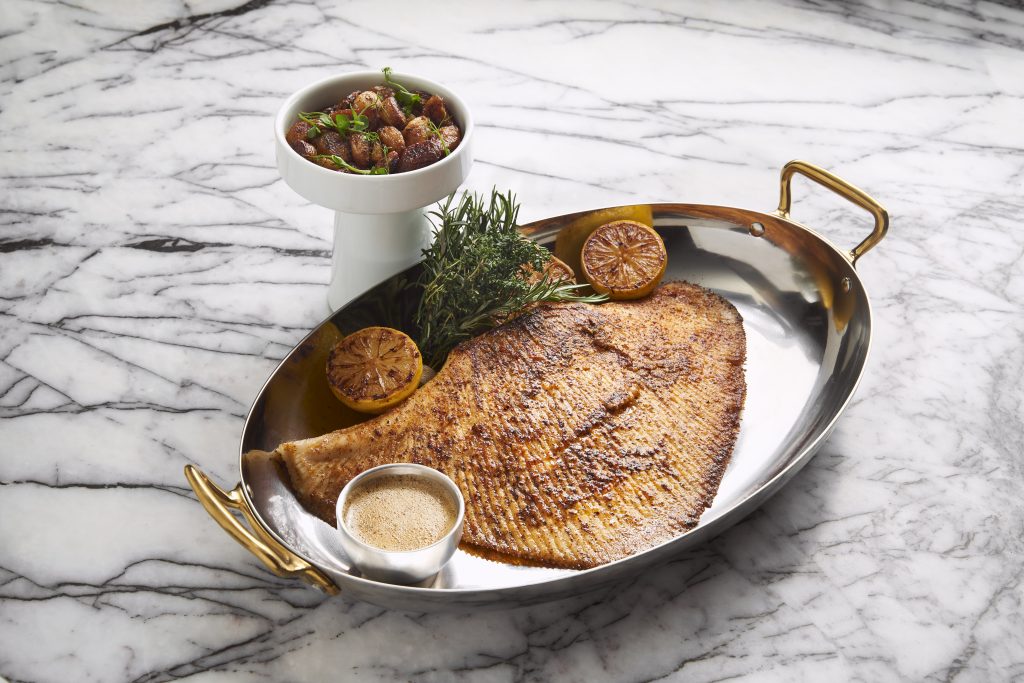 "Here's a scoop I've never mentioned to anyone before: One day, I will actually open a 40-, 50-seat restaurant where it's only 'Yakifrenchy'. It'll be a more casual concept but it's something I really want to develop because it actually started as a love story between me and my wife – we love yakitori," reveals Elzer. "But also, I'm very inspired by Japan because France and Japan have had a strong connection for many years. And I thought, why not try to cook with charcoal on the stick but with French ingredients? I don't feel comfortable cooking chicken or classic Japanese-style, for example, because it won't make any sense for a French restaurant, which is why I came up with 'Yakifrenchy'. And the idea is to use different specialities from the different areas in France – like travelling around
France on a stick."
Also see: Five dog-friendly cafés to explore on outlying islands
Some twists are more subtle, such as on the "Raw & Wine Bar" and "Mains" menu. The former offers lesser-known seasonal catches prepared in a refreshing manner – as of this writing, there are the black prawns accented with shaved tonka bean, lemon and fennel-dressed gamberoni, and tuna finished with avocado and a shallot dressing – and the latter, sharing plates of whole fish and poultry cooked and served on the bone as a nod to the local dining culture of family-style meals as well as traditional French dishes, namely Dover sole meunière and aile de raie (skate wing), tweaked for the Hong Kong palate by, for instance, omitting the butter from the recipe and instead serving it on the side for a lighter take.
Untiring in his pursuit of innovation, Elzer has now also, as part of Clarence's first-anniversary menu makeover, introduced a monthly thematic menu that is reflective of either the month's happenings (Christmas, Valentine's Day) or his identity – in January, Elzer paid homage to his mentors and decades- long career with six dishes, each representing a thread of his story.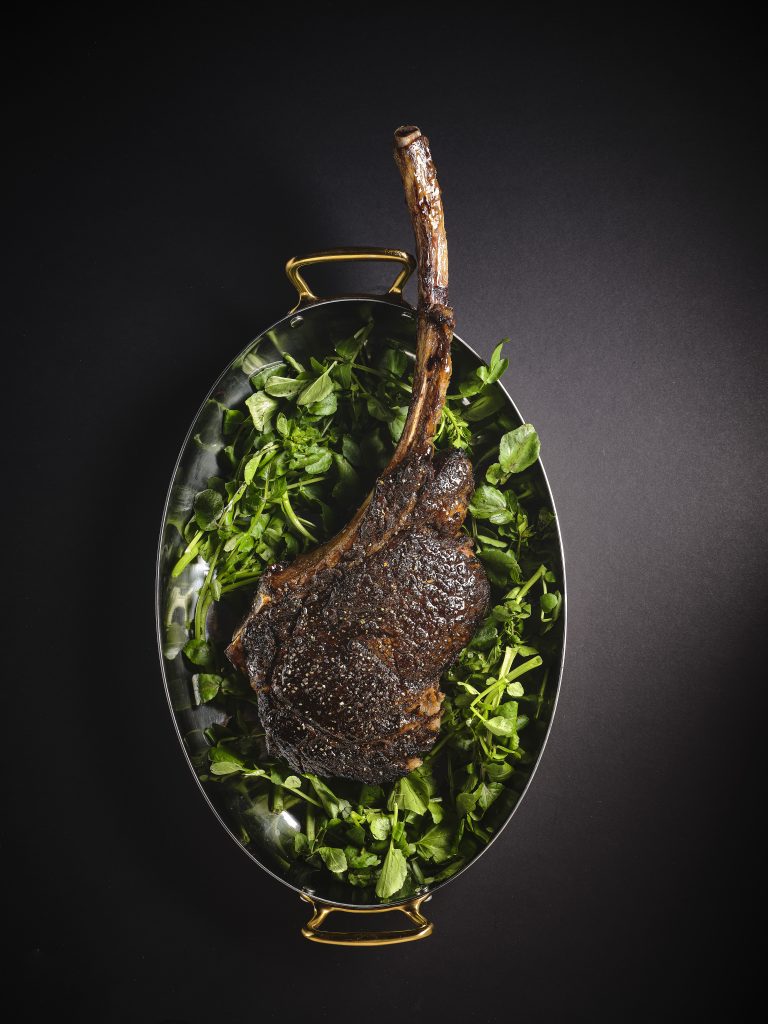 Last month, he brought in his mum, Dorothée Elzer, to mastermind a four-hands menu of classics from his native Alsace, like goose foie gras with Gewürztraminer jelly, black truffle and served with kouglof, a traditional Alsatian fluted cake; and baeckeoffe, a casserole stew of pork, beef, lamb, potatoes, leek and black truffle.
From traditional to inventive, Elzer's tightly edited menus showcase a new face of French dining – one that can be enjoyed comfortably and, more importantly, cross- culturally, without the pretentious frills and steep price tag as is the general norm. "When we talk about French cuisine, we usually think about fine dining and Michelin stars. But for me, I really wanted to show French casual because if I make an honest statement, the number one cuisine my Asian customers will pick is Japanese – I mean, me too – and the second would be Italian because they are simple, homey and comforting. I sometimes think we French are a bit behind. It's like a double curse – we are very popular for our amazing food, but the prices sometimes make it too inaccessible. Or, it's too heavy for different cultures or palates. For example, people from older generations in Asia don't have a lot of enzymes to break down dairy. My wife's parents, they can't take too much cream and butter, so when I cook for them I take almost all of it out because they just don't enjoy it. And it made me realise that I really want my Asian friends and customers to enjoy French food. I want to present them with French food that is casual, very yummy and light without too much cream and butter, but still flavourful."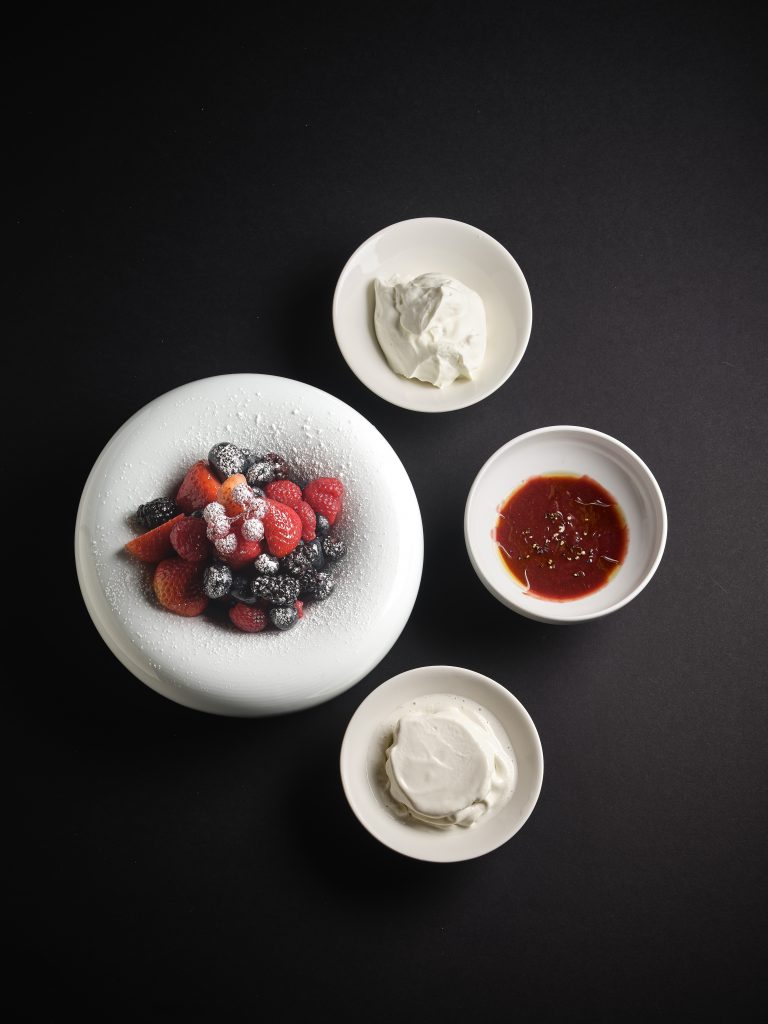 Elzer's space, too, extends far from typical French dining establishments. Spanning across the whole 25th floor, Clarence is divided into four distinct "ambiances": the raw and wine bar dressed in monolithic dark wood; the chatty, natural light-flooded – and Elzer's personal favourite – main dining room; the sommelier room, which resembles a Burgundy wine cave with red brickwork and a vaulted ceiling; and the lounge, an outdoor terrace where diners can sip and savour views of the skyline. All together, it amounts to a happy air of ease as opposed to the stiff formality commonplace in the genre. Along with good food, good wine – the selection ranges from grand crus to obscure vintages, all fairly sourced and fairly priced – and good company, Clarence is a guaranteed good time and well on its way to becoming a mainstay for top-tier food and good vibes.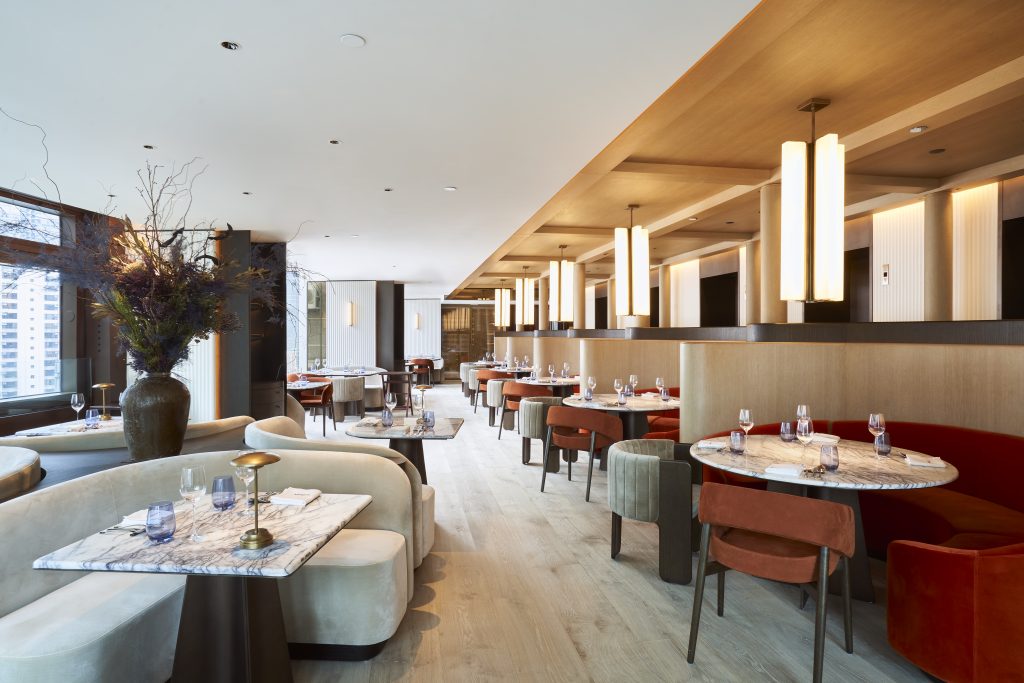 "The idea behind this is that I want to create different universes, which can be linked together to make one beautiful restaurant. But I also want the opportunity to evoke different feelings because, at the end of the day, when you go to the restaurant you'll be in a different mood," Elzer muses. "And I want my customers to be able to enjoy all their different moods and feelings. If there are some customers who want to come here for a quick business lunch, they can have it. And if there are people who want to stay for hours and enjoy the tasting menu, a great bottle of wine – or two or three – they can have that too. I just want people to enjoy every single Clarence that they have – the Clarence for lunch, the Clarence for dinner, the Clarence in the private room, the Clarence where you eat a short menu, long menu or even a feast. That's my ultimate goal."
Also see: Rosita brings a taste of Latin America to Hong Kong