#legendeats: Feast for the eyes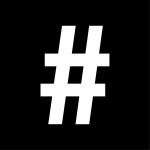 By: Stephenie Gee
April 7, 2023
Chefs throughout the ages have strived to impress diners with an array of elaborate presentations and plating techniques. Stephenie Gee traces the history of the art form and finds out what's trending in today's top kitchens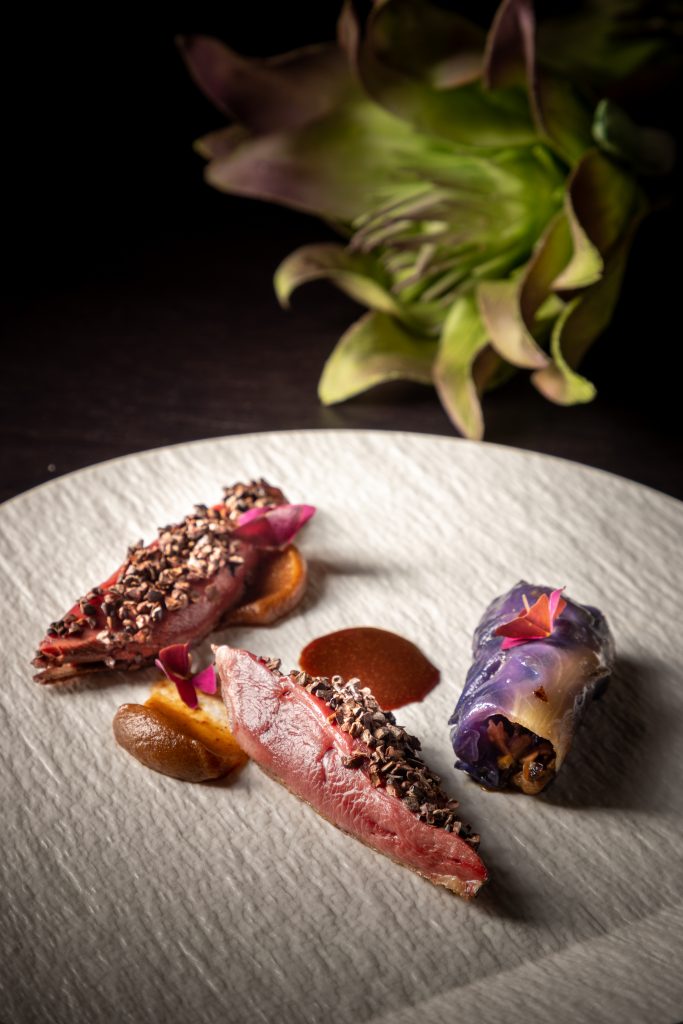 The old adage "we eat first with our eyes", however cliché, is indeed most accurate. If anything, the aphorism is even more relevant in today's social-media-driven world than when it was coined 2000 years ago by Roman gourmand Marcus Gavius Apicius. What has changed, however, is the motivation behind it.
Back in Ancient Rome, plating was a mere symbol of wealth and status. Banquets were a thing of great richness and style, and cooks and hosts were far keener on display as to gastronomy (this, of course, was not the case for peasants, for whom eating was a means of survival and food was served as it emerged from the cookware without further ado), as is depicted in Roman courtier Gaius Petronius' satirical novel Satyricon. In the story, inspired by the age's dolce vita, the nouveau-riche former slave Trimalchio hosts a dinner of ostentatious and grotesque extravagance in which 12 punishing courses, including a zodiacal arrangement of hors d'oeuvres concealing a dish of hare fixed with wings in the middle to resemble Pegasus, a whole roasted hog accompanied by pastry suckling pigs and filled with live thrushes, and pastry gravy boats fashioned like satyrs with phalluses as spouts from which gravy pours, are presented on a dinner service of silver and Corinthian bronze.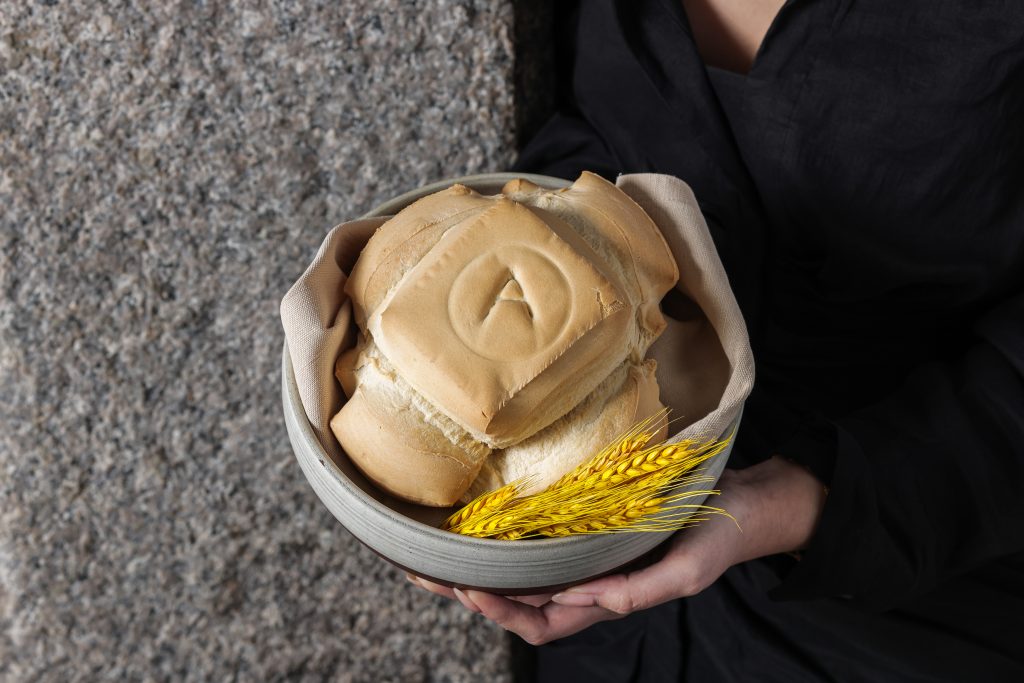 Excessive, perhaps, but not far from the truth. In real-world Rome, Emperor Claudius instructed for crushed pearls to be added to his wines, precious stones to be served with every dish set before him and peas to be given an extra sparkle by the addition of flecks of real gold, all simply to make it more costly. Meats were carved with great skill – into small pieces to facilitate dining with one hand as diners lounged on couches leaning on their left elbow – in time to the tune of trumpets, and mackerels were pickled live to showcase their iridescence as they thrashed in the vinegar.
This love for lavish displays of power continued through to the Middle Ages, when elaborate ornaments (sometimes edible, sometimes not) known as entremets or subtleties, were produced. A grossly pregnant woman, sometimes in the act of childbirth, modelled in marzipan or sugar paste, was a favourite at wedding feasts. Pies from which live blackbirds flew out when the dish was breached, too. At a banquet in Lille in 1433, 28 musicians emerged merrily playing from a single pie. Charles the Bold, the last of the great Dukes of Burgundy, had at one of his wedding festivities a course that consisted of 30 pies, each enclosed in a silk pavilion bearing the name of a walled town under his dominion.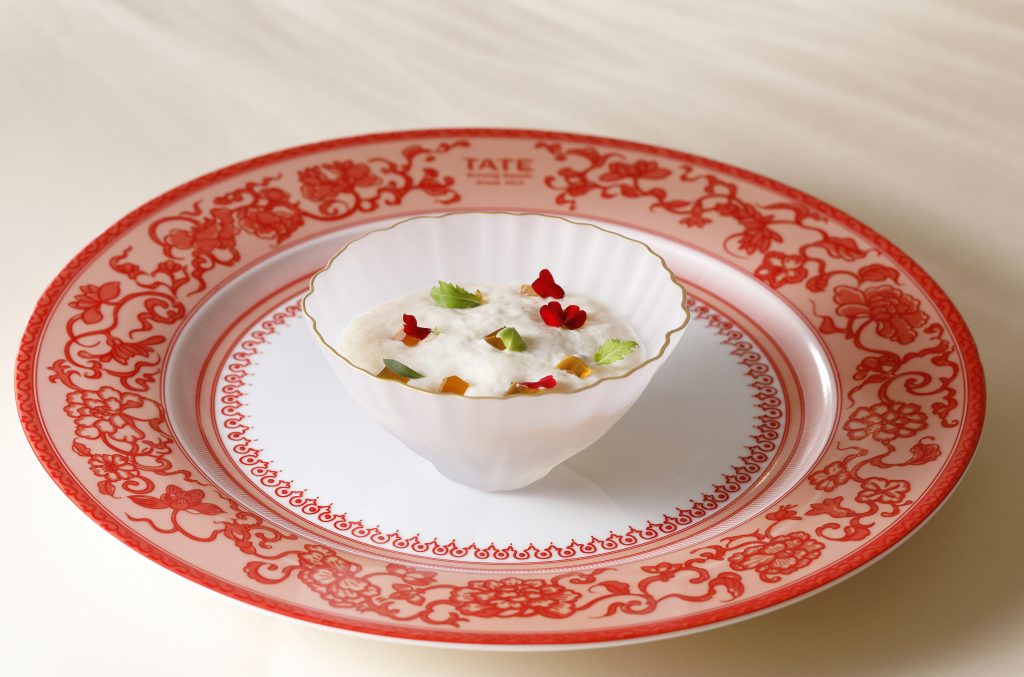 Apart from the great constructions, the food, much like the bright, silvered and decorated mediaeval stonework and statuary, was also highly embellished: meatballs and small poultry gilded in fine gold or silver leaf, custards dyed pink with sandalwood, bi- or tricoloured rice puddings and sauces coloured green and yellow with parsley juice and turmeric. These were presented on platters from which they were transferred to individual trenchers – hollowed-out loaves of old bread (the staler the better) commonly accepted as the direct ancestor of the modern-day dinner plate, which then were also considered a marker of hierarchy.
For those seated on the dais (the raised platform at the end of a mediaeval hall) – the host, his family and retinue – dishes would be served by kneeling pagers with much ritual and ceremony into trenchers, which would be readily replaced throughout the meal. At the tables' either side, the rewarde on the right and second messe on the left, guests had almost as good a choice of dishes as the head table but with only a trencher each. Further down to those "below the salt", trenchers were shared by the table and food arrived undecorated. At the end of the banquet, food scraps and the soiled trenchers were offered as alms to the poor and food-deprived that congregated outside palace gates.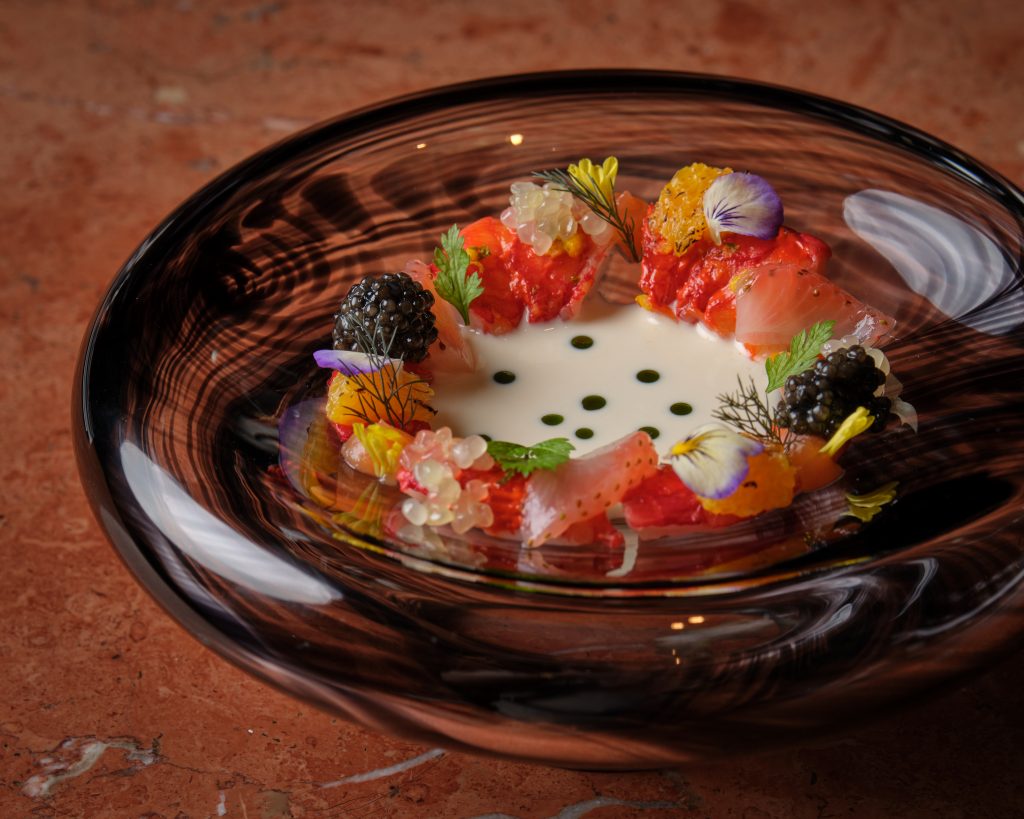 The presentation of food changed only very marginally throughout the next couple centuries. Bread trenchers were replaced with wooden ones. Then, with pewter for the rich and silver or gilt for the extremely rich. During the 16th century, tableware of silver, gilt, enamel, faience (glazed ceramic ware), china and Venetian glass began to adorn the tables of the affluent. And from the 17th century, place settings of flatware began to appear. Influenced by the Florentines (Kings Henry II and Henry IV married Medici princesses) and the Renaissance, detail, balance and harmony filtered through the kitchen. Out of favour went the bread-thickened sauces and in came more delicate, smooth sauces.
The real revolution began with history's first celebrity chef Marie-Antoine Carême, or the "king of chefs and the chef of kings", as he is referred to. Born into the late 1800s, Carême, an avid amateur student of architecture and variously cook to Charles Maurice de Talleyrand-Périgord, England's Prince Regent, Czar Alexander, the Rothschilds in Paris and Romanovs in St Petersburg, initiated the first steps towards haute cuisine, known for its presentation and flavour pairing, as its original maestro. He reduced the size of portions, codified the mother sauces and is widely believed to have been the inventor of the croquembouche (French for "crunch in the mouth"), a towering masterpiece of choux pastry puffs assembled into a cone and bound with threads of caramel.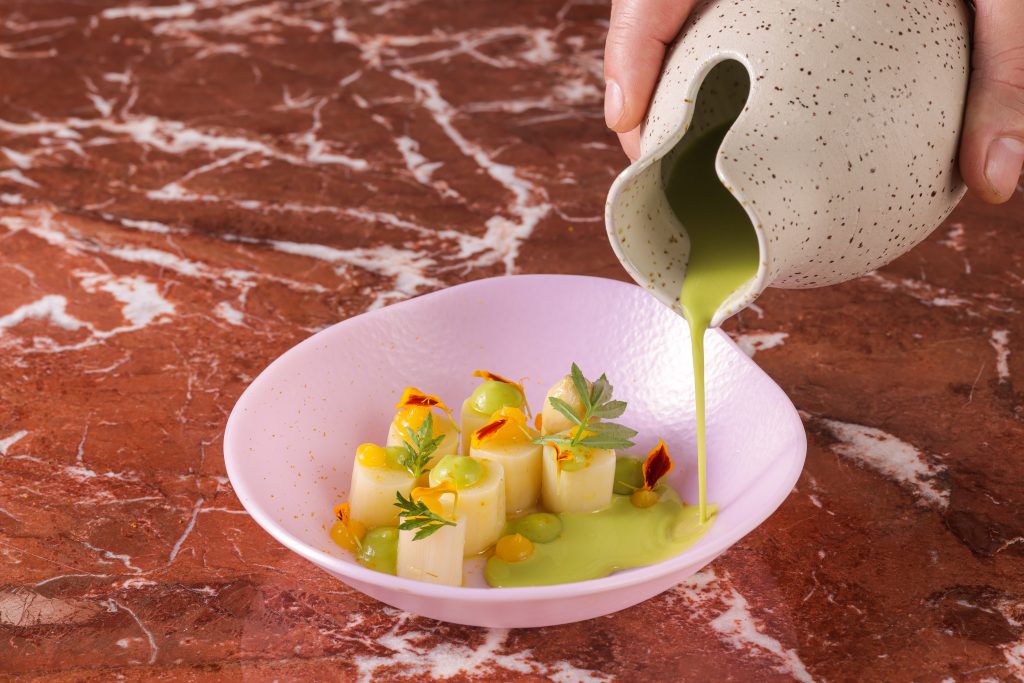 Lady Morgan recounted a Carême dinner at the home of the Comte de Ségur: "No more English spices, no more black sauce: quite the opposite, delicate flavours and the aroma of truffles; we were in the month of July and we could have believed it to be January… The vegetables still had a vibrant hue; the mayonnaise seemed to have been whipped in snow, like the heart of Madame de Sévigne; the plombière, with its sweet freshness and the taste of its fruits, took the place of our bland English pudding."
But, above all, Carême infused the idea that plating could be one of originality – chefs could forsake pre-existing codes to compose presentations according to their individual inspiration – and arbitrary, suggesting that the presentation of a dish no longer had to be linked to its ingredients, nor be shaped like the animal or refer to the season.
Also see: #legendeats: 15 new F&B offerings to check out
Succeeding Carême was Georges Auguste Escoffier, the father of the modern restaurant. He introduced during his time at the posh Carlton Hotel the first à la carte menu and, setting out to simplify and modernise his predecessor's complex approach to cooking and the ornate haute style, radically altered the aesthetics of food presentation and the operation of kitchens. The pace of life was speeding up and guests were no longer willing to spend hours at the table. Serving trends moved from à la française – the practise of having several courses brought to the table simultaneously with diners helping themselves to the food, which would have been, at best, lukewarm – to à la russe, where each course would be brought to the table sequentially, still hot from the kitchen. To this end, Escoffier perfected the partie system, in which different sections of the kitchen were delegated to carry out specific jobs for a streamlined workplace.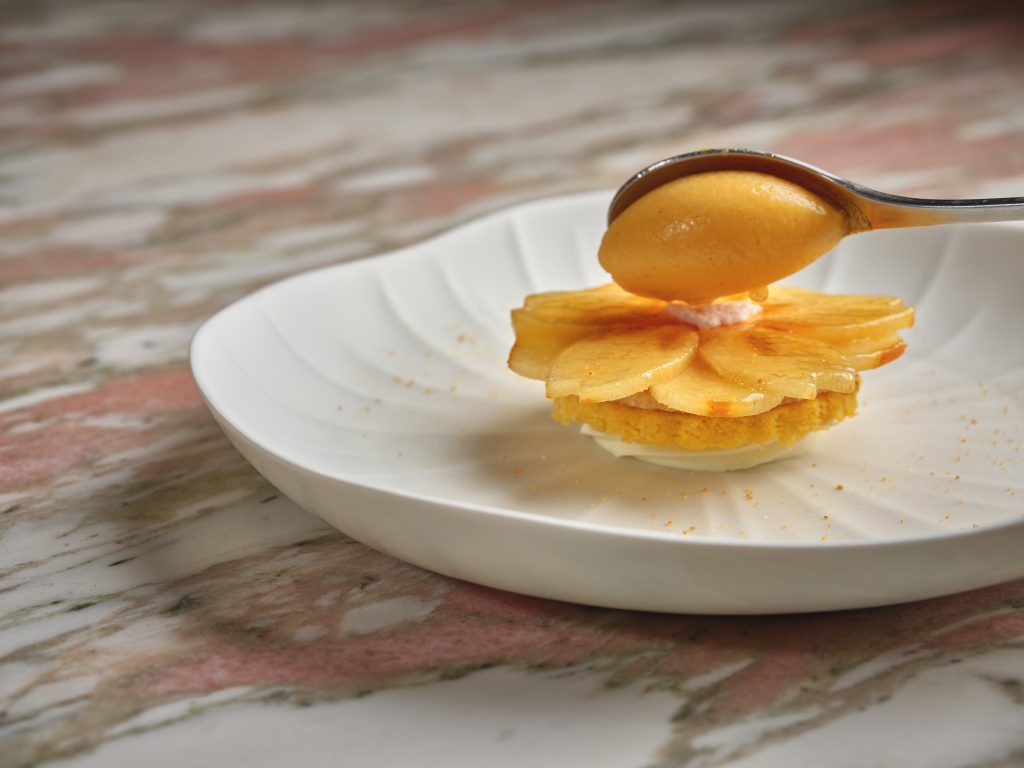 The rules of presentation continued to shift with the rise of the nouvelle cuisine movement in the 1960s. Simplicity and elegance became operative words, as shaped by Fernand Point, who also introduced a focus on using seasonal ingredients and lightening flavours – two hallmarks of nouvelle cuisine. Asian, particularly Japanese, culinary influences, too, became apparent, with the opening of the first French culinary school in Japan by chef Shizuo Tsuji leading to a further cultural exchange between the two. French chefs, including Roger Vergé, Paul Bocuse and the Troisgros brothers, drew upon the principles of Japanese kaiseki. Some with an emphasis on its approach to cooking and taste – enhancing, rather than transforming, ingredients and shorter cooking times – and others, its minimalist style of visual composition, which reached its zenith with the approach championed by such chefs as Alain Ducasse and Pierre Gagnaire.
From here on out, chefs officially proclaimed their creative independence. There was the architectural plating craze kicked off in the '80s by American chef Alfred Portale and his signature seafood salad at Gotham Bar and Grill that stood about eight, nine inches tall. Then in the '90s came molecular gastronomy and its far-out presentations of airy foams, smoking bowls and pearl-like spheres reminiscent of the towering assemblies and elaborate feasts of Carême. Except, contrary to how it was, they came hand in hand with exquisite flavours and cooking techniques – think Ferran Adrià's melon caviar and spherified olive at El Bulli, the famous hot potato cold potato at Grant Achatz's Alinea, and Heston Blumenthal's signature bacon and egg ice cream from The Fat Duck.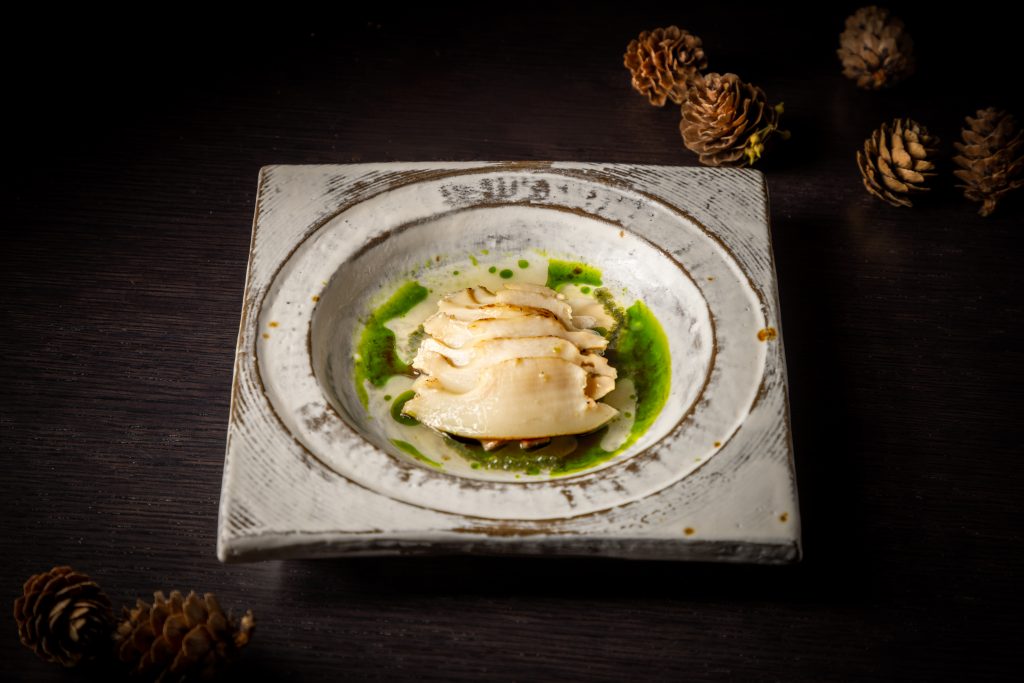 By this time, food presentation had evolved far beyond its early provenance as an indication of class and into a new form of artistic performance that could, for starters, evoke memories and tell a story. Case in point: the 2022 American comedy horror The Menu's "Memory" course of a housesmoked Bresse chicken thigh al pastor served with scissors stabbed into it, along with house-made tortillas derived from heirloom masa laser-engraved with compromising images of the guests, prepared by celebrity chef Julian Slowik (played by a cold-eyed Ralph Fiennes). It recalls Slowik's childhood memory of family Taco Tuesdays and that one particular Tuesday when he stabbed his father, who had returned home drunk and physically attacked his mother, in the thigh with kitchen scissors to stop the violence.
Of closer proximity, there's modern French bistro, Ami, located in Landmark's Alexandra House. "Plating is what a guest comes across in the first instance when a dish is served, and that leads to the importance of creating a desire for them to look further and take a bite. Just like the creation of the intro of a song, you can set the scene and create different plating for the same dish, depending on what story you would like to tell," says executive chef Nicolas Boutin. "I usually try to visualise the association of different products and test by trial and error how to put them together harmoniously on the plate, and sometimes I sketch a drawing with colours and then I will integrate the recipes that match the picture I have in mind."
At Ami, this story is of Mother Nature, specifically the forest, and it's reflected in all aspects of the space from the interiors of sylvan charm to "fine bistronomie" cuisine (cooking that brings the sophistication of fine-dining to the approachable flavours of a Parisian bistro) crafted from "ingredients presented in nature or made by nature" and its presentation that offers guests a journey into the woods with earth-tone crockery and nature-inspired aesthetics.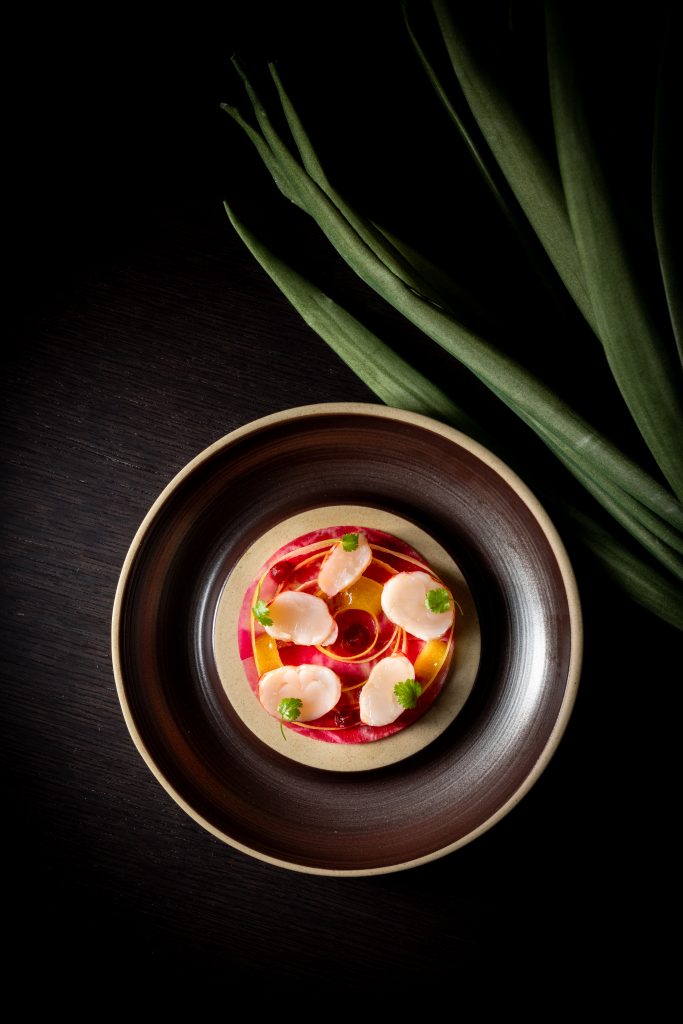 "The plating very much echoes the environment of Ami," Boutin says. "We were involved in all the developments of Ami since the very beginning, from seeing the designs to choosing the plates then creating the dishes. Naturally, the concept of the forest runs through our atmosphere and the cuisine that we would like to present to our guests. You can see traces of leaves, branches, wood, flowers, soil and more running through our dishes."
Alternatively, it can serve as self-expression. Such is the case with chef Antimo Maria Merone of Michelin-starred Estro (meaning "inspiration" in Italian). "I usually never use plating as a tool for storytelling. Rather, it's more the expression of my personal aesthetic. The story comes from the inspiration of the dishes and the flavour connects them," he explains. While Merone's visual identity is informed principally by the ingredients themselves – which are primarily seasonal – his personal narrative, likewise, serves as an important reference.
He continues, "Most of the time it is suggested by the ingredient as I don't like extreme manipulations of products so I always try to respect the ingredient and to highlight it as much as possible. But, obviously, my life, my experiences and my tastes are also all incorporated into my plating as I like my dishes to represent my style."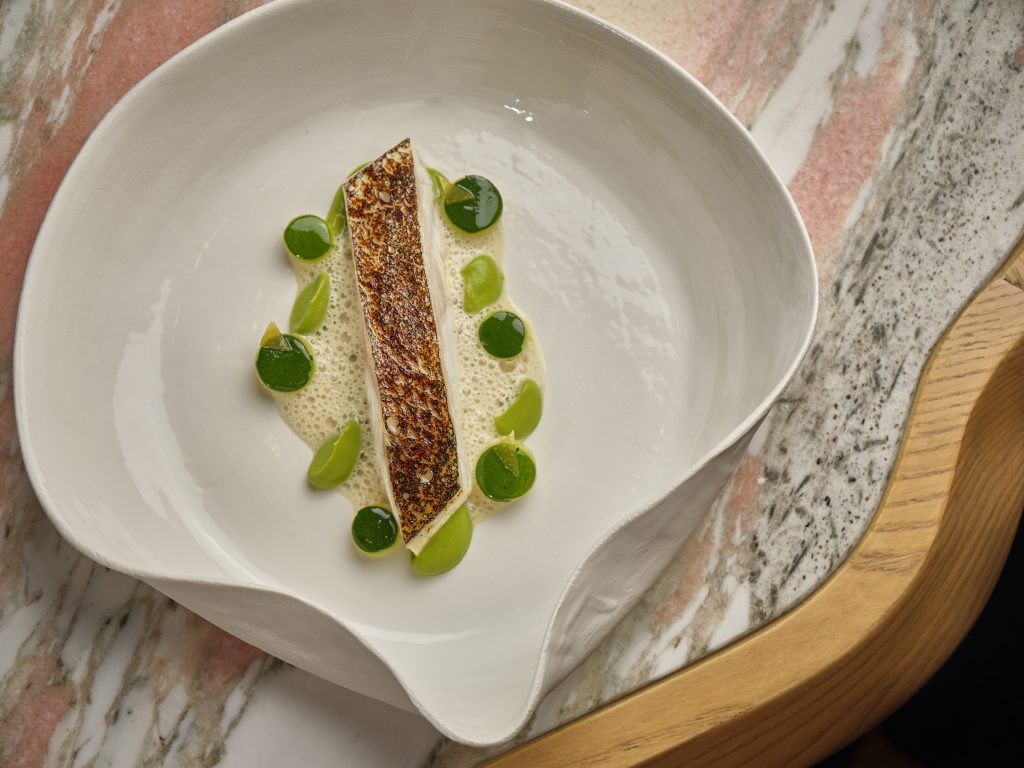 Dishes at the André Fu-designed finedining restaurant draw from Merone's rich memories of his Neapolitan roots, childhood and upbringing. The result is refined, which owes to his tenure under Milanese chef Gualtiero Marchesi and at the "King of White Truffles" Umberto Bombano's Macau outpost of 8 1 /2 Otto e Mezzo BOMBANA, yet homey and familiar. And the presentation mirrors this, such as his dish of Hokkaido scallops. Each scallop is draped in a thin slice of lightly pickled kohlrabi and flanked by a dollop of caramelised cauliflower purée and supreme of mandarin to form a rough circle atop a delicate golden sauce of tangy mandarin and olive oil – it is artful and exquisite but nonetheless inviting.
"Every dish has its own anatomy and I don't like to follow a specific general approach that is common to the whole menu. Obviously there must be coherence through the whole experience, but there is no general approach but rather a singular approach for each dish," he explains. "My approach has definitely developed with the years and the experience in the kitchen. Plating has in the last two decades been used as a tool to impress and attract the interest of people, especially with the growth of social media. From my side, though, I still think plating must be fully functional to the nature of the dish and the concept the restaurant wants to express. There is no right or wrong in that but in general, trends in plating are born to die, while flavourful dishes become what we recognise as 'traditional'."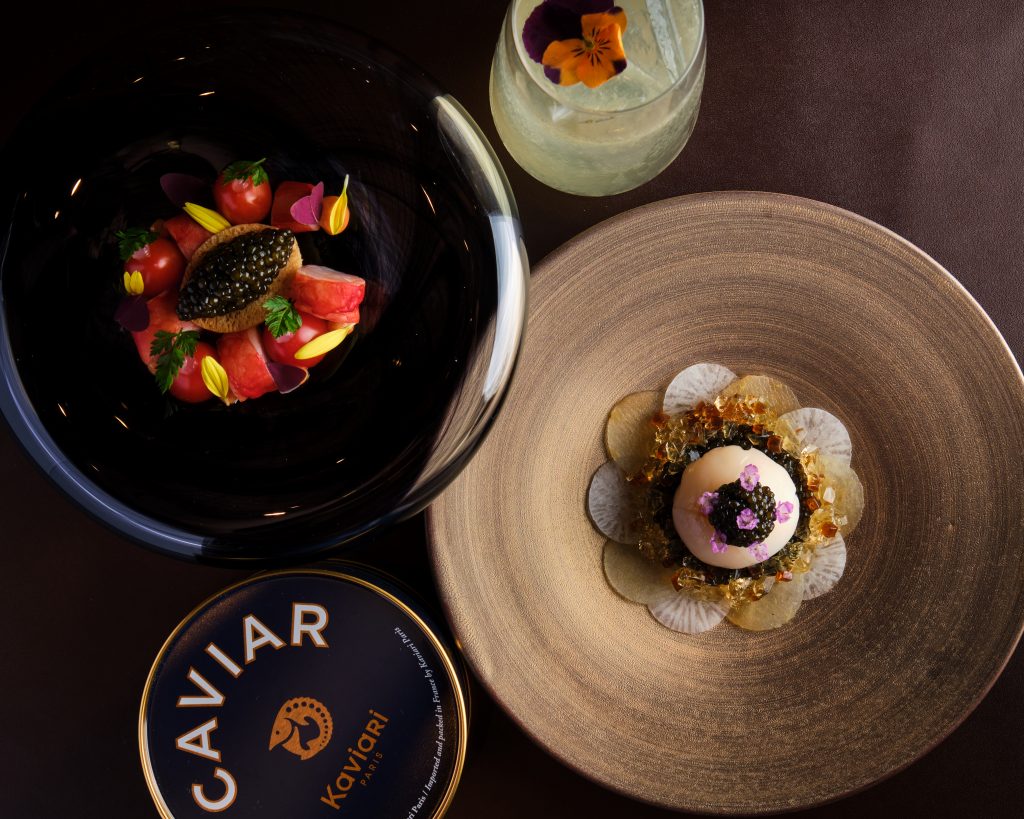 Another chef who follows this approach is Sato Kiyoshi of the newly opened Artifact, a Japanese counter dining concept that celebrates the history and decadence of caviar in all its forms, nestled away in Jardine House's BaseHall 02. He says, "[The plating at Artifact] starts with a feeling generally and then flows into something with balance. Being in a food hall we endeavour to be more playful than 'fine dining'. I try to leave our guests with an experience, striving to provide one as unique as possible with our resources at hand. As well as capturing moments, feelings and thoughts, and attempting to share that with our guests."
And playful it is – rings of daikon and discs of apple, ponzu and apple jelly, and Kaluga caviar crowned with a wasabi cream encased scallop pearl resemble a blooming springtime flower, and an arrangement of vibrant premium carabineros, pickled Japanese white strawberry and blood orange purée encircle a pool of miso cream dotted with green nori oil.
But just as in art and fashion, plating trends come and go – and return again. For chefs, the only real constant is the striving for quality cooking. "Plating is actually the element we leave to last. Taste and balance is king, and we endeavour to find the balance of flavours and highlight one or two. Once that is established, more often than not, the plating happens naturally," Kiyoshi says.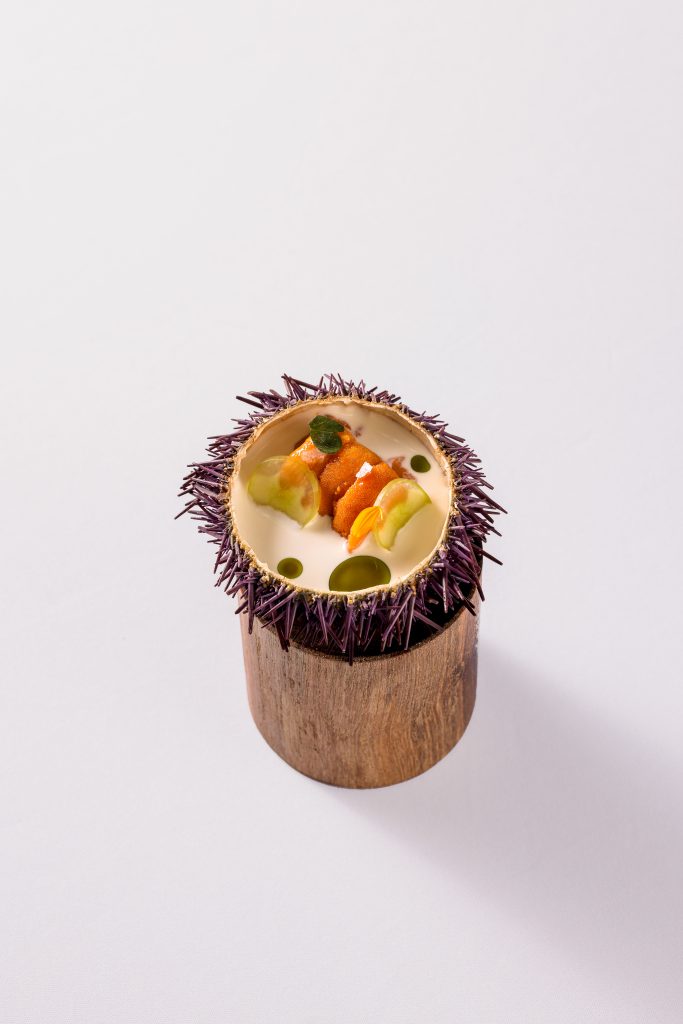 That said, the way in which the elements on a dish are constructed can, in fact, guide diners to know where to start and arrive in order to perceive all the right flavours. "Food plating is crucial to dish creation and one of the most important elements in Spanish cuisine," says Antonio Oviedo of Spanish fine-dining restaurant Agora. "It allows me to present and express the story behind the dish and then deliver it to all diners but also helps direct the diners to navigate instinctively through the dish and the way to enjoy it in the way it was conceptualised.
"I always inject my heart, knowledge and inspiration into every dish and my aim is to create a dish that speaks for itself and guides them to enjoy the full experience. All of our diner's experience begins with my plating, and plating is one of the crucial ways to present my ideas, the restaurant's concept and the story behind each dish. Whenever I finalise the creation of the dishes and present them to my clients, it brings me a sense of satisfaction as we have successfully brought the Agora concept to life."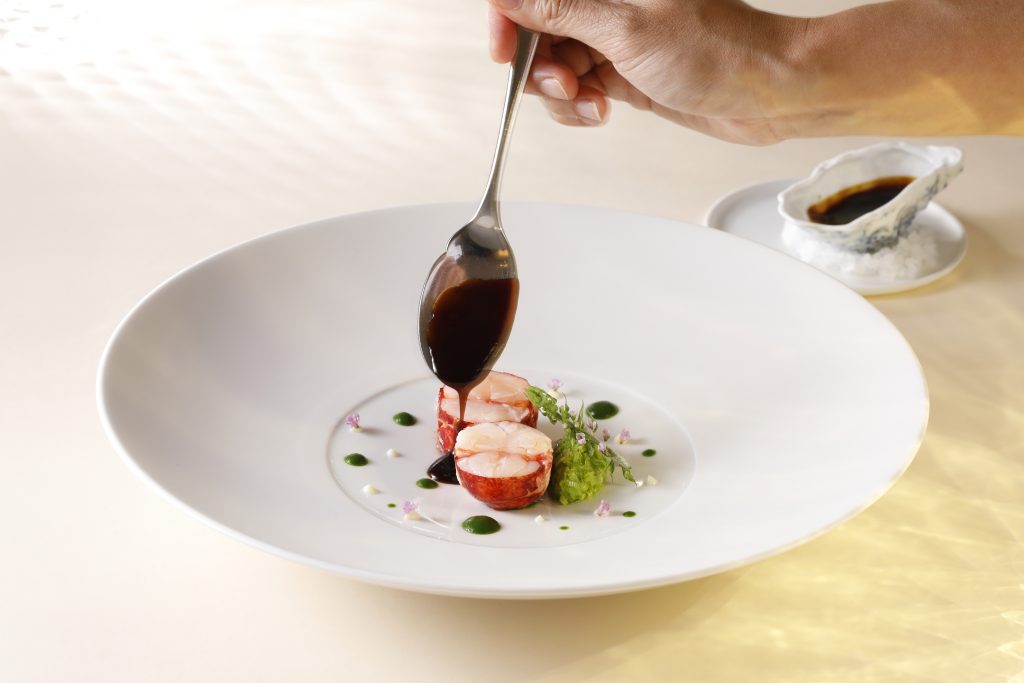 When it comes to making use of plating to stress not only the chef's culinary artistry, but the uniqueness of the experience that unfolds before the diners, the recipient of the Food Art Award by The Best Chef Awards 2021 chef Vicky Lau is one to know. "When I opened TATE Dining Room in 2012, we believed that fine dining was not a medium particular to a region, collection of ingredients nor even classical recipes. Its foundation lies in the belief that a meal can and should be elevated to an art form – the perfect expression of an idea that can be consumed by all senses. We aim to create a truly inspiring dining experience for our guests and through all these by telling a story about Hong Kong," she says.
"Plating plays a part in stimulating the guests' sense of smell, taste, touch and sight. Our cuisine is made with the best seasonal ingredients, our passion for design in every dish and our specially curated wine pairings. I like to create beautiful things and together with my graphic design background, presenting each dish is like giving someone a present and I would like my guests to receive each dish like a gift and enjoy eating it."
Also see: Asia's Best Female Chef 2023 talks food and gender equality