André Chiang brings culture to Sichuan Moon's cuisine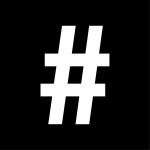 By: Stephenie Gee
July 17, 2023
André Chiang is bringing his prodigiously original touch to a classic Chinese cuisine. The culinary director of Sichuan Moon speaks to Stephenie Gee about his kitchen as an instrument of culture as much as cuisine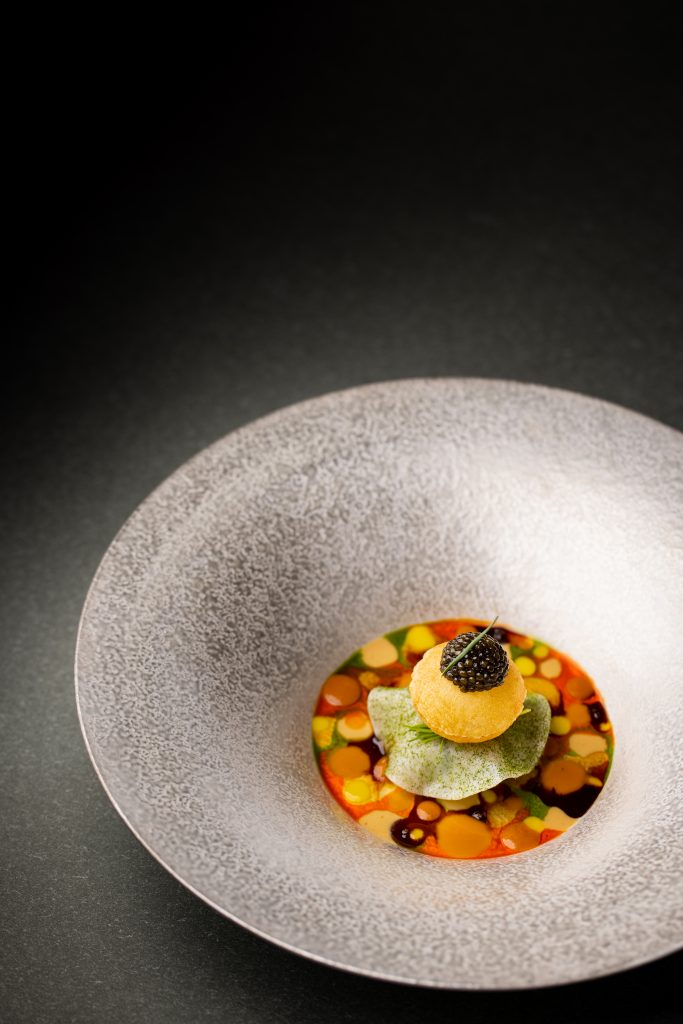 Perfecting the wellington abalone took forever. Six months. And the process was so meticulous it's hard to follow when André Chiang tries to explain it. Better to journey across the waters to the two-Michelin-starred Sichuan Moon, tucked away in the fantastical multibillion-dollar Wynn Palace, and taste for yourself. Inside, the dried abalone is braised for two days to optimum tenderness. Encasing it are three different pastry doughs – brioche, croissant and thin ribbons of puff pastry – overlaid for contrasting textures. Together, brightened by a layer of spinach and minced shrimp, it's baked to perfection – the crust is golden and supremely crispy inside and out– and served in a pond of gleaming, slightly fiery, fresh Sichuan pepper sauce. We had been warned to arrive brave and of empty stomach, but this is two hours and 35 minutes into our 12-course dinner and we've just arrived at the halfway point. The dish is so rich yet you can't remotely be mad about it because it's one of the most delicious creations you will ever taste.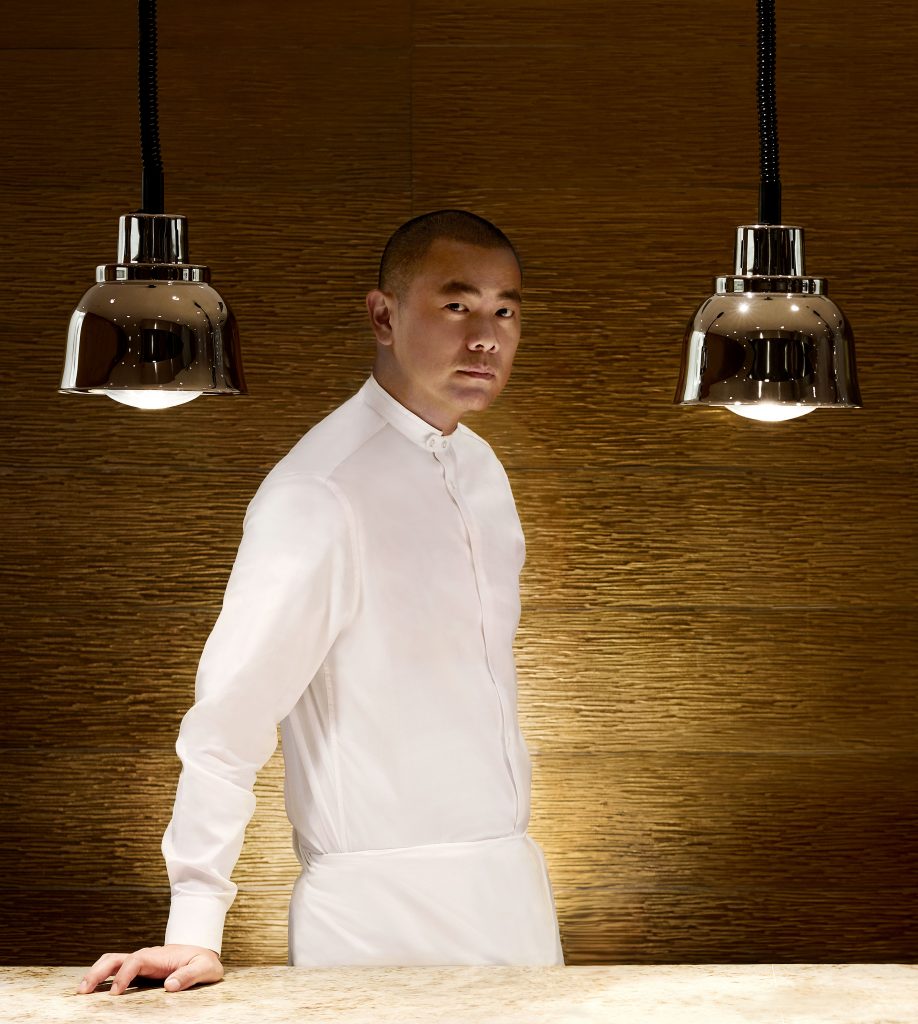 The flavours go on and on. After all, you're tasting time. In fact, all of the dishes on the Discovery Menu – curated with executive chef Wilson Fam and presented on Pantone cards to whet our visual senses – at Sichuan Moon are the product of endless hours of experimenting and finessing. Patience pulses through each recipe, from the truffle chicken tofu ji dou hua (traditionally, as a national banquet dish, the chicken is minced to the point of imperceptibility and stirred into a clear broth. As it cooks, it settles into pieces resembling tofu pudding. Chiang and Fam's version, however, sees the dish take on a form similar to that of Japanese chawanmushi – atop the steamed minced chicken sits a layer of rich chicken broth dusted with Iberico jamon) to the ma la lobster "Zhong dumpling" (a deconstructed riff on the century-old Sichuan snack).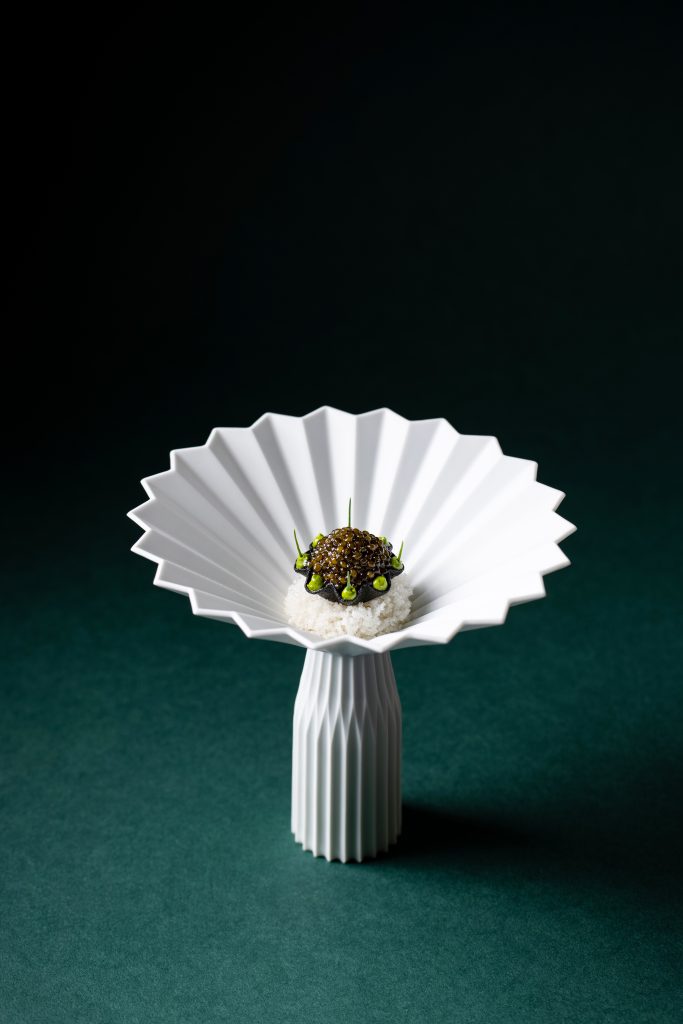 And for good reason. "At Sichuan Moon, you're not only tasting our skills and cuisine. You're also learning what is behind it – the culture. And this is a very important part of my creations," culinary director Chiang says. "I want everyone – foreigners or first-timers from any country – to walk into Sichuan Moon and walk back out with the same understanding of Sichuan cuisine because it is supposed to be appreciated by every single person. It shouldn't be just for Chinese-Chinese who understand the Chinese flavour, but also for those who don't understand it as much as we do. And that's what I see is missing at the moment with Chinese cuisine. What we need to work on is closing that gap between foreigners, first-timers and local Chinese so that everyone can understand the culture behind us, we can represent who we are, what's present in our cuisine and what our language is. Many traditional Chinese restaurants refuse to change their vocabulary to communicate with foreigners. But we should be contemporary and we should find the current language to communicate with them."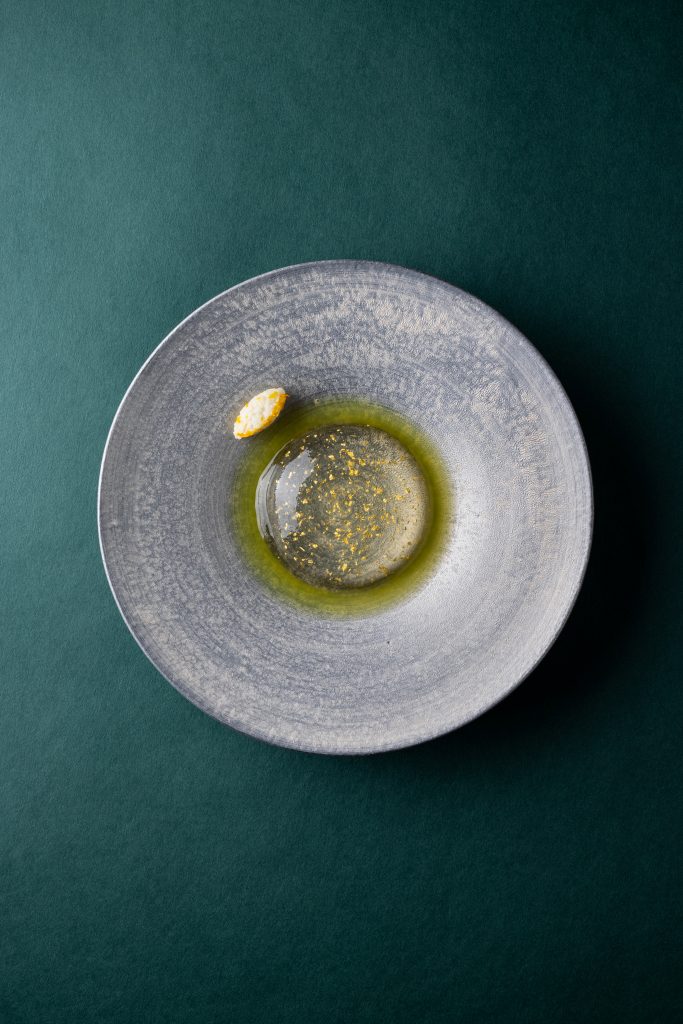 So, for example, as is the way with all Sichuan restaurants, to start is an array of piquant "old alter" pickles – some done in a salty brine, some with a hint of sweetness and acidity, and some with a spicy kick. But, laid out on 12 golden trays, each variety – in accord with the 24 solar terms of the Chinese calendar – reflects an elevated level of detail, in part thanks to Chiang's rigorous French training under the likes of Pierre Gagnaire. There are garnishes, there are carvings and while each boasts a distinctively different character, they are all in complete harmony, one never overpowering another. "Instead of just saying, 'This is Sichuan cuisine', we want people to get to know and appreciate the cuisine through these little things," he says. "At dinner, some of our friends who had been to Sichuan Moon at the very beginning said that one of the dishes was too expected. And I said, "Yes, because there needs to be an introduction.' Some dishes might be expected and obvious, yes, but you need that introduction in order for everyone to understand what Sichuan cuisine is."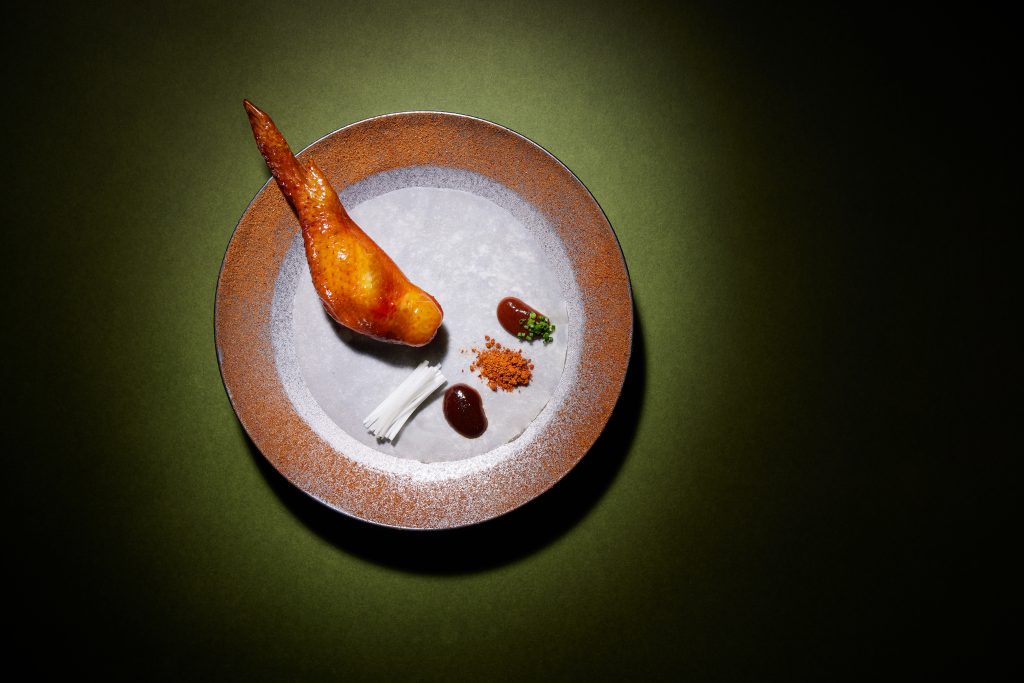 Take again the "Zhong dumpling" as another example. Essentially succulent pork dumplings, the spirit of the dish lies in the aromatic "red oil" sauce, which at Sichuan Moon is broken down to their component scales for a visually compelling presentation. More so, it offers diners a glimpse into the complexity of the cuisine. "You wouldn't actually know that 'Zhong dumplings' are such a colourful dish unless you've been inside a kitchen watching one being made," Chiang explains over dinner. "The final sauce you see is usually just reddish-brown but if you separate all the different sauces that it's made up of, you'll see that each one is very colourful. I didn't realise either how beautiful 'Zhong dumplings' were before I made this dish in the kitchen. So here, I present my 'Zhong dumplings' to my guests five minutes earlier [than the norm], with all the different coloured sauces showcased on the plate."
Also see: Feuille finds the zest in green and clean eating
Contemporary, but still Sichuanese in essence. "Sichuan cuisine is the total opposite to Cantonese cuisine, which, almost like Japanese cuisine, is very produce-driven. In Sichuan cuisine, the backbone are the 24 flavour profiles – guai wei (strange flavour), ma la, xian (salty), xiang (fragrant), etc – and you can do anything with it. You can do guai we ji (chicken), guai wei bao yu (abalone), guai wei potato, anything. Sichuan cuisine is all about the flavour combinations. So whatever we create, it should stay true to these 24 flavour combinations," he says. "At the end of the day, every cuisine shares the same ingredients. It's almost like the alphabet, using A to Z you can compose them into French, English, Italian… It's exactly the same in cooking. I use the same carrots and onions and everything, but
you match it in a unique way that represents a certain cuisine. The 24 flavour profiles have been in existence for over a hundred years and that's the unique combination that has only been used for Sichuan cuisine. So whatever we cook, we always remind ourselves of these 24 unique flavour combinations."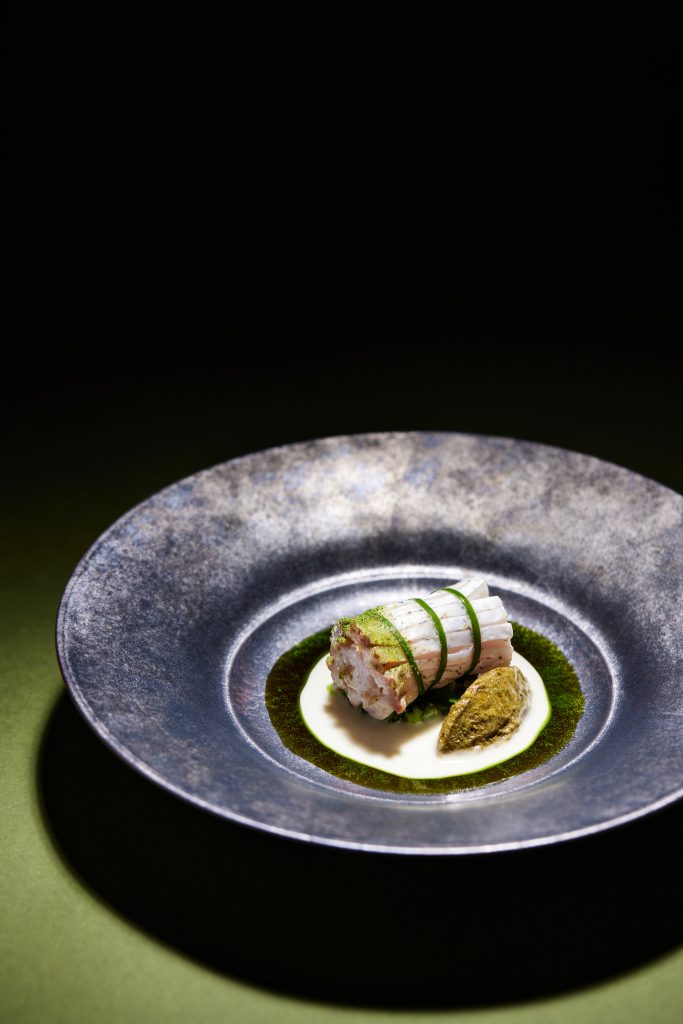 There's a more ambitious agenda at work here, too. "I've loved Sichuan cuisine ever since I was a kid. And even though I spent most of my time in France, Sichuan cuisine was always something that I went for," Chiang recalls. "Then when I came back to Asia, I realised as an Asian chef that Chinese cuisine never really tried to connect with the world. It has always been a separated experience for Asians compared to the rest of the world. We are missing a translation and I believe I can do much better with that culinary language. I personally feel there's so much knowledge, so much more things to share in Chinese cuisine. But at the end, there are not many people who can appreciate it fully. So that's what Sichuan Moon is about.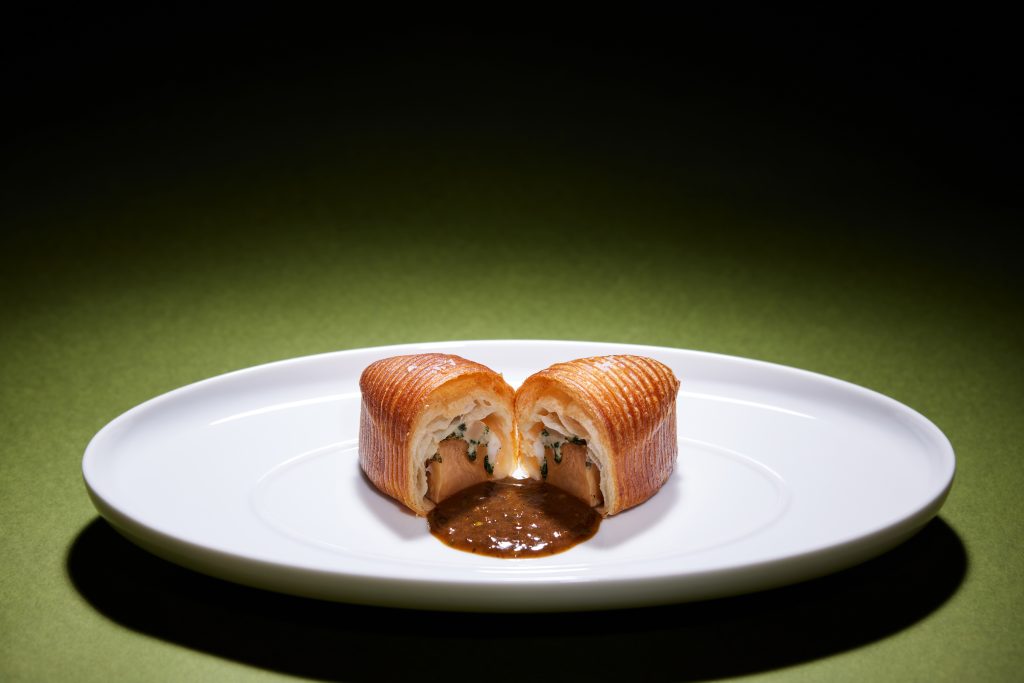 "Through Sichuan Moon, I hope people can learn to appreciate Sichuanese cuisine and Sichuanese culture. Actually, it's not just about the Sichuanese cuisine, but also Chinese cuisine as a whole. I hope that it can be appreciated at an international level. It shouldn't be only for certain people who are very into Chinese cuisine; it should be for everyone and represented in an international language."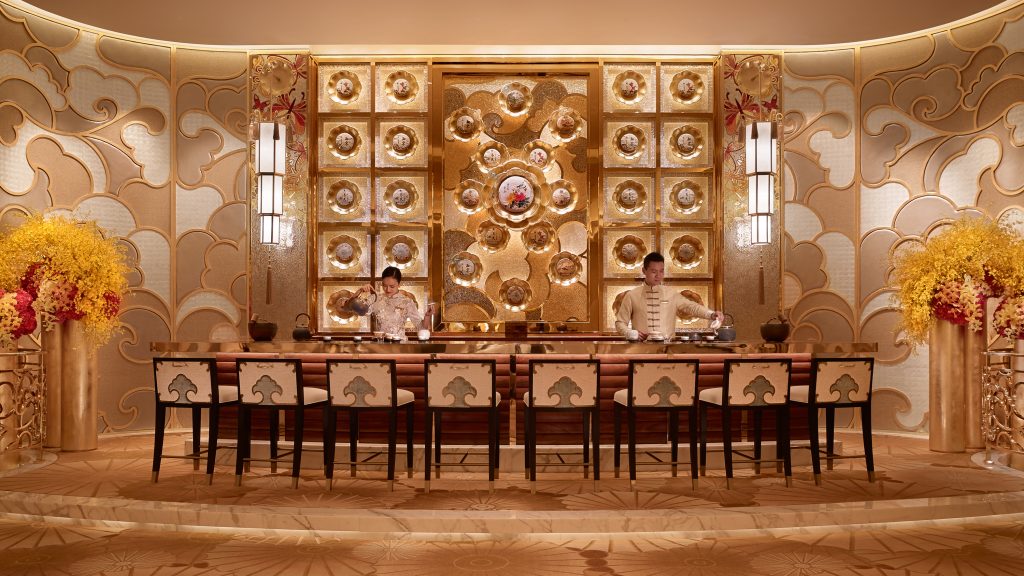 At the centre of the stunningly sinuous dining room is a striking tea bar, an altar-like area where tea sommeliers expertly prepare rare and fine-quality brews. The concept, Chiang explains, is akin to that of how a wine cellar takes centre stage at a French restaurant. "Because it's the backbone of their culture," he says. "So, if I walk into a Chinese restaurant, I want to see their tea collection. And that's what the tea bar is about – I want to show you the tea collection I have and why we selected the teas we did to go with the meal. That's part of our culture and I believe it should be at the centre of everything. It's as important as a wine cellar for a French restaurant. And how do I tell the story of the Chinese tea while relating it to Sichuan? We put a lot of effort into that. For example, we looked for very rare Sichuanese teas. We use Sichuan water, which comes directly from the mountain of Sichuan. So I think these are something unique not only for us, but also I don't think any Sichuanese restaurant serves Sichuan tea with Sichuan water. It's very rare."
Four hours and 54 minutes later we were finished, literally. Stuffed to within an inch of our lives. If you were to try death by gluttony, Sichuan Moon is the only way to do it.
Also see: #legendeats: 13 new eats for July