Feuille finds the zest in green and clean eating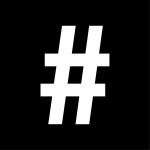 By: Stephenie Gee
July 4, 2023
There was a time when veggies were mere bit players to hearty meats and rich seafoods. Now, as the climatic cost of meat production has been made abundantly clear, clean eating has become a way of life and Hong Kong is an Eden of plant-forward cuisine, David Toutain's first overseas venture, Feuille, arrives in Central. The celebrated veg-centric French chef speaks to Stephenie Gee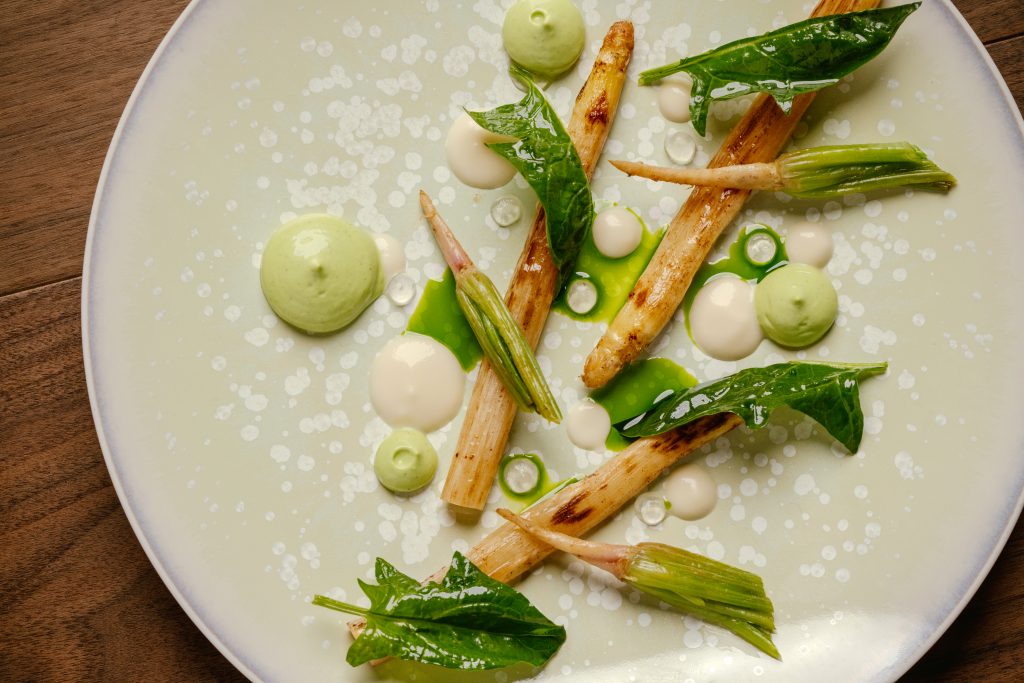 David Toutain knows a thing or two about vegetables. In fact, he more than just knows vegetables.
Coming as he does from a family of farmers and having plied his trade with renowned maestros including Andoni Luis Aduriz, Alain Passard and Marc Veyrat – "they're not chefs, they're artists," Toutain enthuses – who, with cuisines that pay homage to the artistry of Mother Nature, refined his innate ability to tease out the very best flavours out of even the most humble of ingredients, the French chef wunderkind has an intimate relationship with them in all their glorious forms, flavours and shapes. So, like his eponymous Michelin two-star and Green Star 7th arrondissement restaurant, it seems only fitting that vegetables are what takes centre stage at Feuille (pronounced "feuy" and French for foliage), his newest – and first overseas – concept in partnership with Elizabeth Chu's hospitality firm, ZS Hospitality, on Wellington Street.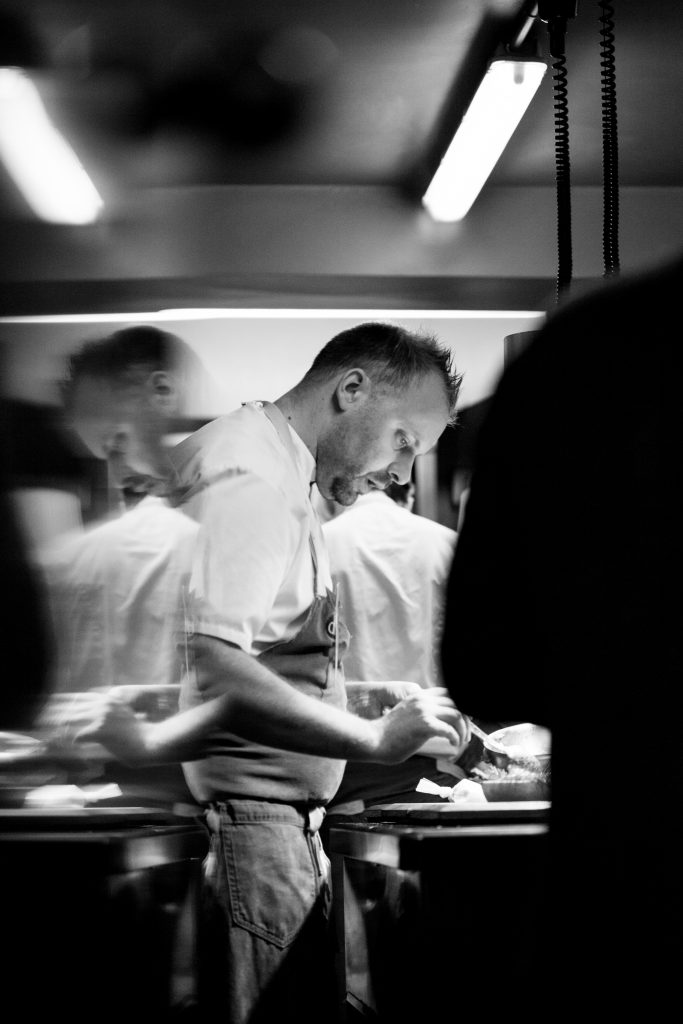 This is no cut-and-paste of its older sibling, though. If Paris's Restaurant David Toutain – where menus named after flora ("Lierre Terrestre" [ground, ivy], "Queen of the Meadows [meadowsweet], Lemon Balm and Berce [cow parsnip]) come to life with the seasons in a Scandinavian-tinged interior of cool blue-grey walls, pale oak timbers and rustic bouquets – is a tribute to the soil and all it nourishes, Feuille is Toutain's culinary re-enactment of a plant's life cycle. "The spirit, the way we treat everyone, the way we work, the way we think is all the same in France and here. Actually, everything you don't see is the same," he says of similarities between the two on a recent afternoon during the restaurant's soft opening.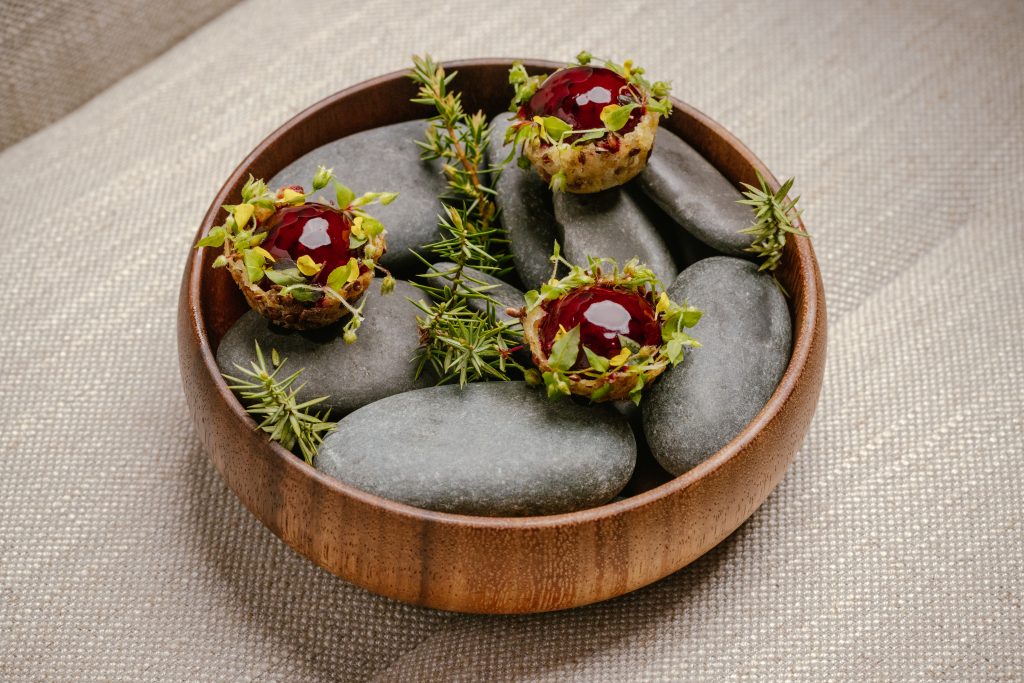 Localism isn't just a glib soundbite to Toutain; all produce, here or 6,000 miles away, is sourced locally – and, in the case of Restaurant David Toutain, from a private garden. The search for new potential in flavours and ingredients – by forging connections with those who produce them, those who grow them, those who bring them to the kitchen and those who stand over them in chef's whites – is constant (lotus roots, yams and spring bamboos from the local wet market prepared by his team "the Hong Kong family way" were his latest discovery at the time of our exchange). And zero, or minimal, waste is the law of the land.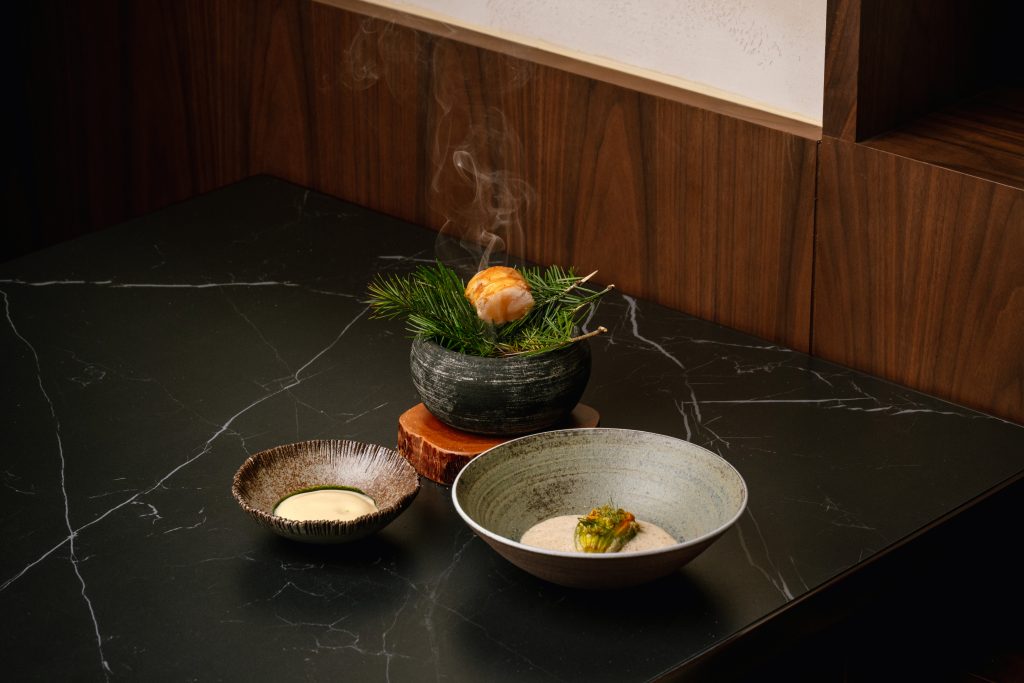 "But the menu and the room are totally different," Toutain clarifies. At Feuille – designed by the award-winning architectural design practice Neri&Hu – concrete walls are stark, save for the odd leaf imprint, and juxtaposed with walnut accents. "The idea here was not to come and do everything the same way as in Paris. It's a different story, and we make it a different story because we're in a different city and culture."
Also see: Embla brings Nordic flavours to Hong Kong
From a seed grows a root, then a sprout; from the sprout, the seedling leaves; from the leaves, the stem; from the stem, the branches; around the branches, the flowers; at the top, the fruit. This story ("I don't like the word 'concept'," Toutain says) of one plant's journey is what unfolds over 15 tantalising courses made up of a spirit of French refinement and a seasonal and local cornucopia of produce – which as the first step to building the menu were sampled in all their pure essence: simply raw, or at most, with a pinch of salt – that together push the limits of what is possible with vegetables.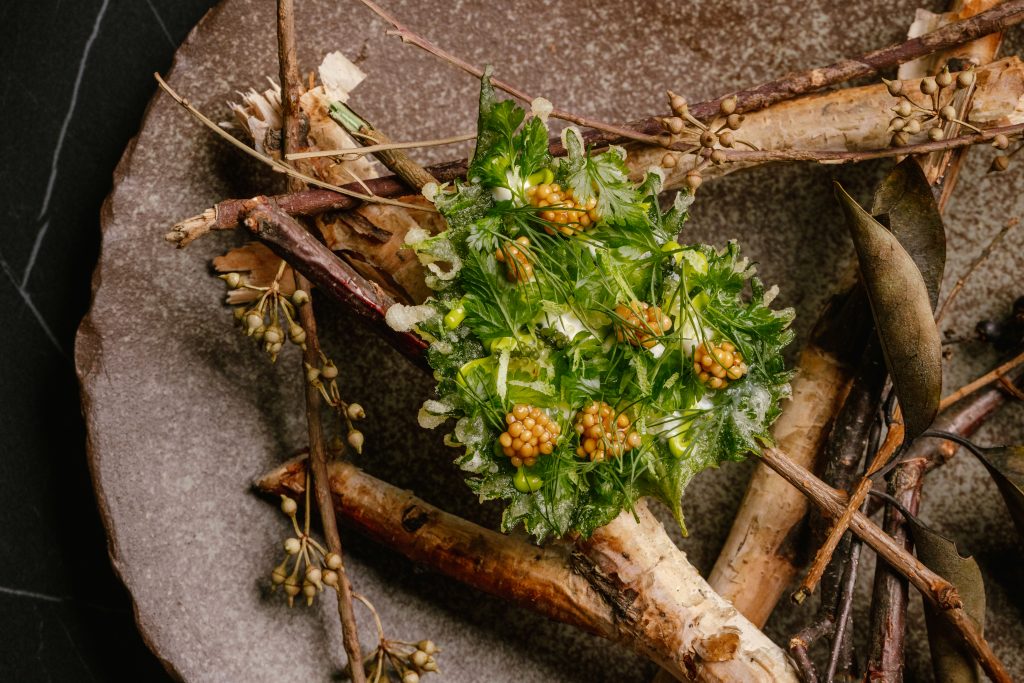 It's important to make clear, however, the restaurant is not vegetarian by label, albeit his finest talents do seem to shine through the most in his meatless dishes (though really, "everything is very good!"). Take his first and last acts: a flavourful chia seed and lemon tree leaf kombucha "because it's the first one and the first bite or the first flavour – you have the eyes and all the different senses, but I speak about just the palate now – is what sets the atmosphere"; and white chocolate ganache with coconut ice cream and cauliflower foam – a signature from his Paris restaurant since day one (December 23, 2013, to be exact, he recalls) inspired by a box of Christmas chocolates gifted by his mum that is now – following complaints after taking it off the menu, twice, "because every morning was just preparing cauliflower" – only available during the autumn and winter months. Not to mention his "simple but very intense" mustard seed and sea grape-topped shiso leaves with a creamy lovage mayo, and warm, earthy puréed sweet potato paired with quinoa, cinnamon and thyme.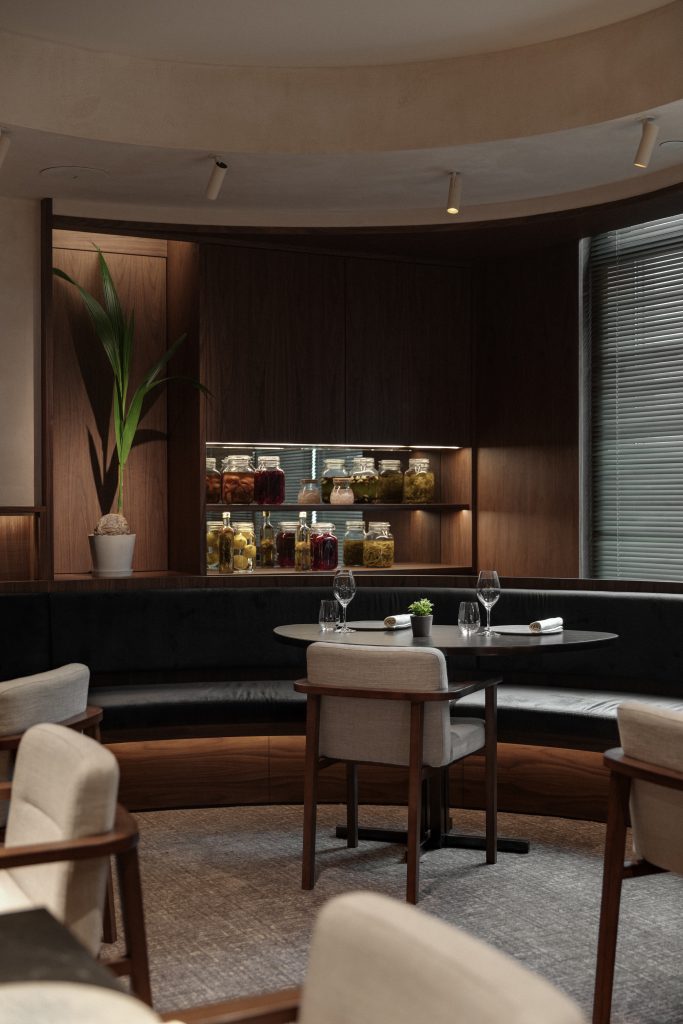 "We always say 'roots to shoots' and that is the idea," he explains of the menu, a collaborative effort with executive chef Joris Rousseau, who spent over six months in Paris with Toutain learning about his vision, his philosophy and way of cooking. "The progression of it is like the same progression of a tree growing and we are careful to not lose any of the produce. We try to, at least, use every part of it." The complexity of Toutain's food comes, in part, from this commitment to waste-free cooking. On some shelves, vibrant jars of fermenting fruit and veggie remnants sit for weeks. Wild- caught turbot – gently poached and served with winter melon cooked in parsley oil and a watercress purée for a bright, refreshing note – bones are reduced into gelatinous collagen and mixed with lime juice and dill oil into a dill pil pil sauce as a substitute for butter ("We want to work local so it was very important I didn't bring anything in my luggage. I love bread and butter but I had to forget about my French butter – that stayed in France!"). Then, there's also the spiny lobster three ways: the meat, firm and opaque, is chargrilled on the barbecue. Served alongside is a luxurious fennel jelly, mint oil and lobster head sabayon. And fresh zucchini flower stuffed with lobster meat and topped with lobster coral sit in a fennel jelly, mint and zucchini purée.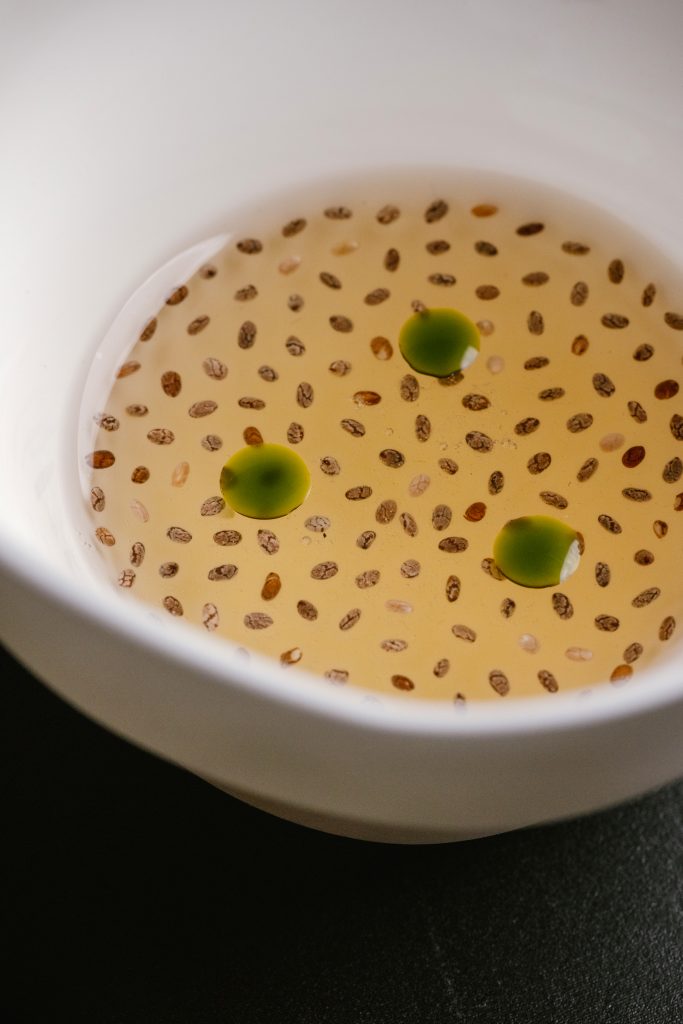 "We use everything because each part has a different flavour, and we want people to discover that," explains Toutain, a self- professed ardent learner who has made discovery part and parcel of the Feuille experience. "I always say I don't sell one plate. I sell one menu. We sell a story. It's important that every guest is happy with each flavour, each texture and each combination we serve. And we like to do something interesting, something that guests don't know or is different to how they cook at home so that they go, 'How do you do that?' or 'How do you make that?' or 'The flavour between that and that is very interesting!'"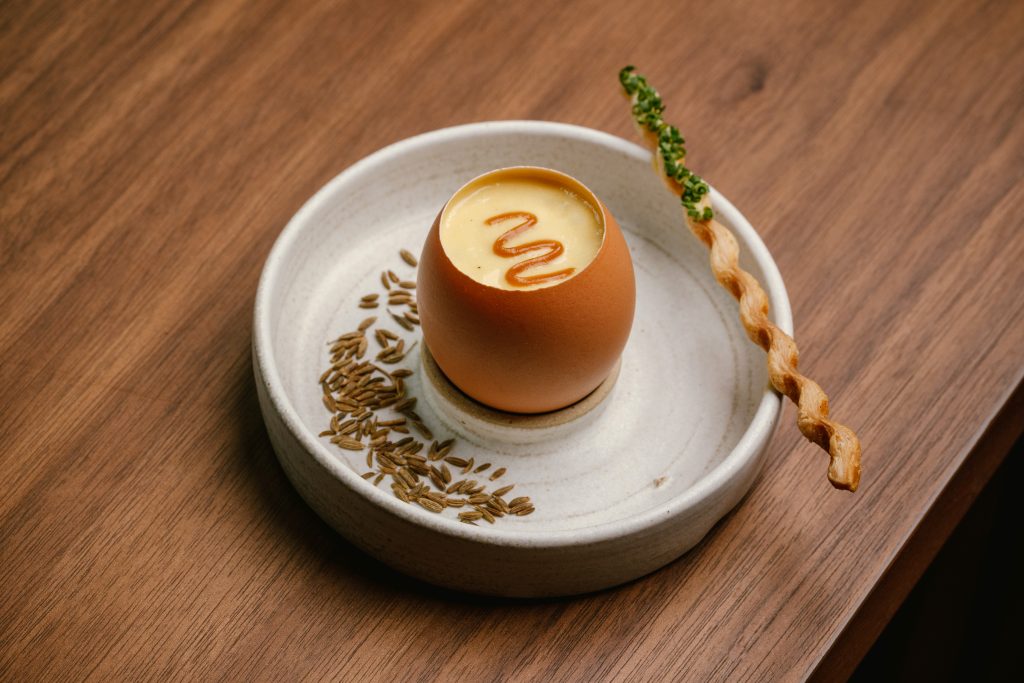 In terms of Toutain's intentions for the refined French eatery, this is about as ambitious as it gets. This is a man who loves what he does – a fact he tells me ("I love cooking" and "I love food" are phrases that crop up regularly in our conversation) and reinforces when he gushes over produce ("The pea! Oh, it's amazing! They're so good!" he coos of these caviar-like green peas encountered on one of his local market runs, eyes lighting up), waxes lyrical about flavour combinations and notes his biggest challenge was "choosing the colour of the chairs" because every stage was an enjoyable learning curve of its own – and his "goals" (really, he doesn't set any "goals" because while "we are serious people and we work very seriously," he'd much rather put himself in the mentality where every day is a blank slate from which to grow and evolve) for Feuille are equally sincere: to be as much of a happy place of casual congregation and chatter for those serving and being served as it is for him.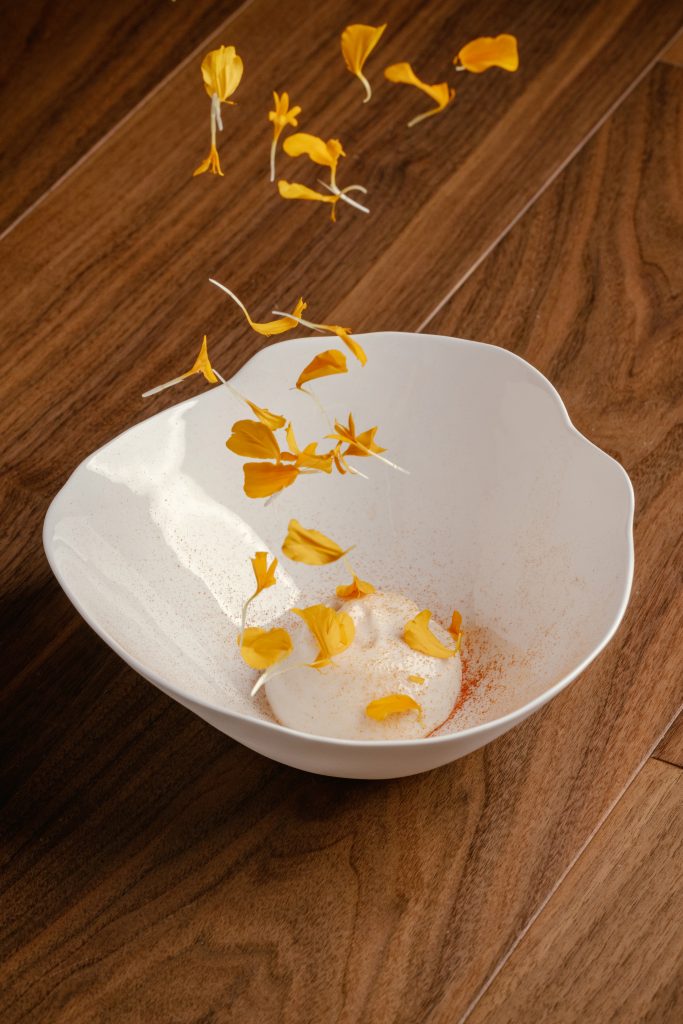 "My goal is to wake up every day and be happy with what I'm doing and enjoy my life. And it's the same for here," Toutain says. "I want the people working here to be happy. I want the guests to be happy. I want the guests to be thinking about coming back just as they're leaving. I want the guests to have just a very nice experience. The way they are received and welcomed – it's not ooh la la; it's just cool and it's for those who are looking just to eat, to enjoy a nice glass of wine with a friend and to have a nice moment. Because when you go out, what you're looking for is just to have a nice moment. Right?"
Also see: Hom brings out the fun in fermentation