Putting themselves in the hands of Hong Kong's finest aestheticians, Zaneta Cheng and Stephenie Gee explore the latest ways to refresh your visage and restore its healthy glow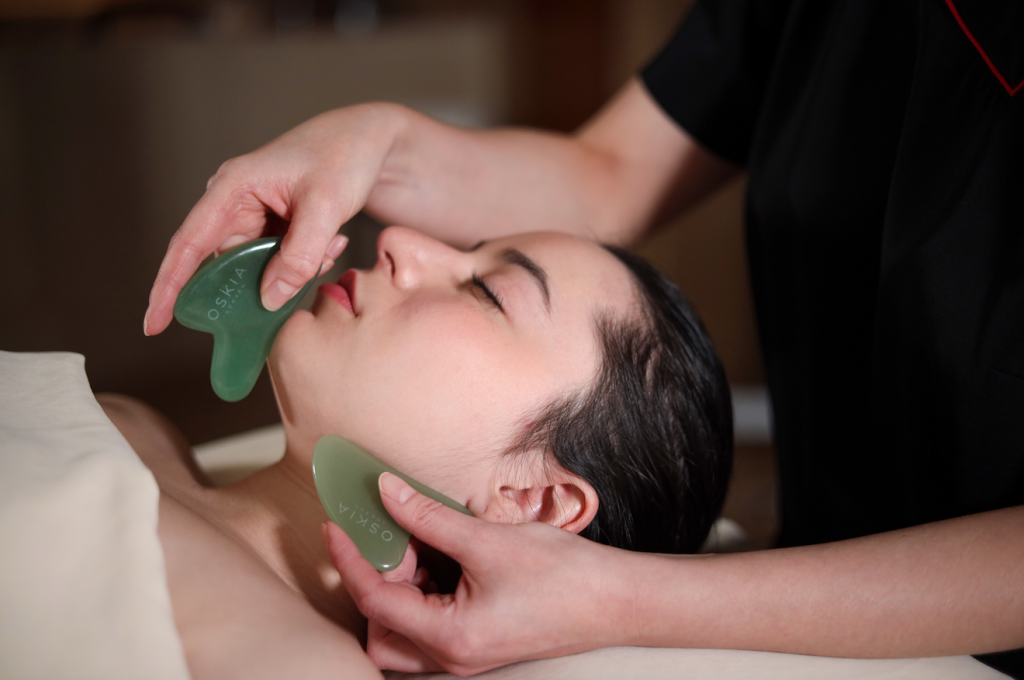 Dr Burgener Lifting and Firming Collagen Facial at Island Shangri-La, Hong Kong's Yun Wellness
How to capture Xanadu? Ask the Island Shangri-La, which has just launched its first-ever spa at its Hong Kong flagship hotel. Yun Wellness's name was inspired by a famous 4th-century Chinese poem, Ascend Lonely Isle on the River, in which the poet considers nature's beauty and concludes that "to live well is to live long". It's a lot to live up to, creating a sanctuary of serenity when the hotel itself is named after a mythical Eastern paradise, but when the lift doors glide open to the eighth floor, I'm greeted with a lush, blooming corridor. The entire wall is just about entirely covered in verdant foliage. Turn left and the end of the corridor opens onto a bright, airy reception. You'd almost mistake it for a café if not for the shelves of product to one side. Here, the requisite forms are filled, and locker keys assigned before being escorted back down the corridor where, on the other side, gold-framed hammered-glass doors slide open to yet another corridor where guests are led into the expansive locker rooms.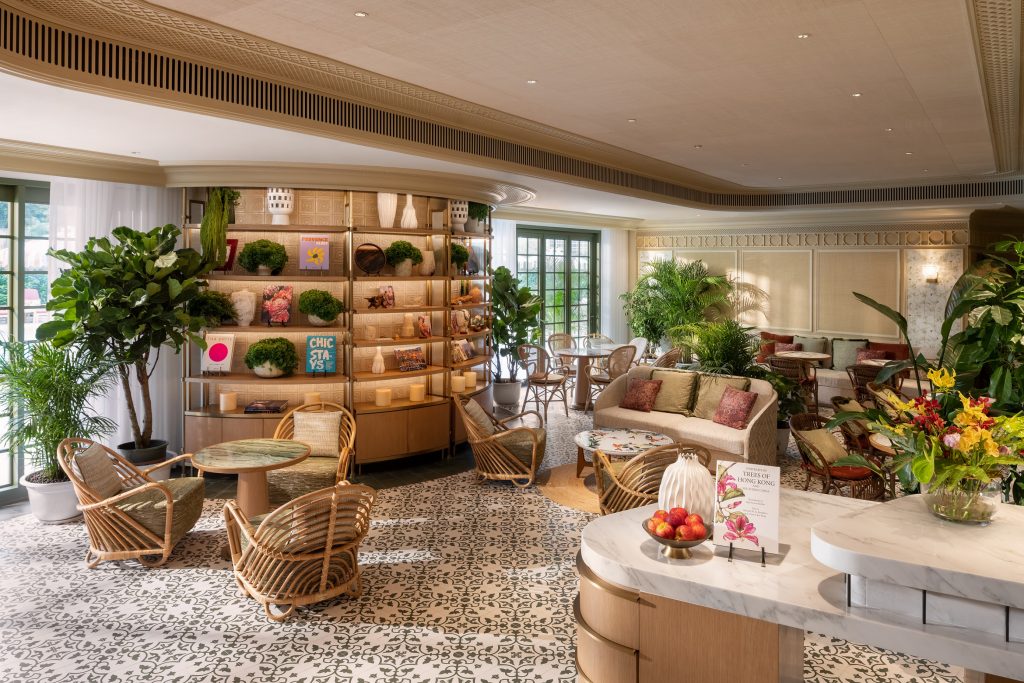 But I'm not here just to talk about the smooth woods used to clad the walls and floors of the space from the halls to the 10 treatment rooms in the spa designed by acclaimed Spanish interior designer Lázaro Rosa-Violán. No, I'm here to talk about the Dr Burgener facials, namely the brand's Lifting and Firming Collagen Facial that is available in Hong Kong and exclusive to Yun Wellness. The Swiss brand combines natural ingredients with the latest in beauty technology to deliver immediate and lasting results. One example of this is the green caviar face cream, which uses green sea grapes from Okinawa that Dr Burgener learned about on a trip to Japan. Okinawans are known for their long lifespans and allegedly it's these sea grapes that keep the locals living into the triple digits. Dr Burgener took these grapes and transmuted their properties into a cream in her Swiss-based labs.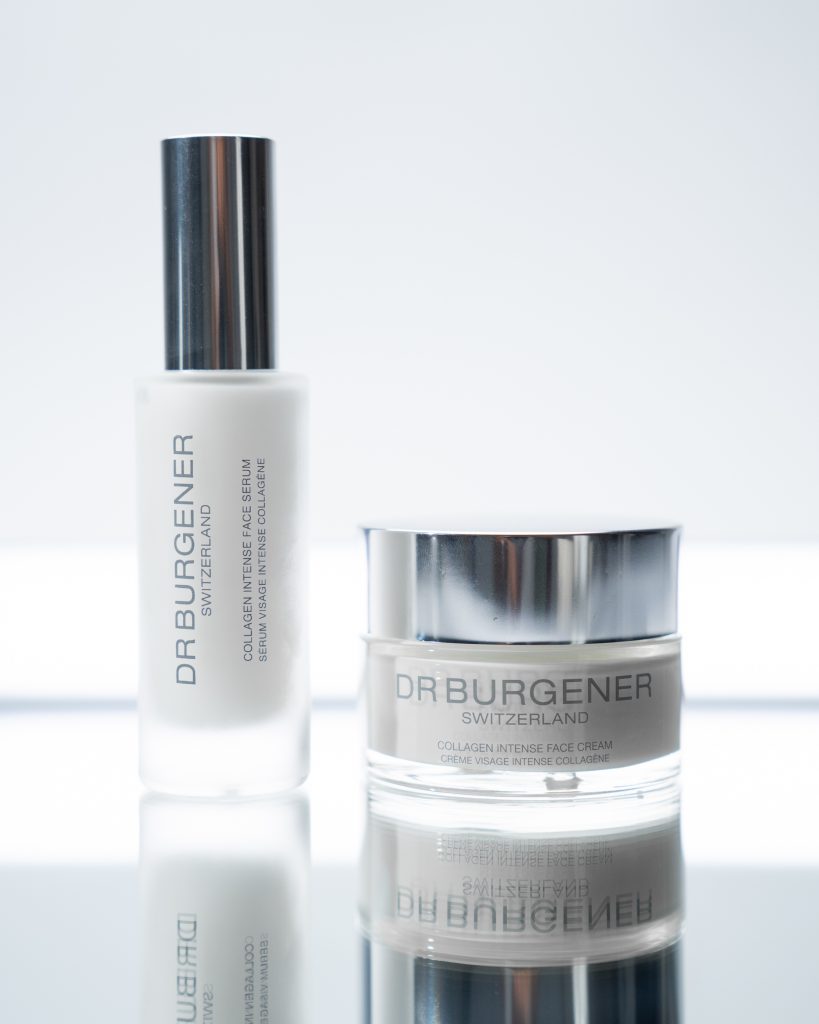 Upon entering the treatment room, I'm greeted by floor-to- ceiling windows that show slightly angled views of Justice Drive. Green fronds planted outside the window offer privacy, hiding us from view. I'm asked to lie in the large massage bed and am swaddled in towels before my therapist cleanses my face. To be quite honest, the facial is 90 minutes and after a pulsing device helps slough off the dead skin from my face and the facial massage begins,
I absolutely drift off to sleep. Deft strokes designed by Dr Burgener, a trained biologist who still works with a team of experts to create her products and design the spa protocol, work to increase skin absorption, pushing the product into the skin. When I wake up, I find my skin covered in strips of cloth soaked in collagen. My arms and décolleté are smooth to the touch, covered in the massage cream my therapist used while I was passed out.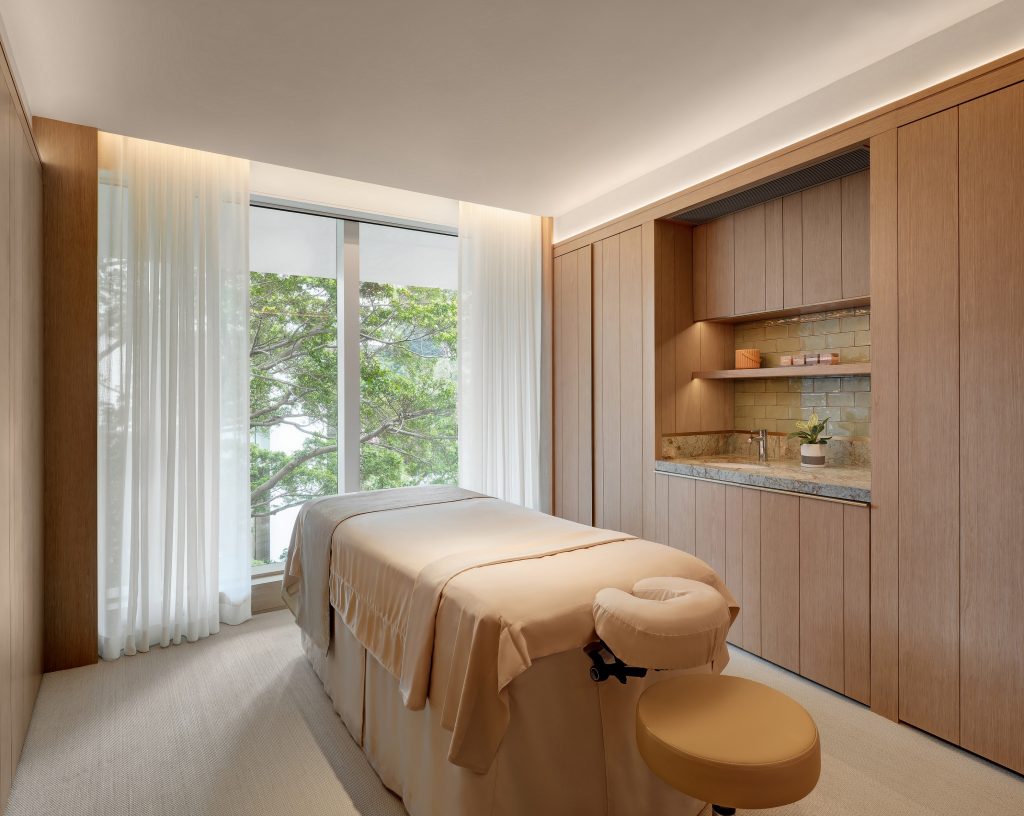 I leave the treatment room and head to the relaxation room in a state of complete bliss. There is ginger tea and an assortment of dried and fresh fruit for any appetites that have been worked up. I leave feeling refreshed, but it's really in the next few days that my face takes on a plumper, glowier complexion that leads me to think that Yun Wellness might just be the key that allows Shangri-La's guests to take a little bit of paradise home with them.
111SKIN Celestial Black Diamond Facial at The Ritz-Carlton Hong Kong
Diamonds are a girl's best friend, and so are facials – and this treatment has both. Developed by the esteemed plastic surgeon and co-founder of cult cosmetic surgical skincare brand 111SKIN, Dr Yannis Alexandrides, the Celestial Black Diamond Facial harnesses the power and potency of its Intensive Collection – which combines actual black-diamond microspheres with ingredients including retinol, glycopeptides and collagen-stimulating actives – for a lifted, sculpted finish and a lit-from-within glow.
"We've always done facials and treatments at our [111 Harley Street] clinic. We'd prescribe clients with certain routines, different body treatments or face treatments to prepare for surgery, and also after surgery as post-treatments. Then, when we launched our 111SKIN brand in the retail space we also did in-store facials, which are quicker and easier for people to understand our products," Eva Alexandrides, the CEO and co-founder of 111SKIN, tells me.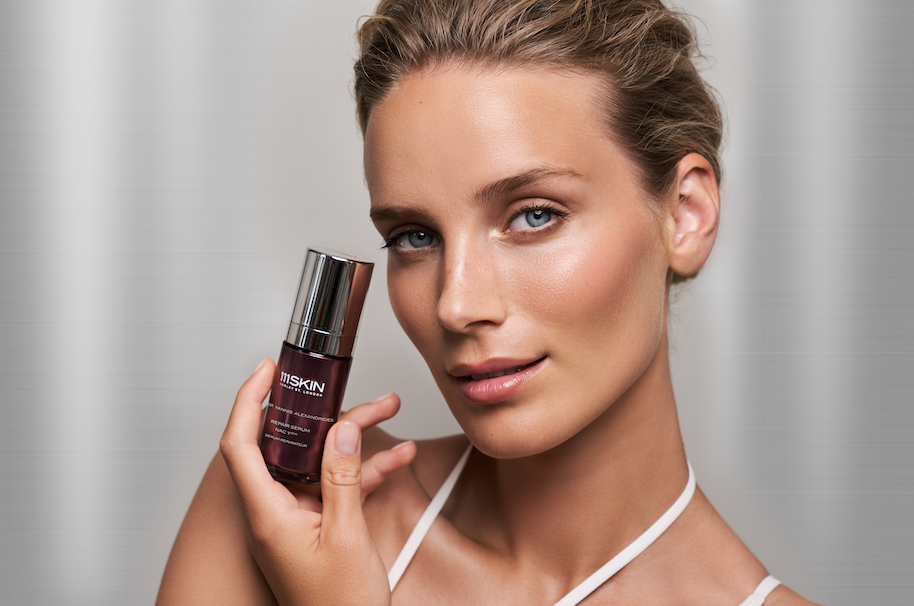 "With the 111Spa/Clinic concept, we bring all the knowledge and experience we've learned from our clinic of 20 years and our in-store facials into the spa, and elevate the experience for the clients. All the facials are developed by our nurses, medical aestheticians and a plastic surgeon, so every single step is specifically derived from our clinical expertise," Alexandrides continues. "Nowadays, treatments need to be not just beautiful, sensorial and experiential, but also results-driven because clients are going, 'If I'm going to take one hour of my time to go to the spa, I want everything; I want the experience and I want the results.'"
This is exactly what The Ritz-Carlton came for. "The experience we really want to provide to the guests visiting our spa is for them to be able to see results immediately after their treatment. And this is what is special about the brand – they're not selling natural products; they're selling treatments with immediate results. And what's interesting is that unlike most facials outside that use professional- grade products, 111Spa/Clinic's facial treatments use their own retail products so if you like them, you can buy them to use at home," says the hotel's director of spa, Tracy Ng. Sitting at 465m above sea level on the 116th floor of The Ritz-Carlton, the spa is a small maze of wooden-floored, dimly-lit corridors linking nine treatment rooms and two couples suites. The rooms are luxurious, but not overdone, decorated in tones of aubergine and brown with floor-to-ceiling windows overlooking the city skyline.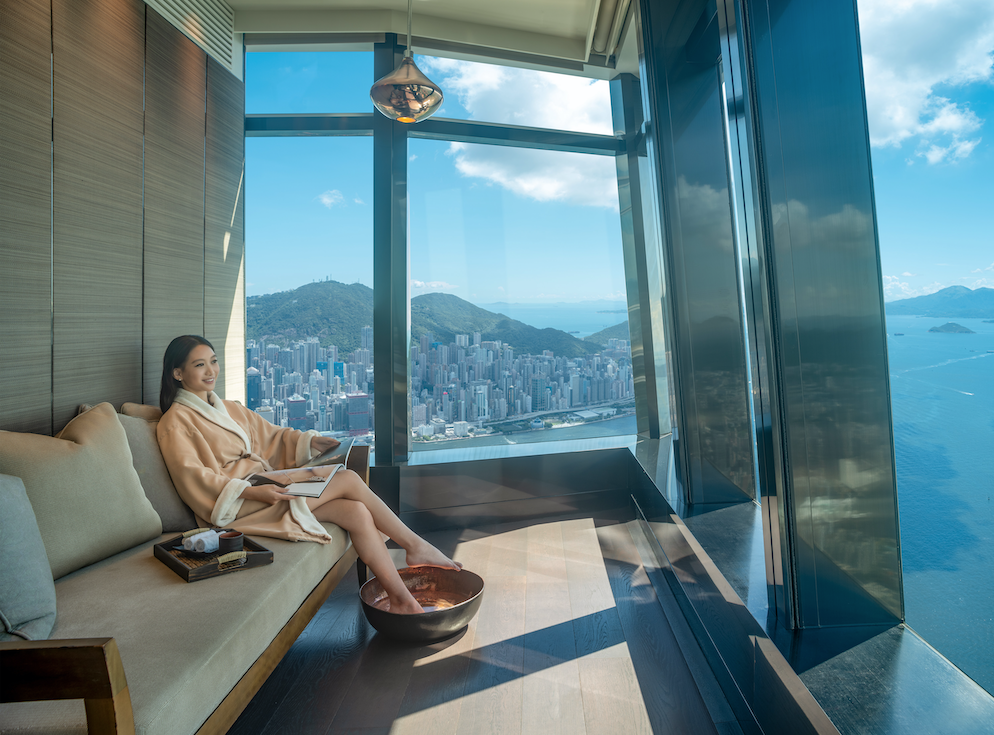 After a quick skin consultation, Milena Naydenov, 111SKIN's global head aesthetician sets to work. Quickly lulled into a meditative state by her deft hands, I have to take her word for what follows: a seven-part protocol – consisting of a double cleanse; clinical exfoliation with vitamin C; essence infusion using surgical gauze; signature massage of long, strong strokes that reaches deep into the muscles to lift, firm and sculpt, while promoting lymphatic drainage and circulation of the face; wand massage to relax and refine the expression areas such as in between the brows and nasolabial folds; master masking, which according to what your skin needs may mean an eye mask, face mask and neck mask made from bio-cellulose (a natural fibre used by medical communities as artificial skin to heal and soothe burns) and hydro-gel enriched with anti-ageing ingredients; and finishing touches of booster creams, serums and emulsions to lock in all the infused goodness – that she tailors to the individual. Between the change in season and sitting under aggressive air-conditioning five days a week, my skin is "not dry, but dehydrated" so I'm treated to an extra boost of hydration via the Hyaluronic Acid Aqua Booster, which works to instantly increase moisture levels by delivering a shot of concentrated hydrating ingredients into the skin.
Also see: Light up your complexion with LED face masks
"A lot of facials are very stimulating so a lot of times after you're done, your skin will be red," Naydenov says. "That's not necessarily a bad thing; it can be a good thing depending on the brand. But with all our facials, we don't have anything that irritates the skin because Dr Yannis knows when you reduce inflammation in the skin and calm it down, the skin has the ability to renew itself and to repair itself. This is what all our facials are about."
The effects are undoubtedly transformative. Upon glancing in the mirror Naydenov holds up just 60 minutes after I collapsed onto her table, my eyes are bright and my face is lifted and plump with hydration just as she intended. When I return to the office later that morning, my skin is still glowing like that of, as my colleague put it,
a light bulb. Diamonds… they truly are a girl's best friend.
Oskia Signature Nutri-Glow Facial at The Mandarin Spa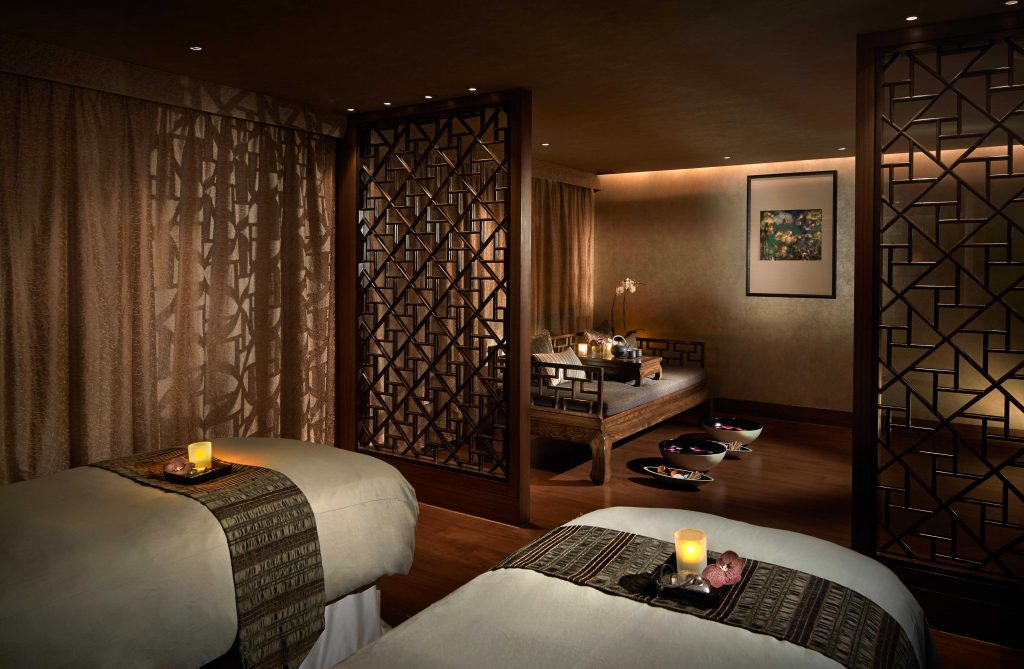 This year marks six decades since the Mandarin Oriental opened its doors to Hong Kong's well-heeled and the world's glitterati. The city's grande dame hotel is celebrating this milestone with festivities throughout the year, but one of the more exciting partnerships it's launched is the introduction of British skincare brand Oskia to its spa. It's the first Asian partnership for the luxury skincare brand, which has been met with rave reviews since its launch. All its products are manufactured in Oskia's own factory and laboratory in Monmouth, South Wales.
The new series of facials comes at the perfect time. Hong Kong summers, while fun, come with at-times unbearable levels of sun, heat, humidity and pollution. The facials take place in the dim marbled caves that make up the The Mandarin Spa away from the stifling subtropical heat. I'm treated to the Signature Nutri-Glow Facial, which is 75 minutes of, frankly, complete bliss.
After the routine cleanse and skin examination, an AHA mask, the massage begins. Oskia is tech-free, preferring to allow the potent ingredients of its spa products to do the heavy lifting as they are encouraged into the skin with seriously heavenly facial kneading. Smooth and steady strokes stimulate lymph drainage and pressure points are confidently pressed to lift and relax the muscles in my face. Quicker movements are meant to promote collagen production.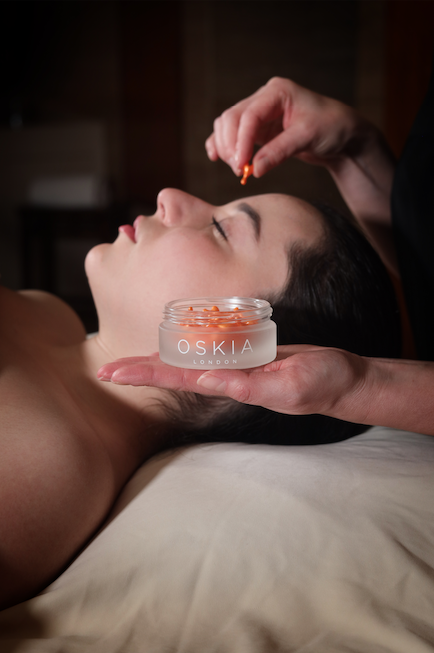 The techniques are, I learn, before I nod off, developed by a team of therapists at Oskia who constantly research and modify new protocols to incorporate into the brand's series of facials. Executed with just the right amount of pressure to feel release without any pain, the massage-heavy facial is definitely my cup of tea. Even after the final mask is applied to my face, I'm treated to a head, hand and back rub. The idea is to leave feeling rejuvenated and radiant – if you're relaxed enough, everything soaks into the system a little easier.
It's true. The results speak for themselves. An entire weight is lifted and muscles in the face that might have started off tight because of jaw clenching or excessive speaking are all a little looser, giving the face a more plumped and contoured appearance. And as I leave the hotel, the shining beacon that I've become, I can't help but think
that I really am quite the fan.
Also see: How to care for summer hair